You know we love chicken wings right. I mean.. we REALLY LOVE chicken wings!
Which is really weird that it's taken us so long to visit Wingstop LOL well we did try to make our way down a few times but something always came up.
Well, we finally made our way down and wow what a wide range of makan they have!
And they even have a special limited time only flavour on the menu too!
Besides having to choose which great flavours you're going to enjoy, they also have a few types of chicken to choose from namely Classic Wings (which is the chicken wing you all know and love) and the Boneless (which is the Chicken thigh).
We've tried quite a few and like we always do, we're gonna try and break them down for you because we had both types (Classic and Boneless) and quite a few flavours too!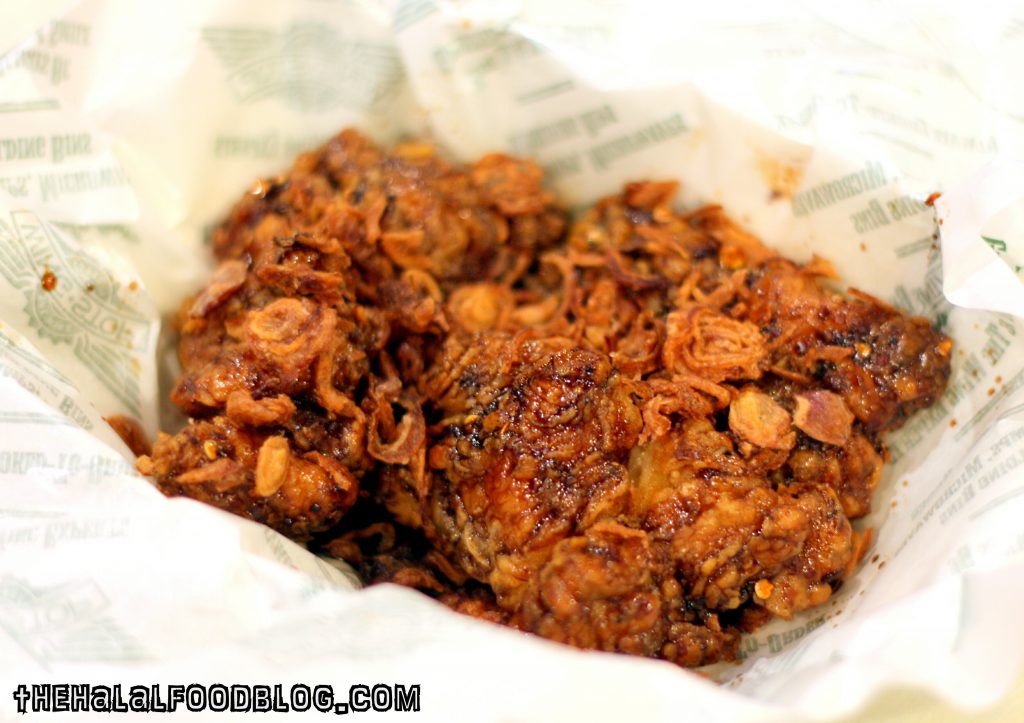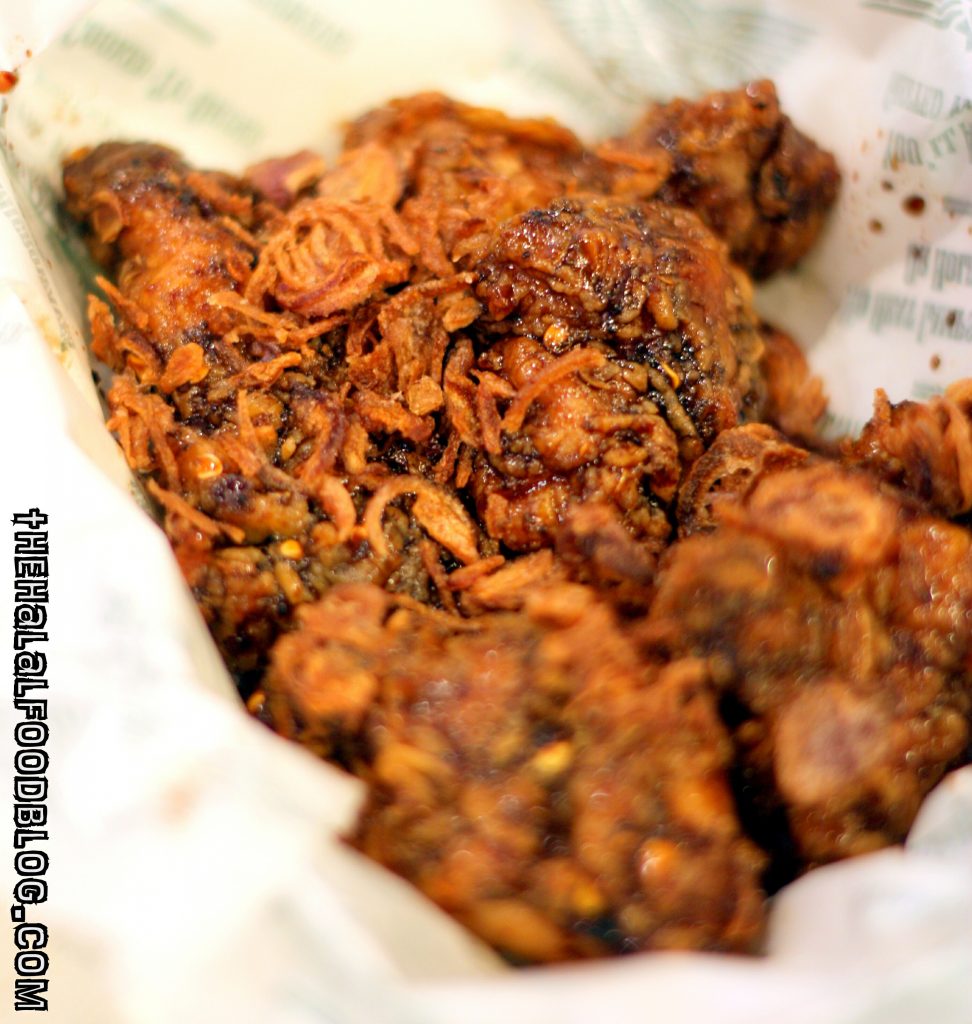 We've seen and tried a lot of interesting Chicken Wing flavours but I think the Kecap Manis is definitely one of the more interesting ones and it seems like a really popular choice with the people too!
Wingstop's signature piping hot chicken wings are coated with a sweet-spicy Kecap Manis sauce and topped off with fried shallots for that extra local flavour. Okay so the sauce is more sweet than spicy but it really does go well with the fried chicken wings.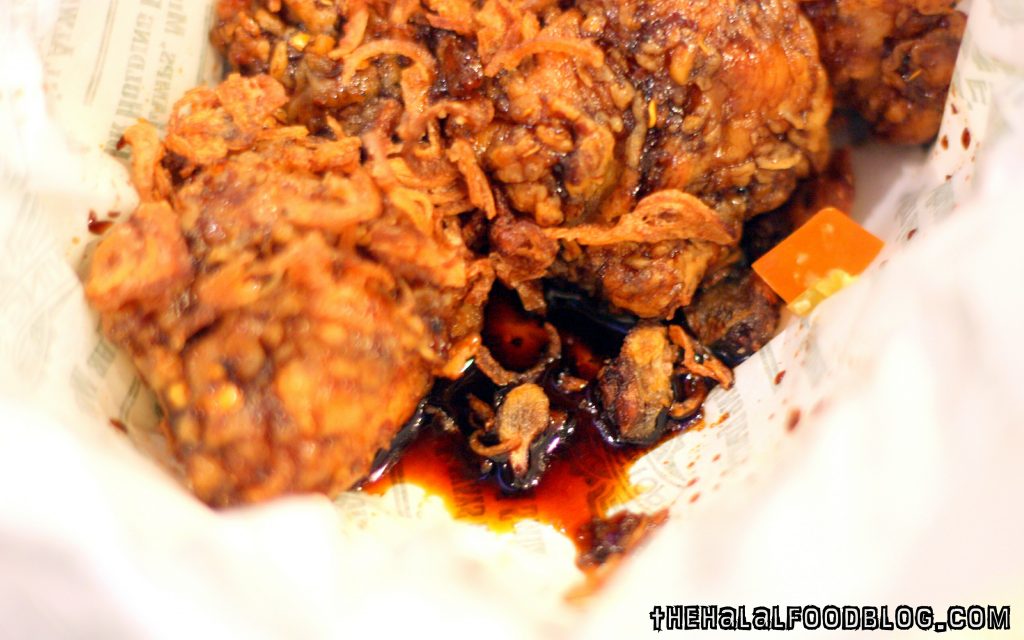 As you can see, they don't stinge on the sauce so you're guaranteed a nice healthy coating of the sauce on your wings so you can enjoy that flavour with every bite into your wings!
If you're looking for a unique flavour that definitely has that local touch then you should definitely try this. If you're having your doubts, we suggest you try it at least once because you just might be surprised like we were! Sedap!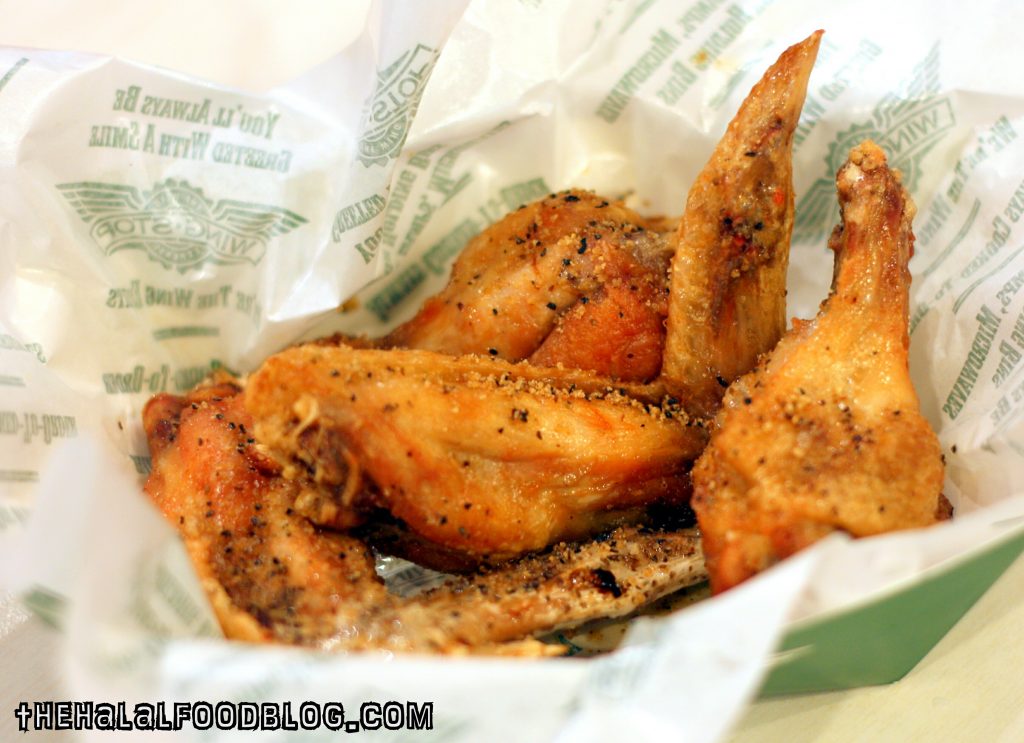 They have more than 10 other flavours to choose from on the menu at Wingstop ranging from mild flavours to the extremely spicy and dry rubs to the sauces.
First up are the dry rub ones and this means that they don't have any sauce but still pack quite a flavour punch.
First up (as seen above) is the Lemon Pepper Wings which definitely has more than just a hint of the citrusy lemon flavour and a good dose of pepper. It may be considered one of the milder flavours  but make no mistake – it is very tasty and a good choice for those who like a bit of tang.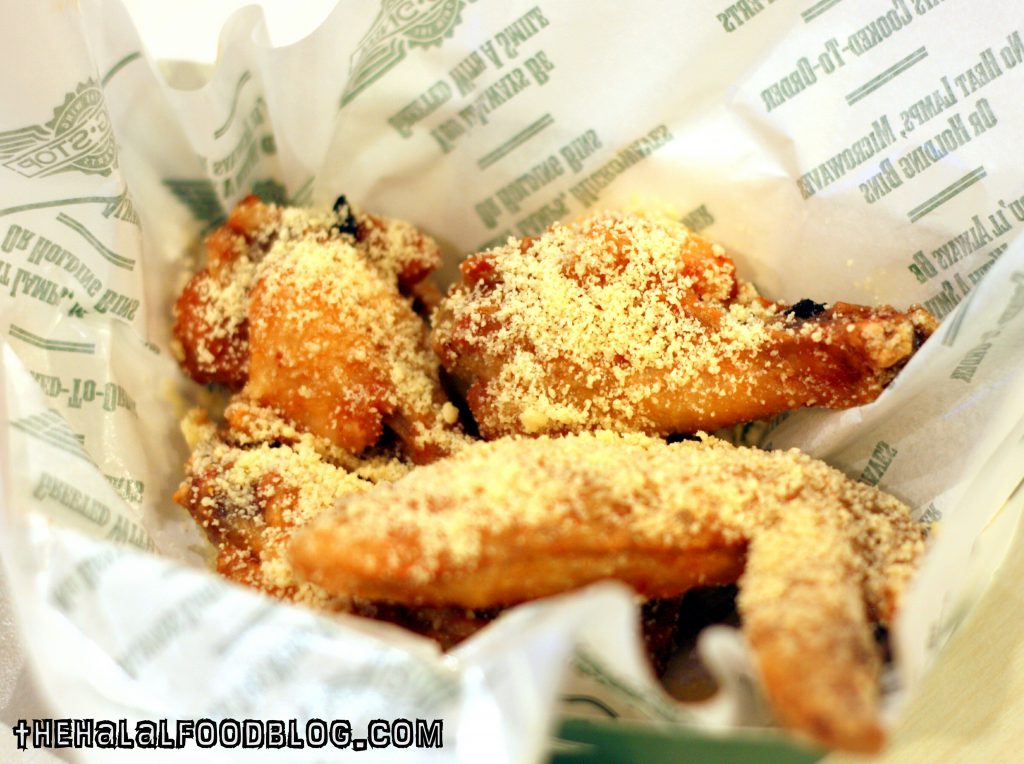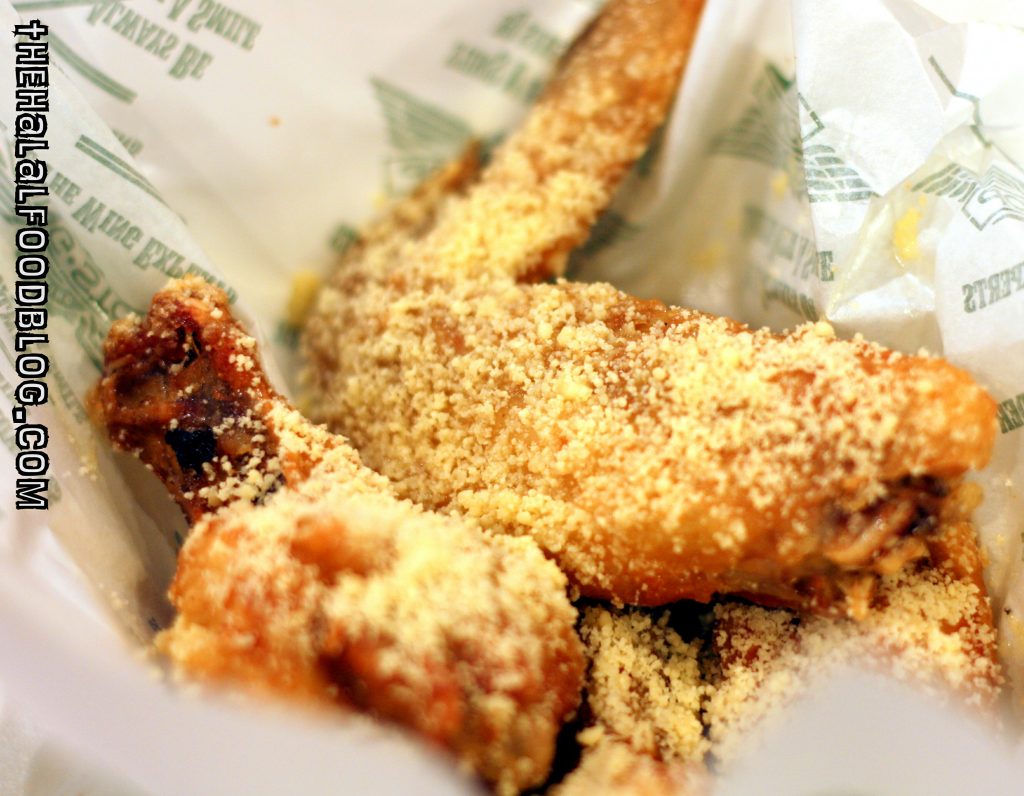 Here's one for the all the cheese lovers! Garlic Parmesan! The chicken wings are seasoned with garlic but the dominant flavour here is definitely the Parmesan cheese that's coating the chicken wings.
As you can see, it's a REALLY generous coating of the Parmesan cheese so if you like cheese, this is definitely the one for you!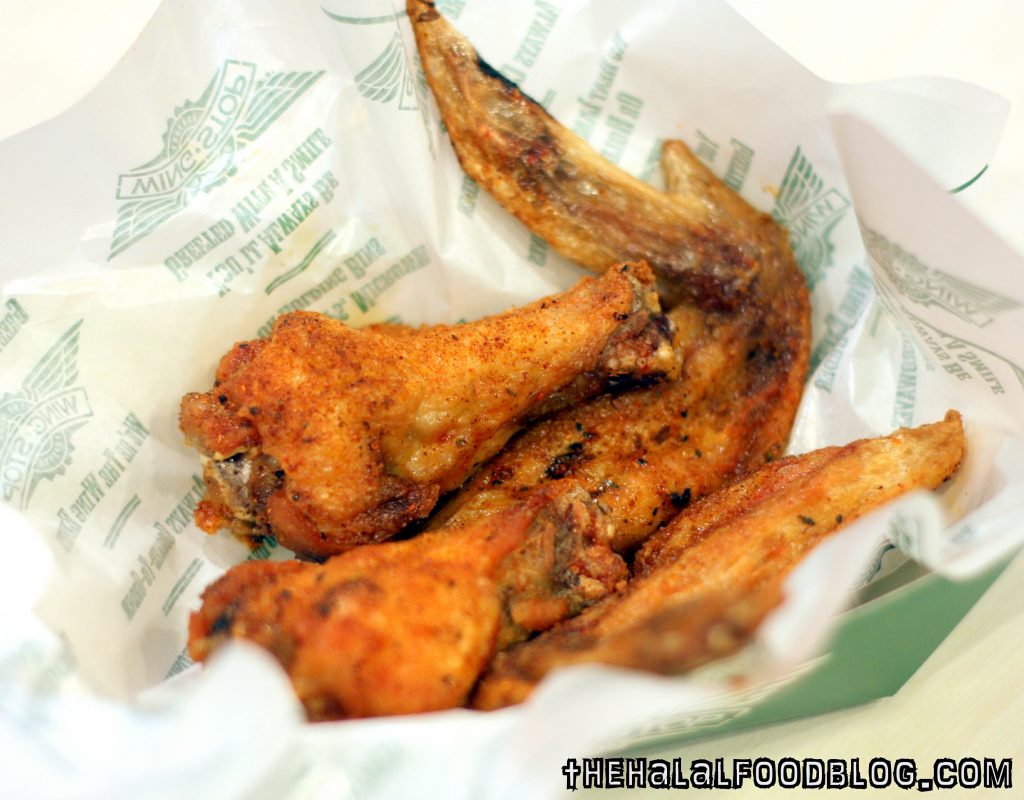 The last of the Dry Rub wings we had was the Louisiana Rub which is one of the signature and most popular flavours at Wingstop. It has a simple spice rub that gives the chicken a simple but tasty flavour and you still get to enjoy that great natural chicken flavour too.
This is also a good time to mention the Spiciness Levels Indicators at Wingstop.
On the menu, you'll see these little 'flame' icons which indicate if a particular is spicy and also how spicy we are talking about. It ranges from 1 flame to 5 flames with 5 flames being the spiciest level of course.
The Louisiana Rub is rated at 1 flame.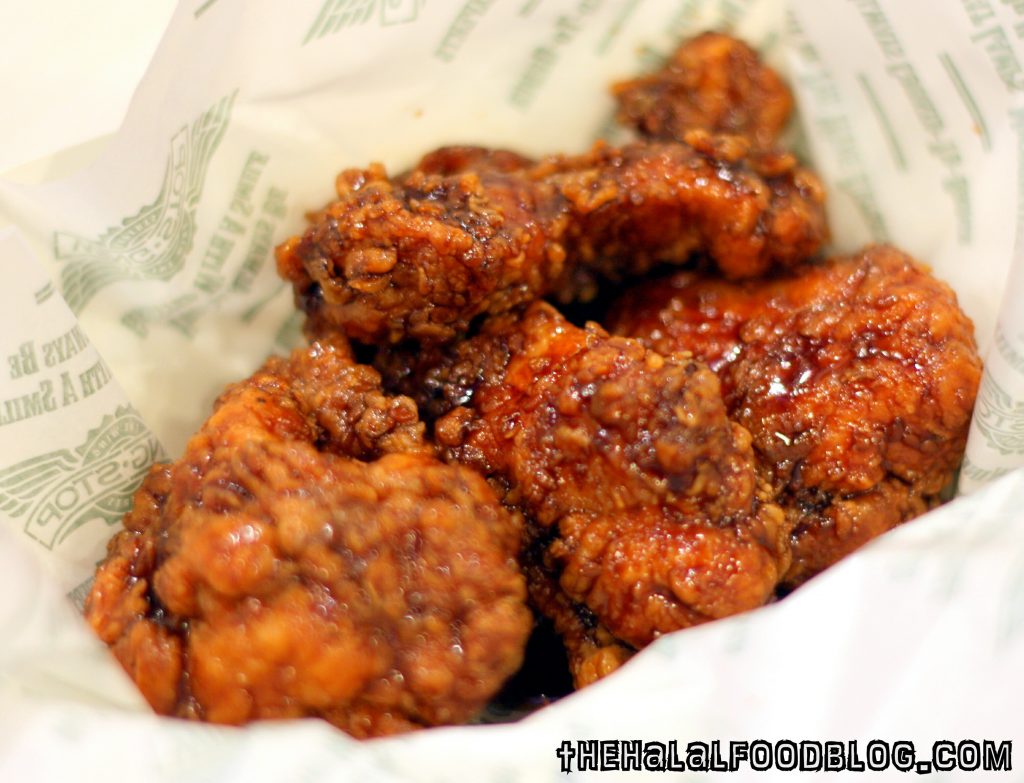 Next up are the flavours that have sauce coating the chicken and you can also see a few of tee Boneless variety.
As much as I love spicy flavours, I am a real sucker for sweet and salty flavours and the Teriyaki was a perfect example. You've got this great sauce that is full of flavour coating the chicken and it's super tasty. I think the Boneless was a good choice here because the sauce really coated the batter coating really well and you get a bite full of flavour every time.
The Boneless chicken at Wingstop is made from the chicken thigh (not the chicken breast) so it's tender and juicy!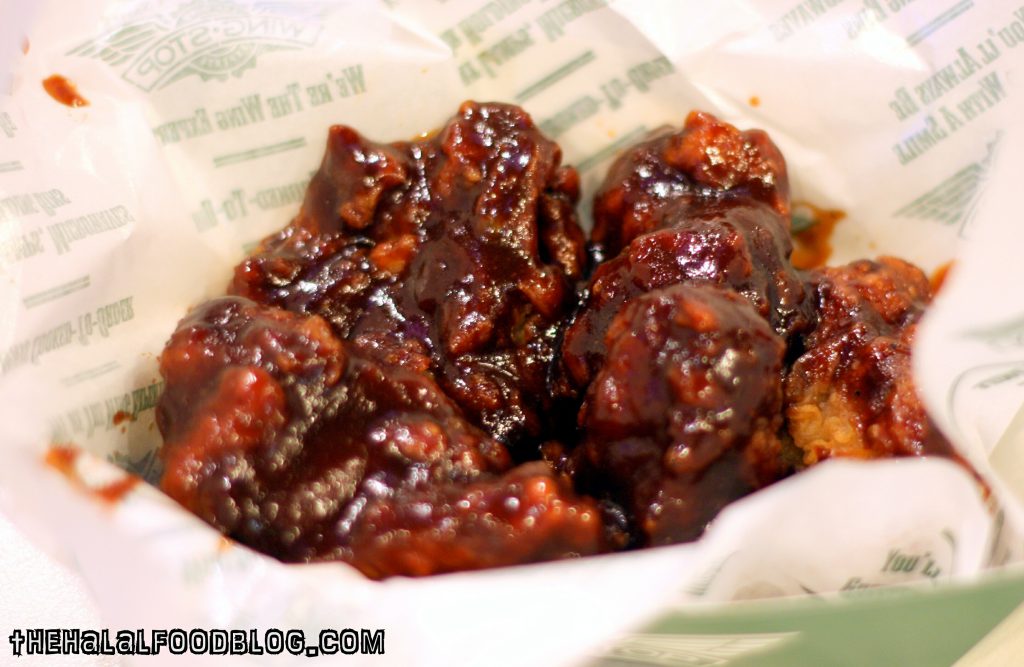 Another flavour that was on the sweet side but had a nice smoky hint was the Hickory Smoked BBQ.
I won't consider it a mild flavour because it really has A LOT of delicious BBQ flavour and I reckon will be a big hit with a lot of people especially since BBQ is such a natural pairing with chicken wings.
Other milder (as in non-spicy) flavours include the Oriental Soy Pepper and the Hawaiian too.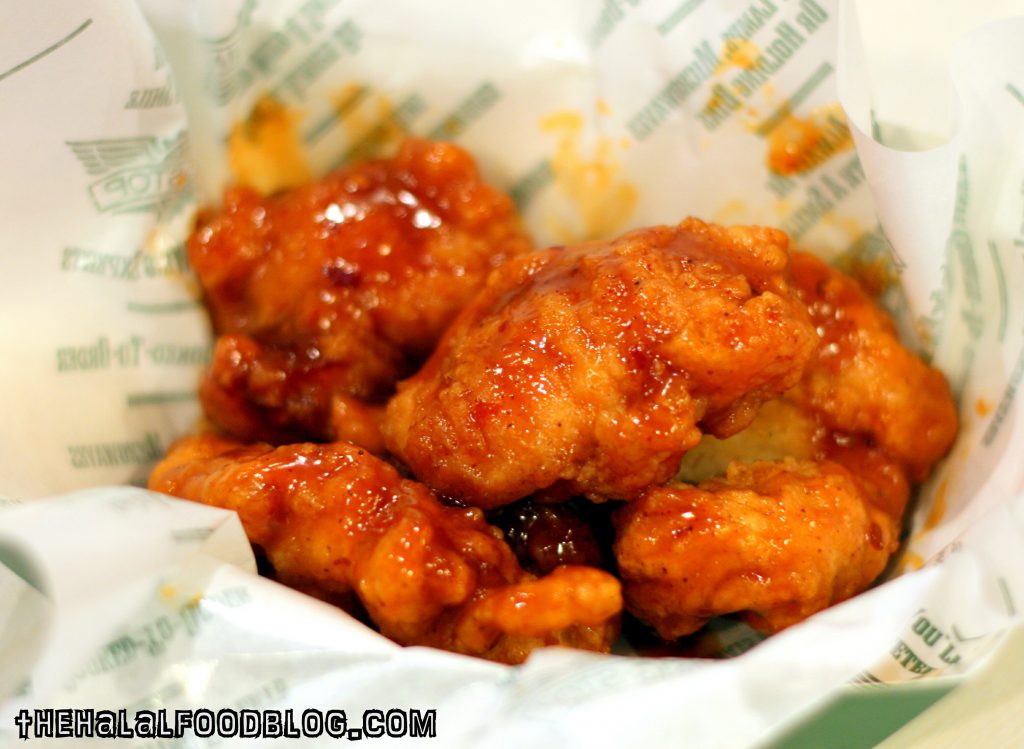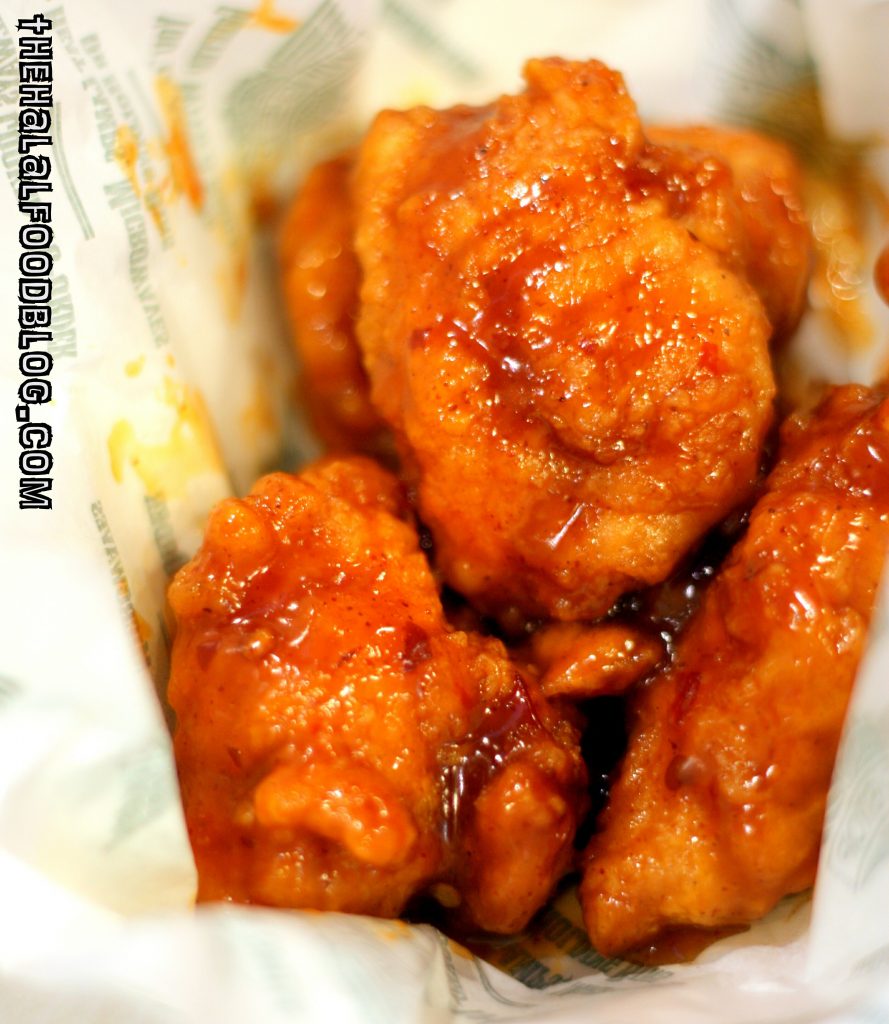 Okay we are moving into spicy territory here! The Mango Habanero was first up and it has a 4 flame rating on the menu so you can expect some people reaching for their drinks with this one LOL
The mango definitely gives this flavour a sweet flavour profile but you're gonna feel the heat after awhile. I guess for those of you who are 'hantu chili' and can handle your spice, this one may be not so bad but make no mistake that it has got a 4 flame rating for a reason okay!
They also have flavours like the Original Hot (2 flame rating) and the Cajun (3 flame rating) which get their spice thanks to Cayenne Peppers and spicy vinegar so you get a good classic Buffalo Wings flavours. But if you wanna go full blast, then you should go for… The Atomic!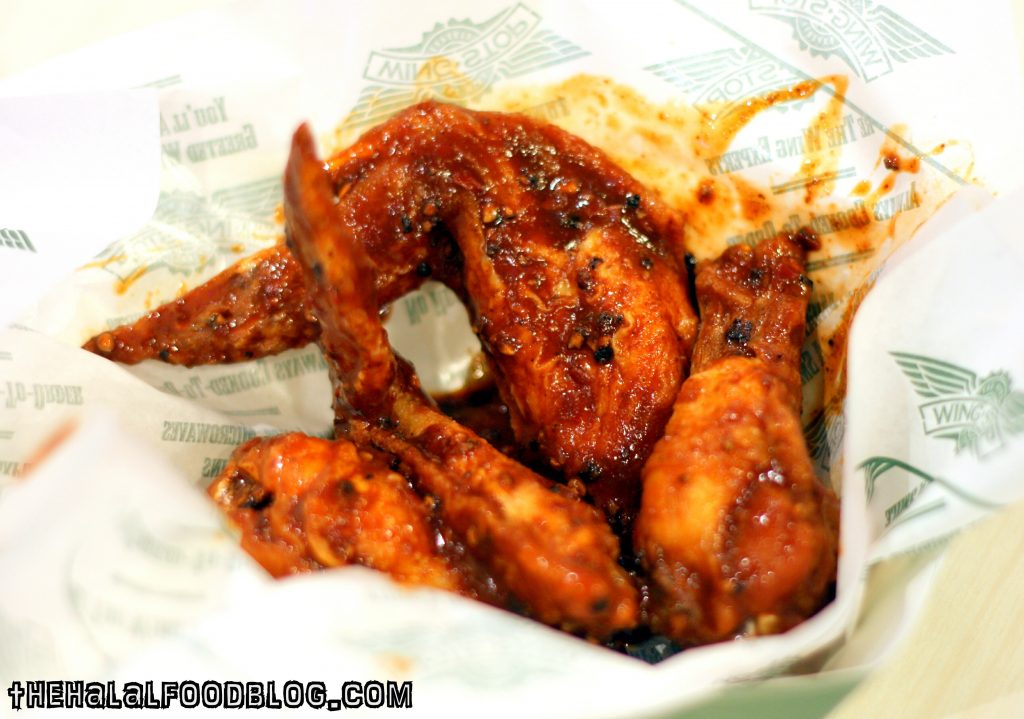 There is a good reason why they call this the Atomic – the spicy flavour really explodes! LOL
We are not kidding – this is the one to have if you think you can handle the heat and/or if you are a hero/heroine.
The Atomic has a FIVE FLAME RATING (and it might actually deserve more LOL) Just take a look at that sauce coating the chicken! ZOMG looks damn inviting right?
The heat comes courtesy of the Habanero peppers in there and don't forget that spicy vinegar that's going to shoot up and give you the full force Atomic flavour. It's like someone lit a fuse somewhere you know what I mean… the flavour doesn't hit you right away when you take a bite but then that familiar feeling starts to creep in and after awhile, your ears turn red and you start to sweat.
I like to say that we can handle our heat but this one is hands-down SPICY for sure!
Please have your drinks and tissues ready people!
Looking for more than just wings? Well, Wingstop also has a Wing Burger on the menu and even some Aromatic Rice for those of you who mati-mati also gotta have rice LOL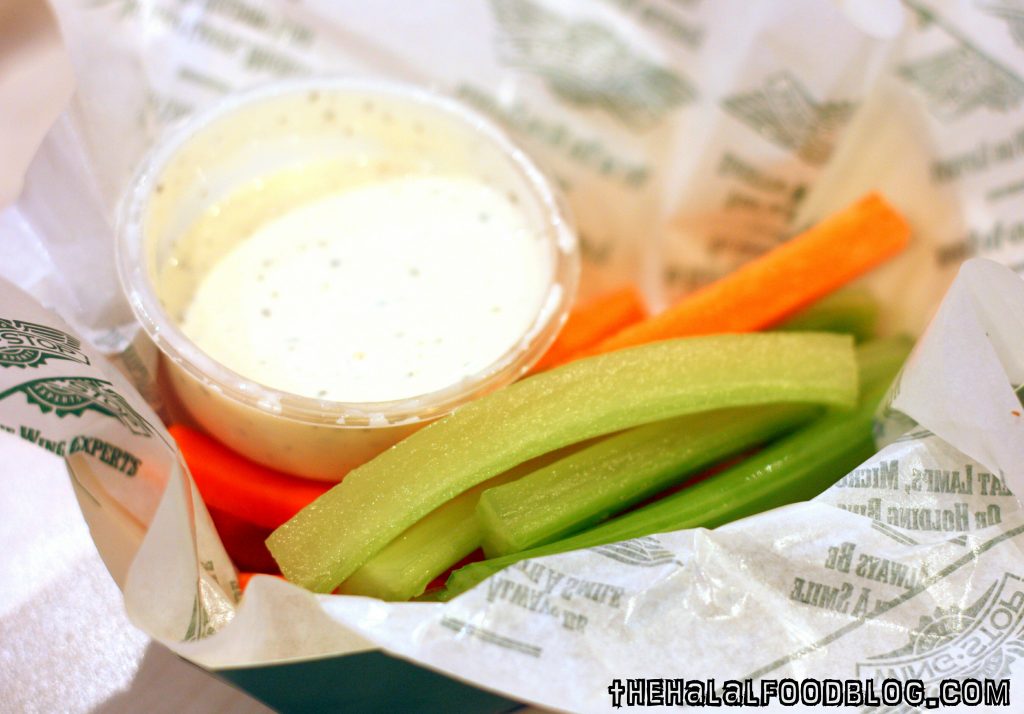 A classic accompaniment to chicken wings (especially Buffalo Wings) is a serving of carrot and celery sticks served with a cool ranch sauce. This is actually meant to give you an outlet to take a break from the strong flavours of the chicken with some cool and fresh veggies.
I did find the Rance Sauce a bit too watery though. Guess I'm used to the type with a thicker consistency.
And of course, they have a whole array of other sides to enjoy with your chicken too!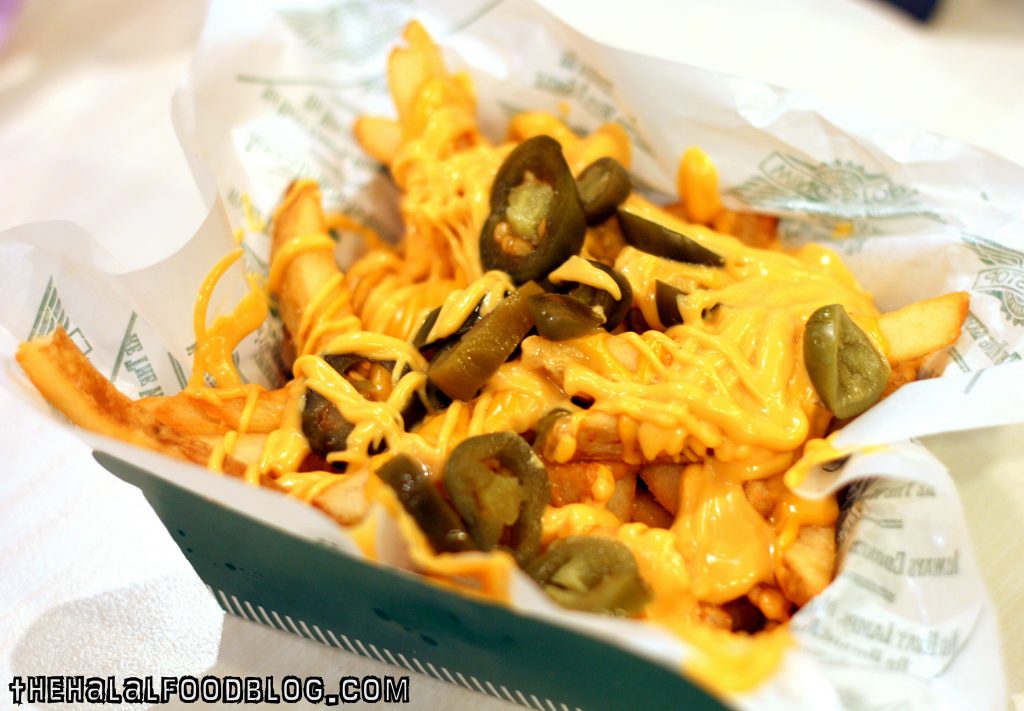 This is one of the must-have sides when you visit Wingstop – the Jalapeno Cheese Fries!
A good serving of skin-on potato fries that are completely covered in a tasty cheese sauce and Jalapenos for that extra flavour kick too!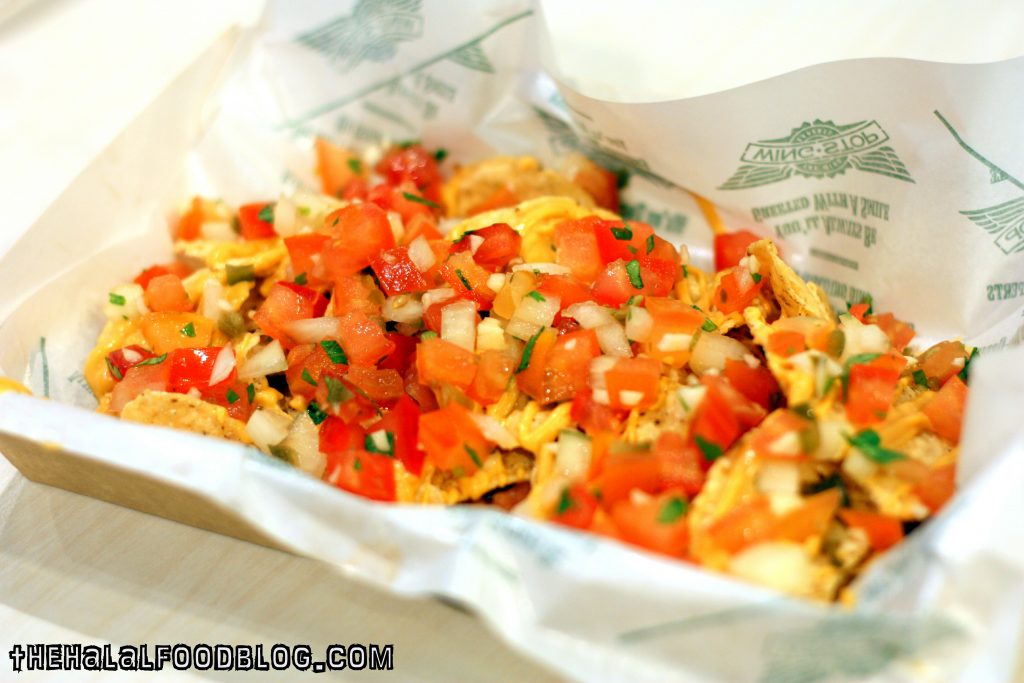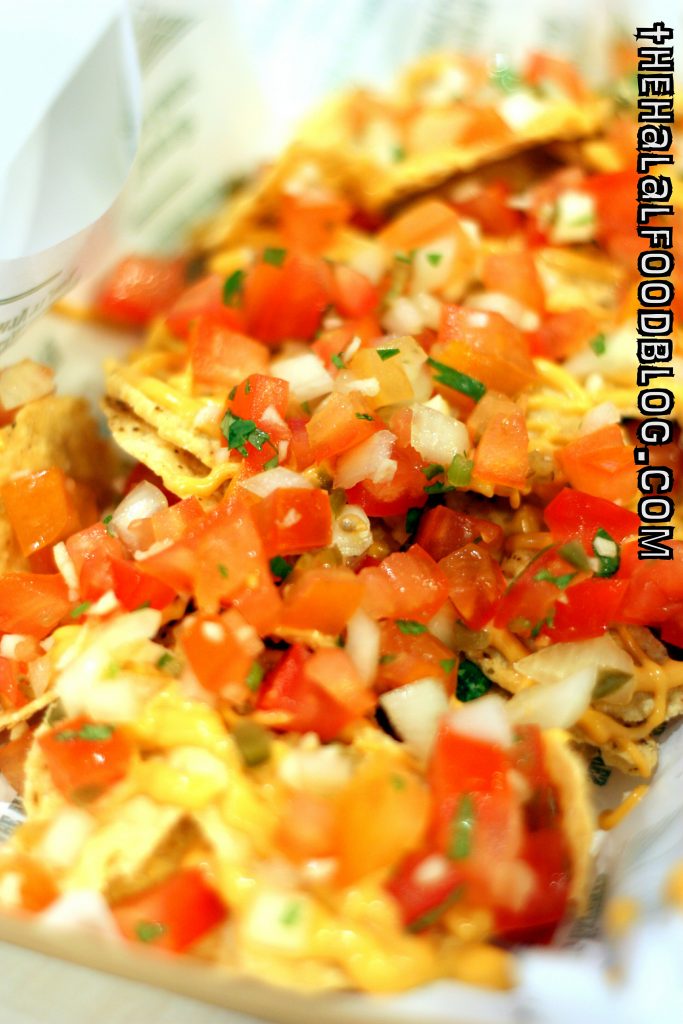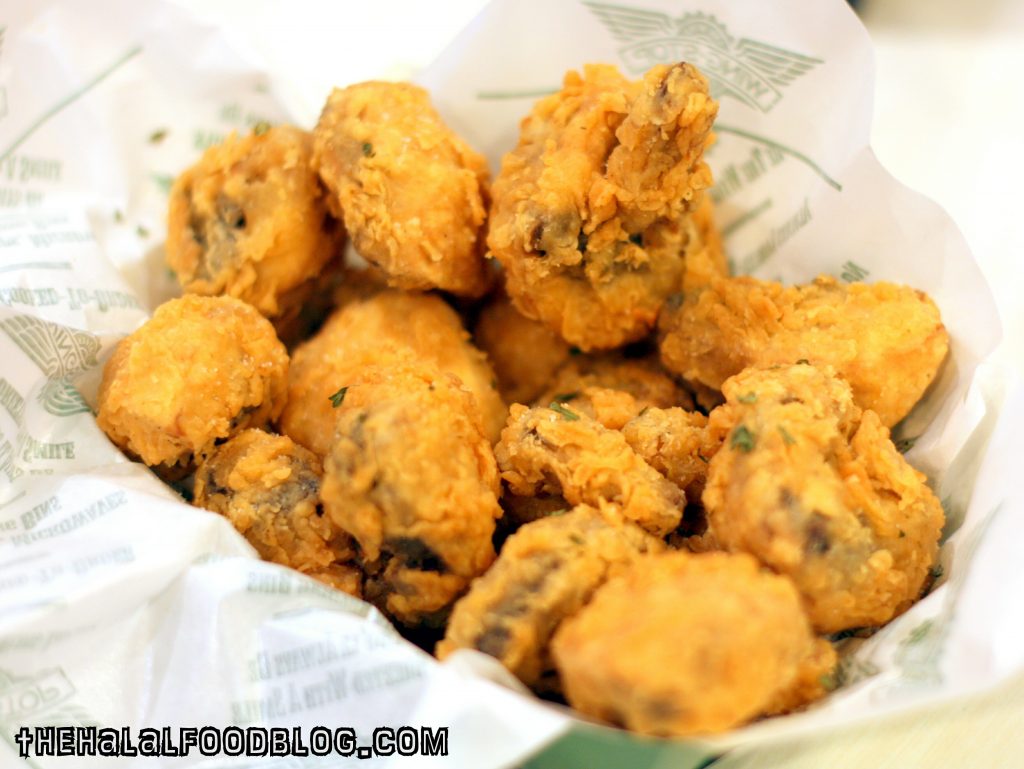 The Tortilla Chips with Salsa and Cheese and Mushrooms Fritters were also good options and perfect for sharing with friends and family. Great flavours and tasty little bites to get your appetite going while you enjoy your chicken!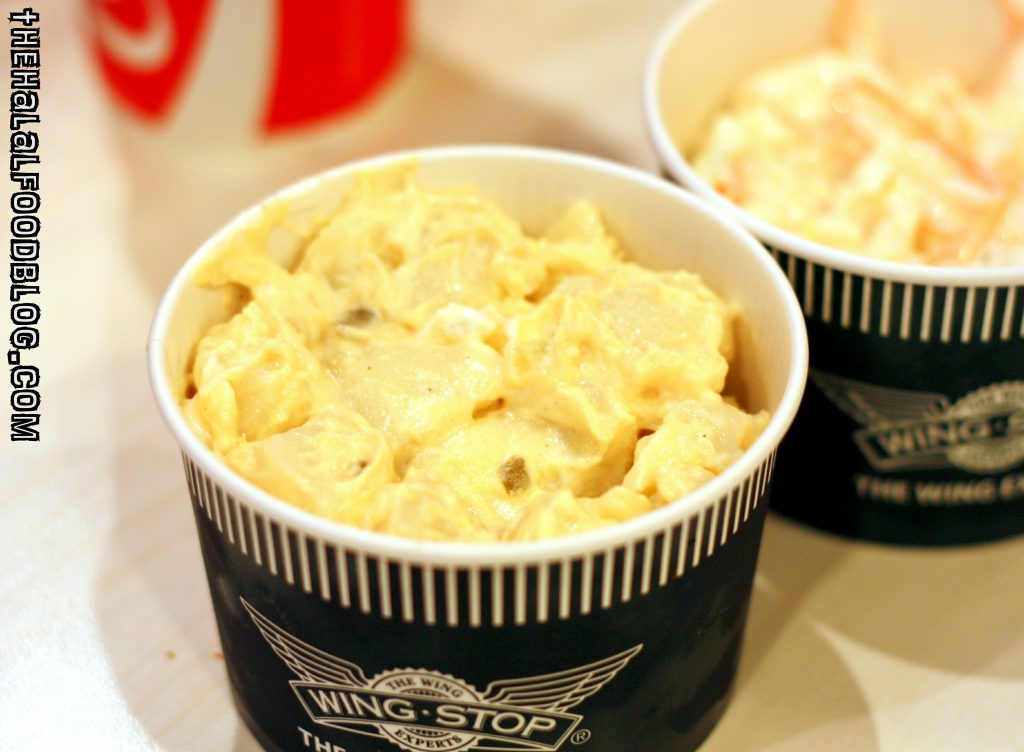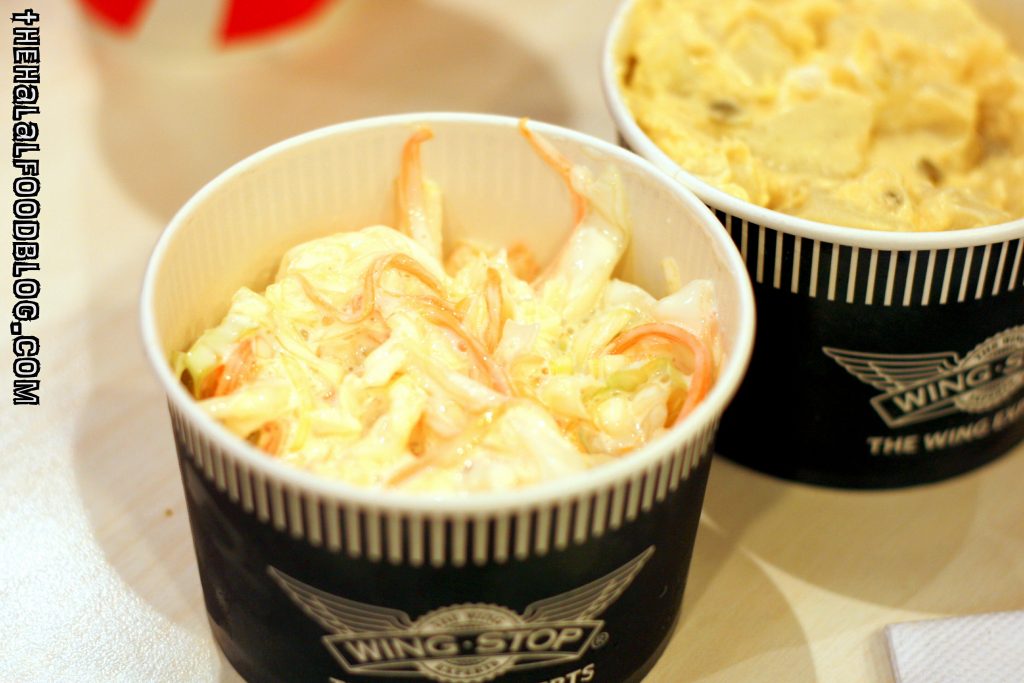 They also have more classic sides like the Potato Salad and the Coleslaw.
I actually quite liked the Coleslaw because the cabbage and carrots were roughly chopped and still chunky so you have a good bite to it plus a good flavour to it too with bit of a tang.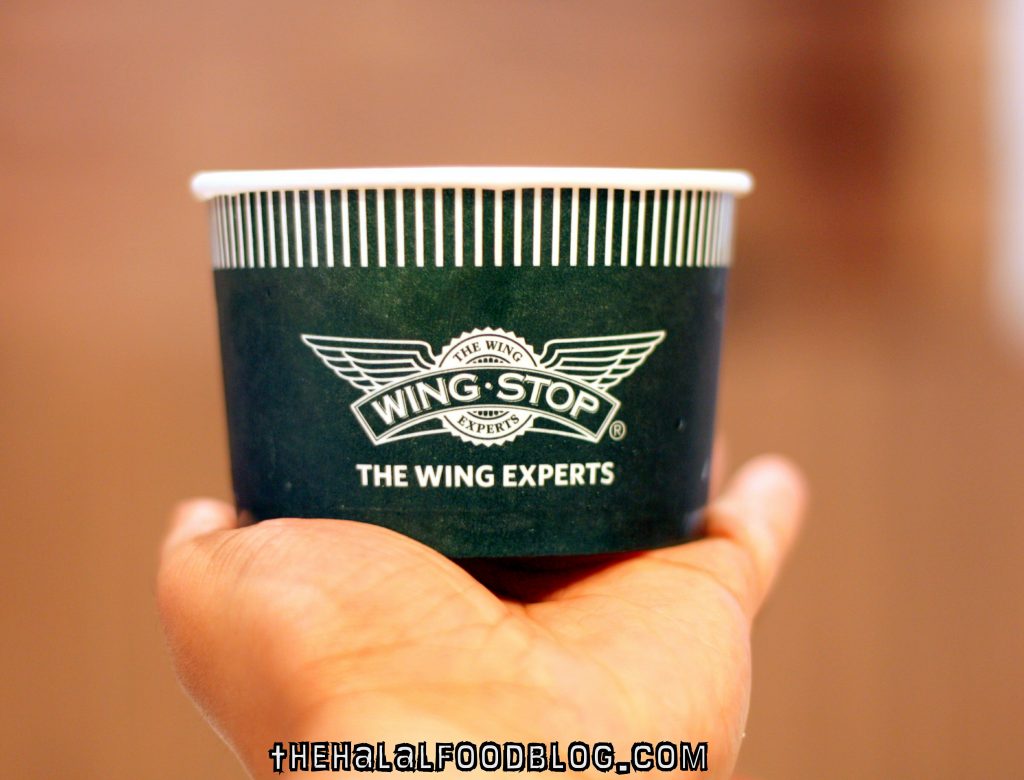 You can head down to 2 locations to get your Wingstop fix – Bedok Mall and City Square Mall.
But you also have the convenient option of delivery! Oh yeah you can enjoy Wingstop in the comfort of your own home by ordering via foodpanda!
This is also a good option so that you can makan at home and nobody can see you jump around once the Atomic spicy flavour kicks in LOL
Thanks to Wingstop for having us down and next time, we're gonna try the rest of the flavours but we definitely wanna take the Atomic challenge again!
Bedok Mall (#B1-53)
City Square Mall (#B1-33)
Facebook: www.facebook.com/wingstopsg
Instagram: @wingstopsg
Operating Hours: 11.00am til 10.00pm Daily
All information (including prices, availability of item on menu and Halal status of establishment) are accurate at the time of posting. All photos used in this site are property of The Halal Food Blog unless stated otherwise.