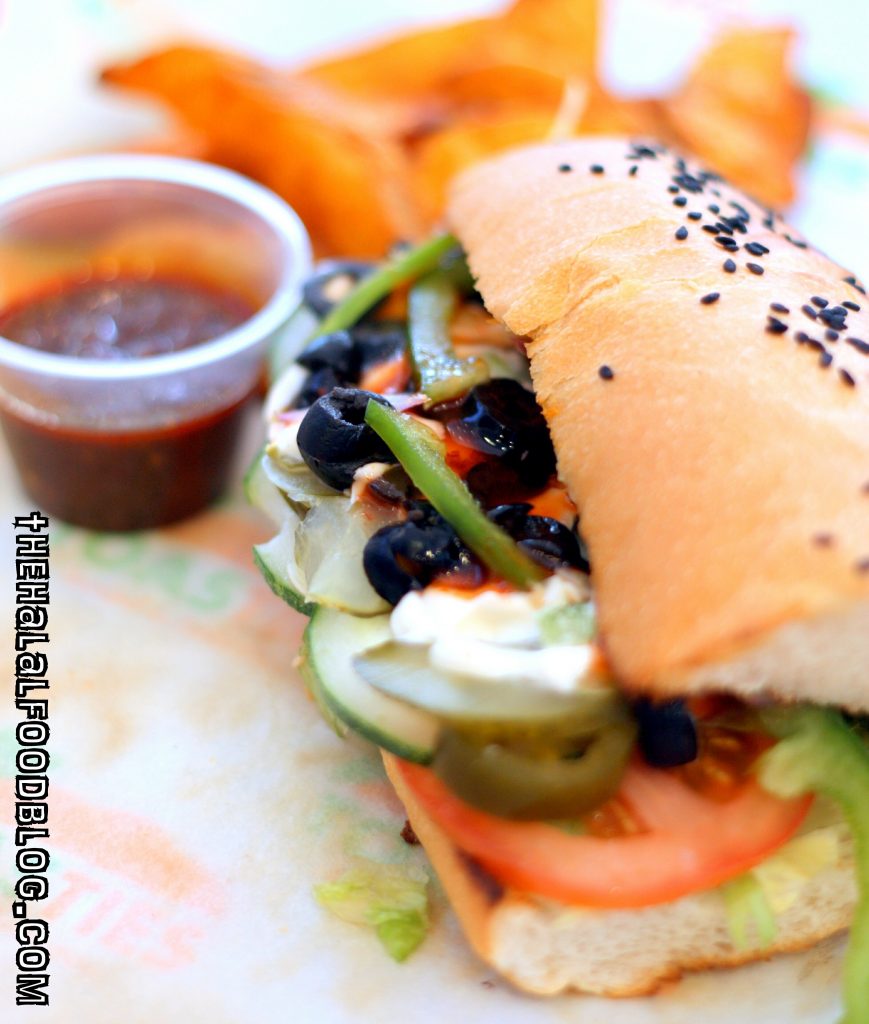 Toasties has established itself as probably one of the best sandwich joints in town. And what's best is that it's certified Halal so this is probably the closest you'll get to the submarine sandwich you're always craving without having to cross immigrations (if you know what we mean hehehe)
Well, besides providing us with some really creative sandwiches all year round, Toasties also has some special edition sandwiches that mostly pop-up around festive periods. For example, you all remember the sedap giler Satay Sandwich they had right?
Well, to commemorate CNY, Toasties has come up with a really unique and Singaporean sandwich that's sure to tickle your fancy and curiosity.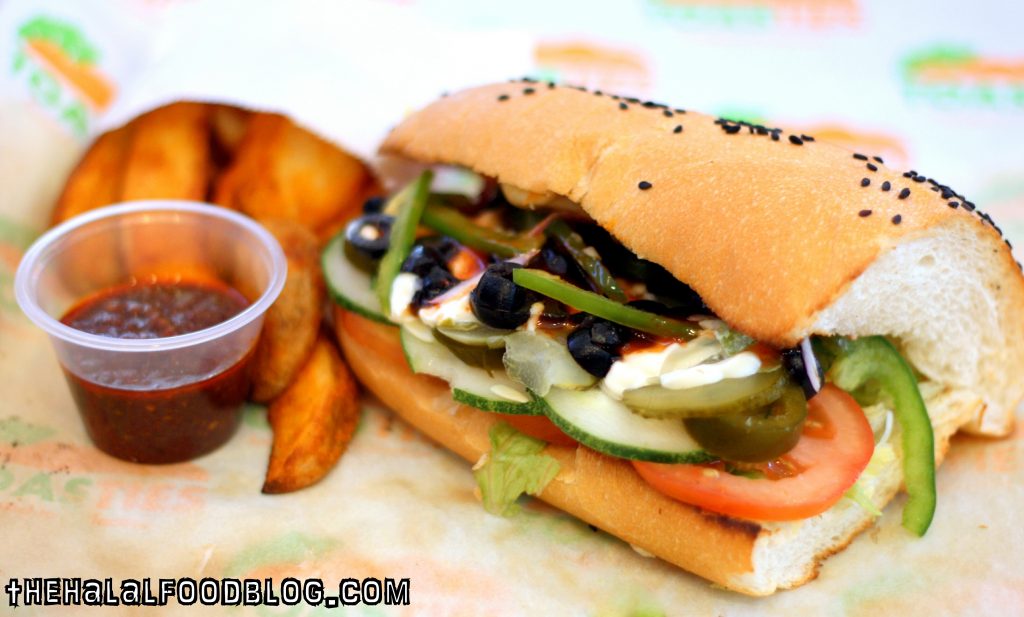 Presenting – The Chili Crab Sandwich from Toasties!!
LOL okay you can't really see the filling too much from that picture because as Toasties, you definitely have the option of piling on as much or as little veggies as you please! And as you can see, I piled on A LOT!! LOL
Hmmmm let me see if I can get you some clearer pic of the filling eh…
Aha there you go! And you can see what we mean when we talk about quality at Toasties!
The special filling for the Chili Crab Sandwich contains REAL crab meat, crab bits and also some prawn bits for added bite and this tasty filling is seasoned with an authentic and delicious Chili Crab flavour!
And as you can see from those close-ups, we're not talking about just some random stuff thrown together to make it look like it's a lot of filling. We're talking about 100% here. Something we like to call 'All Killer No Filler'. And best of all, that Chili Crab flavour really shines through. Great flavour with spicy notes but with every bite you'll be able to say "Wah, tastes like Chili Crab lah."
Adding to the flavour is a special Black Sesame Bread.
Toasted Black Sesame Seeds crown this loaf and you're definitely going to get that unique and distinct Black Sesame flavour when you bite into your tasty sandwich.
Anyways, you can always choose your favourite bread for the Chili Crab sandwich and/or choose the Black Sesame bread for your favourite sandwich at Toasties. You have the freedom!!! LOL
Anyways, Toasties bakes all their breads fresh daily. You'll even be able to enjoy the aroma of freshly baked breads when they open up that oven and that appetizing fragrance wafts through the air.
You can always choose to add anything from the wide selection of veggies to your sandwich plus your choice of sauces too! But because the Chili Crab flavour is very distinct on its own, you might want to consider leaving out strong tastes like pickles and jalapenos plus Toasties recommends Chili Sauce and Mayo for your sauces.
More? You want more? "You got it!" says Toasties.
Also available is this specially concocted sambal. It's not just any sambal – it's a Dried Shrimp Sambal (aka Hebe Hiam style) which means it's not only bursting with fiery spiciness but also full of great flavour too! Definitely a packo full of flavour sambal and goes great with the Baked Potato Wedges (healthy!!) or the Chicken Drumlets!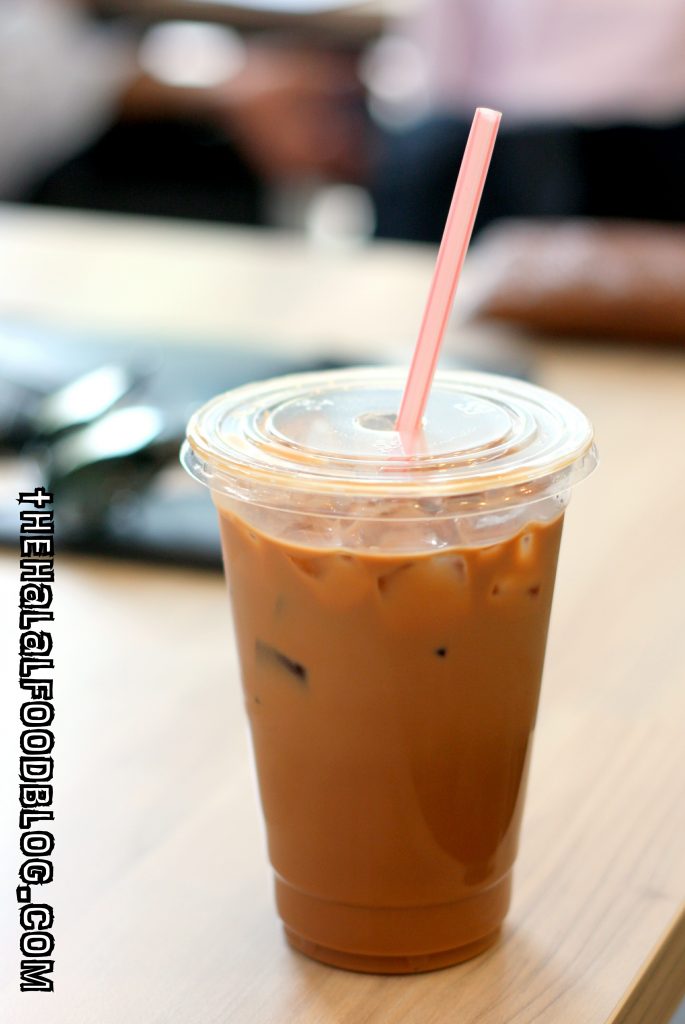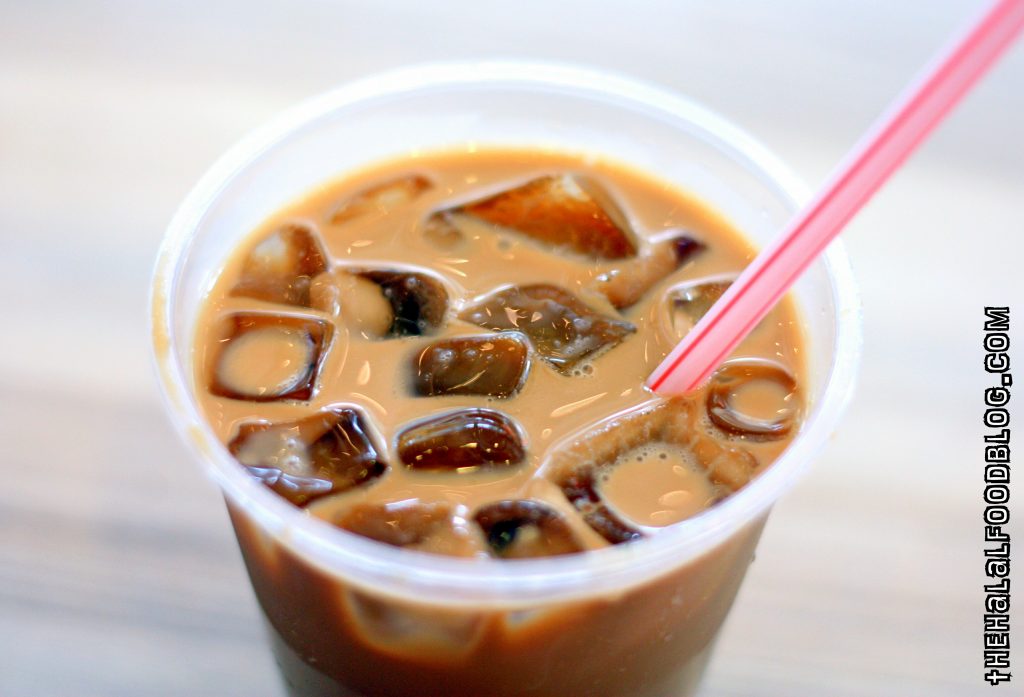 And to wash down all the tasty food, you need a tasty beverage right? Enter the Toasties Milk Tea!
No no this is NOT a Thai Iced Milk Tea. This is a Milk Tea. And it's damn sedap lah! LOL
You get a very strong tea flavour with a great sweet flavour. Just the way a Milk Tea should be. None of that watery stuff to be found here. We're talking about the real deal!!
You can get the Milk Tea as part of a set meal with the Chili Crab Sandwich and some Potato Wedges (plus the Sambal!!) for $12.80. But if you're going ala carte, it's $8.80 for the Chili Crab Sandwich and $3.50 for the Milk Tea. We recommend you get the Set Meal lah anyways. More worth it plus you get a chance to Scratch and Win!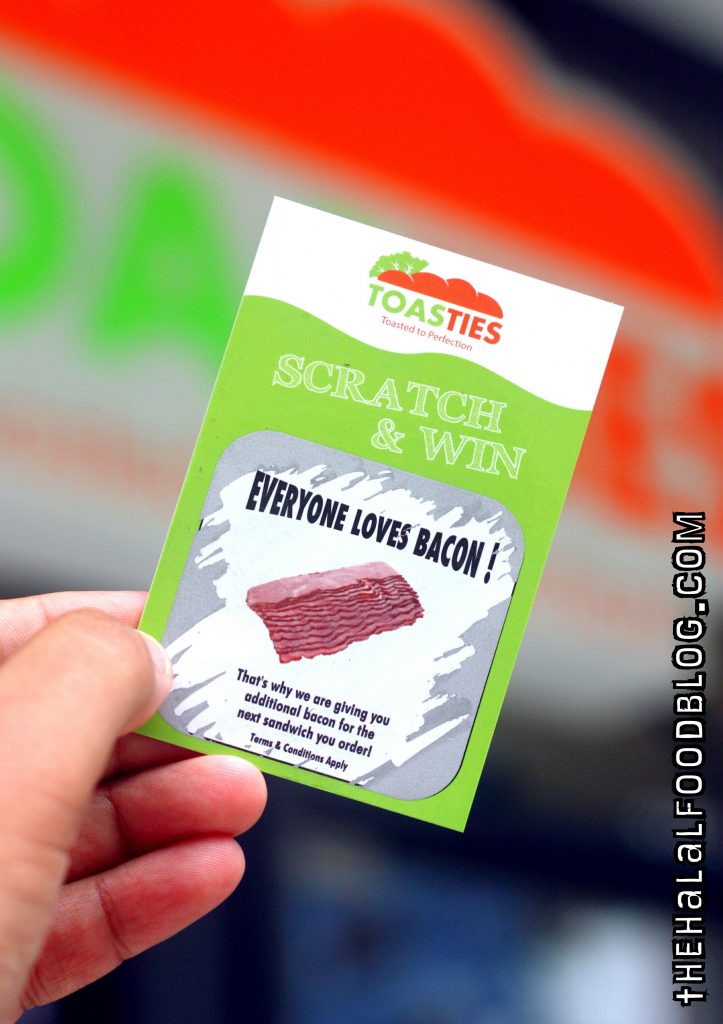 That's right! Every set meal you enjoy at Toasties gets yous a Scratchcard where you stand to win great incentives including free add-ons, sides and meals!! And none of that 'Thank you for playing' nonsense… Every card is a winner!! Woo hoo!!
It's great to see a great local start-up with a great concept doing so well and at the same time, still striving to come up with new and fresh ideas. It looks to be a very exciting 2016 and let's hope for more from the Toasties team!!
Support local!!
PS don't forget they have 2 outlets now! Tampines St 21 and 321 Clementi!!
321 Clementi
321 Clementi Avenue 3 #01-10/11
Tel: 62508700
www.toasties.com.sg
Facebook: www.facebook.com/toastiesSG
Instagram: @toastiessg
Operating Hours:
8am til 10.30pm Daily
All information (including prices, availability of item on menu and Halal status of establishment) are accurate at the time of posting. All photos used in this site are property of The Halal Food Blog unless stated otherwise.