Many many many many many years ago (somewhere like in 2015 lah actually LOL) we passed by Jalan Pisang and we saw a sign for a place that would be opening soon. That place – The Royals Steakhouse.
Yes, The Royals is a familiar name. You've probably visited or tried some of their tasty treats (we recently reviewed their new menu too!) but did you know that they have a Steakhouse? I'll be honest and say that I didn't know what to expect. I've been to places that are supposed to specialize in steaks and they didn't turn out the quality one would expect. How then would The Royals Steakhouse fare?
I can tell you right now – WE WERE IMPRESSED!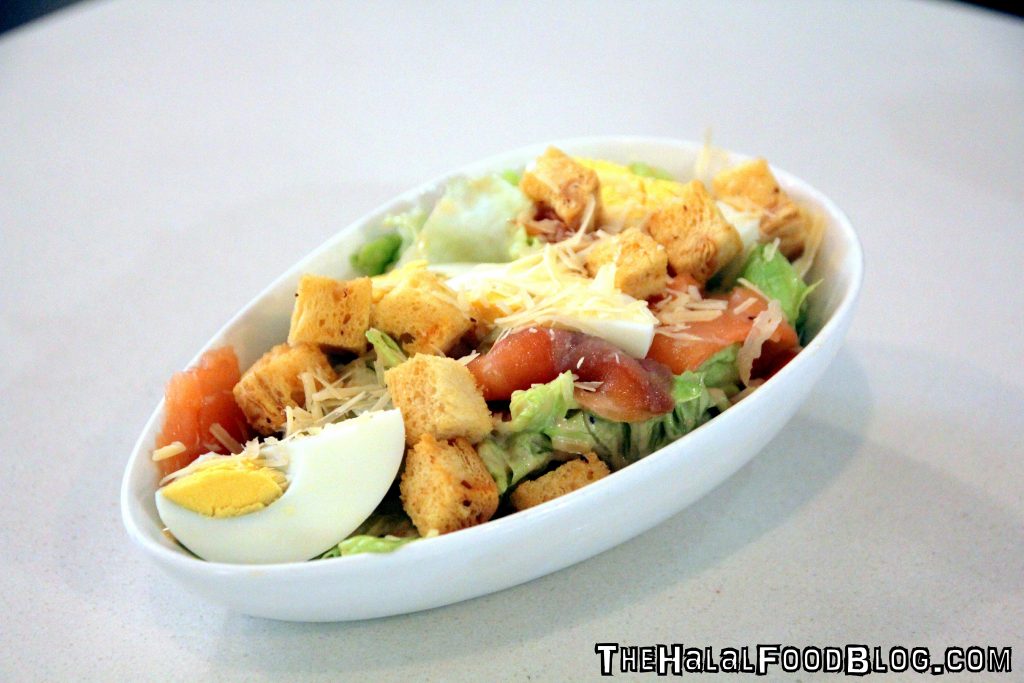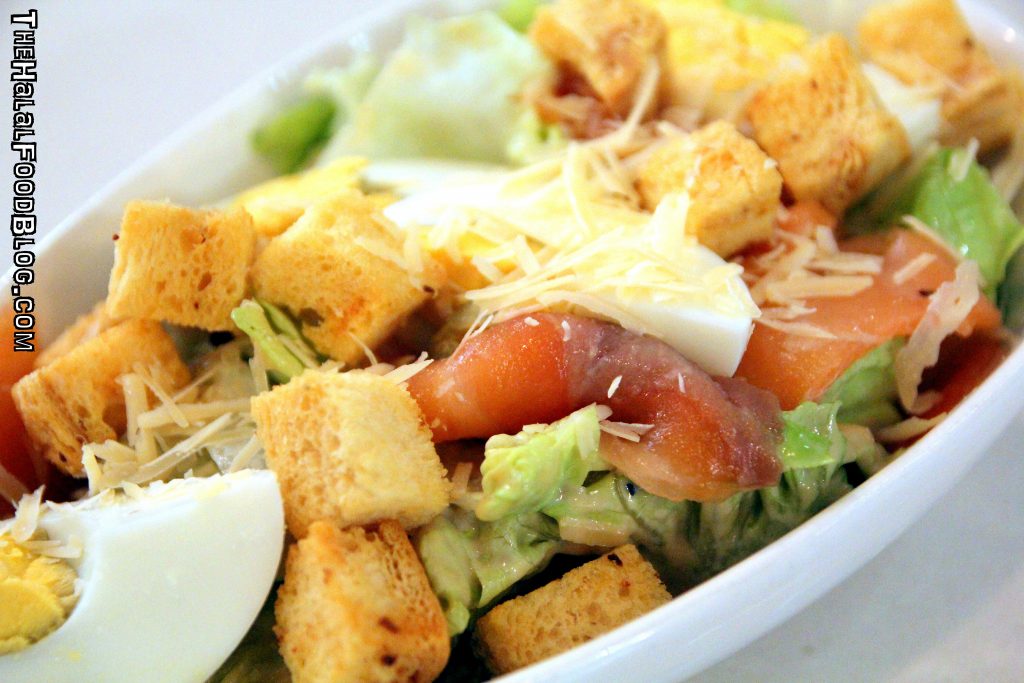 Let's start with some appetizers shall we 😀
The classic Caesar Salad at The Royals Steakhouse comes with all the usual suspects – crisp greens, boiled egg, croutons and delicious smoked salmon. And let's not forget the creamy Caesar dressing and grated Parmesan for that extra kick.
If you've gotta have a salad to start, this is the one for you!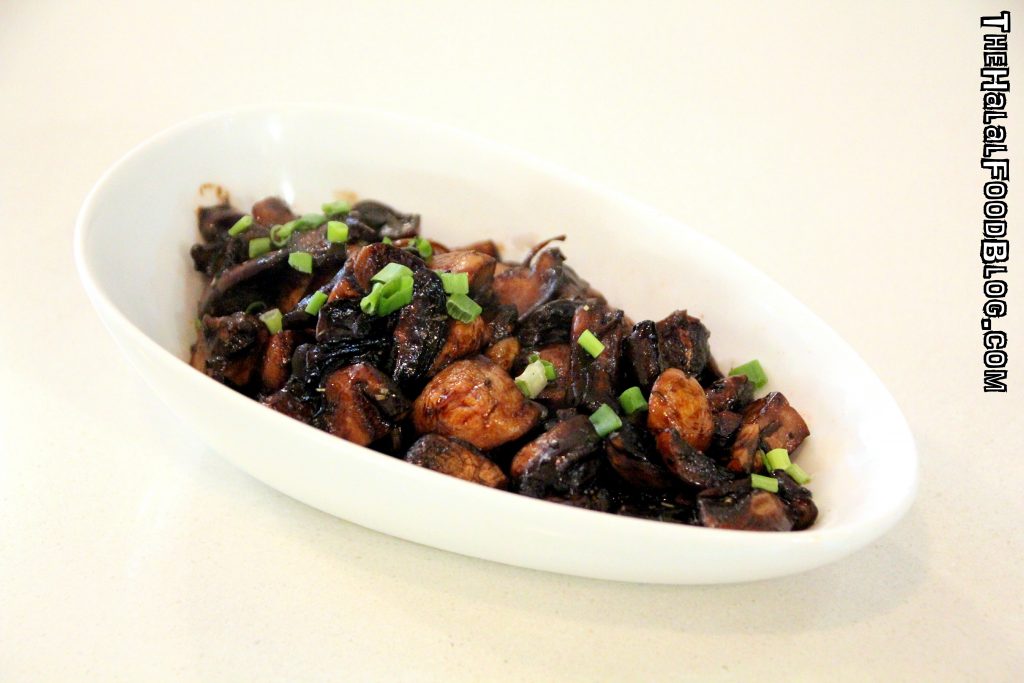 THIS ONE IS A MUST HAVE!!
Whether you wanna have it as a starter or you wanna have it as a side with your Mains, the Sauteed Mushroom in Balsamic Dressing is something you should definitely have at your table.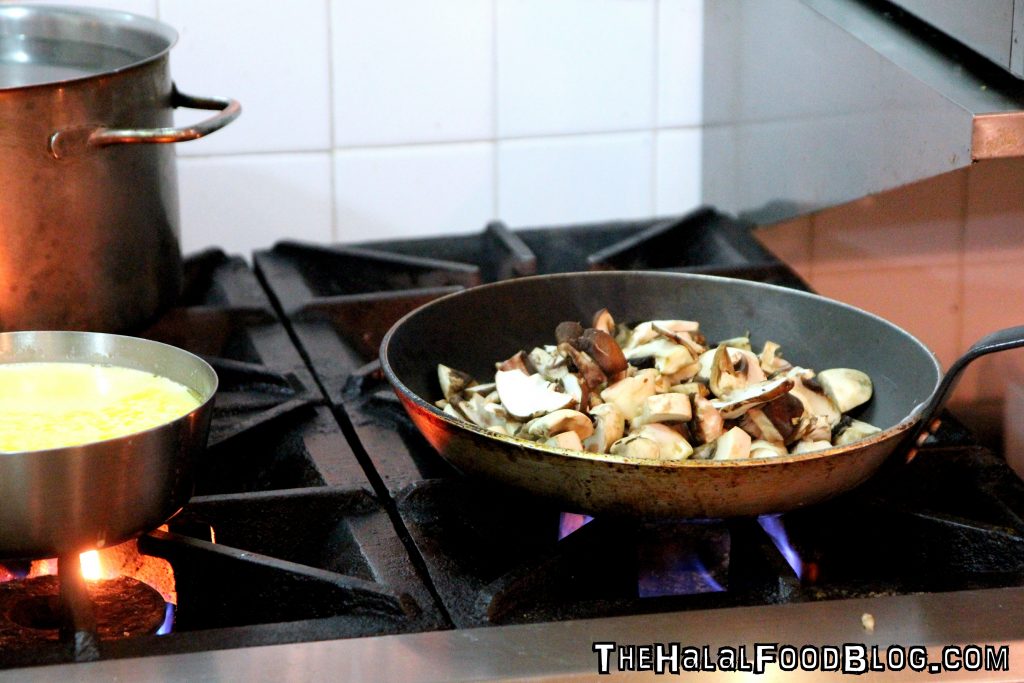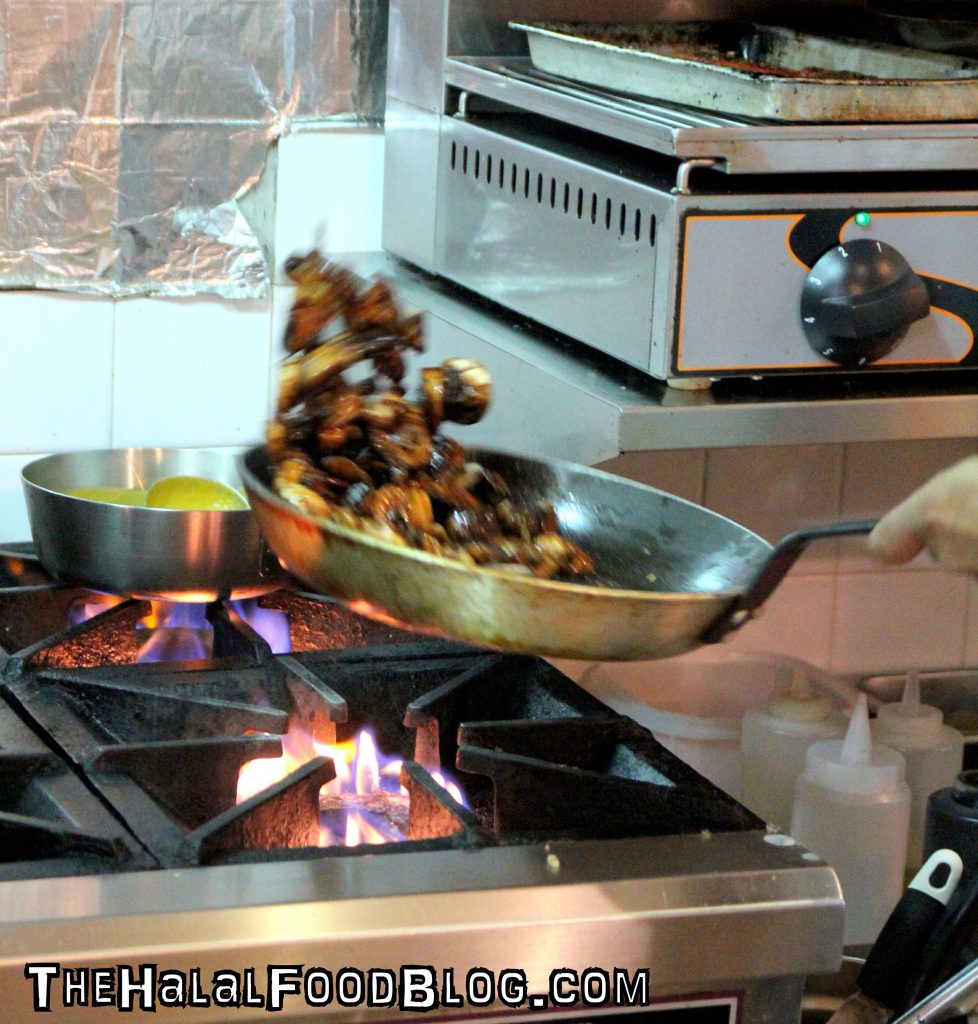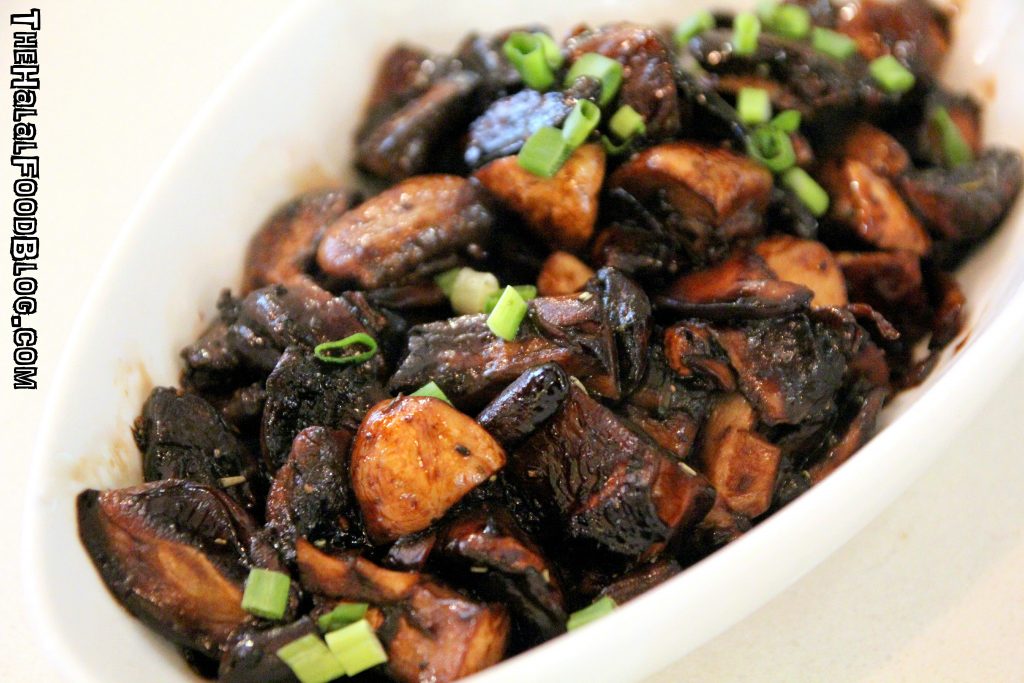 It starts out simply enough – some brown mushrooms in a pan and then tossed with some Balsamic vinegar. The result is a serving of mushrooms with a bit of a glaze.. a little tart, a little sweet and a lot of sedap!
A great dish to whet your appetite or to go along as a side to your steaks later on for sure 😀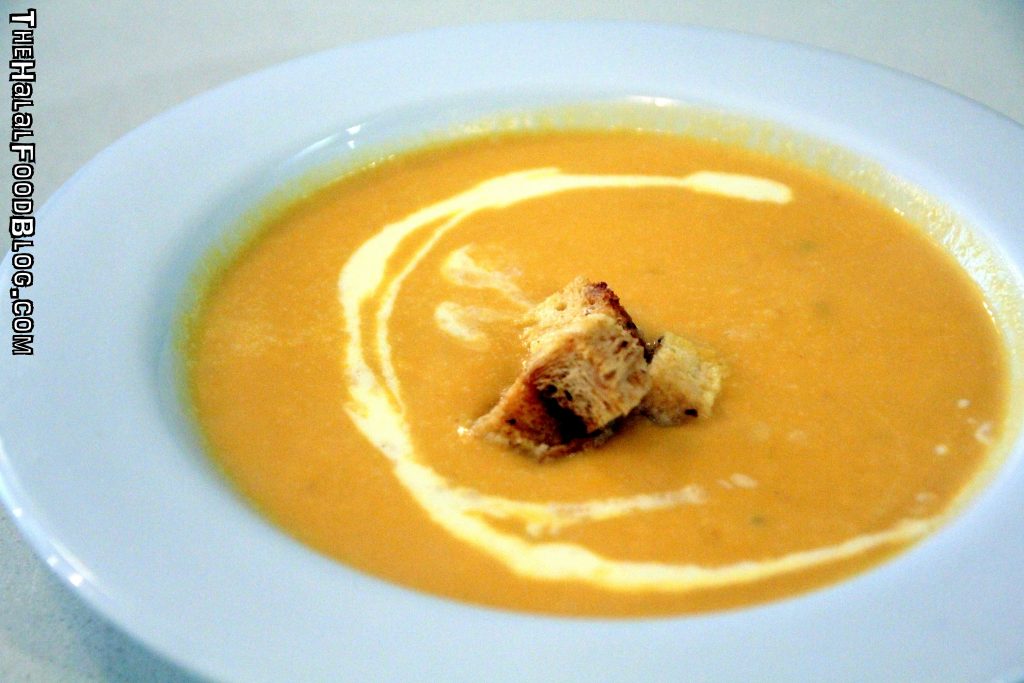 Soup is also another good way to start your meal and The Royals seems to have some pretty good ones based on what we have tried so far! When we visited, the Soup of the Day happened to be the Pumpkin Soup which we knew was really good thanks to our previous visit to The Royals Cafe awhile back.
While the sedap-ness of the soup was no surprise, what WAS a surprise was how much work went into the prep! At The Royals Steakhouse, it's a pretty open concept and this means you have a birds' eye view of the kitchen right in front (or behind you depending on where you're facing LOL). For the soup, we thought it was a simple 1-2 step process and bingo you're soup is done. Right? Wrong!
Wah you won't believe how much attention they paid to the soup. #truestory
Go and order the soup when you're there and you'll see what we mean okay!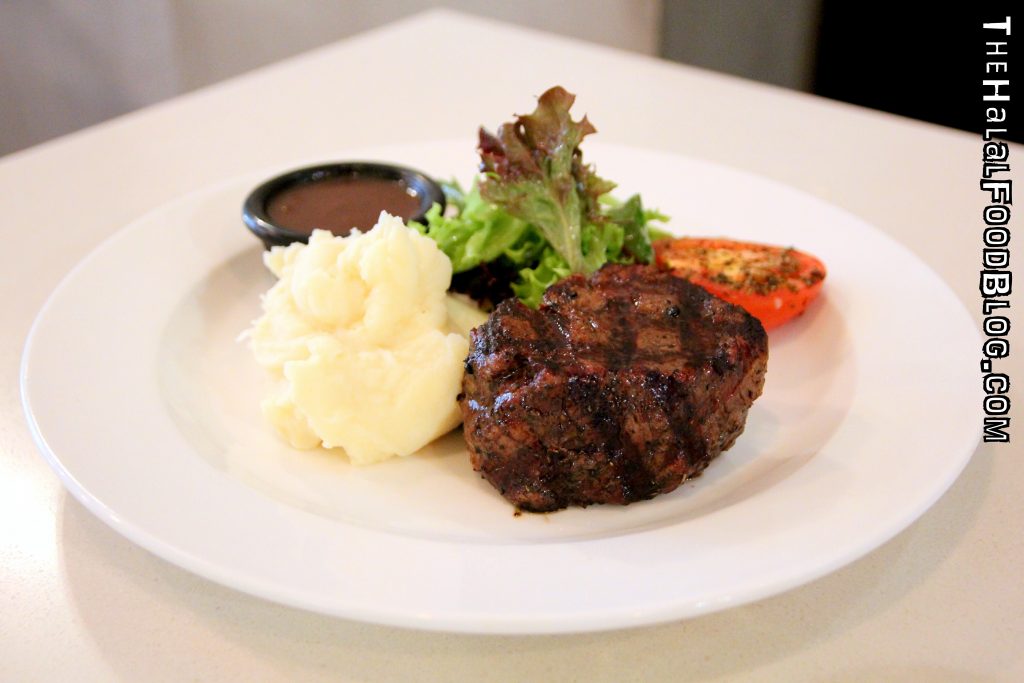 And we're finally at the meat section!
First up was the Prime New Zealand Tenderloin which seemed like it was going to be the bomb! They have a few different cuts on the menu (all about 200gm-ish) including Prime New Zealand Ribeye and Prime Australian Striploin but Tenderloin is always a great choice. As proven here!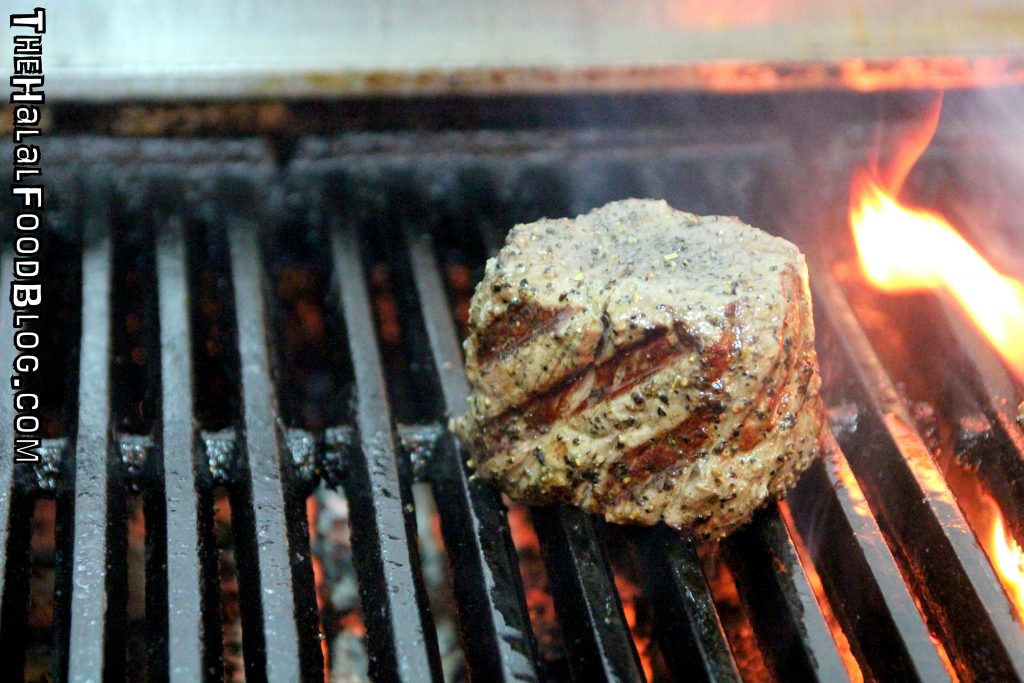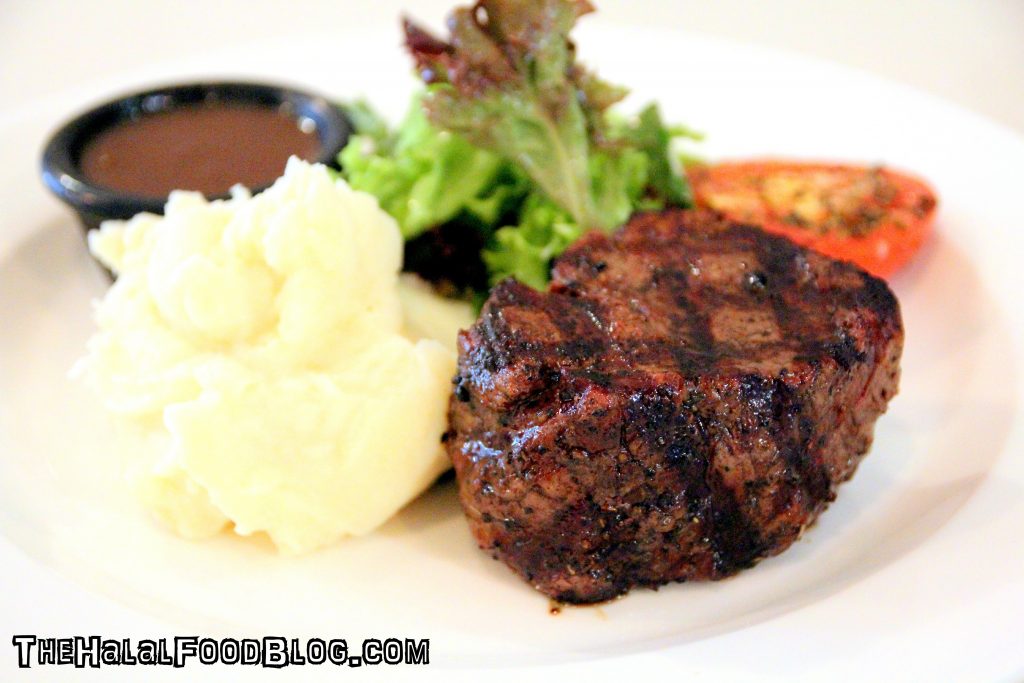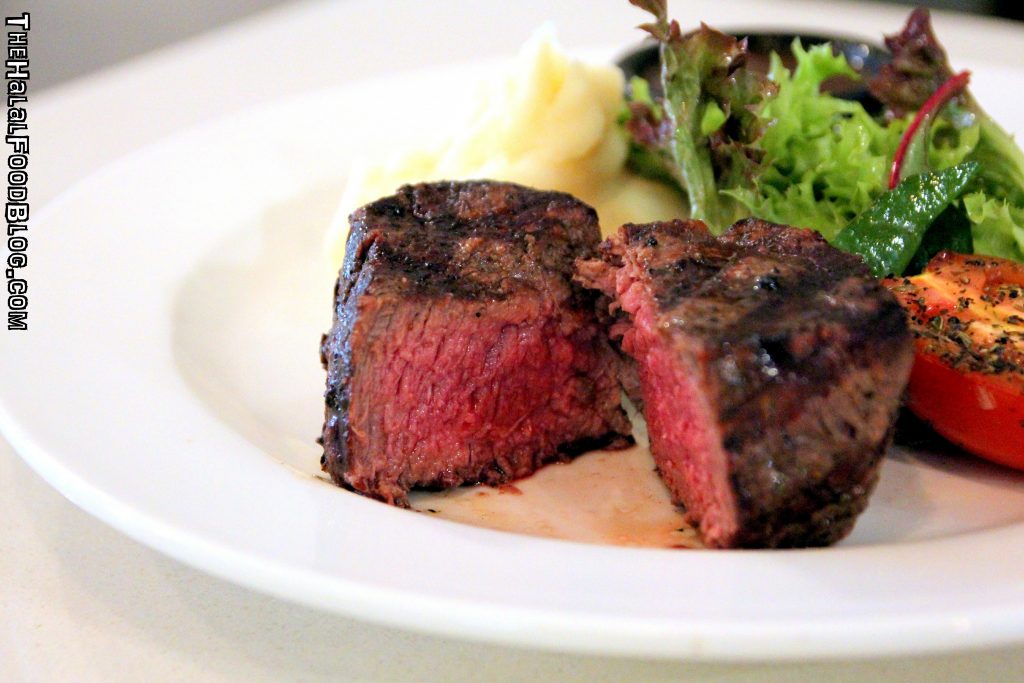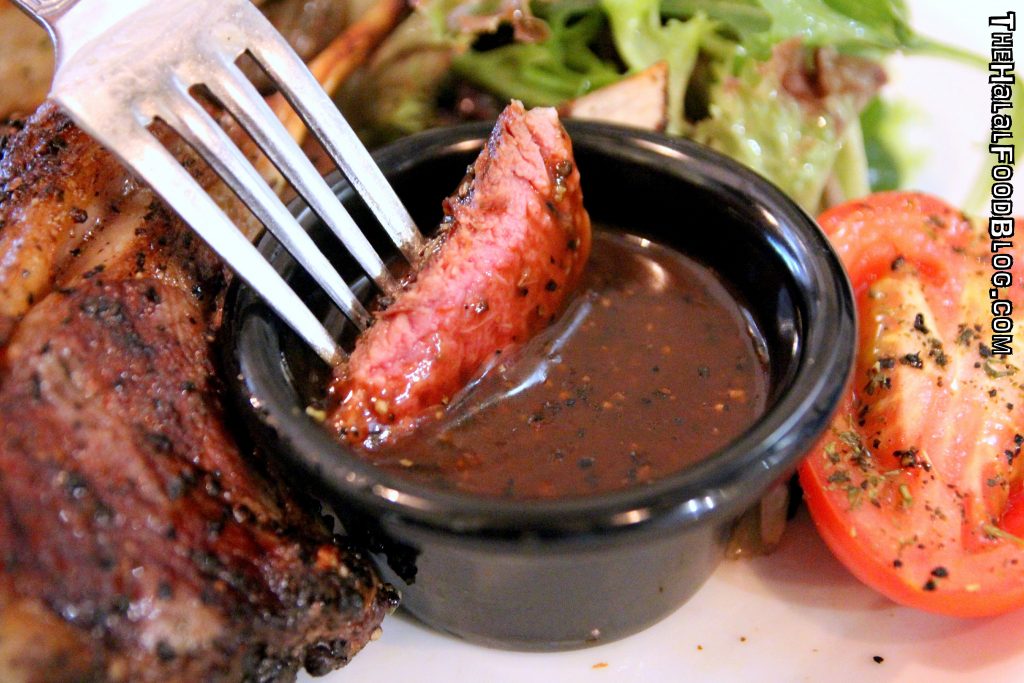 A simple yet thorough seasoning of salt and pepper and onto the grill it went. And we really have to applaud the skill of the chef working the grill. I mean, like we said, some places which are supposed to 'specialize' in steaks sometimes can't even do it right. Well, at The Royals Steakhouse – it seems like they know how to do it right.
Perfect done-ness as requested and with such high-quality meat, this was one mighty fine steak!
You also get a choice of either a Black Pepper or a Mushroom sauce if you'd like. Your steak also comes with some salad, Mashed Potatoes and a grilled Roma tomato.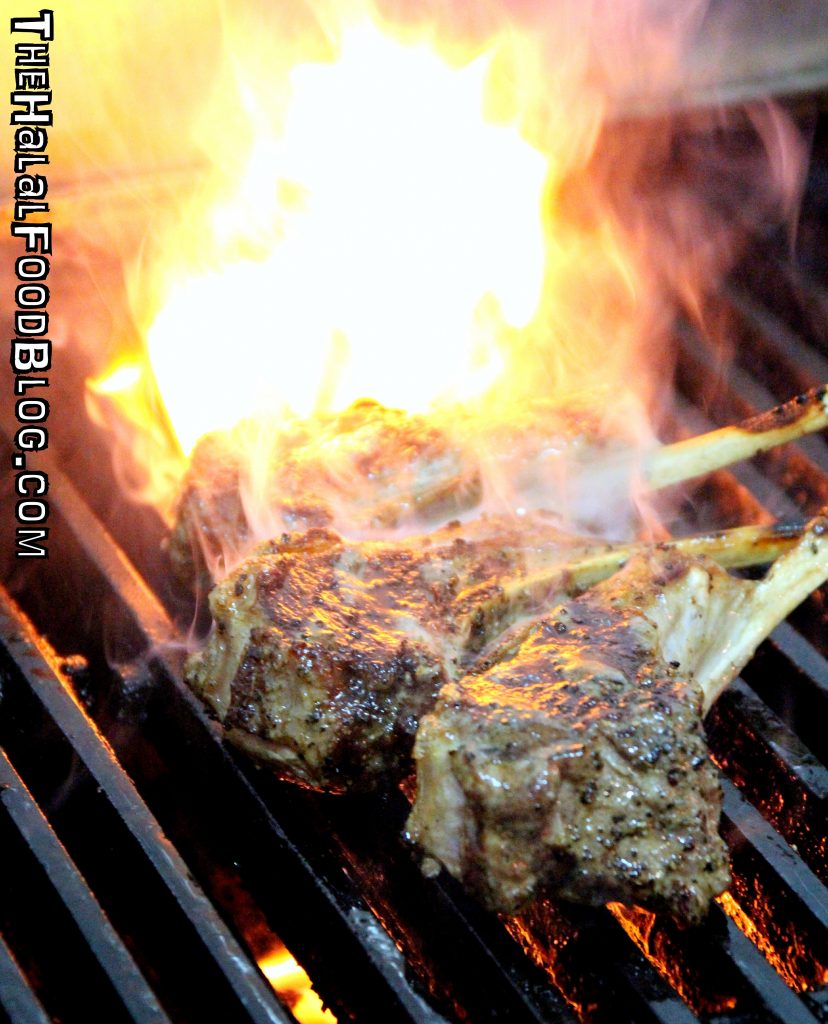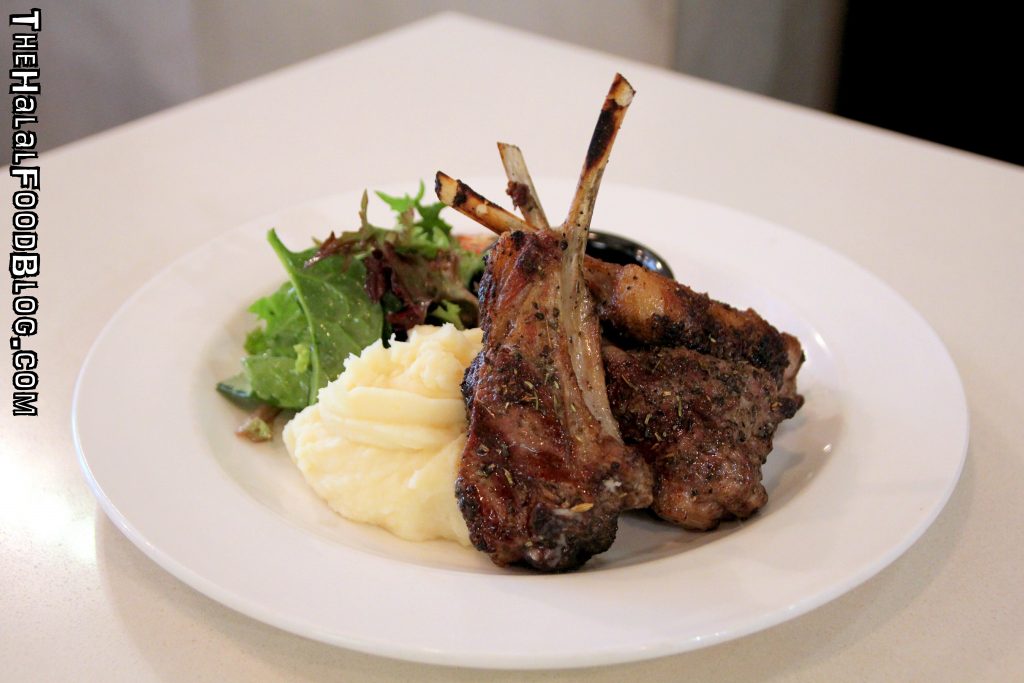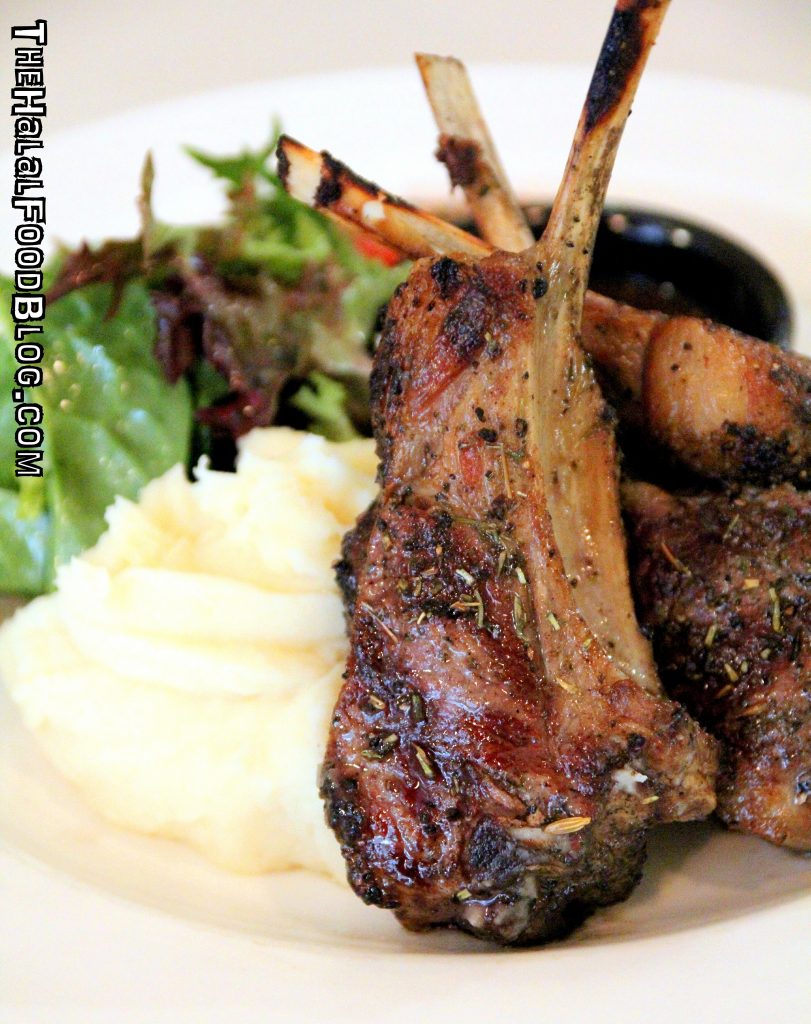 Looking for something a little different from steaks? They've also got Surf 'N Turf (sliced Tenderloin, sauteed Tiger prawns & grilled chicken sausage) and Pan-Fried Norwegian Salmon too. We went in a bit of a different direction but with a classic favourite – Lamb Chops!
The Royals Steakhouse gets their lamb chops from Australia and gives them a good seasoning of salt, pepper and a little Rosemary. The result is a tender and tasty dish to satisfy your carnivorous side. Just a gentle reminder – Lamb Chops are normally cooked to Medium done-ness so if you want them any different, be sure to let your server know okay!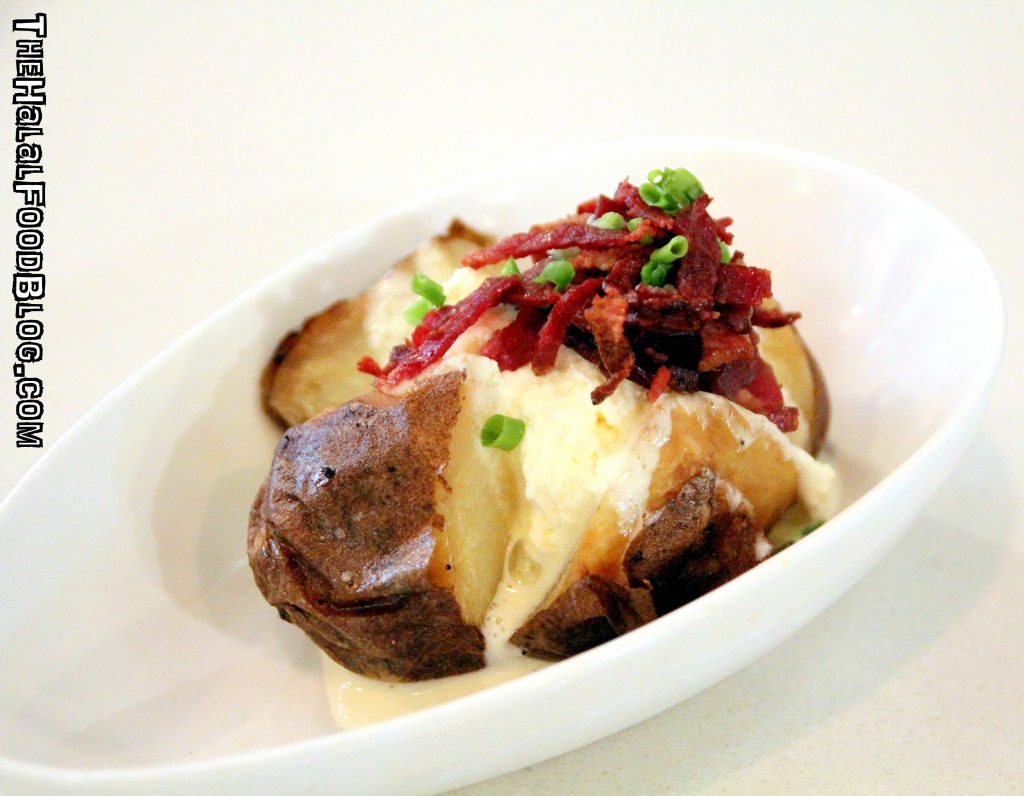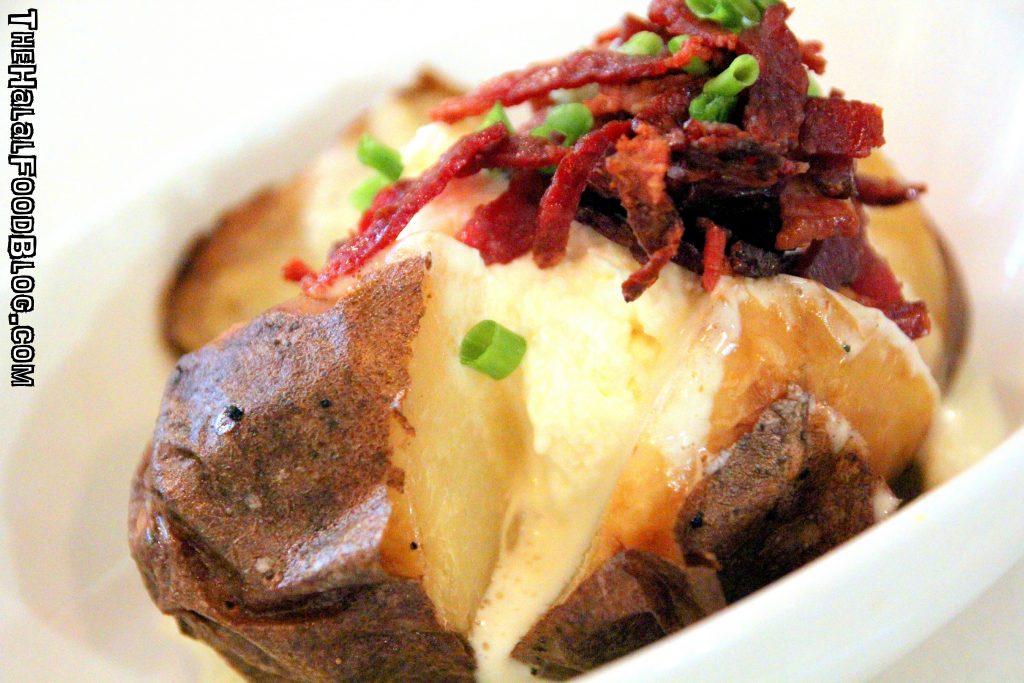 Interestingly enough, something that seems like a natural pairing with steak is actually missing from the permanent menu… the Baked Potato is actually part of a promotional menu! Apparently it used to be a permanent item and the it wasn't anymore. Hmmmmm…. perhaps they might consider making it a permanent item again!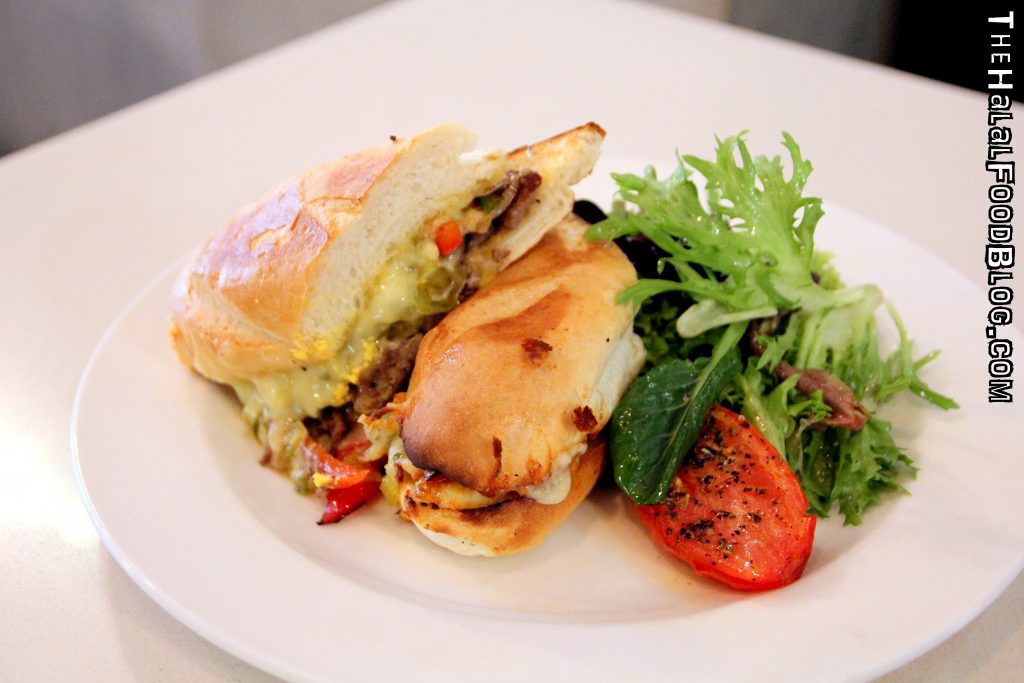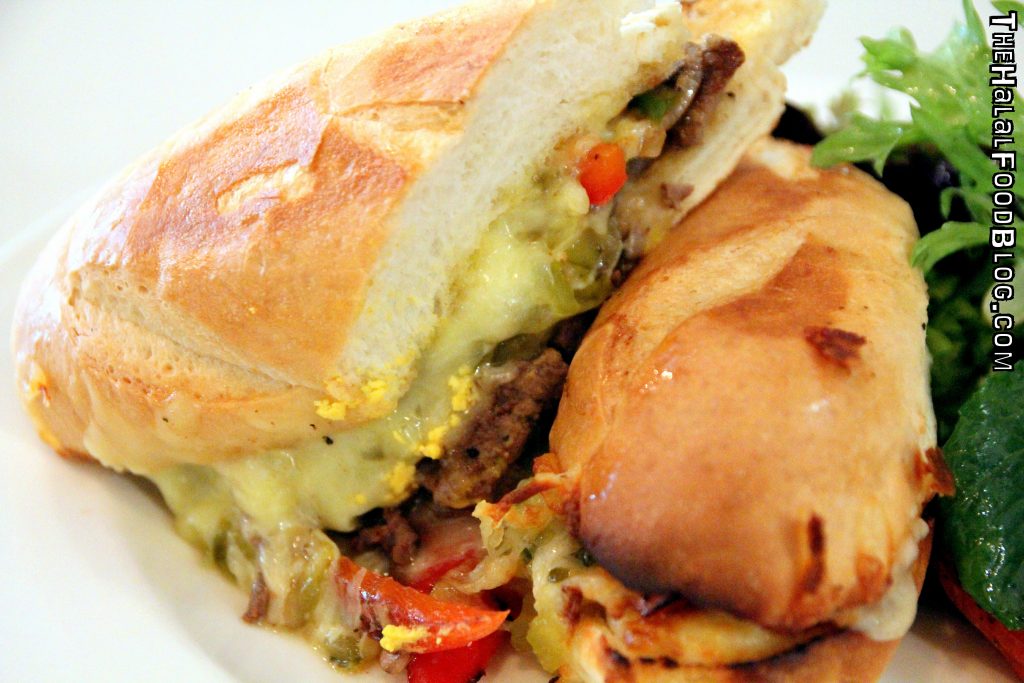 The Royals Steakhouse goes the extra mile with some burgers and pastas too. They've got their famous 'The Royals' Bad Boy Burger which features a 150-day grain0fed Angus beef patty, melted cheese, caramelized onions, sweet relish and a sunny-side up egg. See lah – now I regret not ordering this 😛
But having said that, I actually have no regrets about our eventual order – the Char-grilled Philly Steak Sandwich.
This gorgeous sandwich is filled with tender, juicy Tenderloin slices, cheese, peppers and some sweet relish for a little bit of a tangy kiss. Wanna see an 'Before & After' pic?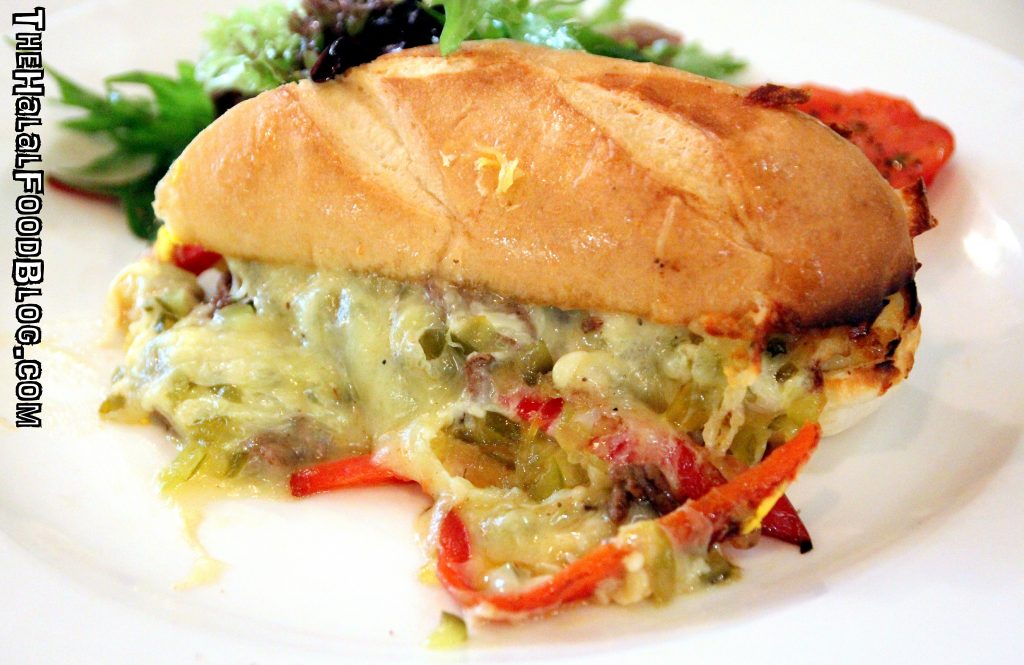 I'm guessing everyone's probably gawking at the AFTER pic right about now LOL 😛
It ain't easy being cheesy but this is a helluva sandwich. And although it's technically a sandwich, please do not underestimate how filling this can be okay.
Anyways, as we were saying before we rudely interrupted ourselves – other burger and pasta options include The Lamburghini (a lamb burger), the Chicken Katsu Burger, Prawn & Mushroom Linguine and Linguine Aglio Olio with Tenderloin Beef Slices (and chili padi!!)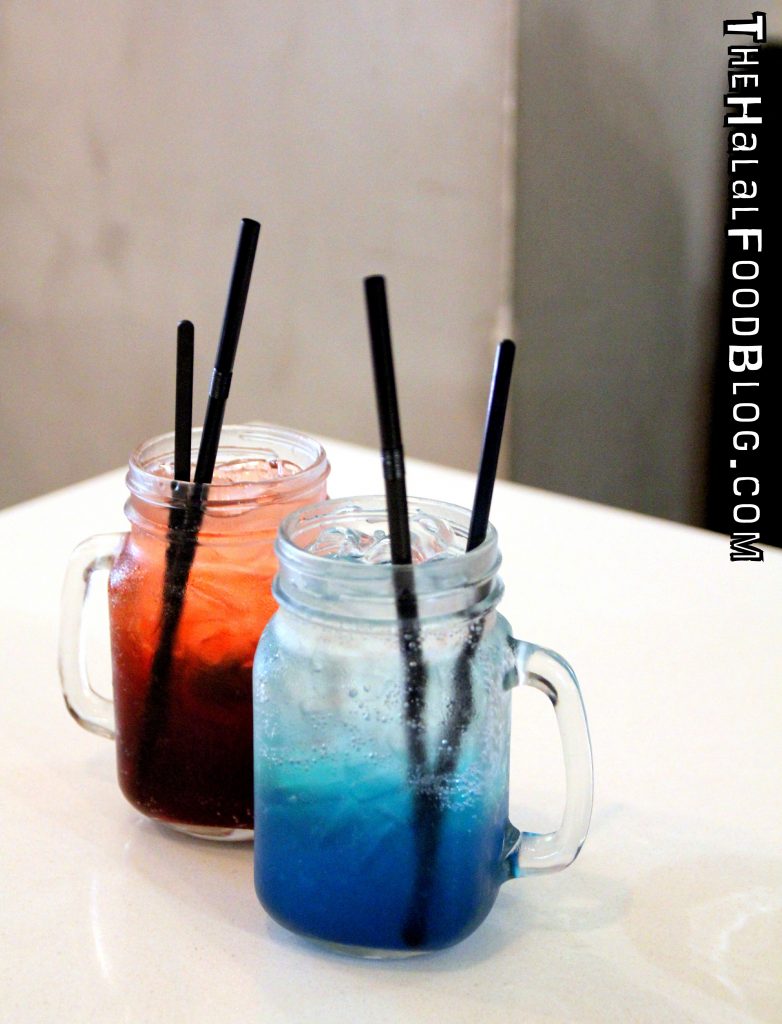 Don't forget to wash all of that great food down! They've got no less than 12 refreshing sodas and juices on the menu at The Royal Steakhouse. But if you'd like coffee or tea, they've got that too!
All in all, I'd say that The Royals Steakhouse is definitely a good choice if you're looking for a place that knows how to cook up their meats. Prices are actually more than reasonable especially for the great quality of ingredients (especially the meats) plus they're located in a great, central location.
PS don't forget to snap a selfie with the portrait of The Royal Steakhouse's royal mascot – Sir Loin!
(Geddit Geddit!) 😛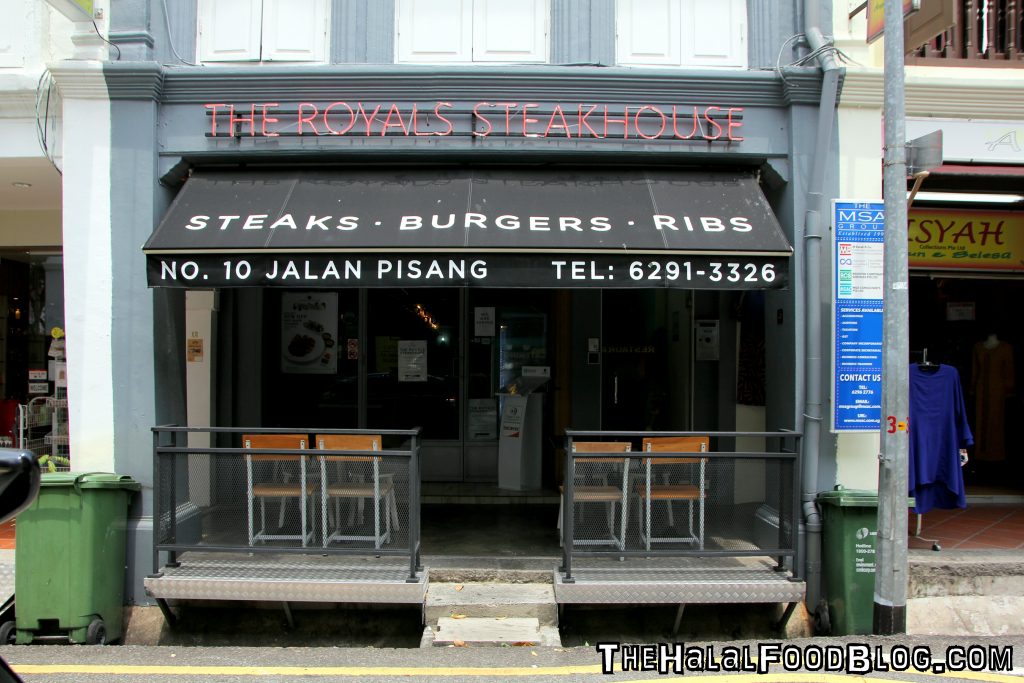 THE ROYALS STEAKHOUSE
10 Jalan Pisang
Singapore 199077
Tel: 6291 3326
www.royalcakes.com
Facebook: www.facebook.com/TheRoyalsSteakhouse
Operating Hours:
1pm-10.30pm
(Last order at least 45min before closing time).
Closed on Tuesdays
All information (including prices, availability of item on menu and Halal status of establishment) are accurate at the time of posting. All photos used in this site are property of The Halal Food Blog unless stated otherwise.