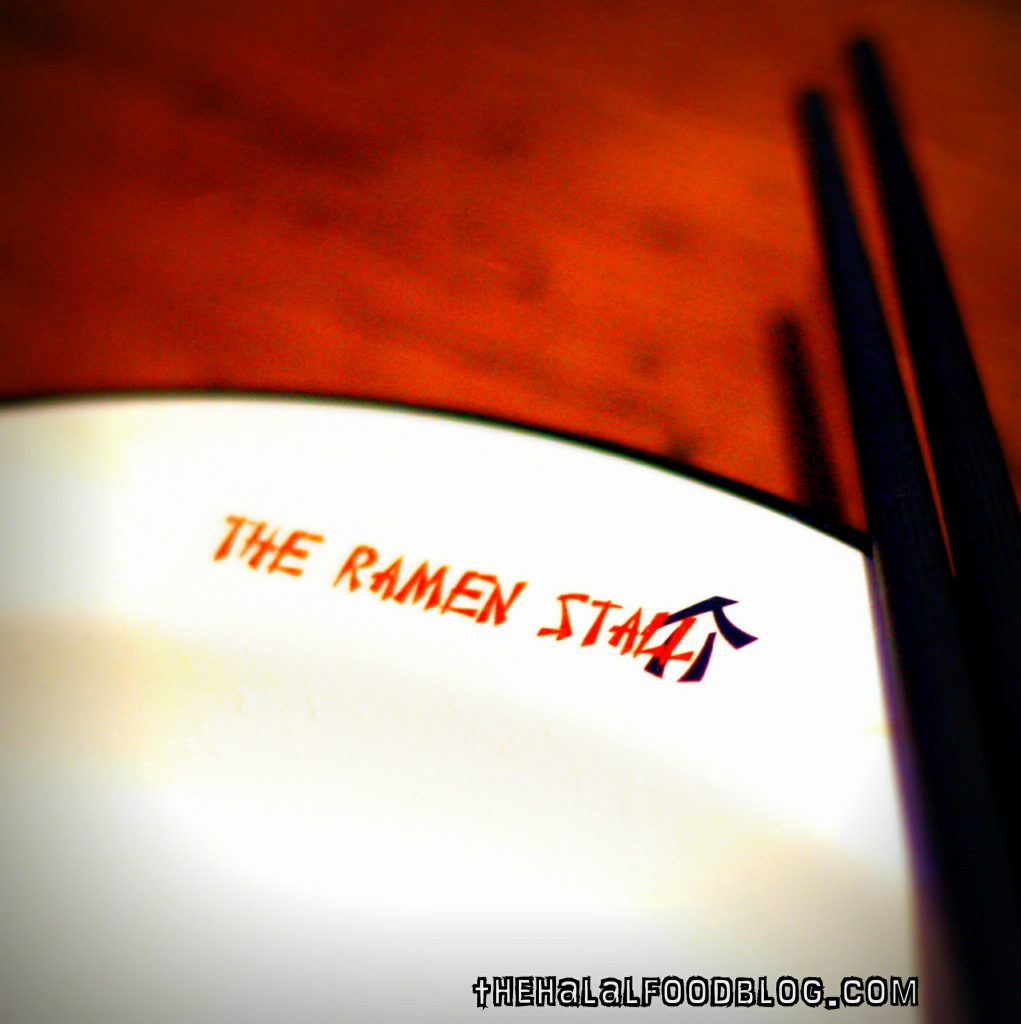 We'd visited The Ramen Stall a few times before (in fact, come of the times we didn't even officially review!) but they have such an extensive menu that when we were invited to try out some of the other dishes on the menu we had not tried yet, how could we possibly say no right?
Plus, they were even introducing a brand new item on the menu! Perfect timing!
But first, some starters to… errrr… start!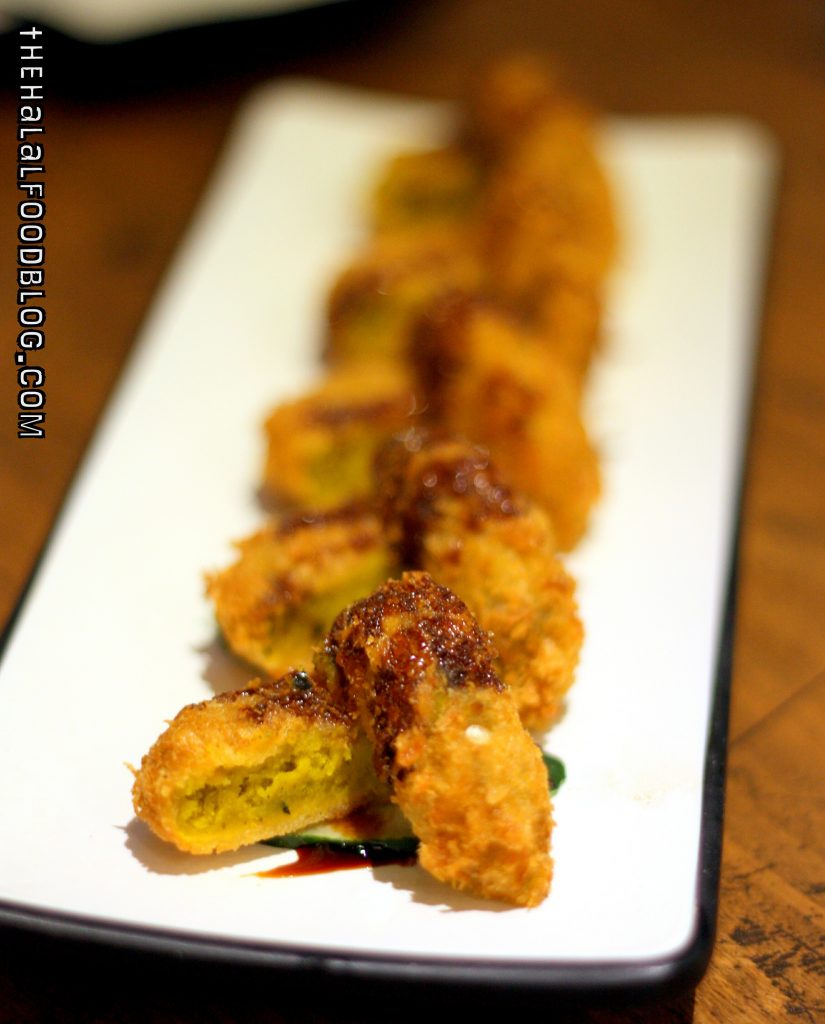 Anything deep fried is a good thing in our books and even better if it's coated in breadcrumbs! LOL
You're probably used to seeing or having potato Croquettes but at The Ramen Stall, they also have a version that's made with pumpkin instead!
I love potatoes but the pumpkin definitely brings something else to this tasty snack.
The pumpkin is cooked and mashed before formed into the croquettes and a nice coating of Panko ensures that these babies get a nice crispy finish when fried.
The drizzle a little Teriyaki sauce over the Croquettes but you'll still get the sweetness from the pumpkin.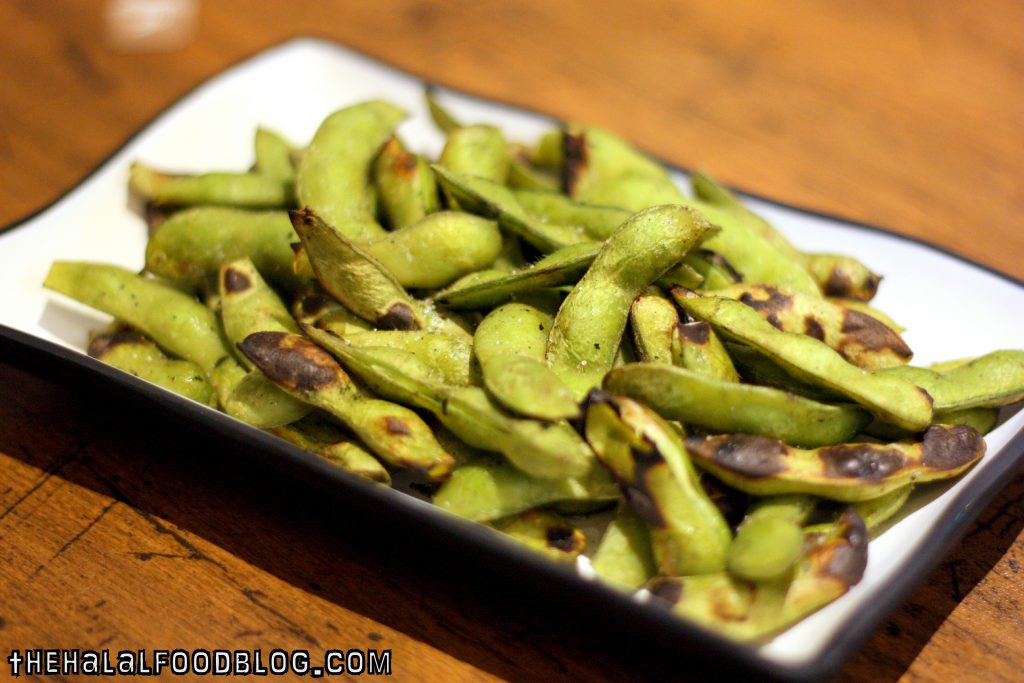 Here's something that's a bit of a favourite of ours and we have it pretty much every single time we visit The Ramen Stall! I mean, Edamame is a great snack on its own but when you grill it, it's a totally new game.
A simple sprinkling of salt and you are all set!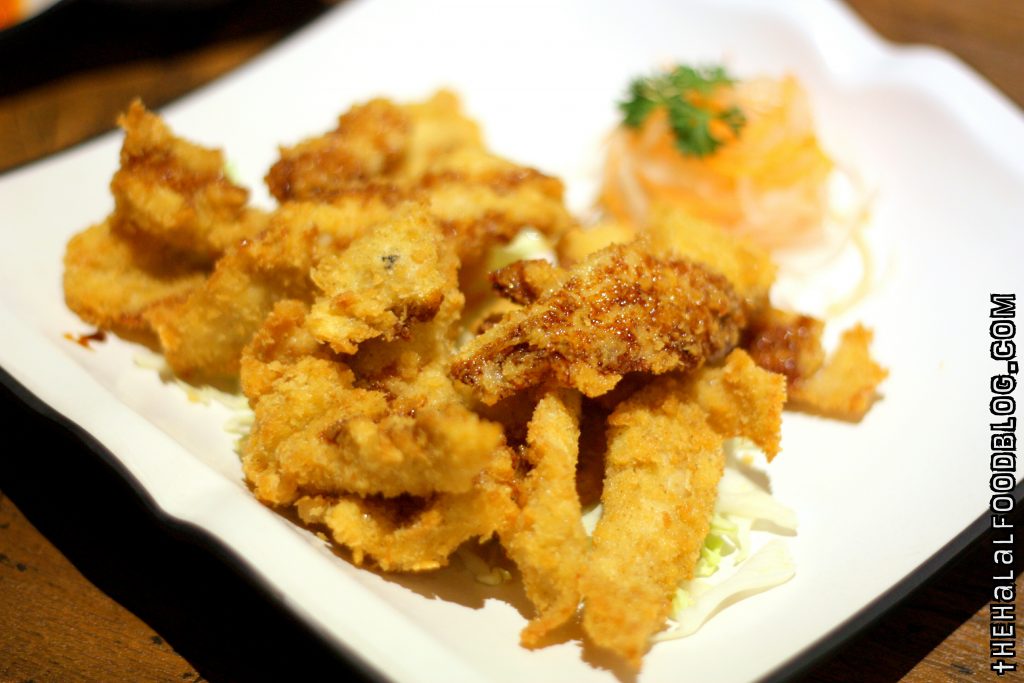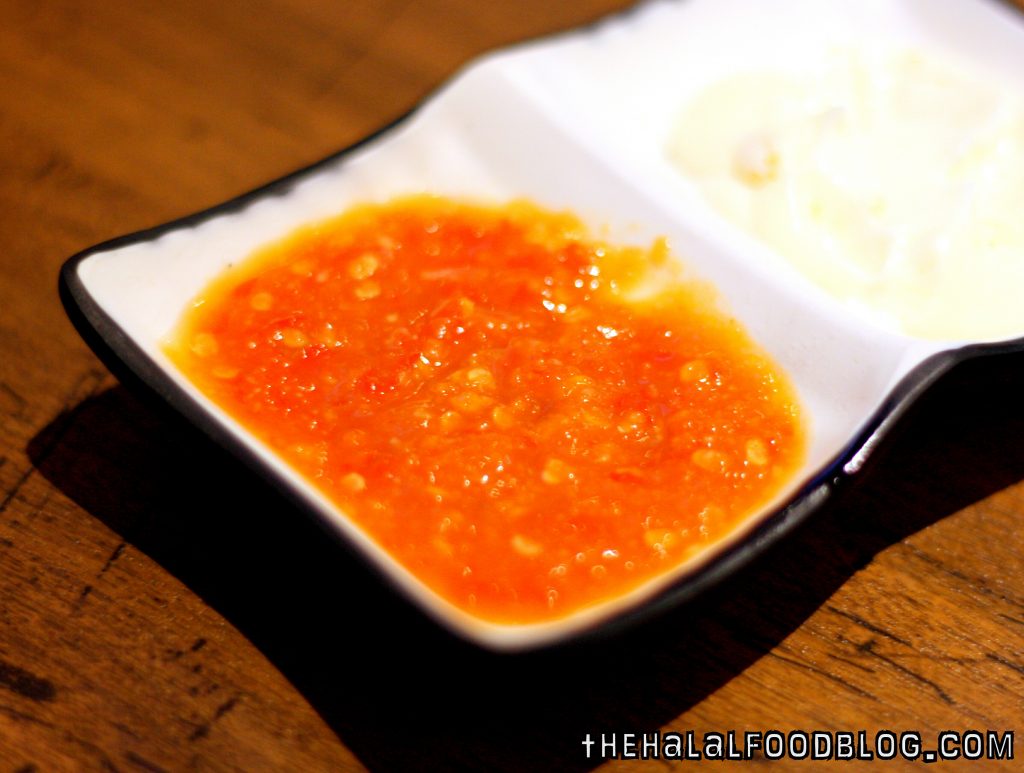 Most of the team didn't really find anything special with the Hokkaido Chicken Strips (which we had also during our 2nd visit to The Ramen Stall) but I quite liked it I guess.
It's strips of chicken breast which has been breaded and deep fried (which probably explains why I like it LOL) and served with some pretty spicy chili sauce for dipping. I guess this is a good snack for sharing if you're not feeling adventurous enough to try some of the other stuff on the menu.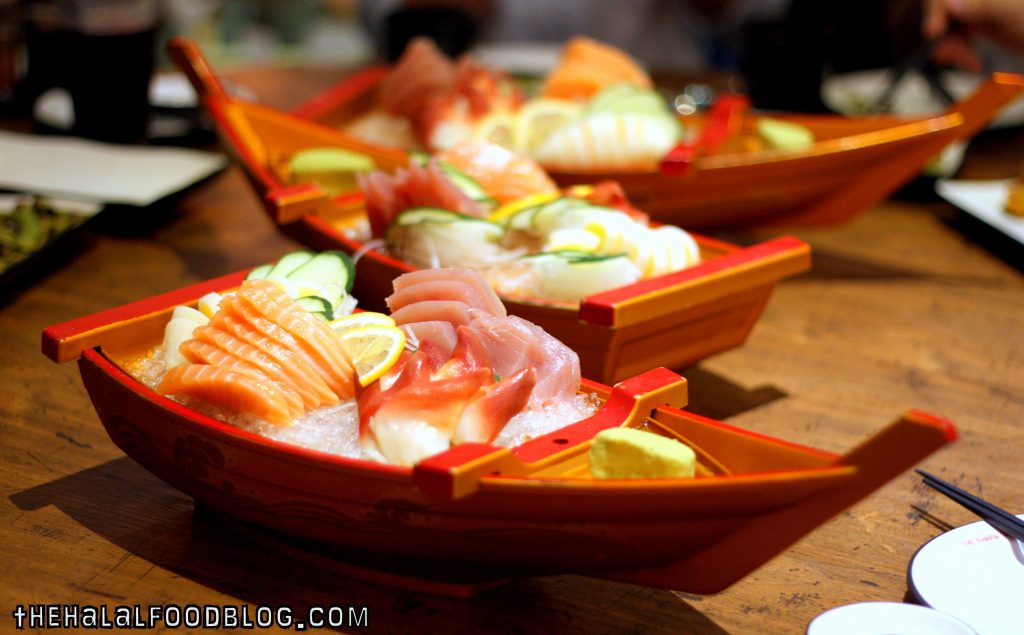 I know some people still can't really come to grips with eating raw fish even though Sashimi has definitely gained in popularity in recent years. After all, there is a lot to Japanese food and Sashimi is definitely one of those things you have to try!
And when we say Sashimi, most people will automatically think it's gonna be either Salmon or Tuna but there's really a lot of variety out there and at The Ramen Stall, this is a good chance to try some of that Sashimi you've been eyeing all this while!
They have at least 9 different types of Sashimi on the menu at The Ramen Stall! What you can do is order a few different types and have it served in this really awesome looking Sushi boat. Perfect idea especially when sharing with a large group so everyone can just tuck in!
Actually, I can think of a few people who would probably order this and enjoy the whole boatload of Sushi by themselves LOL seriously!
We tried 4 different types of Sushi that evening so let's run them down;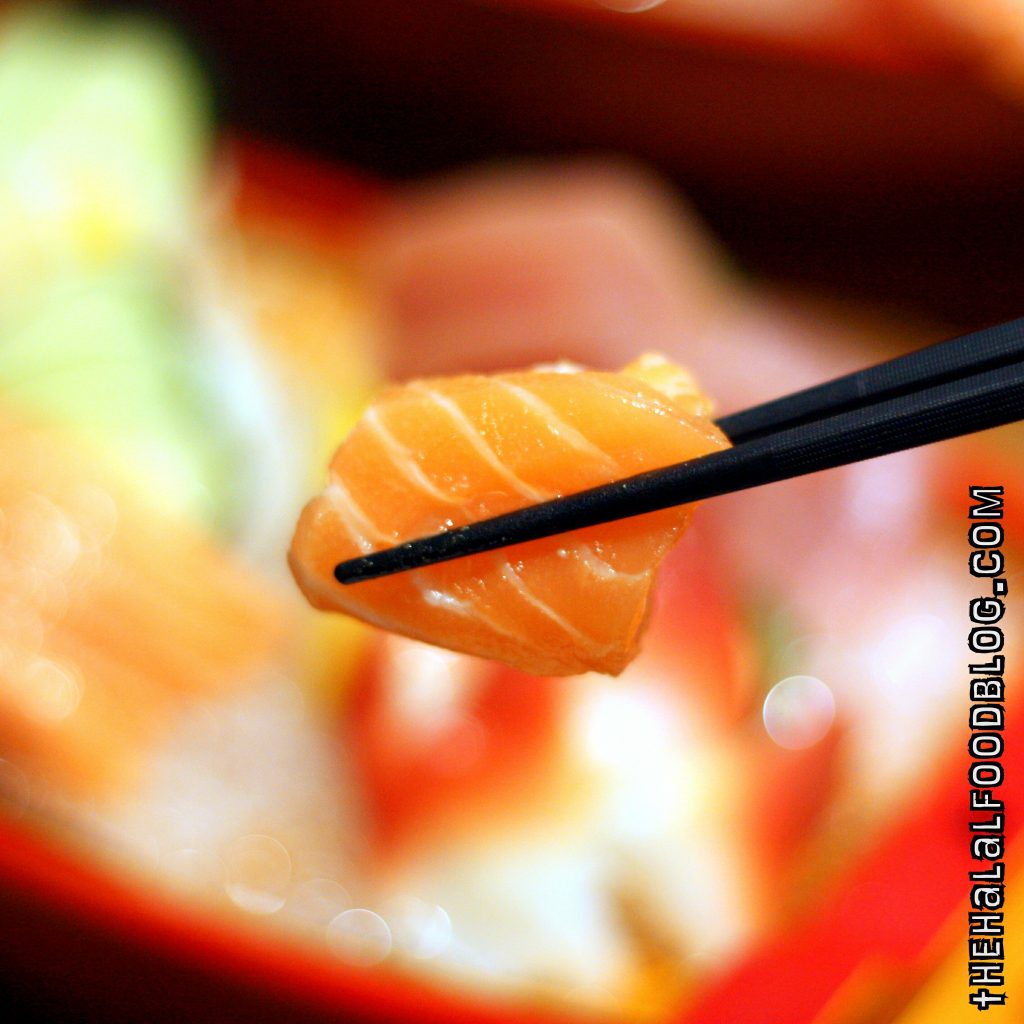 Probably the most popular choice when it comes to Sashimi, the Salmon is always a good idea. In fact, if you're having Sashimi, this is probably recommended for an easy start.
They've got both Salmon and Salmon Belly Sashimi available at The Ramen Stall.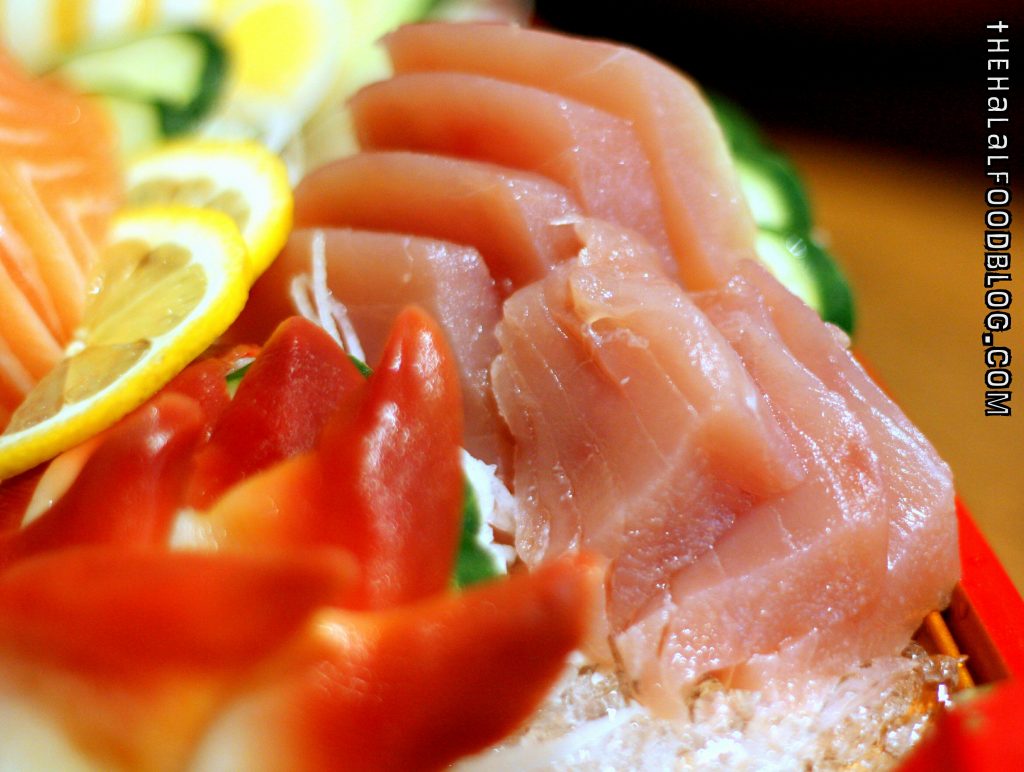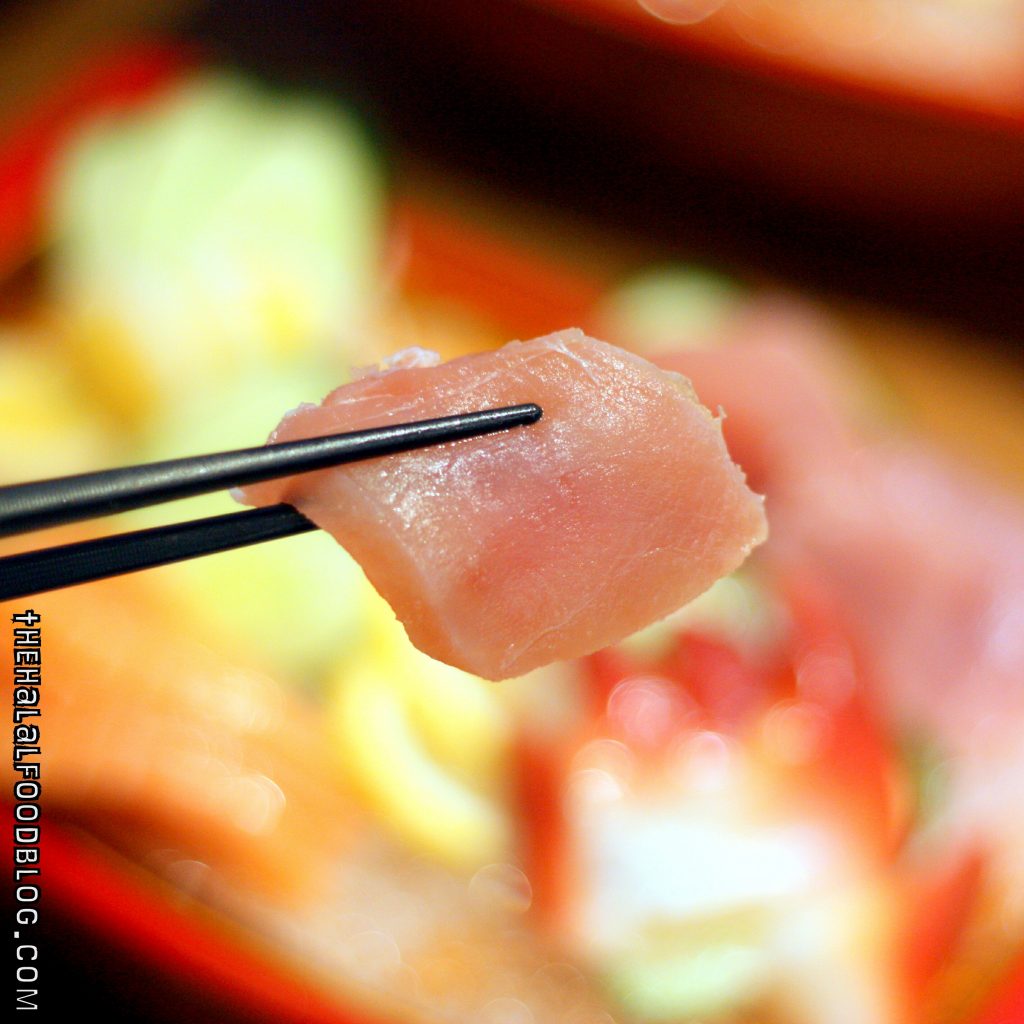 Next on the list is Tuna Sashimi which is also a pretty good choice if you're not the adventurous type.
But the next few choices are definitely not your usual selection when it comes to Sashimi!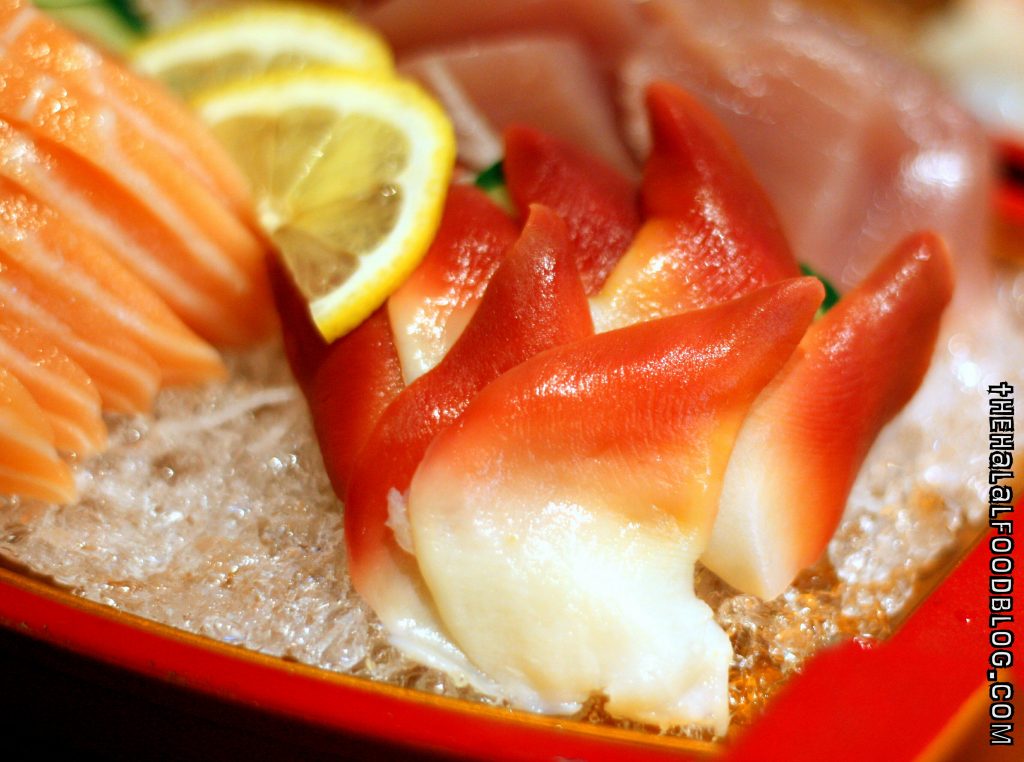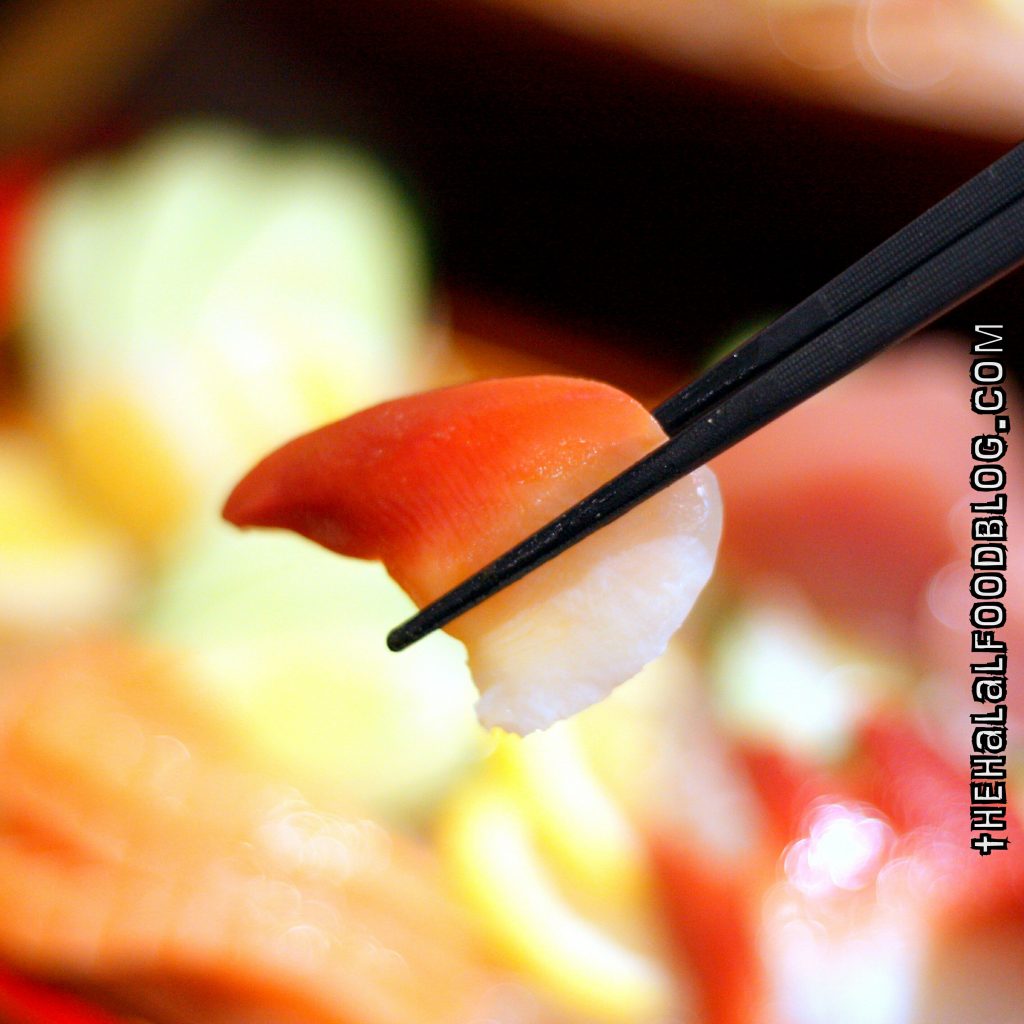 So what's a Hokki Shell? LOL don't worry it's not some monster from the deep or anything like that.
The best way to describe is kinda like a clam I guess.
The flesh is firm but not chewy so it's got a good bite to it.
This was actually the first time we were trying Hokki Shell Sashimi so it was quite a surprise that we actually really liked it! I guess you just gotta put your doubts aside and #gojer then you'll know if you like it or not LOL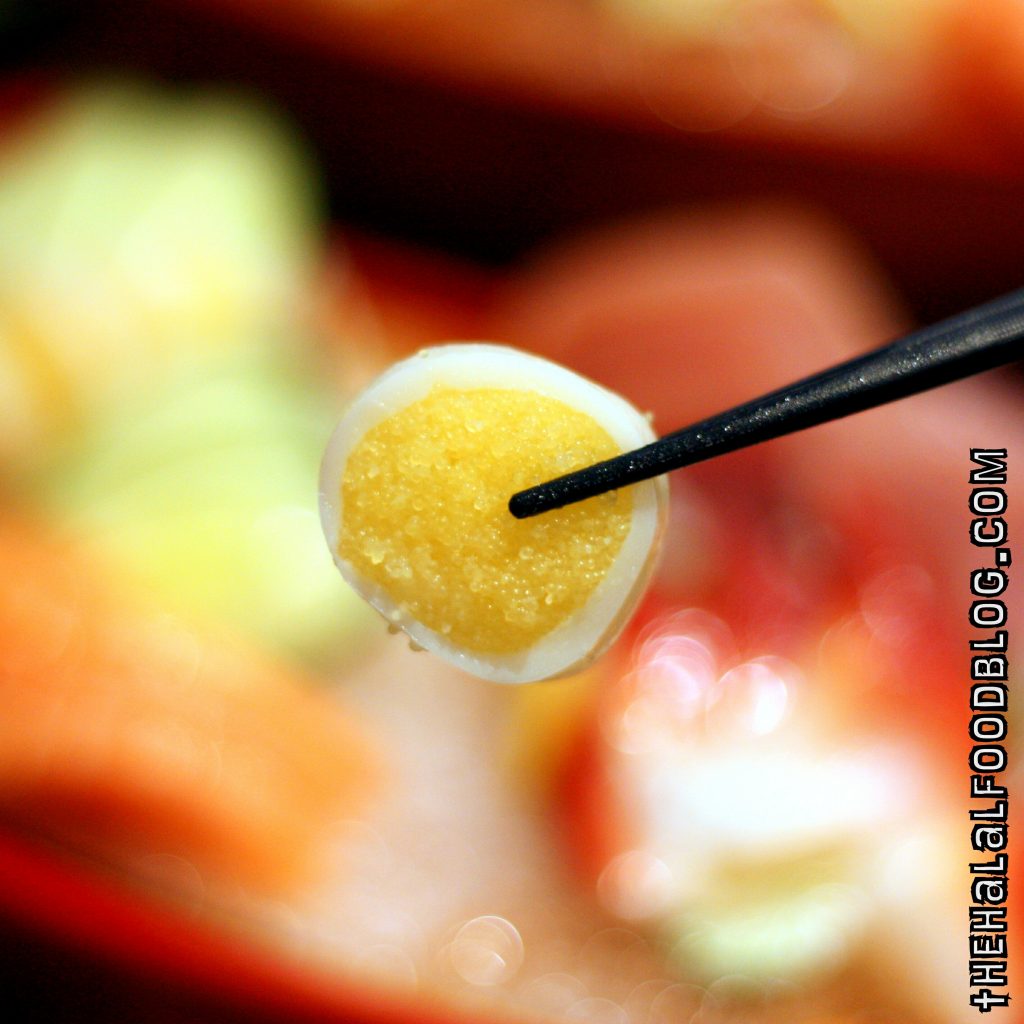 Here's another we were trying for the first time – the Tukimi Komochi Ika Sashimi is basically squid stuffed with some Yellow Ebiko.
Firstly, don't worry – the squid is actually cooked already but obviously chilled for this serving of Sashimi. Trust me on that part because I personally can't stomach raw Ika aka Squid.
The squid is stuffed with Yellow Ebiko which is actually Capelin row (same family as Cod and Smelt apparently) and the yellow hue is apparently thanks to Yuzu which has been incorporated into the roe but you can't really taste it to be honest.
Quite not bad leh this dish. I'm pretty glad we got to try this one because I probably would not have ordered it on my own. Great for impressing your friends LOL "Wahhhhh you so brave eat the sotong ah!"
Anyways, the other Sashimi choices include Sweet Shrimp (Amaebi), Mekajiki (Swordfish), Tako (Octopus) and Ikura (Salmon Roe). Prices range between $8.90 – $15.90.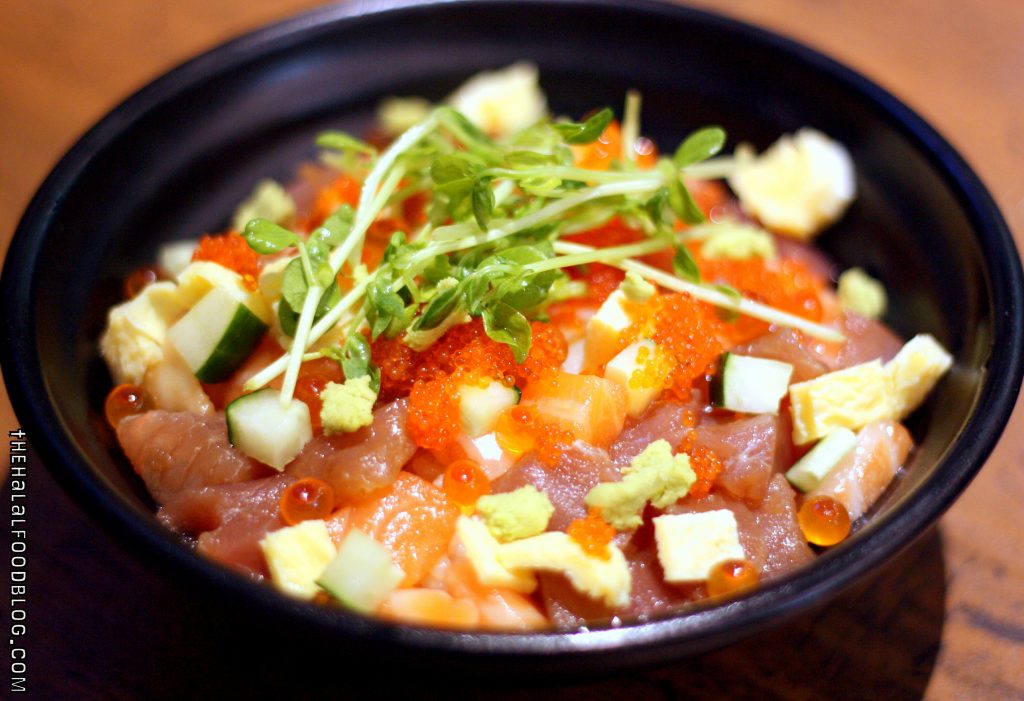 Remember that new dish on the menu at The Ramen Stall we mentioned?
Well, it's the Kaisen Don and it's a real beauty isn't it?
Similar to the Chirashi Don in some ways, the Kaisen Don sees the Sashimi being diced instead of sliced.
All this tasty goodness lies atop a bed of Japanese rice of course (which is the 'Don' component) and is really a great meal on its own.
So you've got morsels of fresh and tasty Salmon and Tuna in there.
You've also got some Ikura which is Salmon Roe, some Tobiko (Flying Fish Roe) which is a little bit bigger in size compared to the Ebiko you saw earlier and some cucumber for that fresh crunch.
An additional ingredient that you don't normally see in Kaisen Don is the bits of Tamago.
This is the sweet Japanese omelette that you're probably used to having in bigger pieces on your sushi but they've been diced up as well and this gives bits and hints of sweetness with each bite from your bowl of Kaisen Don.
I'm guessing that right about now, some of you are probably going "Enough with the raw stuff isn't there any cooked dishes going to appear in this post?!" LOL we hear you loud and clear.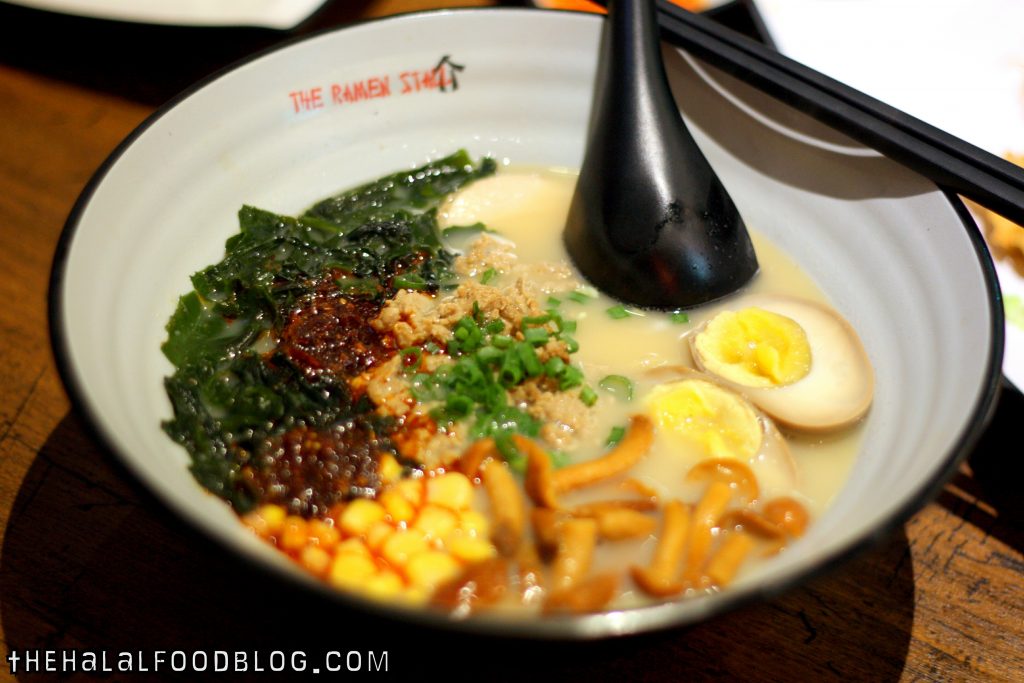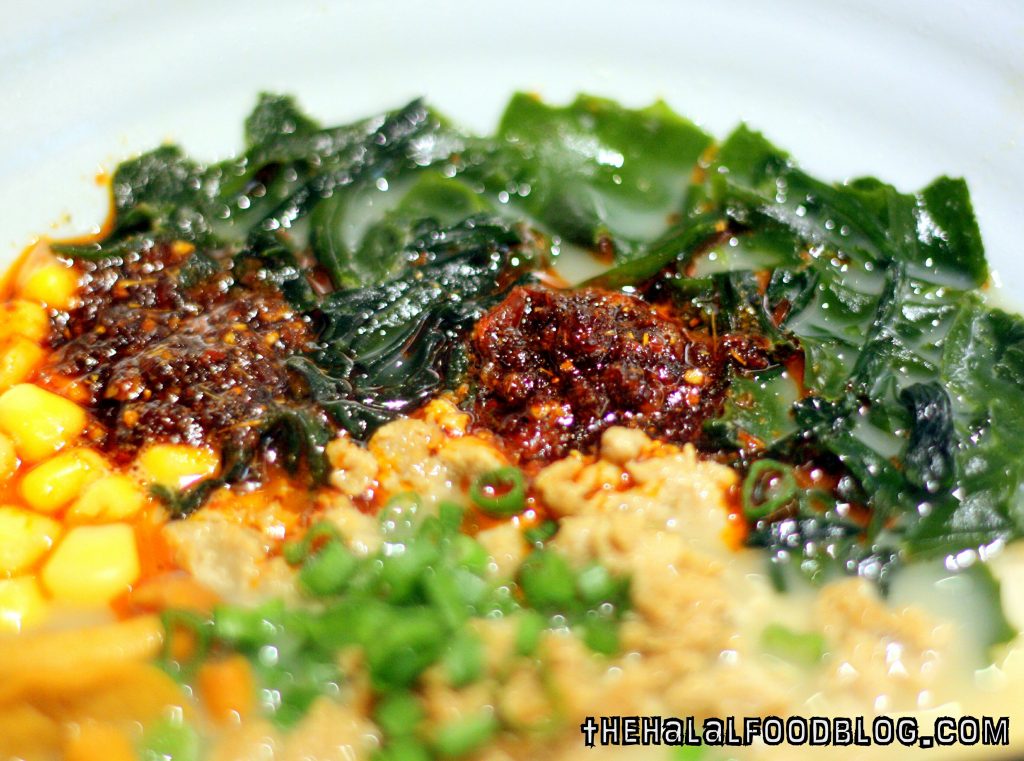 One of the most popular dishes at The Ramen Stall is The Volcano Ramen because, well, the name says it all!
This dish has Ramen noodles soaking in a rich chicken broth and is accompanied by minced chicken, a slice or two of chicken cha shu, corn nibblets, bamboo shoots, seaweed and a braised egg. But the challenge is the 'Volcano' chili paste which comes with. In fact, you can choose from Levels 1-3 for your spicy 'Volcano' level!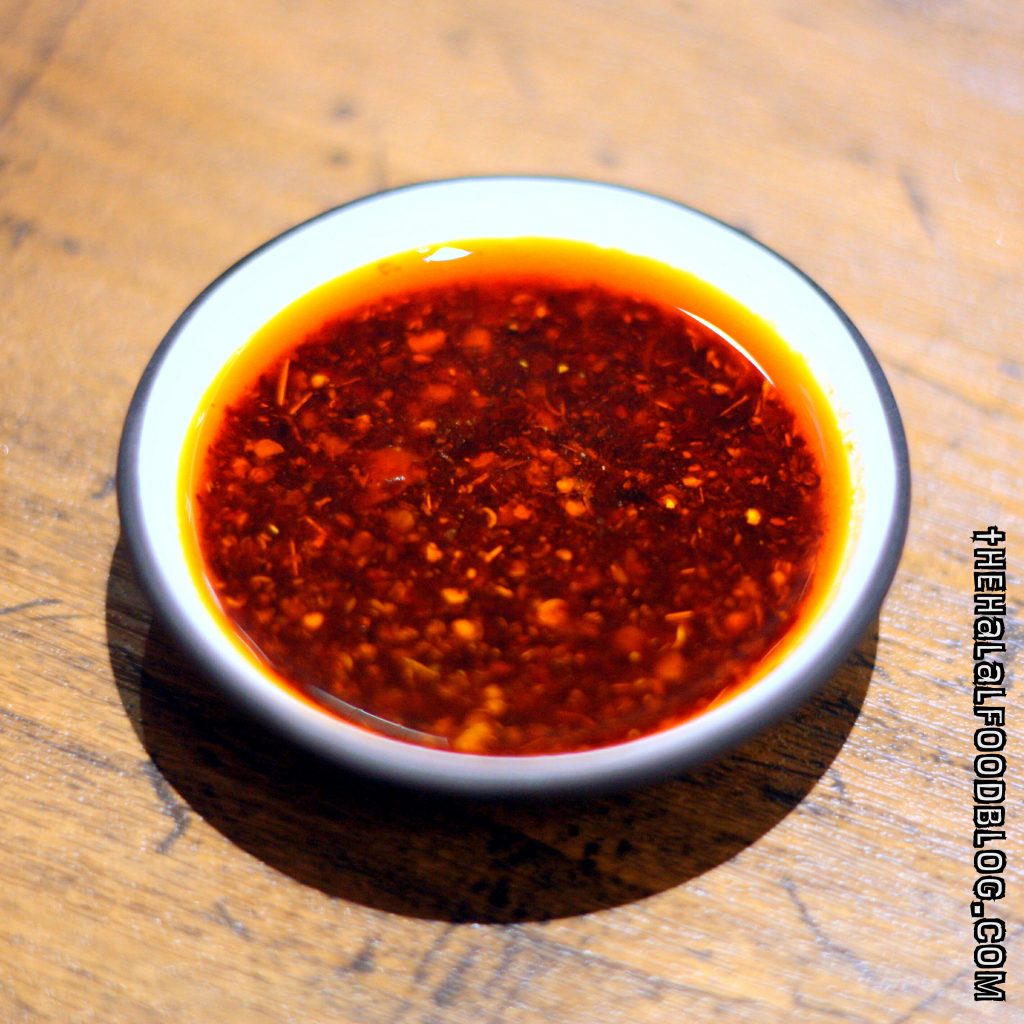 If you remember, we tried the Volcano Ramen when we first visited The Ramen Stall and I'm going to be Action Jackson and say that the Level 3 was still not that spicy for us because, well, like a lot of you out there we have a pretty high tolerance for spiciness.
Fret not! You can request for extra Volcano Chili Paste if you're like to kick it up a notch or 5!
Just don't burn your mouths off to the point that you can't taste the rest of the yummy food you ordered okay!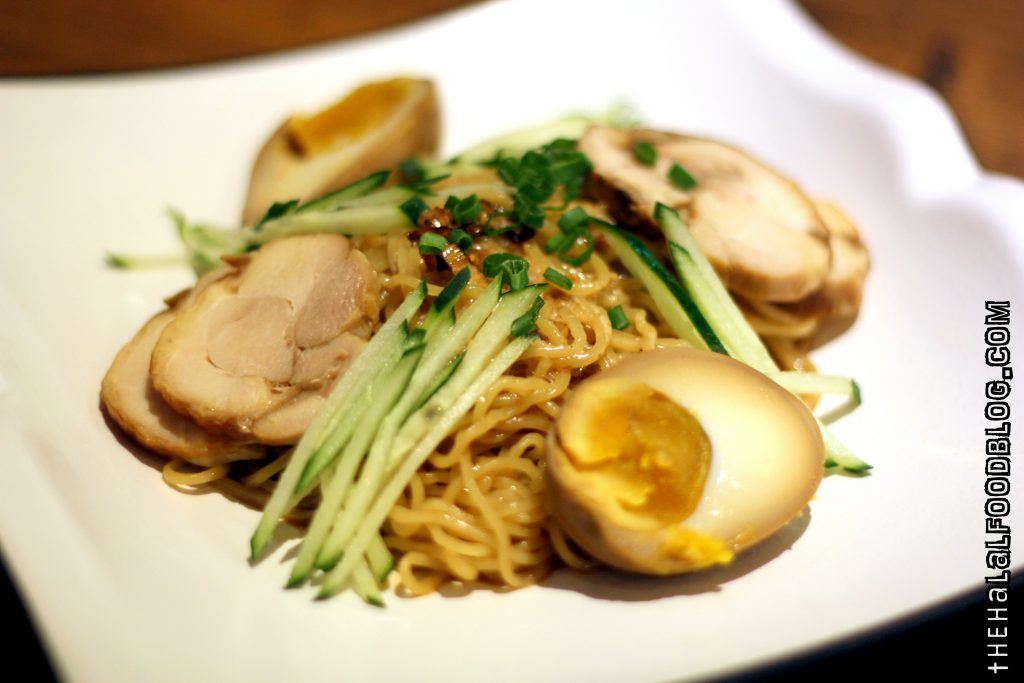 Here's another one that was pretty surprisingly good so it's a good thing we got to try it because we'd probably order the Volcano Ramen everytime without even thinking of trying the Dry Ramen.
You can choose the Spicy or Non-Spicy version by the way. I believe this was the Non-Spicy version but it was actually really tasty! I really didn't expect much to be honest but quite power lah! Unanimous decision from everyone in the team that the Dry Ramen is definitely worth considering!
The Ramen noodles are fried up and have a good bite to them (still springy and not mushy at all) but even though it's fried, please note that the dish is actually served at room temperature.
Coming along for the delicious ride is some Chicken Cha Shu and a braised egg too!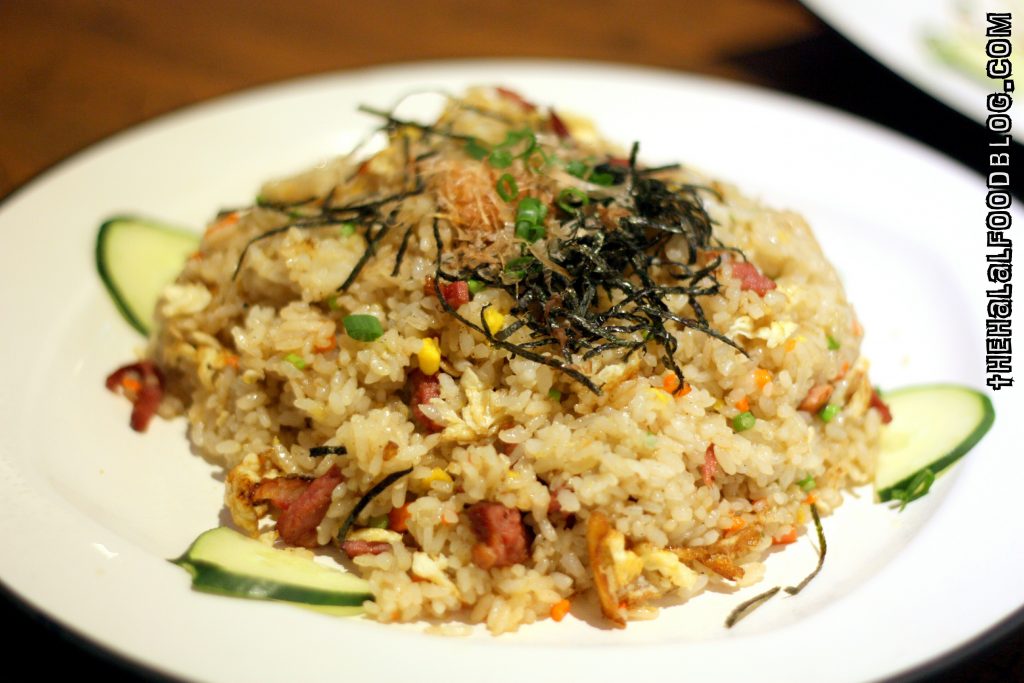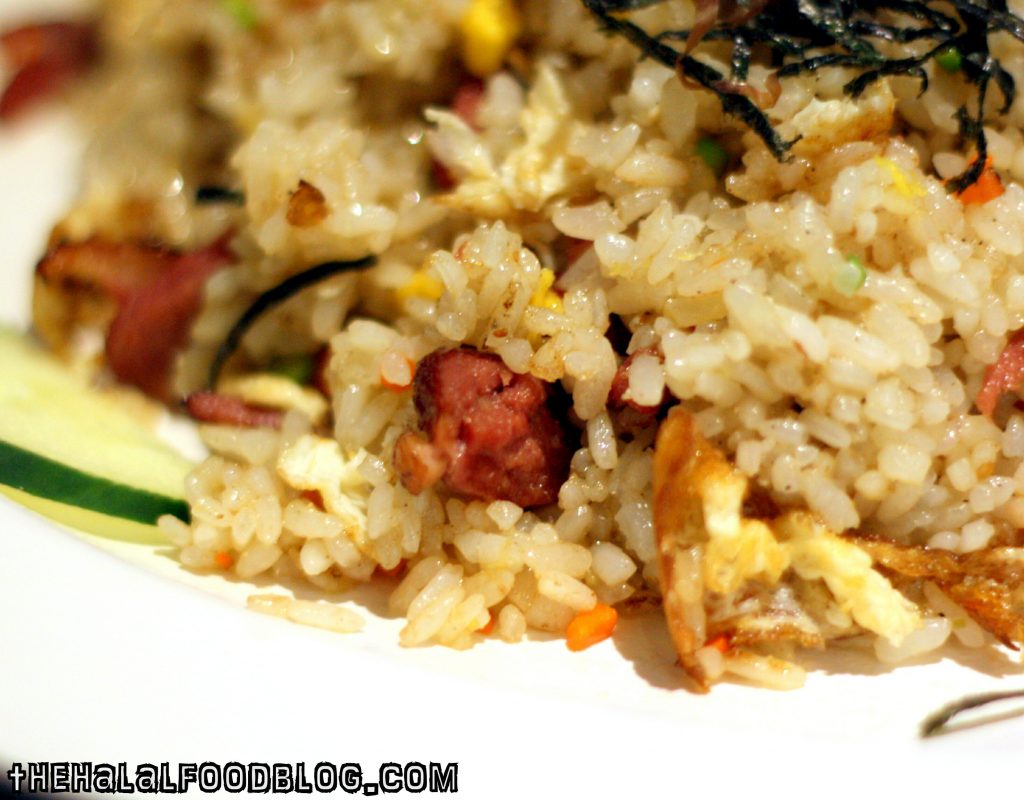 For you people kuat makan nasi out there (yeah I see you) then you might consider trying the Smoke Duck Fried Rice. It's actually really tasty and the serving is actually very generous so this is definitely good for sharing!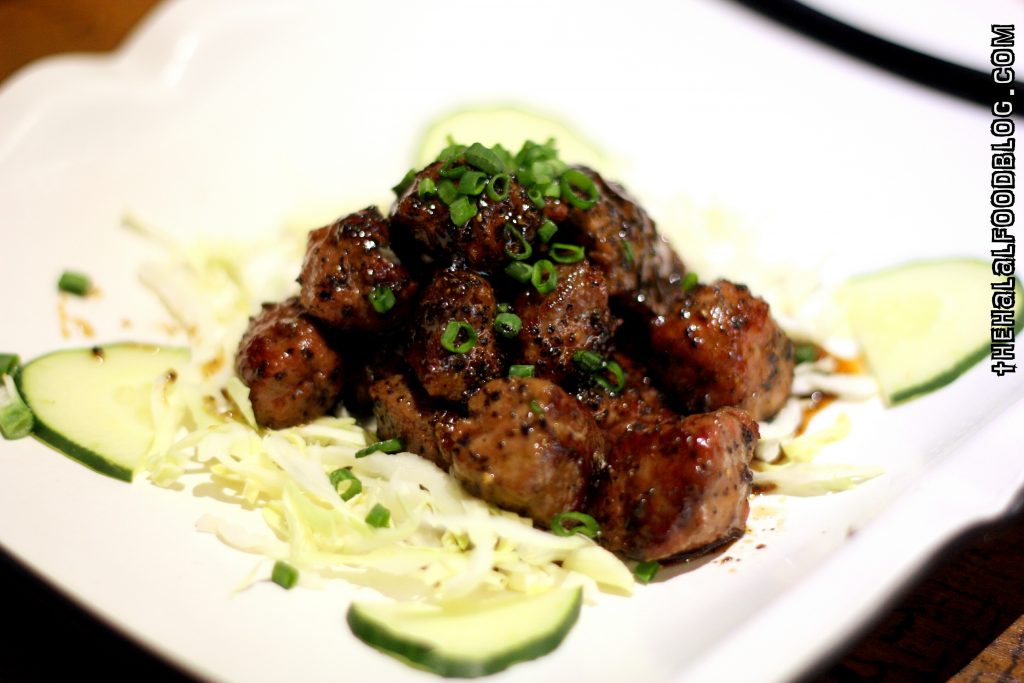 The Teppanyaki Beef is definitely worth an order especially if you're looking for dishes to pair with your noodles and/or rice dishes.
Tender and tasty and it has a good black pepper flavour to it. So far anything from The Ramen Stall's grill seems to get a big passing mark and this one is no different leh.
They also have something new on the menu in the desserts department! How about some Frozen Yoghurt anyone? Froyo is definitely a win in our books and this cute little dessert is a good finish to the probably epic meal you just enjoyed am I right?
So you have a choice when it comes to the flavour – you can have either Original or Matcha.
Your choice of frozen yoghurt comes with toppings like walnuts, almond slices, cashews and raisins. Simple and probably a good choice so you can enjoy your froyo.
And please don't be fooled by that small size. It's quite a deep cup okay LOL
And would you believe that with all those dishes, we haven't even come close to covering even half of the menu at The Ramen Stall LOL I guess that's a good thing! But with all the good food we have discovered so far, I'm not sure how we're going to order anything new because we'll just be tempted to order the same stuff again.
Well, whatever we order, I reckon another visit to The Ramen Stall is definitely on the cards.
787 North Bridge Road
Tel: 66550800
www.theramenstall.com.sg
Facebook: www.facebook.com/ramenstall
Instagram: @theramenstall
Operating Hours:
5.00pm til 6.00am Mondays to Fridays
12.00pm til 6.00am Saturdays, Sundays and Public Holidays
All information (including prices, availability of item on menu and Halal status of establishment) are accurate at the time of posting. All photos used in this site are property of The Halal Food Blog unless stated otherwise.
---
The Ramen Stall offers 10% off for all FRIENDS Card holders. Valid with minimum spending of $50. Not valid for purchases made on weekends, public holidays or set meals. Not valid with any other promotions, discounts or vouchers.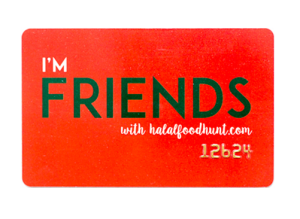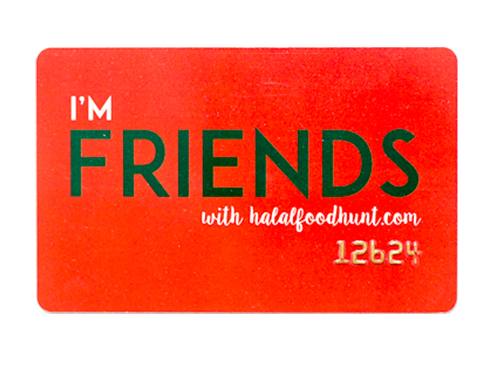 Get your FRIENDS with halalfoodhunt.com Rewards Card now at only $18/year and unlock discounts at over 60 halal restaurants, cafes, bakeries including online e-commerce businesses in Singapore. For a full list of where you can enjoy your card, click here.