The first time we visited The Ramen Stall, we actually went back the very next day because there were still so many things on the menu that we wanted to try! But for that 2nd visit, we actually didn't bring a camera so it became just a makan session.
Well, this time, we went back with the whole team! And this time, we didn't forget the cameras! LOL
So let's see what else is on the menu at The Ramen Stall.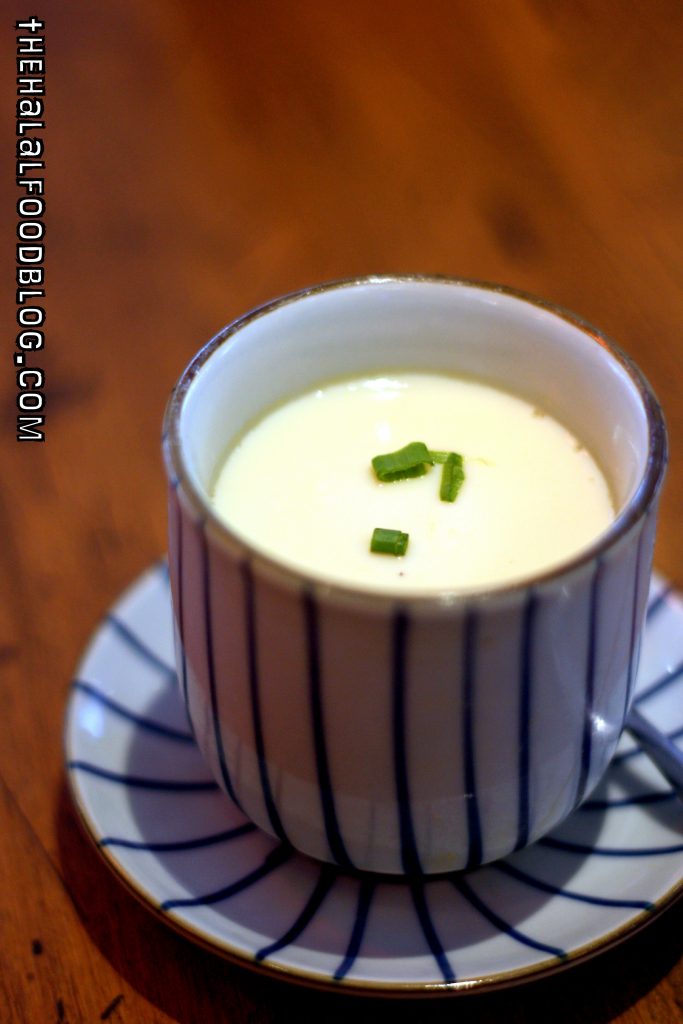 We started off with some appetizers and one of our favourite dishes to start with when having Japanese is Chawanmushi! This traditional Japanese dish of seasoned steamed egg custard (with some bits of meat or seafood if we are lucky) seems simple enough but you'd be surprised at how it can be quite underwhelming sometimes.
Well, at The Ramen Stall, the Chawanmushi is REALLY GOOD! It's got a flavour with a salty edge and the egg custard is silky smooth!There's even bits of prawn and squid when you dig in.
For the price of $3.90, totally worth it and must have! A great start to the meal for sure.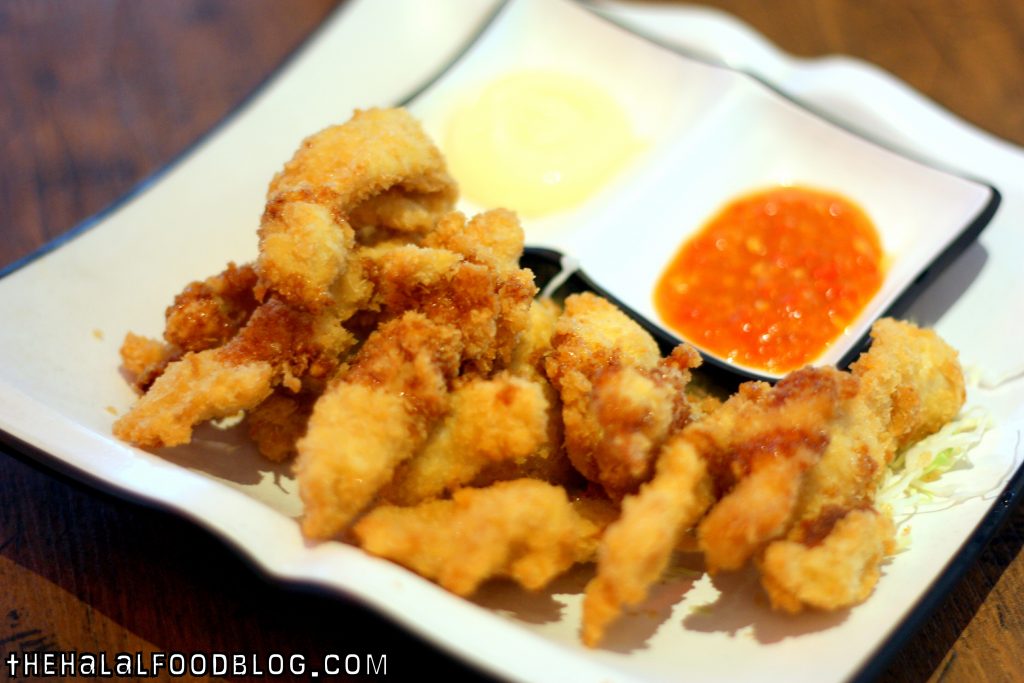 Something a bit heavier now and the Hokkaido Chicken Strips are a great dish for sharing and also a good choice for the kids too.
Chicken breast strips are breaded and deep fried to golden brown perfection and comes with a chili dipping sauce and some mayonnaise too. Great crispy chicken strips thanks to the Panko breadcrumbs and great with the mayo too. The chili dipping sauce does have quite a spicy to kick to it though so please take note LOL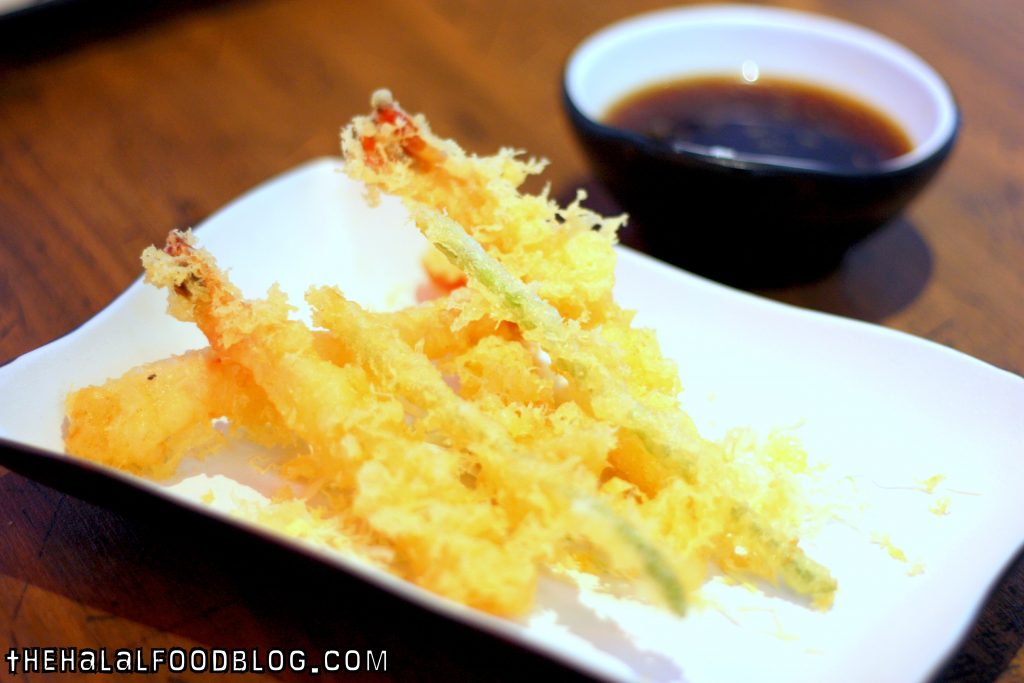 Decided to try some Tempura while we were at it and the Prawn Tempura seemed like a better choice over the Mixed Vegetable Tempura for a change.
Nice and crispy fried with a tasty Tempura dipping sauce. Turned out to be a good choice after all! LOL
But we would say it's actually considered pretty pricy. $12.90 for 3 prawns plus some stalks of asparagus… For that price, there seem to be better choices for the same price like the next dish for example.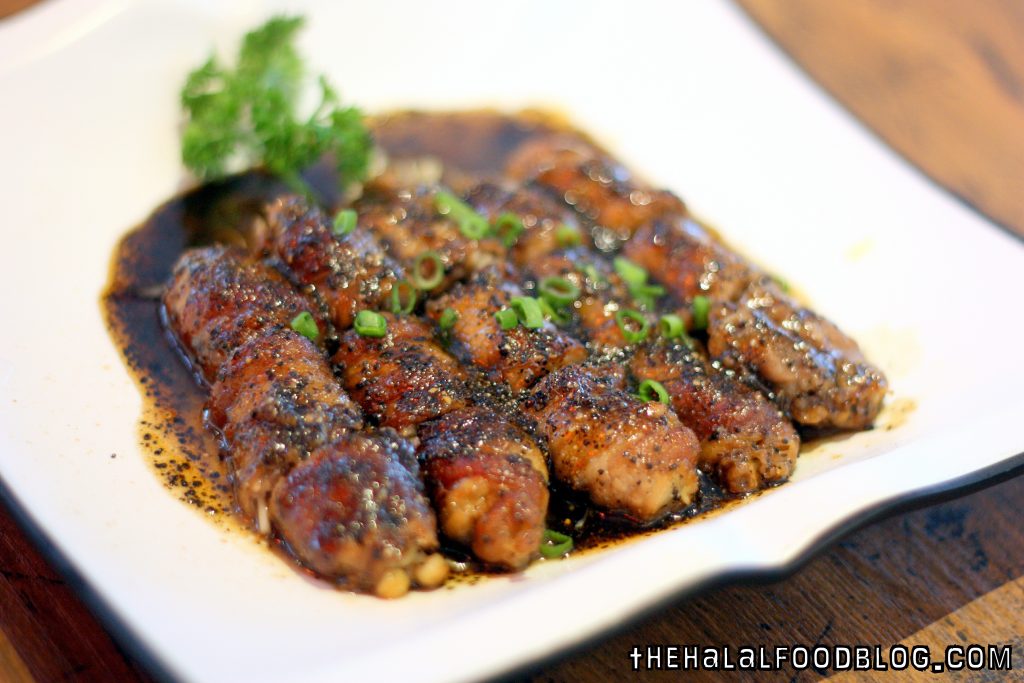 Ambik kau! Let us start by saying that this dish is also a MUST HAVE!!
Thin slices of beef wrapped around golden Enoki mushrooms and then grilled? Sounds great and tastes even better! The beef and mushrooms are a naturally great combination and even better when they come bathed in a beefy black pepper broth for that extra flavour kick!
Totally worth the price and a very satisfying dish indeed!
You can pretty much have it as starter or side dish not matter what other dishes you might be ordering actually.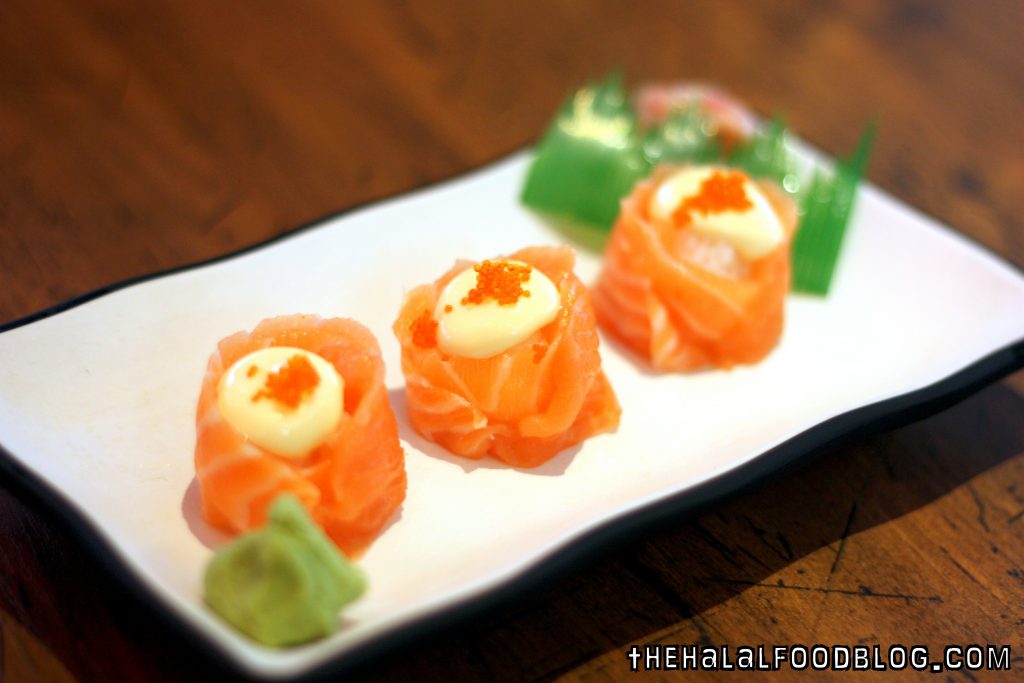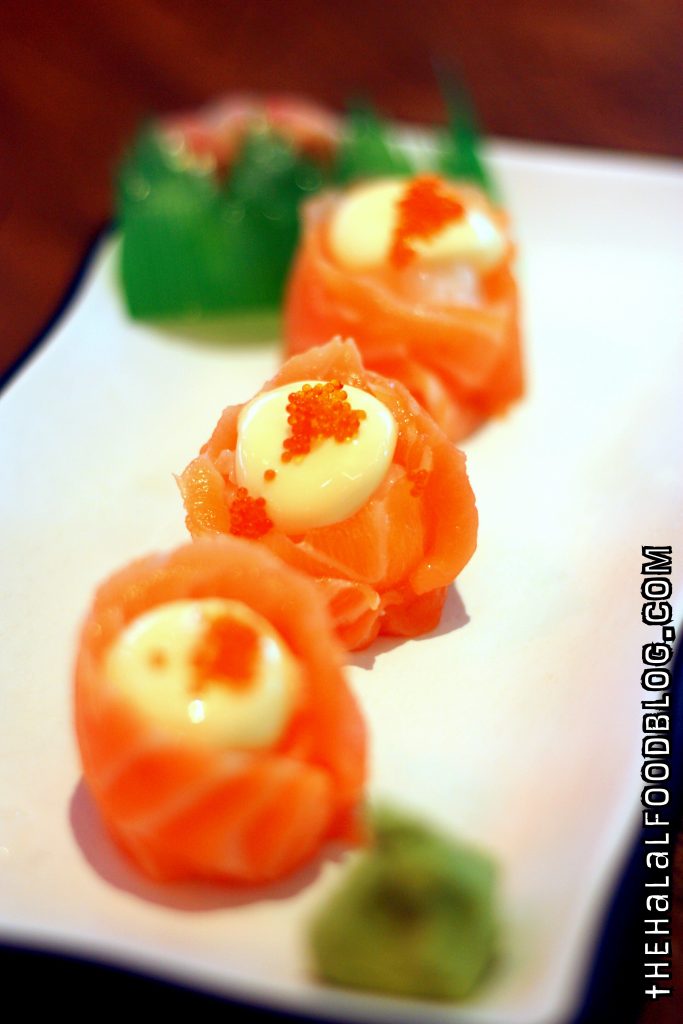 Okay so here's the thing. We wanted to try some sushi. We also wanted to try some sashimi.
So in the end, we ordered the Hana Maki which is essentially some sushi rice wrapped in slices of salmon sashimi so technically we're getting the best of both worlds right?
Hmmmmm well in this case, the quality of the salmon came into question. It's not supposed to go mushy on the first chew right? Well, hopefully the quality of the salmon used for their Sashimi dish is better. Maybe we'll try that one next time so we can confirm.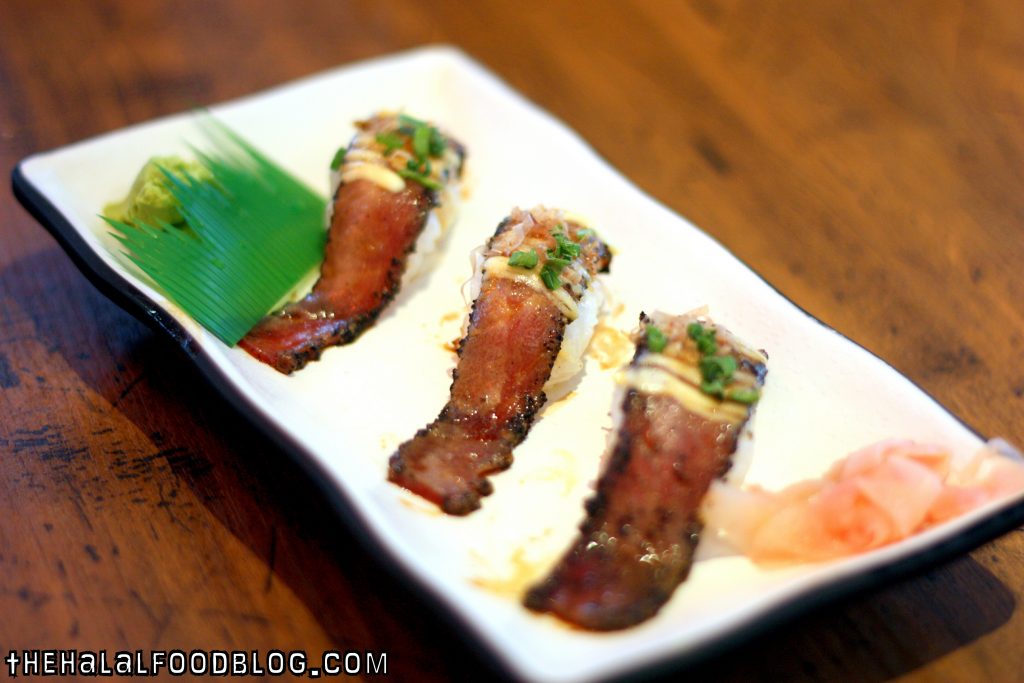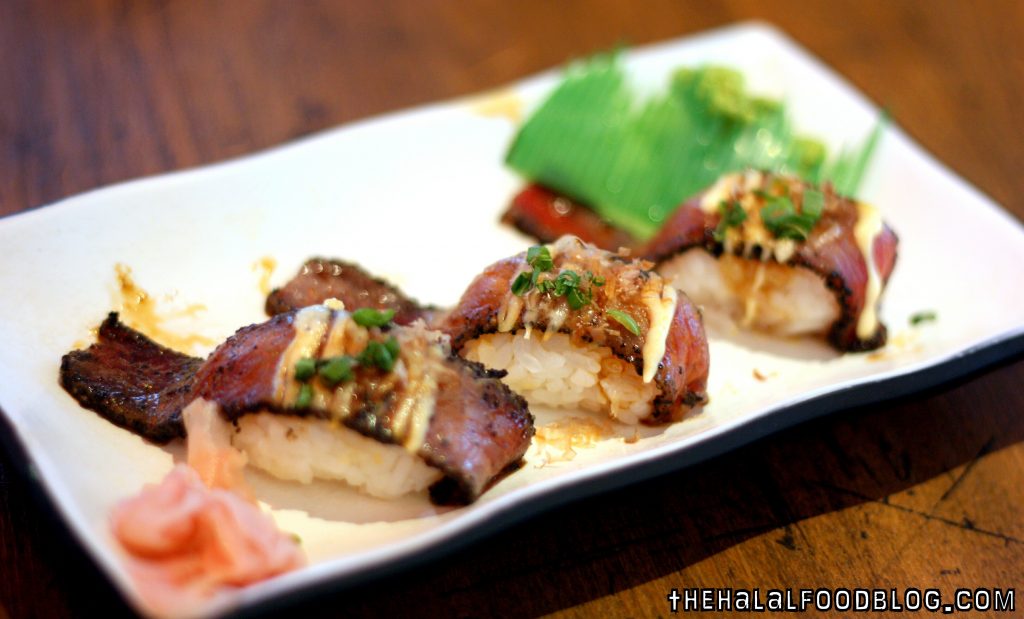 And speaking of sushi, we saw this video playing on the TV in the restaurant and it looked so good that we really didn't hesitate when ordering it LOL oh the power of visuals
So the Torched Beef Sushi is literally just that – a thin slice of beef that has been laid out on some sushi ric and then torched so you have that nice caramelized surface on the beef itself. Plus it's topped off with a drizzle of mayo and additional garnishes.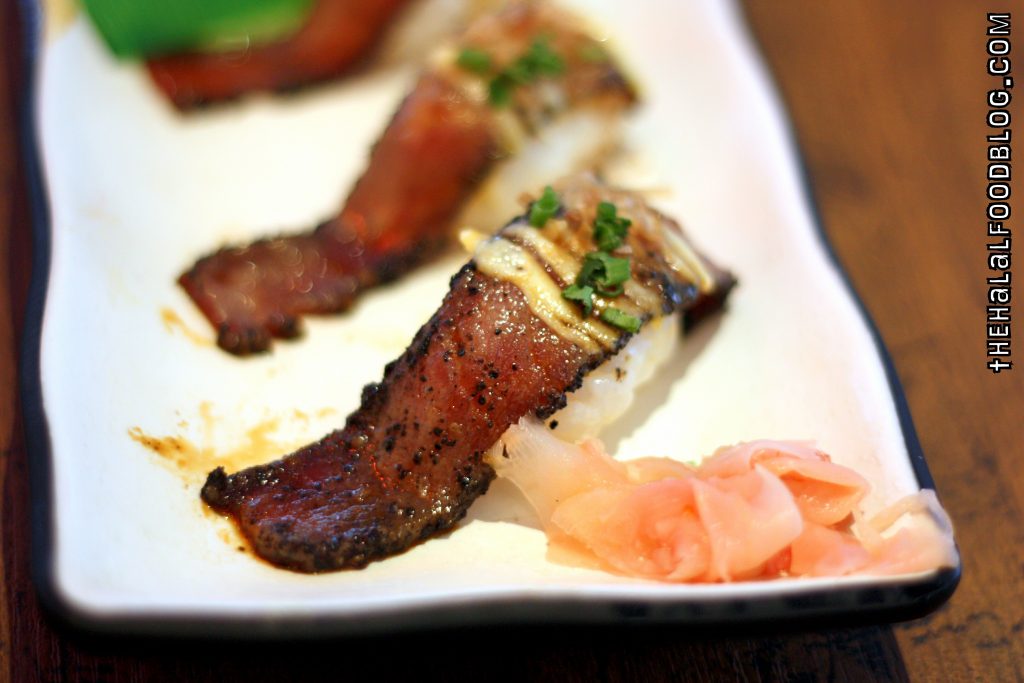 We had the Volcano Ramen the first time we visited and this time, they had a new addition to their Ramen line-up.
The Beef Ramen comes with a great tasty stock, springy Ramen noodles, thick slices of beef and (if I am not wrong) some chicken skin for some extra flavour. There was also a lime there but I'm not sure if Yana squeezed it or not LOL I actually think it would be a bit weird with the lime juice?
But that's not the weirdest part about this Ramen. The whole team tasted this and unanimously agreed that the Ramen stock tasted a lot like – LAKSA! LOL yeah we know it sounds weird but no kidding! But it's still tasty though.
Well, anyways this is still a hearty bowl of Ramen and a good choice too!
Besides the Ramen noodles and the hearty broth, the star of the dish must surely be the beef.
Sliced thick and full of great beefy flavour.
Sure you can have the Volcano Ramen or maybe even the others like the Chicken Chashu, Abalone or Mushroom Ramen but beef lovers must surely try this one! And don't forget to add extra Soy Sauce Hard Boiled Egg!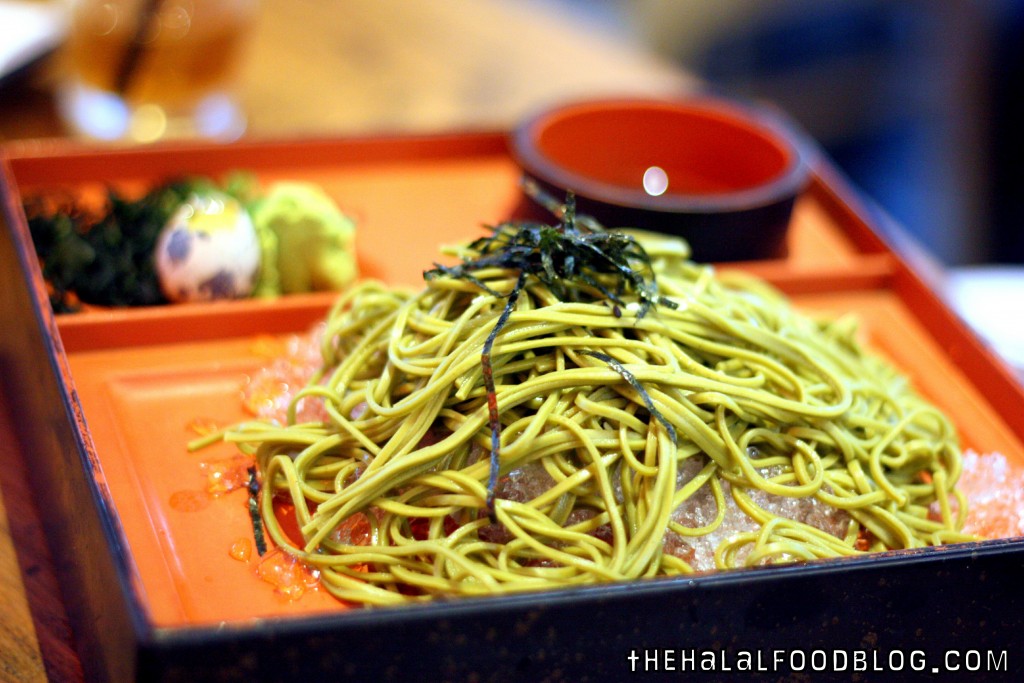 This is a dish we had when we made that 2nd visit (without the camera) so we definitely wanted to order it again because I actually really love Cha Soba!
This is a cold noodle dish where buckwheat noodles (in this case, mixed with green tea which is what makes it green) is served with a dipping sauce which is made of soy and dashi which means it has a salty edge but it's lighter and has a great flavour especially when you take a nice big slurpy mouthful of the Soba noodles.
The Chilled Soba also comes with some seaweed, spring onions, wasbi and a raw quail's egg that you can add to your soy-dashi dipping sauce which I tend not to do because I don't like the texture so I leave the quail's egg out.
So you get some noodles and swirl it in the dipping sauce and then slurp in all in. Literally.
No, we're not kidding you're expected to slurp the soba! LOL it's supposed to add to the whole experience so try it.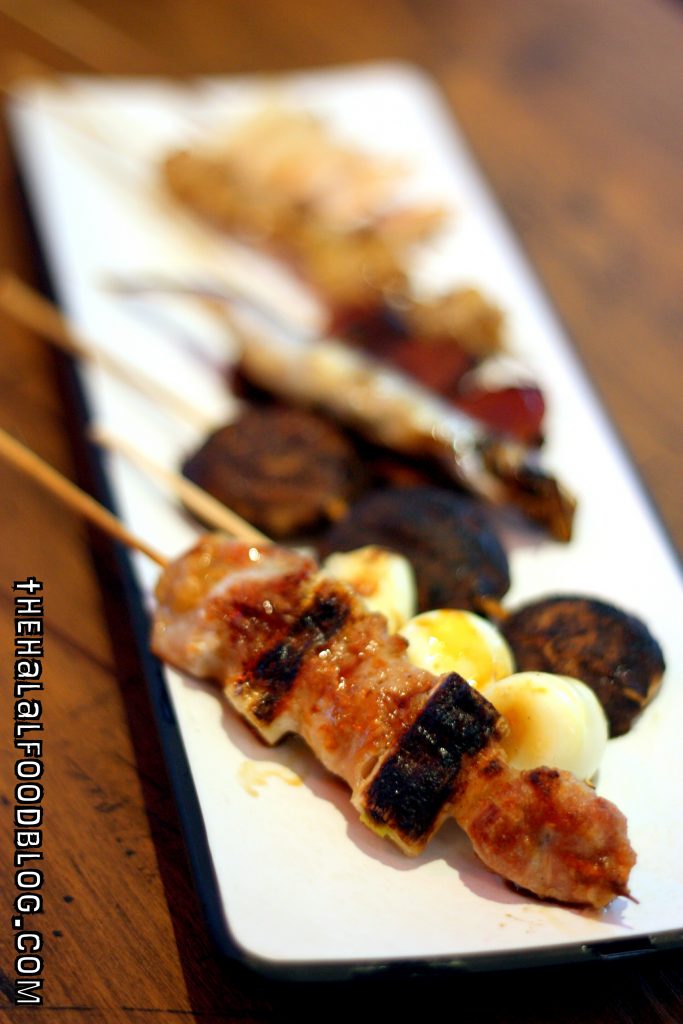 Kushiyaki is basically an assortment of grilled items on sticks (think Yakitori style) and we decided to order a few just to try. But… it didn't quite turn out as expected…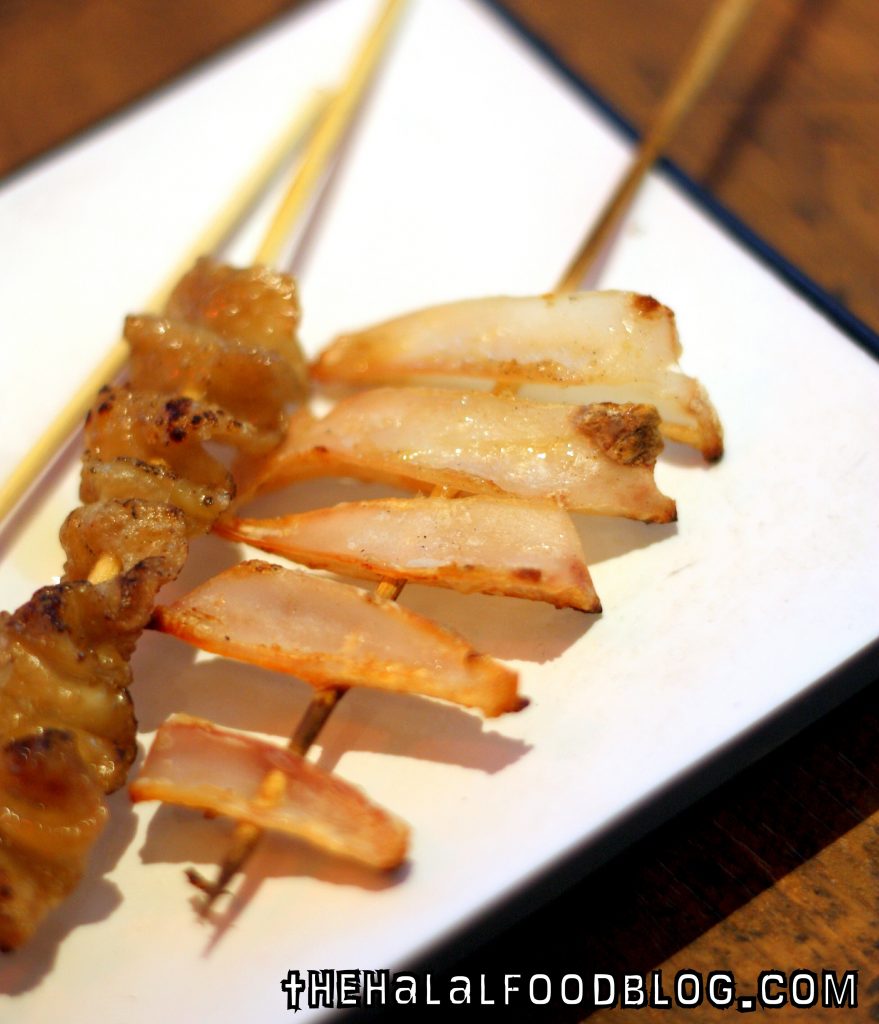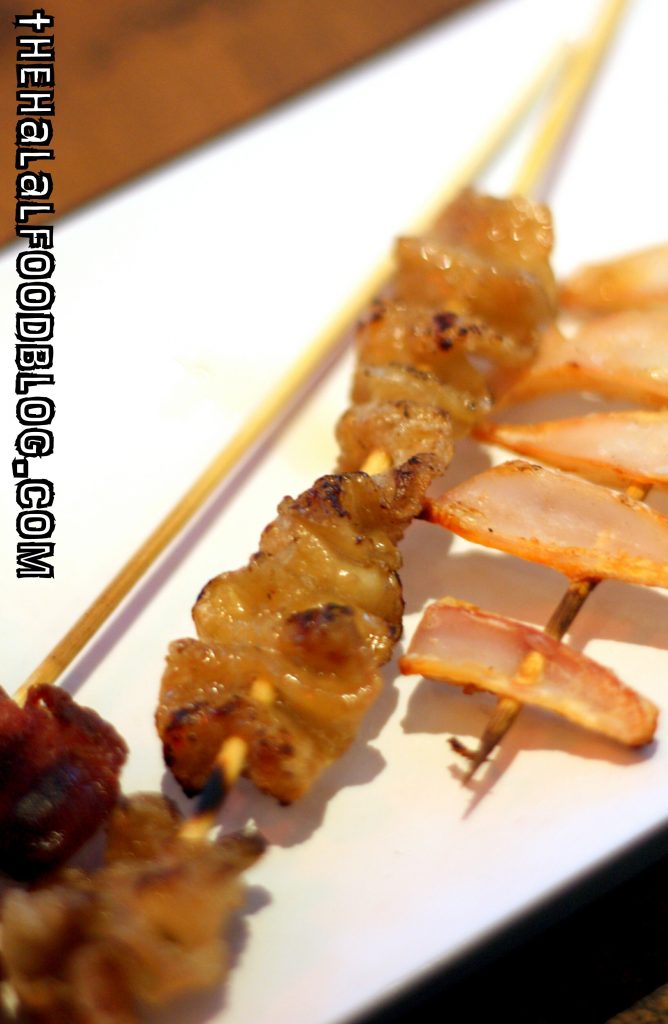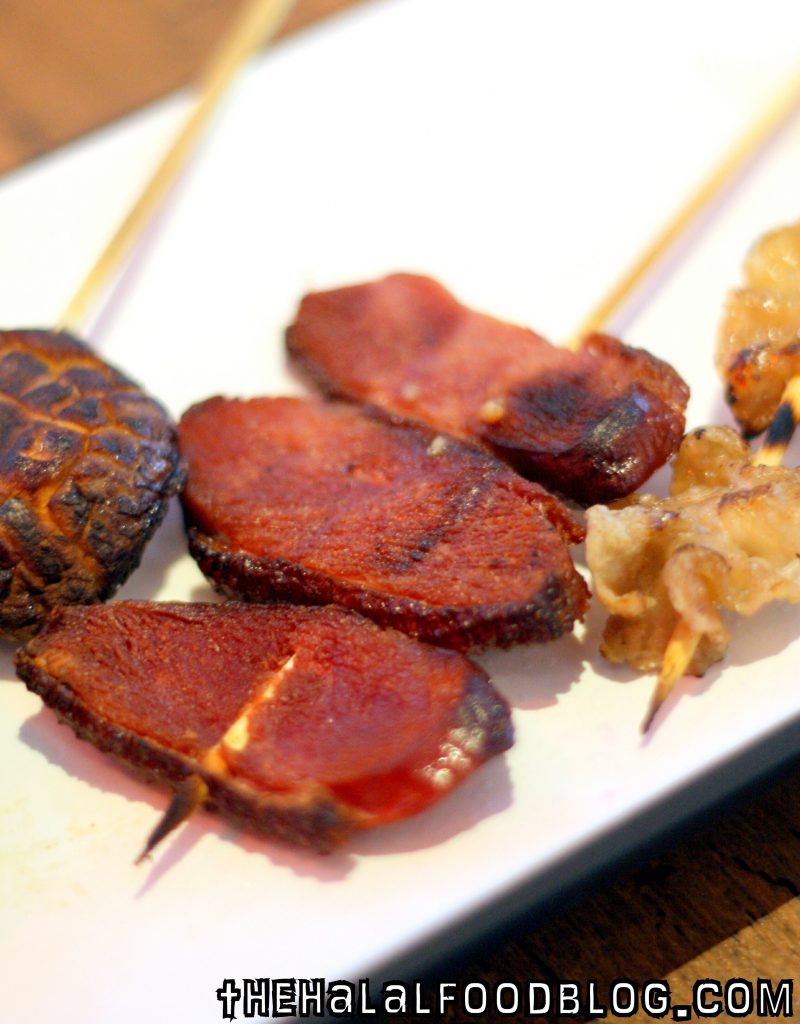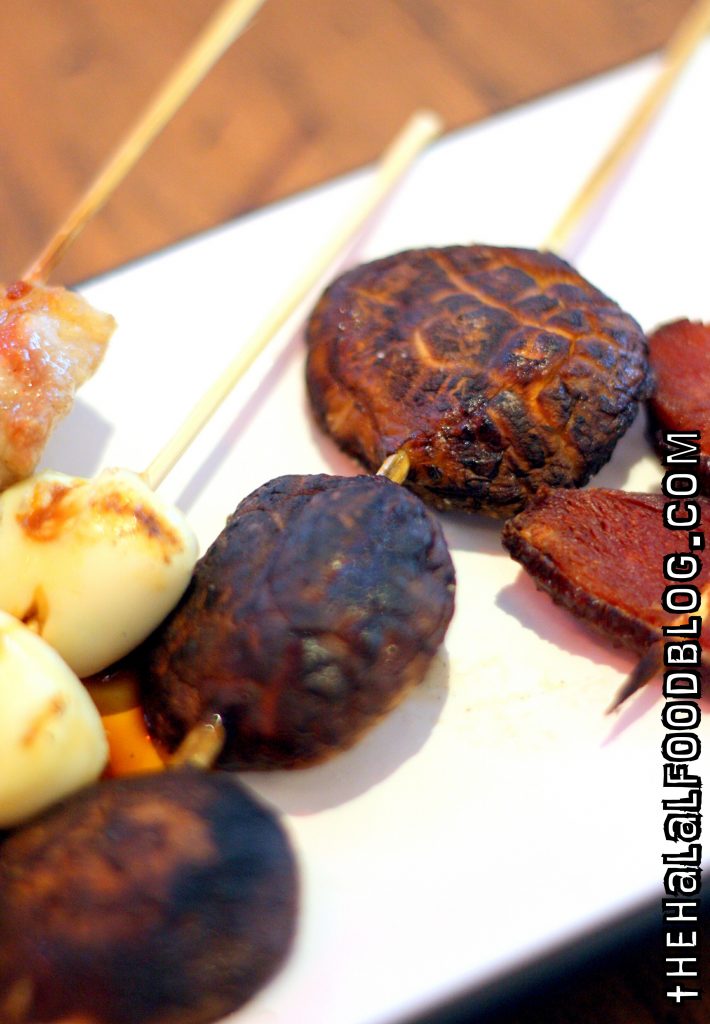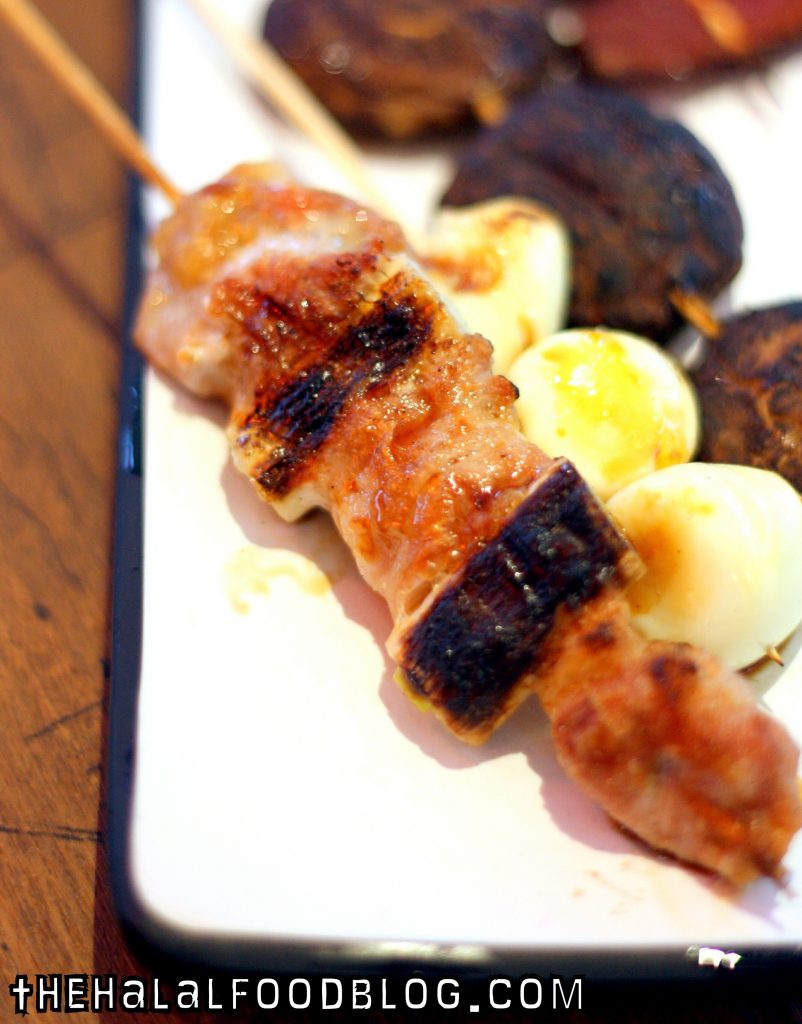 Well, some were okay and some not so okay…
The Chicken Soft Bone is basically.. well, you when you eat chicken breast and there's a part of the bone that is basically soft cartilage? Well, that's what the Chicken Soft Bone is (would have helped if they called it Cartilage LOL) so it's definitely not worth the price.
The Chicken Skin seemed like a good idea but it was really lacking seasoning so it was pretty much tasteless.
Luckily the Shitake Mushrooms were a big favourite. Great flavour and well grilled. I quite liked the Smoked Duck too which is pretty much like jerky. The Chicken Yakitori was pretty standard I guess.
They also have Kushiyaki Sets which have a selection of Kushiyaki for you and served with rice and some egg. Might be a good idea if you're looking for a hearty meal but choose wisely your selection of Kushiyaki LOL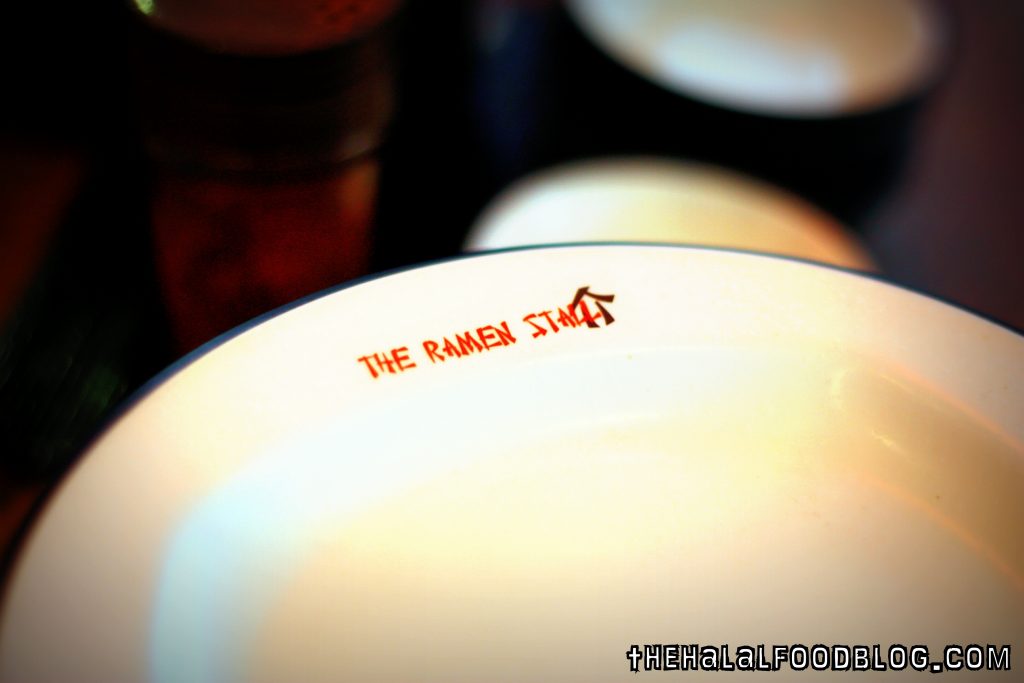 CHILD FRIENDLY FACTOR — 3.5/5
They have great and sturdy baby chairs so that's a big plus but these are good when you're in the area with the big tables. If you're at a small table, it can be pretty squeezy. But top marks to the staff for bring so accommodating!
Adam's Verdict:
Grilled Edamame 4/5 — Chawanmushi 4.5/5 — Beef Wrapped Golden Mushroom 5/5
Cola Wings 2/5 — Hokkaido Chicken Strips 3.5/5 — Prawn Tempura 2.5/5 — Kushiyaki 2/5
Hana Maki 2/5 — Torched Beef Sushi 4/5 —  Volcano Ramen 3.5/5 — Beef Ramen 4.5/5 —
Cha Soba 4/5
Maryah's Verdict:
Grilled Edamame 4/5 — Chawanmushi 5/5 — Beef Wrapped Golden Mushroom 5/5
Cola Wings 1/5 — Hokkaido Chicken Strips 2/5 — Prawn Tempura 3/5 — Kushiyaki 2/5
Hana Maki 3/5 — Torched Beef Sushi 4.5/5 —  Volcano Ramen 3.5/5 — Beef Ramen 4/5
Azlan's Verdict:
Grilled Edamame 3/5 — Chawanmushi 4.5/5 — Beef Wrapped Golden Mushroom 4.5/5
Hokkaido Chicken Strips 2.5/5 — Prawn Tempura 4/5 — Kushiyaki 4/5 — Torched Beef Sushi 5/5
Beef Ramen 3.5/5 — Cha Soba 4/5
Yana's Verdict:
Grilled Edamame 3/5 — Chawanmushi 5/5 — Beef Wrapped Golden Mushroom 4.5/5
Cola Wings 1/5 — Hokkaido Chicken Strips 2/5 — Kushiyaki 4/5 — Hana Maki 2/5
Torched Beef Sushi 5/5 — Volcano Ramen 3/5 — Beef Ramen 4.5/5 — Cha Soba 2.5/5
Wow quite a few 5/5 scores here! But quite a few low ones too…
Seems like everyone either really likes it or really dislikes it for whatever reason. I guess that means it's easier to decide what to order the next time we visit!
Don't forget that The Ramen Stall is open til LATE! All the way til 6am so it's a great choice if you're in the mood for Japanese food especially in the wee hours!
787 North Bridge Road
Tel: 66550800
www.theramenstall.com.sg
Facebook: www.facebook.com/ramenstall
Instagram: @theramenstall
Operating Hours:
5.00pm til 6.00am Mondays to Fridays
12.00pm til 6.00am Saturdays, Sundays and Public Holidays
All information (including prices, availability of item on menu and Halal status of establishment) are accurate at the time of posting. All photos used in this site are property of The Halal Food Blog unless stated otherwise.
---
The Ramen Stall offers 10% off for all FRIENDS Card holders. Valid with minimum spending of $50. Not valid for purchases made on weekends, public holidays or set meals. Not valid with any other promotions, discounts or vouchers.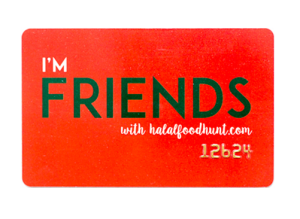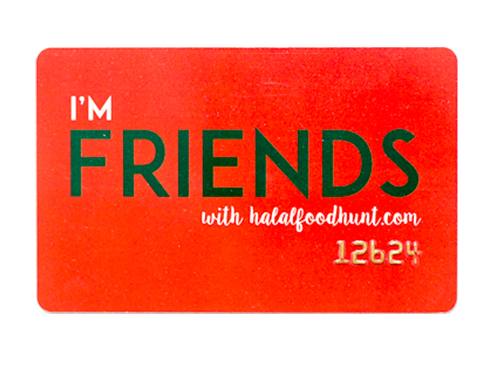 Get your FRIENDS with halalfoodhunt.com Rewards Card now at only $18/year and unlock discounts at over 60 halal restaurants, cafes, bakeries including online e-commerce businesses in Singapore. For a full list of where you can enjoy your card, click here.