Starting the year with more festivities as Chinese New Year is just around the corner. And as we always say, just because we don't celebrate that particular festival or new year, we can definitely still enjoy the many delicacies made available to us during these festive seasons. Case in point for CNY – Fa Cai Yu Sheng!!
You may have read some of our posts from last year where we got so sample various Halal versions of Yu Sheng. This year seems to mark a bit of difference as the number of Halal Yu Sheng options seem to have dwindled. I mean, there are still quite a few options out there (including buying and DIY at home) but it's safe to say that compared to last year, this year definitely sees less Halal versions.
Well, The Ramen Stall is proud to present their version of Yu Sheng and it's Halal!
The Ramen Stall is the go-to place for Japanese makan for us (and so many of you!) so it's great news that they also a few CNY Package Meals which mean we save while getting to enjoy our faves!
But first, the Yu Sheng…
There are plenty of components that make up Yu Sheng, each with their own significance. You may see a bit of differences here and there but the basics are still pretty much the same.
At The Ramen Stall, the Yu Sheng is made up of carrots, white, purple and green radish, sweet potatoes, yam, Chinese seaweed, dried seaweed, crabsticks, melon, tea melon,shallots, pomelo and crispy fish skin to replace the traditional crackers!! Traditionally, raw sliced Ikan Parang (Wolf Herring) would represent the fish component but at The Ramen Stall, you know it's gonna be some of the fresh Salmon Sashimi!
You can also top-up a bit extra to include Abalone to your Yu Sheng too!
So each component represents something like good fortune, wealth etc but all in all, the most important thing is that they all taste delicious LOL am I right? And good news – it's top quality ingredients here!
Complete it all with the additional condiments that you'll pour over the main ingredients like spices, sauces, various oils and also Red and Green Crab Roe for good measure.
And once they're all in and everyone is ready, it's time to toss!!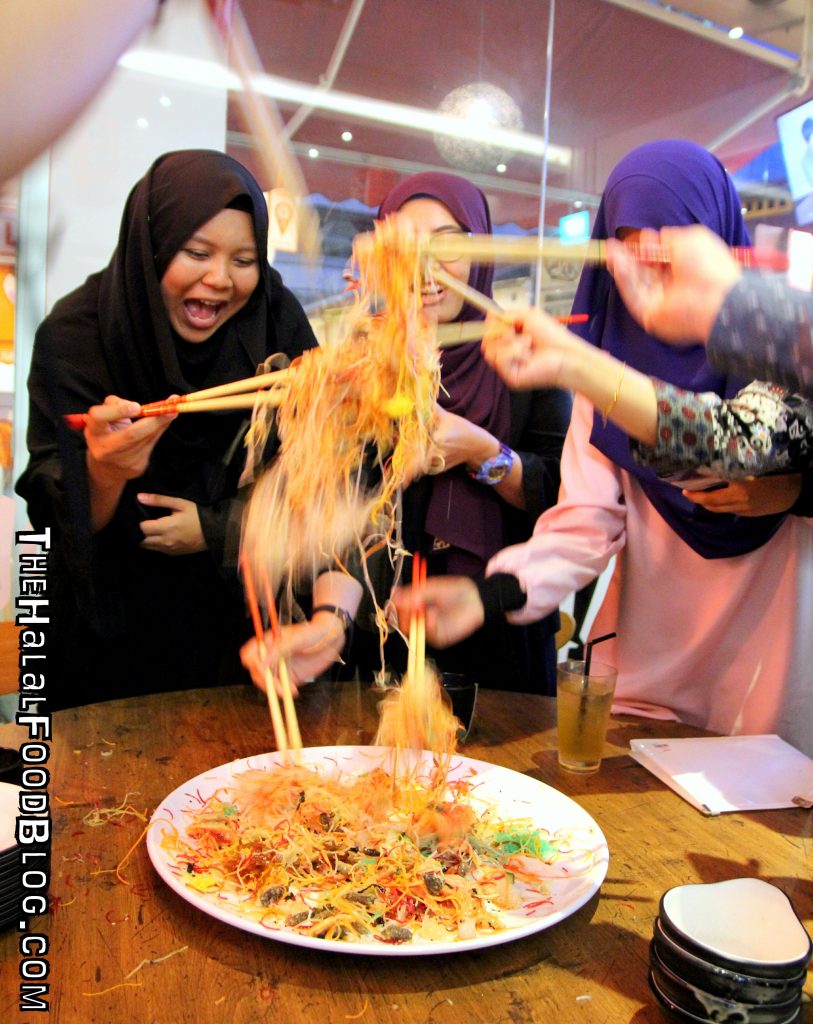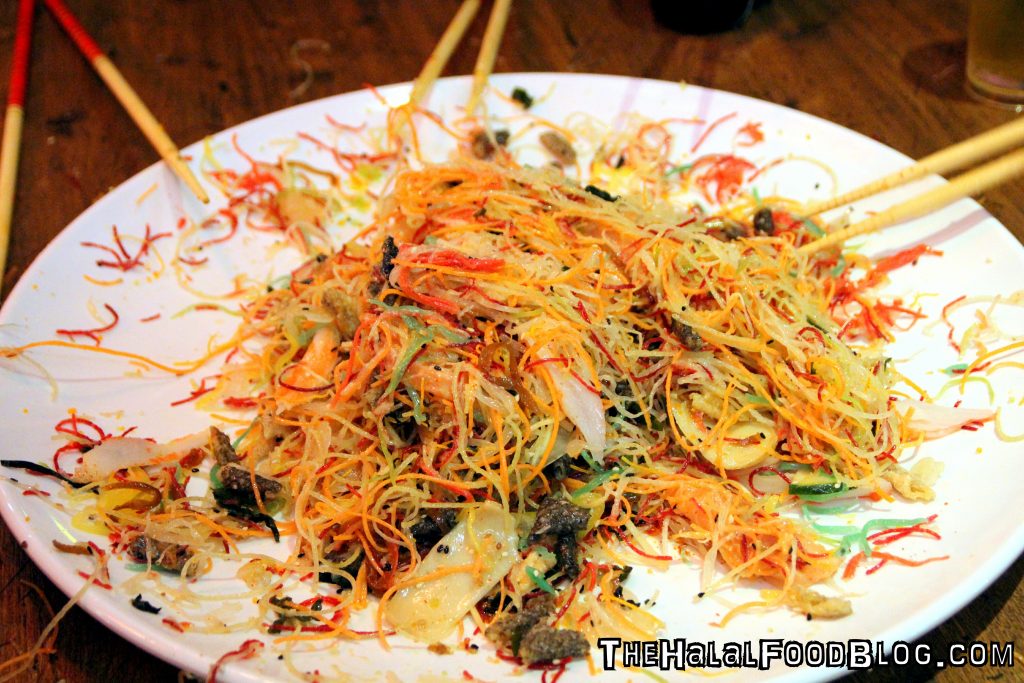 Woo hoo! Always enjoy a good session of Yu Sheng! And yes, it is as fun as it looks! LOL
And remember – the higher you toss, the better!
That beautiful mess there is the result of all that tossing so all the different ingredients and sauces and powders get nice and mixed up. Now, only left to serve it up and enjoy!!
If you think about it, this is actually a salad! Plenty of nice an crunchy veggies in there with a bit of flavour thanks to the sauces and seasoning. In fact, this version at The Ramen Stall does not have as much sauce (e.g. plum sauce etc) compared to other versions we have tried and this means that you don't have a singular flavour overpowering everything else.
I personally loved the Abalone component (which you can top up) plus don't forget the fresh Salmon Sashimi in there too! I simply have to also mention the crispy fish skin which were absolutely delicious and gave a great texture when enjoyed with the vegetables!
Anyways, the Yu Sheng is not the only highlight at The Ramen Stall this CNY. We all know they're food is delicious and now even better that we can enjoy them as part of special Package Meals!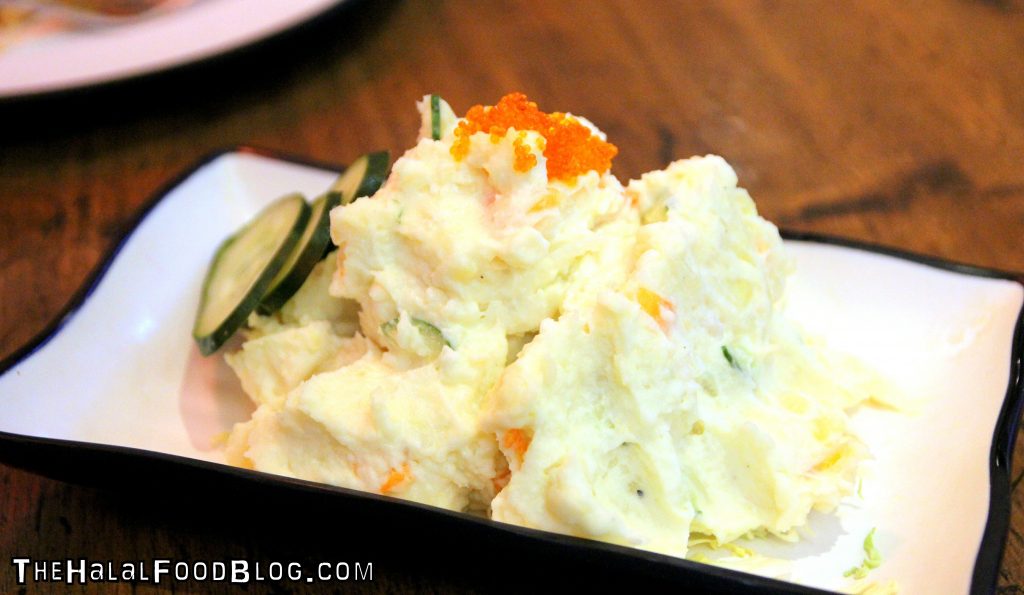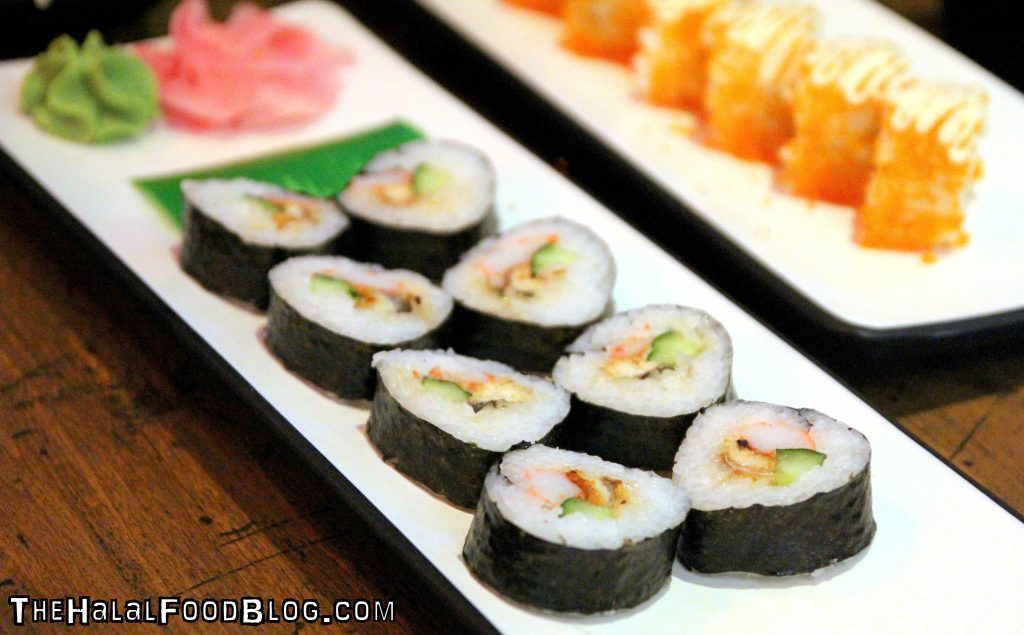 So the CNY Packages are perfect for group dining so it's time to make plans with family and friends! They have packages ranging from 5 to 10 pax and even more in case you have an extra big group.
And they have something for everyone from starters to mains!
For starters, we enjoyed the Potato Salad (for the first time!), Seaweed Salad and assorted Sushi too!
And that's just the beginning…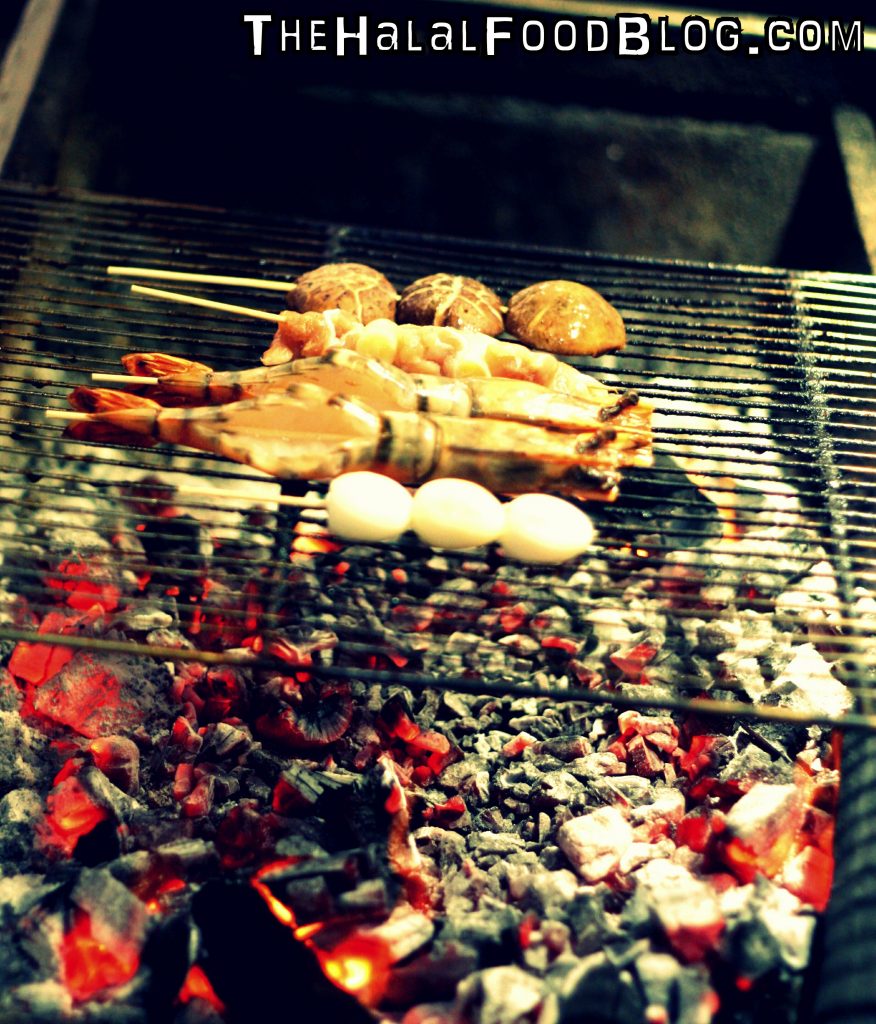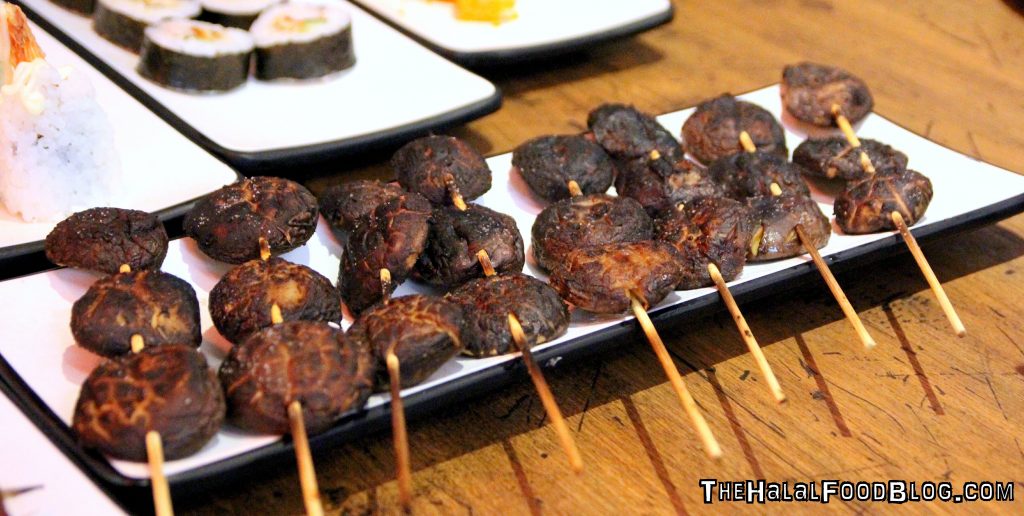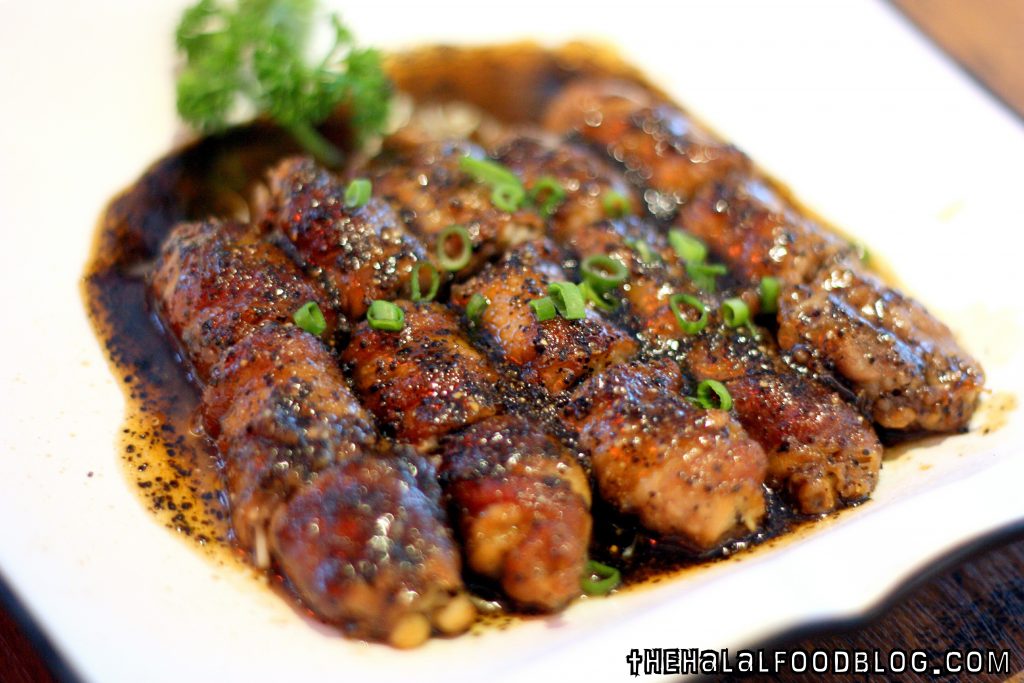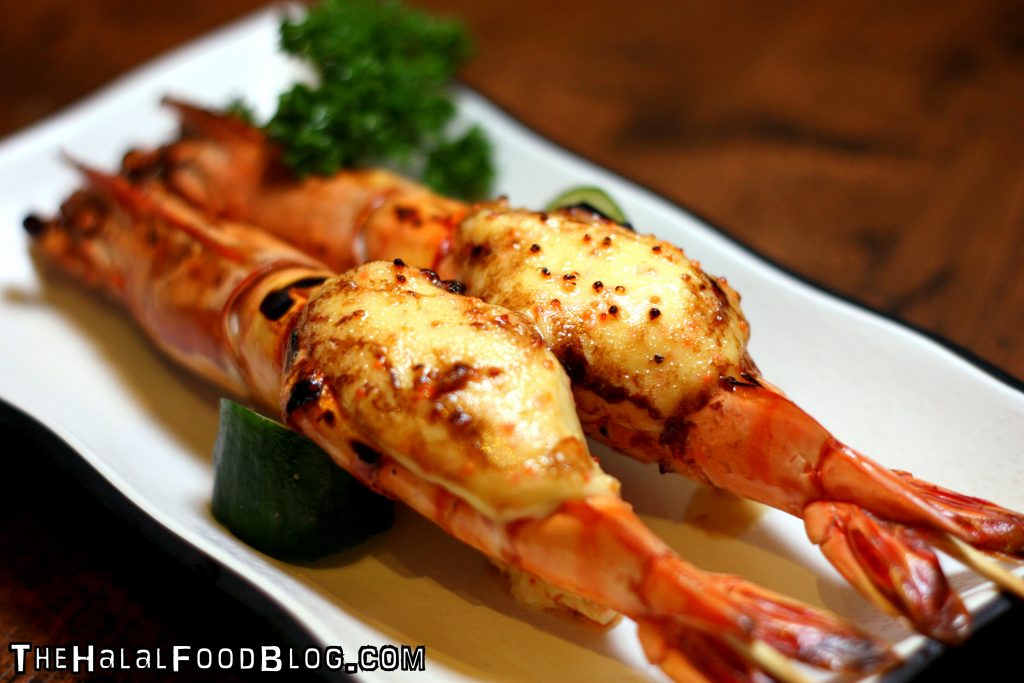 A very welcome entry to the Package Meals is the famous Kushiyaki which comprises of fresh and tasty ingredients being grilled over charcoal. And best of all – it's grilled to order so you get it nice and fresh and hot! Definitely a signature at The Ramen Stall.
The Shitake Mushrooms had a great earthy flavour which we love and the Prawns with Mayo was satisfying as usual. Fresh big prawns grilled and then completed with Japanese Mayo and some Ebiko. Sedap! Please work on your prawn peeling skills okay LOL if you need help just ask Zie from Halalfoodhunt.com cos her prawn peeling skills is Level 999999.
Last but not least was the Beef Roll with Golden Mushrooms.
The version in the package is the Kushiyaki version so it's not exactly the same as what you see in the pic above. Just think of that but minus the sauce and put the food on sticks LOL
Definitely still sedap of course, with tender grilled beef and Enoki Mushrooms within!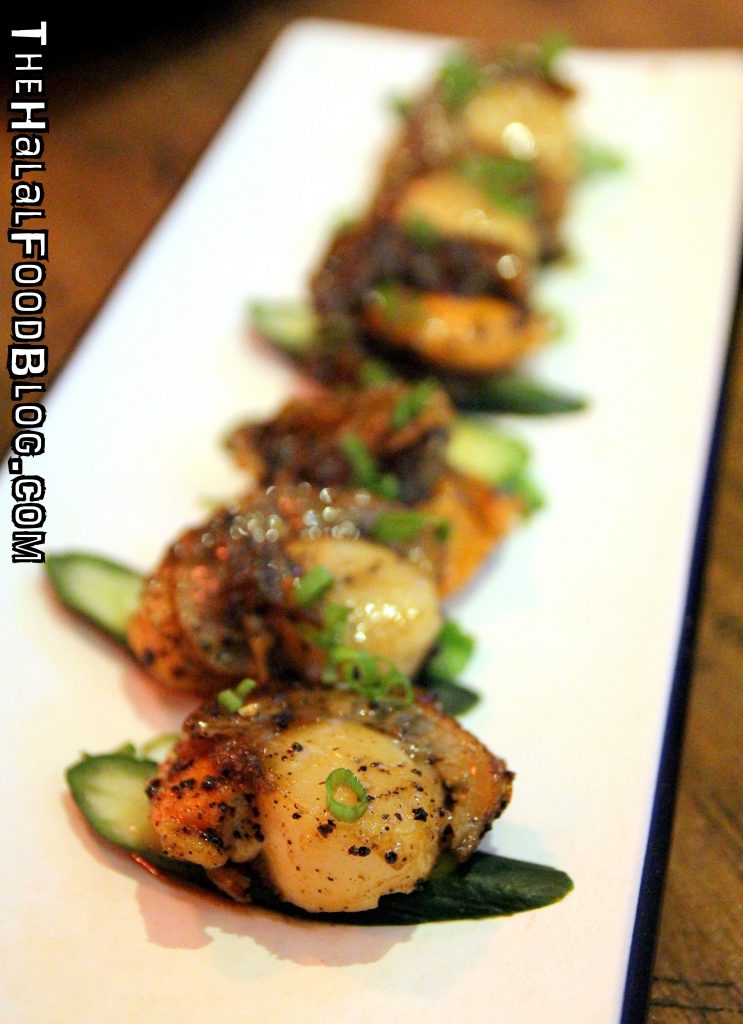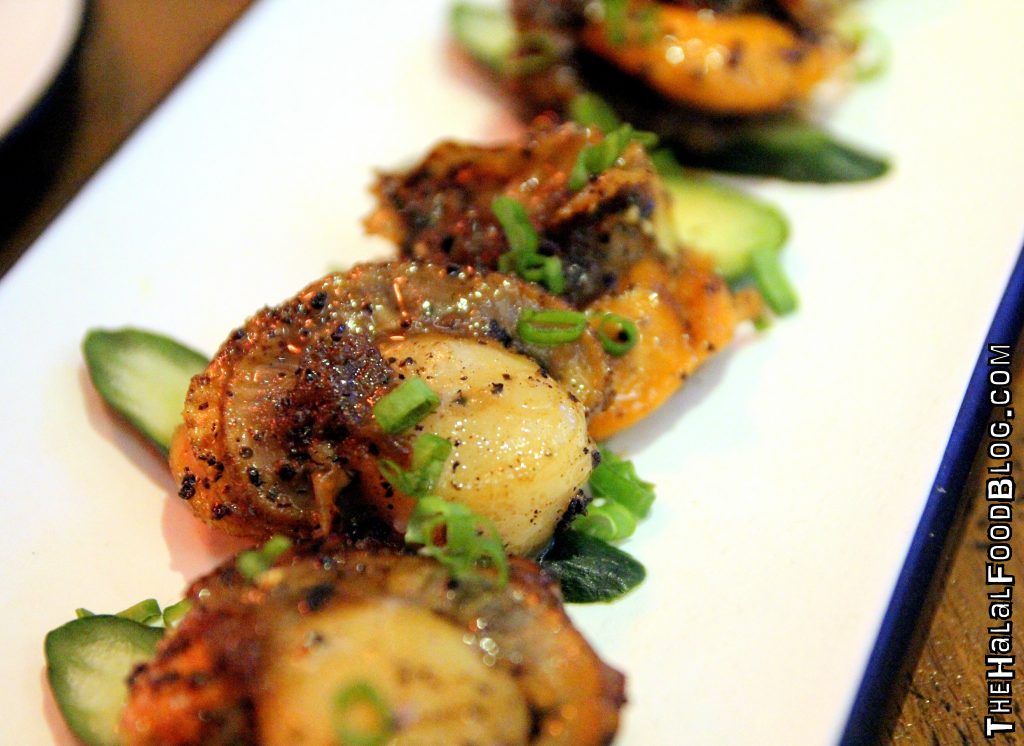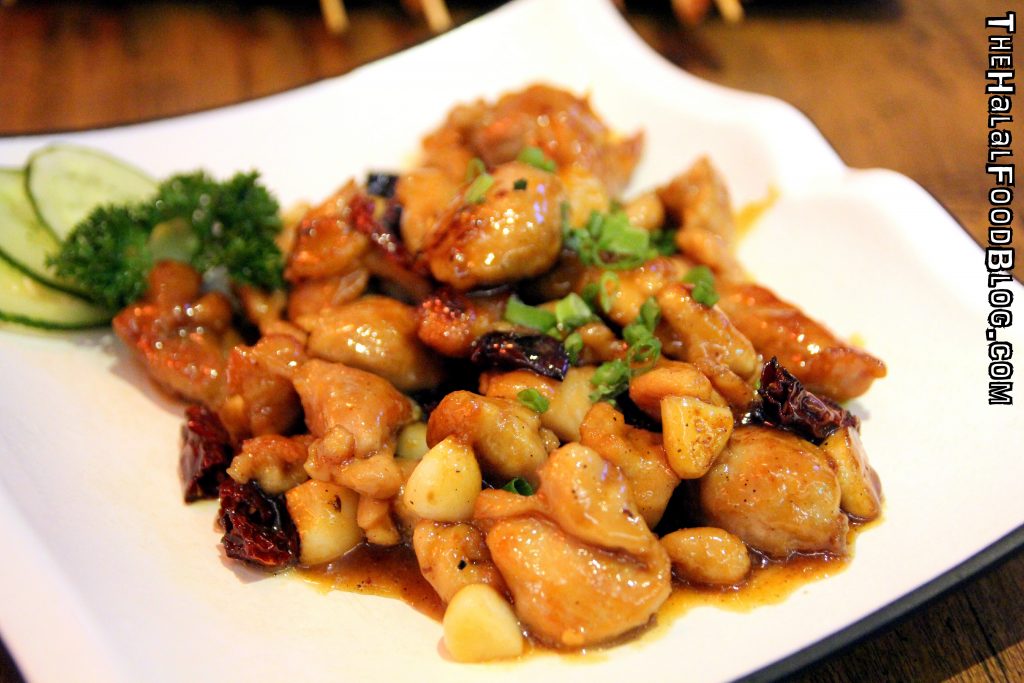 This was also the first time we were trying the Hokkaido Scallops! Fresh, plump and tender scallops cooked up with  light black pepper seasoning so you can still enjoy the natural flavour of the scallops.
We also had the Spicy Garlic Chicken which was admittedly not that spicy at all but it definitely had a generous serving of Garlic!! I LOVE GARLIC so I was obviously in heaven but all you vampires out there, beware! LOL
There's also Soft Shell Crab and Teppanyaki Beef in the selection by the way.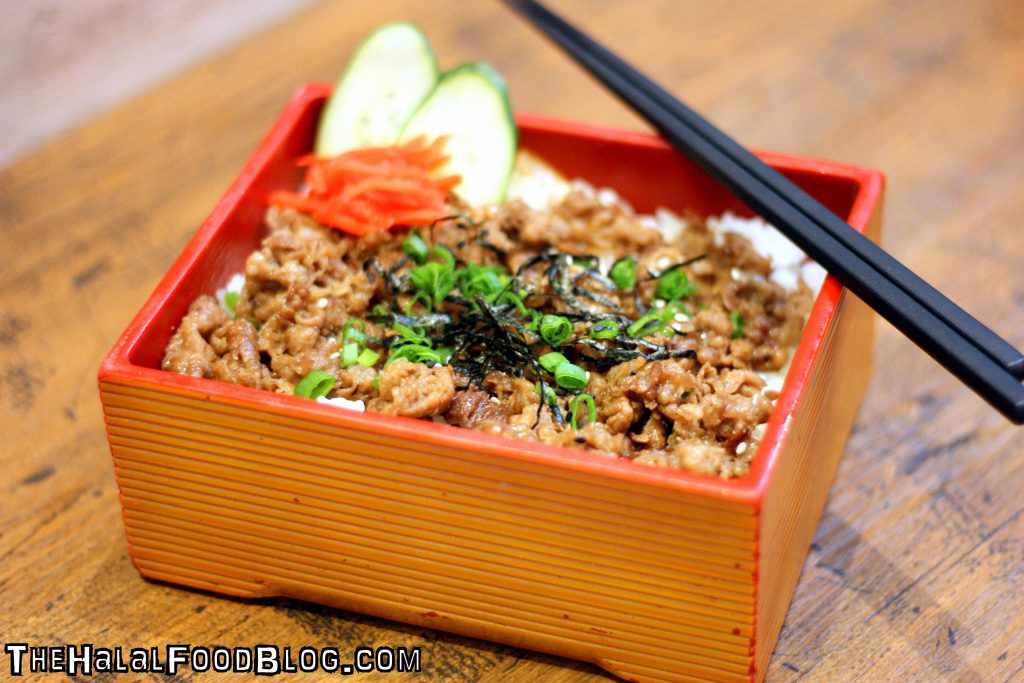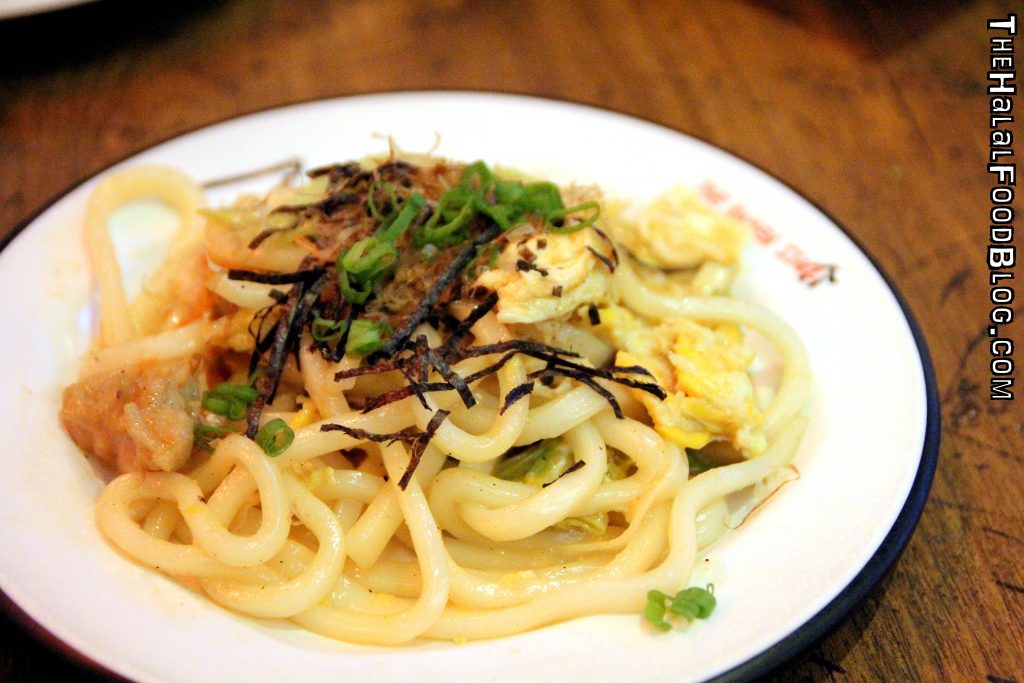 You also have a choice of either Gyu Don (my fave!!!) or Yaki Udon by the way.
Either way, you're a winner because both sedap!
I particularly favour the Gyu Don which is sliced beef on a bed of rice. Soooooo the comfort food for me. Yaki Udon also quite power lah actually. It's Udon noodles that are fried up with a load of goodies. So take your pick!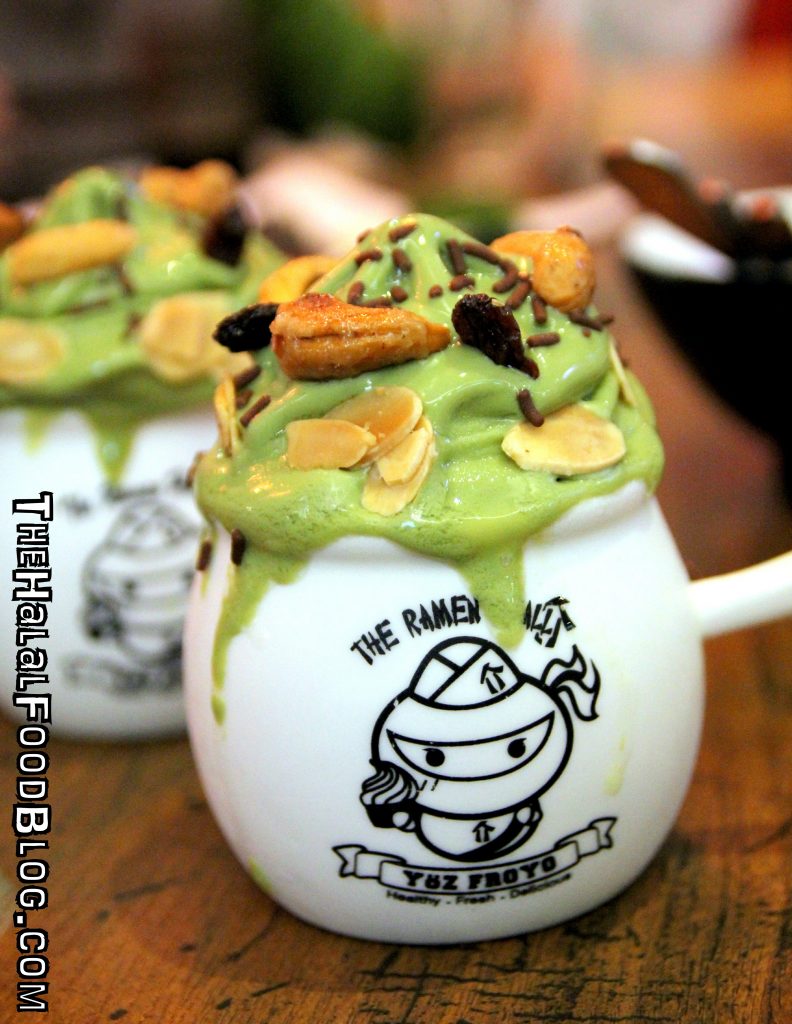 This one is not in the Package Meal but we simply could not visit The Ramen Stall without finishing off our meal with some of their famous Froyo!!
Their frozen yoghurt comes in either Original or Matcha and is the sweet ending you deserve after  hearty meal of Japanese delicacies at The Ramen Stall. Plus, they use 0% fat skimmed milk!! Guilt-free desserts!!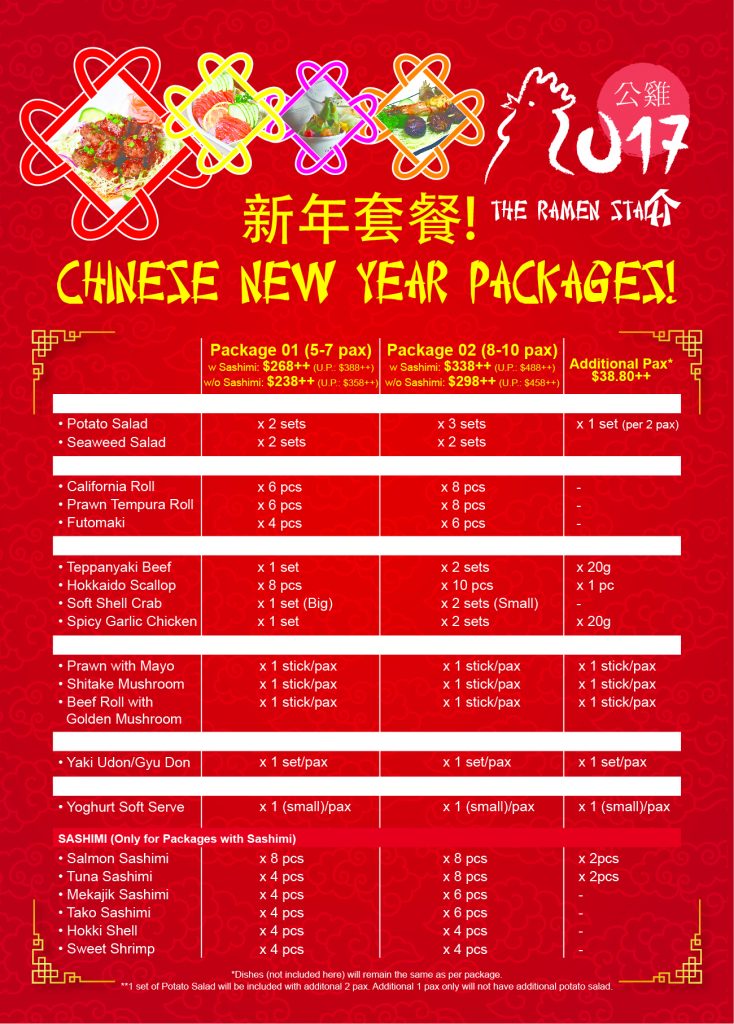 That's the list for the Package Meals at The Ramen Stall so you can see all the goodies on offer.
They even have options for Sashimi too!!
In the end, you get to enjoy all that great food at a great price.
Even if you're not to keen on some of the dishes in the package, you can still head down to The Ramen Stall and order from the ala carte menu!
The Ramen Stall is open as per normal 5pm til 5am on 27th Jan (CNY eve) and 12pm til 5am on 28-30 Jan!
With the CNY long-weekend set to be a busy one, best is to make reservations okay!
For reservations, call The Ramen Stall at 6655 0800!
787 North Bridge Road
Tel: 66550800

www.theramenstall.com.sg
Facebook: www.facebook.com/ramenstall
Instagram: @theramenstall
Operating Hours:
5.00pm til 5.00am Mondays to Fridays
12.00pm til 5.00am Saturdays, Sundays and Public Holidays
All information (including prices, availability of item on menu and Halal status of establishment) are accurate at the time of posting. All photos used in this site are property of The Halal Food Blog unless stated otherwise.
---
The Ramen Stall offers 10% off for all FRIENDS Card holders. Valid with minimum spending of $50. Not valid for purchases made on weekends, public holidays or set meals. Not valid with any other promotions, discounts or vouchers.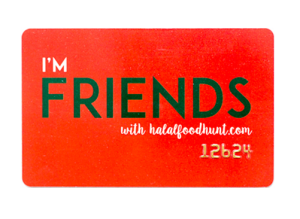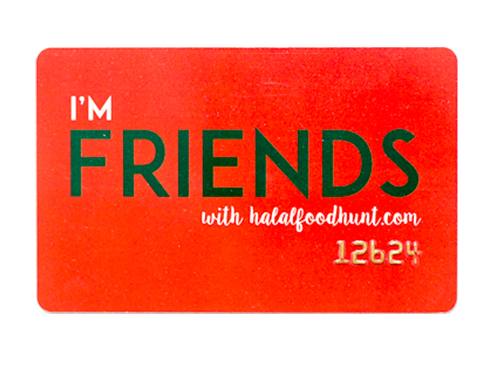 Get your FRIENDS with halalfoodhunt.com Rewards Card now at only $18/year and unlock discounts at over 60 halal restaurants, cafes, bakeries including online e-commerce businesses in Singapore. For a full list of where you can enjoy your card, click here.