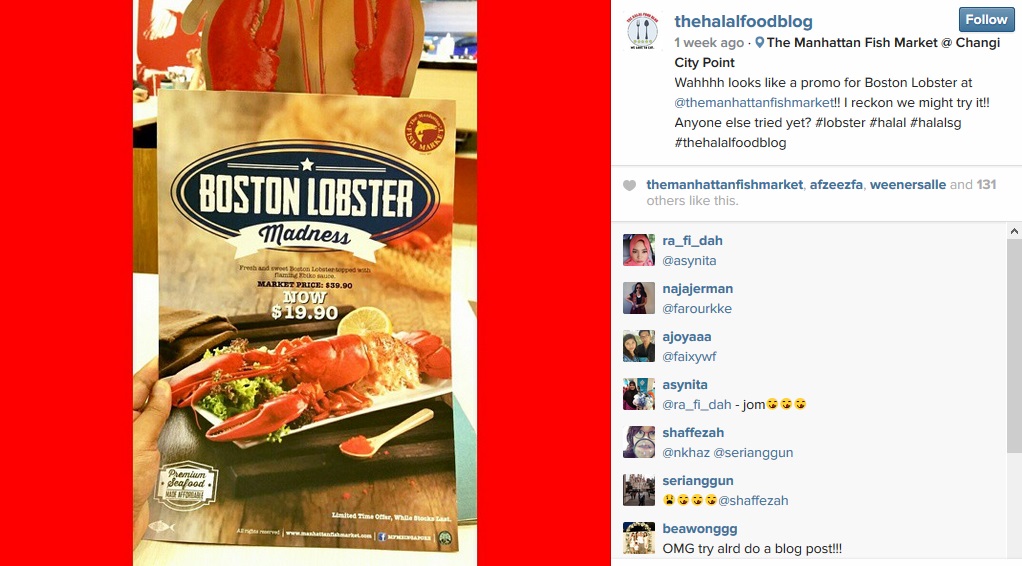 So if you guys follow us on Instagram (if you haven't, follow us NOW @thehalalfoodblog), we posted about a week ago that we saw The Manhattan FISH MARKET was having a special promo for Boston Lobster. It looked really good and as you can see from that screenshot, it seems like a lot of people were excited about it too!
The last comment you can see there says "OMG try alrd do a blog post!" but unfortunately the outlet we had visited (Changi City Point) seems to have run out of the Boston Lobster!! We saw the table across from us being served the Boston Lobster so maybe they got the last one. But it goes to show how popular a dish is if it sells out right!
So, we went back to The Manhattan FISH MARKET just to try the Boston Lobster Madness.
And we'd like to dedicate this post to @beawonggg LOL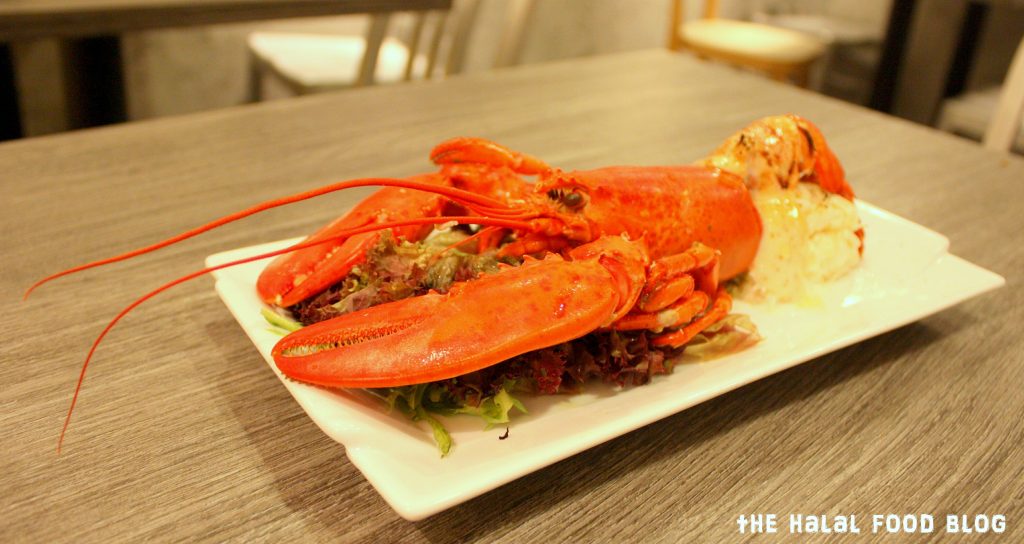 When it comes to seafood, I think pretty much everyone is gonna agree that Lobster is one of the premium seafoods available out there. And because it's so premium, that means it's gonna cost quite a pretty penny too. Which is why it's noteworthy to point out that this dish is being offered by The Manhattan FISH MARKET at only $19.90!
Yeah the usual price is $39.90 which is also not too bad but this is the perfect opportunity to take advantage of this great promotional price especially if you've been waiting for the chance to have lobster!!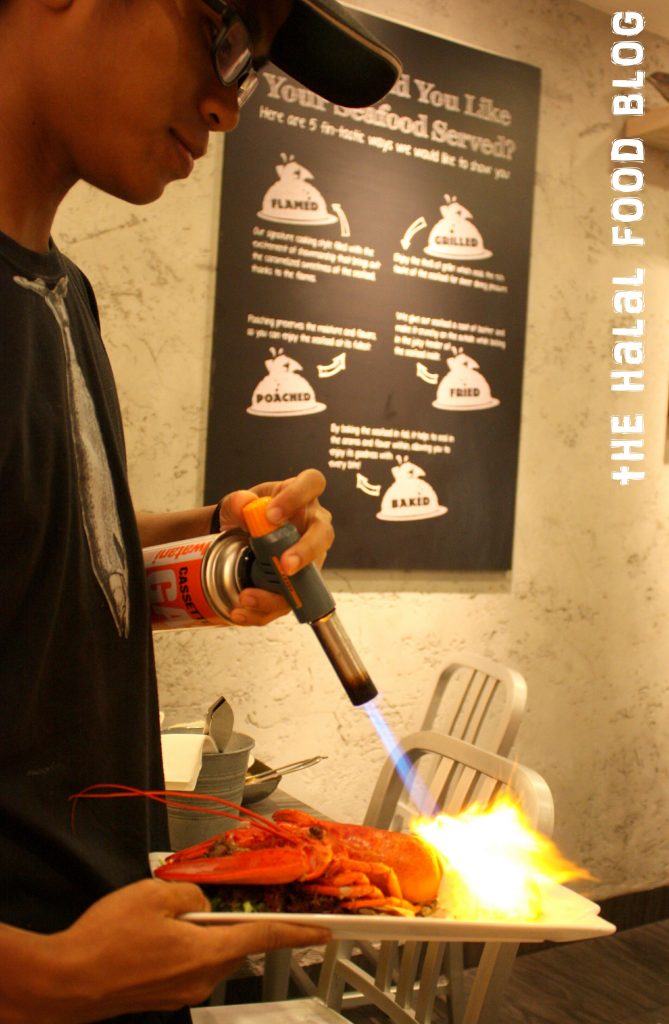 So you've got a lobster which is poached so the meat is still succulent to the bite and they top it off with their signature flaming sauce (it's the creamy sauce!) which they use in all their flaming dishes. And to add on to that, they add some Ebiko (fish roe) which a lot of you sushi-eaters will be familiar with.
And once that's all set then it's FLAME ON!!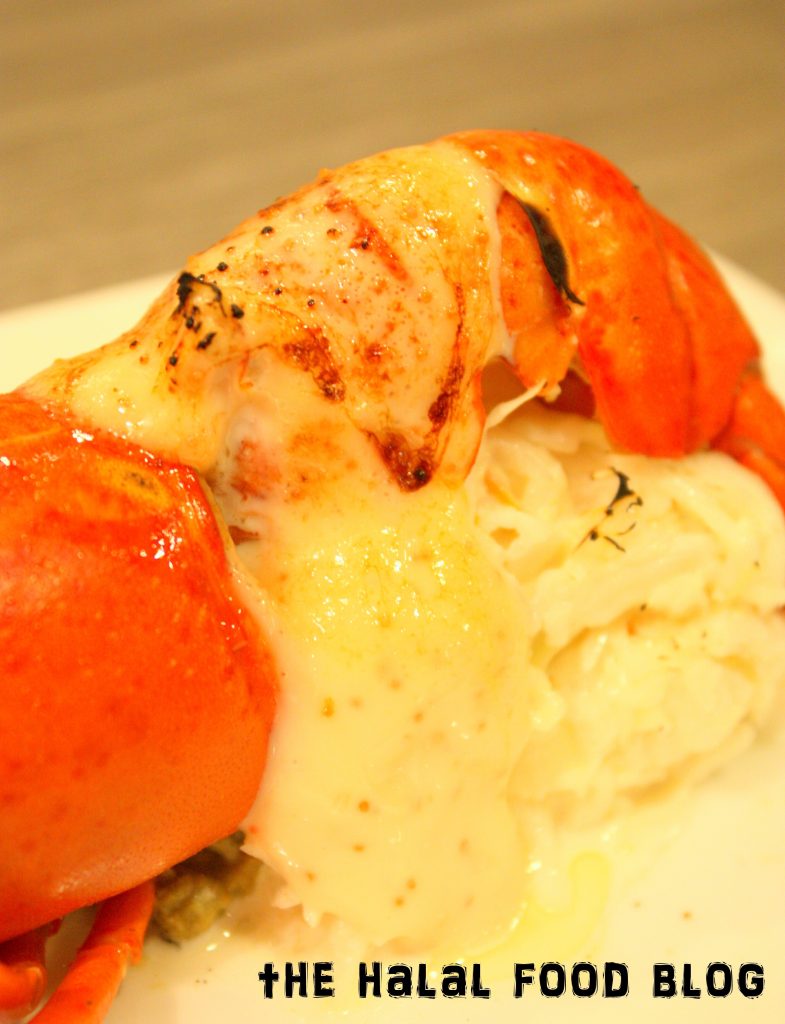 Hmmmm.. would have liked more Ebiko like the poster but hey it's the lobster we're after right?
The thing about lobster is that the meat is found mainly in the tail and the claws (for the larger lobsters) so for these medium sized ones you'll be savouring the meat from the tail end yeah.
The flaming sauce (which is cream based) is always a favourite of mine and has quite a nice tang to it. The sauce does in fact go very well with the lobster meat. I guess this is quite natural because my other favourite dish with the flaming sauce is the Flaming Prawns so I guess it goes very well with seafood.
And don't forget to squeeze the lemon for an extra tang!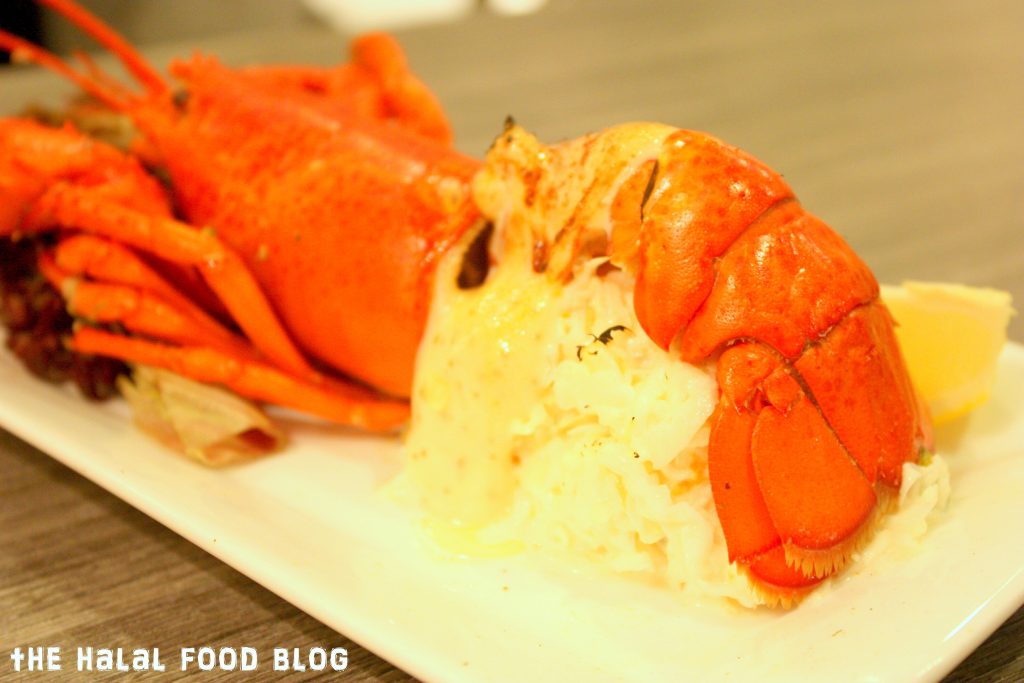 The lobster comes served with some coleslaw (beneath the tail in that pic above) and some side salad so it's actually not enough for a full meal… unless you're a really small eater… which we are not… LOL
It might be a good idea to order this as maybe a side order and then share a platter with someone?
Depends on your appetite for that day I guess.
Adam's Verdict:
Boston Lobster 3/5
Maryah's Verdict:
Boston Lobster 2.5/5
CHILD FRIENDLY RATING – 2.5/5
If you're sitting at the big tables located at the side of the restaurant (we reviewed this at Century Square) then it's not too bad because there's plenty of space for the baby chair but we reckon that if you're in the middle area with all the small tables, it's pretty crampy.
So this promotion is running until the end of April so you'd better head down before it ends.
I guess this is not too bad and like we said it's a great chance to have some lobster at a really attractive price if you've been wanting to try lobster or maybe indulge in something you normally wouldn't consider.
The lobster is fresh and I guess they did a decent job cleaning it (given the circumstances) and it's definitely worth a try if you like seafood.
On a side note — we visited the Century Square outlet for this review and it seemed like a pretty busy night for them. Not sure if they were under-staffed or something but it took quite awhile for things to get done. We're not complaining but we wanted to point that out because we think it may have had some bearing on our food.
The lobster we saw served at the Changi City Point outlet looked a little better than what we had here so we hope your Boston Lobster is the bomb at whichever outlet you visit! Hurry! Only til end of April!