Wow! What a month it has been so far! Hope the Raya season has been great (and probably super busy) for you all so far! Well, we reckon that you're done with all the Lontong and Rendang by now for sure right? Fret not because there's plenty of great makan on the horizon LOL
First up, we are at a firm favourite with a lot of us – The Manhattan FISH MARKET – and they have put a twist on their signature Fish 'n Chips! In fact, they've specially created FIVE variations!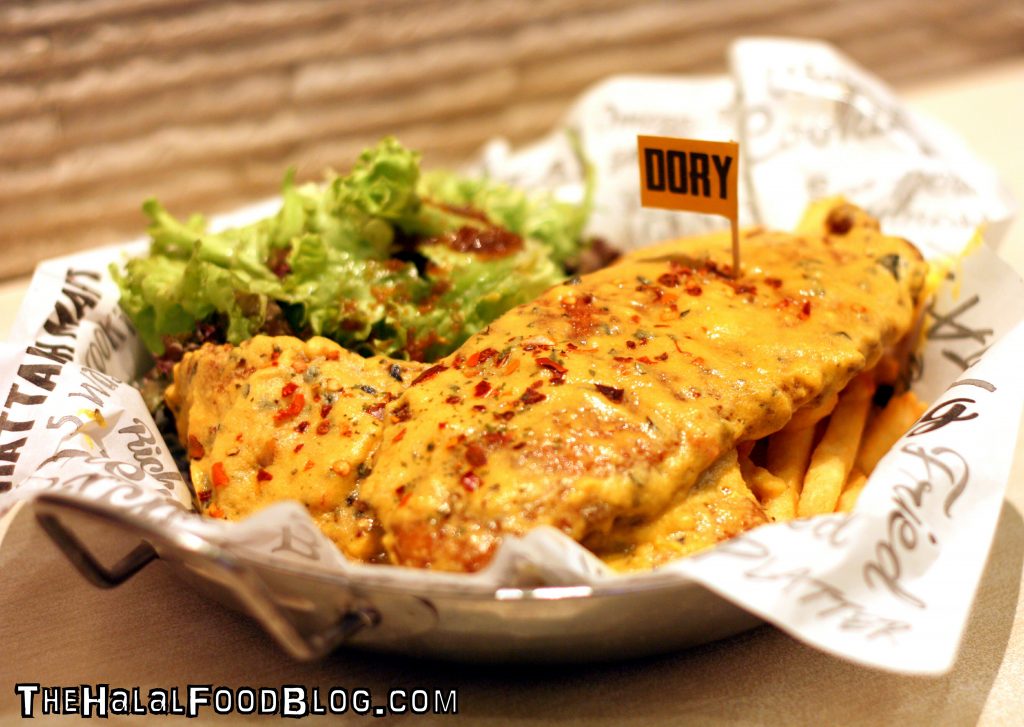 Okay, we can call of the search because we've found Dory!
And the great news is – it's delicious!
Come on. You know you love #SaltedEggAnything right… We definitely do!
And as much as some people will say that the Salted Egg craze is over, we can safely say that it most definitely not because everyone can't get enough of it!
Dory is a great fish to use for Fish 'n Chips because it's light and flaky and it definitely goes well with the strong flavours of the Salted Egg sauce that coats the fish.
The Salted Egg sauce is not only has a great buttery salted egg flavour but it does have quite a spicy kick to it thanks to the chili padi mixed in there (you can see bits of it all over the sauce). This is very welcome because the spice is normally lacking in a lot of salted egg dishes. Plus, as you can see, they are super generous with the sauce that coats the entire outer layer of the fish.
This was the top favourite with the majority of the team when we visited. In fact, despite being such a massive fan of #SaltedEggAnything, I was the only one that ranked this #2 on the list of dishes we tried that evening.
So what was my #1?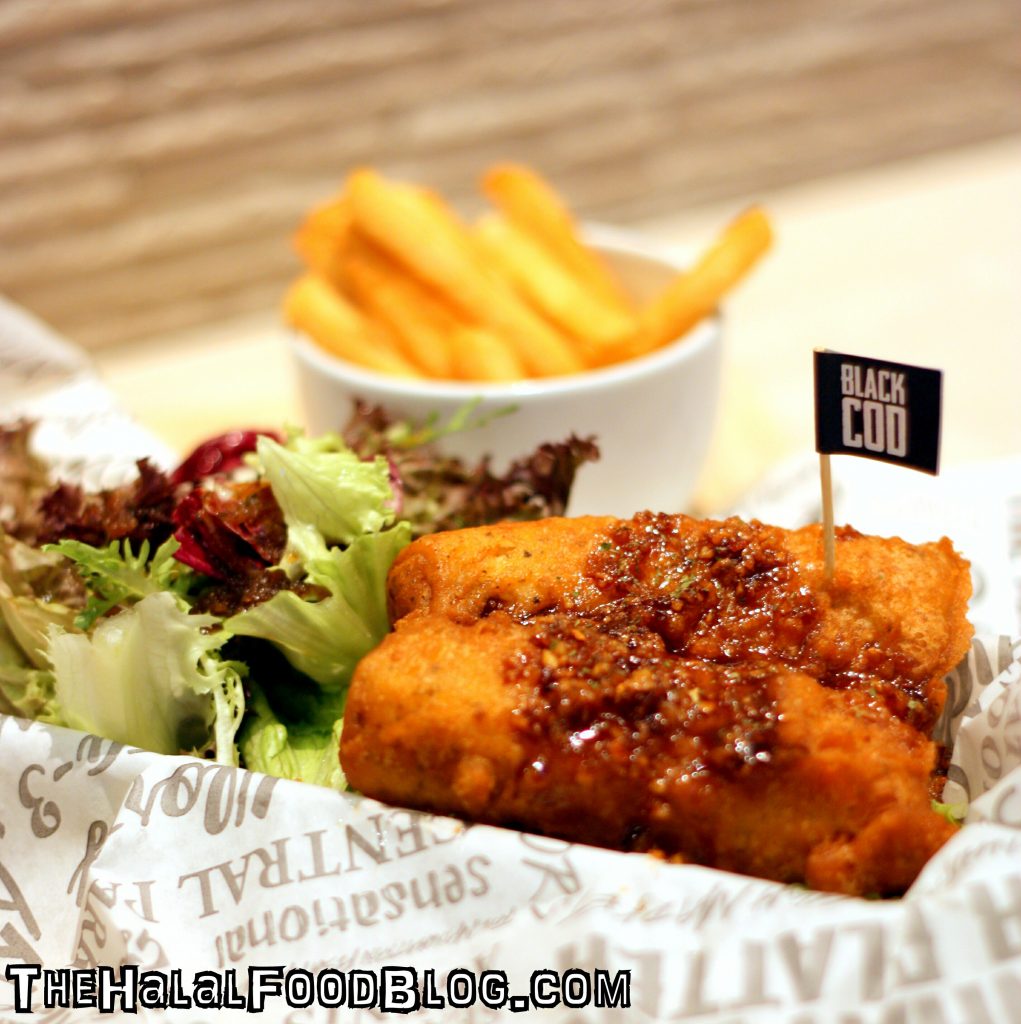 Yes. This is the one that took my top spot and for a combination of factors really.
I mean, how often is it that you get to enjoy a premium ingredient like Black Cod am I right?
The Black Cod aka Anoplopoma fimbria (thank you Wikipedia LOL) is really quite a delicacy and I'm so glad we got to try it at The Manhattan FISH MARKET!
The flesh of the Black Cod is firm but flaky and was perfect to go along with the very distinctive flavour of the Garlic Ginger sauce that tops off the dish. The fish was really 'lemak' as we like to say because the Black Cod has a high fat content. Memang sedap to the max I tell you. I guess the fact that it's quite a premium ingredient is also why the price of this particular dish is slightly higher compared to the rest on this special menu.
The crisp outer layer of this fish has a good serving of Garlic Ginger sauce that has a nice salty edge that compliments the mild-flavoured fish. If you love Garlic and/or Ginger (like me), this is the one for you.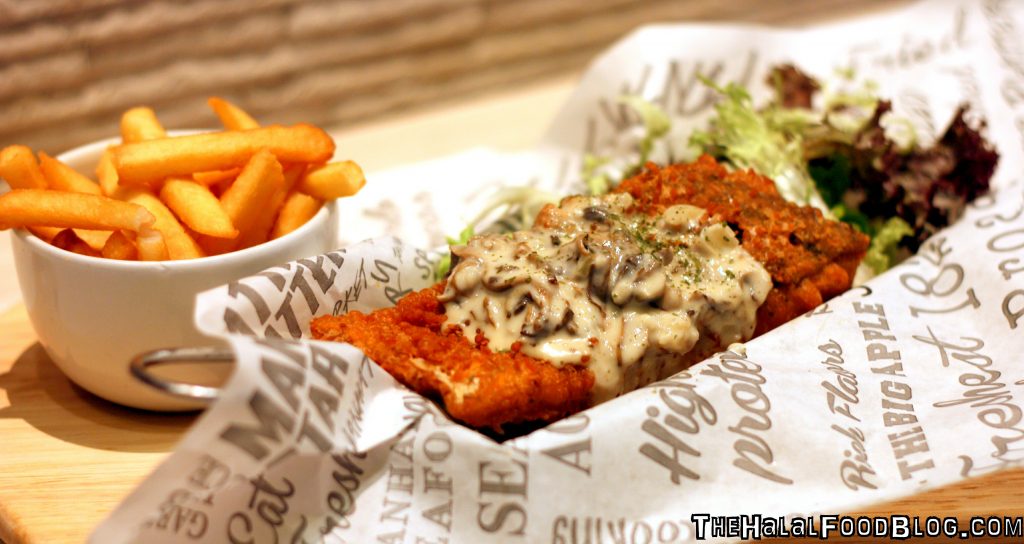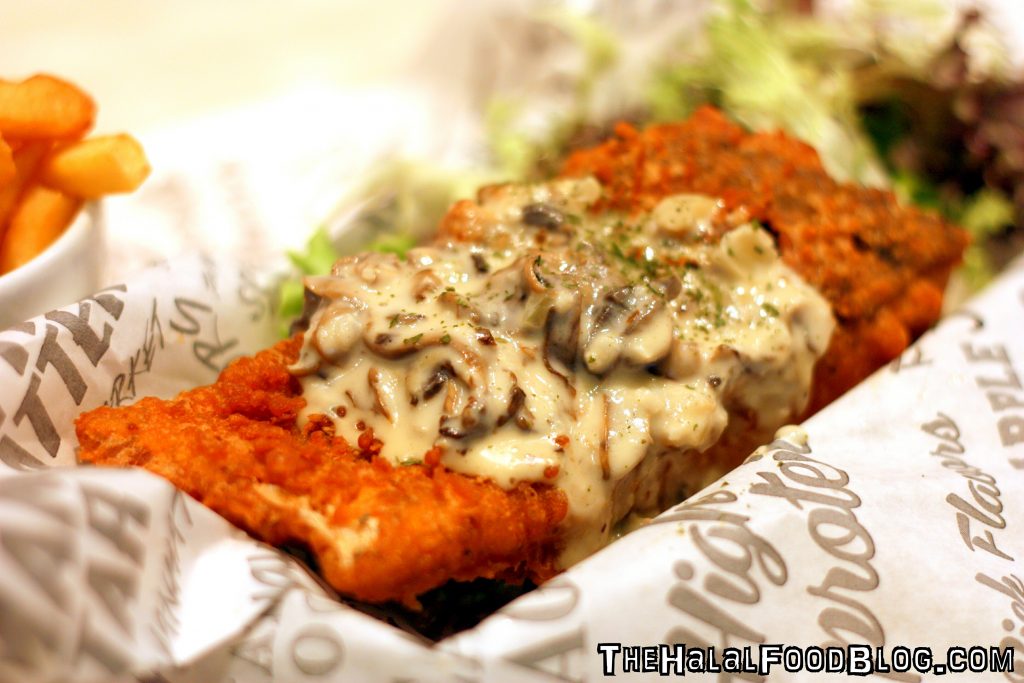 Wah the Creamy Mushroom sauce was really quite power leh! It was thick, creamy, packed full of mushroom and that great earthy flavour we love. The only feedback is that we wish there was more of it smothered over the fish LOL
The fish here is a Barramundi (aka Ikan Siakap) and definitely a popular choice with many in a great number of dishes because this fish is as tasty as it is versatile. And we all know how great food is when it is fried hehehe a great crisp to the batter as you dig in.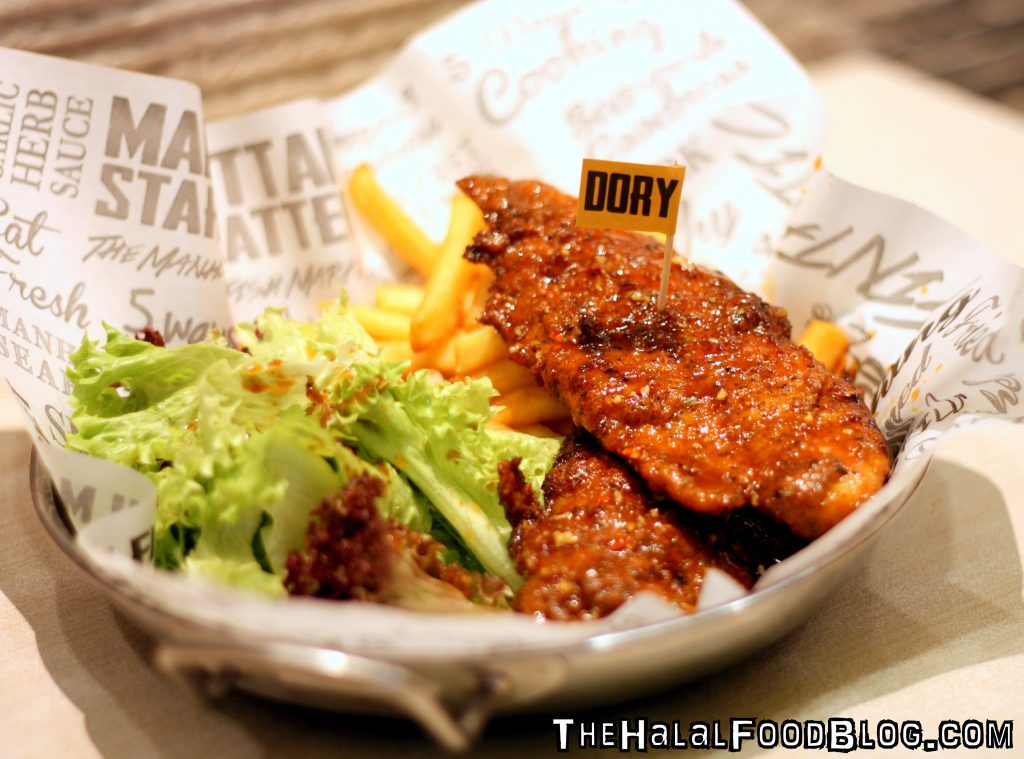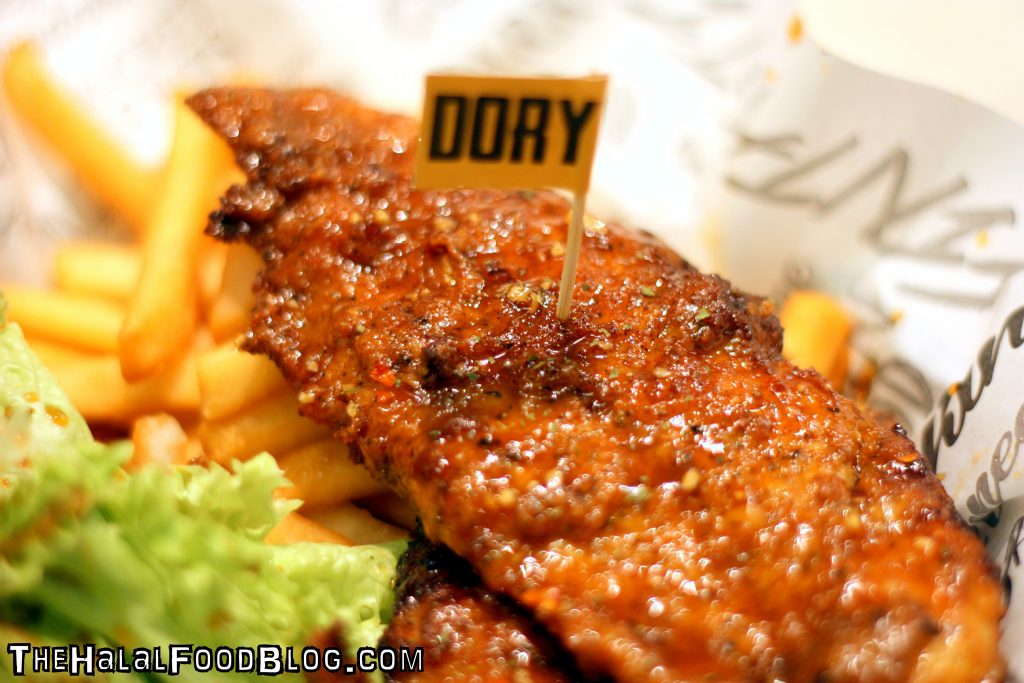 Here's one variation that was arguably the one with the most distinct and definitely strong flavours.
The Dory fish fillets are coated with a Korean-inspired Honey Soy sauce. The good thing is that outer batter still remains crisp even though the sauce coats the entire fillet.
The Honey Soy sauce has that salty-sweet flavour that is definitely tasty but after awhile, it does tend to be a bit overwhelming. And that's coming from someone who absolutely loves soy and all things salty. Plus you have 2 whole Dory fillets which is a very generous serving.
The only 1 of the 5 special flavours that we did not try was the Turkey Bacon Snapper 'N Chips but if we do try it, we'll be sure to add it to this post okay! And obviously – all the dishes above are served with a hearty helping of chips! Like duh – it's called Fish 'N Chips LOL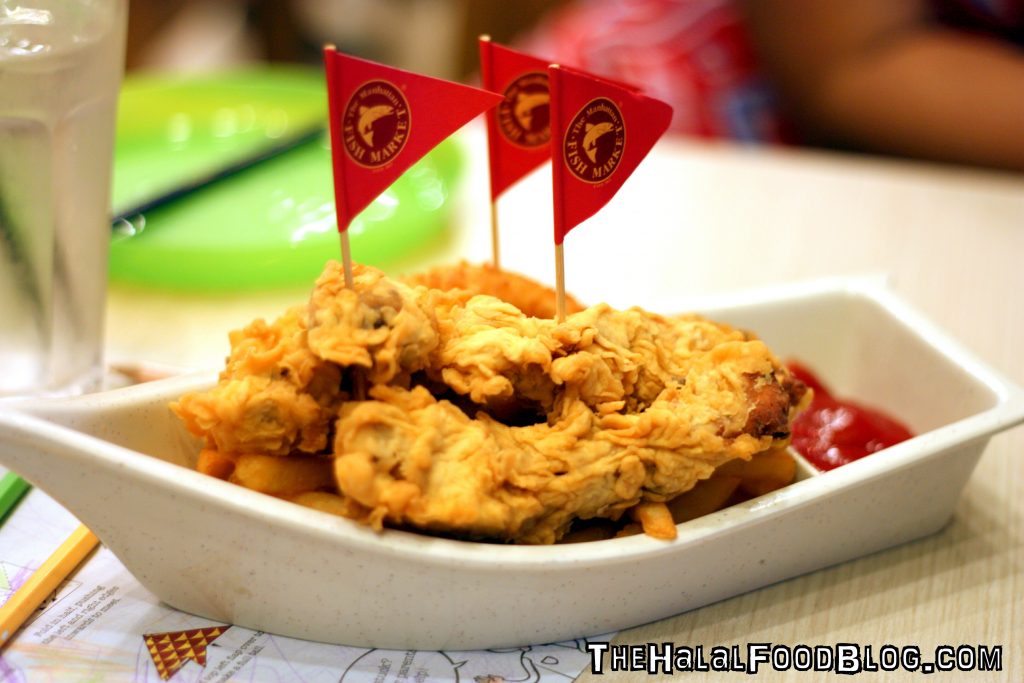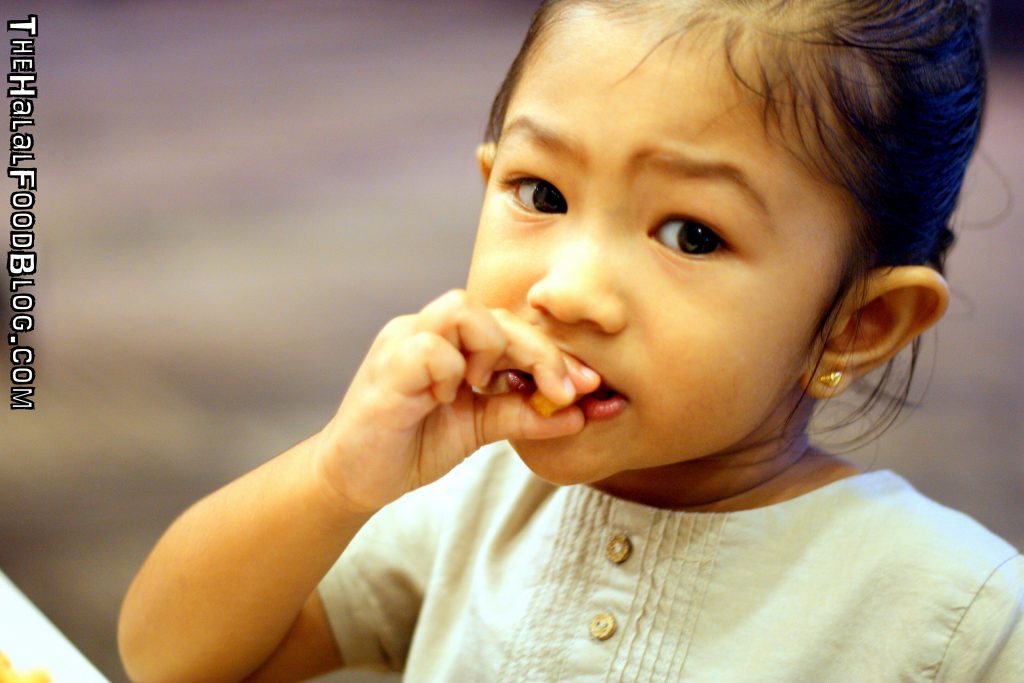 Let's not forget that The Manhattan FISH MARKET has plenty of choices on the menu for the kiddies as well!
Out Little Princess enjoyed the Pirates Surf 'N Turf this time around (she has a thing for crispy food LOL)!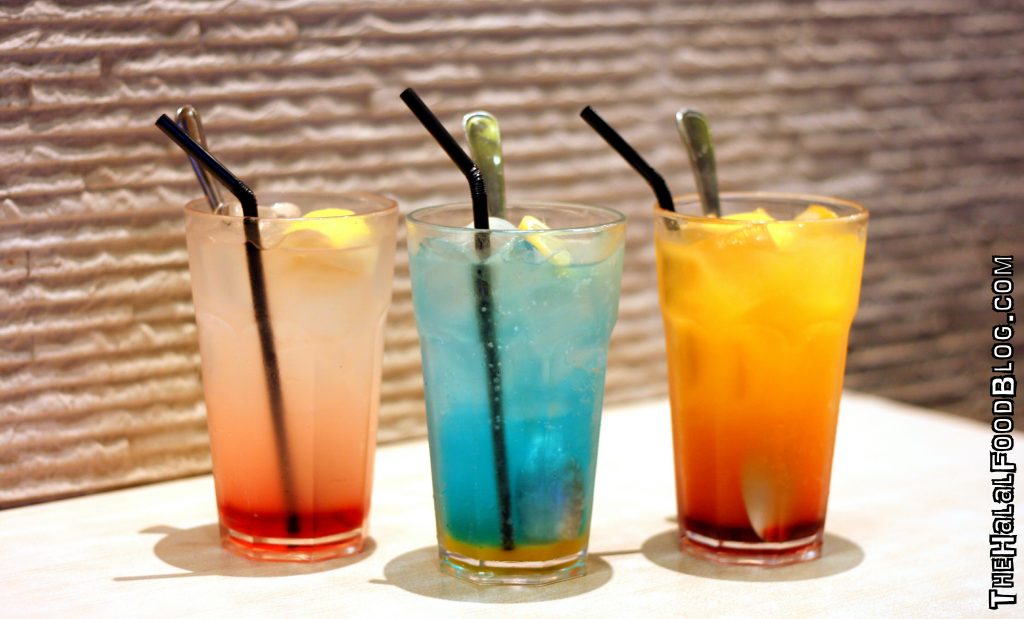 And last but definitely not least, I simply had to include the absolutely tasty selection of beverages we enjoyed at The Manhattan FISH MARKET. Plus, this was one of the few times that I managed to get all of them together before they were totally wiped out LOL
From right to left, we have the Brooklyn Sunset, Gummi Bear and Melon Breeze.
All tasty. All refreshing. And only 3 of the many many choices of drinks on the menu you can choose from.
I don't know if you have noticed or not but these special Fish 'N Chips have been available at The Manhattan FISH MARKET since the start of June and will continue to be available at their 15 outlets islandwide until 31st July 2016. So head down ASAP before the end of the month because there is no guarantee that these flavours will ever be back again! But if you liked a particular one, be sure to leave feedback and who knows they might just consider making it a permanent item on the menu!
*cough cough Black Cod cough cough*
15 outlets islandwide
www.manhattanfishmarket.com
Facebook: www.facebook.com/MFMSingapore
Instagram: @mfmsingapore
Operating Hours:
Varies depending on store
All information (including prices, availability of item on menu and Halal status of establishment) are accurate at the time of posting. All photos used in this site are property of The Halal Food Blog unless stated otherwise.