We've been hearing some buzz about a makan place in Dunlop Street.
No, we don't mean ROUSE (which incidentally just closed awhile back). We're talking a different place with a pretty unique identity.
And then I saw a friend post on his own Facebook wall when he visited – his photo was titled 'Kacang Pool with Angus Ribeye' – and we knew we simply had to visit ASAP! LOL
Well, after a failed attempt, we finally made it down one fine day and so begins our tale of The Malayan Council.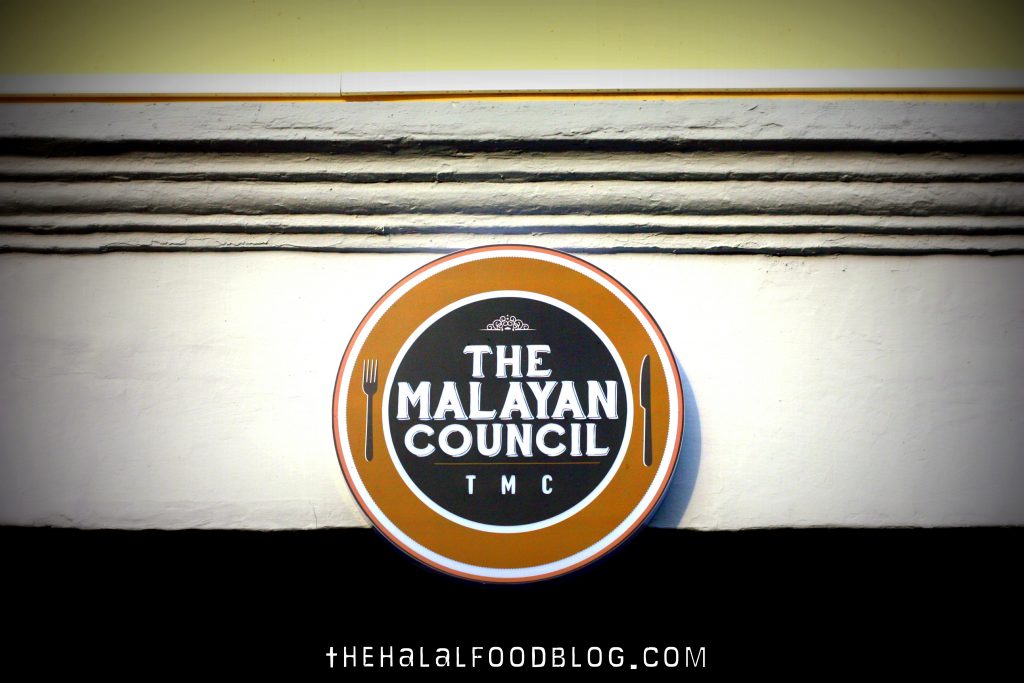 It's always great to see young entrepreneurs paving the way ahead for our next generation. Over the past few years, the Halal food scene has been absolutely booming and thankfully, it's not just the big chains that are being certified Halal. On top of that, we are seeing a new crop of original places with unique concepts being introduced by none other than creative minds and adventurous spirits.
The Malayan Council is one such place where it's touted to be THE place to T.M.C – Talk.Makan.Chill
See what they did there with the abbreviation of the name? Geddit geddit! *crickets*
Well, while it strives to cater to the modern youthful denizens, everyone flocks to The Malayan Council with the promise of a chillax-ing time while enjoying some pretty interesting food. How interesting exactly? Let's see…
What's a better place to start than at the.. Starters on the menu!
And first up, we had the Cheesy Kupang!!
So fresh mussels are baked and then bathed in a lemon butter sauce topped off with some herbs and Mozzarella cheese for that cheesy edge that somehow goes well with seafood.
The mussels were plump and juicy and definitely fresh so no complaints there at all.
You do get a good cheese flavour but I guess with something with 'Cheesy' in the name, you might expect more? Well, we are not complaining because this was actually a very tasty dish.
The lemon butter sauce had hints of lemon but it was definitely very creamy and tasty. In fact, we pretty much started enjoying it as kinda like a soup once the mussels were devoured LOL perhaps they might consider serving this dish with a few breadsticks or maybe some slices of toasted baguette so there's something to mop up all that delicious sauce.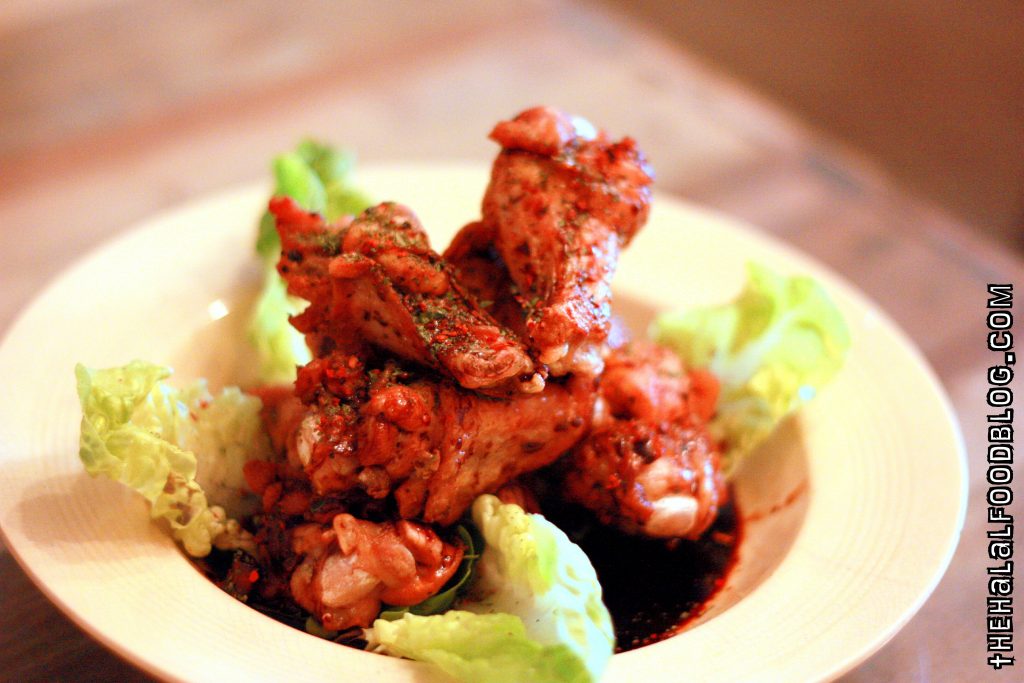 Okay first things first (I'm the realest), they were unfortunately out of wings when we visited but we really wanted to try this signature starter that they whipped us up a batch of drumlets instead.
But please take note that under normal circumstances, you'd have wings and not just drumlets for this dish.
(PS did anyone get that Iggy Azalea pun?)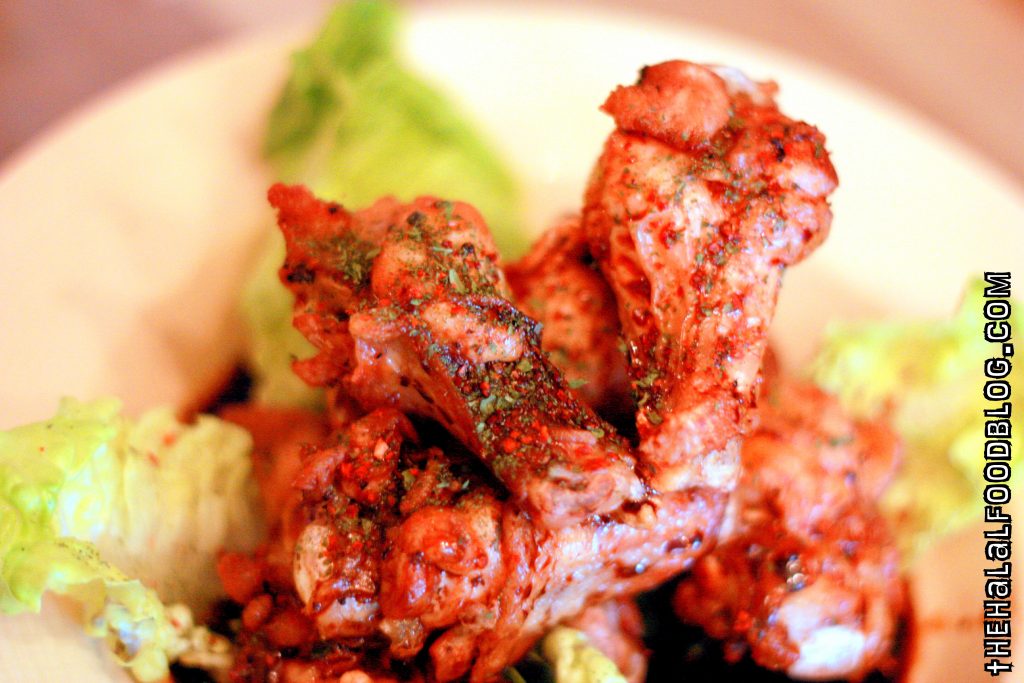 Chicken wings are marinated in a special blend of chili padi and kicap which gives it a very unique flavour and then the wings cooked to tender perfection. And to top it off, they give a generous serving of that special kicap chili padi for your savoury enjoyment.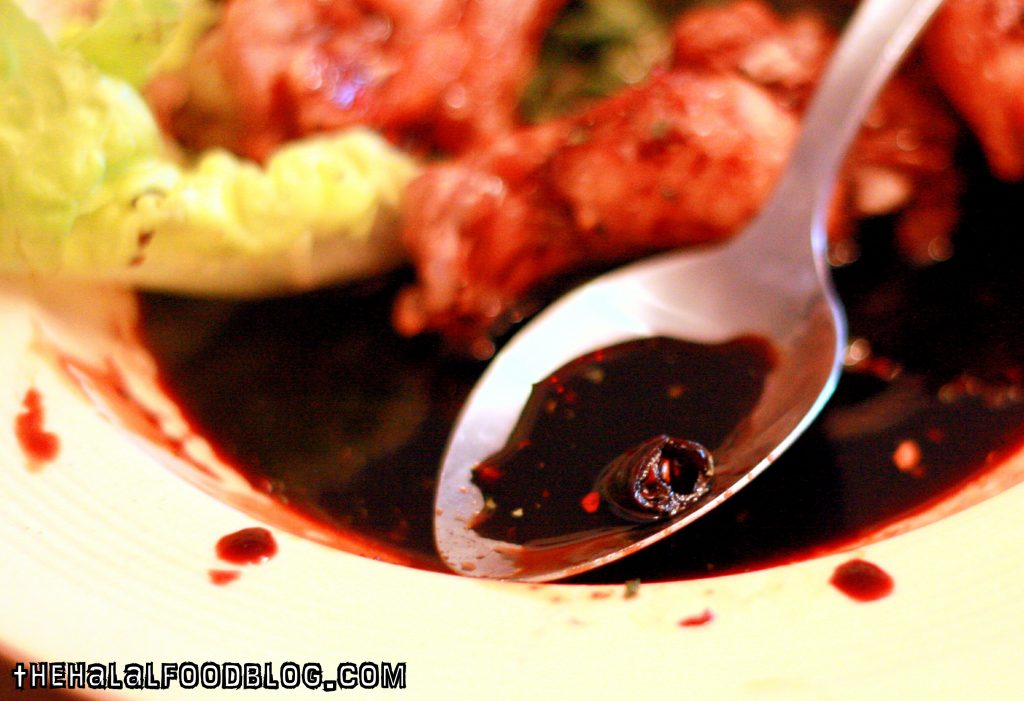 They get this brand of kicap specially from across the Causeway (apparently it's pretty hard to find it here) because it has a special edge to it and they infuse chili padi into it so the kicap itself gets a little of that spicy kick while you'll also see these little slices of chili padi in the sauce itself.
But in the end, it's still kicap so expect a salty flavour which also means to dip your chicken wings in sparingly because you'll only get that kicap chili padi flavour overpowering your tastebuds.
Anyways, besides those 2 dishes, other Starters on the menu include Crisp 'n' Dips (kinda like  a Hummus / Salsa platter with pita bread), Crispy Softshell Crab Roll and also Truffle Fries which we will see a little later on.
And by the way, we didn't try any but they do have soups and salads to choose from too.
Perhaps the Wild Mushroom Truffle Soup or Creamy Chicken Soup with Asparagus to start?
If salads are your thing, then maybe try the Takmu 'Gado' Salad (Gado-Gado0 or the Mudcrab Caesar Salad.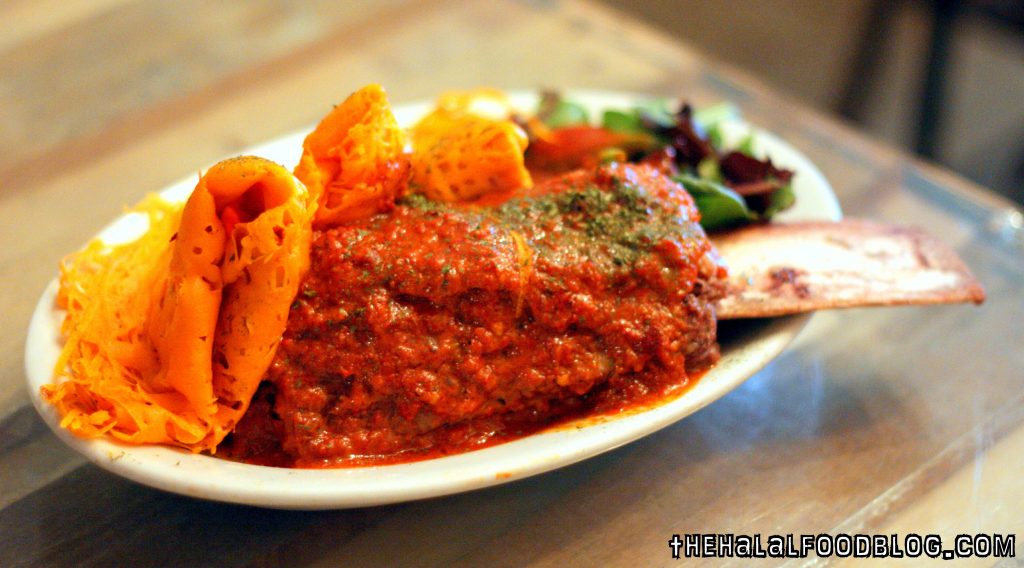 Definitely one of the more interesting dishes on the menu, the Roti Kirai Beef Ribs is definitely considered a filler-upper and will definitely appeal to those with a hearty appetite!
We're talking about a whole Beef short-rib glazed with a 'secret sauce' plus some Roti Kirai on the side to mop it all up. Like we said – plenty of unique ideas and this is definitely one of them!
The Beef short-rib can be filed under 'epic' size LOL
It is definitely a hearty serving and the meat is cooked to fork-tender perfection. Be sure to scoop up plenty of that 'secret' sauce to for maximum effect!
And speaking of that secret sauce, they're obviously not going to tell us what it is but if we had to guess, we'd say it's definitely coconut-based and once you try it, you will definitely recognize it as a very familiar flavour you get when enjoying some old-school Malay makan. We shall say no more! Try it yourselves to find out! LOL
Only the Roti Kirai was a little bit on the disappointing side mainly because of the lack of flavour when eaten on its own plus a little bit on the thick side. But we guess the whole idea is to use the Roti Kirai to mop up that tasty gravy and a nice big chunk of meat so be sure to do that.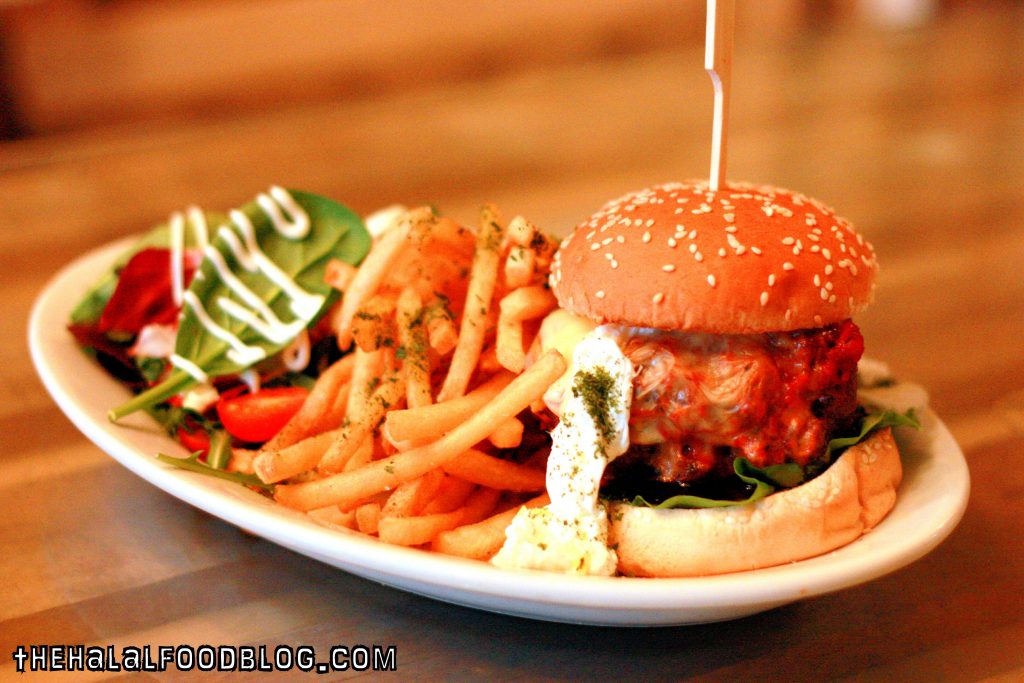 Aha! Couldn't resist but to try one of their signature dishes on the menu and it just has to be a burger!
The TMC Burger has an Angus beef patty all succulent and tasty with a poached egg, Cheddar cheese and a very special sauce that smeared all over the patty before the Cheddar cheese is  melted over it. Can you tell what it is from the picture above?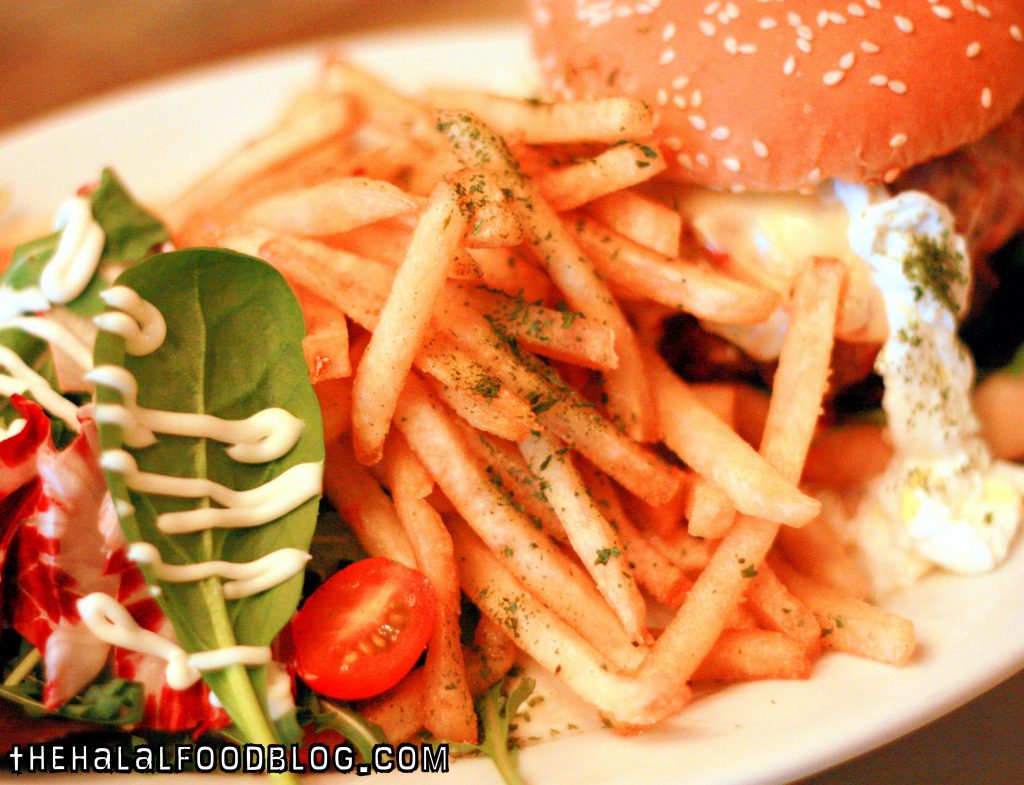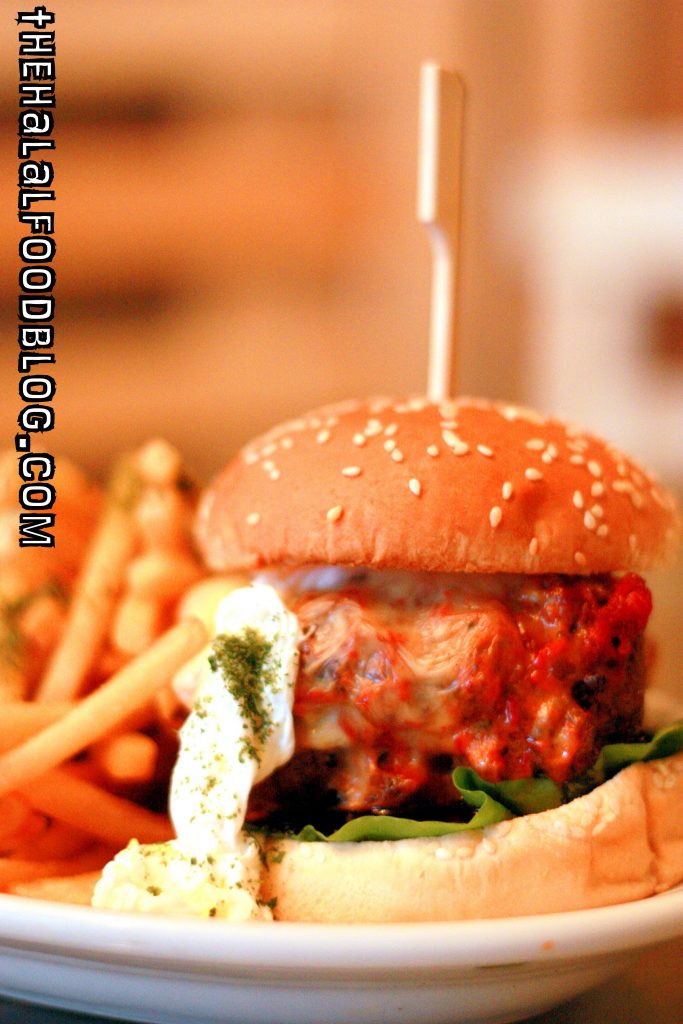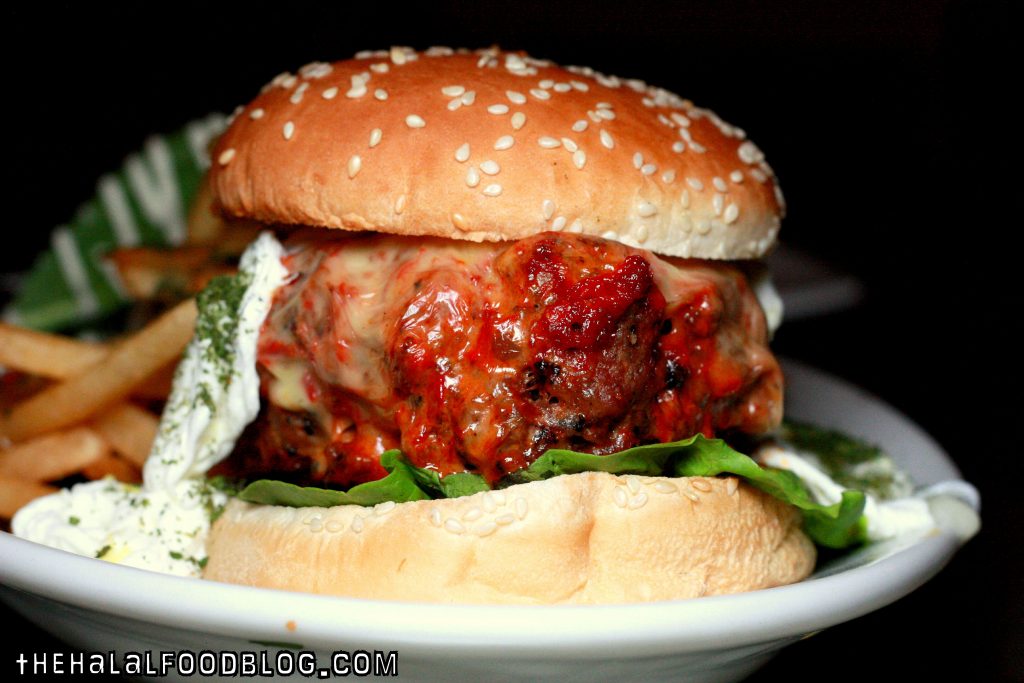 Well, in case you have not figured it out, that reddish tinge is none other than Sambal Ikan Bilis!
Oh yeah! Sounds good right!!
Well, they state on the menu that it's a spicy sambal but it's okay lah not too bad still can tahan. The flavour of the sambal goes very very well with the beef patty and even the cheese too! Definitely a good match. We actually really quite enjoyed this burger and would definitely order it again.
Oh and by the way – served with truffle fries which get full marks LOL
Anyways, besides those 2, they also have other interesting dishes for mains like the Asam Pedas Fish and Chips, Ayam Panggang Sapit and of course, the Kacang Pool with Angus Ribeye Steak (which is our next target!). They also have some other choices like Chicken Parmigiana, King Prawns Alio Oglio and also Salted Egg Softshell Crab and Mudcrab Linguine.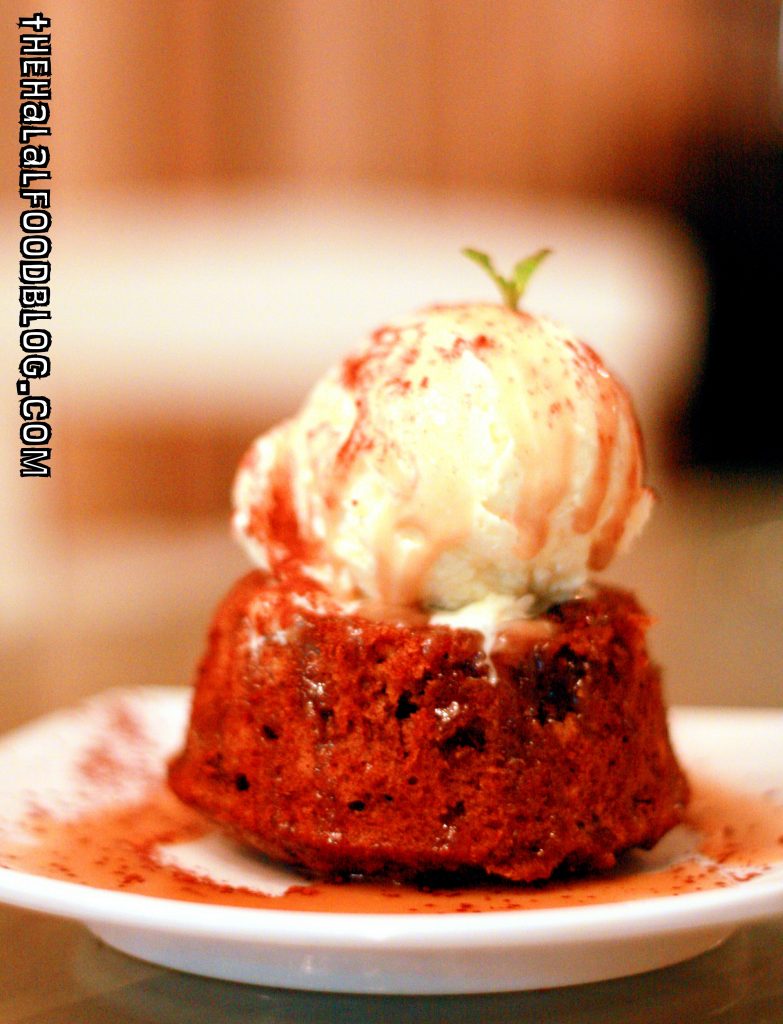 On to desserts! First up is the TMC Stickydate Pudding.
It's a cake with bits of dates incorporated in and the dates is also where it gets it flavour. End with a scoop of vanilla ice-cream and sticky toffee sauce.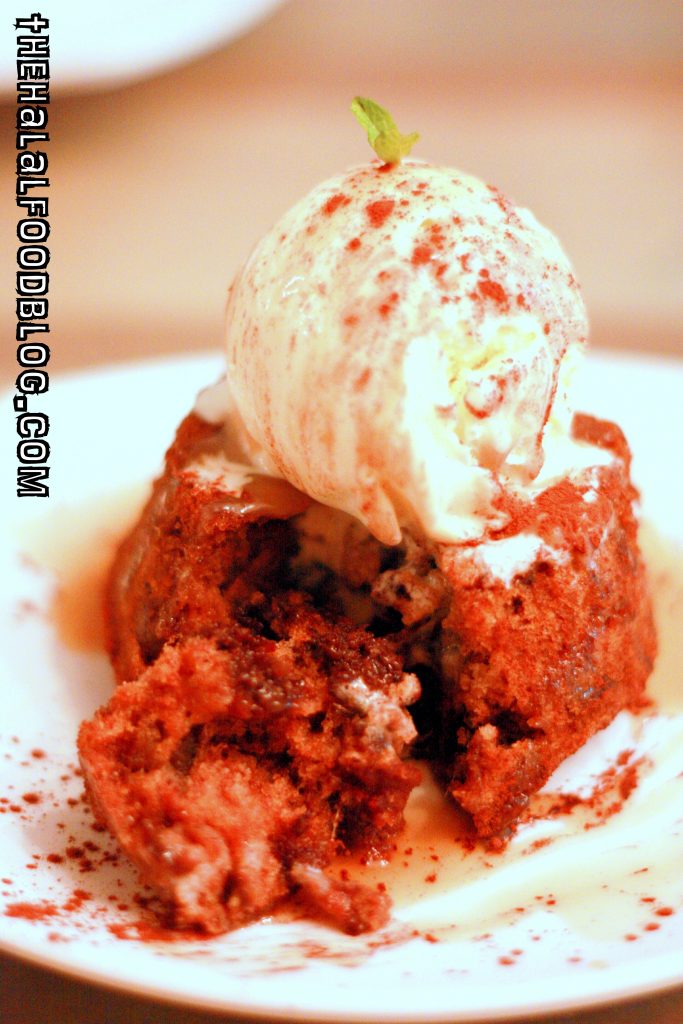 Wah this dessert actually quite power lah!
The cake is served warm and that plays a big part. Super moist and absolutely perfect in terms of flavour because it's not overly sweet so you get the flavour of the dates and the toffee sauce adds that extra sweetness.
Scoop it all up with the ice-cream and it's a sure winner.
No ratings for this post but if there were, this dessert would get a 5/5 for sure!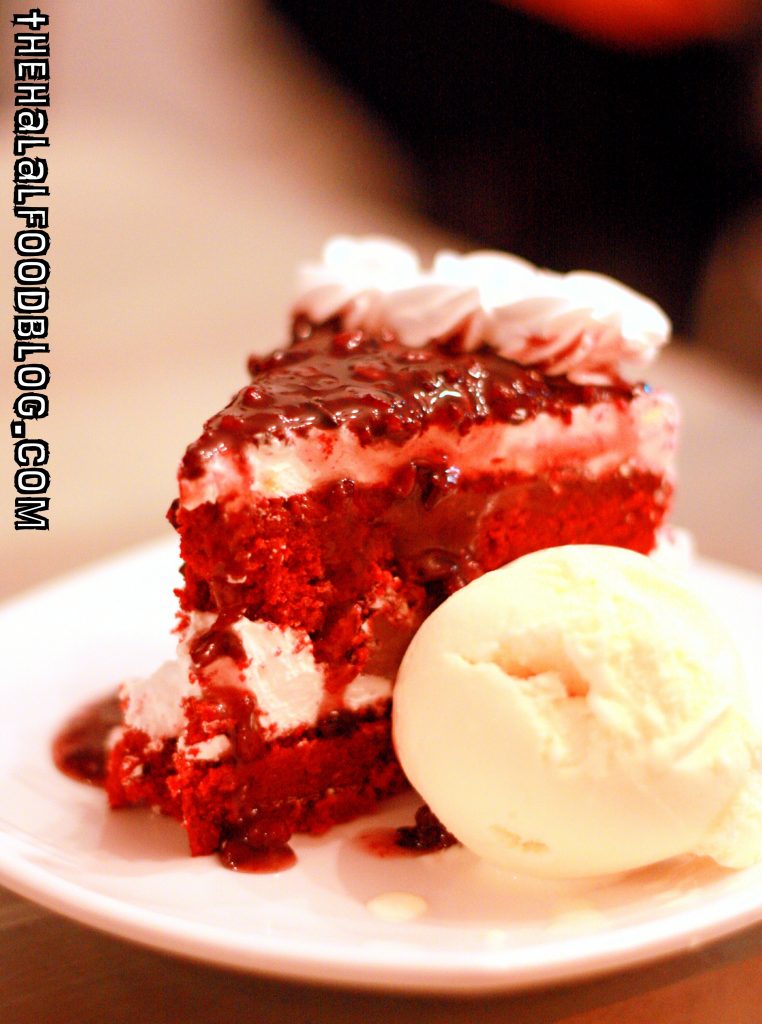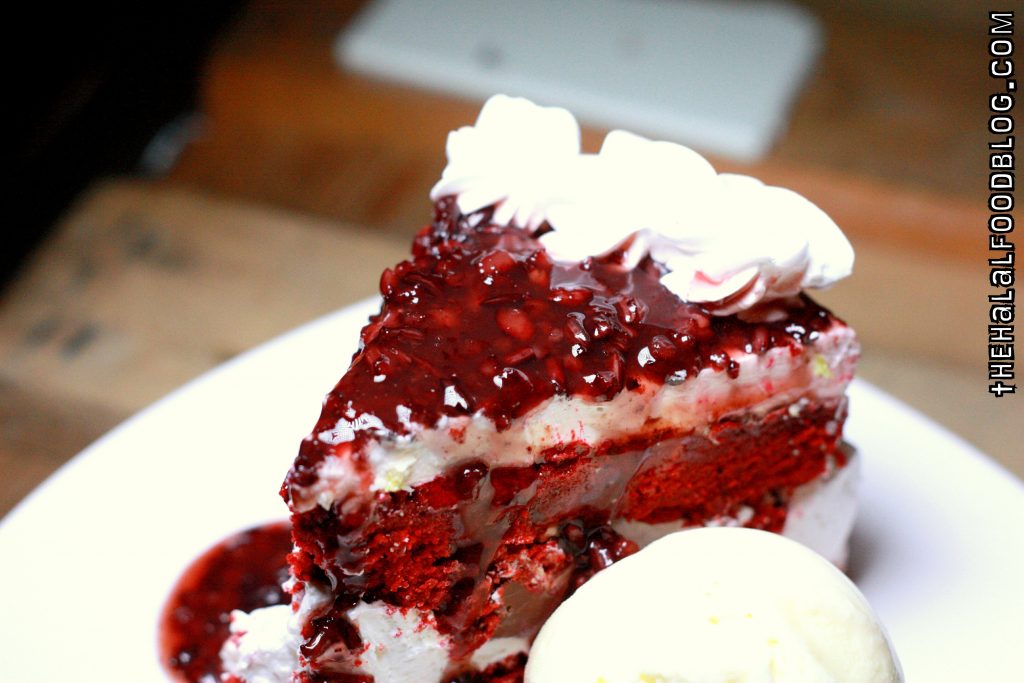 We actually didn't know that this dessert was coming so when we first saw it, we thought they top layer was something like Raspberry jam or something like that. And then we took a closer look… Eh! Pulut Hitam! LOL
Definitely a very interesting concept that you don't see anywhere else so if you're a fan of Pulut Hitam, you'll probably be intrigued to try this.
Unfortunately the cake was a little hard when it arrived (maybe too long in the fridge/freezer) and a little lacking in flavour. Something to work on because this is really a very unique idea.
And speaking of unique ideas, the signature dessert at The Malayan Council is actually the Classic Ondeh-Ondeh Cake which I guess we will probably try next time we visit. Besides that, the Chempedak Creme Brulee and Chocolate Salted Caramel also sound super!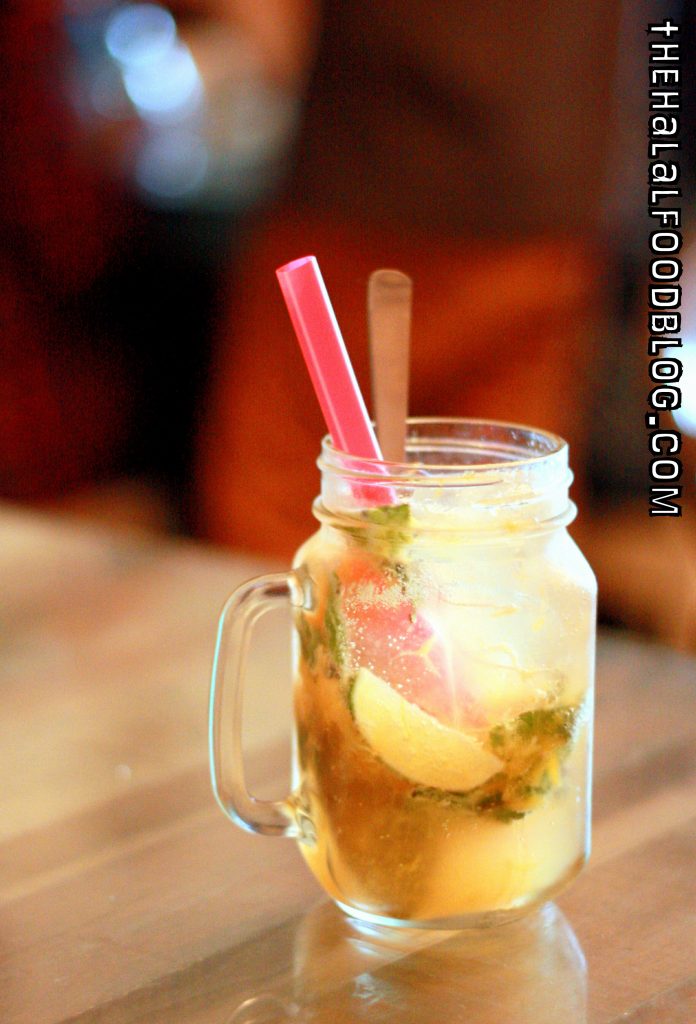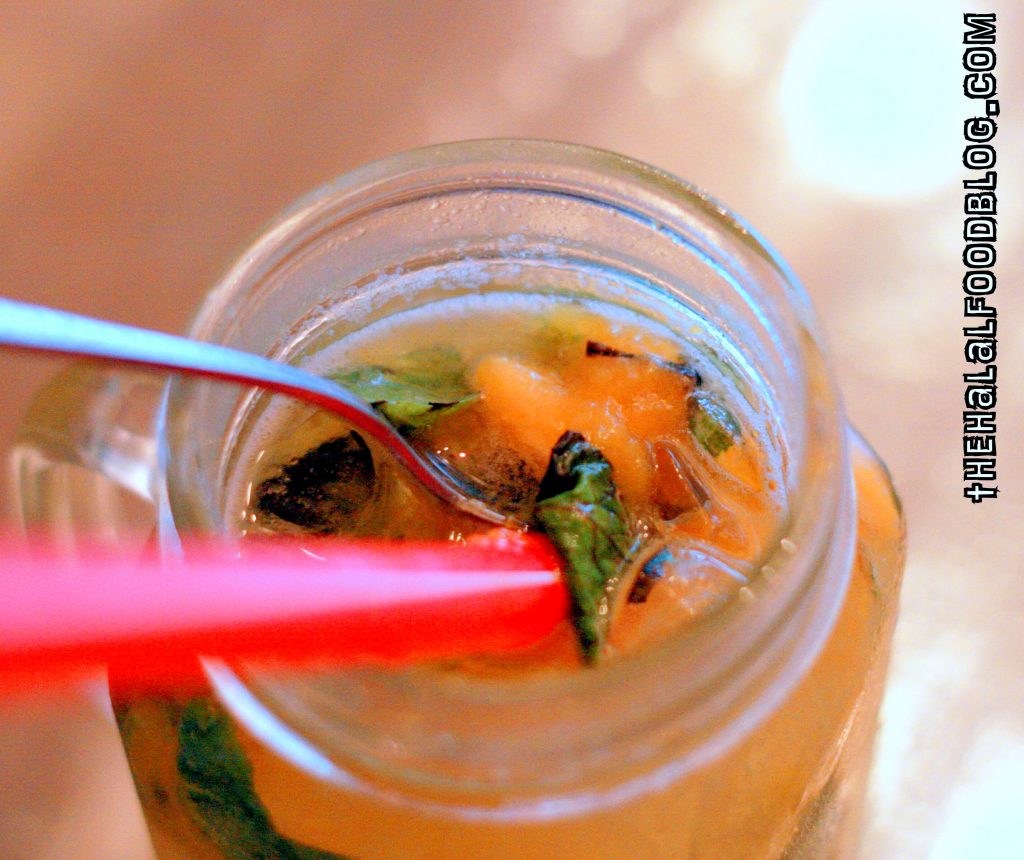 And of course, we've gotta wash everything down right? 😛
The Mango Mint Cooler has Thai Mango bits and lotsa mint leaves for that really cool and refreshing taste. After all, it's called a COOLER right? LOL there's also some lime in there to give it a little something extra in the refreshing department.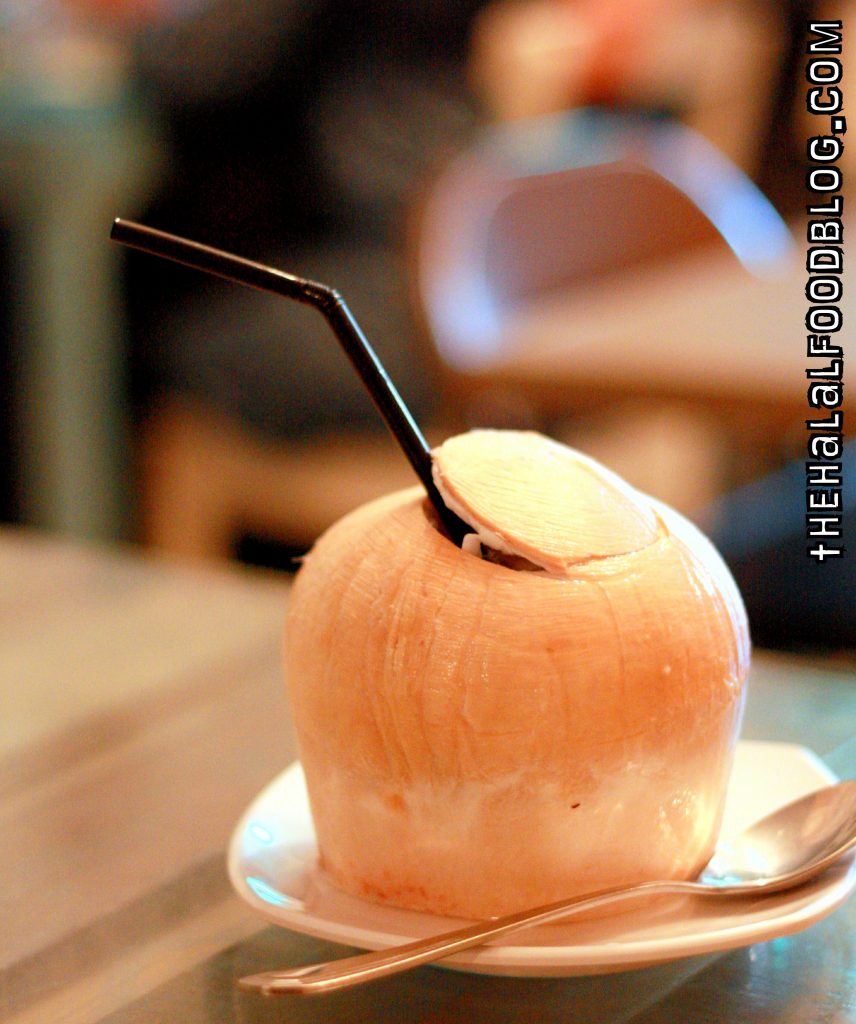 Naturally cool and refreshing, a coconut is always a good idea and The Malayan Council specially imports these sweet little coconuts for our enjoyment.
Crack open a naturally sweet coconut to enjoy the coconut water within and enjoy the sweet flesh as well!
As you can probably tell by now, The Malayan Council has a pretty good thing going.
Some pretty interesting ideas translate into some pretty unique dishes on the menu and probably a little tweak here and there will probably do the trick as they go along.
One of the feedback we got from some of our readers is that they found some of the dishes a little bit on the pricey side which we do not deny but then again, we're talking about some pretty premium ingredients like Angus beef and the likes. Anyways, we're pretty sure that as time goes by, The Malayan Council will be able to grow even more and some small changes here and there might be in the pipeline.
Overall, it's definitely exciting to see more and more options out there for us to chillax and enjoy some good food with some good friends. Places like The Malayan Council is one such option we have now so head down and find out which item on the menu is your favourite. Like it says remember? Talk. Makan. Chill.
22 Dunlop Street
Tel: 9002 4414
Facebook: www.facebook.com/Themalayacouncil
Instagram: @themalayancouncil
Operating Hours:
11.00am til 11.00pm Mondays – Saturdays
11.00am til 10.00pm Sundays
All information (including prices, availability of item on menu and Halal status of establishment) are accurate at the time of posting. All photos used in this site are property of The Halal Food Blog unless stated otherwise.