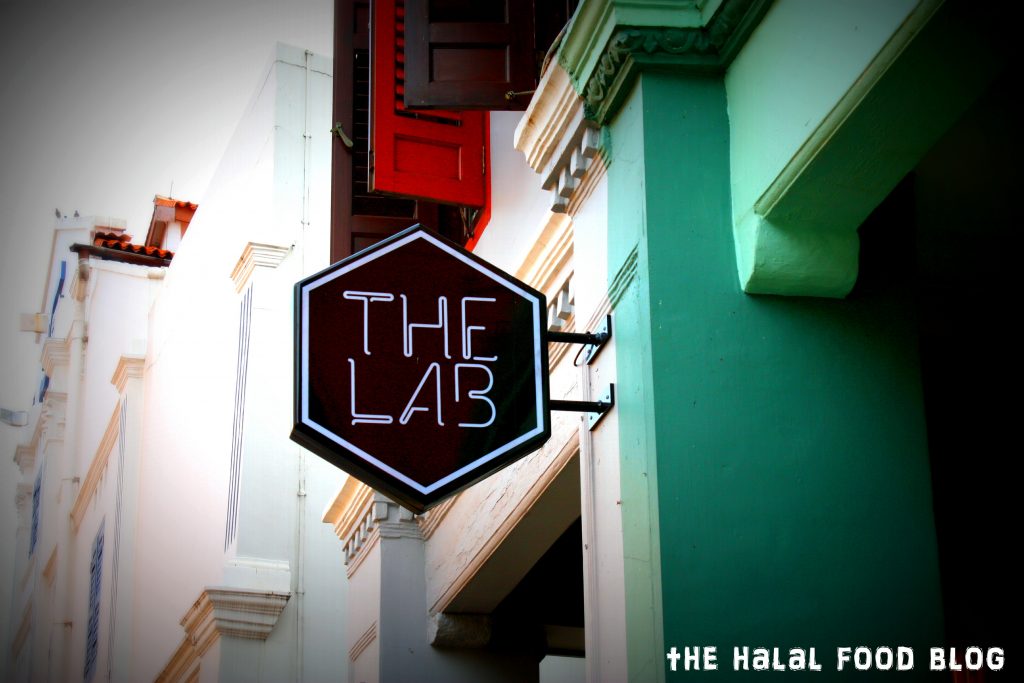 So we read the buzz online about a place called The Lab. A new laid-back hangout joint located in Jln Pisang?
Been there done that? Well, apparently this was something else. So how could we possible stay away? 🙂
So one sunny afternoon, I made my way down to do a bit of recce work before the rest of the team made plans to come down at a later date. And this is what happened…
So why do they call it The Lab?
Well, besides the obvious references to the decor, it's quite apparent they like to 'experiment' when it comes to their menu so this could be either a good thing or a bad thing depending on the result!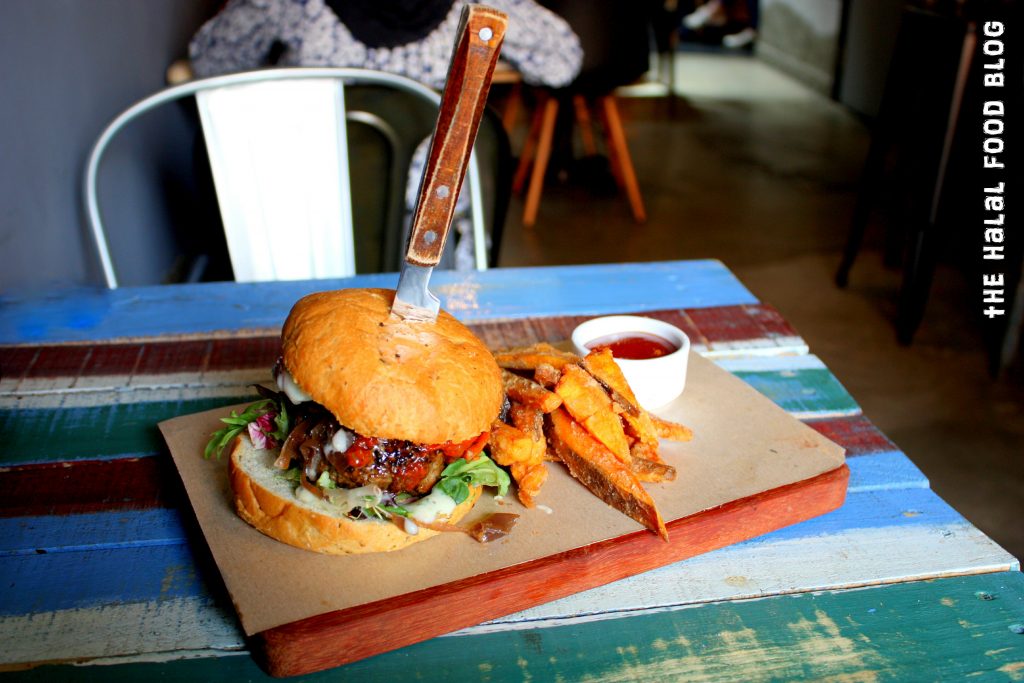 "Excuse me waiter, there's a knife in my burger!" Oh wait, that's supposed to be there!
So another reference to their name – The Heisenberger! (In case you don't get it, Heisenberg is a character from the TV show 'Breaking Bad'. He was kinda like a… chemist <lol> and he worked in a… lab! Yeah we're big fans of the show too!)
So here we have a 6oz all-beef patty. This is topped-off with some tomato salsa, mesclun salad, grilled onions, a strip of bacon and melted Bleu Cheese. Let's have a closer look at the burger shall we?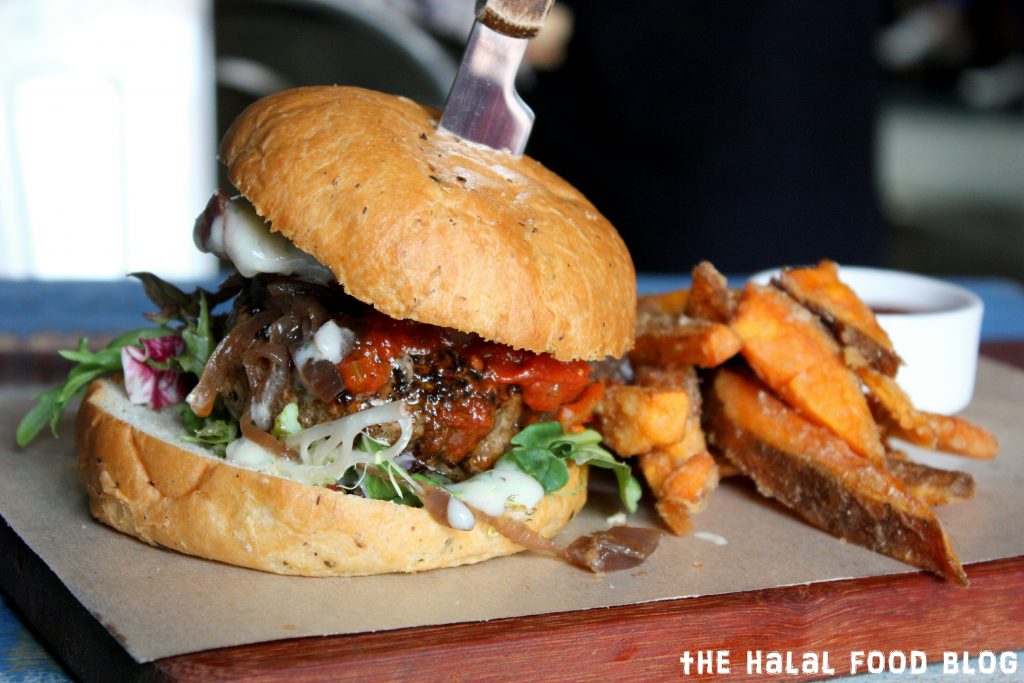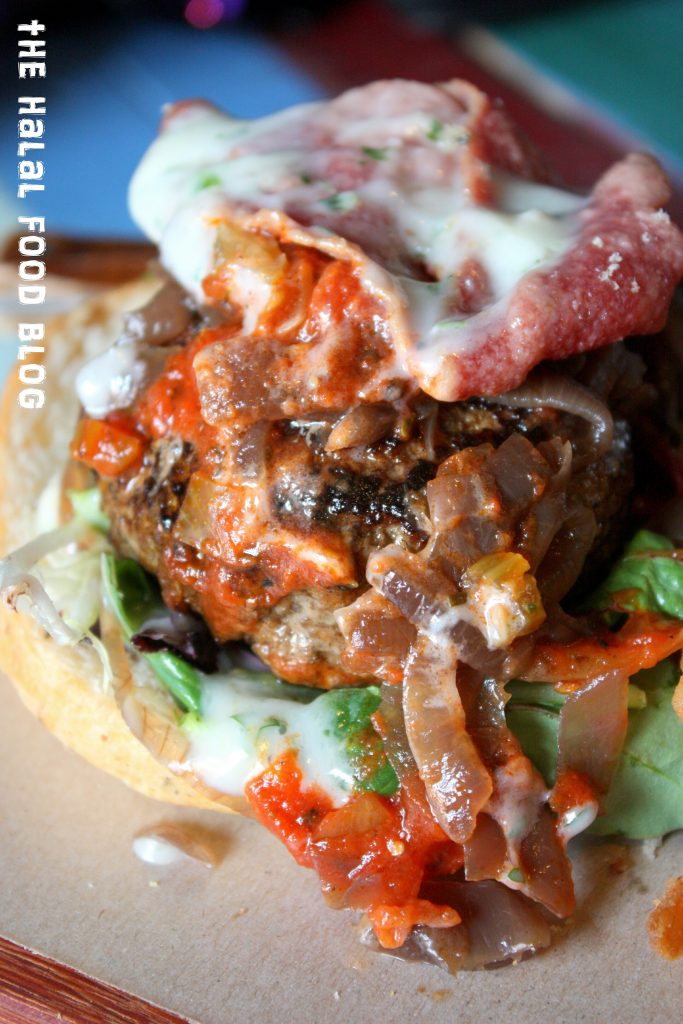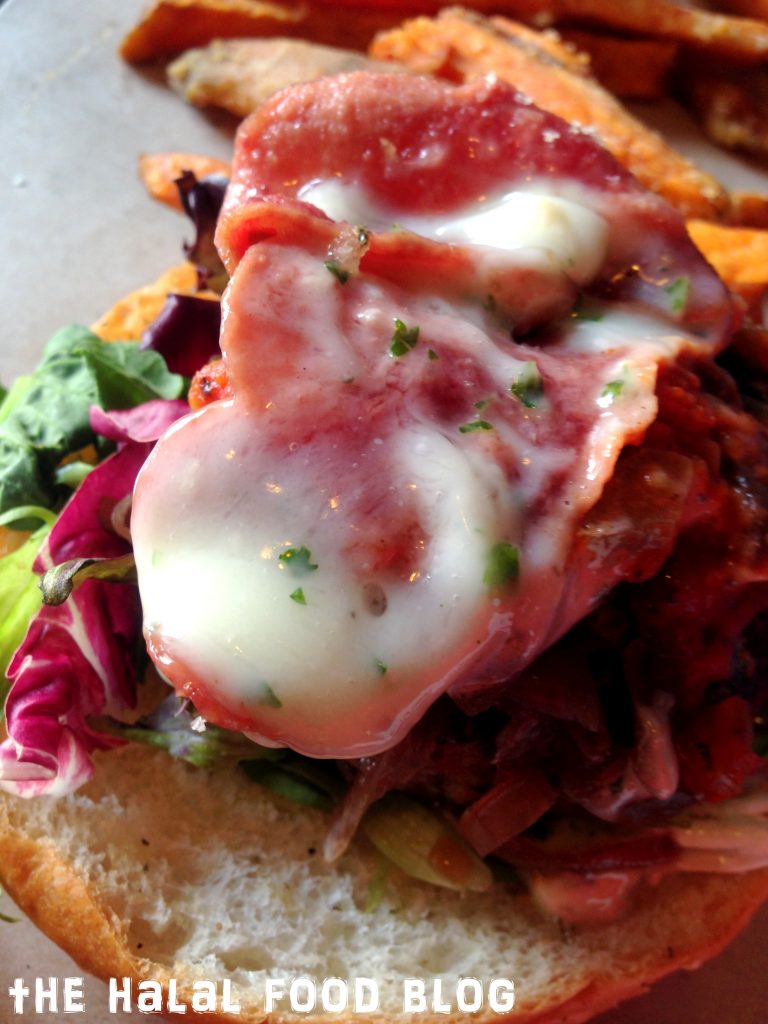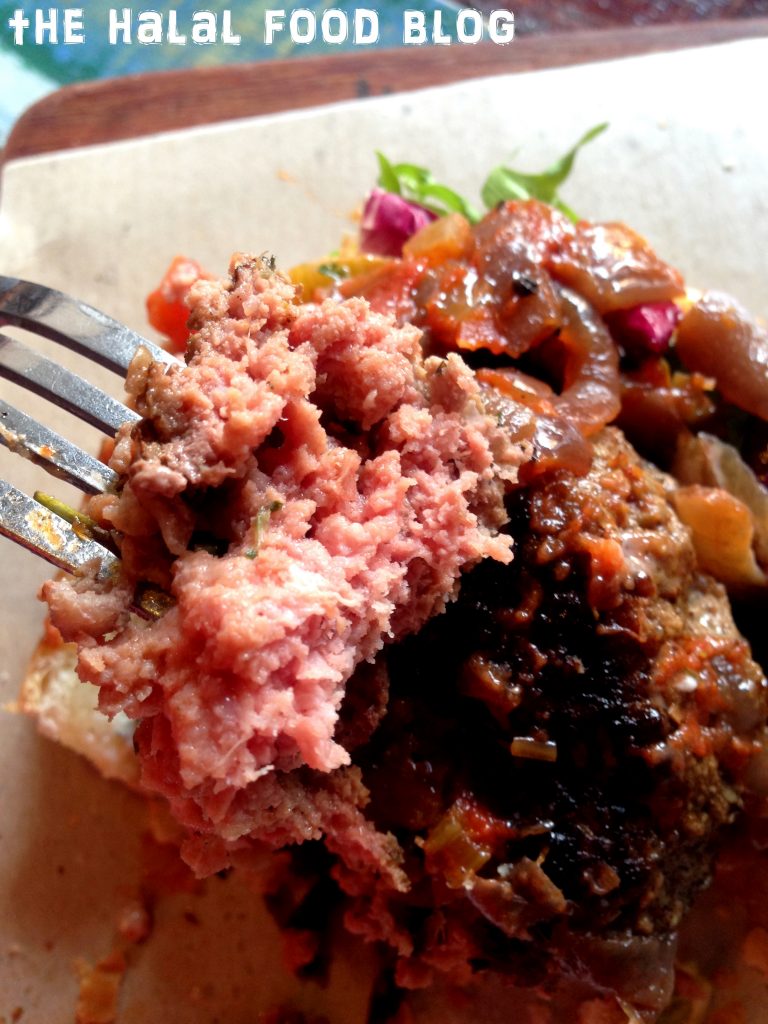 The patty itself was really good and cooked to perfection. It has a nice outer-crisp but was not dry when you bite into it. And I know some of you big-eaters will probably say that 6oz is not enough for you. Well, it was just nice for me because this comes with a side of sweet potato fries plus you can still save space for other dishes too.
The bacon strip and the Bleu Cheese were not bad for this burger.
But to be honest, I didn't really like the tomato salsa. I felt that it didn't belong and tasted too tangy. Plus the onions were a bit disappointing too. Expected a stronger flavour which was apparently missing…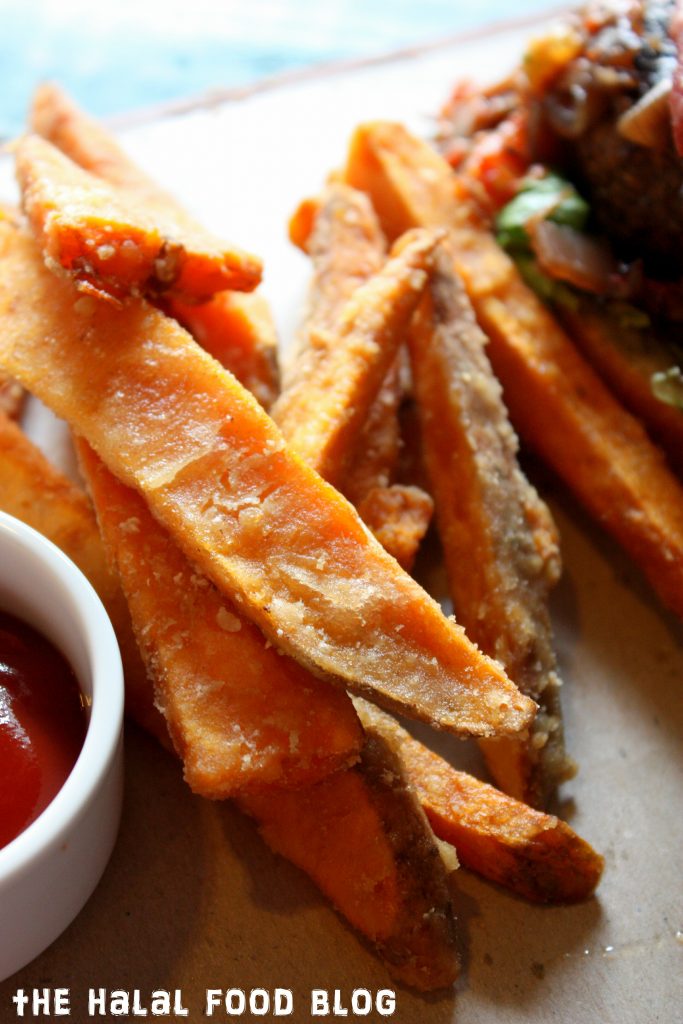 The sweet potato fries were a delight but would have been nicer if they were fresh and hot instead of lukewarm when they arrived with the burger. Still a welcome change from the normal potato fries you'd get elsewhere.
Anyways whatever it is, I finished it because I was hungry and it was a decent burger!
To be honest with you, I was having a hard time deciding what drink to order to wash down my Heisenburger.
They had all kinds of coffees and teas and iced drinks and even fruit juices too. Which one to choose???
And then I saw it and the choice was obvious... The Heisenberg! (like duh)
So it's basically Orange, Lime and Mint so you know it's gonna be super refreshing (my kind of drink) and then have a signature syringe that comes submerged when the drink arrives.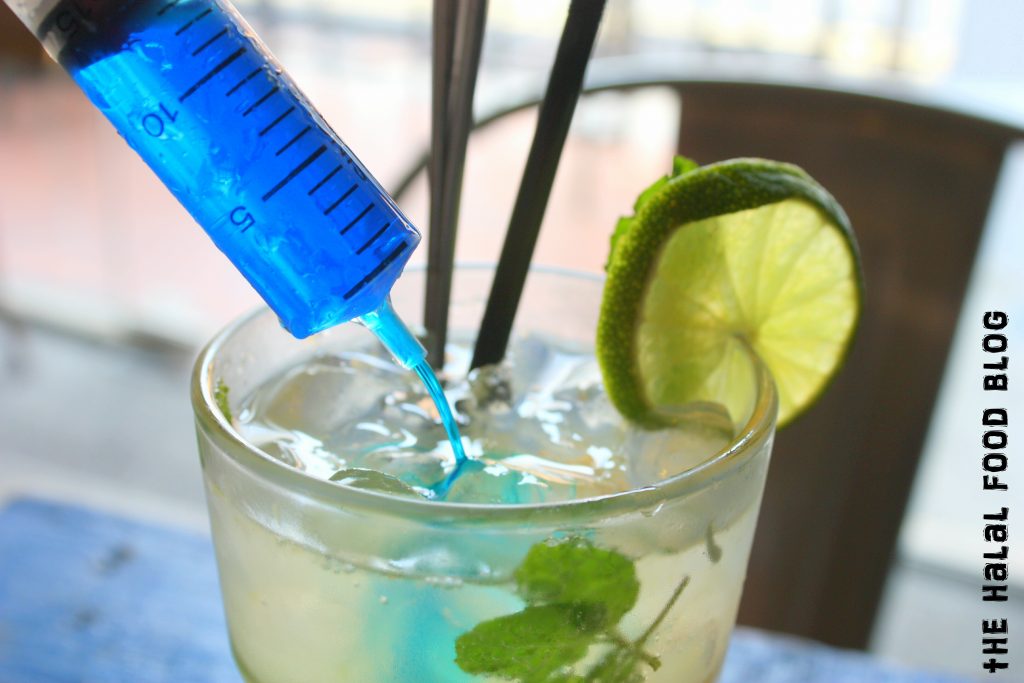 So you 'inject' the Blue Curacao to add a little sweetness to the drink. And enjoy!
I thought it was a very clever gimmick that of course is another play on the whole 'lab' concept. I'm digging it!
Adam's Verdict:
Heisenburger 3/5 — Heisenberg 4.5/5
So there are a couple more things on the menu I'd definitely like to try so I guess I'll definitely be back with the team to get more coverage. But I will say that I'm very intrigued by how creative the menu is. In fact, something caught my eye when I was at the counter…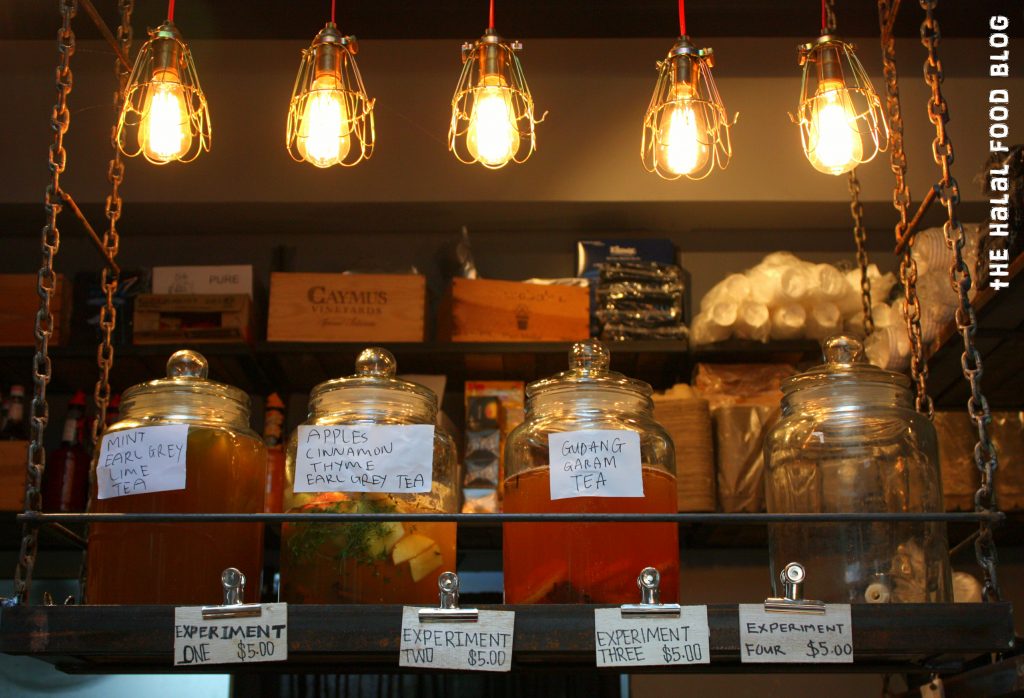 So they have these big glass jars with some fusion teas which they mark as 'experiments'. They sound really tasty too! And then I noticed the one on the end – Gudang Garam Tea!

I was so intrigued that I actually asked the staff about it. Fret not – they do not soak the Gudang Garam cigarettes in tea for you to drink! Instead, it's cloves infused into the tea (Gudang Garam is a clove cigarette hence the name) but it's a helluva way to get someone's attention! LOL
PS be sure to look out for the place. I walked right past without even noticing it.
PPS get the menu and order at the counter. Don't be jakun like me and just sit there expecting someone to come and take your order LOL
1 Jalan Pisang
#01-01
Tel:6299 5681
www.facebook.com/weexperiment
Operating Hours:
12.00pm to 10.00pm Mondays to Saturdays
12.00pm to 9.30pm Sundays
All information (including prices, availability of item on menu and Halal status of establishment) are accurate at the time of posting. All photos used in this site are property of The Halal Food Blog unless stated otherwise.
---
The Lab offers 20% off for all FRIENDS Card holders. Not valid with other promotions, discounts, or vouchers.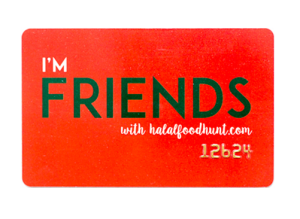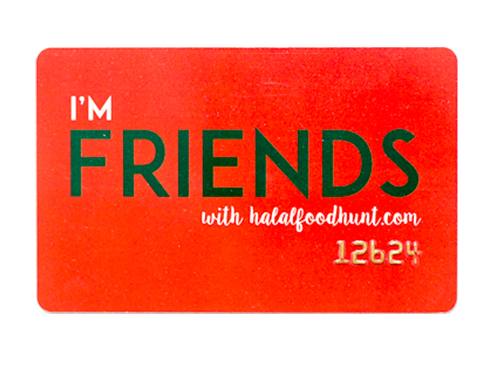 Get your FRIENDS with halalfoodhunt.com Rewards Card now at only $18/year and unlock discounts at over 60 halal restaurants, cafes, bakeries including online e-commerce businesses in Singapore. For a full list of where you can enjoy your card, click here.