I cannot tell you how long I have yearned to try the food at The Halia. The eatery located at the Singapore Botanic Gardens has been on my radar even before I started this blog. But alas, it was out of reach simply because it was not certified Halal. Until recently, that is.
Yes, that's right – The Halia is now officially certified Halal! When the opportunity arose for us to visit, how could we possibly pass up the chance to finally experience what everyone has been raving about all these years am I right?
But what exactly is it that makes The Halia so appealing anyways? Well, for one, it's been known to serve food of an exceptional level. We're talking like, fine dining level here people! Plus, when you're talking about such a beautiful and idyllic setting like the Singapore Botanic Gardens, how much better can it get right?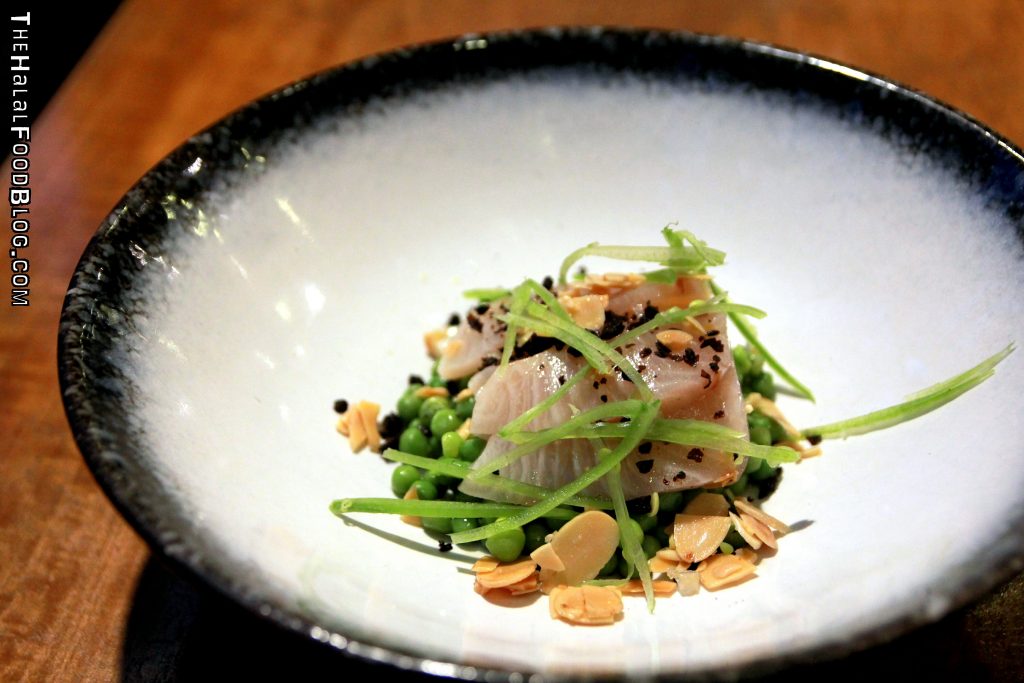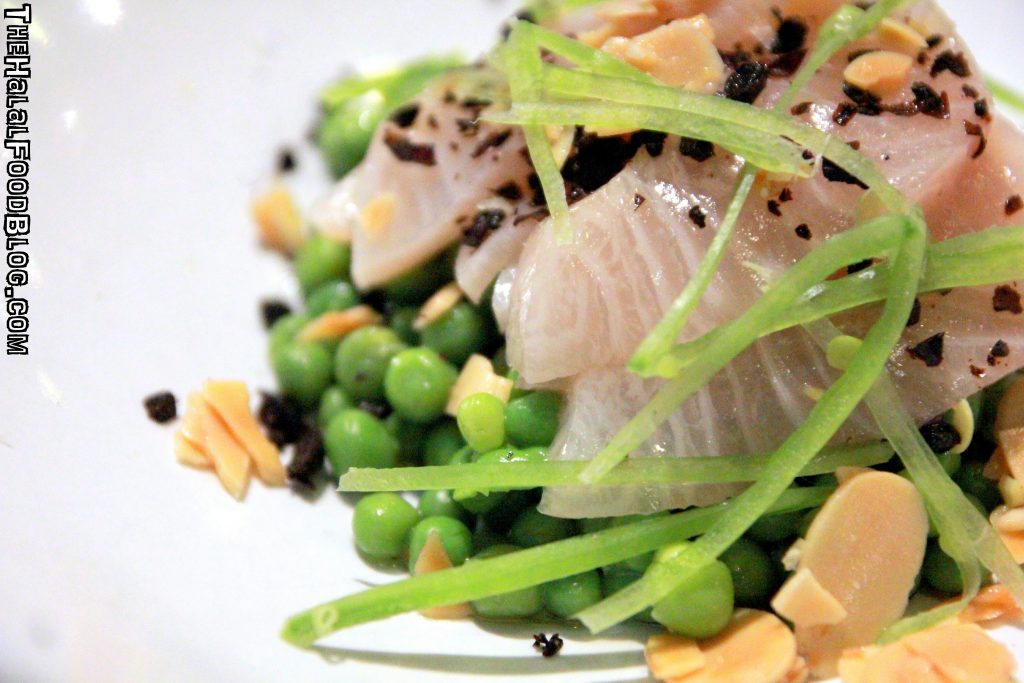 That say that I am a big big fan of smoked meats and fish would be a total understatement. There is just something so delightful to me about food that's been given the smoked treatment. And although I've tried quite a variety in the past, I have to admit that this was the first time I would be trying smoked Kingfish.
If you're not a fan of smoked meats and/or fish, the keyword to consider here is 'Lightly' Smoked Kingfish. Because that's just what it is – you don't really get the strong, bold flavours you'd expect from smoked anything. In fact, the subtle flavours were very welcome and you get to enjoy the freshness of the ingredients on the plate.
This starter dish also comes with a shot glass with what is described as a chilled cucumber and ginger shooter. We had the option of having it on the side (to sip in between bites), poured on the side or poured into and then mixed with the rest of the ingredients.
The flavour of the shooter was primarily cucumber so it's a very refreshing flavour that's great as a palate cleanser. Having said that, I wouldn't really recommend pouring it all over everything like we did. Perhaps on the side (and sparingly) is the order of the day.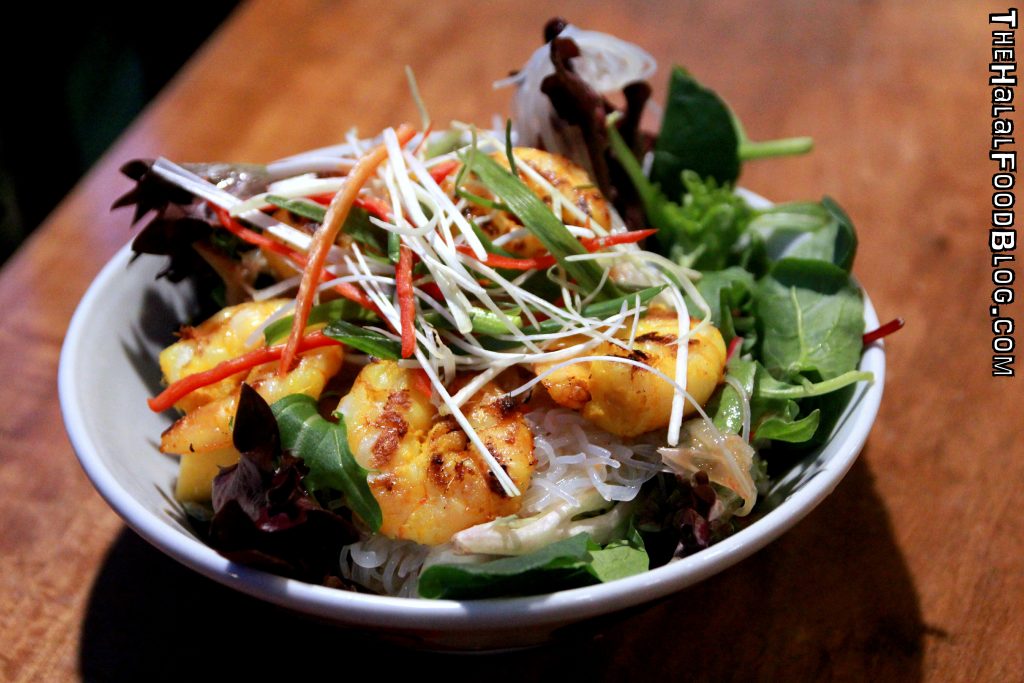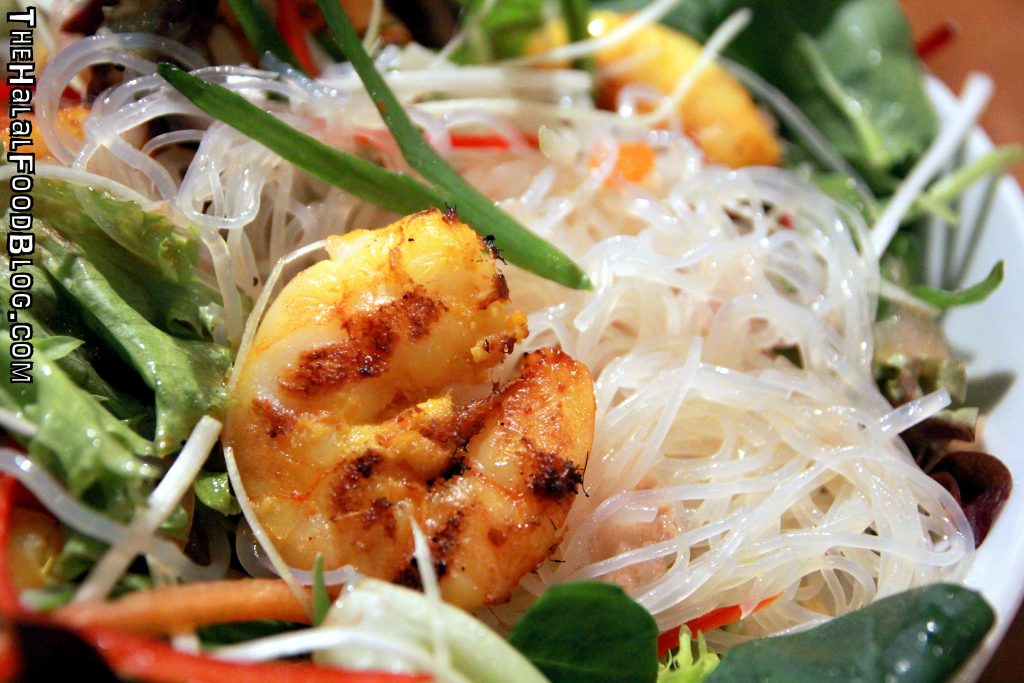 I'm quite fussy when it comes to prawns. But I do like a salad so I wasn't quite sure what to expect when this was served at our table. In the end, it turned out to be one of the best things we ate that evening at The Halia!
Perfectly grilled (and super fresh!) succulent prawns are the crowning glory of this Asian-inspired salad. Accompanying them are sweet mango pieces, fresh greens and tomatoes all sitting atop a bed of glass noodles. The ginger flower dressing was excellent and really gave this salad an edge. I mean, I love me a salad but this was truly something else.
In fact, this dish is now the benchmark for me when it comes to Asian-inspired salads. That's how good it was!
But hey, enough with the starters right – let's get to the mains!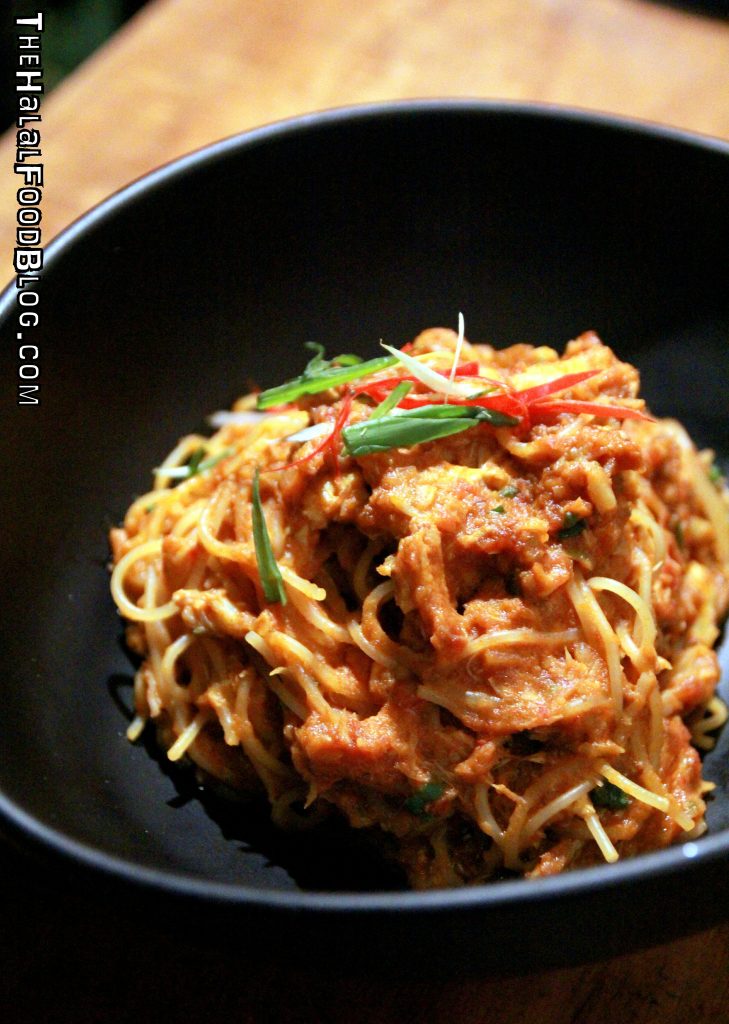 You might have tried a Chili Crab Pasta dish before at other eateries but did you know that The Halia was one of the first to create and refine this iconic dish back in the day? No joke! This is one of their signature dishes so you've gotta have high expectations right?
You've got spaghettini (which is pretty much a thinner version of spaghetti) tossed with that tasty, tangy, sweet-sour, familiar favourite flavour we all know and love – Chili Crab!!
There is actually a very generous amount of crab meat in the sauce which is perfect because it's actually also a very generous serving of pasta! The chili crab sauce is spot on and has all the flavour that you'd be expecting from a chili crab dish.
But having said that, we'd like to remind everyone not to underestimate how filling a pasta dish can be! LOL
Yes, it's called Spaghettini but don't let that cutesy name fool you okay – it's every bit as filling as your normal spaghetti! Plus it's a REALLY generous serving too. So our advice is that this is a must have dish (it IS the signature there) but it's a good idea to share, especially if you order a number of other dishes too.
Unless you're saying that a really really big fan of The Halia's Chili Crab Spaghettini and/or you're not ordering anything else (which is unlikely given all the temptations on the menu), then please, by all means enjoy this delicious dish all to yourself 😛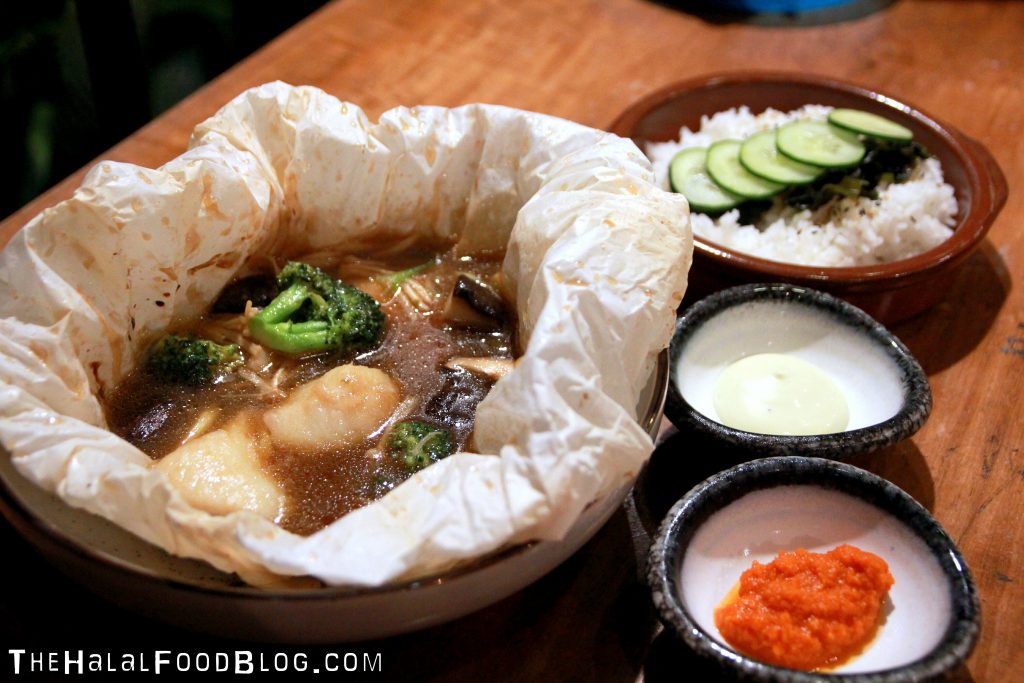 We were torn between ordering this dish of the Panfried Barramundi. In the end, I think I can safely say that we were more than happy with our choice.
What a big surprise this dish was! It came in such an unassuming package but as soon as we had our first taste, FUYOH this dish was really really sedap lah let me tell you.
You've got some Halibut that's been paired with some veggies (namely broccoli plus Enoki and Shitake mushrooms) and they're all swimming in a soy and ginger broth. Everything is tied-up in this paperbag and baked in the oven. When it's served, the staff is going to open up the package for you and the first thing that is going to hit you is this fantastic aromas that's sure to get your mouths watering.
The Halibut was the perfect fish to use for this dish. The soy ginger broth was delicious and super flavourful. Everything is best enjoyed with the serving of Japanese rice that comes with. They is also a Wasabi Aioli and even a ginger flower Sambal if you'd like that extra kick.
Wah. I'll say it again. This dish was really really sedap lah!!
And by the way, we're not even scratching the surface of the menu with those 2 dishes…
Freshly shucked Irish oysters, Tajima Wagyu skirt, Lamb rack & braised Spice Islands marinade rump stew, Slow cooked tender chicken breast and braised minced leg potato gratin, Fresh Boston Bay mussel and Sanchoku Wagyu ribeye are just A FEW of the dishes on our list now…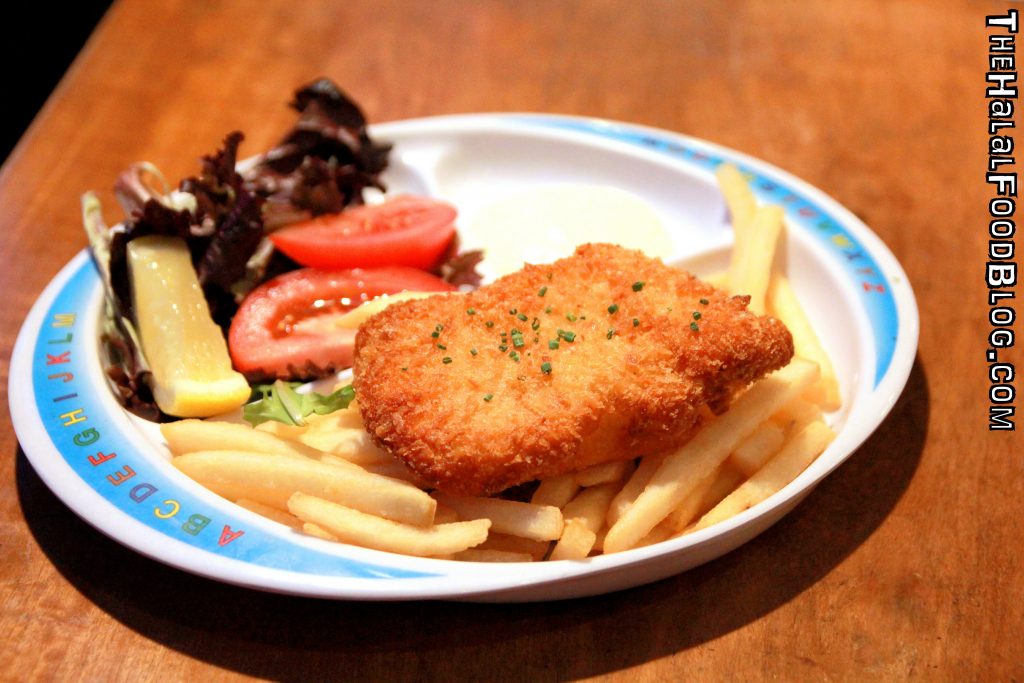 Dining with kids? Fret not because The Halia has you covered. They've got a great kids menu!
We ordered the Breaded Fish & Chips for Our Little Princess but you could also choose from a whole host of other dishes including Beef Bolognaise Spaghettini, Creamy Crabmeat Spaghettini, Fried Crispy Chicken Breast or the Hand-made Chicken and Olive Sausage.
Quite the line-up I must say! And the kids will be kept occupied with the mini-puzzles on their menu too.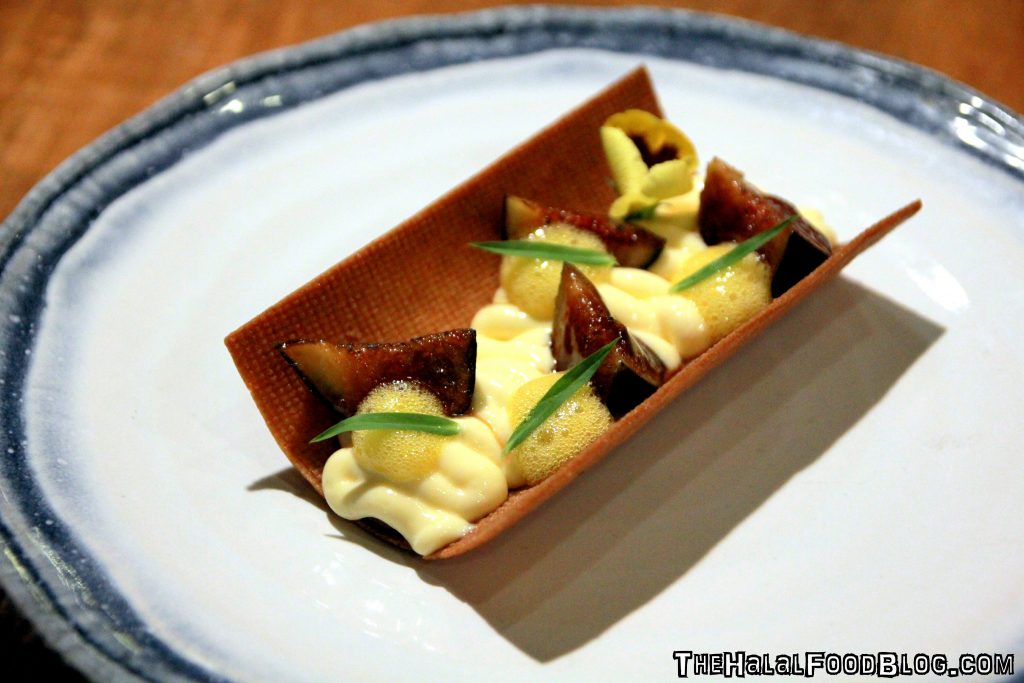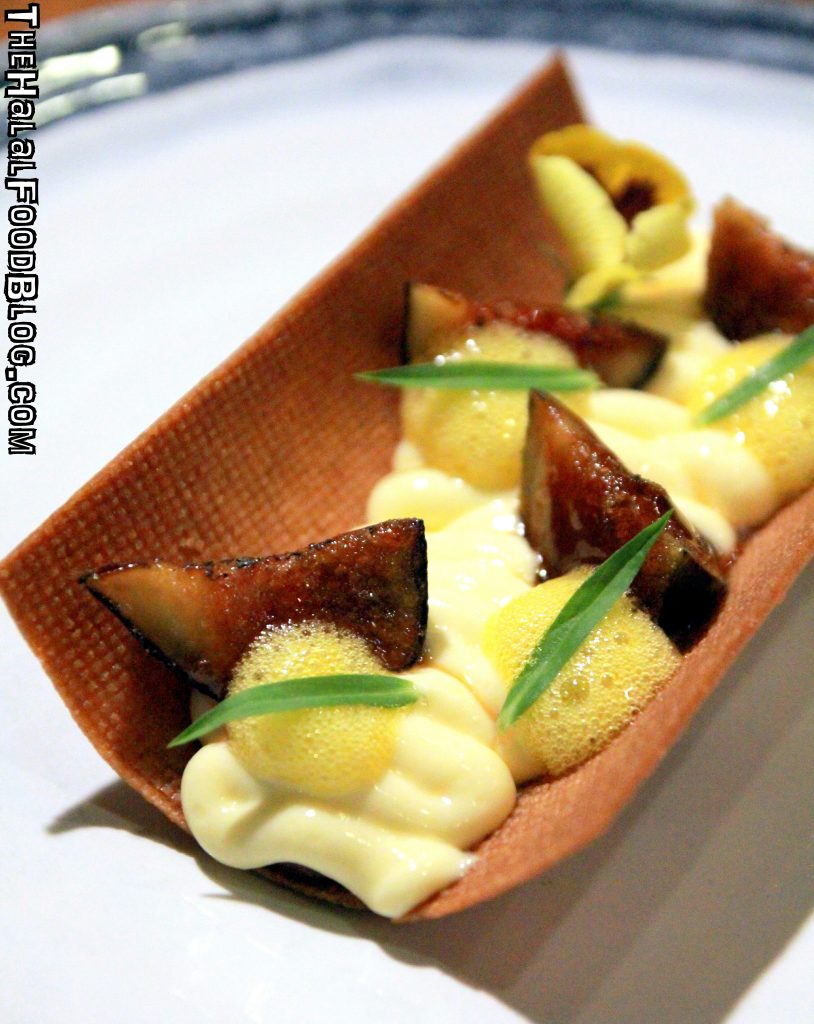 I'm a sucker for desserts. (Aren't we all?)
All the more if they involve decadent ingredients like… fresh figs!
The Fig Tart has caramelized figs, Speculoos, Yogurt mousseline and turmeric foam. The result is an amazing dessert that was absolutely delightful but also seemed like such a pity eat something so intricate. You know what I mean?
I don't know about you but this is one of the most 'atas' desserts I've had in a long time.
If something like 'turmeric foam' is not considered 'atas', then I don't know what is!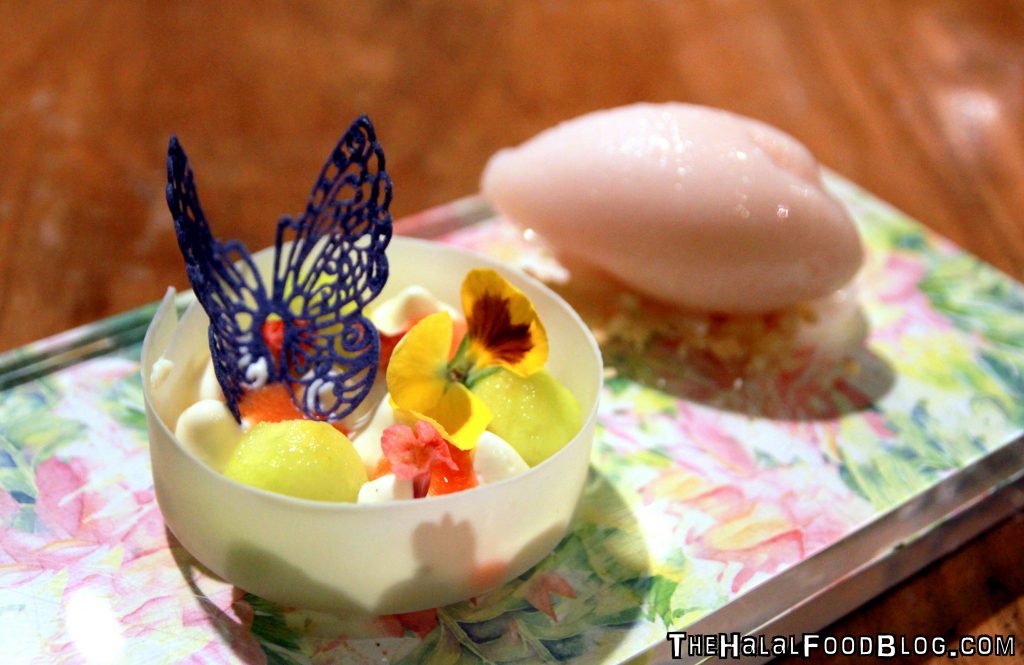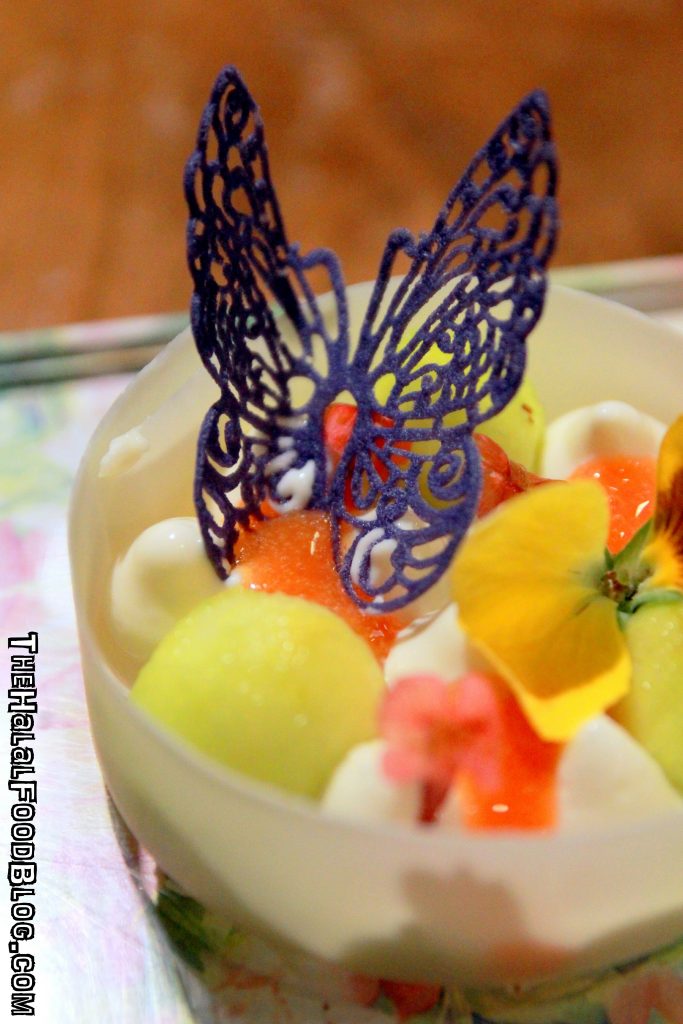 And speaking of intricate, The Ginger Garden happens to be just that and also the signature dessert at The Halia.
Orange blossom vanilla mousse, Galangal poached apples, blood orange coulis and ginger flower sorbet are combined to create what might be the most delicate-looking yet packs a big punch dessert on the menu LOL the flavours seem subtle but they do leave quite a impression!
You get hints of the Orange Blossom in the vanilla mousse and hints of Galangal in the poached apple (which are those green-ish balls you see there) but this is probably one of those times where the Ginger Flower flavour is evident most of all.
Even that beautiful butterfly wafer is edible. My heart broke with every wing I chewed off…
LOL just kidding it was SO delicious! Just be sure to be mindful of the sorbet because it will melt in no time while you're admiring how pretty The Ginger Garden is.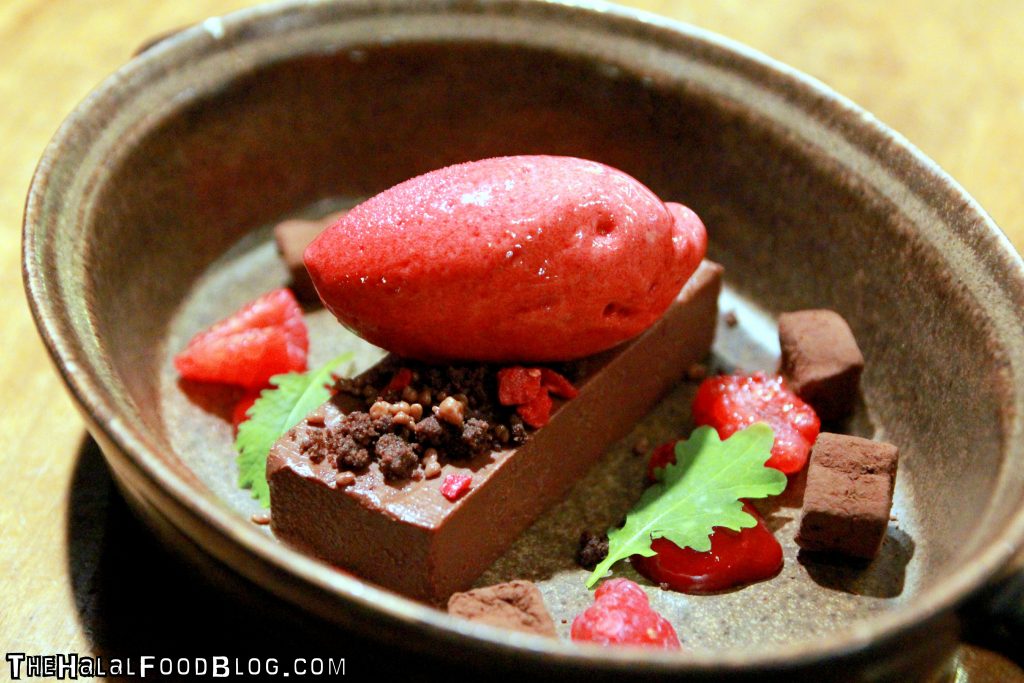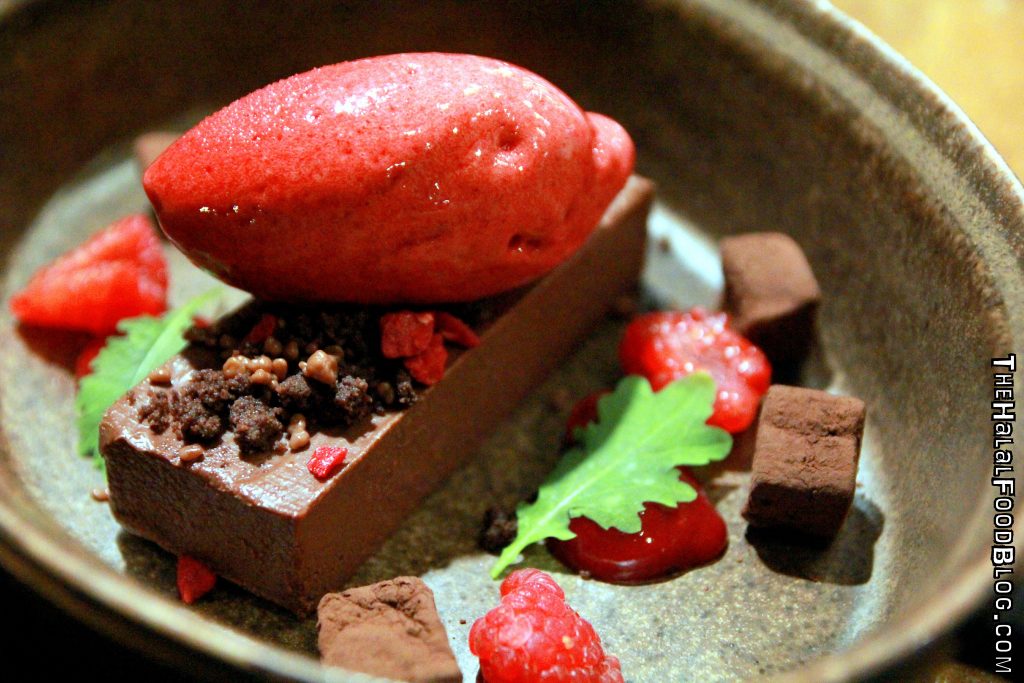 And last but definitely not least, we had the mandatory appearance by our good friend, Chocolate!
And just as the name implies, if you love chocolate desserts then this is the definitely the one for you because it's only Chocolate dessert on the menu LOL
The description on the menu is pretty simple yet vague – "Chocolate element and raspberry".
But if we had to break it down, we'd say it was a chocolate ganache 'brick' topped with Raspberry sorbet, chocolate-coated marshmallows and dressed with some fresh Raspberries and Raspberry coulis.
Sounds delicious? It is.
Other desserts on the menu include the Yuzu Gateaux, Ginger Spice All Things Nice and the Sticky Toffee Pudding.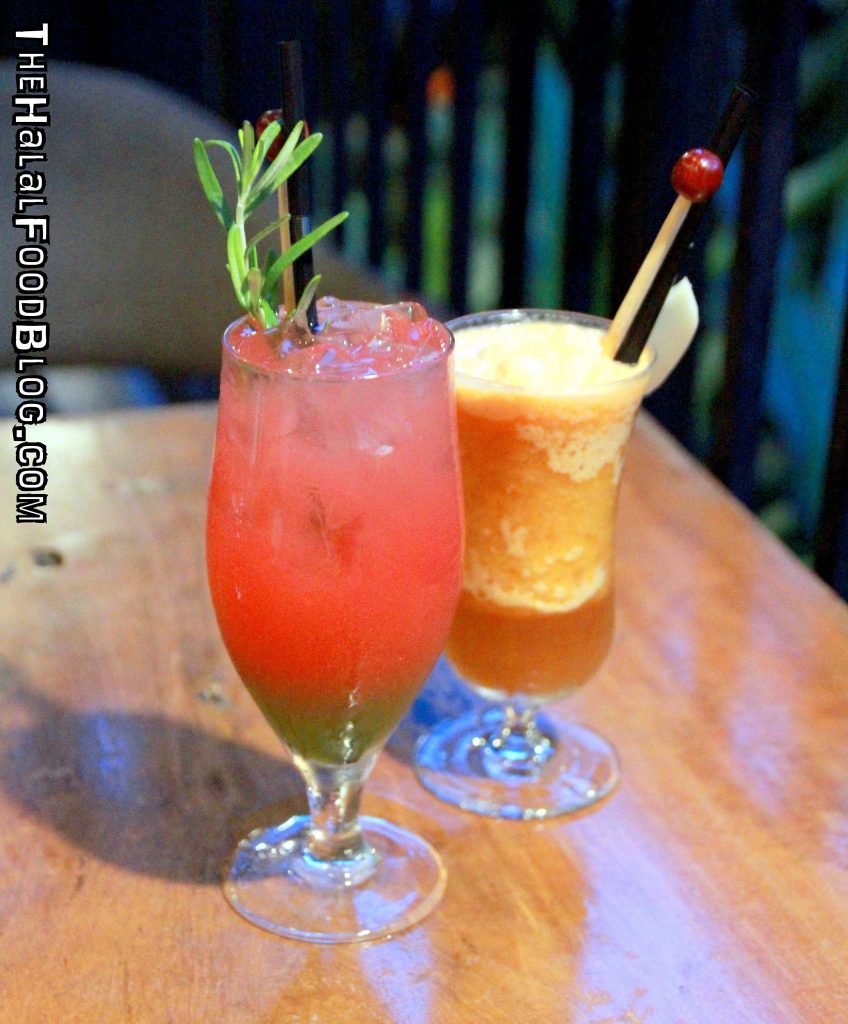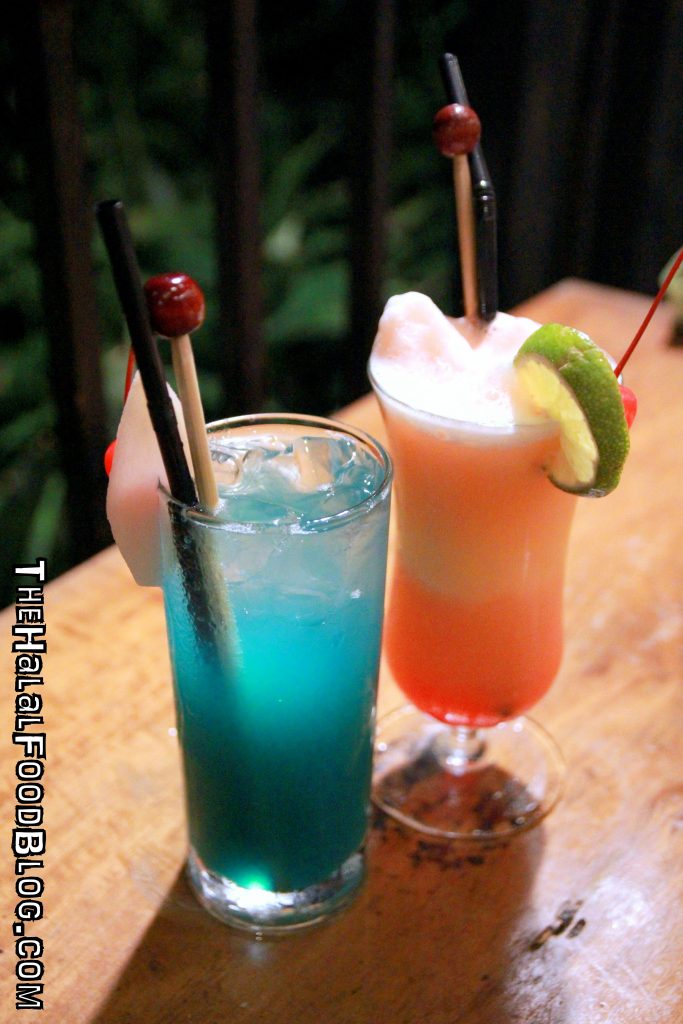 There are quite a number of dishes on the menu (including the beverages and desserts as well) that are marked with an icon indicating that the dish/beverage contains ginger and/or its family which is natural when you're dining at a place called 'The Halia' right?
To be honest, the majority of the dishes we enjoyed had this icon displayed but the flavour of the ginger and/or its family were not overwhelming at all. I'd say that they really managed to find a nice balance. We wanted to point this out just in case you were worried about the ginger flavour overpowering everything. Well, it does not.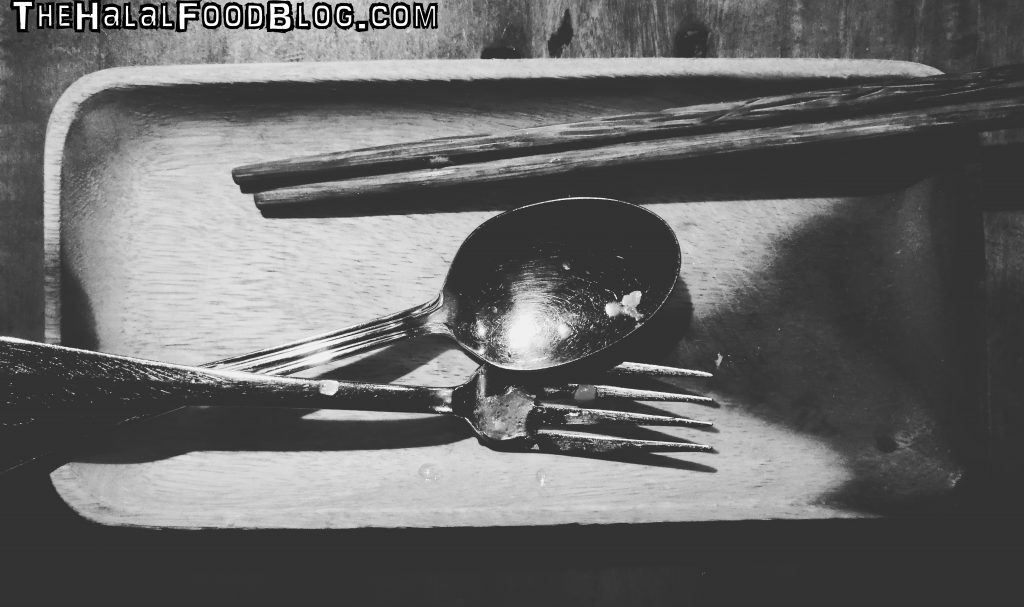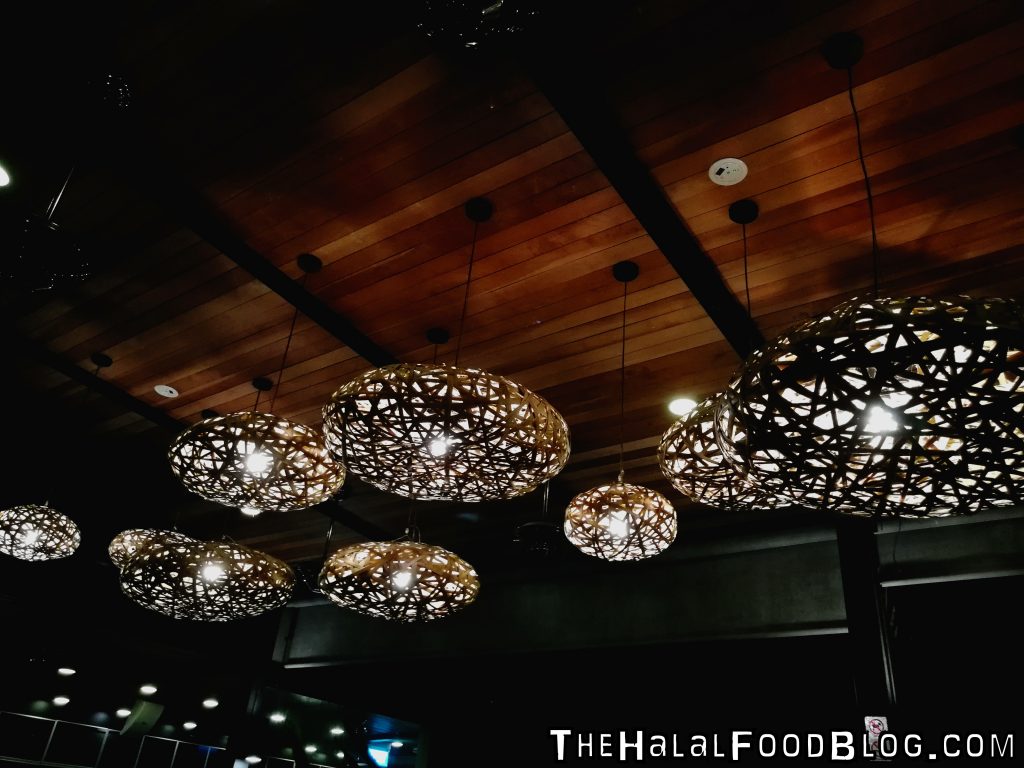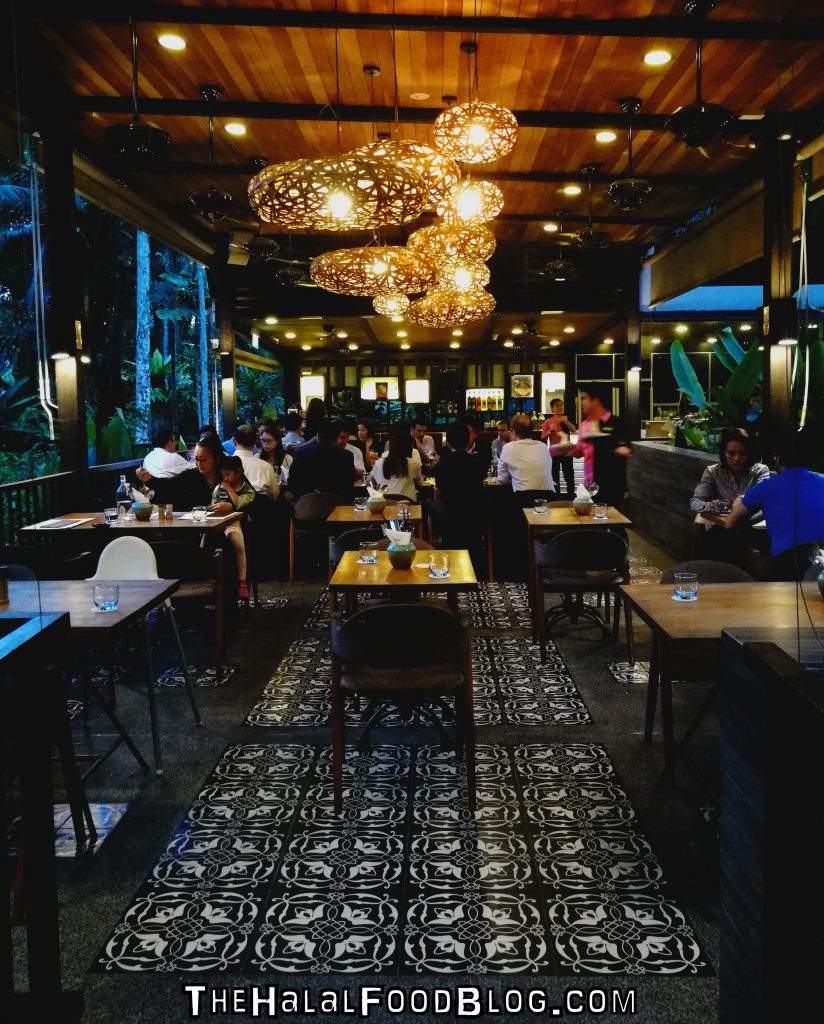 Our first visit to The Halia and we are absolutely smitten. It is such a charming place with a very comfortable and inviting ambiance and you just feel at ease as you enjoy your meal.
We were seated outdoors which actually turned out to be really lovely but you could opt for indoor (and air-conditioned) seating if you preferred. Wherever you choose, you're assured of a comfortable dining experience.
The food was amazing. I know that The Halia has fine dining roots and that still stands evident today in the impeccable quality of the dishes as well as the service. But best of all – the prices are extremely reasonable when you consider the experience.
We still have plenty to explore on the menu so you can rest assured we will be making plans to head back to The Halia. Hopefully sooner than later. It truly is a gem.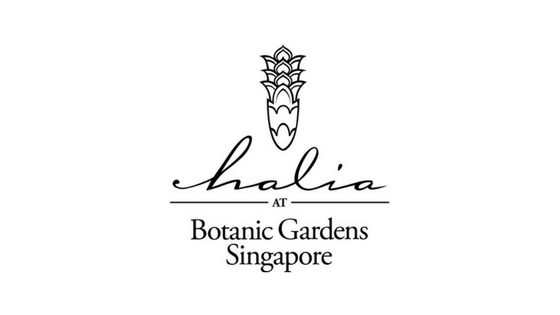 The Halia at Singapore Botanic Gardens
1 Cluny Road (via Tyersall Road)
Ginger Gardens, Singapore Botanic Gardens
Tel: 8444 1148
www.thehalia.com
Facebook: www.facebook.com/pg/HaliaSBG
Instagram: @thehalia
Operating Hours:
Monday to Thursday (Except public holidays) : 9.00am to 9.30pm
Friday & Eve of Public Holidays: 9.00am to 10.00pm
Saturday: 10.00am to 10.00pm
Sunday & Public Holidays: 10.00am to 9.30pm
All information (including prices, availability of item on menu and Halal status of establishment) are accurate at the time of posting. All photos used in this site are property of The Halal Food Blog unless stated otherwise.