So it's the day of the Halal Japan Expo 2016 and we're looking to get some lunch before heading to the expo. We're in the Asakusa area and we decided to check out a place that seems like it had some pretty good Sushi!
So far, we'd had Udon. We'd had Ramen. Now it was time for some Sushi yeah?
Best part – it's CERTIFIED HALAL!!
From the moment you pull open the sliding door to enter Sushiken, you kinda realize you're stepping into a Sushi place that is different from what you might be used to in Singapore. I mean, there's pretty limited Halal Sushi places in Singapore or even in Tokyo for that matter so you might find it hard to do a comparison but I guess the best way I can describe it is that this is probably the kind of Sushi joint you'd expect to go to when in Japan.
The chefs behind the Sushi counter all call out "Irrashaimase!" as you enter and you take a look around a quaint and very simple setting.
You've got a counter where you can sit for your meal although this would probably be best suited for a solo or maybe a pair of diners. A refrigeration 'panel' lines the counter which the chefs stand behind. You can see the different ingredients they will use to prepare your food including various cuts of fish and assorted seafood. Behind these chefs is a window that gives you a peek at the kitchen where the rest of the food is prepared.
Besides counter seating, there are also a few tables for groups but not many though. All in all, less than 20 pax can be seated at the tables at any one time based on my count. But this is a good thing because too much of a crowd would probably dampen your appetite!
And along the walls, you will see strips of paper with a small photo and some Japanese text. These serve as the menu for most of the dishes served there. There are menus you can glance through but they are mostly in Japanese except for the special set menus. Even the staff speak limited English.
Luckily for us, a very kind and friendly gentleman was seated at the table next to us who helped us translate some of the menu and also speak to the staff so we didn't get mixed up. Here's a shout-out to that guy – Iskandar-san! He's actually from Brunei but working in Tokyo. Super friendly and super helpful!!
Anyways, in the end, we ended up ordering some of the 'Lunch Specials' which seemed like the best option for us.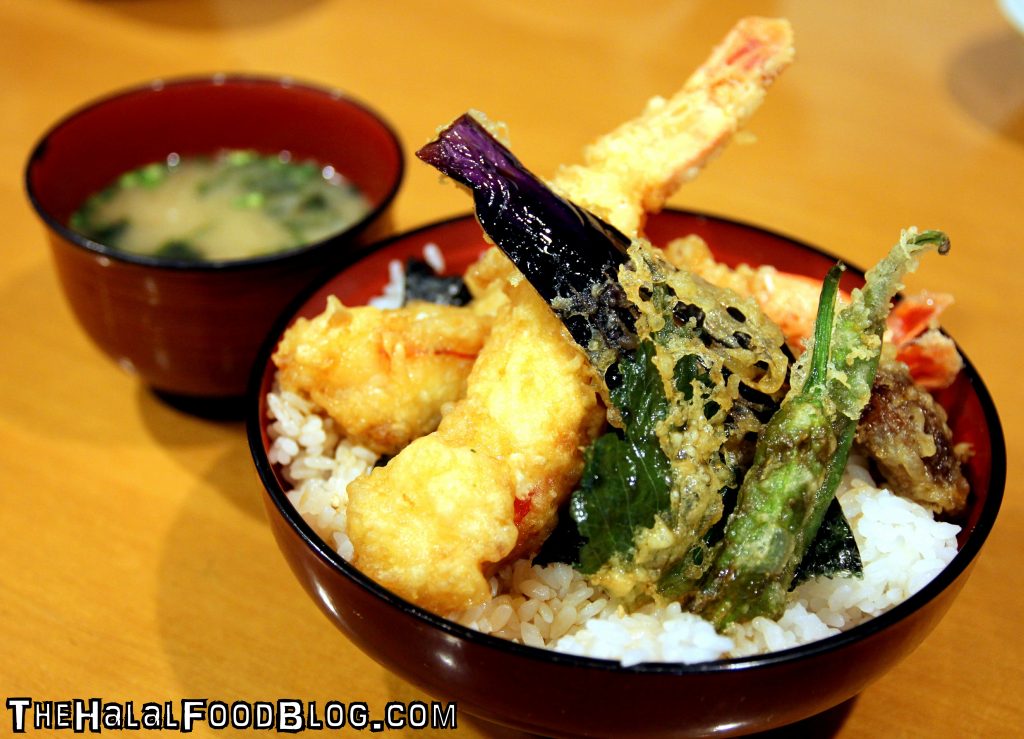 'Tendon' is actually a common abbreviation for 'Tembura' and 'Donburi'.
One one hand you get Tempura which is battered and deep fried seafood/vegetables and on the other you get Donburi which is a Japanese 'rice bowl'.
We're pretty sure a lot of you have had either/both Tempura and/or Donburi before. It's a common options and very recommended for an all-in-one meal! I definitely love it I can tell you that much.
This was probably the BEST Tendon I've ever had! Unfortunately for me, I'm not the one who ordered it! LOL
My Darling Wife had ordered it to enjoy with our Little Princess but you can rest assured I stole a few mouthfuls here and there in between my own food hehehe
The prawns were big, firm and fresh! To make things even better, the Tempura batter that coated the prawns and vegetables was just perfect. Crisp and without that oily flavour that would ruin any Tempura serving. As this was a Tendon, there was no Tempura dipping sauce in this case. Instead, some sweet Teriyaki sauce was drizzled over the Tempura which was just great. ZOMG I'm really craving this dish now as I type this out…
Anyways, if you're wondering what I ordered for myself…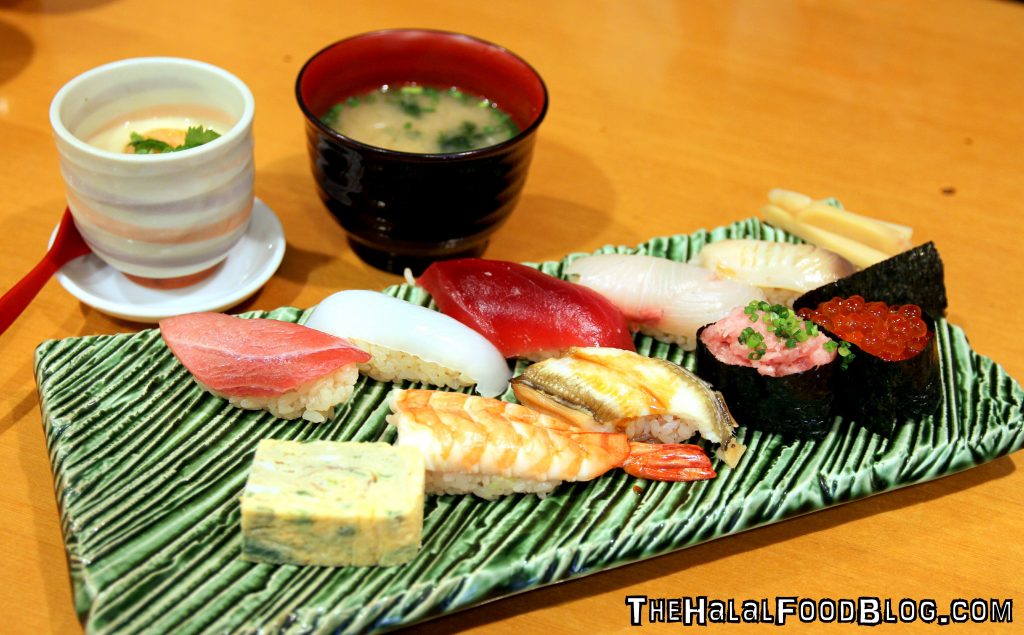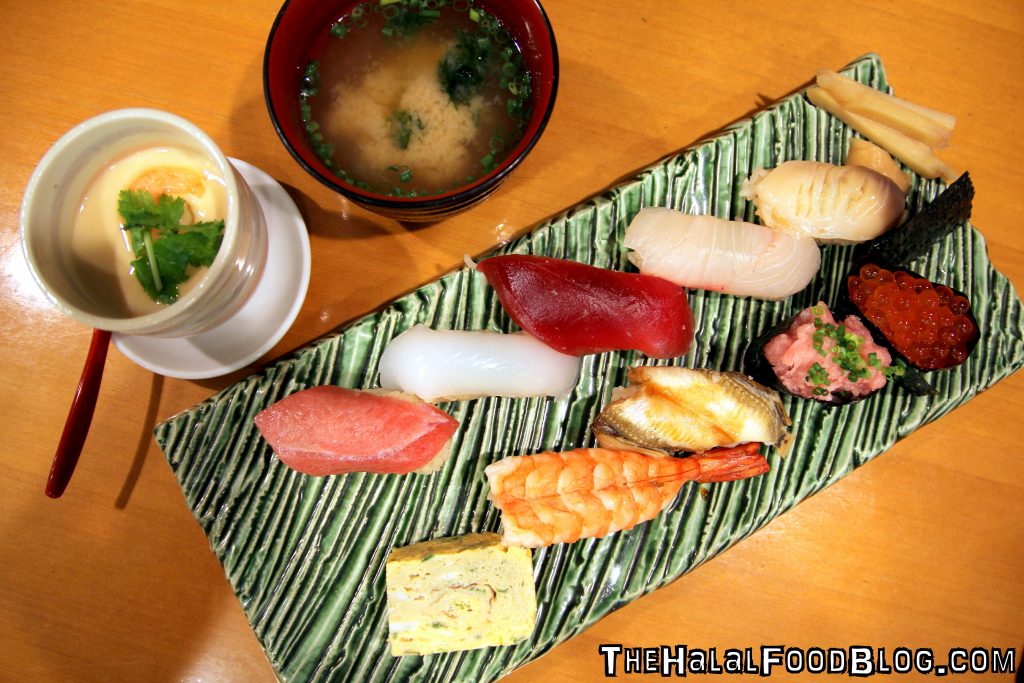 I was definitely craving some Sushi by that time. We'd had Udon and Ramen so far and Tempura was already at the table so I decided this seemed like a great place to have some Sushi simply because This place really gave me the impression that they knew their Sushi. Well, I was not wrong!
The set consisted of 10 different Sushi plus Chawanmushi and some Miso Soup along with the set.
So, in running order of those pics above, the sushi we enjoyed were;
Tamago (Egg), Ebi (Shrimp), Unagi (Eel), Toro (Fatty Tuna) Gunkan, Ikura (Salmon Roe) Gunkan, Chutoro (Medium Fatty Tuna), Ika (Squid), Maguro (Tuna) and Kanpachi (Amberjack). There's also Awabi (Abalone) too but I ate it before I could snap a pic 😛
I will be honest and tell you that when we're in Singapore, we eat Sushi quite a fair bit but we always have the same types which includes Salmon, Tuna, Chuka Idako and the likes. When we were in Japan however, you'd be surprised that there was little or none of those around. Tuna and its many varieties were the most prized and loads more not-very-usual Sushi were in front of us.
But one thing I can guarantee you is that all the Sushi were super fresh!
And don't expect to do things like in Singapore where you get a whole jar of Wasabi and dish it out a whole load of it to mix with the Shoyu and then dip your Sushi in it before you take a bite. Basic Sushi etiquette is appreciated in most places but don't worry lah can still relax and just stick to basics 🙂
For example, most places, the Sushi is already prepared with a bit of Wasabi already applied onto the Sushi as this is the amount that the Sushi chef intends to be the best amount to enjoy the Sushi with. You can definitely dip the Sushi into the Shoyu but do so with the 'fish side' and not the rice side. This is because the rice side will absorb too much Shoyu and overpower the taste.
That's pretty much it actually when it comes to basics. Oh, and if it's wooden chopsticks – don't rub them together because it's considered rude. We are totally guilty of it ourselves until we found out!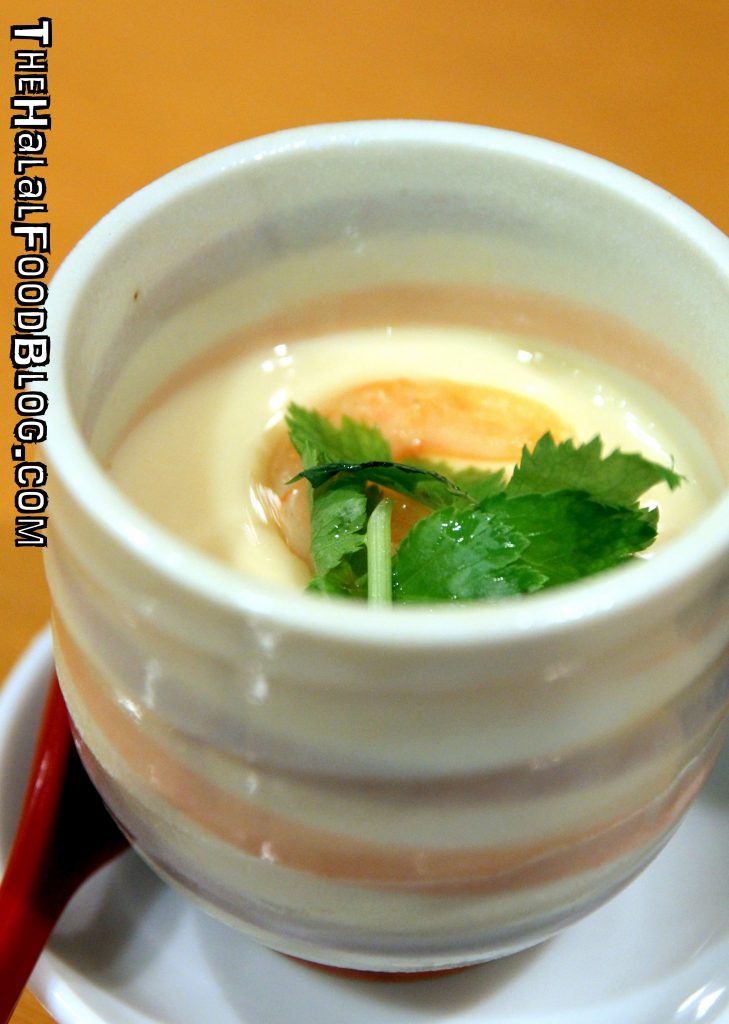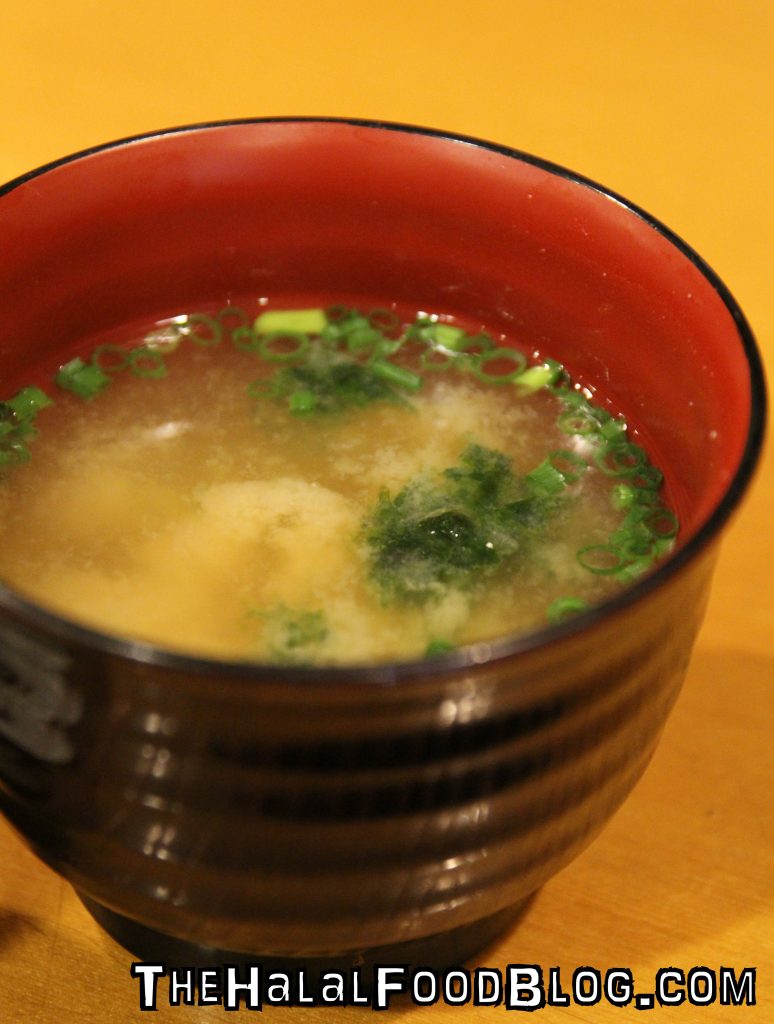 Chawanmushi and Miso Soup are always a must when we have Japanese food. In Japan. Like duh.
I'm guessing that right about now, a lot of you are waiting for me to mention that rather expensive price of the Sushi set. Well, that's actually true – the Sushi set I ordered would be considered on the high side at ¥2376 which is roughly about just over SGD30.
I guess that's actually not too bad considering that the quality of Sushi we got was really fresh and good. Plus they actually have more expensive sets which cost like ¥3240 – ¥4104 or so abouts. Those sets cost more because they either have more stuff and/or higher grade ingredients like Uni (Sea Urchin) etc.
So if you're a big fan of Sushi, this would probably be a good place to splurge a little.
I mean, come on! You're on holiday! Enjoy yourselves! You can go back to eating ¥600 Ramen tomorrow but for now, enjoy your Sushi 🙂
Keep your eyes peeled for Sushiken Asakusa because like the staff inside, pretty much everything on the outside is also in Japanese. There was a fishtank when we visited which is a big clue and also look out for the 'Halal' sign on the banner too! Nearest station is Asakusa.
We found Sushiken Asakusa mostly with help from the Halal Gourmet website/app (by Halal Media Japan) which really helped us including with map navigation too!
2-11-4 Asakusa
Taito-ku, Tokyo 111-0032
Nearest Station: Asakusa

Tel: +81(03)-5246-6547
www.asakusa-sushiken.com/index.html
Facebook: Asakusa Sushiken
Operating Hours:
Mondays – Saturdays 12pm-2pm Lunch // 7pm til midnight Dinner
Sundays and PH 11.30am til 3pm Lunch // 5pm til 10pm Dinner

All information (including prices, availability of item on menu and Halal status of establishment) are accurate at the time of posting. All photos used in this site are property of The Halal Food Blog unless stated otherwise.