So we're still in Hokkaido at this point and were looking for that mandatory fix of Ramen while we were there. I'll admit that I had done quite minimal research on Halal food in that area because we were only there for a couple of days.
So I had a list of places to visit. And on that list was Ramen Houryu (寳龍).
So apparently Ramen Horyu (or 'Houryu' as you may see online sometimes) has been plying their famous Ramen sin 1957! Now that's a mighty long time so I've gotta reckon they know a thing or two about Ramen yes? They apparently own loads of Ramen stores all over Japan (not all bearing the same name) and 2 have even been awarded Michelin Stars apparently. But those are the Non-Halal versions.
Ramen Horyu's outlet in Susukino serve up authentic Sapporo Ramen that is Muslim-friendly.
Like we mentioned in our previous post, in Hokkaido, it's quite rare to see an eatery that is certified Halal but there are quite a lot that are Muslim-friendly. That means that they serve food that does not contain pork or alcohol and even have separate cooking/dining utensils and dishes just for Muslim diners.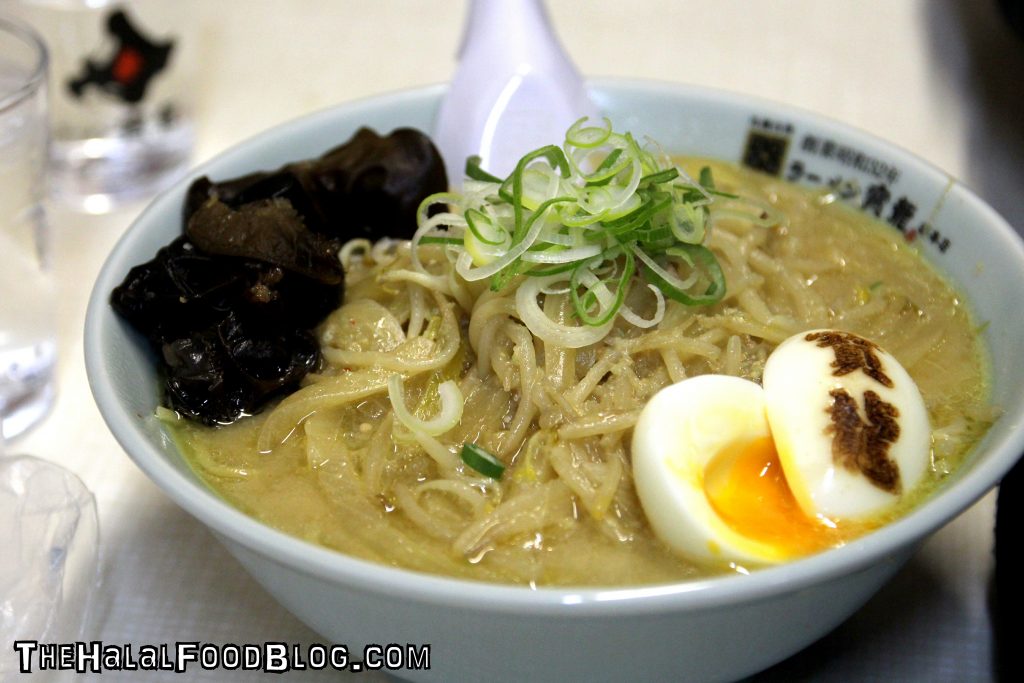 Just like Ayam-YA in Tokyo, there is ONLY Ramen on the menu for us. There are 3 different Ramen dishes listed on their Muslim-friendly menu. We kept reading about a 'Koku-uma Tori Paitan Ramen' online but it was not listed when we visited… Anyways you also have the choice of Regular, Small or Large servings just in case you're feeling extra hungry!
First up was the Kire Uma Miso Ramen. The one in the pic above is the Large serving and you can see that is a really generous serving of Ramen liao!
I guess is probably the simplest Ramen on the menu and also seems like the most popular for some reason. It's got Ramen noodles, a soft-boiled egg and some black fungus on the side. So when I say simple, I mean REALLY simple. The broth is Miso-based but it was definitely a very robust and flavourful broth. In fact, I'd have to say that it had a very unique and distinct flavour. Something that probably took awhile to get used to.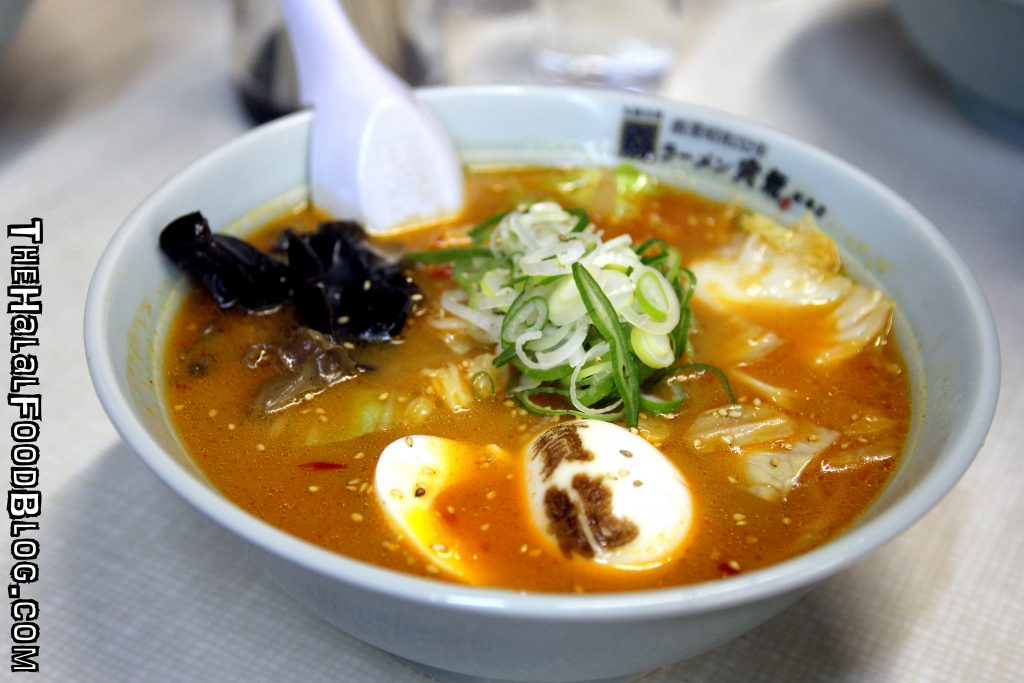 Next up was the Ramen Noodles in Peppery Bean Paste Broth. This one was also pretty much vegetable-based except that the broth this time was bean paste base that had a bit of spice added. It was definitely peppery but it's not like black or white pepper. It's more like those Mala chili peppers you know what I mean?
But anyways, it's not that spicy lah just to let you know. Dad definitely enjoyed it! I fact, I think Dad was the only one who finished his bowl of Ramen…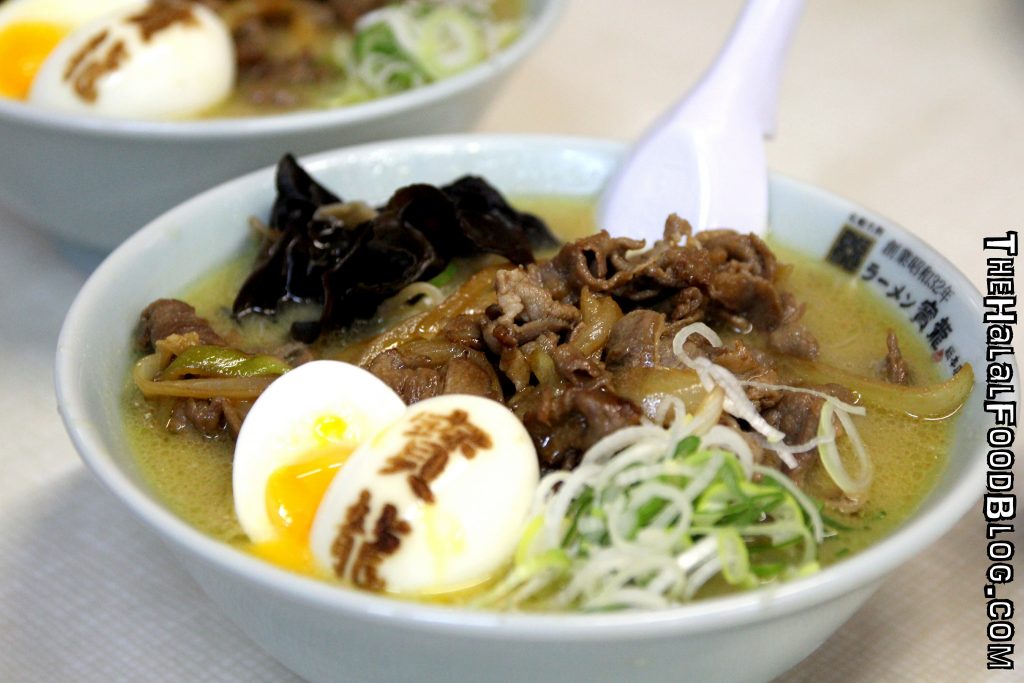 Aha! Here's the big daddy of the Ramen at Horyu! The Genghis Khan Miso Ramen!
JENG JENG JENG!!!
It's a hearty serving of Ramen in their signature Miso broth and this one is topped with a whole load of sliced lamb! And when I say a whole load, I ain't kidding. In fact, this is the only Ramen that doesn't have a Small size. Regular is the smallest and then it goes upwards to Large, Extra Large and DOUBLE EXTRA LARGE (¥1650)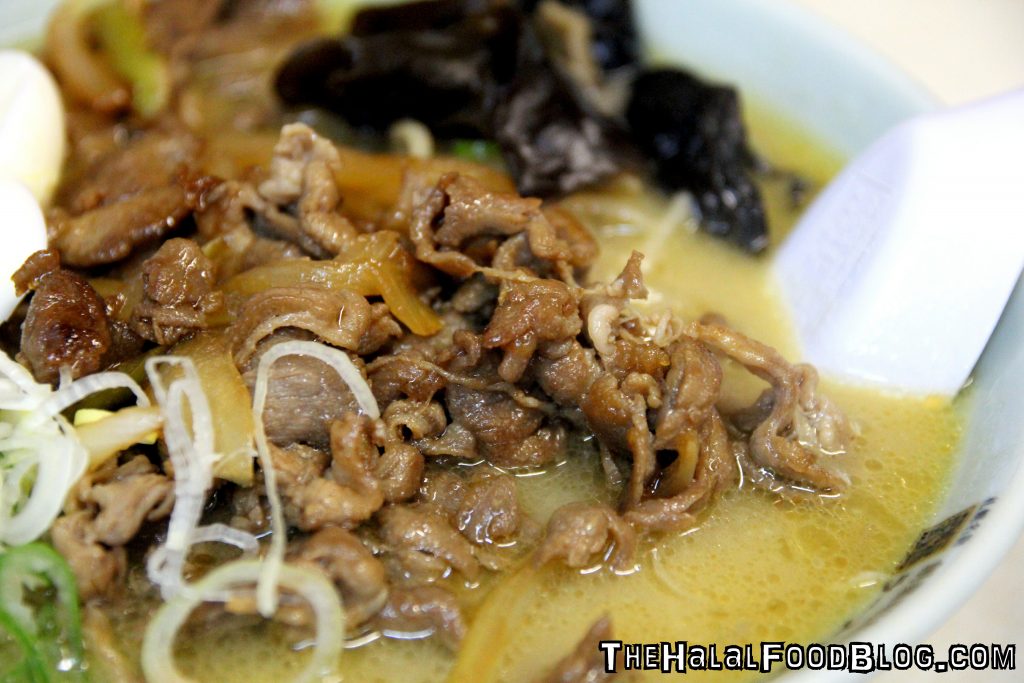 I have to point out that if you're someone who cannot take or does not like lamb and/or mutton, this is definitely not going to be the one for you because this is really some strong lamb flavour here. But for all lovers of lamb/mutton, then rejoice! LOL
Definitely a very strong flavour from the lamb here and it kinda soaks into the broth as well so it becomes extra hearty. I think the aroma is pretty strong too because Mein Bruder, who absolutely does not like lamb/mutton, said that even his Kire Uma Miso Ramen started to taste a bit like lamb.
For me, the presence of at least SOME meat in my bowl of Ramen was very welcome since pretty much everything else was mostly vegetables.
The Ramen is a bit on the firmer side so there's quite a bit of bite to it. It's apparently made and delivered to the outlet(s) fresh and regularly so you're assured of a good quality product.
The eggs are also pretty good. They even brand the eggs with 寳 (symbolizing 'Treasure') and 龍 (symbolizing 'Dragon') both of which make up the name – Horyu! These small touches show me that they are very proud of their 59-year old heritage!
But alas, I must say that Ramen Horyu did not go down well with many at our table. Like I mentioned, only Dad managed to finish his serving while the rest of us didn't really get very far. Mein Bruder order the LARGE serving some more LOL the weather was super cold outside so you'd think that a piping hot bowl of Ramen would go down easily right?
I'm not sure if it was the Ramen noodles or the broth or a combination of factors that led to this conclusion. I mean, for me, it was okay-okay lah. It wasn't bad but it definitely was not a reaction I was expecting even from myself. Perhaps Ramen Horyu is not for everyone… because it was unfortunately not for us.
Oh, I think it's also a good idea to point out that the space within is a bit crampy. They have a few tables and also some seating available at the counter but overall you're in for a bit of a squeeze (like we were) if you're in a group of 5 or more. But extra points for having baby chairs!
Nevertheless, you should still drop by Ramen Horyu and have a try. Especially that Genghis Khan Ramen if you're a meat lover! As always, different people have different tastes and with so many people visiting Ramen Horyu, they must definitely be doing something right.
PS they are open late most days so it's a great place to visit for supper if you're in the area!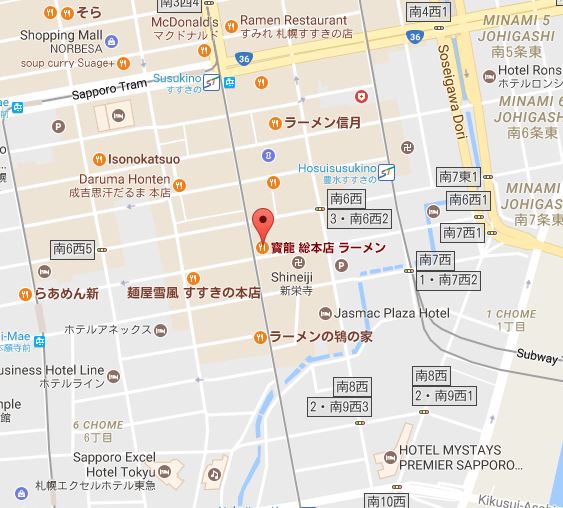 Ramen Horyu is located in Susukino and the nearest station is Susukino station (Nanboku Subway Line) which is about a 5-minute walk away. There's plenty to see and in the area which is pretty lively especially from the evening onwards.
We found Ramen Horyu on the 'Sapporo Information for Muslim Tourists' website!
They are also on the Halal Gourmet website/app by Halal Media Japan!
Susukino Hondori Minami 6-jo Nishi 3-chome
Chuo-ku Sapporo-shi, Hokkaido 064-0806 Japan
Tel: +81-11-511-0403
Operating Hours: 6.30pm-3.00am (Mondays)
10.30am-3.00am (Tuesdays til Saturdays)
10.30am-2.00am (Sundays & Public Holidays)
All information (including prices, availability of item on menu and Halal status of establishment) are accurate at the time of posting. All photos used in this site are property of The Halal Food Blog unless stated otherwise.