Can you believe we are at the end of 2016??? And this was the year we finally set foot in Japan!
It's been an… eventful year… to say the least but we always like to look on the bright side of things. Definitely a very exciting year for The Halal Food Blog with one of the biggest experiences in 2016 being our family trip to Japan!
Would you believe it if I told you that this trip had actually been 3-4 years in the making? Yes, we were supposed to travel up to the Land of the Rising Sun much earlier but I guess, in a way, it was quite opportune that we ended up going in 2016 mostly because of how things have progressed in Japan over the past few years especially when it comes to Halal food and tourism there.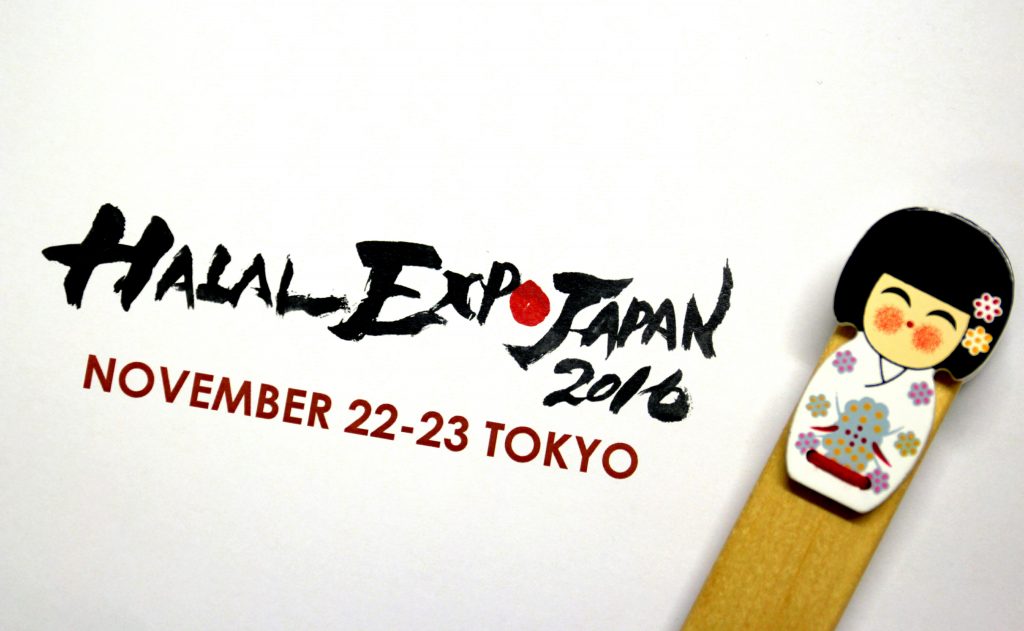 In fact, we were planning the timing of our trip to coincide with the Halal Expo Japan 2016 that would be happening in Tokyo at around that time. We figured it would be a great chance to experience just how much Japan has excelled in promoting Halal culture and tourism over the past few years.
But, more on that a little later!
For now, let's start the post proper and along the way, we will be giving you some tips we picked up while planning for and also during the trip itself and hopefully this information will be of some use to you!
JAPAN TRIP TIP #1 – LAYER LAYER LAYER!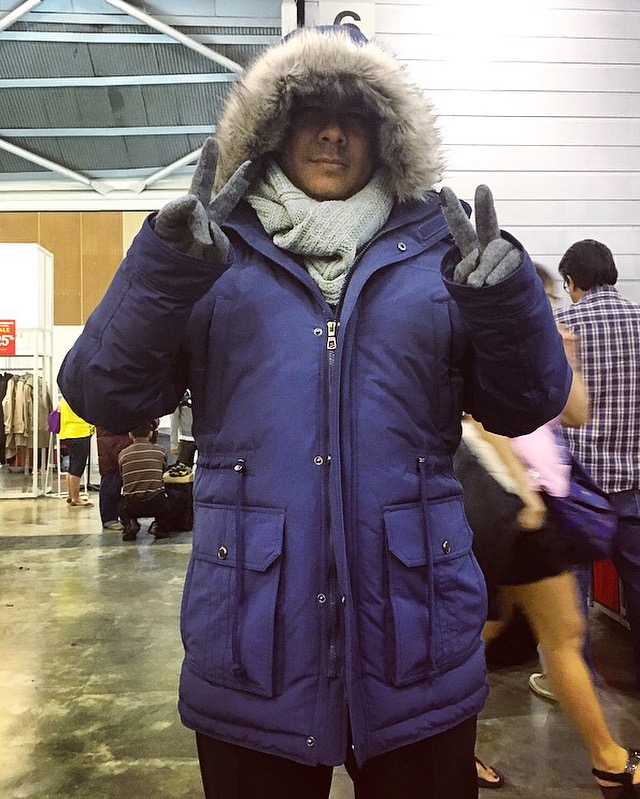 Our plan was to visit Japan in November which meant it would be winter. We were planning to visit Tokyo and also Hokkaido. Generally, pretty much all the information we found said that weather would be colder up North which sounded exciting but can also be a pretty daunting prospect if you're not very good at handling cold weather. Based on weather reports (which you should definitely check online beforehand!), it was expected to be a particularly cold winter this year so we figured we'd better be safe than sorry.
Dress appropriately for the weather you'll be travelling in. If you are travelling up during winter, best be prepared and get some clothes that are suited for winter weather. Layer your clothes for best effect. Maybe 2-3 layers (including jacket) would be a good start. But if you think you're a hero and wanna wear only 1 layer also can lah it's up to you LOL There should be some 'Winter Wear Sales' scattered around throughout the year and these are pretty good places to browse and pick up some stuff.
What you buy depends on where you are travelling and how cold it will be. What I am wearing in that pic above is not what I wore to Japan in the end because it would probably have been too much but in the end – it depends on how you handle the weather. If you're prone to not enjoying cold weather very much, I guess more is usually… more.
Temperature was expected to be between -2° and 10° while we in Japan so that's quite a big range if you think about it. But this doesn't mean you should bring so many clothes that you end up with a 50kg bag of luggage. Trust me, you don't wanna be lugging that around especially if you have kids.
Our advice – visit Uniqlo!
They have a whole range of clothing suited especially for cold/wet weather that were especially helpful on out trip. Best part is they have something for everyone – from the kiddies to adults.
Must haves for us are the HEATTECH innerwear and the Ultra Light Down range of jackets.
The HEATTECH innerwear is basically vests and tights that you wear under your clothing and this really makes a difference. The Ultra Light Down jackets were really power because they were light, easy to pack, waterproof (very important!) and also really keeps the cold out which can really be a bone-chilling thing especially when the wind blows!
I also got these really comfortable pants that have a special lining for cold weather.
Just a couple each of these and you're all set. We didn't really sweat much in the cold weather so no need to get so many. Anyways, it's pretty warm when you go down to subway levels and you'll probably take a jacket off.
JAPAN TRIP TIP #2 – GET A GOOD PAIR OF SHOES
Again, we were travelling up in winter. This meant some pretty wet streets and possible even snow (!) so a good, reliable pair of shoes was gonna be important especially with all the walking we were going to do.
But that doesn't mean it has to be expensive. For example, I managed to get a good deal on my Timberland shoes. These are the signature Timberland shoes. They were waterproof type and comfortable enough for long walks/treks and the best part is they cost me only $90! I actually bought them like 2 days before the trip. I guess sometimes you just have to find the right sale at the right time!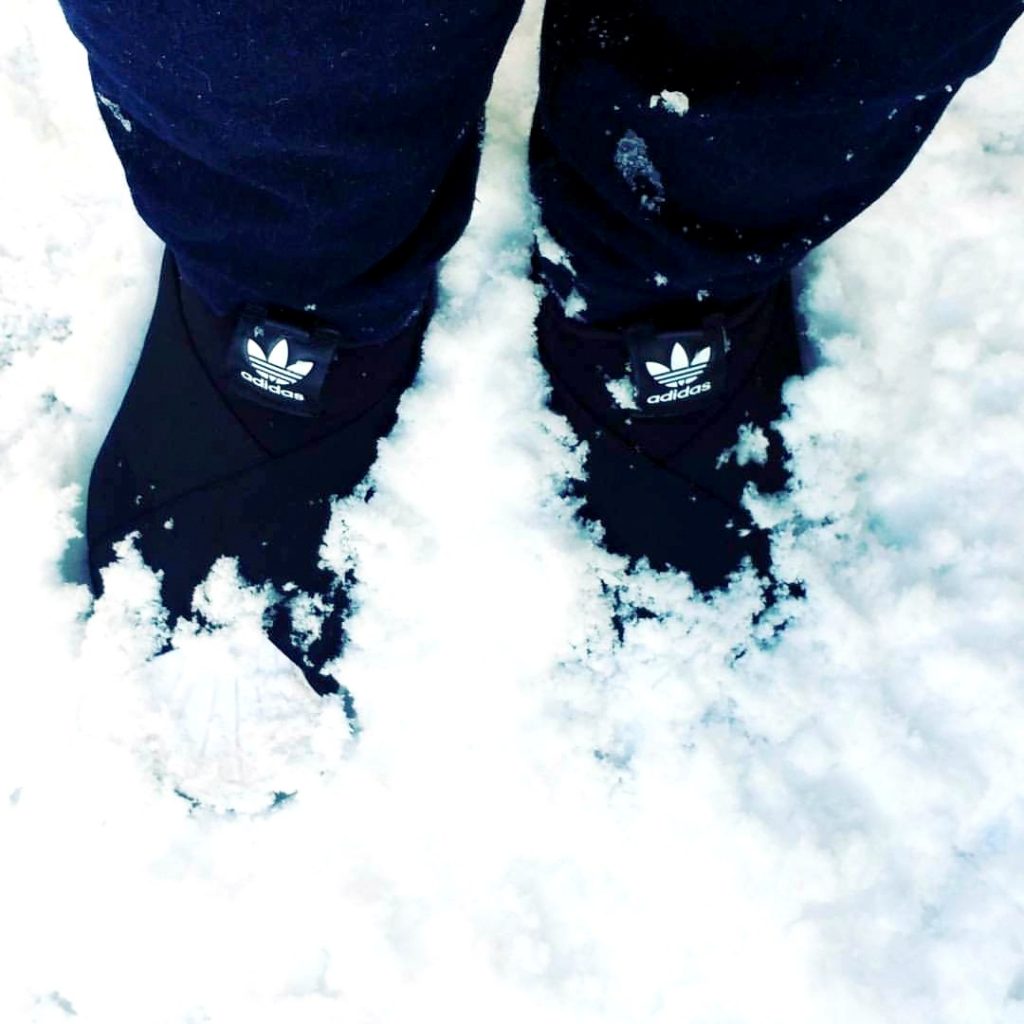 You can still go the functional yet fashionable route like my Darling Wife did. She went #allin with a pair of Adidas shoes that had a good non-slip sole plus still had enough wrapping to keep the feet warm and comfortable. Even snow was not a problem when it came down to it.
But having said that, once you have your shoes, try to wear them for a bit before your trip to season them a bit if you can. My poor Dad got a pair of shoes (also just before the trip) and it turned out to be a bit of a (literal) pain because it ended up giving him a pretty bad wound on his foot after just 2 days. He ended up buying another pair of shoes in Japan during the trip. Trust me – you don't wanna have to worry about an injured foot (that includes blisters!).
JAPAN TRIP TIP #3 – TOKYO NARITA AIRPORT
Narita Airport is really quite convenient. Easy to navigate and definitely very clean (including the toilets).
Even their escalators can handle luggage trolleys! Just be sure not to pile it on too high because that's what will make the luggage topple. The cart is actually very steady.
Immigration took awhile because there was a bit of a crowd. Here's a tip – make sure you fill up that Immigration Arrival Form with complete information! This includes address of where you'll be staying and if it's a friend's place, indicate their name as well, If not, they will literally make you fill in the blanks while you're waiting in line.
There's also a prayer room once you clear immigration so you can perform your solat as soon as you're out in the open. It's pretty spacious too!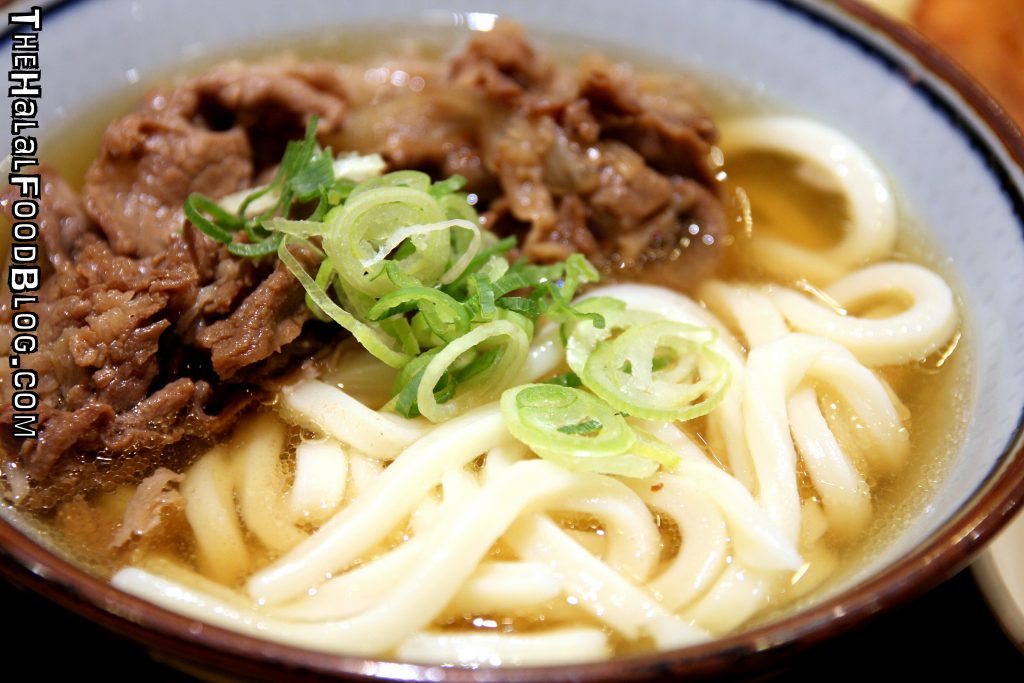 Makan is also no problem at Narita Airport. At Terminal 1 (where we landed), our first meal in Japan was at Kineya Mugimaru which served up some really tasty Udon! You can read all about it by clicking HERE.
At Terminal 2, you've got 2 Halal-certified eateris – Tentei and La Toque – so you're really quite spoiled for choice as soon as you touch down actually LOL. You can refer to this site for full information.
You might also travel to Tokyo via Haneda Airport. If we ever visit Japan again, we might try and land there just so we can do a comparison!
JAPAN TRIP TIP #4 – CURRENCY
The airport is also the perfect place to break up those Japanese currency notes you exchanged. One small purchase, maybe a drink or something, just to break those big notes up into smaller denominations and some coins.
When we travelled, the rate was roughly about ¥100 = SGD1.30 which is not too bad. Most of the stuff is pretty reasonably priced in Japan from what we gathered. For example, a bottle of Coke or Evian water is about ¥100 and a bowl of Ramen will come up to about ¥500 to ¥600 at most places. But please take note that tax is 8% in Japan so most prices you see are before taxes unless otherwise stated.
And just for the record, we recommend you change your currency back in Singapore (or wherever you're departing from). The reason is not to do with exchange rates but more to do with the fact that it can be pretty difficult to find a money changer in Japan. Even in Tokyo, I think we spotted like maybe 1 or 2 at most!
Japanese currency is actually really easy to use. They have ¥10000, ¥5000 and ¥1000 notes and for coins they have ¥500, ¥100, ¥50, ¥10, ¥5 and ¥1. You'll probably find yourselves using the smaller coins at places like convenience stores but makan-wise is mostly gonna be ¥100 coins and up.
Bring a coin pouch with you because you'll most probably end up with a lot of coins! LOL
This super kawaii one was (ironically) a gift from Santaro by Gion!
JAPAN TRIP TIP #5 – USE THE SUBWAY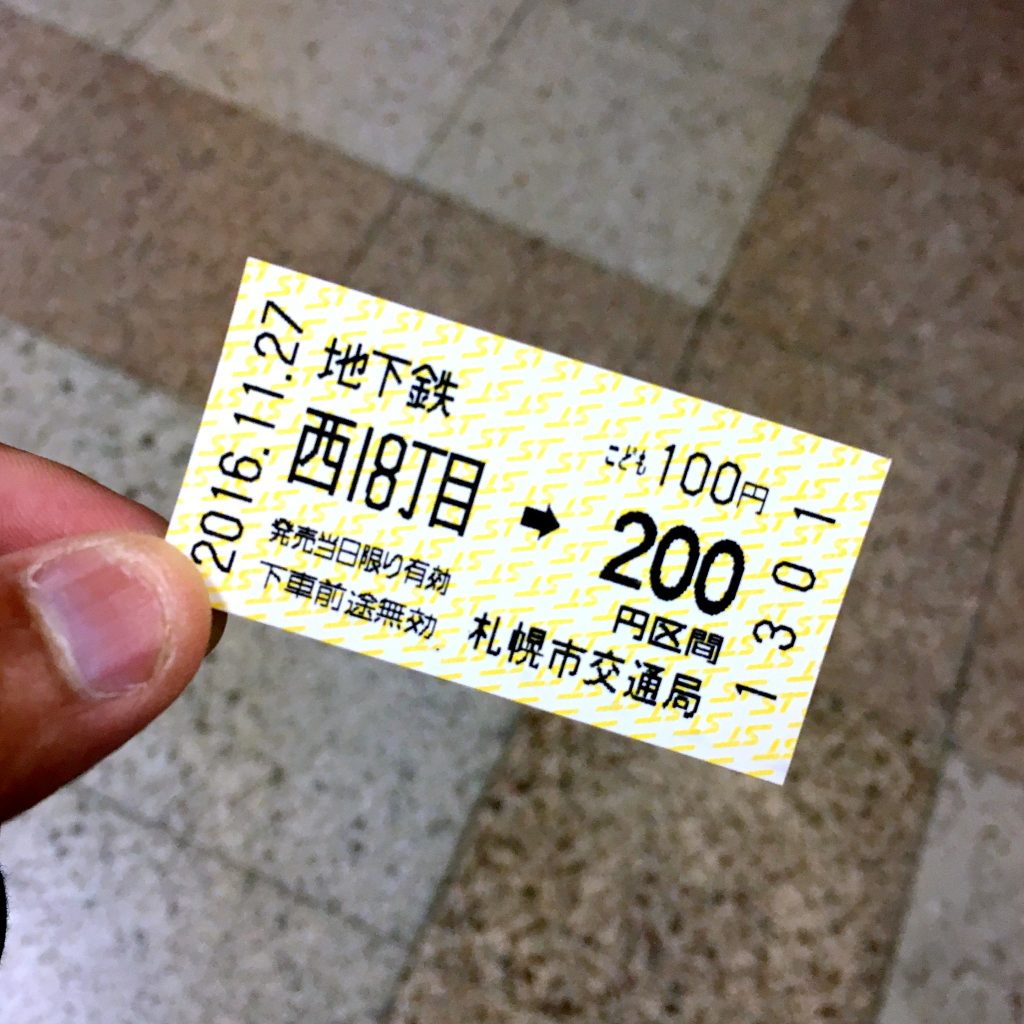 Best way to get around in Tokyo is the subway. They've got several different subway lines that connect all over the place but it's fast, it's efficient, it's clean and it's safe!
You can purchase a SUICA Card (which is pretty much like our own EZ Link card) which you can use on pretty much all the different subway operator lines. Tap-in and tap-out and you can seven see the balance at the gantry. Easy to top and in the event you have any unused balance at the end of your trip, you can always get the card refunded.
That last photo you see above there is actually a single-trip ticket. Just like our MRT, you can purchase single-trip tickets via machines where English language menus are available. If in doubt, just ask the staff at the stations who are super friendly!
Yes, at first glance, the Tokyo subway map can be pretty daunting! As you can see, it really covers pretty much the whole city – it's just a matter of getting on the right line so you can get on the right train!
Tip – use the Google Maps app on your smartphone! From wherever you are, just type in the location you're headed to and the app will plot your course for you. You can select the 'TRAIN' option and it will literally show you how your journey will go including timings, transfers and station names so you really can't go wrong as long as you follow the map! This was really a lifesaver and probably one of the best apps you can have when travelling anywhere!
When it's not peak period, you should be able to get a seat relatively easily. Very clean and the trains run on time so just refer to the schedule if you want to plan your trip to the minute.
But peak hour is a different story…
Pretty sure you've seen those videos on YouTube and Facebook where people are literally being shoved and stuffed into the Tokyo subway train during rush hour right? Well, like Han Solo said in Episode 7 – "It's true. It's all true." LOL
Okay so we didn't witness any actual pushing and shoving but it can get pretty crowded during rush hour as you can see and particularly on busy and/or popular lines. Those photos above are from our train ride to Shibuya on a Friday at around 6+ pm so people were probably on the way home from work or on the way out for the weekend.
Try and travel light and try to stick together especially with elderly and children. But of course, if you're not confident, then best to avoid those timings altogether! But it's quite an experience ah! LOL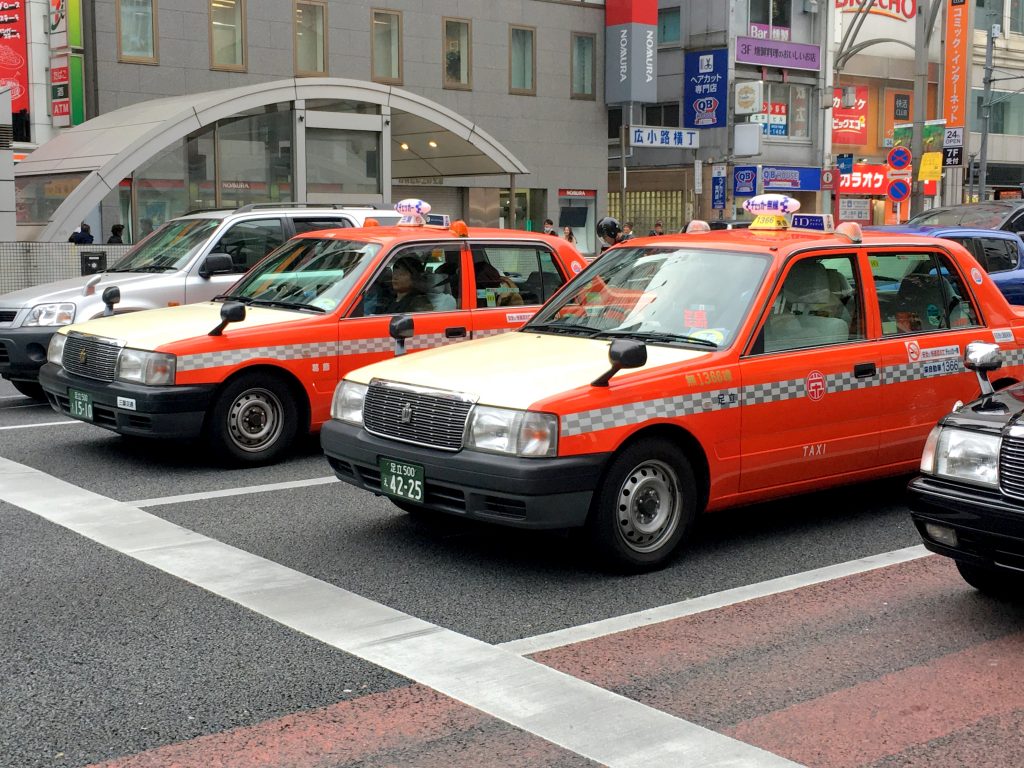 But if you really really need to, you can always take a cab!
Plenty of cabs to be found! Starting fare is about ¥730 and overall it should not be too expensive. It'll surely be worth it when you really are tired and have a lot to carry after shopping.
And in case you were wondering – UBER seems to be really expensive in Japan.
We tried requesting for an UBER and the estimated fare came up to be about SGD60-ish when converted. We took a taxi instead and the fare came up to about SGD20-ish.
I guess the thing about Japan (particularly Tokyo) is that travelling distance by road can be pretty far and maybe a bit complicated which is why the subways are preferred.
JAPAN TRIP TIP #6 – ASAKUSA
The Halal Expo Japan 2016 was being held in Asakusa so we decided to stay near the area (a few stations away) and also ended up spending a lot of time in Asakusa too. The thing is – Asakusa is a HUGE area and there is so much to see, eat and do!
So so so so so much to do in Asakusa itself and it's little wonder why we spent so much time there. In fact, I actually wish we had like anther 3-4 days because we didn't even get to cover everything!
Plenty of sights to see including the massive an majestic Senso-ji Temple (which was crowded when we visited because it was a public holiday). Other cultural attractions include renting and dressing up in a Kimono/Yukata while walking around Asakusa (which really does give you a old town nostalgic feel) and even going on a pulled rickshaw tour. There is even a small amusement park too! (Just follow the sounds of the screams)
They have modern shopping streets and also street stalls ala pasar malam style. Be wary as prices can be a bit steep since it's a tourist hot spot. But you never know when you might find that treasure you're looking for.
OH! Special tip – BRING A SMALL PLASTIC BAG WHEN YOU GO OUT!!!
Japan is a super clean city! But one thing you will notice is that there aren't many trash bins around. In fact, thealso kinda discourage eating while walking probably for the cleanliness aspect of it all.
Bring a small plastic bag with you just in case you need to get rid of any small litter you might have. It's definitely better than putting trash in your pockets right? And please don't litter okay!!!
Anyways, speaking of eating, makan is definitely not a problem as you'll soon find out.
JAPAN TRIP TIP #7 – HALAL FOOD IN TOKYO
If you asked me to visit Japan as recently as 2-3 years ago, my first thought would be "Wah, it's gonna be super tough to find anything to eat there lah!" I mean, I didn't wanna spend my Japan holiday eating cup noodles right? (even though it is technically a Japanese trademark of sorts!)
Well, these days, we need fret not. Japan, particularly Tokyo, has been on a big drive to push for Halal culture tourism. This means ease of finding Halal eateries and foodstuffs. Even if certification is not available, eateries take measures to be Muslim-friendly which includes special utensil, cooking equipment and Halal ingredients for Muslims. This was more evident in Hokkaido since Tokyo had quite a few Halal certified eateries overall.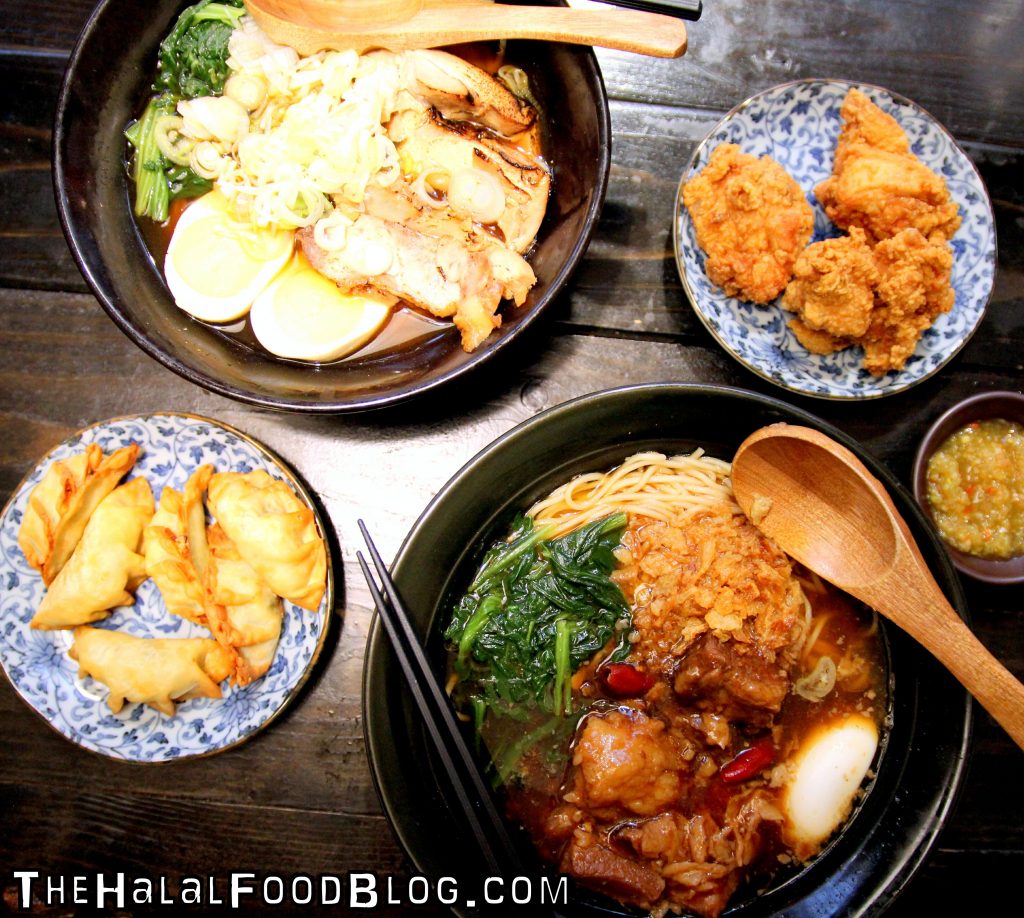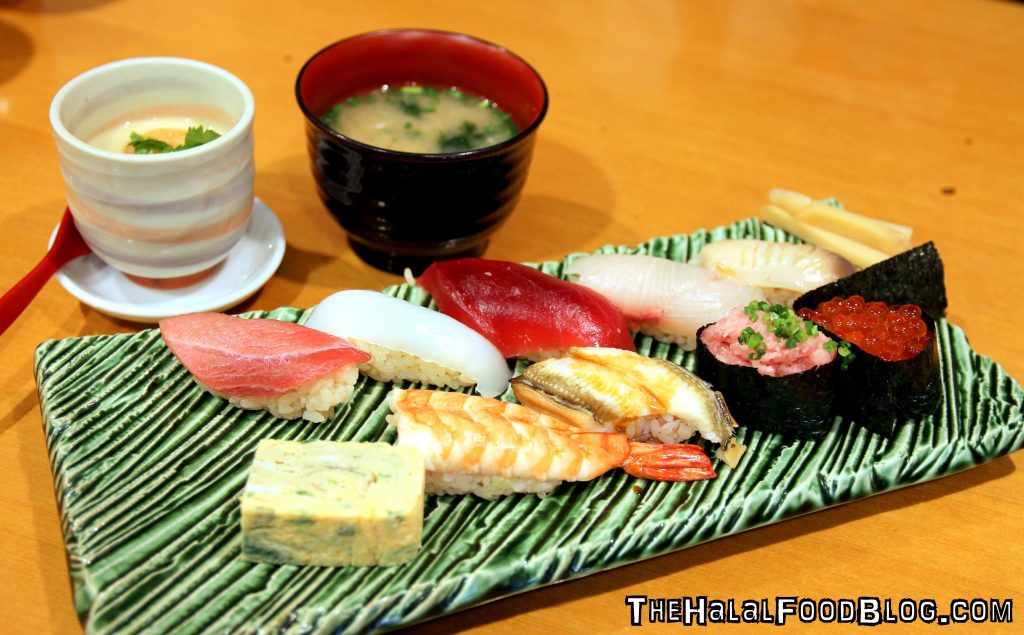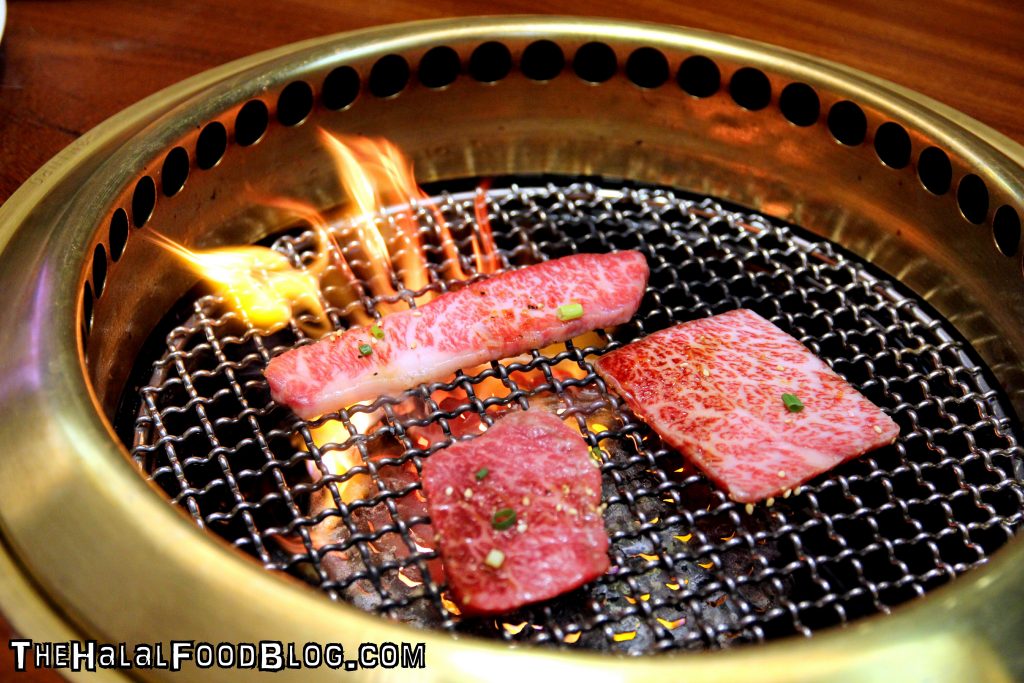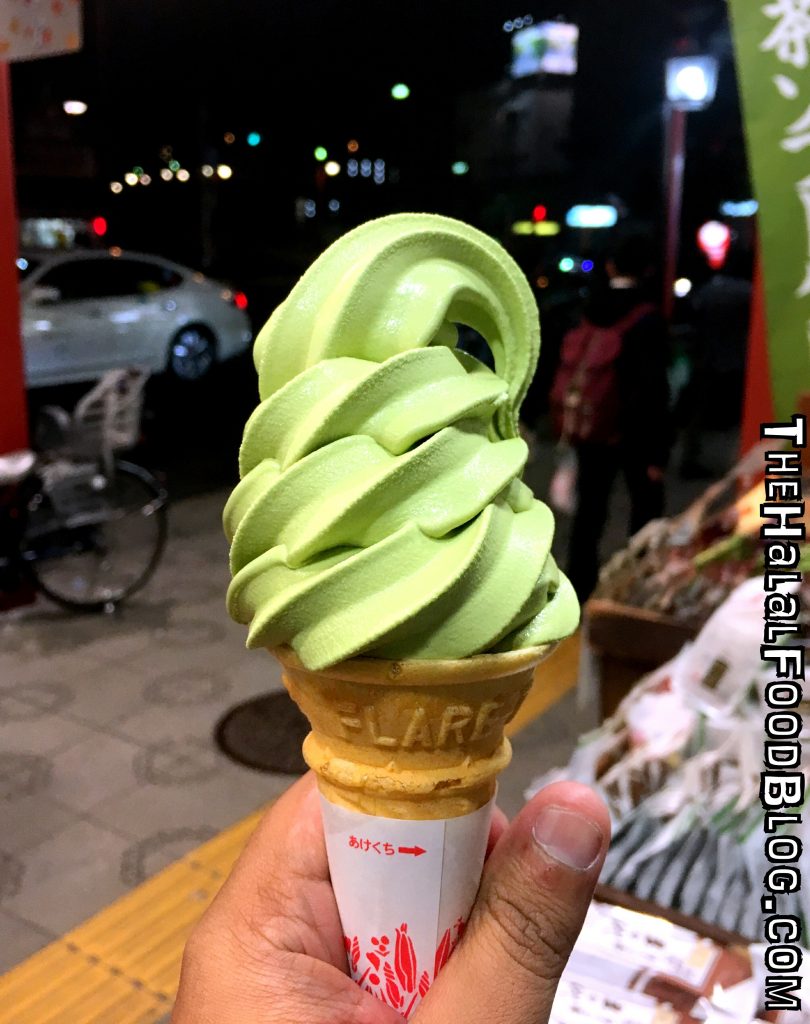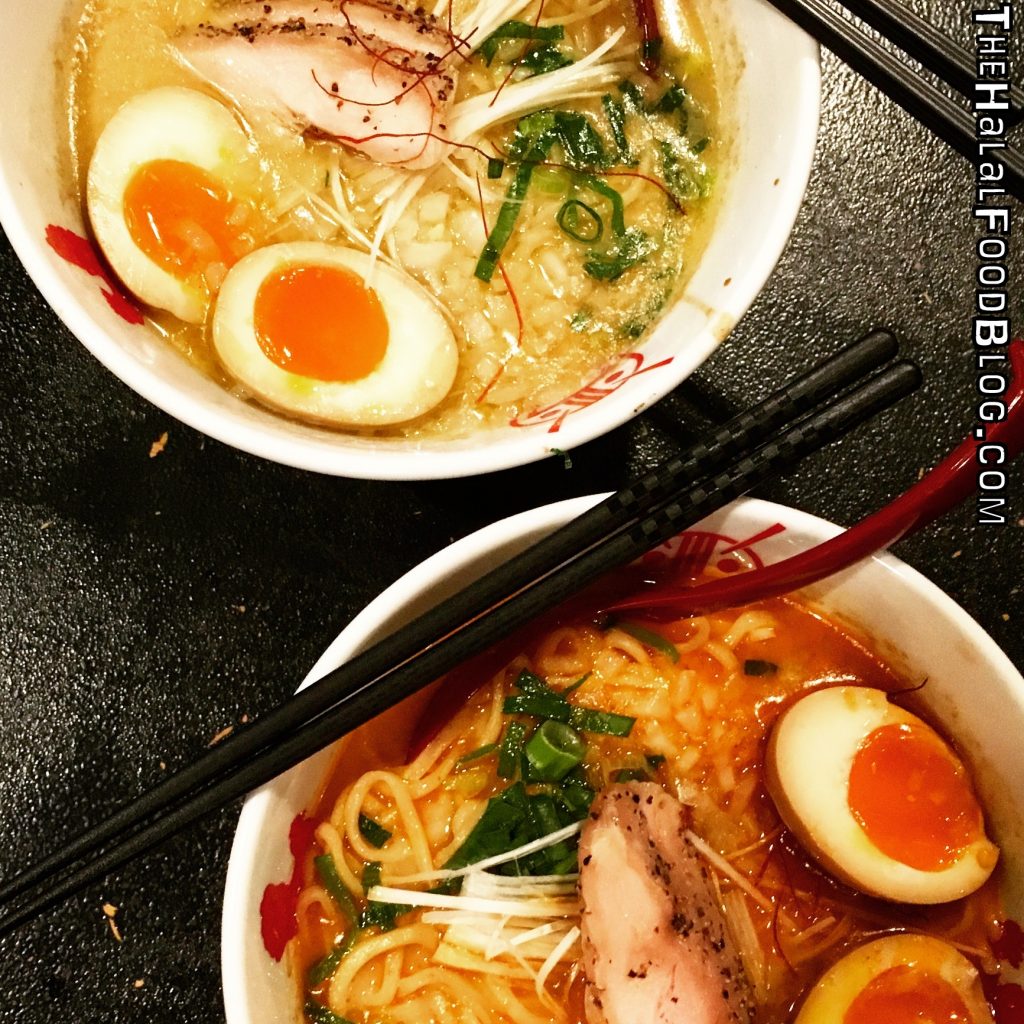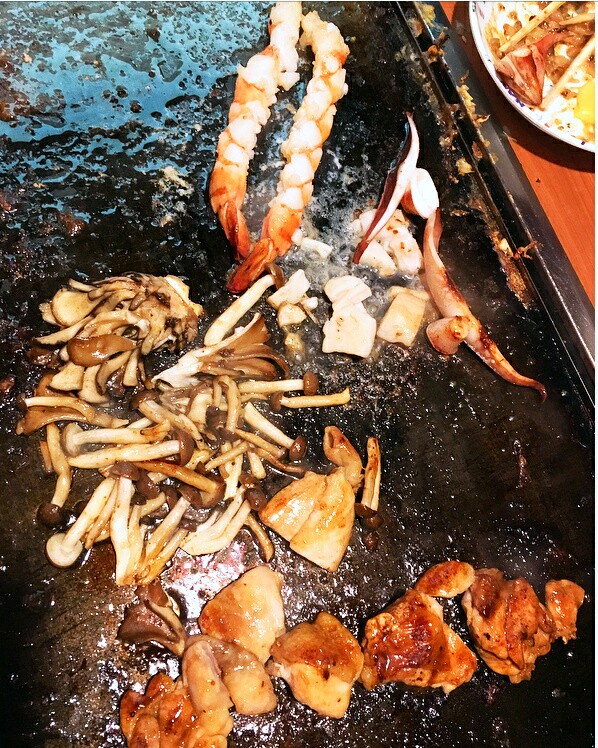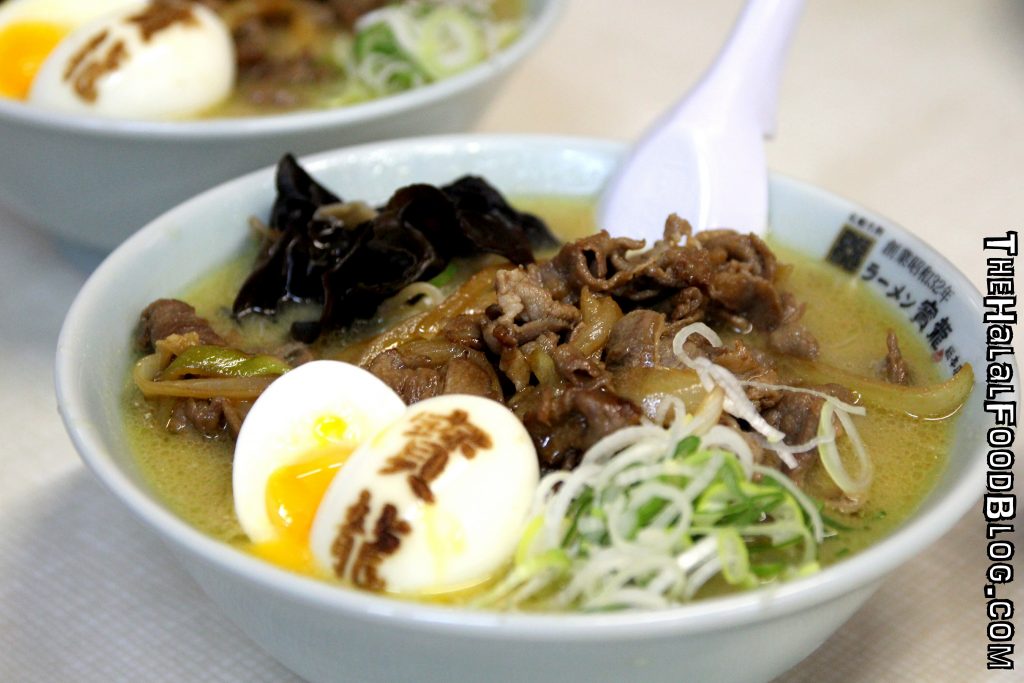 From Ramen to Yakiniku to Sushi to Soft Serve Ice-cream. From places that have been open since the 1950s to new places making a big name for themselves in this age of social media. We tried as much as we could in the short time we were but the truth is – there is still so much more to makan in Japan!
This was literally just the tip of the iceberg!
Quite a majority of the places we visited to makan were recommendations from our beloved readers but you can always find more information online. Besides searching on Facebook and Instagram, we also used the Halal Gourmet app/website by Halal Media Japan (mostly for makan in Tokyo) and for Sapporo, we used the Sapporo Muslim Tourists website. Definitely a great help not just in suggesting makan places but also in finding them because full information including addresses and directions all included! Pair them with the Google Maps app and you can't go wrong!
If you find yourself a bit lost or not sure about a makan place, do not be afraid to ask the staff for an English menu or even if they have a Halal / Muslim-friendly available. The Japanese people are really really nice and they understand that quite a lot of Muslim tourists visit nowadays so they should be able to help.
JAPAN TRIP TIP #8 – JAPANESE INNOVATION
As always, The Halal Food Blog team is #ForeverJakun so it was really interesting to see some of the cool Japanese innovations while we were there! I mean, they really know how to use technology to everyone's advantage!
You've seen the escalator that can handle trolleys (which actually seems like a simple idea but is so genius) but we also saw a 'Transformer Escalator' that goes from escalator to travellator to escalator again! They even sell business shirts, ties and underwear at their 7-11 LOL And of course, the legendary toilets  in Japan will forever be in our memories!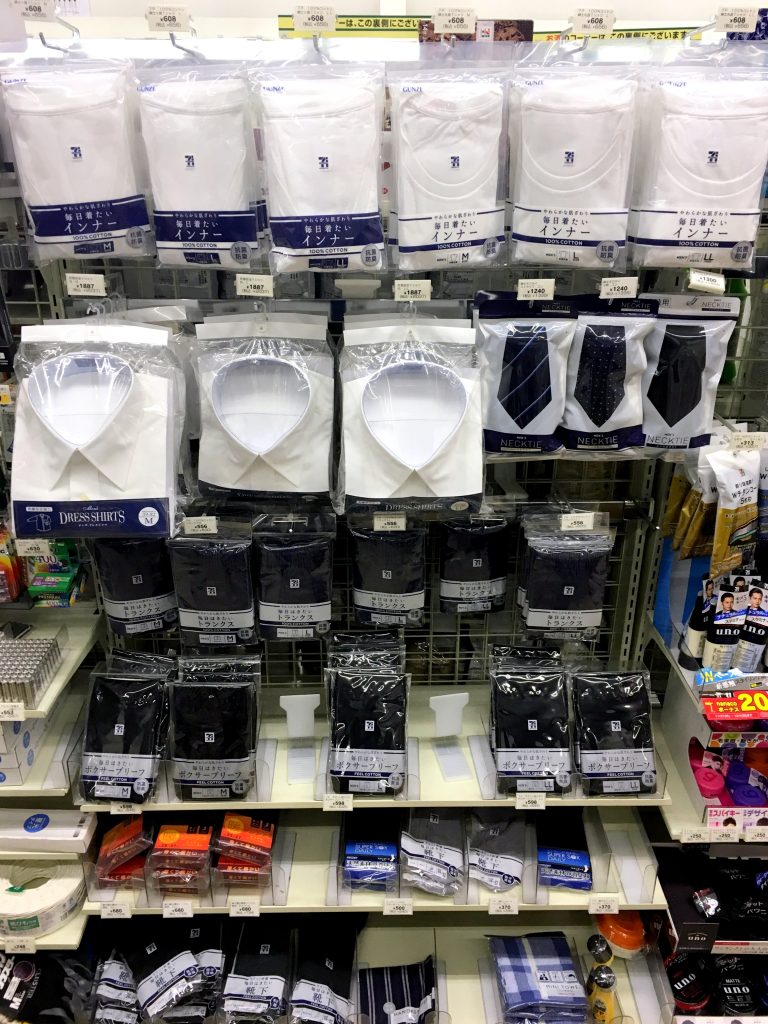 So in awe of the toilets! Even in shopping centres it's super clean! Plus, the bidets are so advanced!
Back also can, front also can! I'm waiting to find one that can brush teeth at once LOL
And since it was winter, the fact that it was warm water was GREATLY appreciated LOL
Even the toilet seat had a warmer!!!
JAPAN TRIP TIP #9 – PLACES WE VISITED
We spent most of our time in Asakusa but we did venture out a bit more. We visited the famous Shibuya Crossing, stopped by Roppongi Hills to get a souvenir from Hard Rock Cafe and definitely made it a point to visit the famous Tsukiji Fish Market!
It was unfortunately a bit of a rainy day when we visited Tsukiji Fish Market but it was definitely an experience to remember. From seeing street vendors cooking food literally along the alley (check out that Scallop sauteed in Butter! Woooooo) and the many sights including the market itself with all sorts of seafood and produce!
We didn't go into the wholesale area and we spent about an hour there before we decided to make a move because the weather was simply too chilly. Not really easy to find Halal food there I guess but plenty of seafood. As always, do ask the vendors about the food before you buy so you know what exactly it is you're buying!
JAPAN TRIP TIP #10 – SAPPORO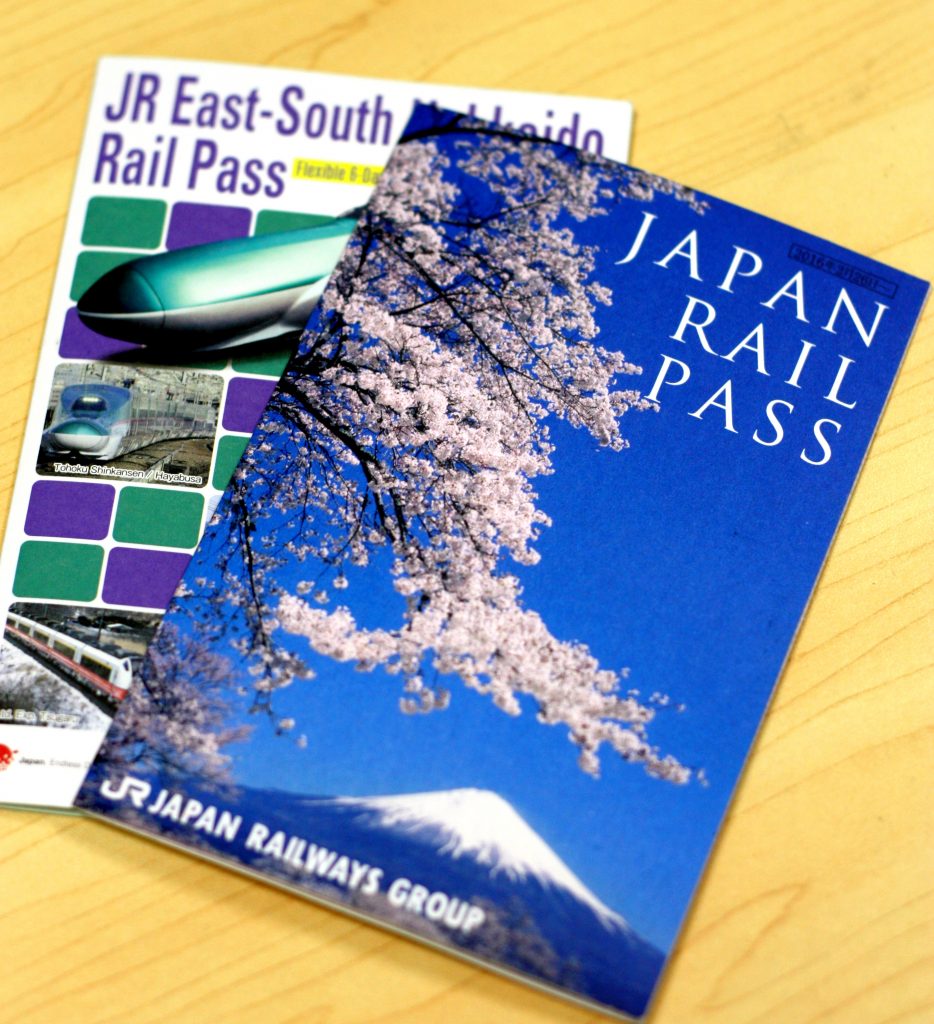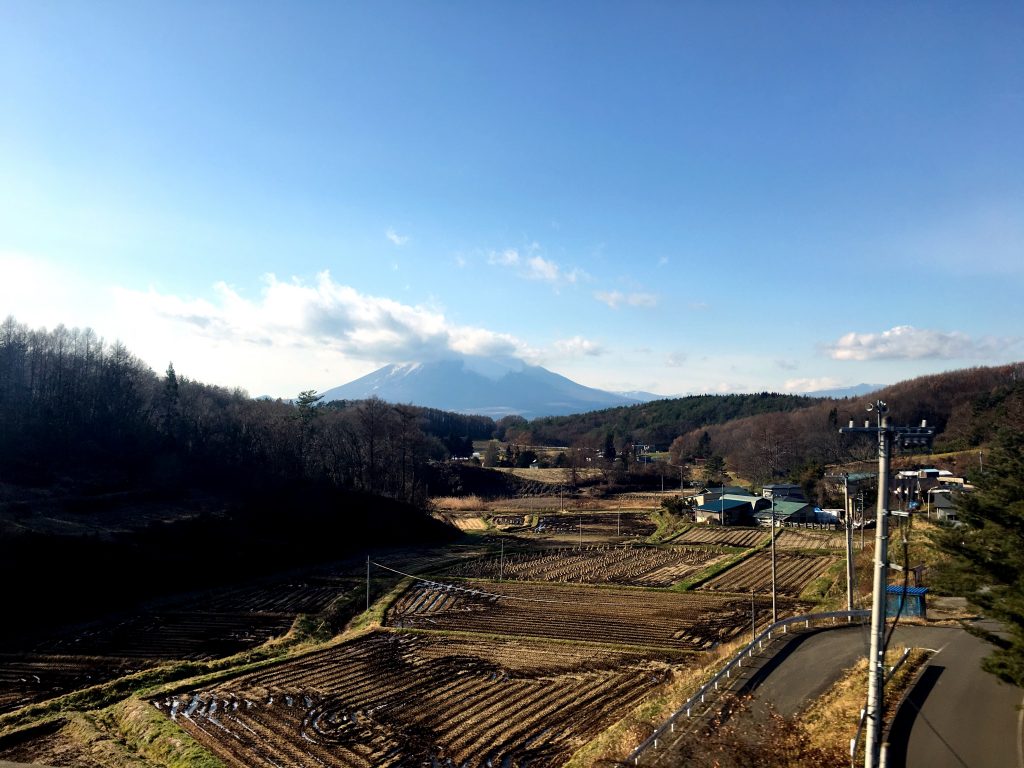 We made our way up to Hokkaido from Tokyo via the Shinkansen Express (aka the Bullet Train). The train journey up is almost 8hrs to Sapporo including a transfer (or 2 depending on your train schedule) along the way. Yeah, a flight up is much cheaper and definitely much faster but it was a really nice experience!
Lots of sights to see along the way plus the trains are really comfortable too. If you're not in a hurry, this is something you might wanna consider trying at least once. You can even plan to make a few stops along the way if time permits!
If you do wanna take the Shinkansen to anywhere, we'd suggest you purchase a Japan Rail Pass from Changi Recommends before your trip. More about Changi Recommends in Tip #10!

And for the first time, everyone in my family got to experience ACTUAL snow LOL
We were lucky enough to be in Tokyo when it snowed for a single solitary day (which apparently was the first itme it had snowed in Tokyo in the month of November for 54 years!) and definitely no mistaking the snow in Sapporo! As you can see, super snowy and windy! And obviously very cold…
One of the main reasons we wanted to visit Hokkaido was to go to one of the many famous Onsen (hot spring baths) in the region! There are plenty to choose from with some as far as a few hours' train ride away but we opted for something a bit closer.
You can catch a bus from Sapporo Station that'll bring you to Jozankei. Head to Platform 12 where you can purchase your tickets and also board the bus. There, you'll find a few different Onsen to choose from and it's relatively easy to make this a day trip. ¥1800 per adult (kids is ¥900) will get you everything you need to make the trip – round-trip bus tickets plus entry into one of the Onsen in Jozankei. The bus ride takes about 45 mins to 1 hour and goes through the city before finally travelling through some pretty scenic countryside.
Once you get off at your stop, find an Onsen you like and prepare to relax!
Oh, and before you proceed to your Onsen experience (which should last you about an hour), be sure to check with the counter staff what time the return bus is expected to arrive. There are several timings so at least you can plan ahead in case you wanna do some sightseeing in Jozankei after you dip in the Onsen.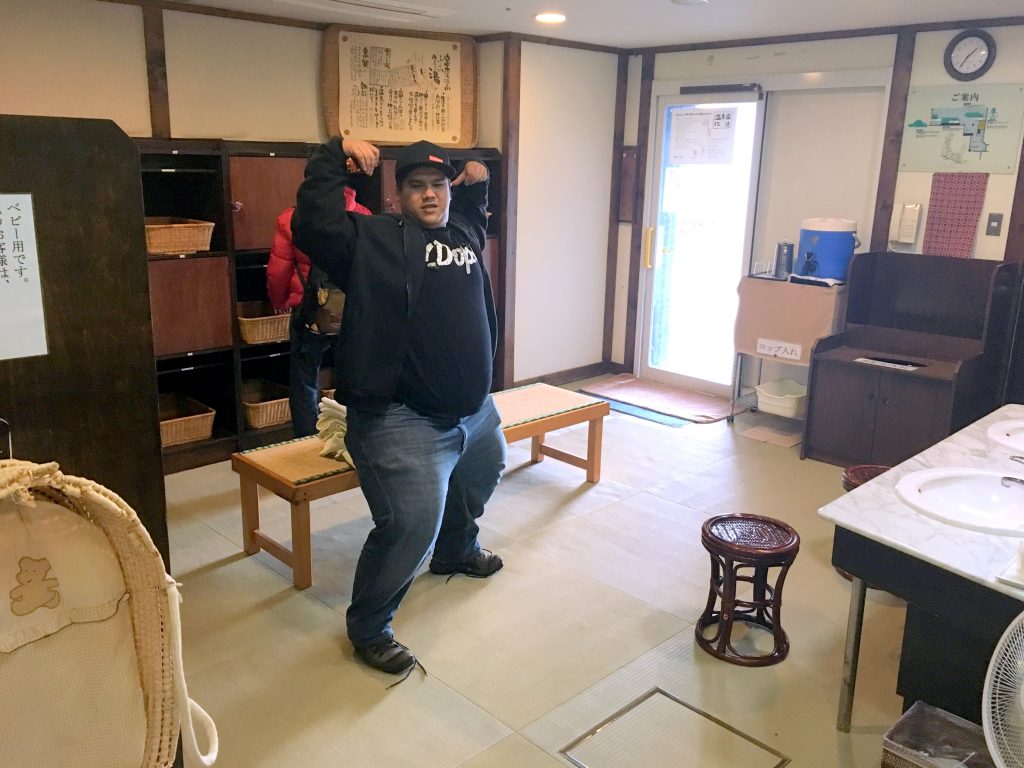 Besides being an obvious place to relax and soak in all that countryside goodness, different Onsen are useful in treating different types of ailments. For example, we went to Jozankei Onsen which was good for joint pains, tensen shoulders, chronic digestive disease and sensitivity to cold among other things. But somewhere like Hoheikyo Onsen would be good for skin problems and the likes so have a read through the information leaflet when you're on the bus okay!
The indoor part is pretty much a pampering parlour with everything you need for a good grooming session. The Onsen itself is really nice but please take note that the water is REALLY hot so take your time and don't go diving in okay! Ladies and gents' Onsen are separate of course.
The video above is just a short view of the indoor onsen and as I was filming that, I was walking around in my birthday suit. Yes, that's right, you have to be completely nude when you enter the Onsen (same applies for both gents and ladies). You can bring in a small towel but that's not quite big enough to cover up.
Anyways, there's also an outdoor onsen but obviously I can't show you photos of that cos we're all in the buff LOL but that's the view while you're relaxing in the Onsen. Super beautiful and super relaxing especially when it's super hot water you're soaking in but it's super cold (and even possibly snowing) around you.
JAPAN TRIP TIP #11 – CHANGI RECOMMENDS
Remember those Japan Rail Passes we mentioned, well you can only buy them from outside of Japan (within Japan is a bit more expensive) and you can get them in Singapore via travel agents but we found them a bit cheaper on Changi Recommends. Just make sure you don't lose the passes!
Changi Recommends is also the place we rented these portable WiFi routers which is prefect for when you're travelling. They have for several countries actually. The ones for Japan go for as cheap as SGD5 per day when there's a promotion going on. You only have to place a SGD1 deposit when you collect it and and pay the rental fee when you're back from your travels. Definitely a MUST but be sure to reserve early to avoid disappointment!
JAPAN TRIP TIP #12 – TRAVELLING WITH KIDS
Besides getting the proper dressing for your kids (especially if travelling during winter), there are definitely other factors to think about.
We invested in something called a 'Bedbox' by Jetkids which turned out to be really useful!
So it acts as small luggage but mostly as something that the kids can sit on (while we pull them along) plus it can actually extend into a make-shift extension bed to a seat like on the airplane or on the train for example.
Super useful on the flight and also the long train ride for when the kiddies wanna take a nap. Seats can pretty crampy/short so this gives them a lot of extra space to stretch out and the won't wake up so grumpy.
You can pull them along probably at the airport but once you get on the streets of Japan, it might be a bit of a challenge. The streets can be pretty bumpy and/or humpy so anything with wheels like this or even luggage can be a bit of a pain.
This also means that strollers will be a big hassle especially if your little one is the type that doesn't really like to sit in the stroller. Maybe a carrier might be a better idea.
JAPAN TRIP BONUS TIP – TOKYO BANANA AND OTHER JAPANESE SNACKS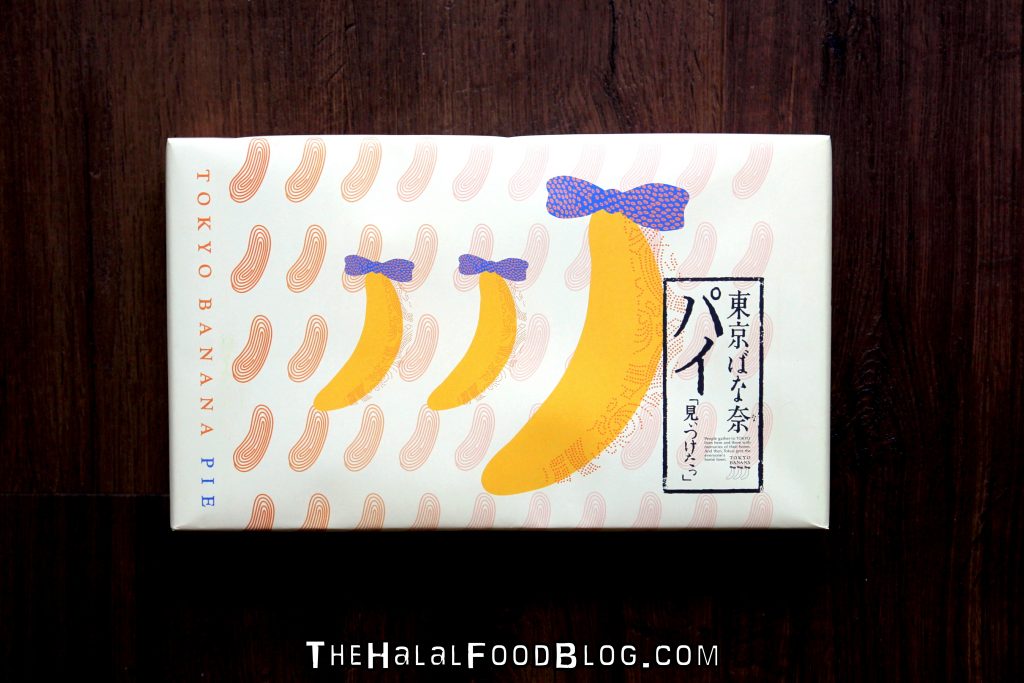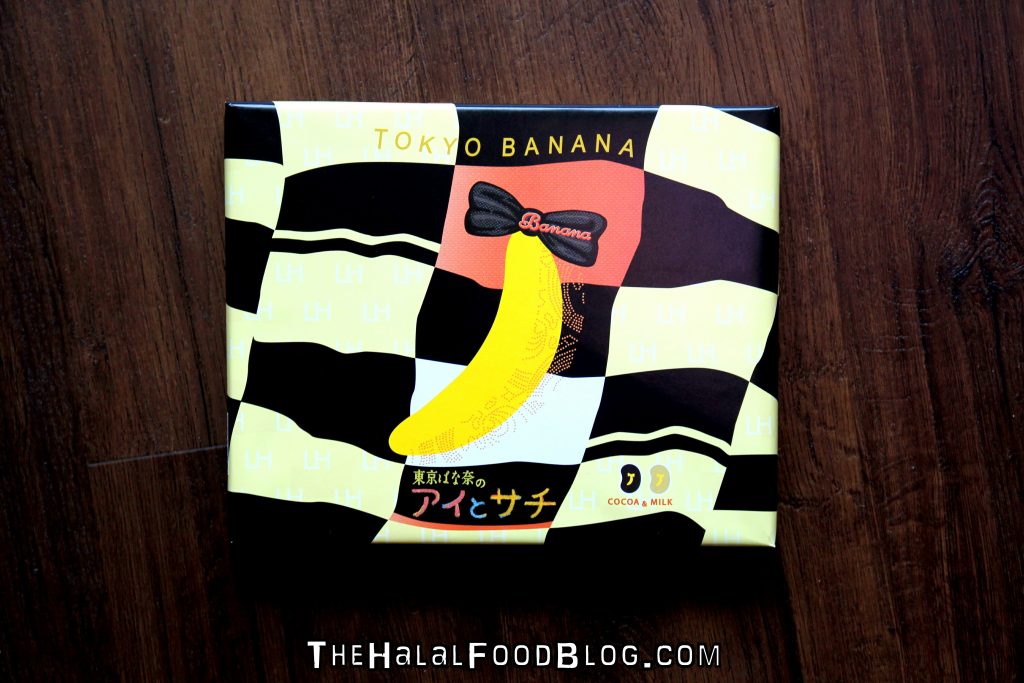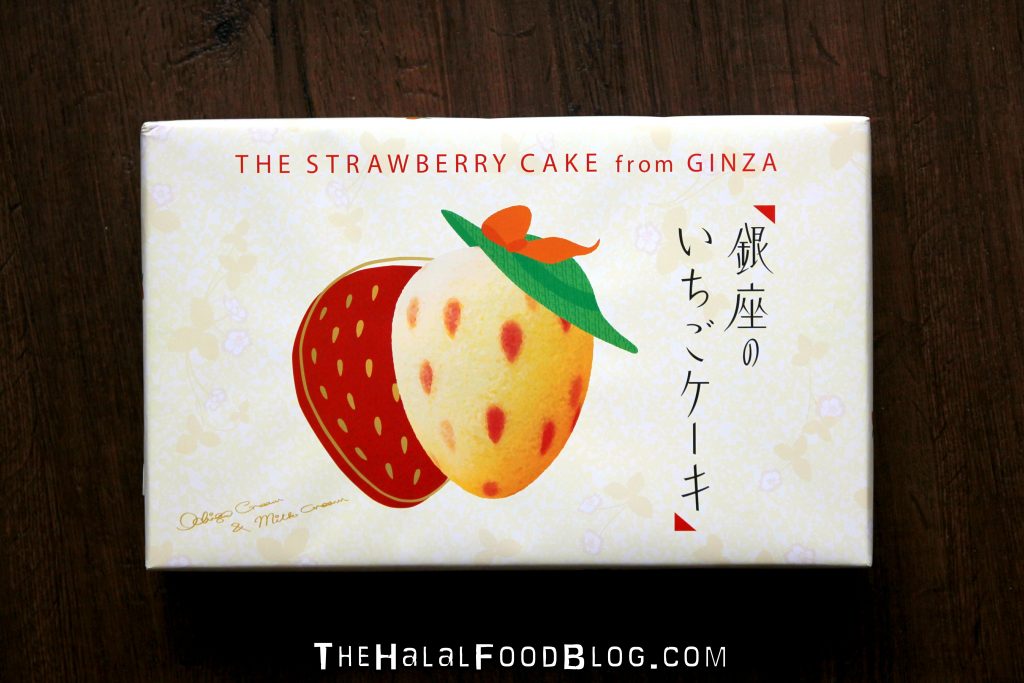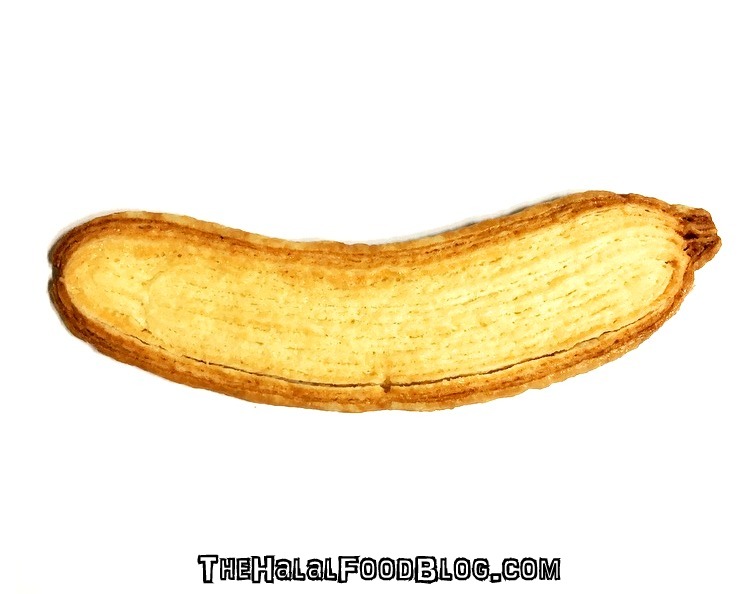 So the iconic original Tokyo Banana cake snack may not be suitable to consume because of the gelatin of bovine origin and the liquor but there are thankfully some alternatives.
You can read all about it in our special post – Is Tokyo Banana Halal?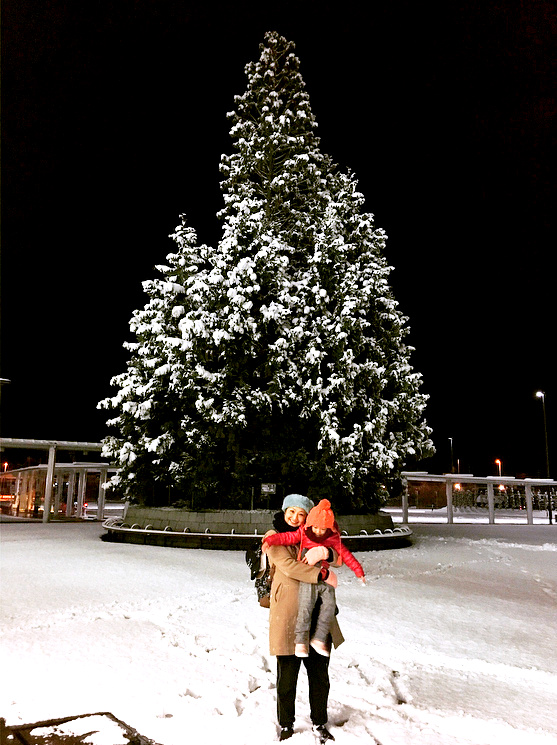 Well, there you have it folks – a little bit of information about our experience in Japan. It was the first time we've been up and Insya Allah we get to go again who knows. There's so much more to see and do! We will definitely be updating more and more as we recall details along the way.
Hope that at least something in this post will be useful to you!
All information (including prices, availability of item on menu and Halal status of establishment) are accurate at the time of posting. All photos used in this site are property of The Halal Food Blog unless stated otherwise.