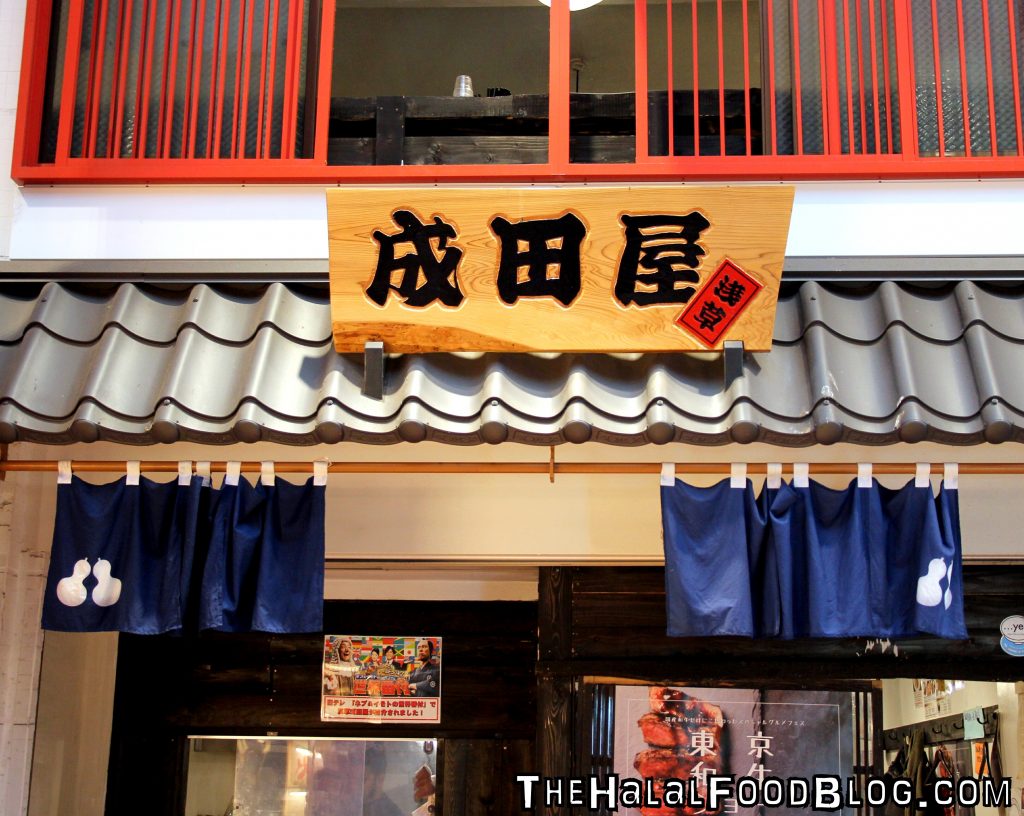 For our maiden trip to Tokyo, we decided to stay relatively close to the Asakusa area. Primarily because the Halal Japan Expo 2016 was being held there but also because quite a number of Halal food makan places could be found in that area.
Now, Asakusa is a pretty big area mind you so be prepared to walk quite a bit. The good thing is that there is plenty to see and experience including a bit of shopping, attractions like the Hanayoshiki Theme Park, sights like the Senso-ji Temple and of course – makan places like Naritaya Halal Ramen.
This is one that was definitely on our list after being recommended by many of our readers!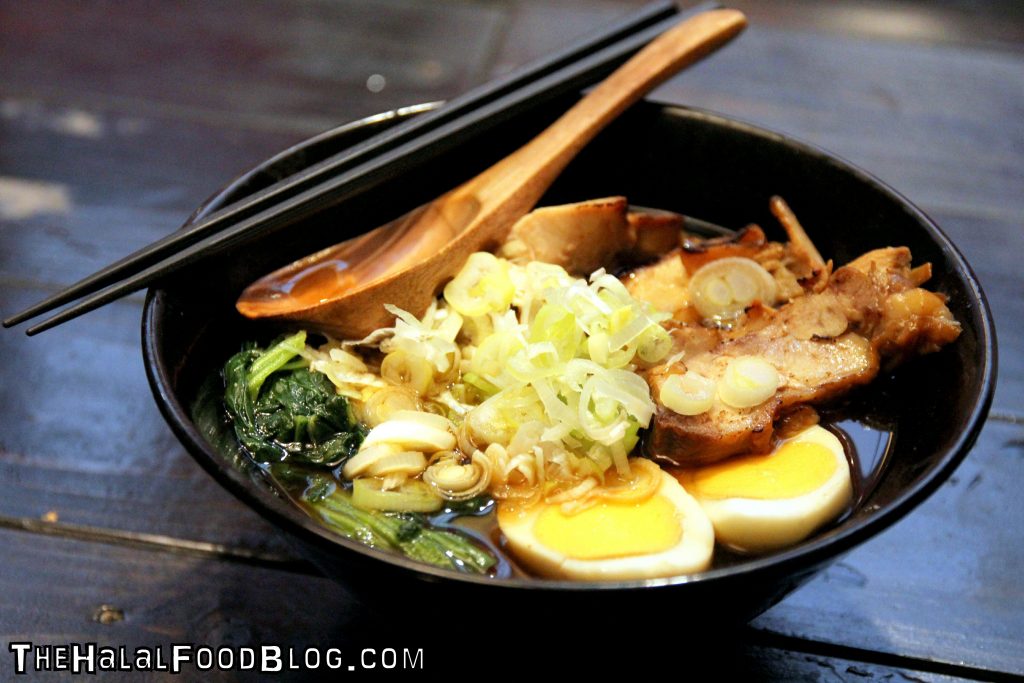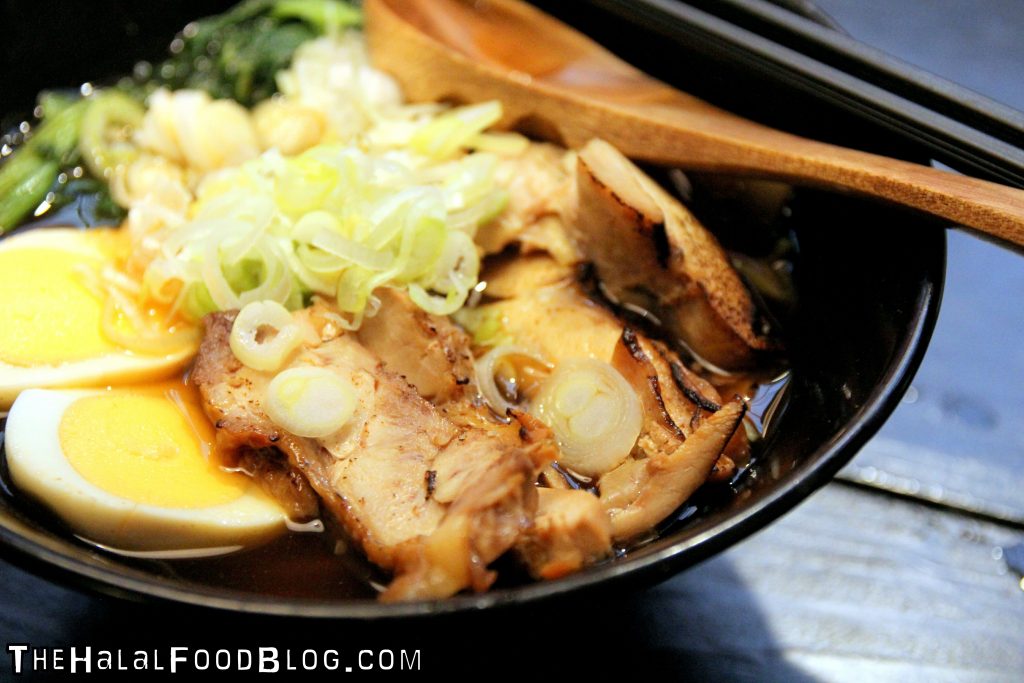 After working up an appetite by exploring a bit of Asakusa in the cold, we finally arrived at our destination and we were definitely ready for some Ramen that's for sure LOL
Naritaya Halal Ramen has 2 levels for diners. Level one is a more like a counter where you can sit down and have a quick bowl of Ramen while the chef literally does his cooking in front of you. Bigger groups are definitely advised to head upstairs to the 2nd level for a bit more space. And watch your head up those stairs (you'll see what we mean when you get there!).
First up was a bowl of their Special Ramen.
They have just simply 'Ramen' on their menu but when you put the word 'Special' in front of something, rest assured that the 'Special' is the one we are gonna try! LOL Oh yeah – the 'Special' will cost you an extra ¥500!
The Special Ramen generally has more stuff including grilled chicken, boiled egg, bamboo shoots (which was a nice touch) and more all bathing with the ramen noodles in a tasty chicken broth. Yes – the broth was tasty but also a little bit on the salty side just FYI!
Definitely a very hearty bowl of Ramen and it's easy to see why a lot of our readers like it so much.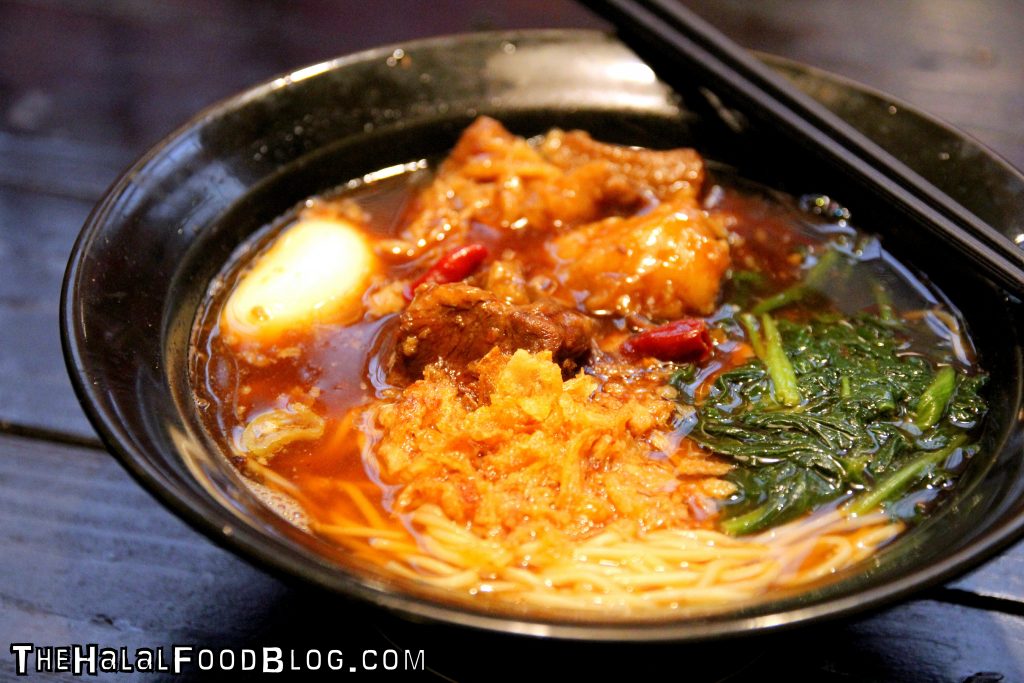 They have quite a bit of variety on the menu at Naritaya Halal Ramen including Mazesoba, some Curry-based Ramen, Hainan Chicken Rice (which seemed SO out of place) and even some Beef/Chicken Rice Bowls (which I had to forego because the rice was still cooking and would take about 30 mins apparently).
Instead, I went with the Gorogoro Beef Ramen which sounded like it was going to be the bomb. I mean come on, how can something called 'Gorogoro' NOT be power right??
Luckily for me, it was right up my alley. A very distinct flavour for this dish thanks to the beefy-herbal broth which reminds me a lot of the Chinese-style herbal flavours my Dad cooks at home for his special Chicken Feet Wanton Noodles. You know, the one with some chillies and the spices like cloves etc and dried mushrooms too?
Definitely meant to have a very bold flavour which I personally find very tasty.
If you love your meat as much as we do, then this one is definitely a good choice for you. Tender chunks of beef have soaked up all that delicious flavour so you'll definitely savour this one.
There's also some boiled egg and veggies in there for good measure.
And speaking of the boiled egg, I do wish it was those 'runny yolk' type of eggs instead. Oh well, guess we'll have to keep scouring Tokyo for that LOL
Here's a shot of the actual ramen noodles by the way.
Firm with a good bite to them and a very hearty portion in each bowl we ordered.
Everyone including the kids can enjoy slurping up their ramen!! LOL
One good thing about Naritaya Halal Ramen is not only do they have a variety on their menu, they also have other stuff like side dishes too which, we found our later on in our trip, is a bit of a rarity at most other Halal Ramen places in Japan.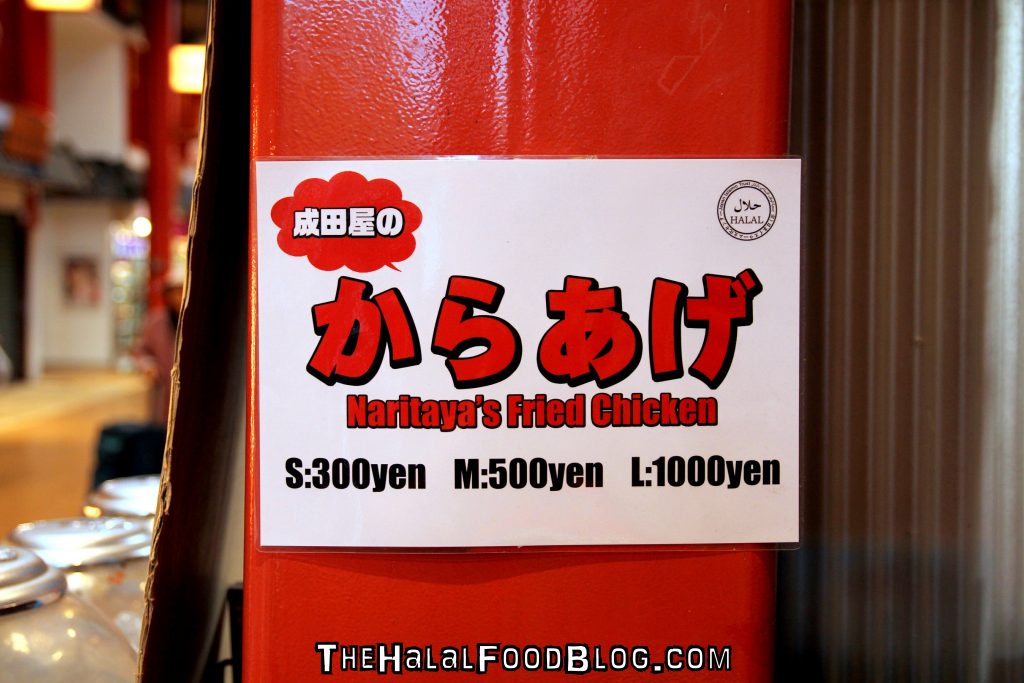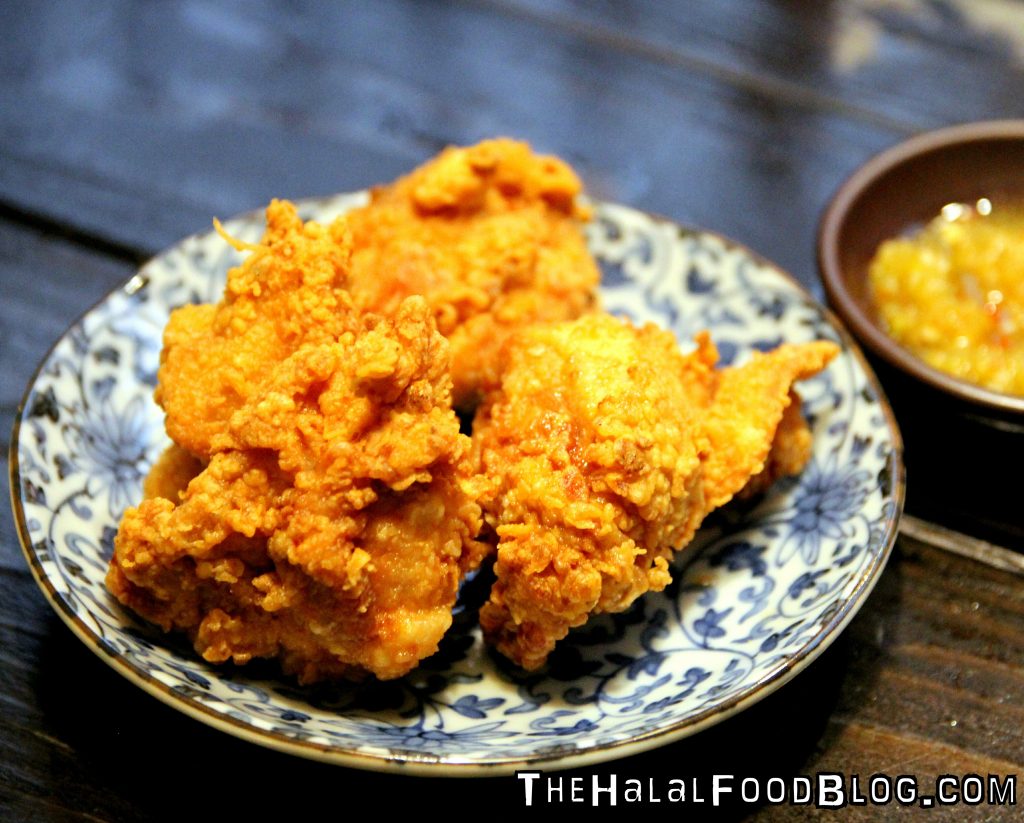 So there's a sign outside the shop that has some Japanese characters and "Naritaya Fried Chicken" on it. Come on guys, you had me at "FRIED".
So this one is apparently very highly recommended and…. WE AGREE!
Crispy breaded fried chicken is always a good thing am I right? Deep fried goodness to go with your nice steaming hot bowl of Ramen = so much win for sure. You can order the small portion (which is what we had) or go for the Medium (¥500) or Large (¥1000) if you're in a big group (or just really greedy LOL)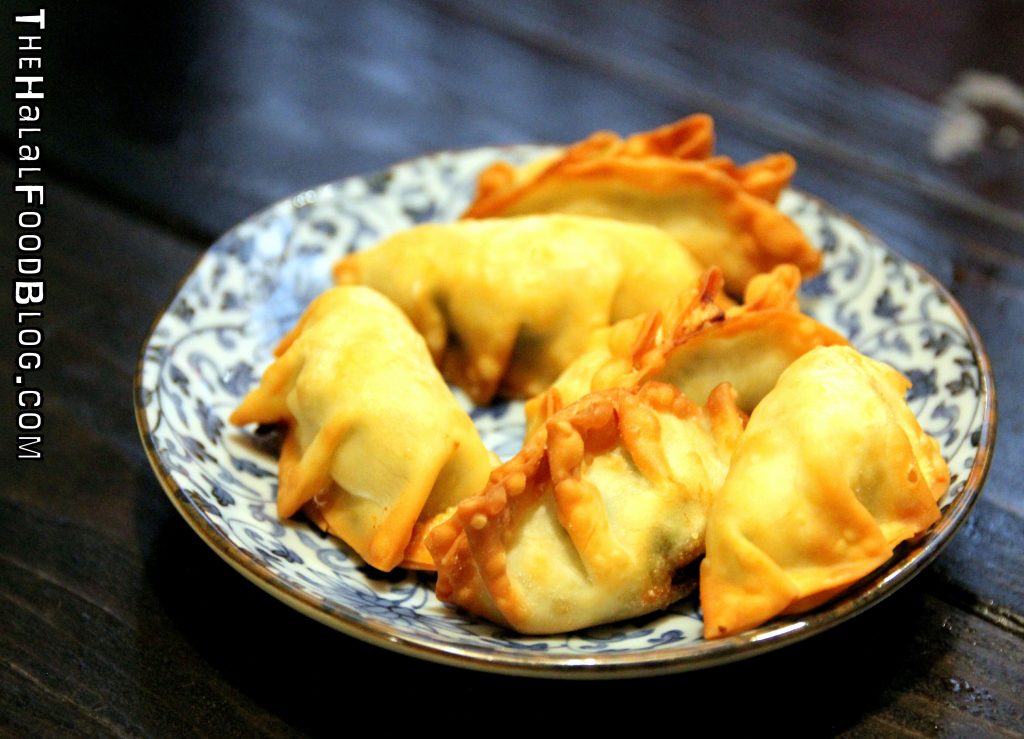 Not sure why the "Fried Dumplings" on the menu shows a photo of something that looks like Popiah but thankfully, Gyoza Dumplings arrived at our table instead of spring rolls LOL
I found the Gyoza a bit bland to be honest. Even with the "spicy" ginger dipping sauce, it was still kind of a letdown. It's a good snack I guess but maybe a more robust-flavoured sauce might do the trick.
It's about a 10 minute walk from Asakusa station to Naritaya Halal Ramen but take a bit of time to see the sights and mix with the locals. Take a rickshaw ride and buy some trinkets as you make your way for an enjoyable experience!
And a big plus is that Naritaya Halal Ramen has a prayer space for you on the 2nd floor! Just remember to let the staff know if you wanna perform your solat first when you order so they don't serve your food til you're done! (Sorry no photo because it was occupied when we wanted to snap a pic!)
We found the Halal Gourmet app/website (by Halal Media Japan) very useful in finding our way around the area (including to Naritaya Halal Ramen) but take please note on the operating hours as they seem to be listed wrongly (we actually made our way there one night and it was closed before the stated timing!)
PS if you're headed to Kyoto, they also have a Naritaya Yakiniku there too!
Asakusa, 2 Chome-2-7-13
Taito, Tokyo, Japan
Nearest station – Asakusa
Tel: +81(0)3-4285-9806
www.naritayajp.com
Facebook: www.facebook.com/NaritayaFellowsM
Operating Hours:
11.00am til 10.00pm Daily
All information (including prices, availability of item on menu and Halal status of establishment) are accurate at the time of posting. All photos used in this site are property of The Halal Food Blog unless stated otherwise.