The burning question on the minds of many is not an easy question to find an answer to!
Is Tokyo Banana Halal?
You know those little banana-shaped snacks that your friends/colleagues might have brought back from their trip to Japan right? These little soft sponge cakes that are filled with banana-flavoured filling? These little snacks are iconic and probably one of the most popular souvenirs to buy back from Japan!
Well, we decided to do a little checking online before our trip to see what information we could find. The only legible and recent posts were to be found on Facebook at the 'Halal in Japan' Facebook page…
Hmmmmm…. so based on the 'Halal in Japan' Facebook page – the iconic Tokyo Banana snack is not Halal nor suitable for Muslim consumption because one of the ingredients was gelatin and it was from a bovine source plus also liquor too. But the good news is that there were a few other snacks under the Tokyo Banana branding that were suitable for our consumption based on the ingredients.
But still, those posts were dated more than a year ago in March 2015… so we decided that it would be best if we asked the people at Tokyo Banana in Japan for a clearer idea.
So at a Tokyo Banana store at Tokyo Station, we managed to find a staff who was kind enough to shed some light on the information and also go through the ingredients listed on some of the Tokyo Banana products there.
It's confirmed that the iconic Tokyo Banana snack has gelatin from a bovine source listed as one of the ingredients. That's a really glaring red flag! But, there were indeed some snacks under the brand that did not have any incriminating ingredients listed. In fact, most of the ingredients were of a vegetable origin which makes us wonder why the original Tokyo Banana also cannot be the same. Besides nothing of animal origin, there was also no alcohol involved.
Anyways, just to be on the safe side, we also used our Google Translate app to double-check what the staff told us. The cool feature of the app is that you can snap a photo of anything in a foreign language and it can be translated! This is one of the labels we translated;
So it seems like the information was legit and based on the ingredients listed, it would seem that some of the products from the Tokyo Banana brand may be suitable for Muslim consumption.
But having said that, it all boils down to the individual. After all, we must be 100% comfortable and accepting that something is suitable for our consumption. There are plenty of us who are comfortable based on information stated in the ingredients list (in fact, Halalfoodhunt.com even has a special class on 'Reading The Labels' too!) but there may be some who don't really accept it 100% which is fine.
As always, it is our own individual responsibility to ascertain and be accepting that something is deemed Halal and suitable for our consumption.
For those who are okay based on the labels, we present the following products from the Tokyo Banana brand that you might want to consider getting as snacks and souvenirs from your next visit to Japan!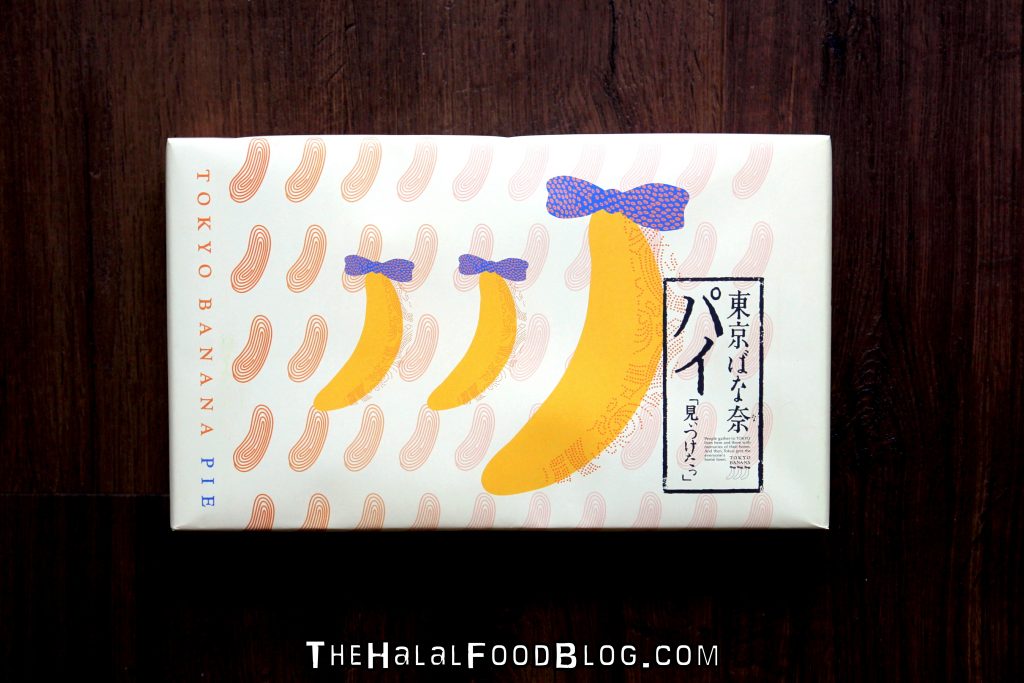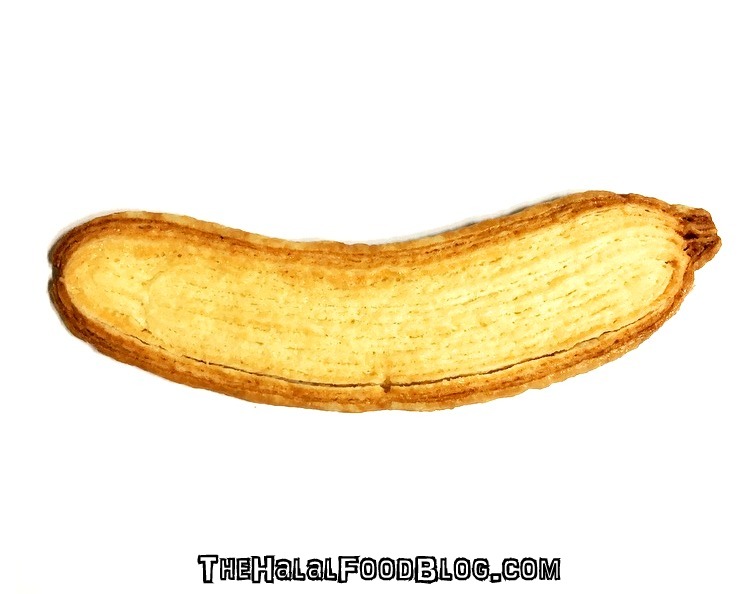 First up is the Tokyo Banana Pie which is probably our favourite our of the 3 types we bought.
The funny thing is that even though it is referred to as a "pie", it's actually more of a cookie!!
So the cookie/biscuit is layered to make the shape of a banana and has a very subtle flavour of butter and banana. Very light and flaky and absolutely delightful with some hot tea! There are about 15 individually wrapped pieces in one box so plenty to go around for sharing!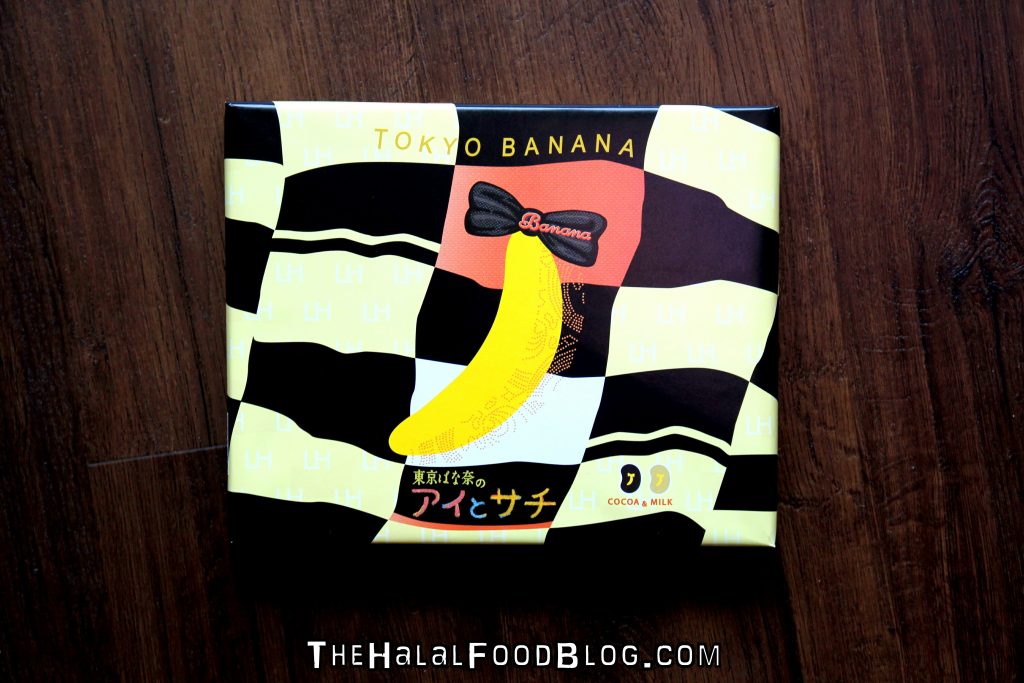 Next up is the Tokyo Banana Ai & Sachi (Milk & Cocoa) Cookies! There's a mix of both Milk (the white ones) and the Cocoa (the brown ones) cookies that have a layer of banana cream in between. The good news is that the banana cream is not cloyingly sweet so you 'tak cepat muak'.
They also have several different packages ranging from 8 pieces for ¥597 to 48 pieces for ¥3086.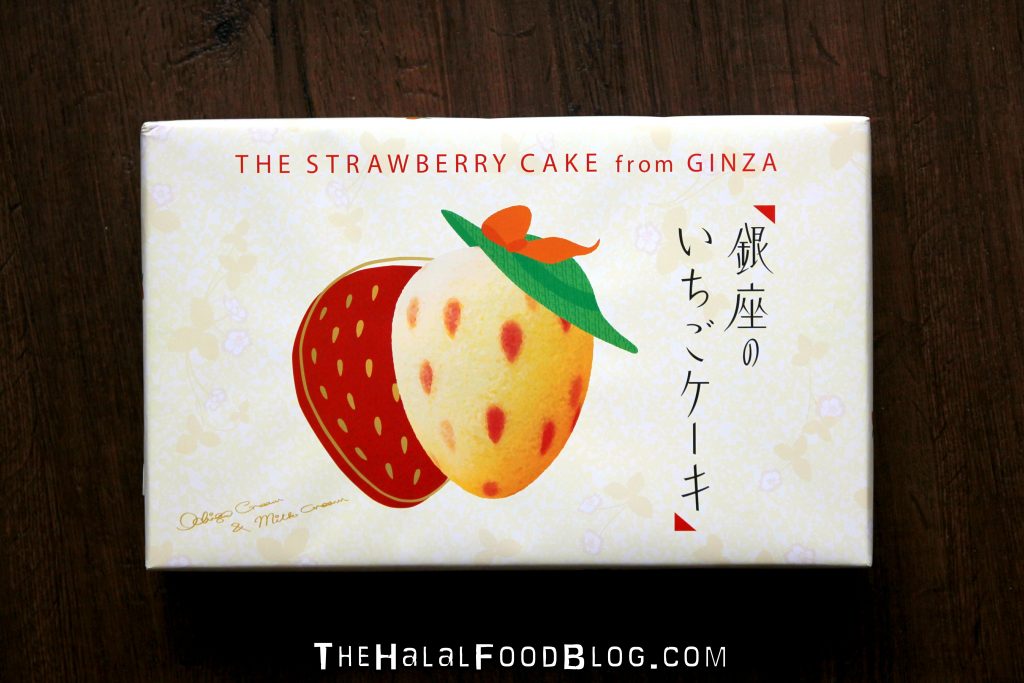 There are also non-banana flavoured snacks too and the Strawberry Cake from Ginza is a good choice for those looking for something a little different.
Unfortunately, I didn't quite fancy it. I'm actually quite a big fan of strawberry-flavoured stuff but this one was overly sweet and it was the type of sweetness that tasted too artificial. But still give it a go for something a little different. There are 8 pieces in a box.
Well, those are the 3 Tokyo Banana products we tried. You can actually view the whole range they have at their website http://www.tokyobanana.jp/language/index.html which also has all their ingredients and prices listed too.
But if you're looking for something that is certified Halal, there are some options too!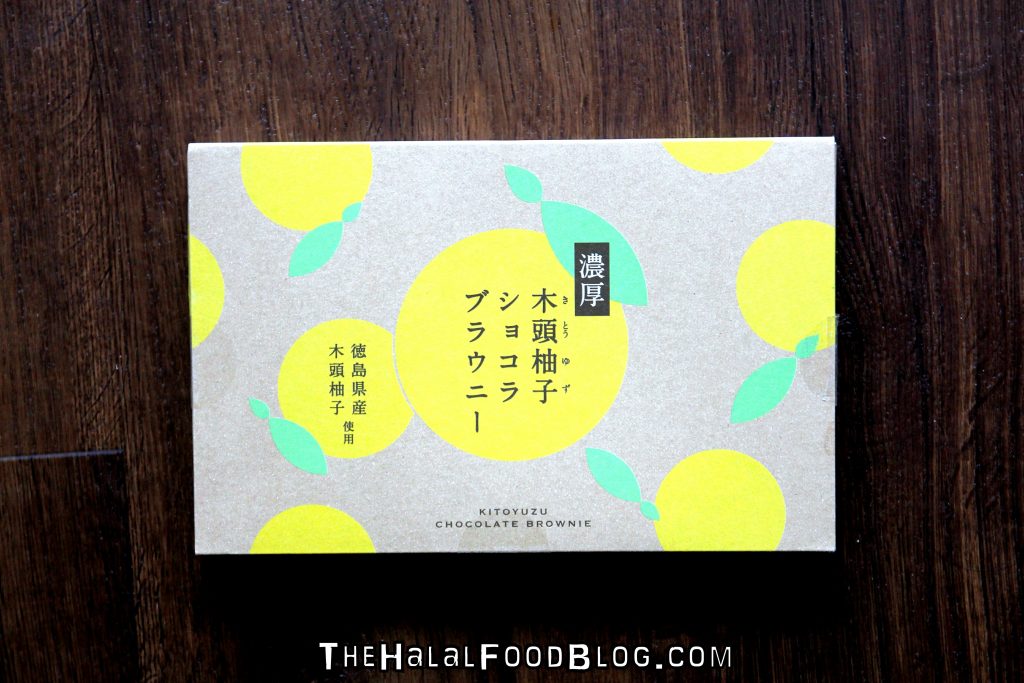 When we visited the Halal Tokyo Expo, we visited a booth that was selling these Yuzu Chocolate Brownies and they were certified Halal! Chocolate brownies with a hint of (and even little bits of) Yuzu give it a unique flavour. Kinda reminds me of orange chocolate thanks to the hints of citrus!
These were apparently available only in Japan and at limited locations.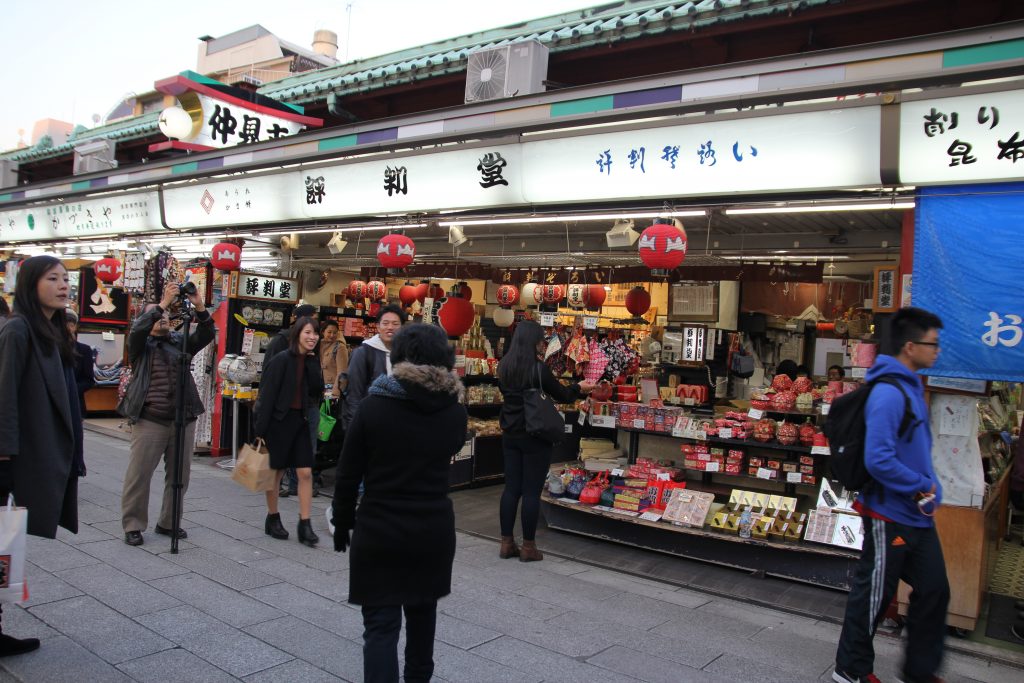 Along the shopping street leading up to the Senso-ji Temple, there's a small shop called Hyobando. It's located exactly at the main entrance near the giant red lantern and it has plenty of snacks that are actually certified Halal!
Most of it actually consists of various brands and types of rice crackers.
In fact, quite a large bulk of the displayed snacks is actually Tokyo Arare Rice Crackers from this brand called Osama Rice Cracker Co and they have quite a few different flavours available including Red Pepper, Wasabi, Seaweed and Matcha
The rice crackers are made in Japan, gluten-free and suitable for vegetarians. Best part  – it's Halal! It's a good choice as a versatile gift if you think about it. Each packet is priced at ¥650 which is about SGD9 per packet.
But here's some extra special news – you can also get these same rice crackers delivered all the way to you in Singapore thanks to Ippin Singapore!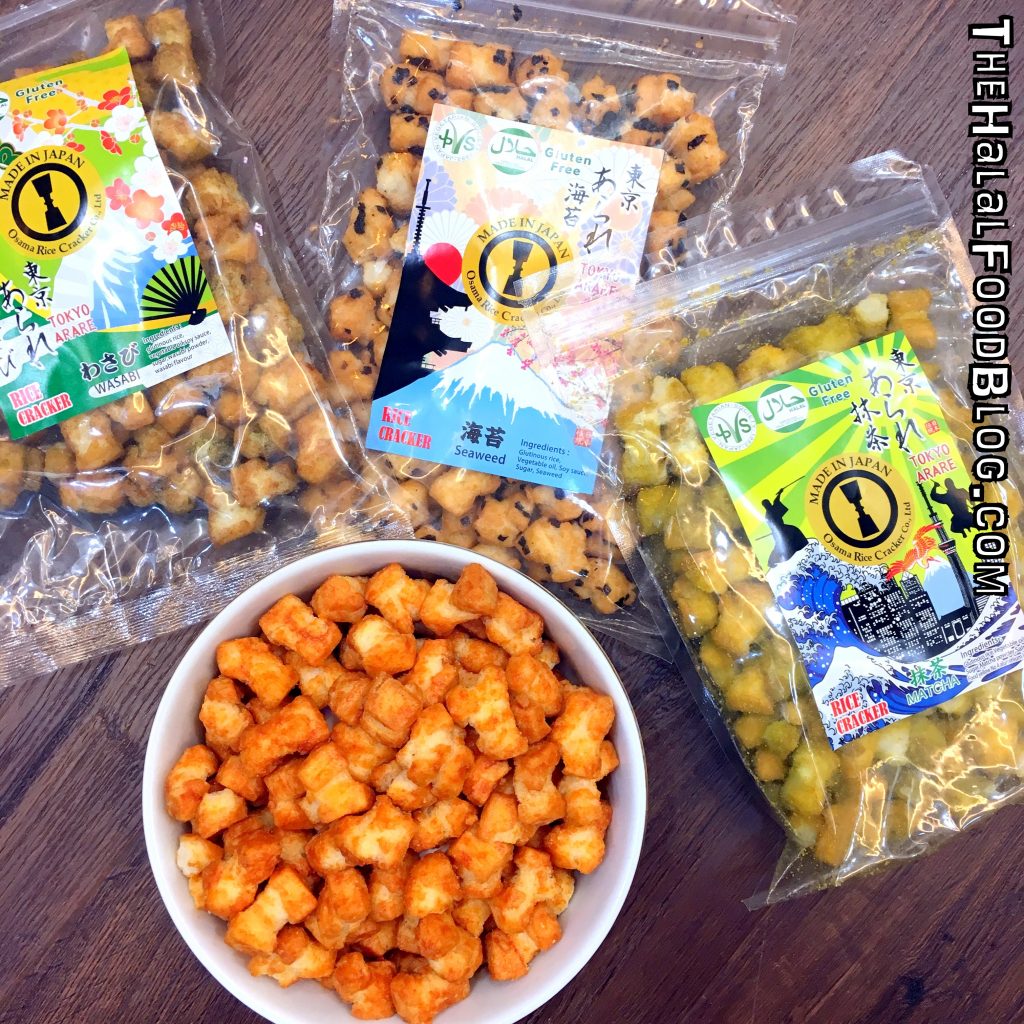 You all remember Ippin Singapore right? This is the website that stocks up on authentic products all the way from the Japan and they ship all the way to Singapore! They even have a whole section (that is steadily growing!) of Halal products too! Just like the time we tried the Ajinatori Halal Ramen!
We're looking at their website now and it's just about SGD9 per packet too! So in case you forgot to buy (which happens a lot!) or bought too little or just decide that it's so sedap and you wanna have more, at least you know that you can get your supply of Tokyo Arare Rice Crackers from Ippin Singapore! Woot woot!
So there you have it – some snacks for your consideration (and enjoyment) that you can get from Japan or even order to be delivered to you in Singapore! And who knows – Insya Allah there might come a day when the iconic Tokyo Banana might be Halal! Here's hoping!
PS enjoy this informative video by Halalfoodhunt.com featuring us!

All information (including prices, availability of item on menu and Halal status of establishment) are accurate at the time of posting. All photos used in this site are property of The Halal Food Blog unless stated otherwise.