We are at the tail-end of our adventure in Japan and with this post, we have finally arrived at the 2nd leg of our journey – Hokkaido! In fact, we're in Sapporo to be exact!
So we made our way up to Sapporo from Tokyo via Shinkansen which is about a 7hr journey or thereabouts (but more about that in a different post coming out soon). Hokkaido is known for their fresh seafood but as much as we wanted to venture out to try it all, we were under a bit of a time crunch so we just made do with what was close to us in Sapporo itself.
One evening, we made our way to a place I'd read about online and seemed like a nice place to have an authentic Japanese meal in Sapporo.
First impression when we arrived at Hokkaiwasho Nakajima, which is actually located within a hotel was definitely a good one. The decor was simple and minimal but you can still see they put a lot of effort into it. Definitely contributed to the whole mood of the meal.
The tables were also spaced out quite nicely and there are these wooden screens all around the restaurant so you have quite a bit of privacy. We visited pretty late in the evening so it was relatively empty but it was still very quiet an peaceful despite a few diners at nearby tables.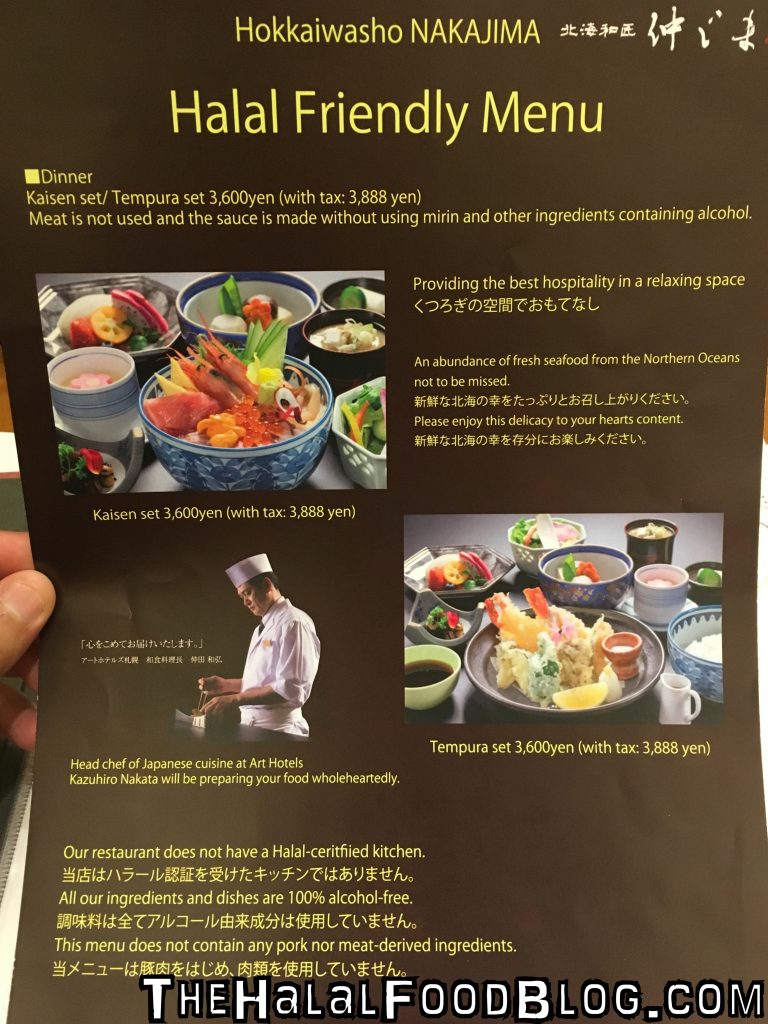 When you visit, let the staff know that you're Muslim and they'll gladly oblige with their Muslim-friendly menu. For dinner, there are 2 different set meals to choose from (sorry, forgot to ask about lunch!) and the menu itself explains the lengths they take to ensure that the food is suitable for Muslim consumption.
This is something we noticed about Hokkaido. Compared to Tokyo, where there is a big drive for Halal tourism and Halal food, it's a bit different here in Hokkaido. But while they do not have such a big and obvious campaign for Halal certification, all the eateries we dined at in Sapporo took special measures to be (at least) Muslim-friendly.
You'll see more examples in our other posts!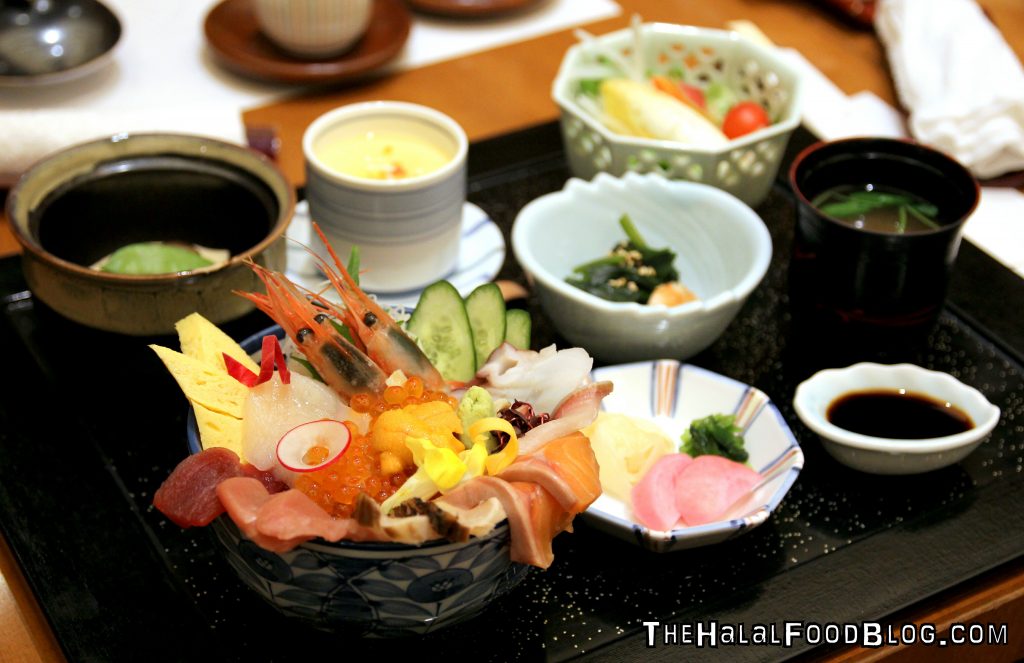 There are 2 options on the Muslim-friendly menu to choose from for dinner – the Kaisen set and the Tempura set. I went with the former not only because it looked good but also because pretty much everyone else ordered the Tempura set.
So the Kaisen set has a very generous array of Sashimi resting upon a bed of rice plus a few other accompaniments which comes with both this and the Tempura set.
I'll be honest and say that this was probably the widest variety of Sashimi I'd ever been served! LOL as much as I might think I've eaten a lot of Sashimi before, it's pretty much been common types like Salmon and the likes. This was definitely a level up for me to say the least. I didn't even recognize some of what was there!
There was some Salmon, various cuts of Tuna and Tuna Belly, Tako (Octopus), Ebi (Shrimp), 2 cuts of Sashimi which I have absolutely no idea what it was and finished off with some Tamago (Egg), Uni (Sea Urchin) and a generous amount of Ikura (Salmon Roe).
Everything was SUPER fresh and although it seems pretty intimidating, lovers of Sashimi should definitely try this. This is actually a very filling serving now that I think about it. The Sashimi itself is plentiful and plus there is also rice there too! Not to mention the accompanying sides too.
This was also interestingly the first time I was trying Uni (Sea Urchin). I'd heard and read so much about it and was super excited to try it at last. But to be honest, I was a but underwhelmed. I mean, it was okay lah but I didn't make my 'OMG so sedap' face when I had it if you know what I mean.
'Kaisen Don' basically translates into 'Sashimi Rice Bowl' and this is probably a prime example of it here at Hokkaiwasho Nakajima.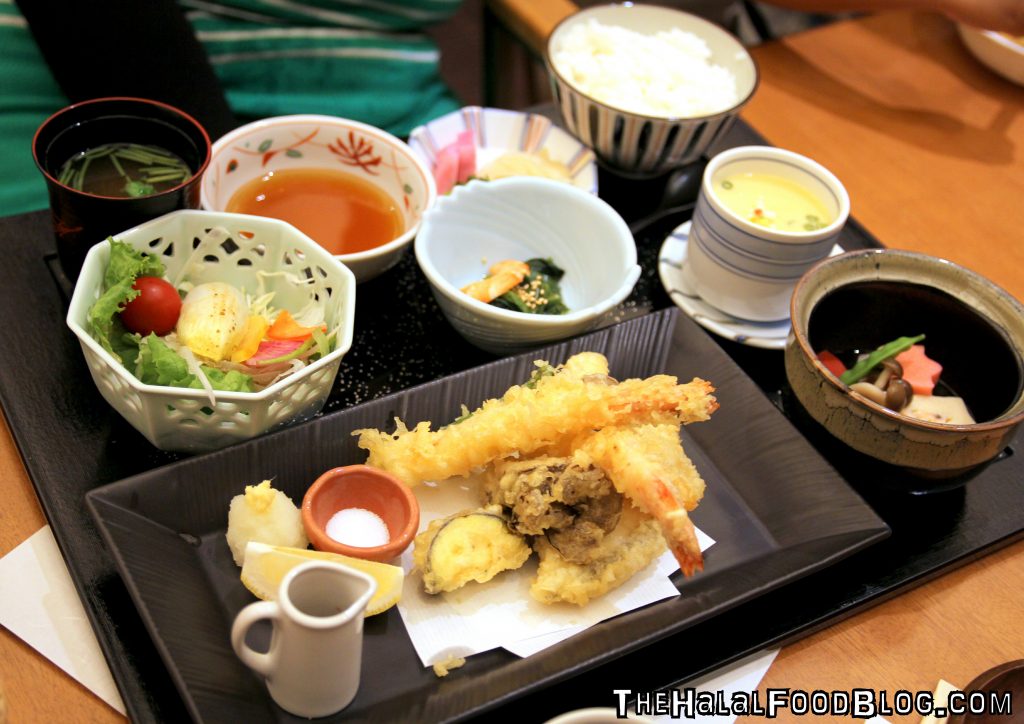 The Tempura set seems like it'd probably be the more popular choice especially since it seems to be the safer choice. After all, you make like Sashimi but if you're not feeling adventurous, fried stuff is always a good idea right LOL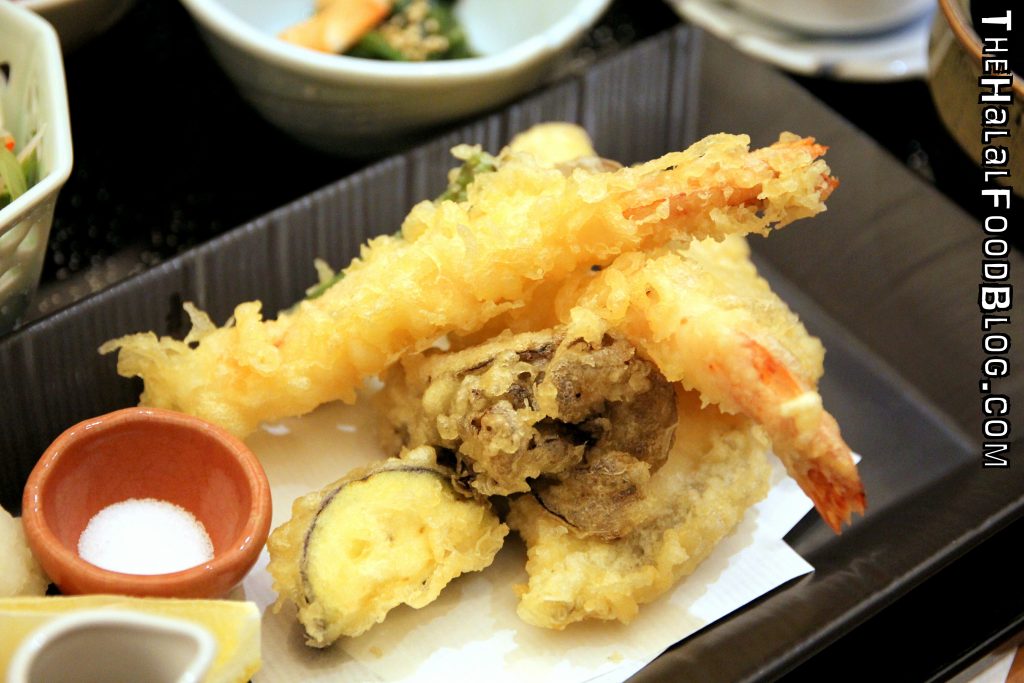 The usual mix of Tempura Moriawase (Assorted) for this set including some Ebi (Prawns) and various vegetables for good measure. All coated in Tempura batter and fried to golden brown perfection.
The prawns were (as expected) very fresh and the batter was a very nice crisp. There is also some rice that comes along to fill you up. Although I wasn't the one having it, it seemed to me like a pretty small serving of the actual Tempura.
Something I found interesting was that besides the Tempura dip, there was also some salt and a wedge of lemon too. Definitely something I'd not seen before with Tempura (#AlwaysJakun) actually. But anyways, everyone stuck with the traditional Tempura dip.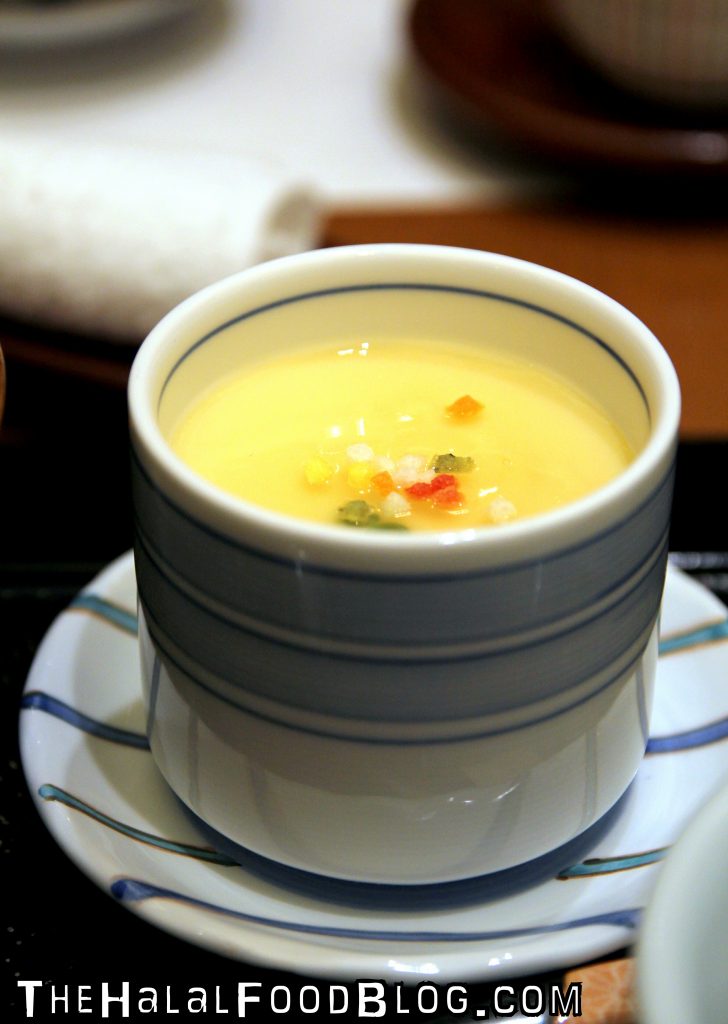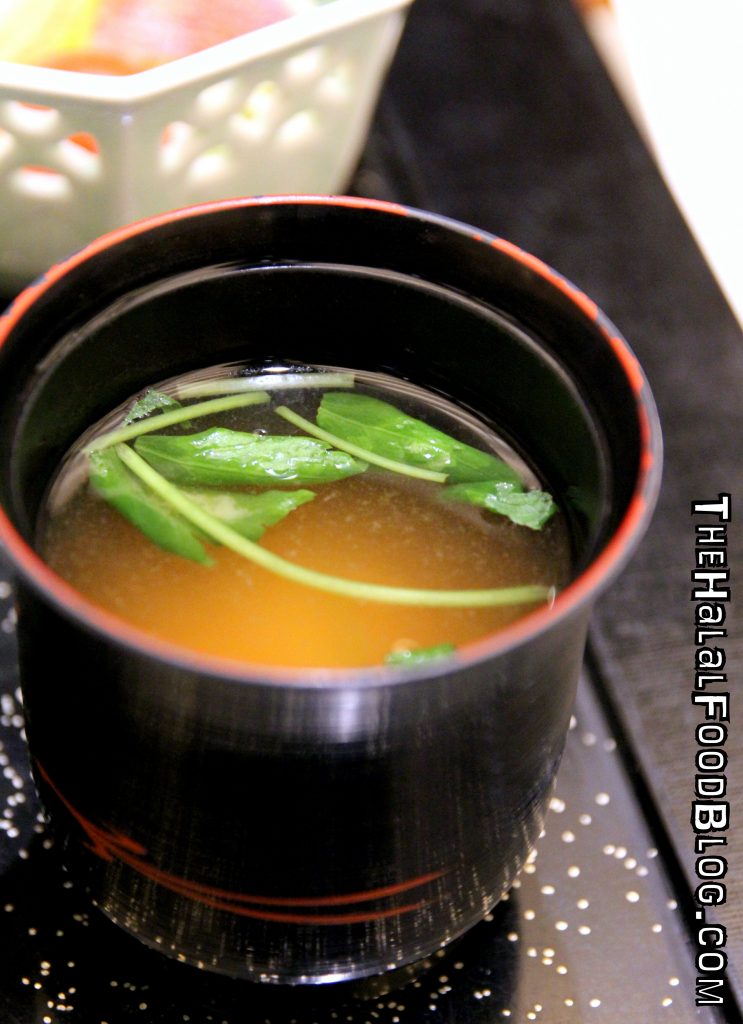 As part of the set(s), you also get some other side dishes to go along. Some classics will always be some Miso Soup and the all-time favourite (for most) – Chawanmushi.
The Miso Soup was pretty standard to say the least. But the Chawanmushi was really good! In fact, so far all of the Chawanmushi that we have enjoyed in Japan (both Tokyo and Hokkaido) were really superb. Silky, smooth, sedap.
Rounding off the set meals are an assortment of salads and pickled vegetables. Some of it you might like and some of it might take a bit of getting used to to be perfectly honest. In the end, these make the set meals even more filling and a nice way to round up your meal.
And don't forget to enjoy your Green Tea 🙂
Overall, pay Hokkaiwasho Nakajima a visit as a bit of a treat. Dinner sets at ¥3600 (SGD47.00) are actually really worth it and that also means the slightly cheaper Lunch sets should definitely be worth a try too! The restaurant is lovely, the food is good and the staff are top notch!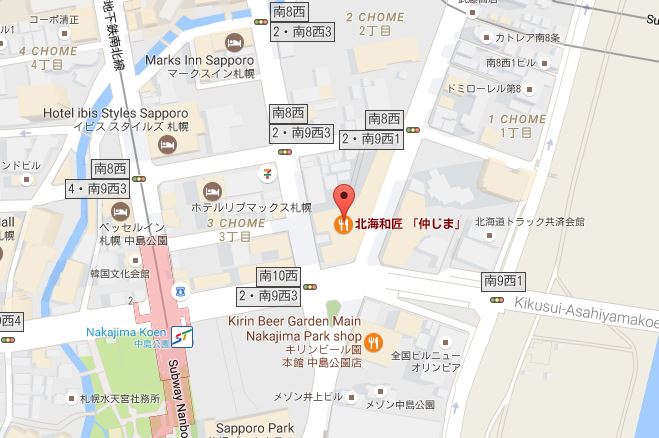 Hokkaiwasho Nakajima is located at HOTEL MYSTAYS PREMIER Sapporo Park. Please don't confuse this with the similar sounding Hotel Mystays Nakajima Park which is located quite a bit of a distance away. The nearest station is the Nakajima Koen station on the Nanoboku Subway Line and it's a 2 minute walk from there.
We found Hokkaiwasho Nakajima on the 'Sapporo Information for Muslim Tourists' website!
They are also on the Halal Gourmet website/app by Halal Media Japan!
2F, Minami 9-jo Nishi
2-chome 2-10, Chuo-ku, Sapporo-shi, Hokkaido, Japan
Nearest Station: Nakajima Koen (Nanoboku Subway Line)
Tel: +81-11-512-3456
Operating Hours:
11:30am – 3:00pm (Lunch)
5:00pm -10:00pm (Dinner)
Open Daily
All information (including prices, availability of item on menu and Halal status of establishment) are accurate at the time of posting. All photos used in this site are property of The Halal Food Blog unless stated otherwise.