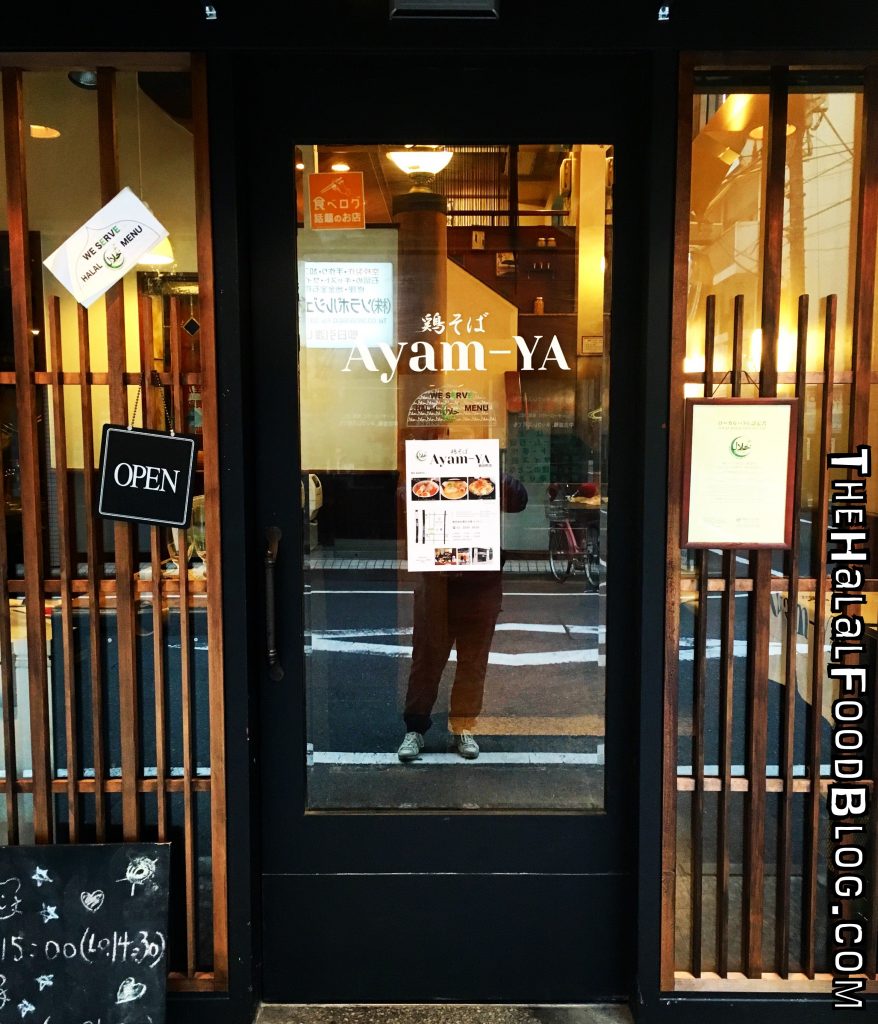 Ayam-YA was undoubtedly the #1 most mentioned Halal makan place in Tokyo when we asked our readers to give us suggestions. With so many recommending it, there must surely be something special about this place right?
It's in a a pretty quaint neighbourhood with a park/playground in the back plus Masjid Assalaam is very nearby (about a minute away) so I guess it's obvious why this place was popular. But still, the food has got to be good too right!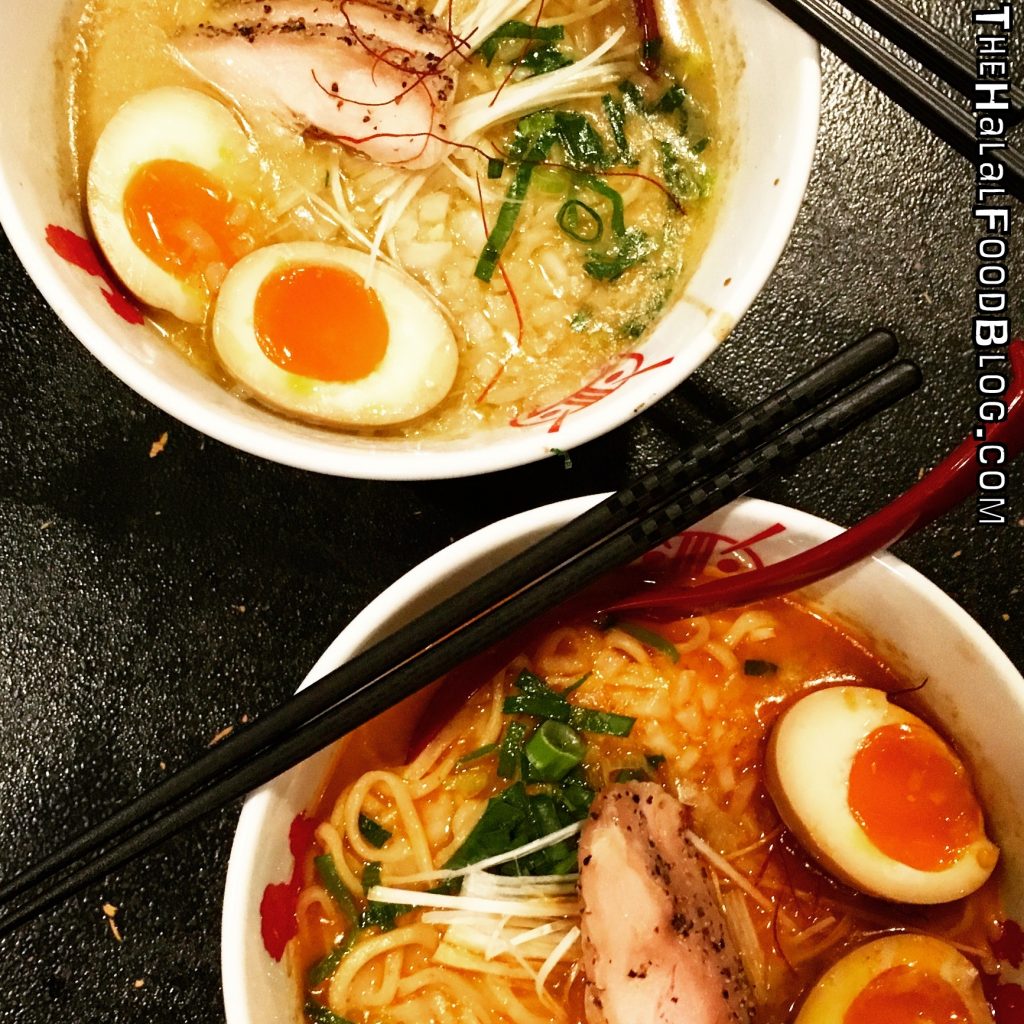 So here's the thing. Ayam-YA specializes in ONE thing – Ramen.
Their (rather limited) menu has about 12 dishes in total and 10 of them are Ramen or Ramen variations.
There are no side dishes. At all. It's just pretty much Ramen only!
With that being said, the first thought that came to mind is "since this place sells like pretty much ONE thing – that ONE thing better be good!" am I right or am I right? LOL
Well, we have faith in our readers!!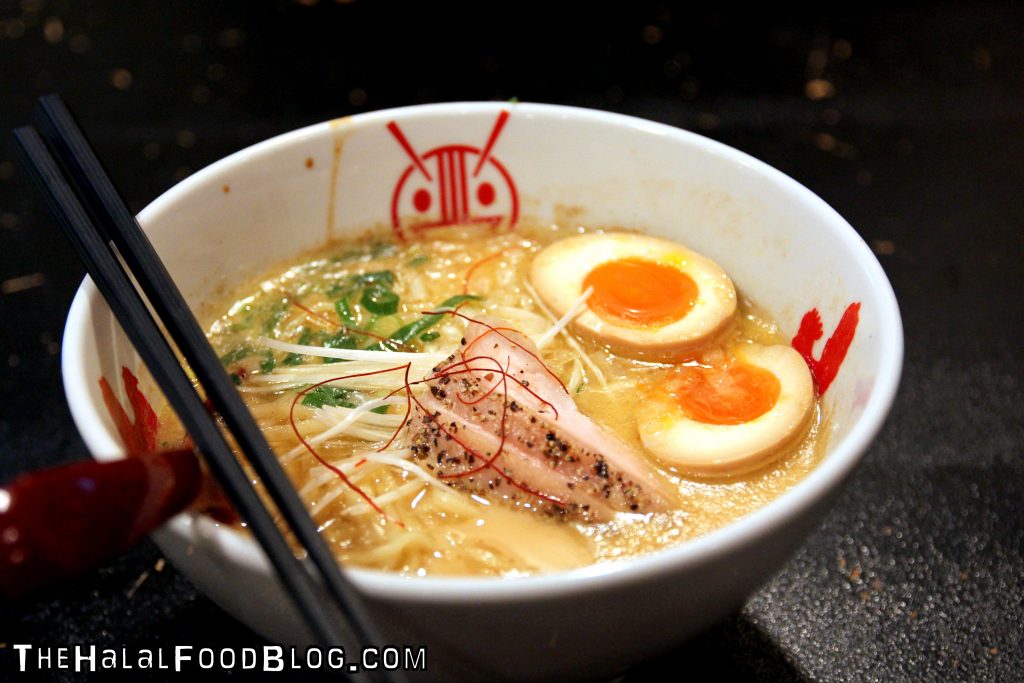 So apparently all the Ramen in Ayam-YA is paired with a chicken-based broth (like DUH it's called AYAM-YA for a reason right LOL) and the most basic Ramen there is the Tori Ramen, which translates in to 'Bird (aka Chicken) Ramen.
For a few of the Ramen dishes on the menu, you can choose either a 'Shoyu' (Soy Sauce) or 'Shio' (Salt) version by the way. We had both but to be honest we couldn't really tell the difference because both sedap LOL
I had the Noko Tori Ramen Shio. Apparently the 'Noko' Ramen dishes have an "extra rich" stock so consider it the ultimate flavour bomb. I guess they put more ingredients and care into this special broth which is why it is limited to only 20 bowls a day (or so they say on the menu).
Definitely a very flavourful broth and I slurped up all that Ramen in a flash!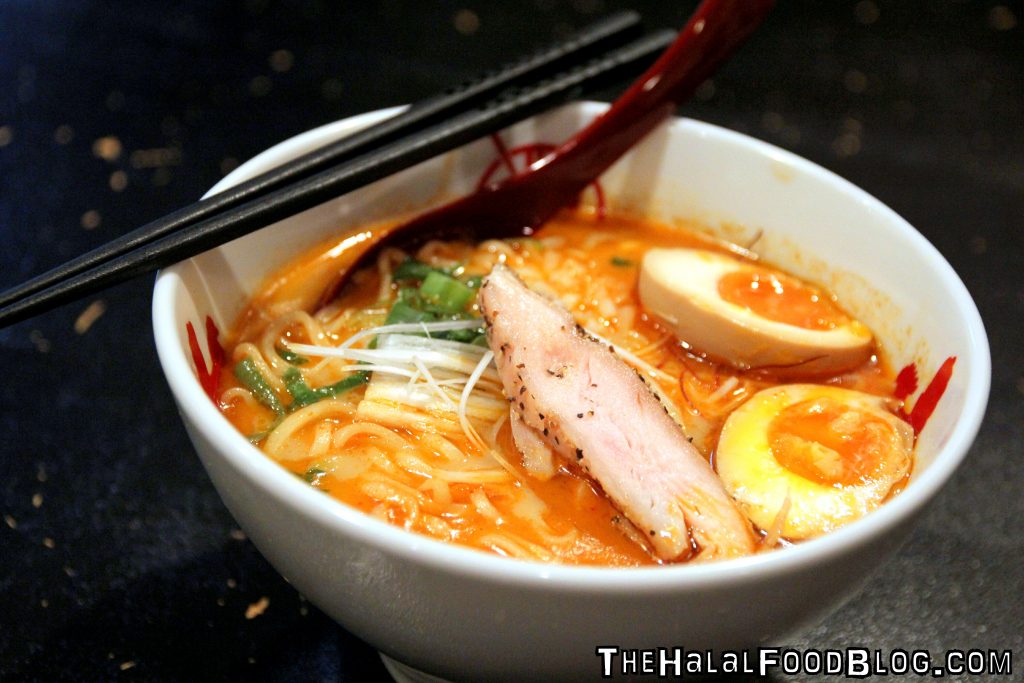 We also had the Spicy Tori Ramen Shoyu which is the spicy version on the menu.
It definitely had a spicy flavour profile to it but it's not gonna burn your mouth off lah if that's what you're thinking. This is despite its more fiery appearance compared to it non-spicy versions of course. But if you're looking to "spice up your life" (as the Spice Girls would say) then you can always add some of the available condiments including chili powder too.
So you'll get some strips of smoked chicken with your Ramen. It's seasoned simply with salt and black pepper and to be honest it's only like 2 small strips probably because they expect you to enjoy the chicken flavour of your broth more. If you're feeling peckish (pun intended) then you could always ask for more but for a small fee of course.
They were generally okay as far as Smoked Chicken goes but Mum did find the smell a bit unbearable after awhile so if you're not partial to the smell of Smoked Chicken and the likes, be warned!
Something that does not automatically come with the Ramen though is the 'Seasoned Soft-Boiled Egg' which, if you ask me, is a MUST and should be automatic with most bowls of noodles. But alas this is not the case at Ayam-YA and you must fork out ¥100 if you'd like a Seasoned Soft-Boiled Egg. But it's SO worth it 😛
So the Ramen noodles themselves are of the thinner variety as you can see.
I'd liken the thickeness to just about Maggi-standard but definitely firmer which means a better bite. Perfect for slurping down with that absolutely delicious Ayam-YA broth of course.
But you'll see in awhile that those noodles are not the only ones you can enjoy at Ayam-Ya.
As for the differences between the 'normal' broth and the 'Noko' broth, check out those comparison pics above. Okay so maybe it's not the best to compare the Spicy version (better would have been the Normal Tori Ramen) but you can just roughly see that the 'Noko' is a bit more cloudy. And more cloudy = more flavour. Right?
Anyways, on the menu you'll be able to read that it takes hours to cook their broth which includes collagen from the chicken bones (among other chicken parts). There's even a bold statement that claims that the "Noko" broth takes a whole chicken to produce the rich flavours!
Well, besides the Noko broth, the other Ramen dish which has a capped amount (limited to only 10 bowls a day!) is the Tori Potage Ramen which has potatoes thrown into the mix as well. The Tori Potage Ramen is also the most expensive dish on the menu at ¥950!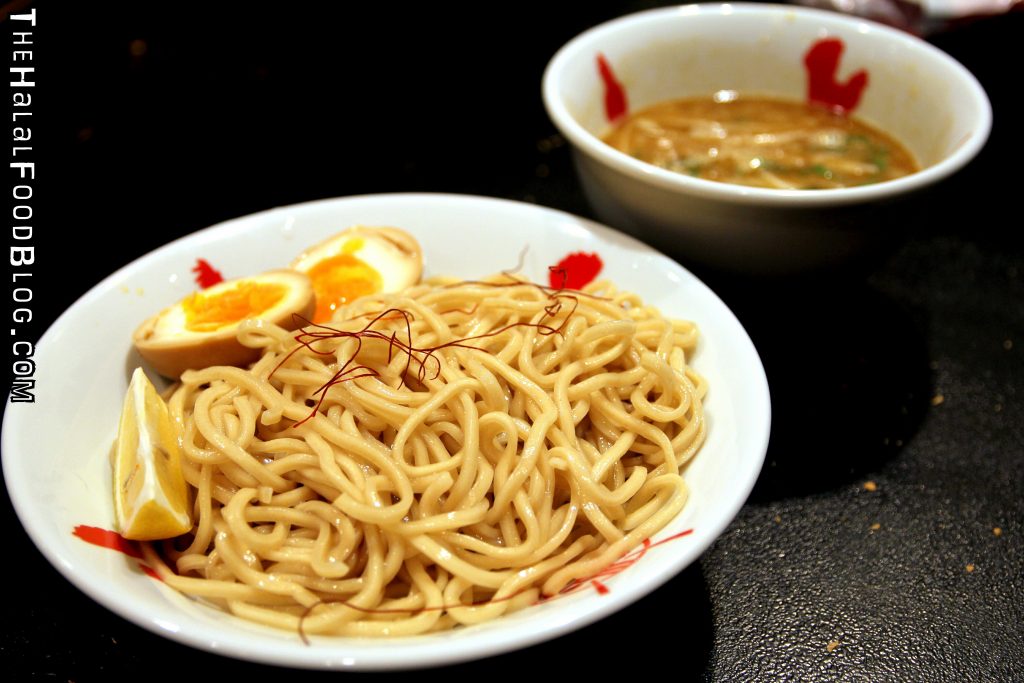 We actually went back for a 2nd visit so that the rest of the family (who arrived a few days later) could also try some of the famous Ramen at Ayam-YA. Besides the usual suspects from the menu and as much as I'd enjoyed my dish during the first visit, I decided to try something different.
So on the menu, the 'Tsukumen' is listed as a Dipping Ramen and is "Cold Noodles accompanied by a bowl of soup for dipping" so I was naturally expecting something like Cold Soba (the only other Japanese Cold Noodles I'd ever had) where we dip the noodles into a bit of broth (which is normally also cold) and then slurp it down.
Boy oh boy was I wrong LOL
The Ramen Noodles are cold but the broth that comes with is definitely not cold LOL
In fact, it was hot broth – pretty much the same as if you'd ordered a normal bowl of Ramen but in this case, the Ramen noodles and broth are served separately. Then you dip the noodles in the broth and slurrrrrrrrp.
To be honest, since the broth is still hot, it kinda defeats the purpose right… Might as well just order a usual bowl of Ramen lah right LOL
But as you can see, the Ramen noodles are a bit thicker. I personally found them a bit tough but that's probably because they have not been soaking in that nice, hot broth.
And in case you were wondering – "Namimori" is the Regular sized serving. You could also have the "Omori" (Large) or the "Tokumori" (Extra Large) serving AT NO EXTRA COST! In fact, there is no extra charge to get a LARGE serving of Ramen! Just be sure to tell the server when you order!
I guess that kinda shows that they definitely hold their prized stock in the highest regard!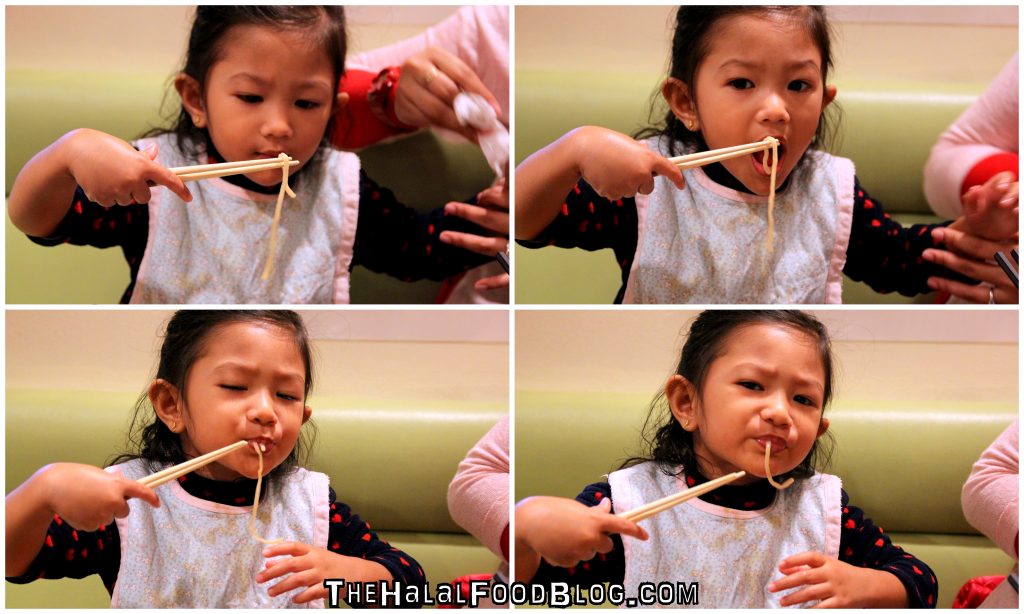 And if you're worried about kids, pretty sure they'll enjoy eating the Ramen too!
Just check out our Little Princess having a go! LOL and that's the first time she tried to use chopsticks!!
Well, if the soupy stuff is not for you nor the kids, they also have Mazemen which is a dry version of the Ramen or you could also go for some Rice dishes which they also have.
Ayam-Ya turned out to be a great recommendation from our readers! It's also in a great area which is near some shopping plus Assalaam Mosque is really nearby! The nearest stations are the JR Okachimachi and Metro Nakaokachimachi stations (about 3-10 minutes walk)
We also found Ayam-YA on the Halal Gourmet app/website (by Halal Media Japan)!
Yamada Bldg 1F, 4-10-1
Taito, Taito-ku, Tokyo 110-0016
Tel: +81(03)-3834-6656
Facebook: www.facebook.com/ayamya.okachimachi.tokyo

Operating Hours: 11.30am til 3.00pm (Lunch)
5.00pm til 10.00pm (Dinner)
Open Daily
All information (including prices, availability of item on menu and Halal status of establishment) are accurate at the time of posting. All photos used in this site are property of The Halal Food Blog unless stated otherwise.