You want sum dim sum?
(I know I know… but I just couldn't resist!!)
The Dim Sum Place has been around for awhile actually but many (including us) were awaiting for their Halal certification to be finalized. It was actually pretty strange then that when they were finally certified before Ramadhan this year and there was little (or, in fact, no) fanfare to accompany this much-anticipated update.
Perhaps it's because they haven't quite finalized the full menu? Perhaps they are still putting the finishing touches on their dishes? Well, whatever the case, we can wanted to see what all the hubbub was about. After all, who doesn't enjoy a spread of Dim Sum and I right?
But before we get to the Dim Sum…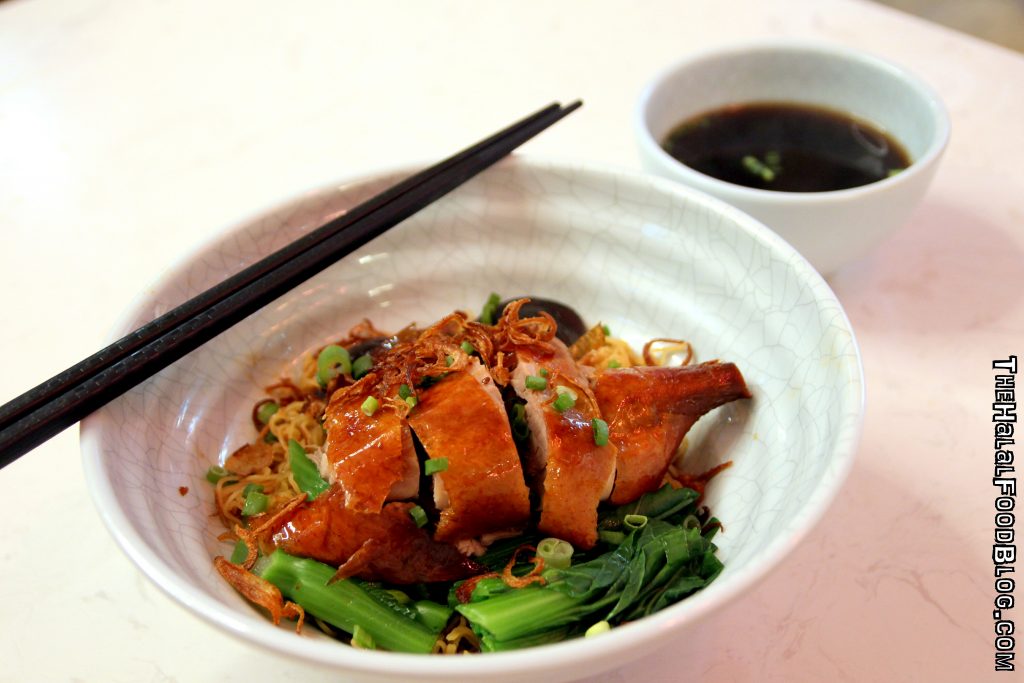 Dim Sum is obviously expected in a placed called 'The Dim Sum Place' (like duh) but let's not forget that there are plenty of other HK-style delicacies that also fall in the same line and are definitely welcome. It's actually quite a rarity to find 'authentic' HK-style dishes and we have less than a handful here in Singapore that are Halal.
One such Hong Kong delicacy that I absolutely pine for is a good Roast Duck! At The Dim Sum Place, you could order their Roast Duck a few different ways including on its own (either Herbal or Angelica but we'll talk about that when we post about it in future okay) or perhaps in a wrap (which comes a little later in this post btw) but I personally like to have mine with some noodles.
If you're a fan of duck, then this is definitely the one for you!
You can choose either the Duck (meat) or the Duck Leg Noodles but over 2 visits, I leaned towards the Duck Leg version both times. I guess I'd rather enjoy Roasted Duck Meat when I order it ala carte.
The duck was tender and tasted great. There's none of that gamey / 'ducky' taste you might get when duck is not cleaned or cooked properly. I guess they really know what they're doing when it comes to roasting their ducks at The Dim Sum Place.
But one of the best parts of the roast duck was the skin. It's not quite crispy but it's still a treat.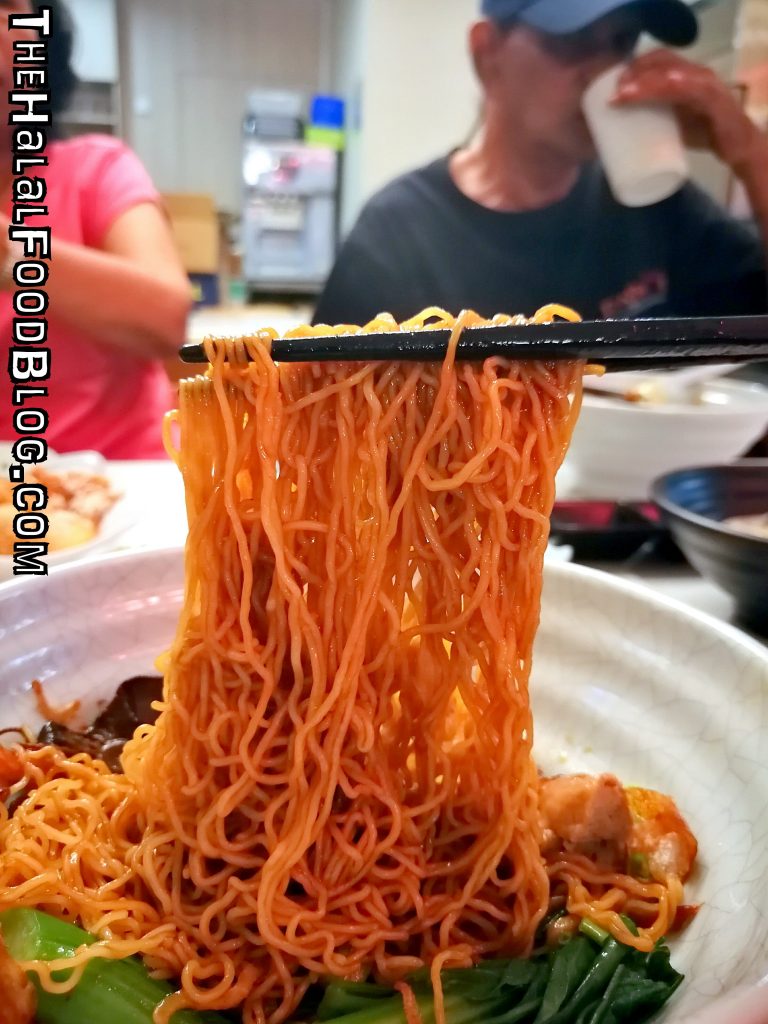 You can opt for Normal, Spicy or Extra Spicy when it comes to the noodles but to be honest, it didn't seem to make much of a difference to me because it didn't seem that spicy LOL
Maybe it's because the soup has a bit of a herbal flavour which is pretty typical when it comes to Chinese/HK cooking now that I come to think of it. Some people might not be a fan of it but I actually quite like it I guess.
Oh, and it's worth it to mention that the noodles are thinner than your average variety Mee Kia. I'm not sure if they make their own noodles but it's definitely thinner than usual. So slurp away!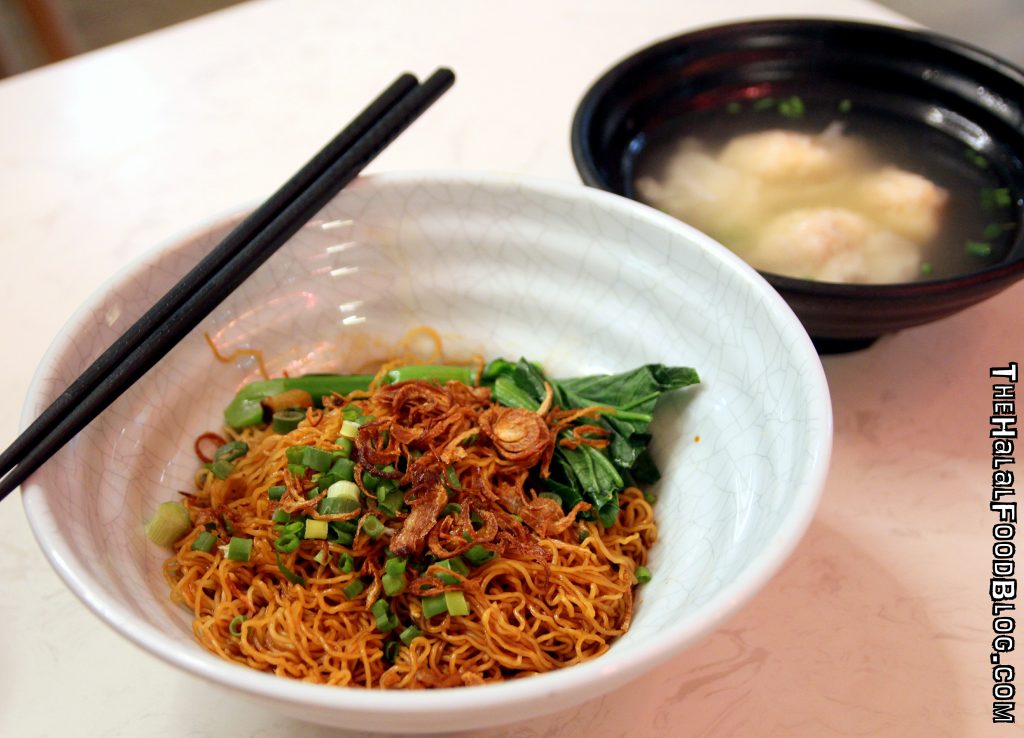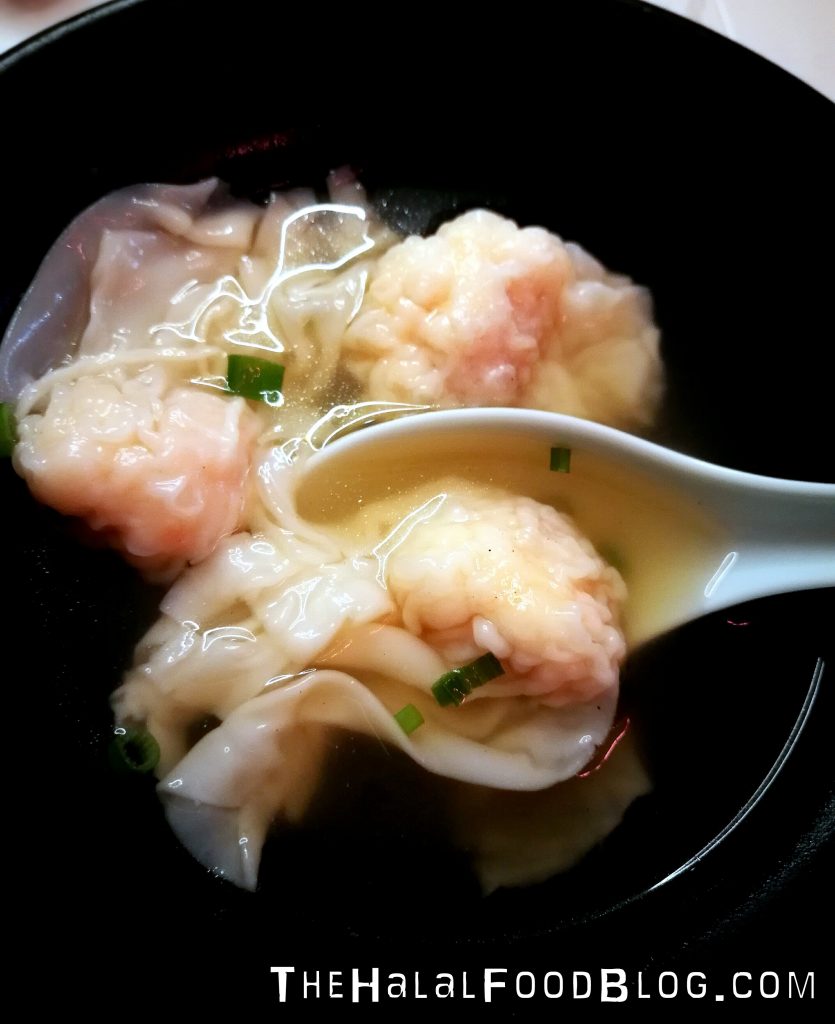 If you love Daffy and Donald too much but you still wanna have some noodles, fret not.
They've also got Shredded Chicken Noodles and Wanton Noodles to be had at The Dim Sum Place. The Wanton Noodles are a good choice if you're looking for a classic. The wantons have a pretty good prawn filling and the wanton skin holds up really well.
This might be a good time to mention that both the Duck Leg and the Wanton Noodles you see above are the DRY versions. If you order the SOUP version, you'll get your noodles swimming in some soup. This might work out well in some cases but for cases like the Duck Leg, I'd rather go for the dry y'know what I mean?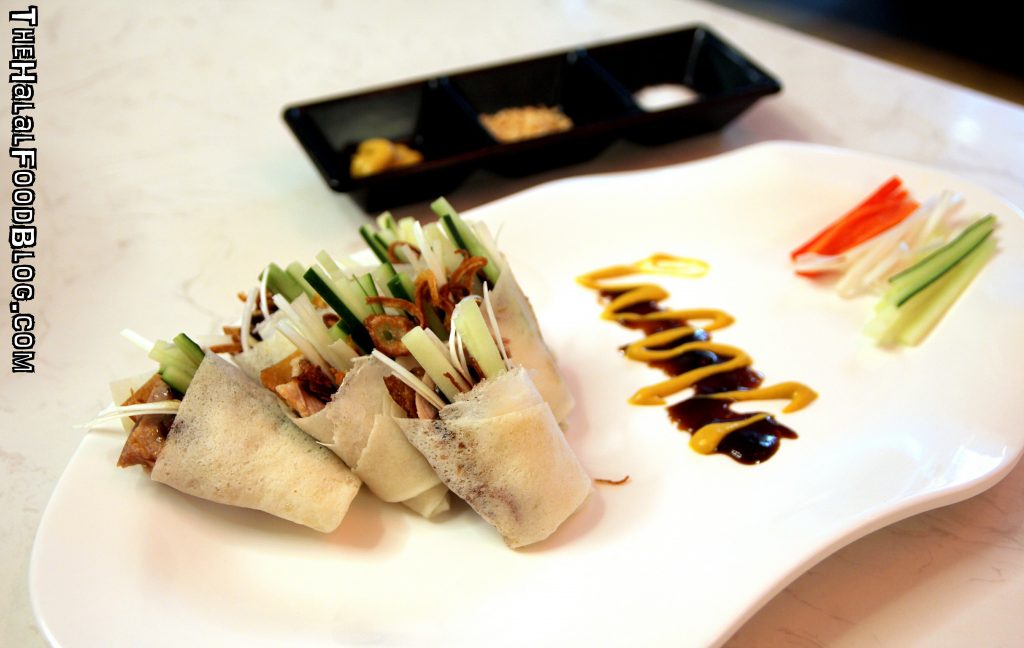 Okay this one was a bit of a miss for me. Peking Duck is quite a specialty dish and it's definitely a very tedious process when it comes to the authentic dish itself. To be honest, I guess it's going to be difficult to find a real authentic Peking Duck that is Halal here in Singapore (not sure about overseas).
The ones that we have tried so far were not particularly impressive and I'm sorry to say that the version at The Dim Sum Place joins that list.
The Smoked Peking Duck comes already assembled and wrapped for you when it's served. Besides the smoked duck meat, there's also cucumber, spring onion and some Hoisin sauce
On the side, there's also some sugar, mustard and crushed peanuts. As far as I know, those 3 items are not quite your usual accompaniments to Peking Duck. But if you do happen to order this dish, go easy on the mustard because that is going to overpower every other flavour there.
The duck meat here is smoked so I guess that explains why it's a bit tougher than the roasted version. And they do slice it a bit a lot thicker for the Peking Duck.
Okay lah I won't say much else about this dish except that if you're looking to try authentic Peking Duck, this is not it. This is the version with a unique twist courtesy of The Dim Sum Place. But if you're looking for something to try and share, then you might like it.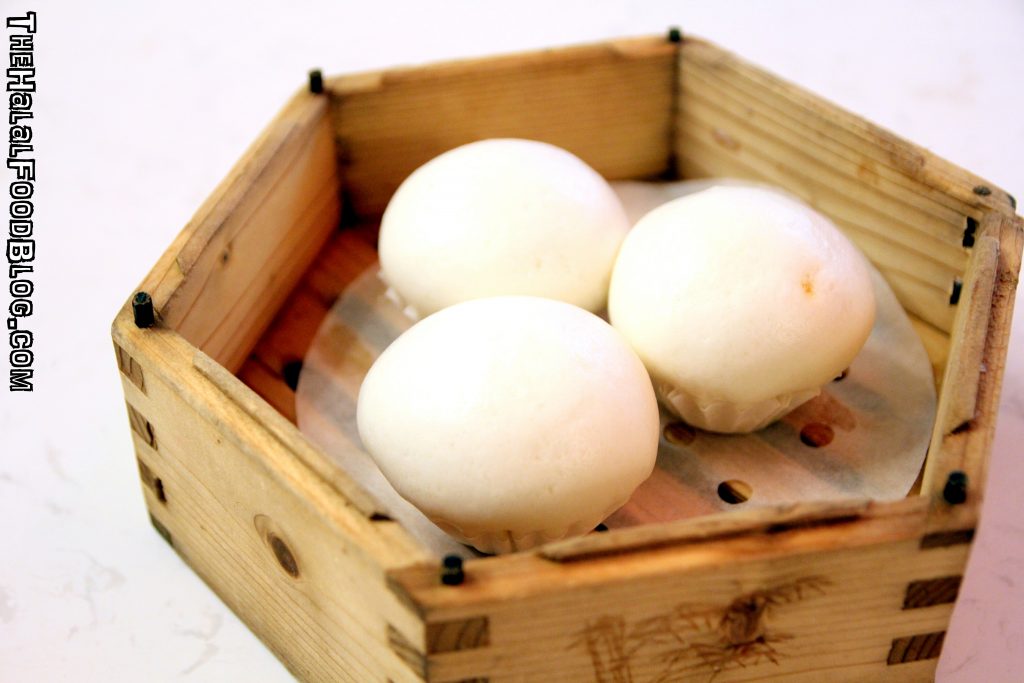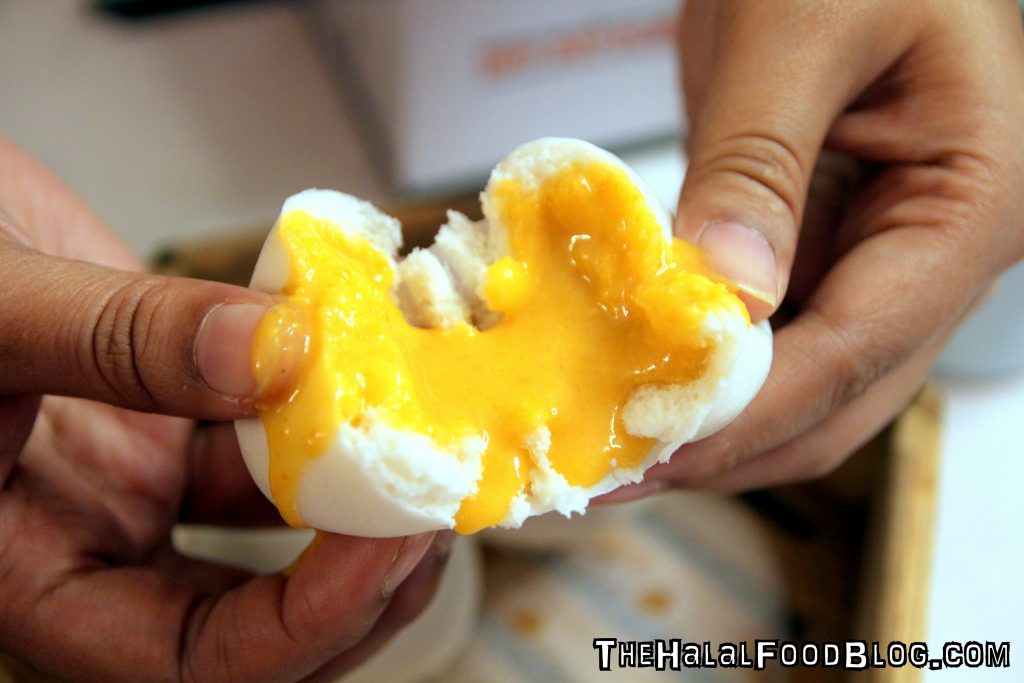 Yassssssss we're finally starting on the Dim Sum and FUYOH what a way to start off!
We're all big fan of #SaltedEggAnything and Salted Egg Yolk / Golden Sand / Liu Sha Paus are all the rage these days and a definitely favourite on any Dim Sum menu for sure. I mean, who can resist right!!! The Molten Salted Egg Custard Bun at The Dim Sum Place are actually not bad but I found it to be a bit on the sweeter side. Anyways, it's meant to be a dessert bun and I love Salted Egg.
By the way, there's a certain technique to eating the Molten Salted Egg Custard Bun okay. Because the filling is literally liquid so if you don't wanna make a mess, don't bite straight into in. Take your time and tear it apart slowly. That pic above is considered a BIG tear (for photography purposes lah) so everything kinda overflows. Y'all slowly test lah you best way of eating this delicacy LOL 😛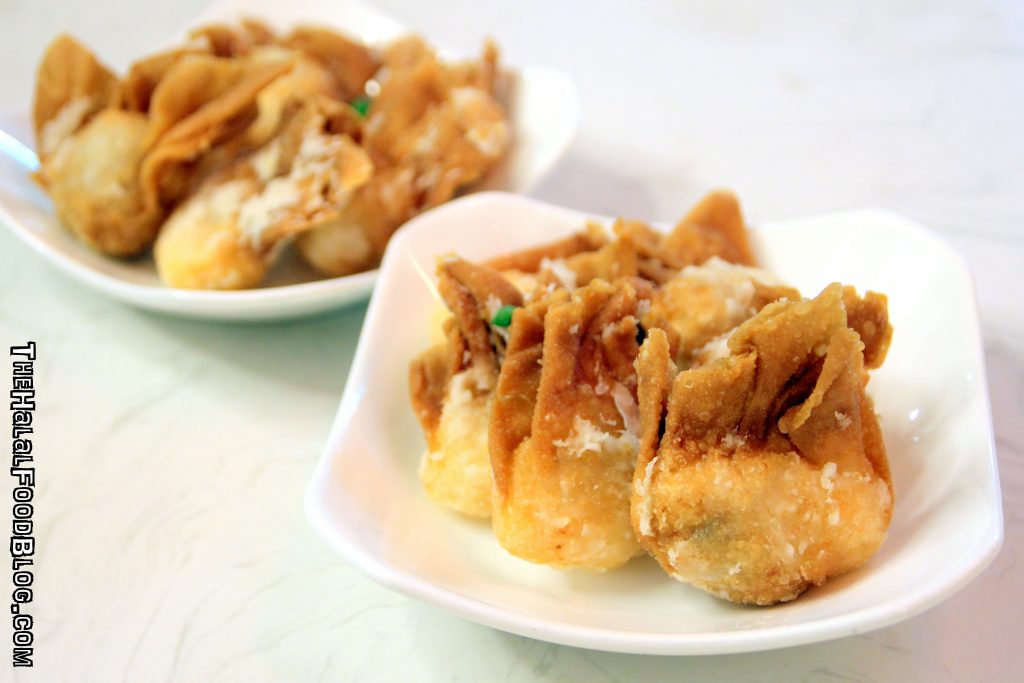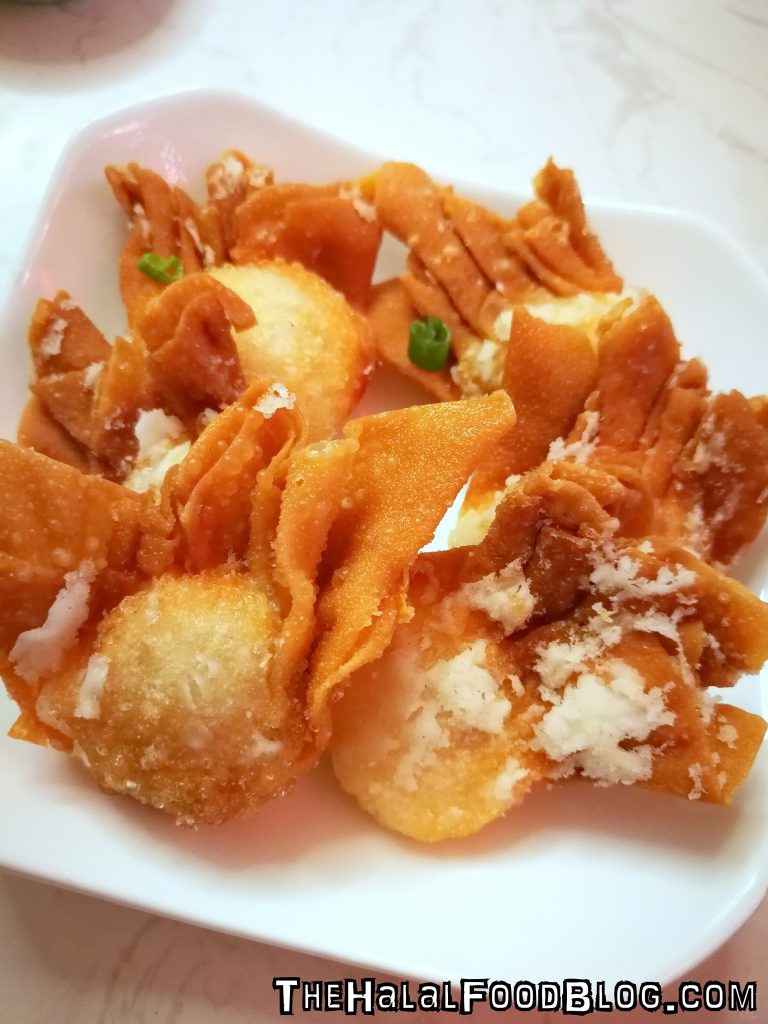 Another classic selection that might just be the most popular 'dim sum' item of all time is the Deep Fried Wanton. These tasty bites have the added advantage of being given the 'deep fried goodness' treatment which results in a bit of an edge over their soupy counterparts.
It's confirmed plus chop that the filling in the wantons are power (just like the soup ones we had with the noodles). Golden-brown, crispy and best enjoyed with some chili sauce (they have a special one at The Dim Sum Place) and some mayonnaise, these are also great for sharing in a group or, if you're really greedy (like us), just order and whack all yourself LOL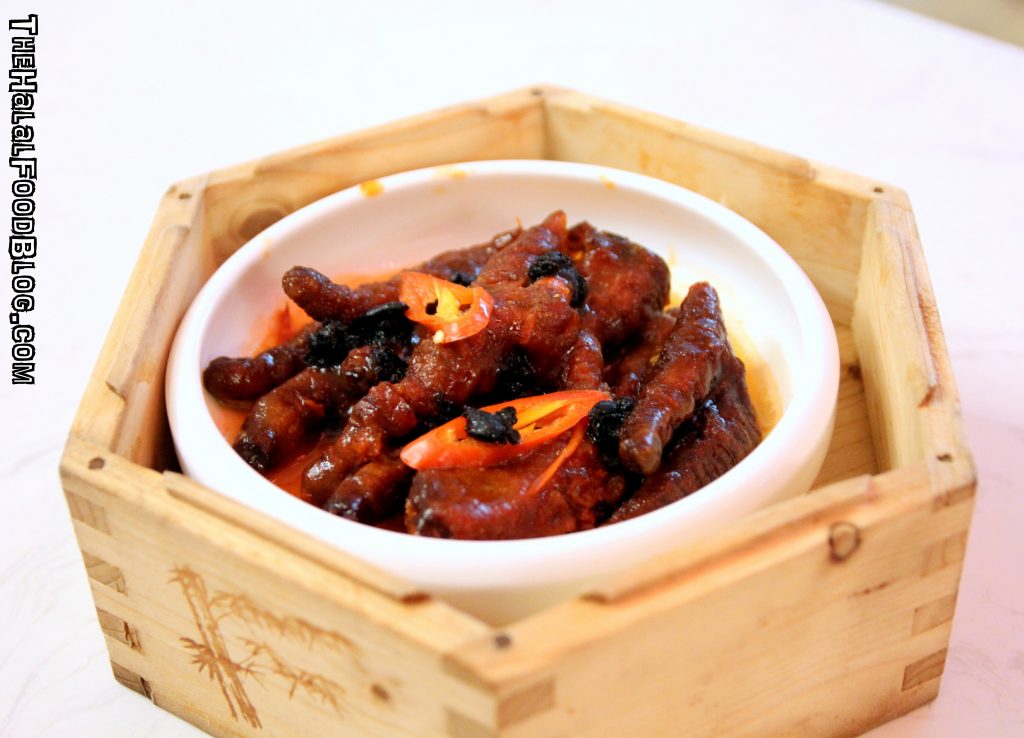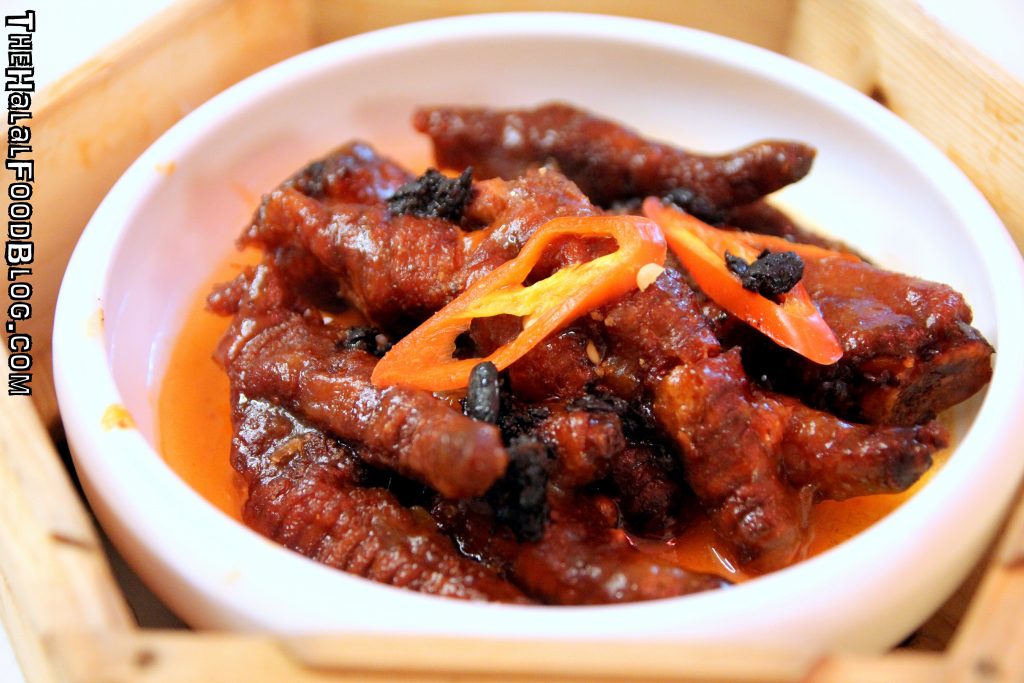 I'm not sure if many people have taken to eating chicken feet as dim sum yet. I mean, it's definitely more popular than it was a few years ago from what I can tell. But technically, I think it's still considered a not-so-popular choice among the majority. Am I right to say that?
Well, I've been having chicken feet for ages (my Dad's home-cooked one is the BOMB!!) so I'm a big fan.
I ordered this every single one of my 3 visits to The Dim Sum Place so I guess that means I like it LOL 😛 It's got a bit of sweet and salty in there plus a little bonus heat thanks to the chili / chili oil that's in there. Chew away at the skin, flesh and the rest of those soft, jelly-like bits and ENJOY!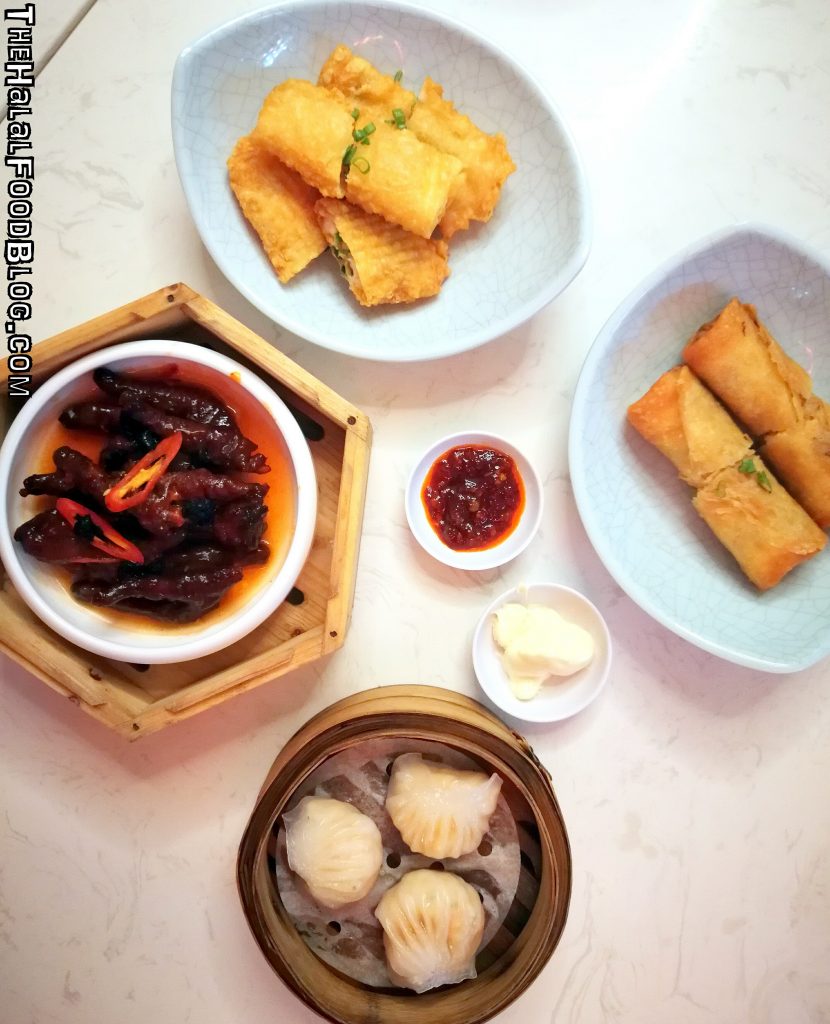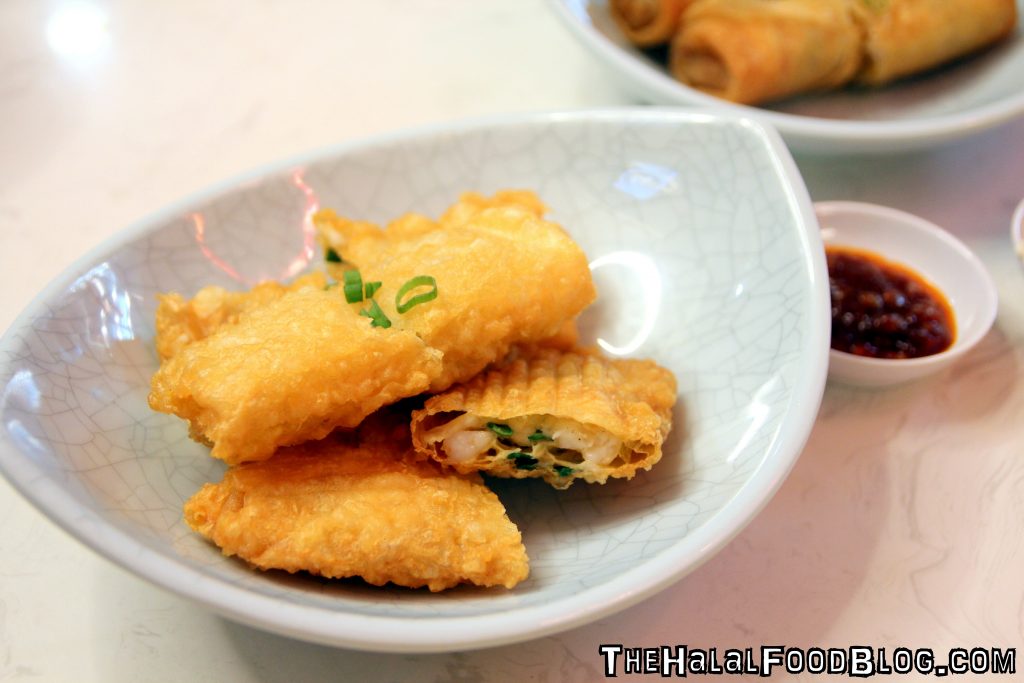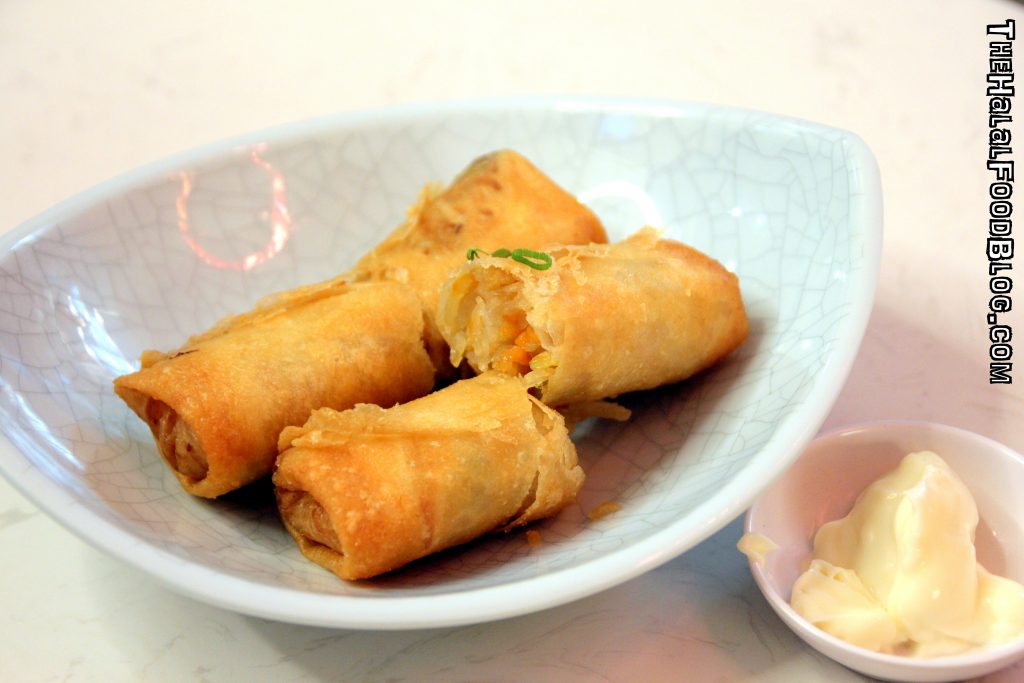 There's a few other Dim Sum items on the menu (keyword – few) and we only had space to try a few so we naturally favoured the deep-fried stuff LOL 😛
The Deep Fried Beancurd Skin with Prawn and Fish Paste and Deep Fried Spring Roll are good choices for snacks. Tasty and definitely very reasonably priced. Plus, you can seldom go wrong with fried food! In fact, I think quite a lot of dishes on the menu are reasonably priced (with a few exceptions).
But then again, when we have reasonably priced dishes, we tend to order more and more and in the end the bill piles up also LOL so order in moderation to avoid food wastage okay!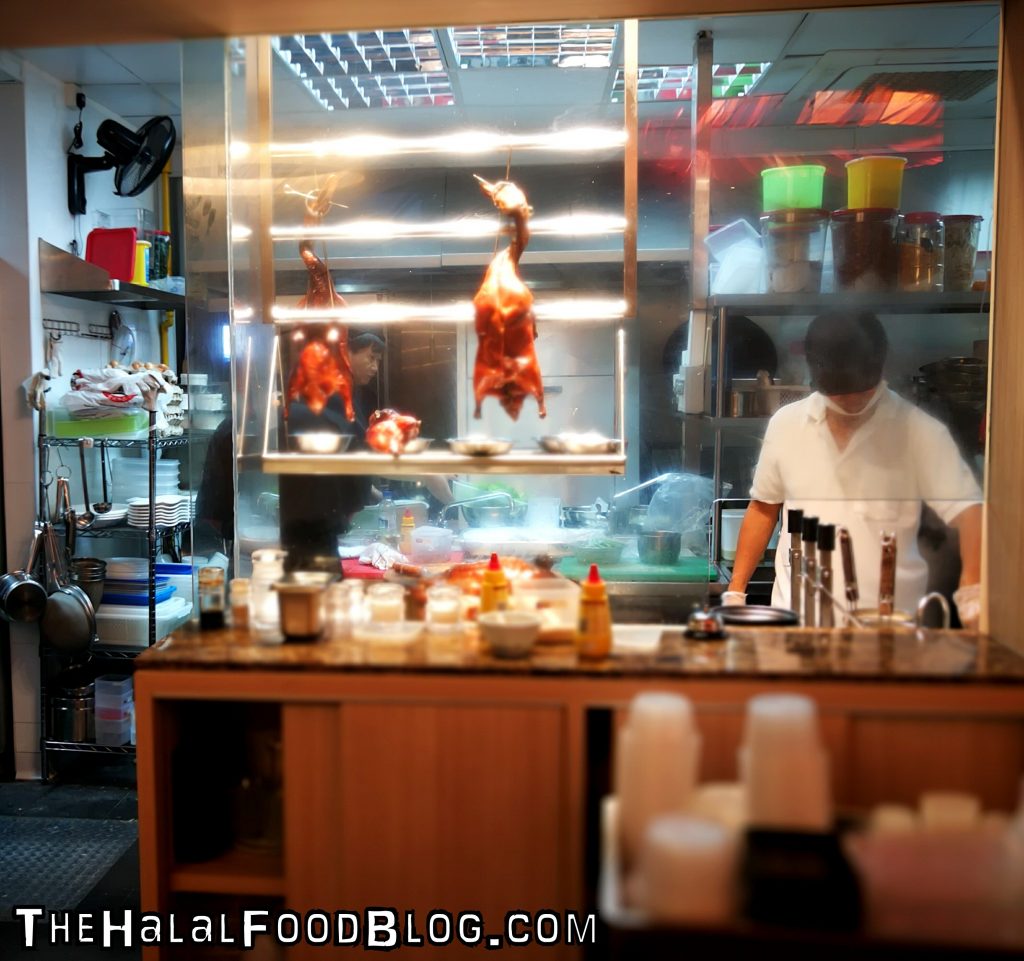 It's a bit of a toss-up for The Dim Sum Place at this point. I mean, I've personally visited 3 times and tried quite a number of dishes. Some were okay and some were not so okay. And actually, there's plenty more on the menu to be tried. But the funny thing is – it's not mostly dim sum.
I really thought (and I think a lot of you also) that there would be like this huge long list of Dim Sum on the menu but I guess it wasn't as extensive as we expected. I mean, sure there are familiar favourites like Siew Mai etc and quite a few interesting unique Dim Sum options… but I wish they'd have more (my fave BBQ Chicken Pau no have!!). More Dim Sum than other dishes like Congee etc. I mean after all, they are called The DIM SUM Place right?
But okay lah. Let's remember that they are still processing their full and final menu so I guess it's just a matter of waiting until it's out before we can finally decide if the range of Dim Sum is impressive or not. So we wait lah.
I would like to comment on the service there though. I think like probably 2 out of 10 staff are friendly and helpful. The rest were pretty much going through the motions like robots (especially with their mouth visors on). And if you happen to be seated near the kitchen, I hope you don't kena the loud bangs when some guy throws heaps of dishes at maximum impact volume.
Still quite a bit of improvement in both menu and service needed for The Dim Sum Place to achieve the popularity that their affiliated neighbour, The Ramen Stall, has done in recent times. Let's hope it comes sooner than later!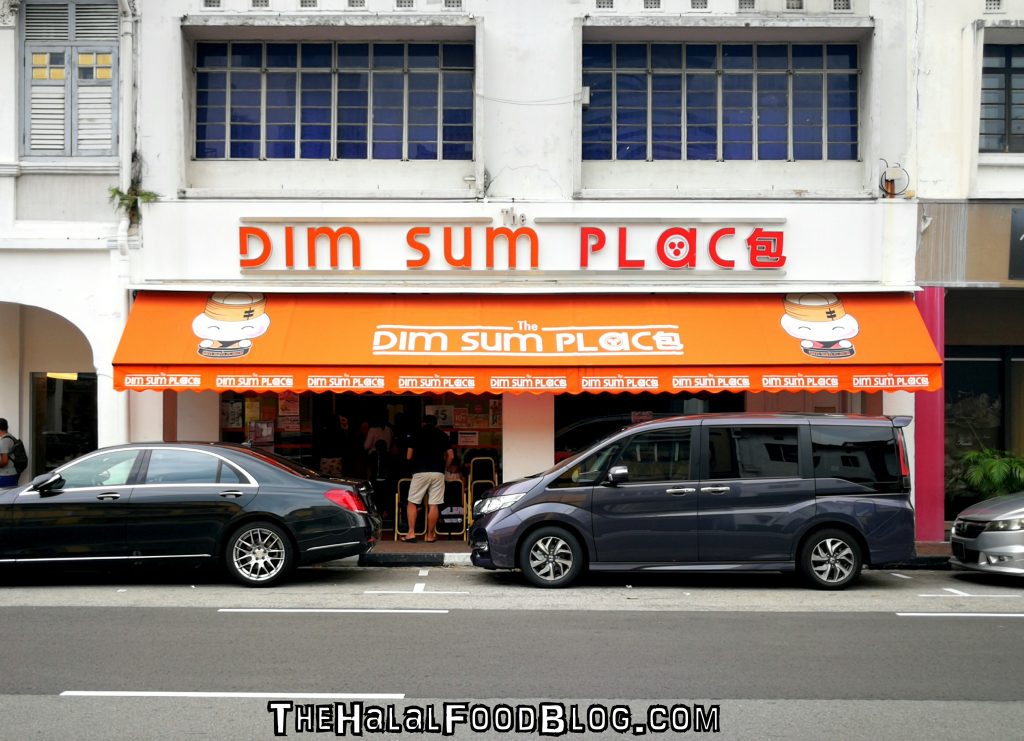 The Dim Sum Place
791 North Bridge Road
Singapore 198281
Tel: 6655 8787
www.thedimsumplace.com.sg
Facebook: www.facebook.com/pg/791DSP
Instagram: @thedimsumplace
Operating Hours:
Lunch – 11.00am til 2.30pm Daily
Dinner – 5.30pm til 11.00pm Daily
Supper – 10.30pm til 5.00am Friday, Saturday and Even of PH
All information (including prices, availability of item on menu and Halal status of establishment) are accurate at the time of posting. All photos used in this site are property of The Halal Food Blog unless stated otherwise.