The Coffee Bean & Tea Leaf (aka CBTL) is one of our favourite places to get our coffee and, definitely, their signature Ice Blended® creations too (Black Forest add more cherries please!!). Well, CBTL is not famous only for its beverages but also for their dining menu.
We've had readers send us messages for years giving us tips on what to try (Spicy Tuna Pasta anyone?) when we're there. So we've reviewed some dishes a couple of times but it seems like they're always adding new stuff to the menu which is excellent news because this means we have a wider variety of dishes to choose from!
We were invited recently to try some of the new dishes on their menu so we jumped at the chance. It seems like quite a few new "gourmet" dishes added to their line-up so hopefully they lived up to the tag.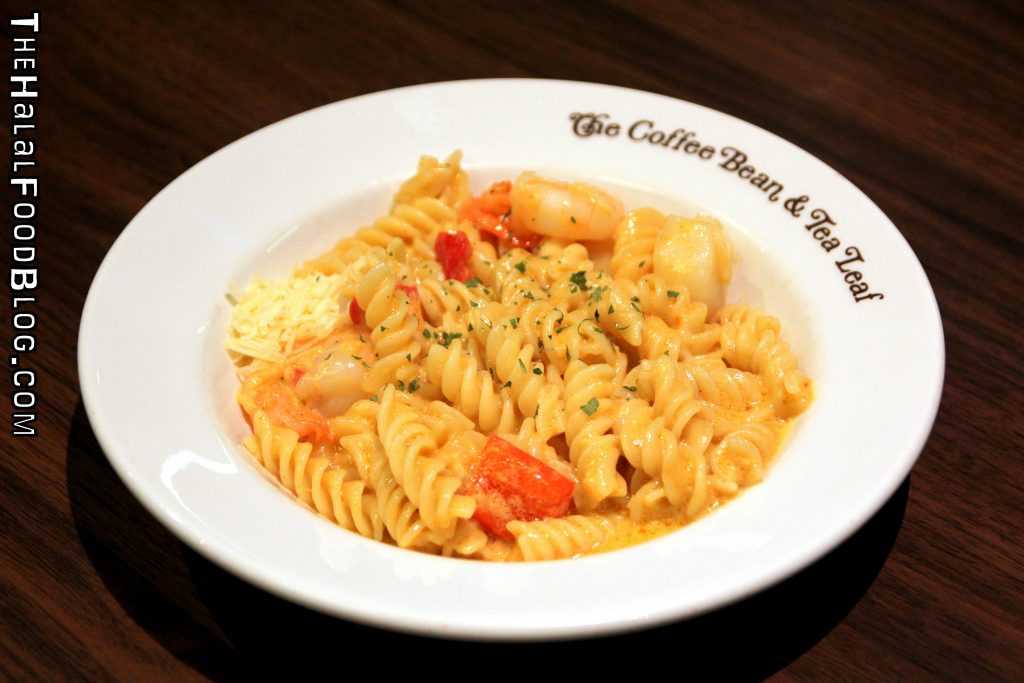 First up was the Creamy Seafood Fusilli which is CBTL's take on a somewhat classic dish. It's got some prawns and scallops tossed in with the Fusilli pasta. The sauce is a creamy (like duh LOL) and the spicy flavour is not from any chilies but interestingly from mustard!
I am admittedly not such a big fan of prawns in most dishes and when it comes to any 'Seafood Pasta' it's quite inevitable that prawns will be there to join the party LOL they're big and succulent so for you prawn fans (of which I think there are many), this will please you. And don't forget those juicy scallops too.
I actually REALLY like the sauce for this dish! I generally prefer creamy sauces for my pasta as opposed to tomato-based sauces. I think the rather unique flavour and spice courtesy of the mustard is maybe what makes the difference for me. But then again, I guess this flavour might not appeal to everyone as much as me and will probably pass off as "okay-okay" for some as compared to my "sedap giler" assessment LOL
By the way, I can never accept the cute little pile of Parmesan cheese at the side of the dish LOL so if you're like me, don't be shy to ask for more when you order okay!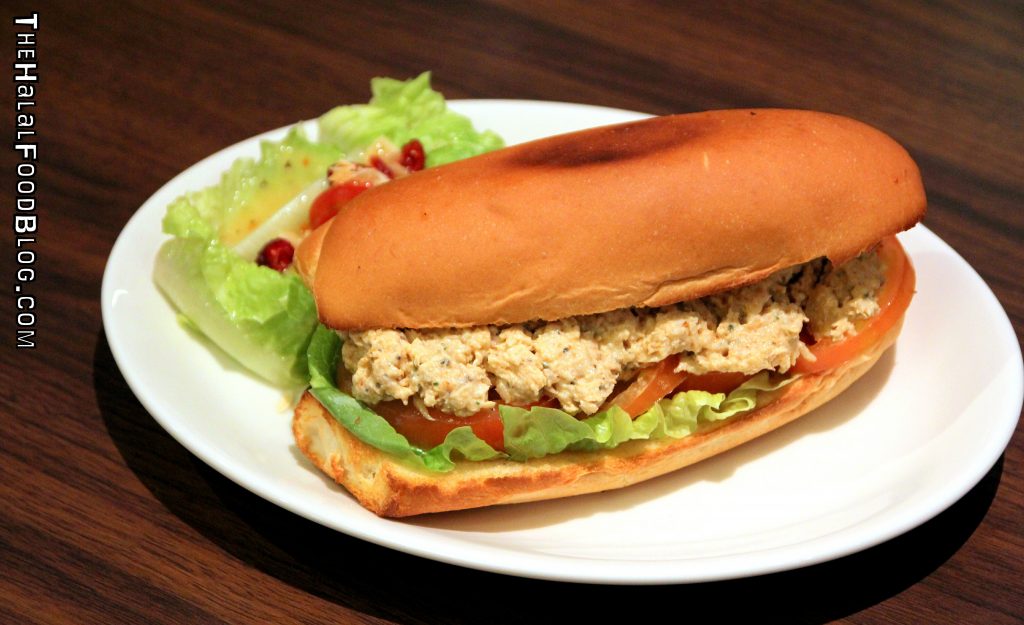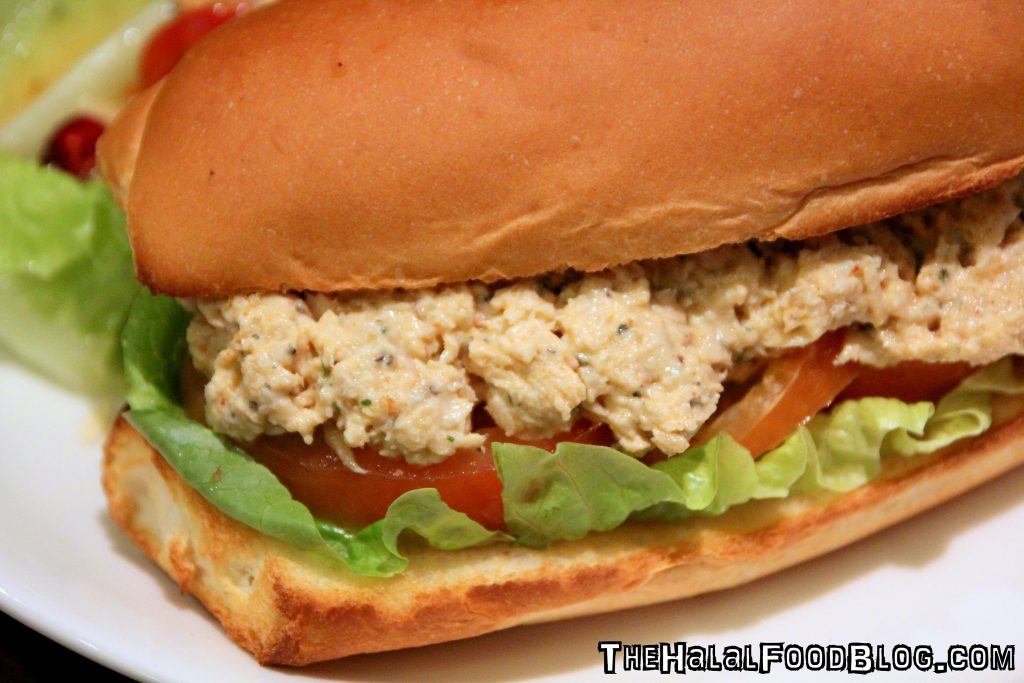 It was a toss-up between having the Sesame Dressing Chicken and Egg Sandwich (shredded chicken breast, hard-boiled egg, sesame dressing, lettuce and tomatoes) or the Honey Mustard Chicken Sandwich because we love both Sesame Dressing and Honey Mustard. In the end, we chose the latter because it seemed to have a lot more going on between those buns LOL
The Honey Mustard Chicken Sandwich has shredded chicken breast (seems more like blended to be honest) that has all that tasty Honey Mustard flavour plus a lot more in there too including mayonaise, paprika, basil, salt, parsley and don't forget the mandatory lettuce and tomatoes in between your choice of either Ciabatta, Panini or Whole Wheat bread.
I think in the end, we made the right choice. The Honey Mustard flavour was quite power but I do wish they was a bit more texture to the filling. I mean, the 'shredded' chicken breast was REALLY 'shredded'. Maybe a bit more chunky would be good i my humble opinion.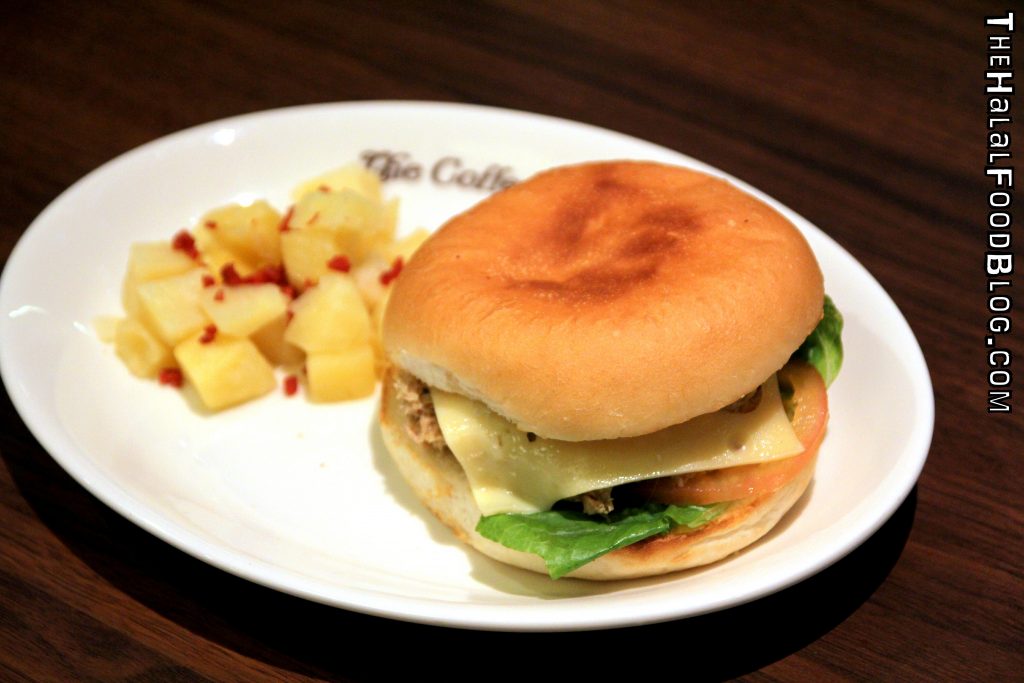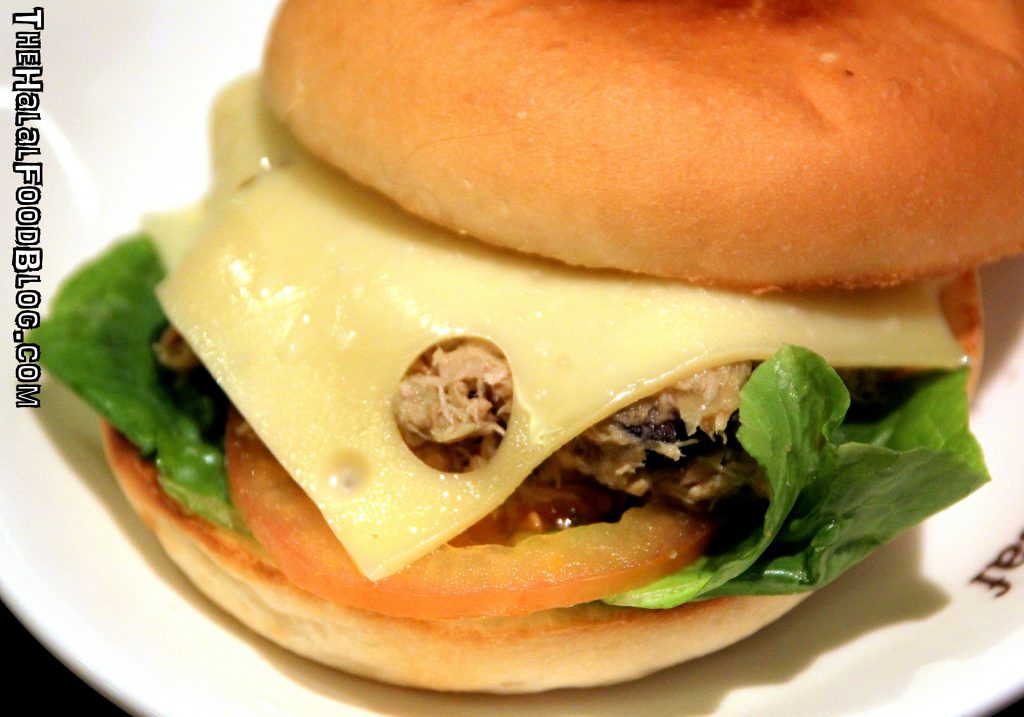 So the Avocado Tuna Melt has got Tuna and Avocado combined together as the filling plus Romaine Lettuce, Tomatoes and Emmental Cheese in between a special Vienna Bun. Plus Potatoes and Beef Bacon Bits (which is weirdly stated as Bacon Bits on the menu) on the side.
To be honest, this one was kind of a big miss for us.
We didn't really get any of the Avocado because it was all mixed in with the Tuna which pretty much overpowers everything. And for me – the biggest faux pas was… the cheese was not melted…
I definitely applaud the use of special cheeses (like the Swiss Emmental in this case) but if you're gonna have a Tuna Melt, then you've gotta make sure that the 'Melt' part is fulfilled too please LOL for this one it was like maybe… 40% there I guess. A bit longer in the toasted would have been good (or… was it the microwave).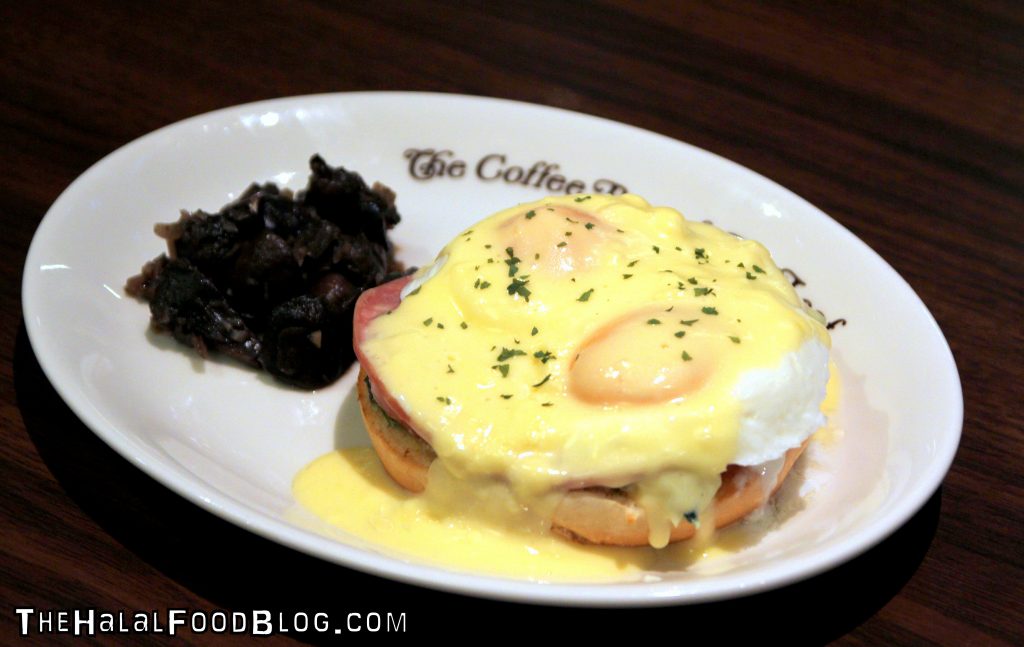 I think we probably had the highest hopes for this dish because it seemed like something we'd really enjoy. But then again, I think we should have read the signs LOL
Because now that I think about it, this dish was a spin a classic dish that is not a sandwich but is being labelled as a sandwich for some reason… Okay lah but naming issues aside…
So the Mediterranean Sandwich is actually a spin on a classic Eggs Benedict. It's got a few differences but generally, the idea is there and let's be honest – we all LOVE a good Eggs Benedict (called Eggs Ben at CBTL btw) right?
So the standard components like Turkey Ham, 'poached' eggs (a bit more on that later) and Hollandaise sauce are there. But instead of a traditional English Muffin, everything sits atop some of their Vienna Bread.
The 'Mediterranean' touch comes courtesy of some tomato slices and a Feta Cheese & Spinach  mixture that's spread in between all of the other components. This gives it a bit more of a unique flavour compared to its classic counterpart but not necessarily something that some people would enjoy because Feta Cheese does have quite a standout flavour.
Oh, and the Sauteed Mushrooms on the side… Errrrrr…. Sorry but not very tasty.
I think the biggest disappointment would probably be the eggs. I mean, they were still a little runny but it's not quote what you expect when you're dining out at a cafe. Especially a big brand cafe.
It seems like the microwave is becoming the choice kitchen appliance for a lot of things now including 'poaching' your eggs (and even. Yeah it gets them a little runny but you'll end up with at least a bit (if not a large portion) of the yolk going a bit gummy.
Well, from a business standpoint, I can appreciate the reason why they would need to use such methods for cooking/prepping etc but as a consumer who is paying a reasonably premium price for a premium range dish…
Overall, okay-okay lah but just giving y'all a heads-up because I know a lot of you will probably wanna know. Anyways, they still have plenty of their original dishes on the menu including their All-Day Breakfast dishes so you're still spoilt for choice.
As always, The Coffee Bean & Tea Leaf is one of the best places to get some beverages – both coffee and non-coffee – and best of all it's certified Halal!
Besides their all-time favourites Ice Blended® drinks, we've taken quite a liking to their Iced Teas too! (Especially the Pear Tea hehehe) But if you're looking for something new, they've got you covered.
Check out their Mexican Chocolate Ice Blended® Drink and Mexican Chocolate Latte that marry rich chocolate and the flavours of cinnamon spice and of course – their famous coffee too!
So if you're headed to The Coffee Bean & Tea Leaf, you now know that there are MORE things for you to enjoy there and who knows you might just find your next favourite there!
63 stores islandwide
www.coffeebean.com.sg
Facebook: www.facebook.com/coffeebean.sg
Instagram: @coffeebeansg
Operating Hours: Varies with store
All information (including prices, availability of item on menu and Halal status of establishment) are accurate at the time of posting. All photos used in this site are property of The Halal Food Blog unless stated otherwise.