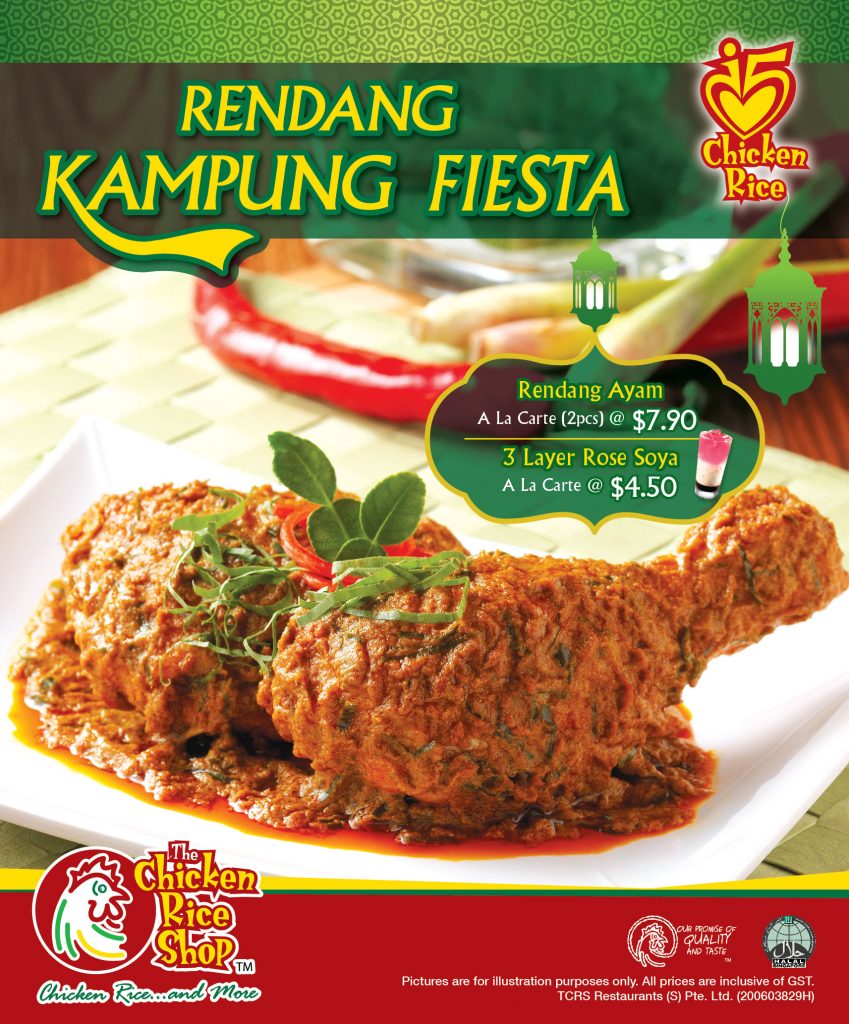 So we were invited down to The Chicken Rice Shop to try out this new promotional set menu they were having.
The good news is that this set menu is going on until the 1st week of August so that means this is the perfect chance to have something sedap that doesn't include Lontong while still retaining some flavours of Raya!
We've actually been to The Chicken Rice Shop before but mostly in Malaysia (namely Kuala Lumpur and Melacca). The only time I visited in Singapore was when they had an outlet at Bedok Point but that has since closed down. We can now enjoy The Chicken Rice Shop at OneKM Mall in the heart of Geylang Serai and also at Causeway Point in Woodlands.
So nak makan apa at The Chicken Rice Shop?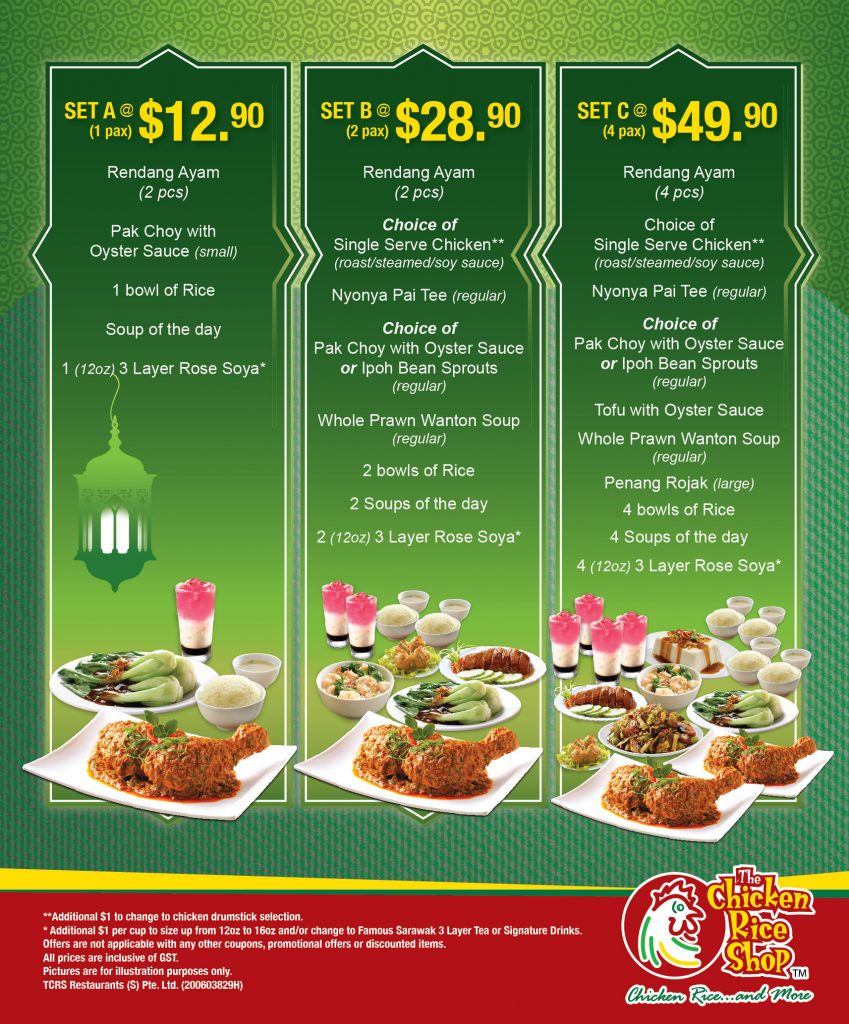 Well they have special Rendang Kampung Fiesta set meals available for a limited time only and just from the menu alone you'll be tempted to try it! They have 3 different sets to suit you depending on how many people are dining with you and/or how hungry you are at the time.
We tried the Set C (since there were 4 of us) but even then, don't forget you can always add on some dishes from the ala carte menu too!
Let's start errr with the Starters! LOL 😛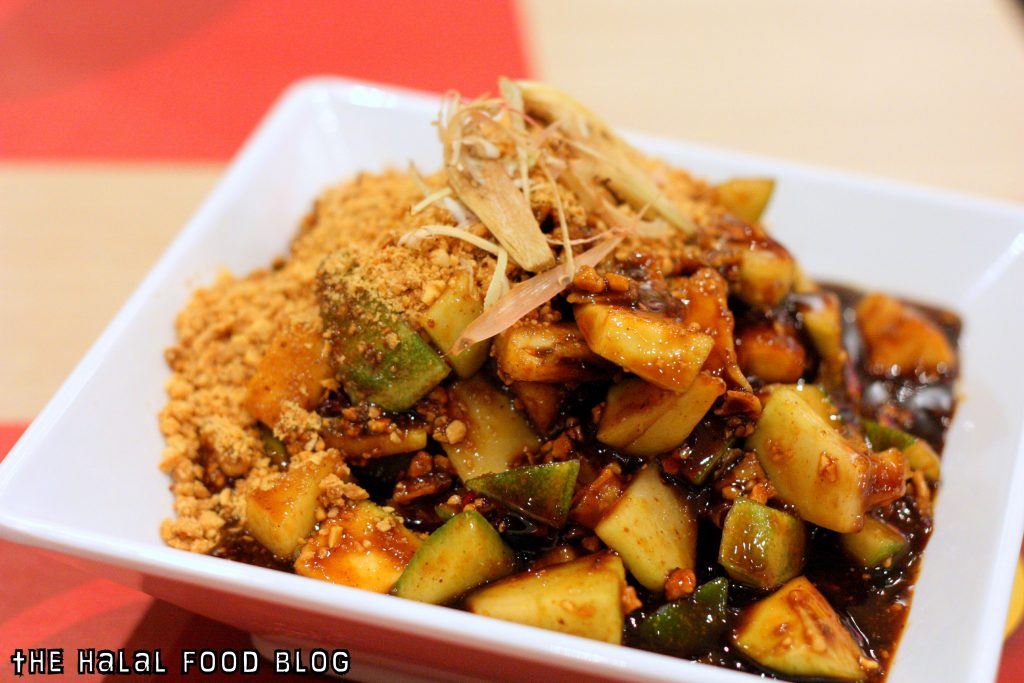 I know normally people save the good stuff for the last but this time we are starting with one of the dishes that really left an impression on us! The Penang Rojak was power lah!!
I have a colleague who is from Penang and when he returned from a trip back home, he brought me back a small jar of this Rojak sauce. He told me that Penang is actually well-known for their Rojak and this is very evident in this dish. The sauce was super tasty and addictive!
We always whack the You Char Kway when we have Rojak but this one is all fruits and veggies no Char Kway to be found here but we hardly noticed! We just kept going back for more and more with extra sauce with each bite. A very very generous serving of pineapple, cucumber, turnip, young papaya and young mango here plus loads of crushed peanuts for that extra Rojak kick!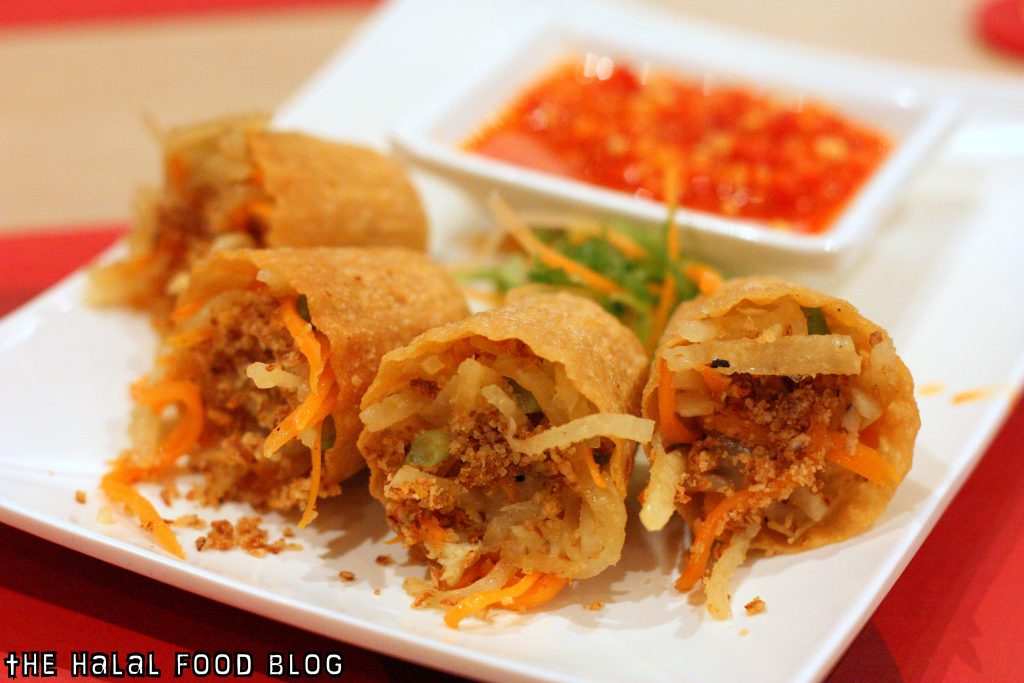 There is also a serving of some Nyonya Pai Tee which is mostly veggies like turnip and carrots (not sure if they have the bamboo shoots in this one) for those who may not be familiar. There's 4 which is just nice for a starter. And don't forget the accompanying sambal cuka!!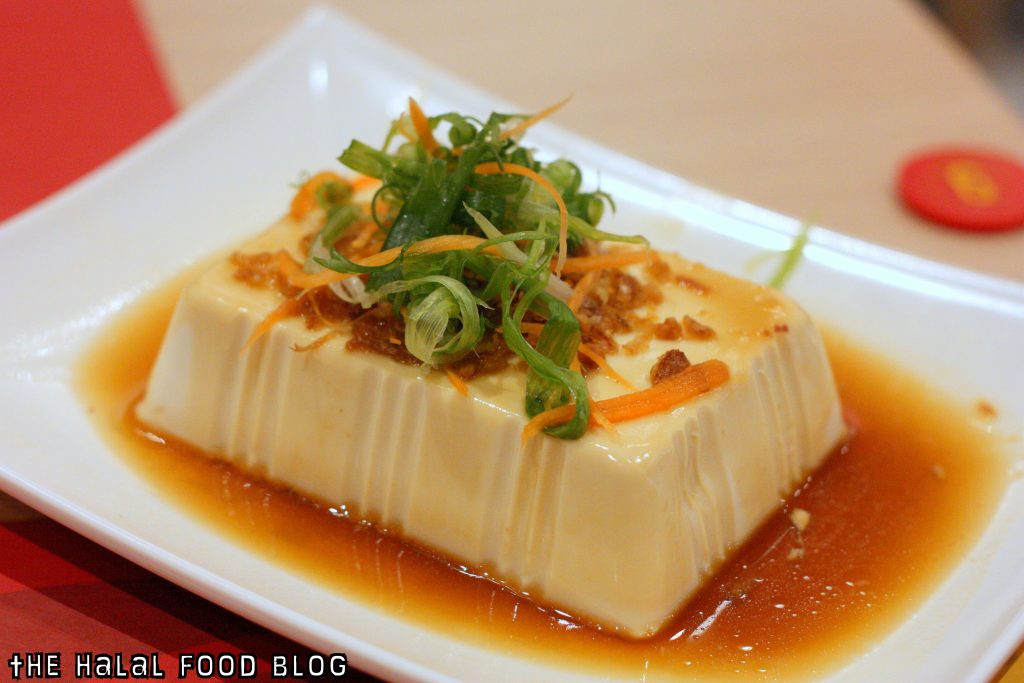 You know those really soft and silken tofu? Well, this is it!
I actually don't mind tofu but I wasn't sure if I'd enjoy this one at the start to be honest with you but it turned out to be a very nice dish in the end.
I think a big factor is the 'Oyster Sauce' that the tofu is bathing in. It's a lot like the nice and salt-ish gravy you'll get with your roasted chicken rice! You know the one I mean right?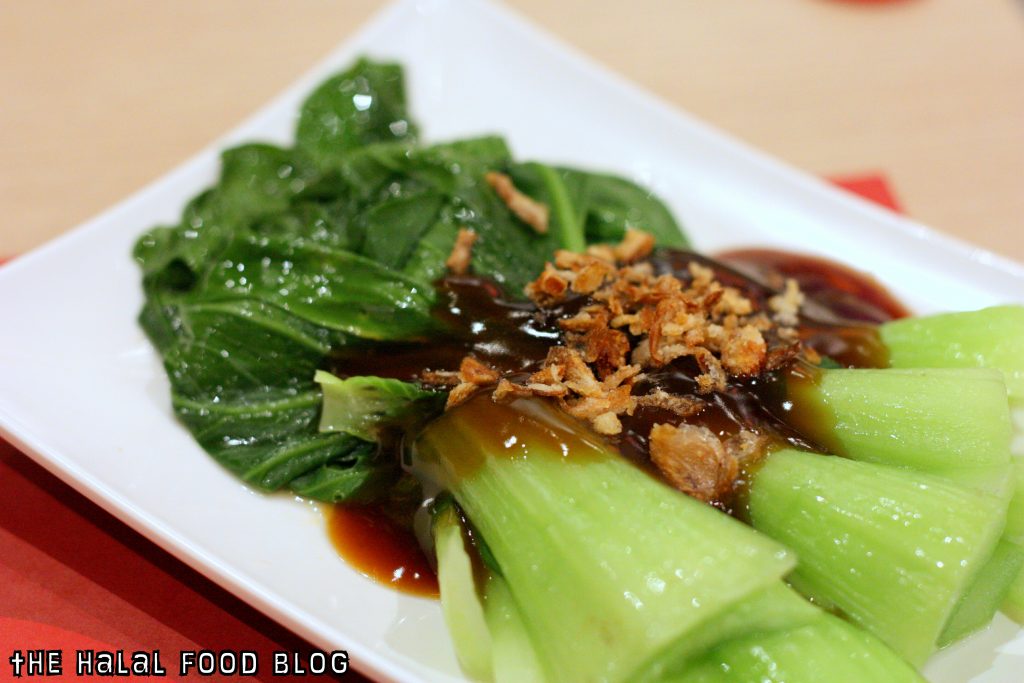 Pak Choy (or Bok Choy) is actually a really common vegetable that accompanies Chicken Rice sometimes I think. And it's easily mistaken with Kai Lan which I am guessing is probably related to this veggie? Well, I'm no scientist but I can tell you this dish was a welcome one.
Yeah they've got some oyster sauce and fried shallots on top which are pretty standard (but still pretty delicious) but I actually really appreciated the fact that they cut the veggies in half. How many places do you know actually cut it in half? Not many lor…
Anyways you can choose either this of the Ipoh Bean Sprouts which is actually also really nice. I had it once long ago with my chicken rice and if you don't mind taugeh, go for it!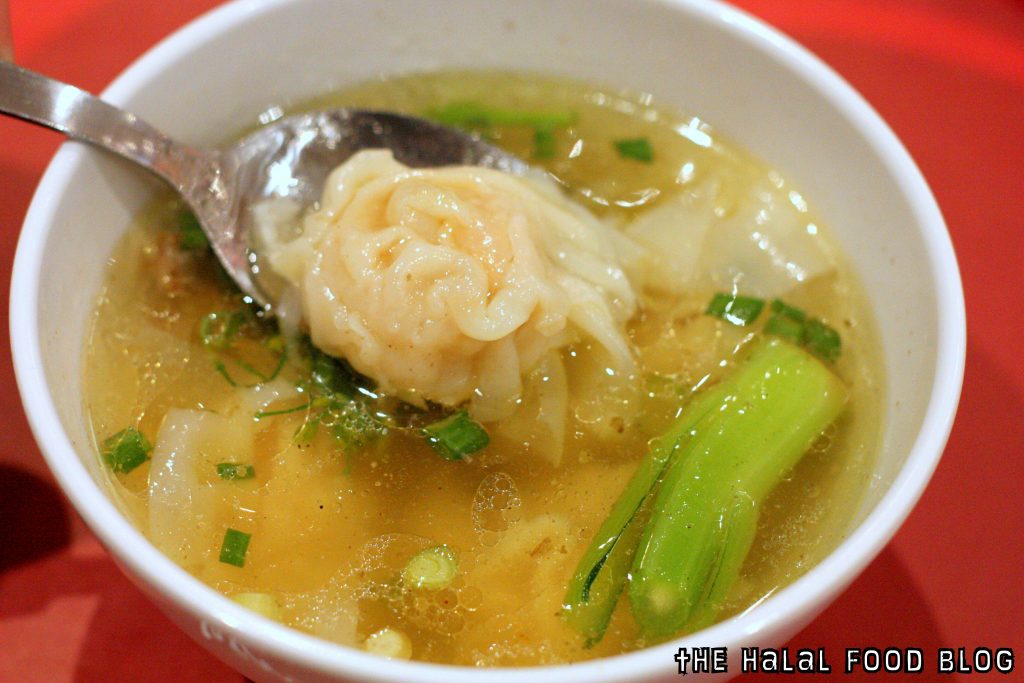 And for all you people who must have some soupy dish, fret not for they have some Wanton Soup for you!
They also have some 'Soup of the Day' that comes with the set too but this one is more for the Wantons obviously!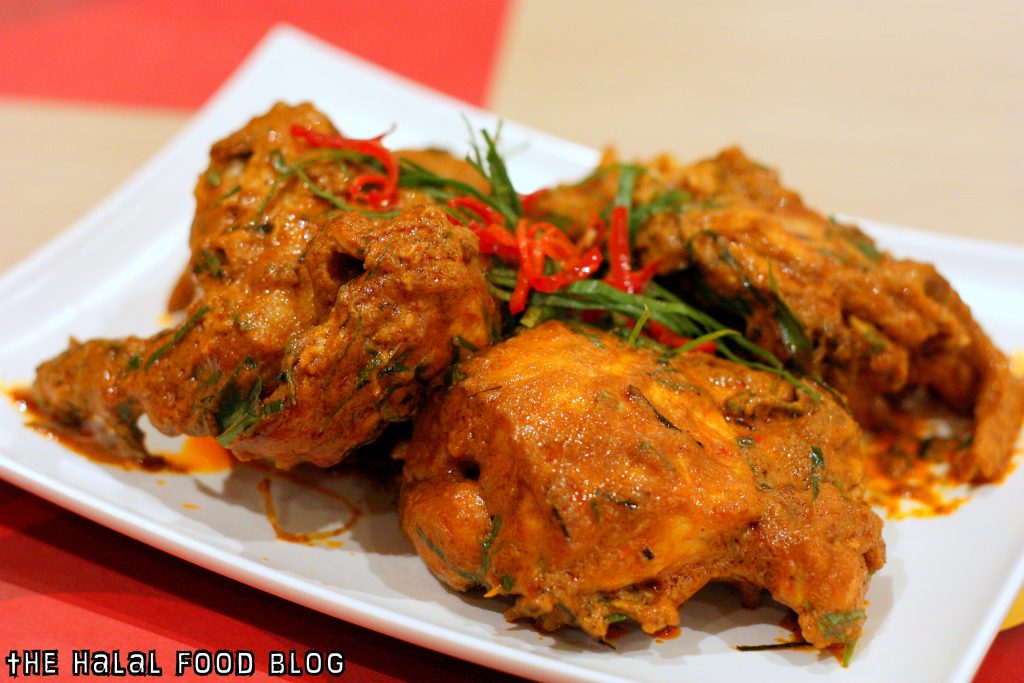 And here's the star of the menu – the Rendang Ayam!
I know what you're thinking – we've all had Rendang Ayam before right? But this one was a bit different leh. And in a good way too. It has a very unique and distinct flavour. I guess maybe this is the Rendang Ayam flavour that we can get from across the Causeway and that's why it's a little different from what we might expect. After all, The Chicken Rice Shop serves "Only Malaysian Goodness!"
The dish was really full of flavour and will definitely have you digging in for more. They serve the set with some rice (the chicken rice type) which goes perfectly here.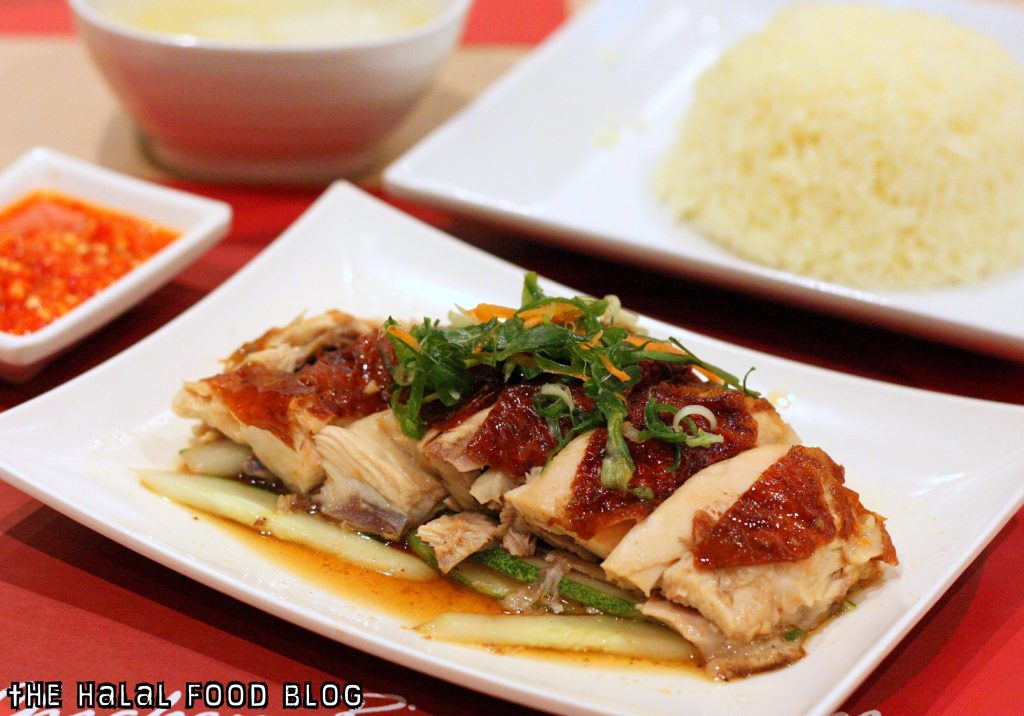 But they do offer you some variety in this set too in case you're really hungry! LOL
You can choose a single serving of chicken. Either Roasted, Steamed or Soy Sauce for your chicken. And of course, you'll get the full monty with the rice and also the accompanying TCRS Signature Chili Sauce and Ginger Scallion Sauce too. Look at the chili! Memang best so all you hantu chili can go for it all you like! LOL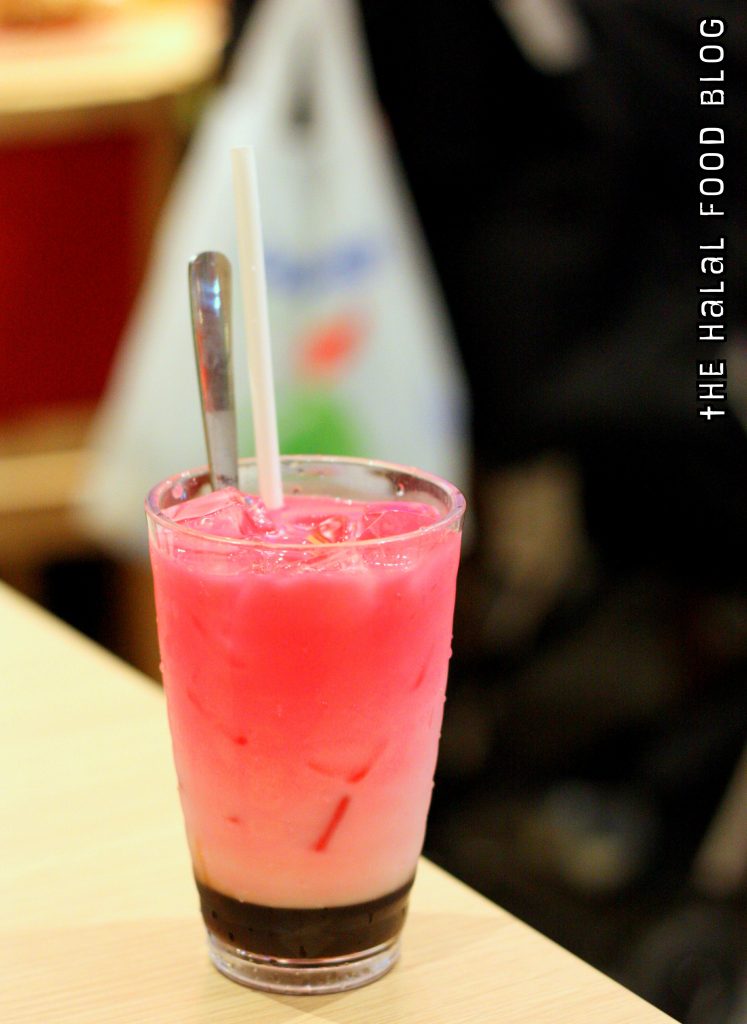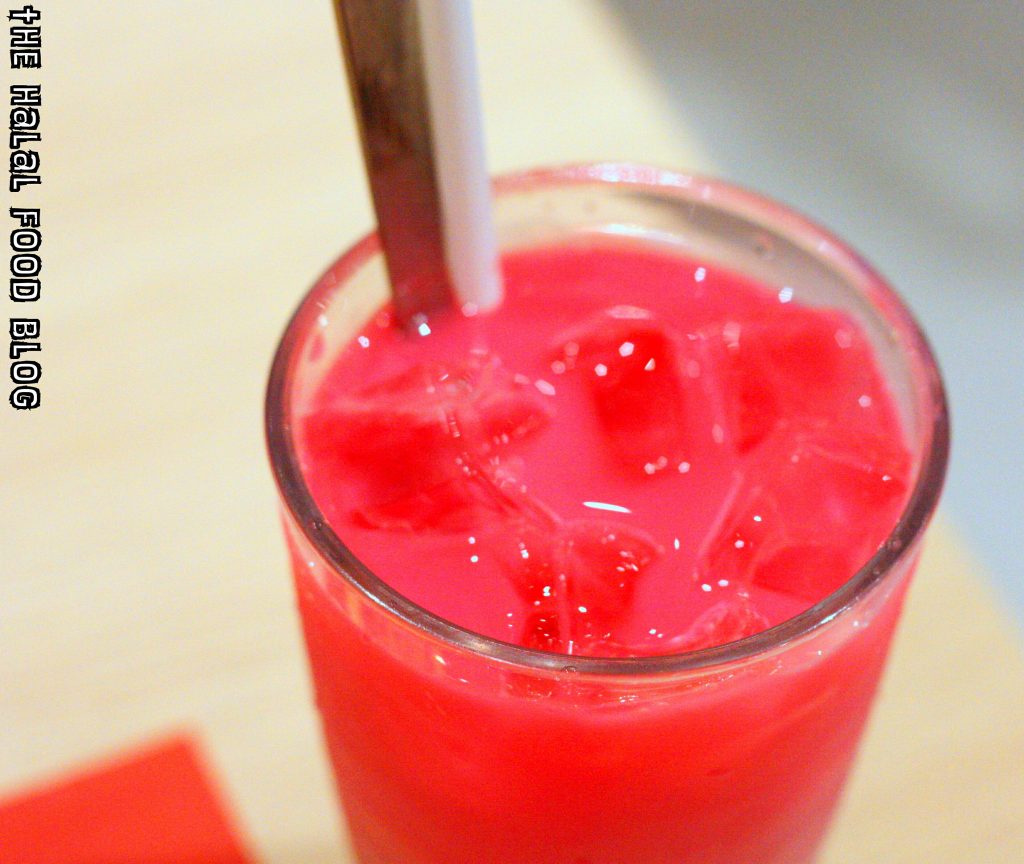 At first glance, you're thinking it's Bandung right?
Well, it's got soya bean milk in there which is both healthy and tasty! And besides that, a special surprise at the bottom!
There's actually Gula Melaka at the bottom!
So the 3 layers are Rose Syrup, Soya Bean Milk and Gula Melaka! Confirm best! But don't forget to stir it all up okay!
In one of our visits to The Chicken Rice Shop in Melacca, we actually tried the Famous Sarawak 3 Layer Tea which is something similar in nature. You can choose to add $1 per cup if you'd like to change from 3 Layer Rose Soya to the Famous Sarawak 3 Layer Tea! You can read about it HERE before making your decision 😛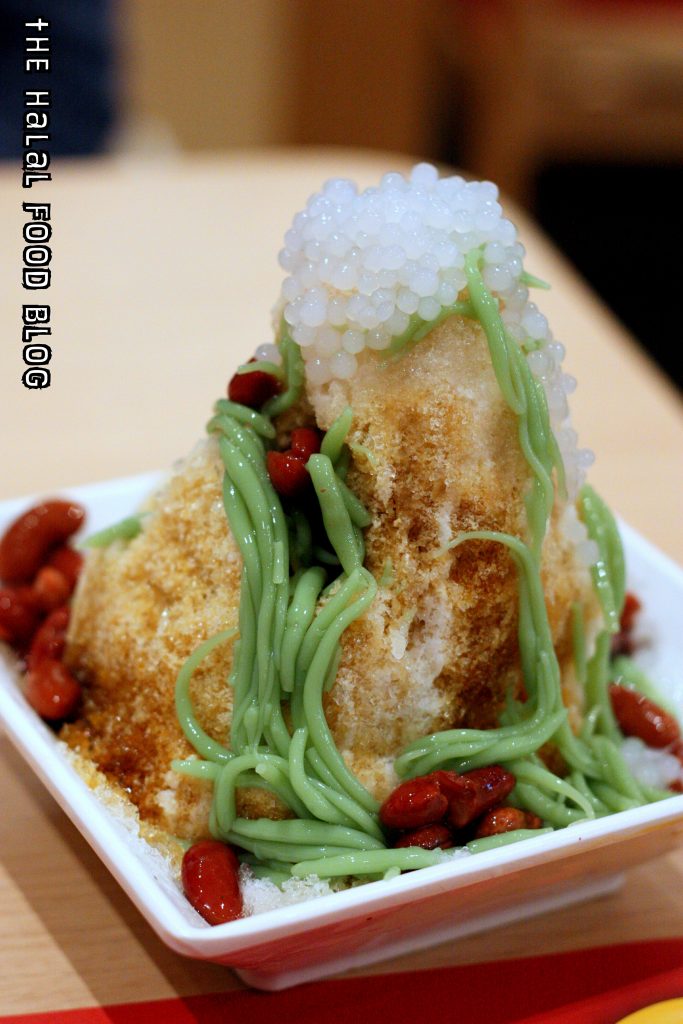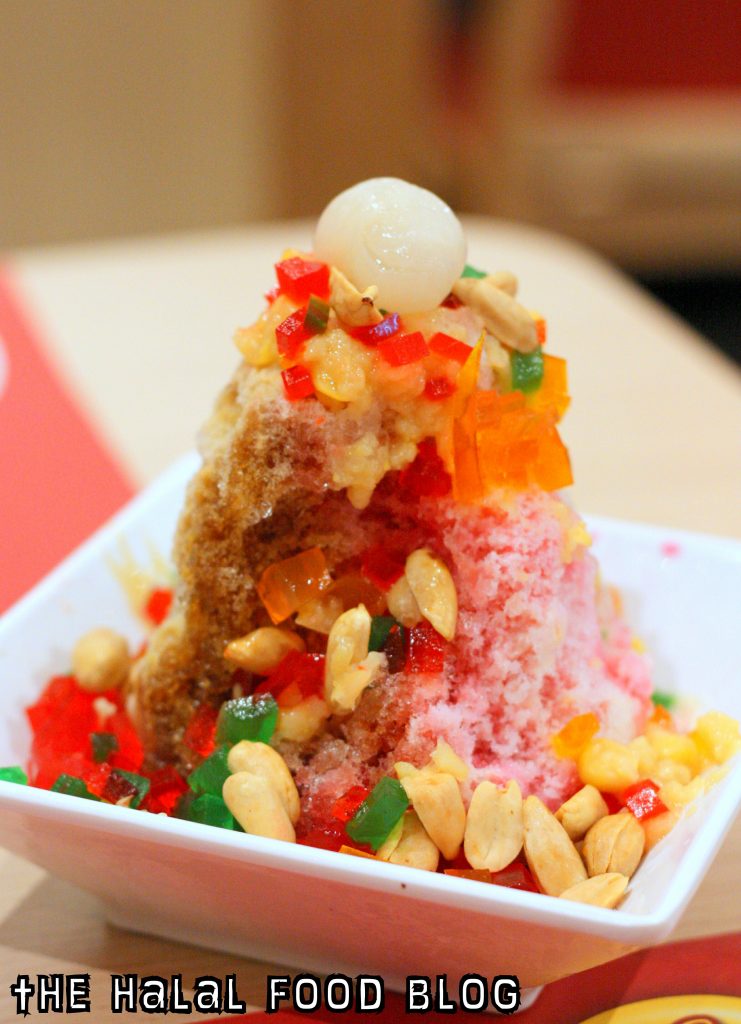 There were no desserts in the set menu but no problem can just order ala carte from the menu because there are some great options there. We decided to end our meal on a sweet note (as always) with some Chendol and ABC!
Perfect for people with a sweet tooth (like us!).
Besides the great food at The Chicken Rice Shop, we also noticed that they take great effort in trying to keep modern with the times but at the same time still retaining it's unique identity.
One good example are these little baskets (for cutlery) that are shaped like chickens. The first time we saw these was in the TCRS in Kuala Lumpur all the way back in 2007. And even now, they still have it! I guess it's something unique that people will definitely identify with when they think of The Chicken Rice Shop.
Anyways, the special Rendang Kampung Fiesta is on until the first week of August so not much time left! Head down to TCRS at OneKM Mall and/or Causeway Point to try ASAP!
Special thanks to The Chicken Rice Shop for having us down! Can't wait to visit again!
(Maybe for an installment of The Chicken Rice Chronicles eh? Hehehe)
OneKM Shopping Mall
11 Tanjong Katong Road
#02-17/18
Tel: 6702 2618
Operating Hours:
10.00am til 10.00pm Daily
All information (including prices, availability of item on menu and Halal status of establishment) are accurate at the time of posting. All photos used in this site are property of The Halal Food Blog unless stated otherwise.