We had plenty to eat during #TheAlshayaFoodTour in Dubai but not all of it was part of our 'official' duty there. We did have a few meals which were not part of our official reviews and one of them happened to be The Cheesecake Factory.
The Cheesecake Factory was actually a name that so many of our readers actually mentioned in the build-up to our trip so I was actually really excited when we arrived in Dubai because The Cheesecake Factory was actually going to be the very place we had some makan because it was dinnertime by the time we had settled checking-in at the hotel.
Besides the obvious excited for the food, I was actually very impressed with the size, ambiance and the decor when we arrived at The Cheesecake Factory! But a little more on that later on.
First up – the food!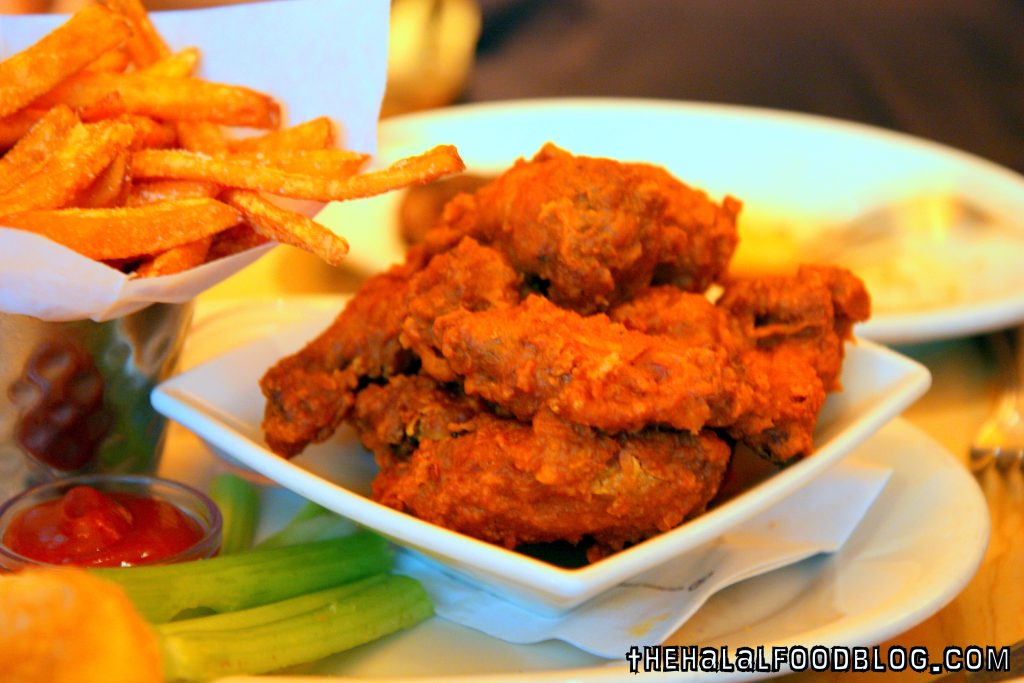 Well to be honest the Buffalo Wings were a little lost on me. Maybe I'd been browsing the menu for too long and gotten so hungry (this was our first meal upon reaching Dubai and after checking-in to the hotel) or something but I was left feeling a little disappointed.
The wings had a very strong taste of Tabasco sauce which tells me they've already doused the wings in it but it was a little too heavy to be honest. And I'm a guy who LOVES Tobasco sauce so if I say it's a bit much then perhaps it just might be. After all, it's not just about the spicy pepper flavour but hey it's got plenty of vinegar too so that's really a very strong flavour we're talking about here.
Oh well, I was gonna make sure I ordered an entree I was gonna enjoy.
The menu at The Cheesecake Factory has something like 14 pages in it and each page has something like 12-15 items on each page so you can imagine how excited I was because I had so many dishes to choose from but then again I could probably only choose one so I wanted it to be something I really wanted to it.
I had originally decided on the Chicken Madeira (which is apparently the #1 chicken dish at The Cheesecake Factory) as recommended by some readers but then I saw something that I'd seen on TV a countless number of times and my chance was finally here to try it!
Chicken & Biscuits!! The idea of creamy chicken gravy and Southern Buttermilk Biscuits has always appealed to me whenever I see it on TV (especially Diners, Drive-ins and Dives on Food Network Asia if you know what I mean) and I have not seen a Halal version of this anywhere before. But hey, here I am at The Cheesecake Factory in Dubai about to dig in!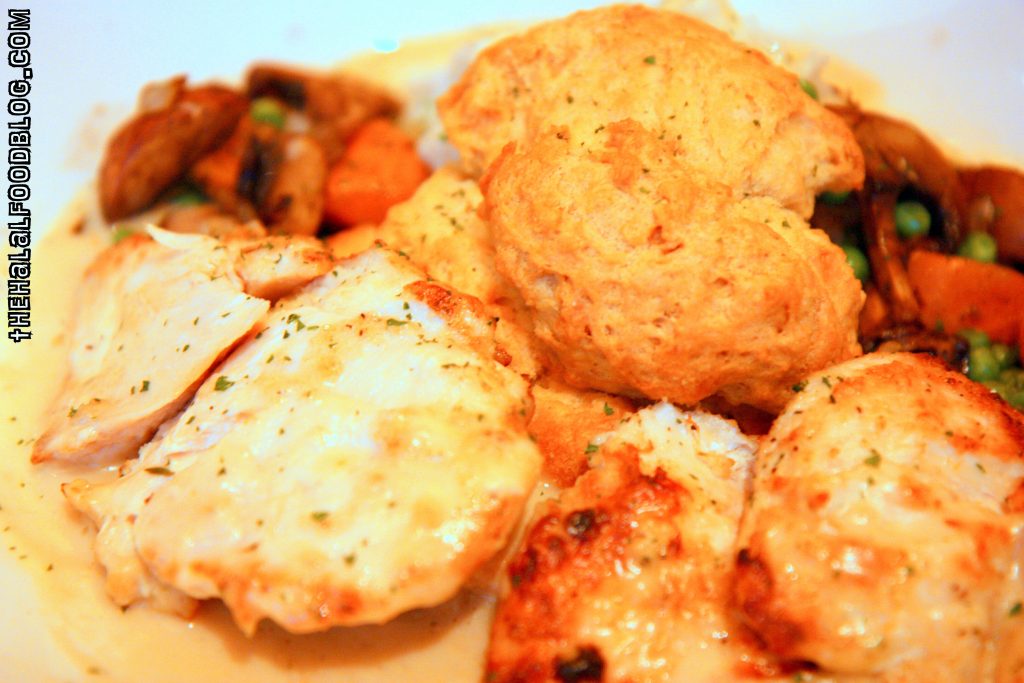 First things first, let me say that the portions at The Cheesecake Factory are absolutely HUGE! You can probably share between 2-3 people no joke. You can really tell from those pictures about but that plate is actually gigantic! I looked around me and noticed that pretty much everyone around me was being served giant servings of whatever dish they ordered!
So we've got some chicken breasts that have been sauteed plus some of the "Best" Buttermilk Biscuits on there. And of course, let's not forget the creamy and rich gravy that's gonna complete the whole 'comfort food' vibe going on with Chicken & Biscuits. For good measure, they also have mashed potatoes and sauteed vegetables too.
Although it was not 100% the same as I'd seen on telly (where the chicken meat is normally shredded and incorporated into the creamy gravy that is then smothered over the biscuits), this was still a very tasty dish. I really enjoyed it but I didn't finish it because it was simply too much LOL and after awhile, the gravy does tend to become a bit overwhelming (aka muak) because it's so rich.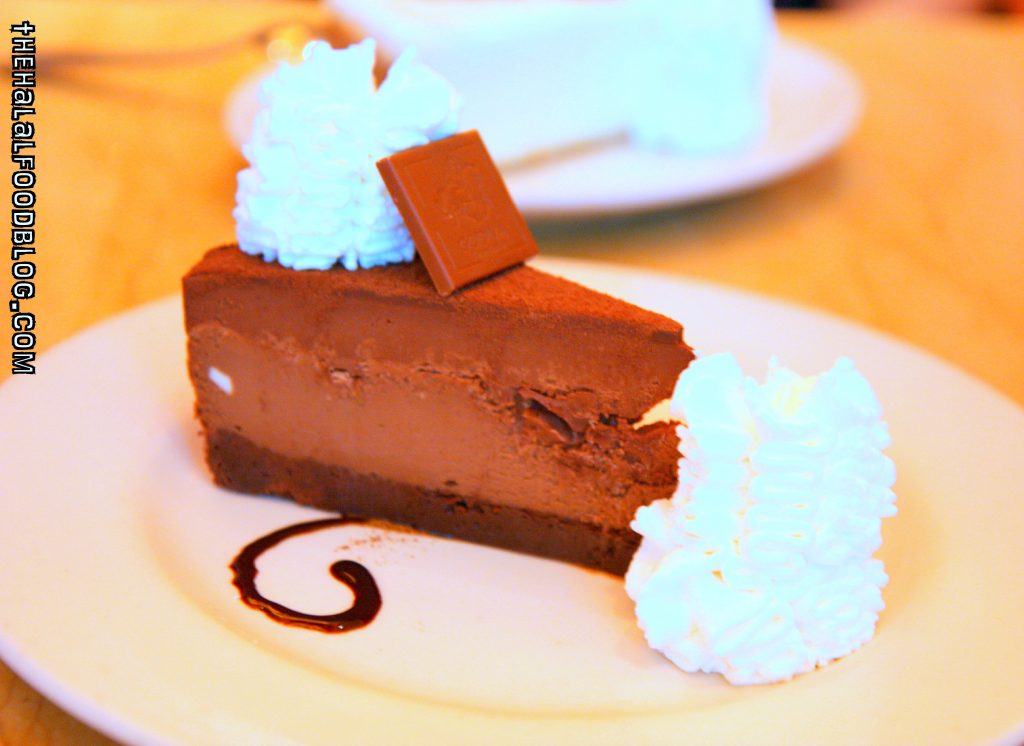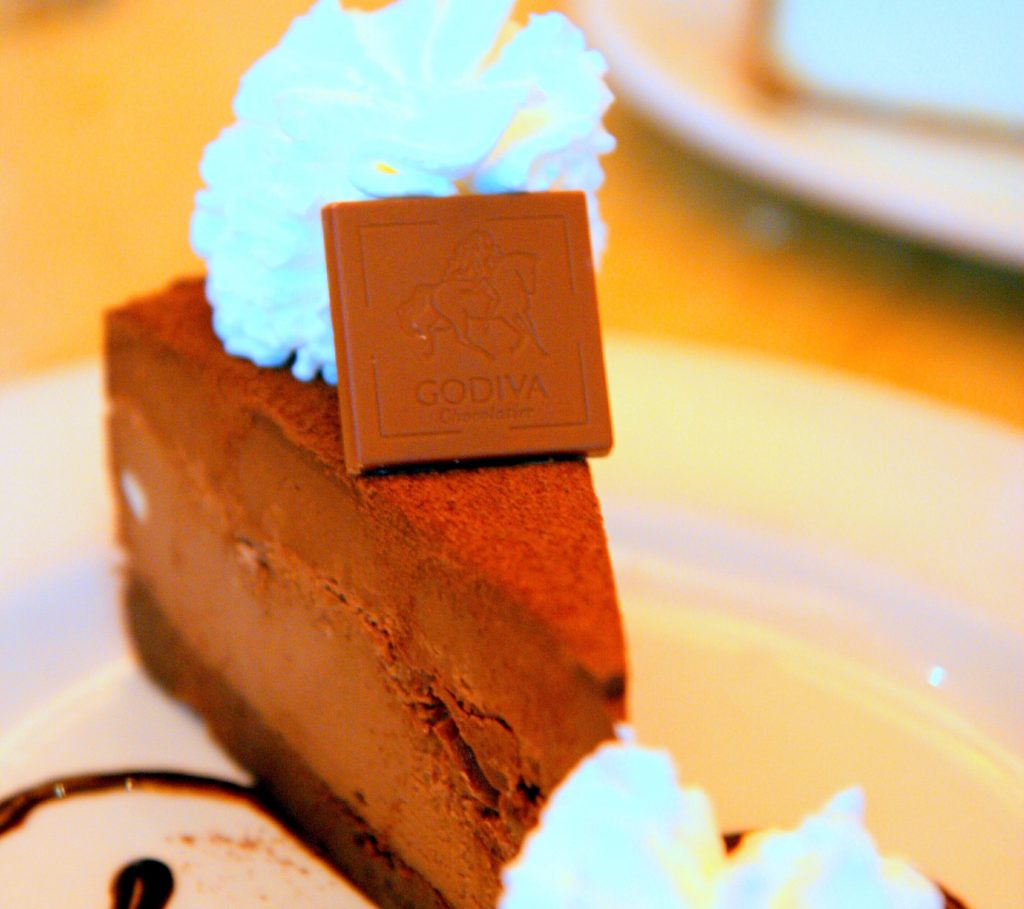 When you're at The Cheesecake Factory, you've OBVIOUSLY LIKE DUH gotta have the cheesecake right!!!
They've got 29 different types of Cheesecakes available on the menu (and who knows how many more coming in future) so you've got your work cut out for you when it comes to choosing just one LOL
I myself kept choosing and then changing my mind LOL so many lah I wanted to try!
In the end, we ended up ordering 3 to try and one of them was the Godiva Chocolate Cheesecake. So it's a flourless Godiva chocolate cake at the base and then Godiva chocolate cheesecake topped off with chocolate mousse and a few good swirls of fresh whipped cream! Sounds absolutely decadent!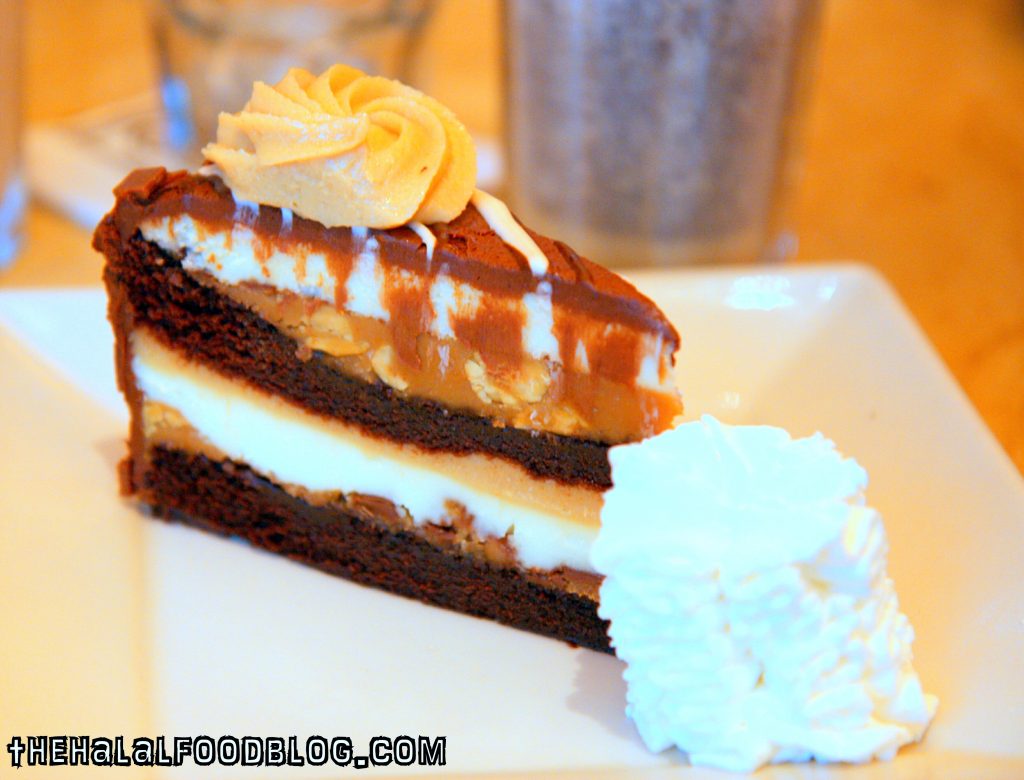 So we tried the one made with Reese's Peanut Butter Cups because it sounded like it was gonna be so good but it actually turned out to be the most disappointing one of the lot we tried.
Firstly, please note it's half cake and half cheesecake because there's some layers of chocolate fudge cakes and some layers of chocolate cheesecake which is actually not too bad because I love cake! But the very thing that was supposed to be the unique and special ingredient was the let down.
For the layer of Reese's Peanut Butter Cups, you can look closely and see they have actual peanut bits in there. This is normally a good thing if you ask me but this time, it was not. For some reason (probably because the cakes are refrigerated), the peanuts were no longer crunchy (literally dah lemau) which you can probably tell was very disappointing.
Other than that, the rest of it was pretty great in terms of a firm peanut butter and cheesecake flavour.
Pity about the peanuts though.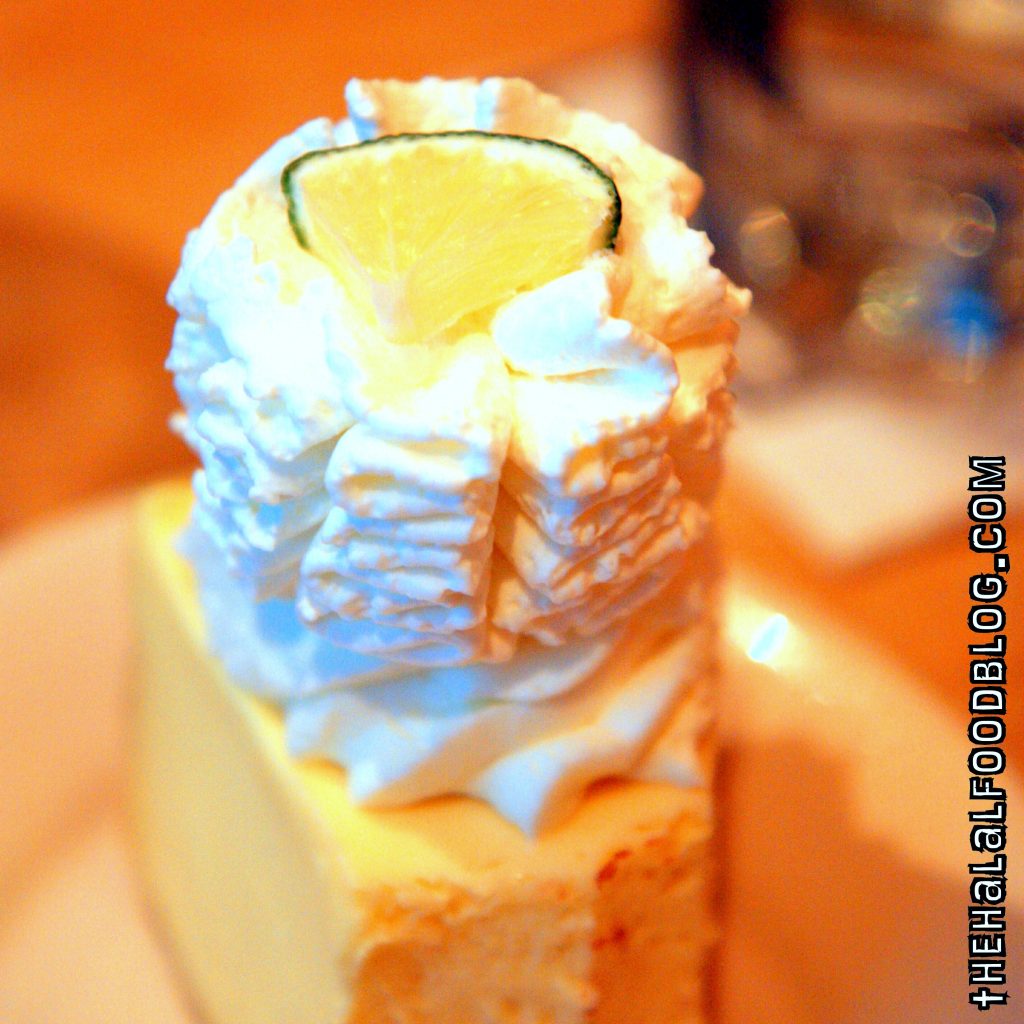 Any fans of Key Lime Pie? *I'm raising my own hand*
Well, you're gonna love this one.
You've got all the great flavour of a Key Lime Pie in a cheesecake! What a great combination right? This one had just the right amount of tart and tang to make you pucker up but still keep going back for more. I wish I had ordered this for myself LOL (this one we actually kapur from other people one).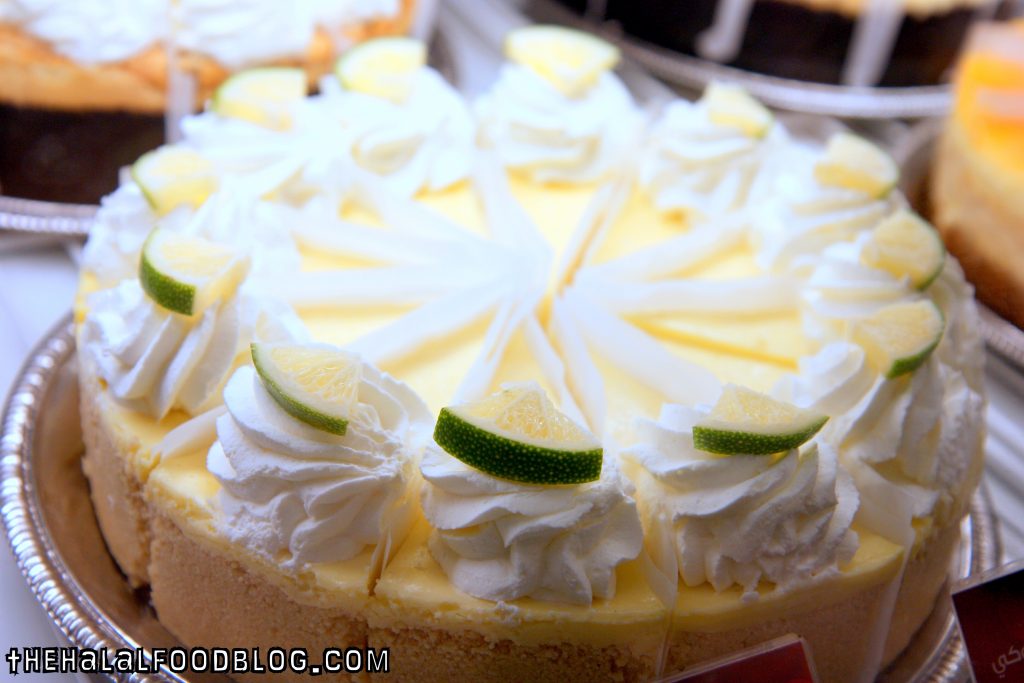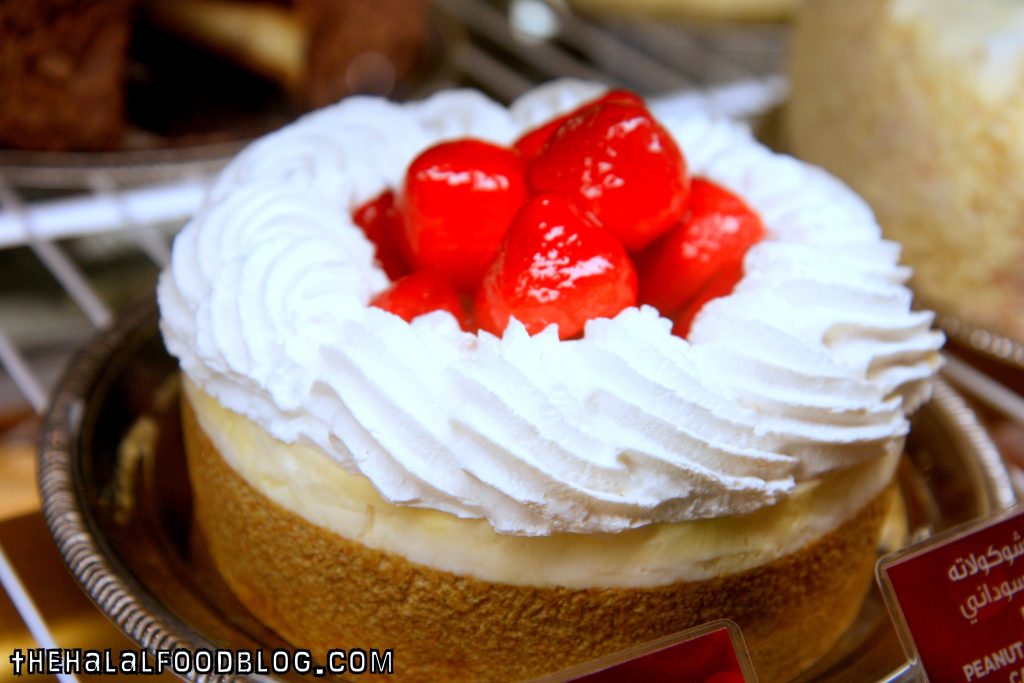 Anyways like I said earlier, they have so many different types of cheesecakes to choose from.
They've got Original, Fresh Strawberry, Godiva Chocolate Cheesecake, Toasted Marshmallow S'mores Galore, Dream Extreme Cheesecake (with Oreos), Chocolate Bar Cheesecake (with Hershey's), Ultimate Red Velvet Cheesecake, Peanut Butter Chocolate Cake Cheesecake (with Reese's), 30th Anniversary Chocolate Cake Cheesecake, Dulche De Leche Caramel Cheesecake, White Chocolate Raspberry Truffle, Mango Key Lime Cheesecake, Fresh Banana Cream Cheesecake, Adam's Peanut Butter Cup Fudge Ripple (great name!! LOL), White Chocolate Caramel Macadamia Nut Cheesecake, Chocolate Mousse Cheesecake, Vanilla Bean Cheesecake, Chocolate Tuxedo Cream Cheesecake, Chris' Outrageous Cheesecake, Chocolate Chip Cookie-Dough Cheesecake, Dutch Apple Caramel Streusel, Key Lime Cheesecake, Low Carb Cheesecake, Low Carb Cheesecake with Strawberries, Wild Blueberry White Chocolate Cheesecake, Caramel Pecan Turtle Cheesecake, Snickers Bar Chunks and Cheesecake, Craig's Crazy Carrot Cake Cheesecake and Cherry Cheesecake.
FUYOH! Is that a lot or is that a lot! You can even add additional toppings like ice-cream and/or hot fudge!!
And for the record – my original choice was the classic Cherry Cheesecake.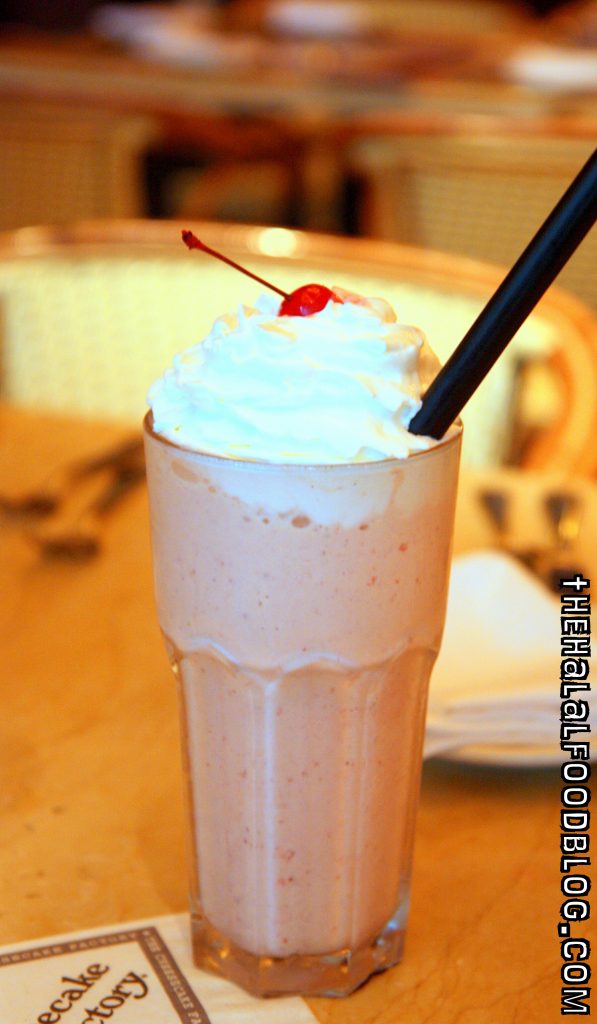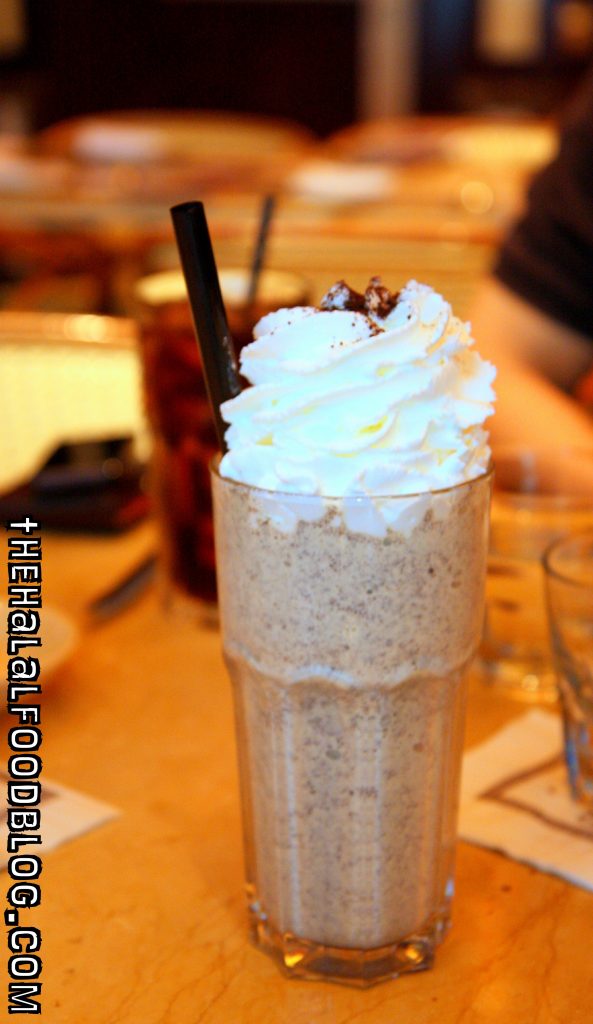 And to (so-called) wash it all down, we had some milkshakes for good measure LOL
And these were the real deal too! None of that watery stuff you might get at other places (that shall not be named) but we're talking about those nice and thick creamy milkshakes!! Oh yeaaahhhh!!!
They've also got Chocolate and/or Vanilla milkshakes if that's your thing.
Or you could try some of their other specialty drinks like the Strawberry Daquiri, Pina Colada or maybe even a smoothie to quench your thirst?
I was actually quite taken by the decor and ambiance at The Cheesecake Factory. This place was really big and spacious but yet it managed to keep a very private and comfortable atmosphere. They had tables for big groups and even booths for smaller families and couples even.
It gave off a very grand vibe to me personally and I think it was very unique.
Well, they have got loads on the menu and I wish I could name all the dishes for you but that would just be way too long (Email us if you really really really want the full menu). Suffice it say – they have pretty much everything you could expect from an American-style diner cum restaurant. Seriously – they have everything. In fact, I think I could visit every day for and still not cover everything on the menu.
But if we ever visit again, definitely gonna have much much more of those great cheesecakes!
Mall of the Emirates
Barsha 1, Ground Level
Facebook: www.facebook.com/TheCheesecakeFactoryMiddleEast
Operating Hours: 11am til 11pm Daily
All information (including prices, availability of item on menu and Halal status of establishment) are accurate at the time of posting. All photos used in this site are property of The Halal Food Blog unless stated otherwise.