***UPDATE***
THE CHEESE STEAK SHOP HAS CEASED OPERATIONS IN SINGAPORE AS OF FEBRUARY 2017.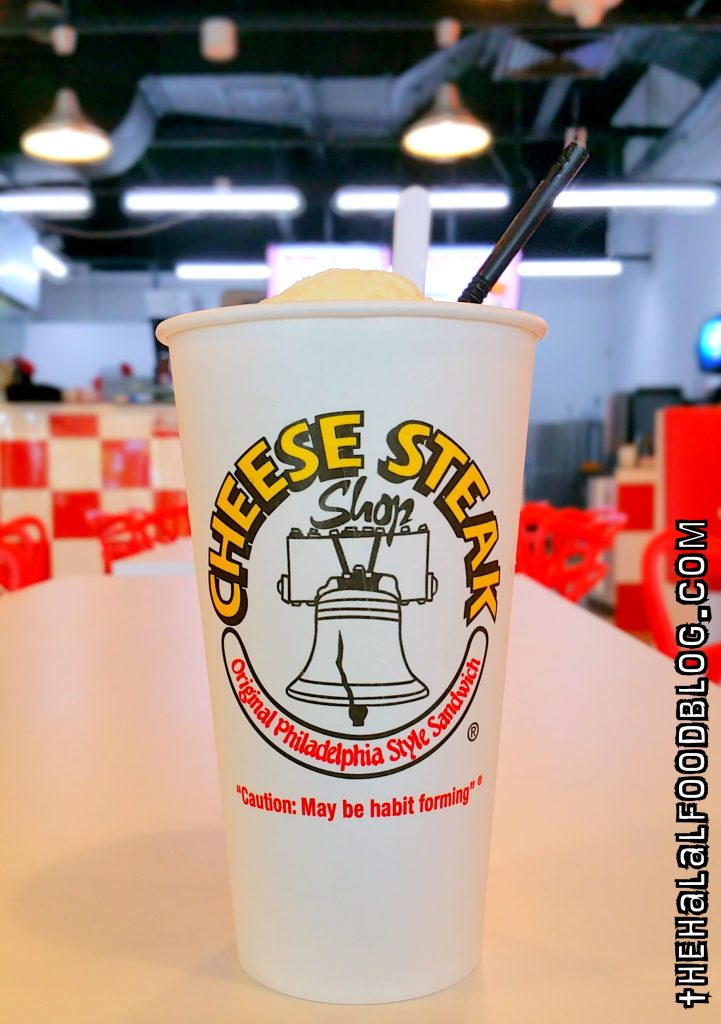 The Philadelphia Cheese Steak Sandwich. A legend in its own right and once of the most iconic sandwiches in the world. From its humble beginnings of being unwittingly invented to achieving worldwide acclaim, one thing is for sure – this is a great sandwich and unfortunately it's quite hard to find a Halal version here in Singapore.
Until now that is.
Oh yeah. The Cheese Steak Shop comes to us all the way from the USA and they have been at it since the 1980s so they surely know a thing or two about Philly Cheese Steaks right?
So let's dive right in and see how a Philly Cheese Steak sandwich starts on the grill shall we?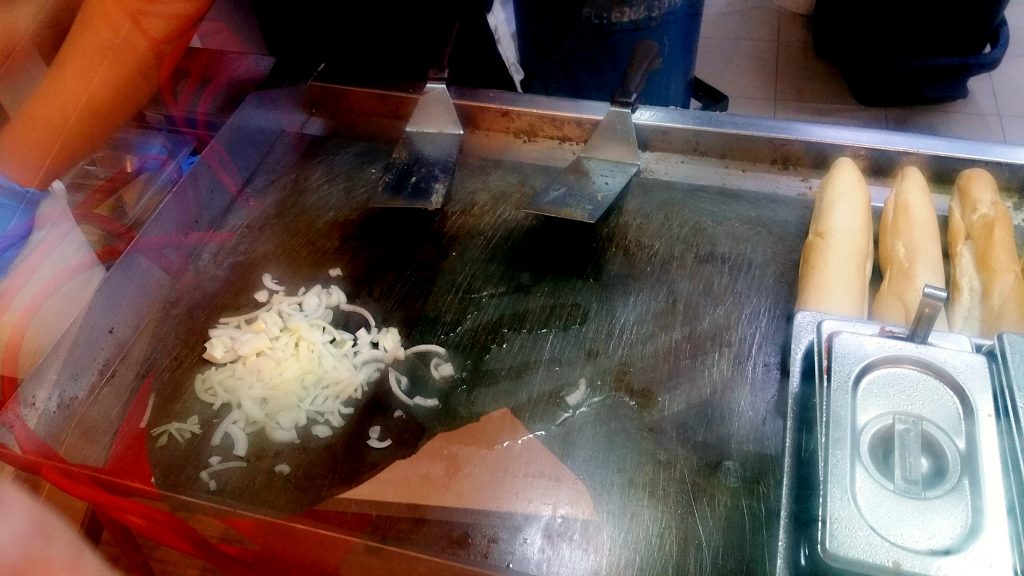 Traditionally, onions are only other actual ingredient in the sandwich besides the beef and the cheese in between the bun. A big white onion is chopped up and left to sizzle on the grill for a little to soften them up and get those flavours going.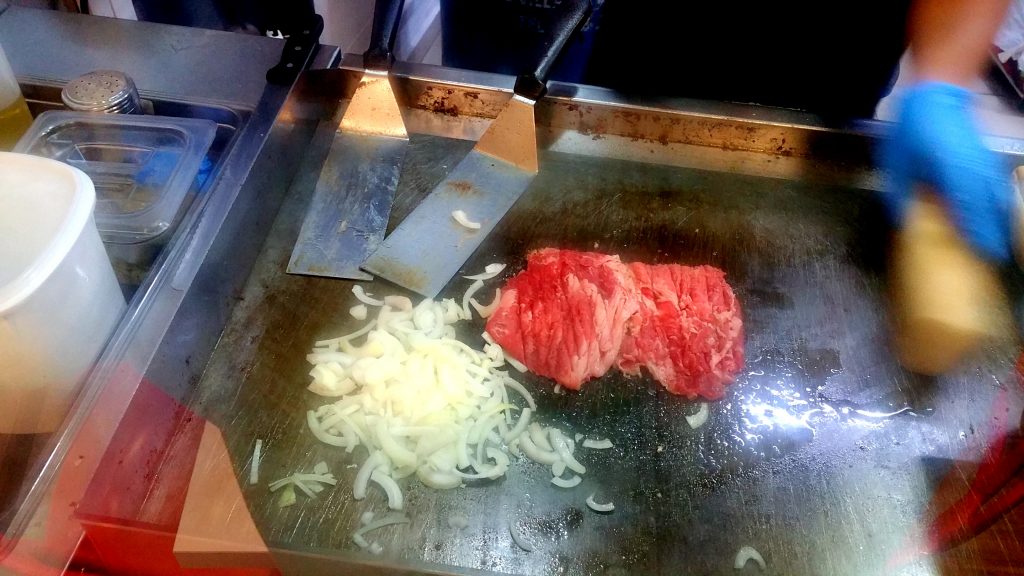 So the steak is sliced thinly like so and the means more flavour, more juicy goodness and ultimately more beef packed into your sandwich. Usually, Ribeye is the cut of choice based on what we see on TV (oh Food Network we heart you so) but there might be other cuts used to from time to time.
What's important is a good quality beef and that's what they use here at The Cheese Steak Shop.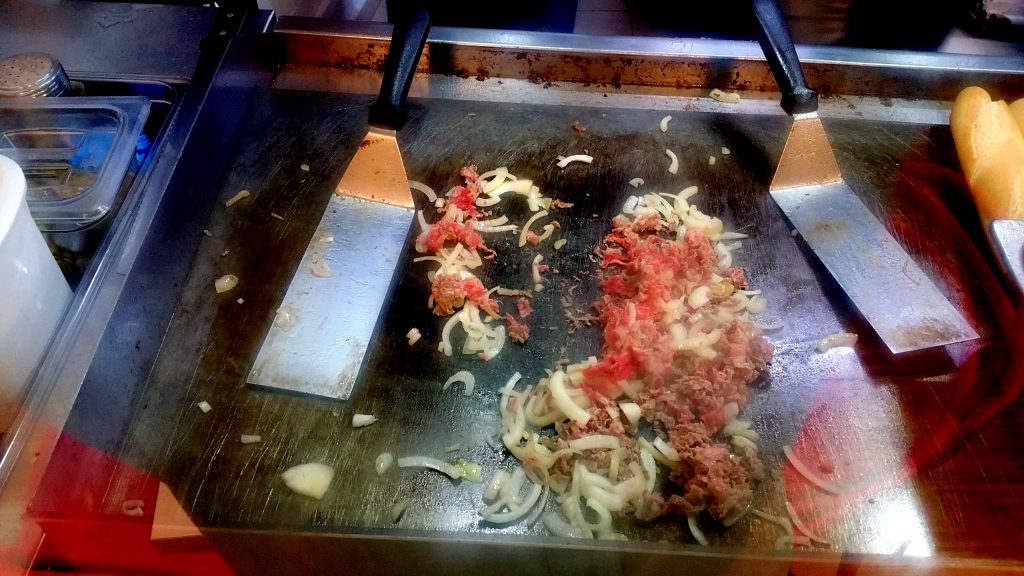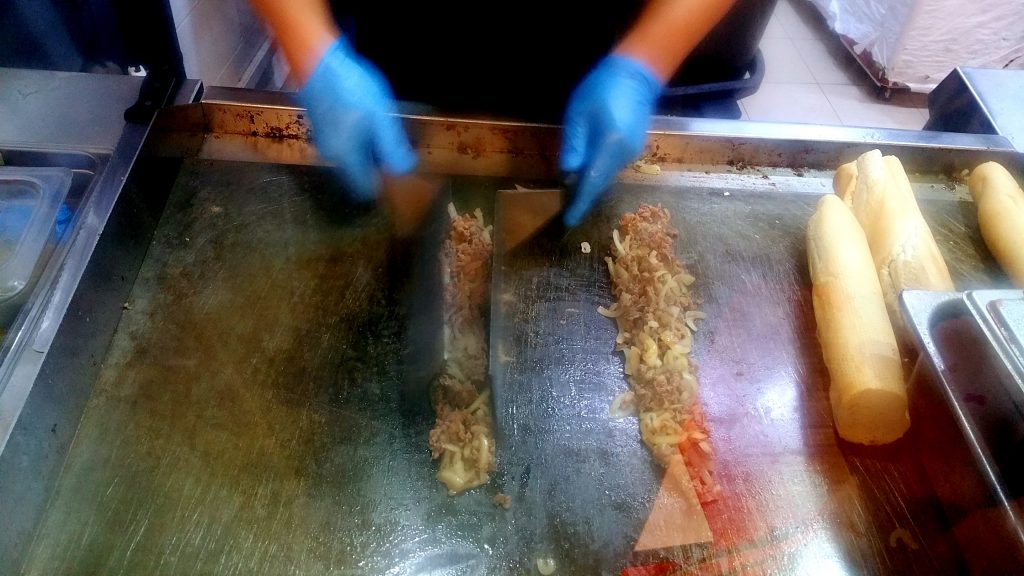 A little oil and a little seasoning and we are good to go!
The beef and onions release all the tasty flavours and there's one more main ingredient coming up…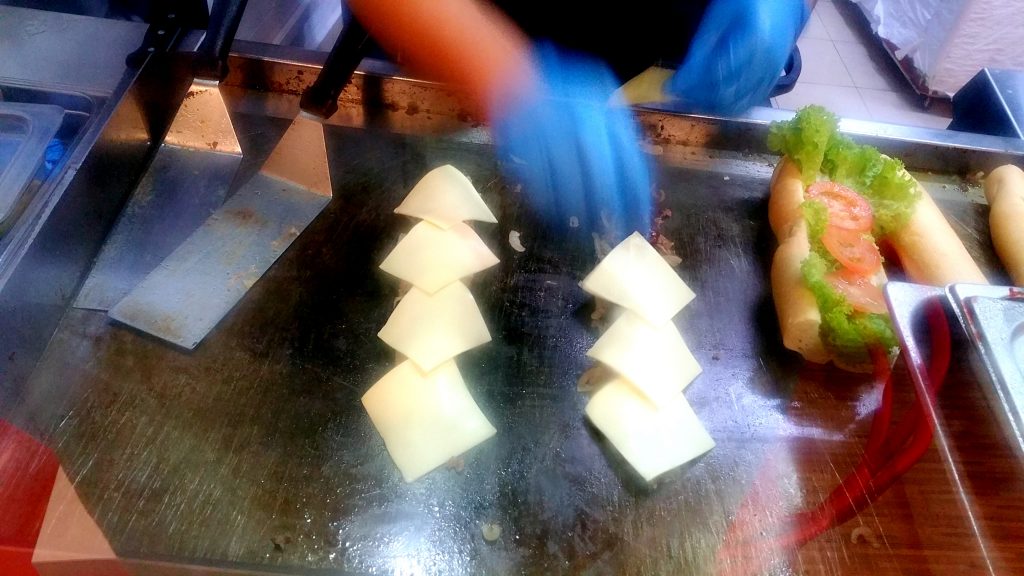 The best of the best cheese steak sandwiches use only 3 types of cheeses.
1. Provolone 2. American White 3. Cheez Whiz
These are cheeses which give you a good cheesy flavour and get all gooey and melty where it counts. And even though Cheez Whiz may seem like something a little out of place with the other 2 cheeses, it's probably one of the most popular choices because it gives you that extra cheesy kick!
At The Cheese Steak Shop, they use a quality American White cheese. They pile it on the beef and onions on the grill and when it's all melty, they scoop the lot up into the bun and we're all set to feast!!
Now, they do have quite a few variations at The Cheese Steak Shop (as you will soon find out) so this is also where they add extra stuff like BBQ sauce, tomatoes etc. So onwards to the food!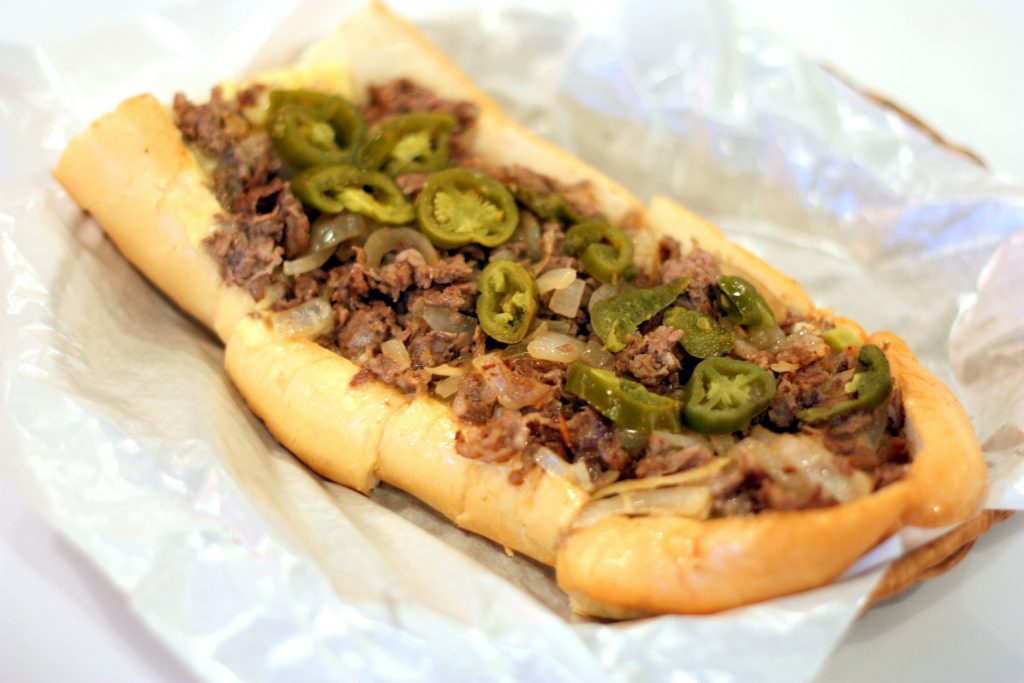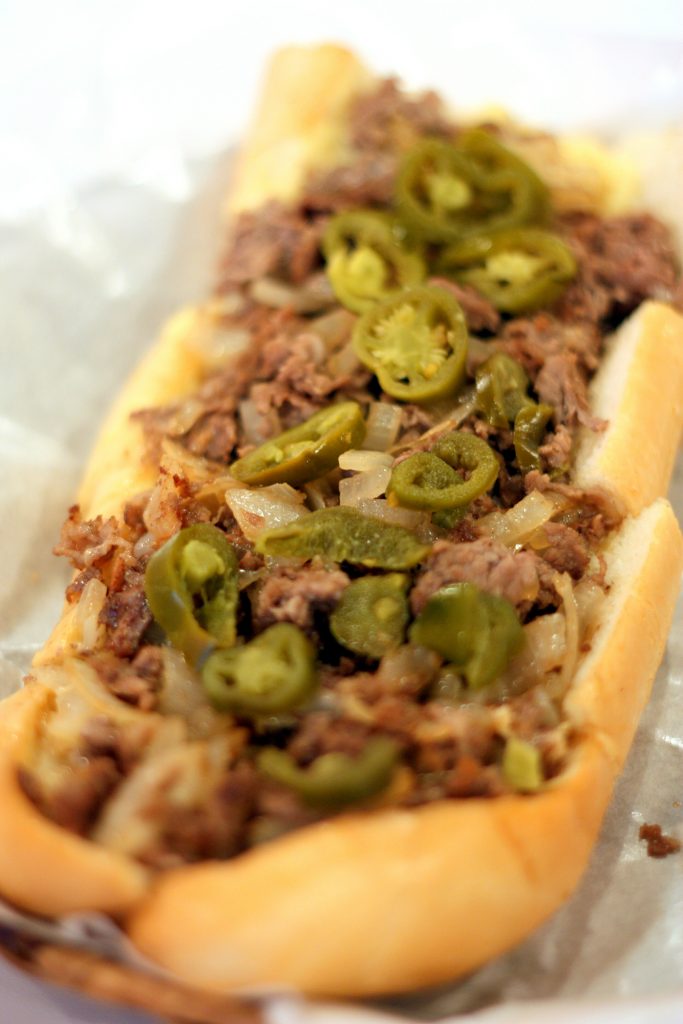 Ambik kau! The King of Philly Cheese Steak sandwich!!
That's a 10-inch bun holding in all that beefy glory, onions and topped off with jalapenos for that extra spicy kick.
And of course, let's not forget all that gooey cheesy goodness that lies beneath all that meat!
This is one massive sandwich let us confirm that for you!
You could go for the smaller version known as the Queen of Philly Cheese Steak at 7-inches but hey… you know you probably wanna make it worthwhile and get the big daddy right? LOL
They can cut it up into 2s or 4s for you upon request of course so you don't look so weird trying to maintain as you take a nice big chomp into that beefy cheesy sedap gila sandwich.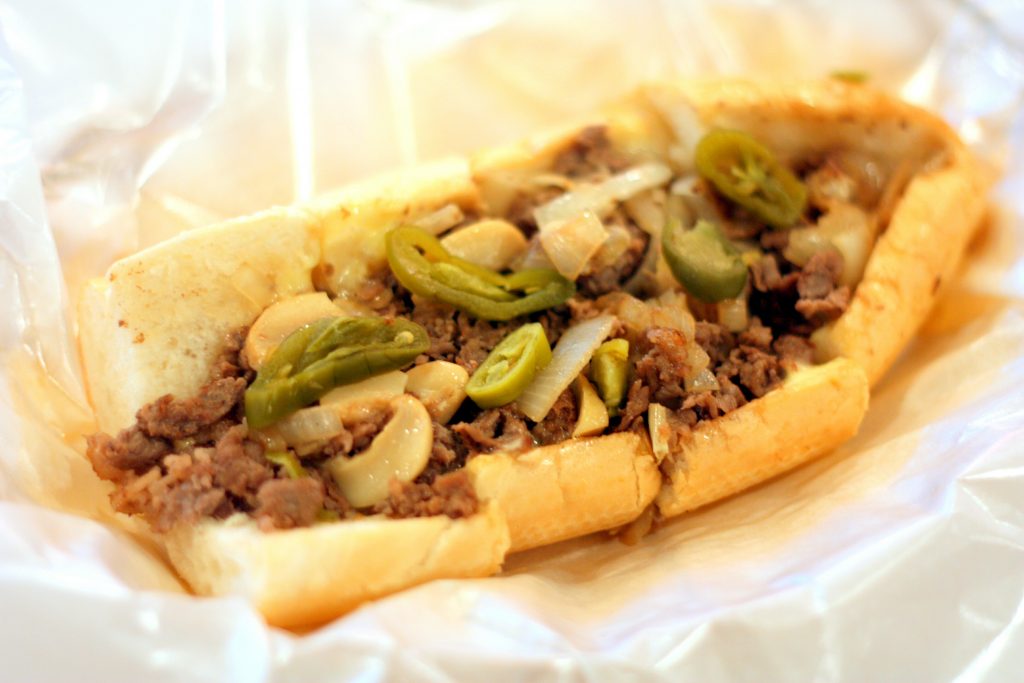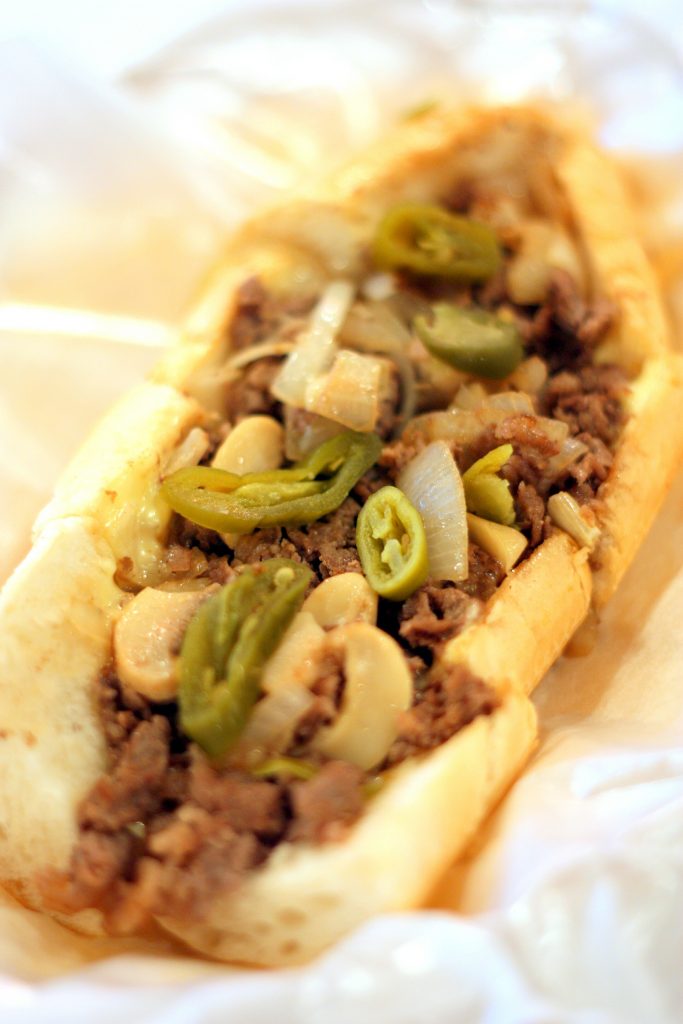 Besides the classic Cheese Steak sandwich selections, they also have a few which include some familiar and favourite flavours including the Mushroom Cheese Steak sandwich.
This includes the great earthy flavour of mushrooms into your Cheese Steak sandwich.
They also have other options including Spinach Cheese Steak and Garlic Cheese Steak too!
Next time, we're gonna try and ask for extra Cheez Whiz!!! FUYOH!!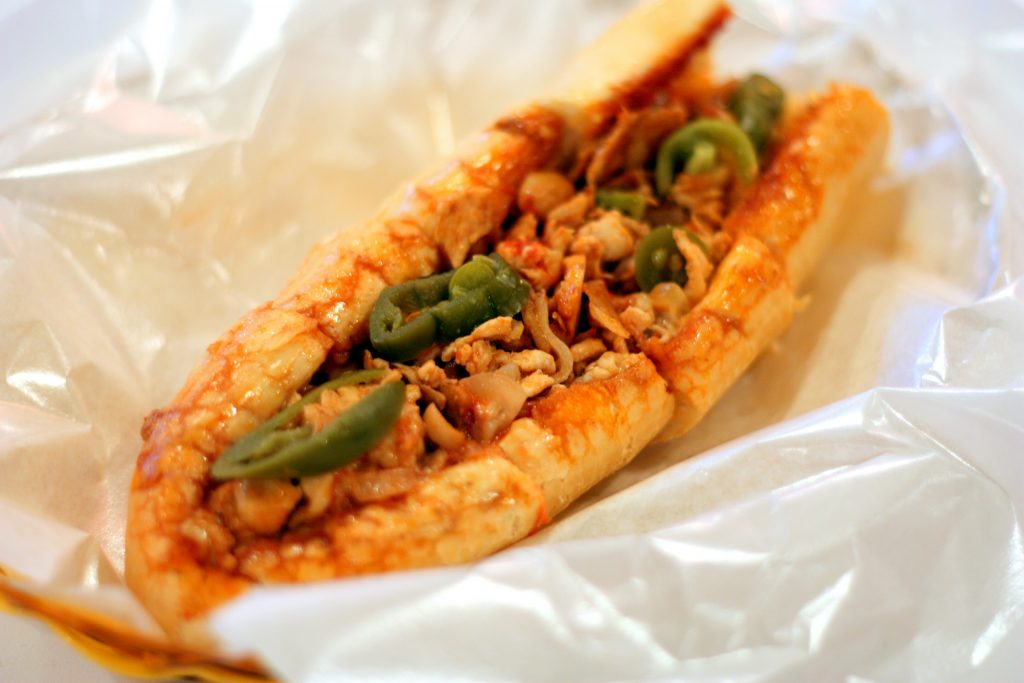 If you're looking for extra flavour they also have a few sandwich choices which might suit your taste.
This time, we're tying out some chicken instead of beef. In fact, all the sandwich options can be either beef OR chicken! It's all up to you!
Even if it's chicken, you're still in for a tasty treat. Generous portions of chicken with a pizza sauce and mushrooms so you get a nice tomato flavour. And don't forget the cheese!!
We did find the bread getting a little soggy because of the generous sauce so make sure you eat fast! LOL
Besides the Deluxe, they also have a BBQ Cheese Steak which has BBQ Sauce and a Pizza Cheese Steak which kinda like a Deluxe but without the mushrooms.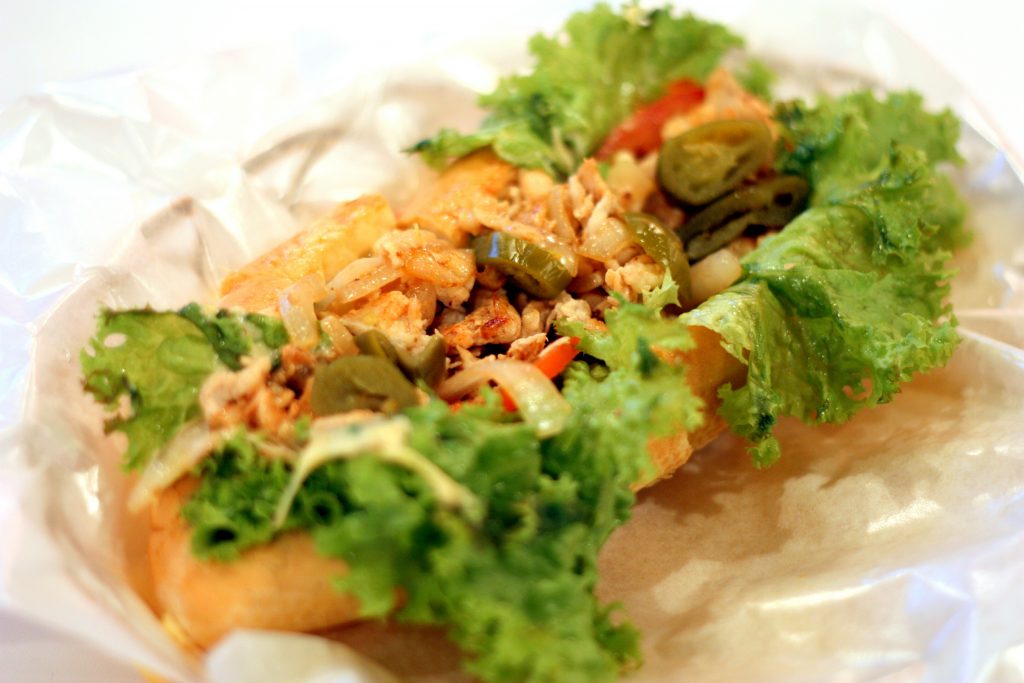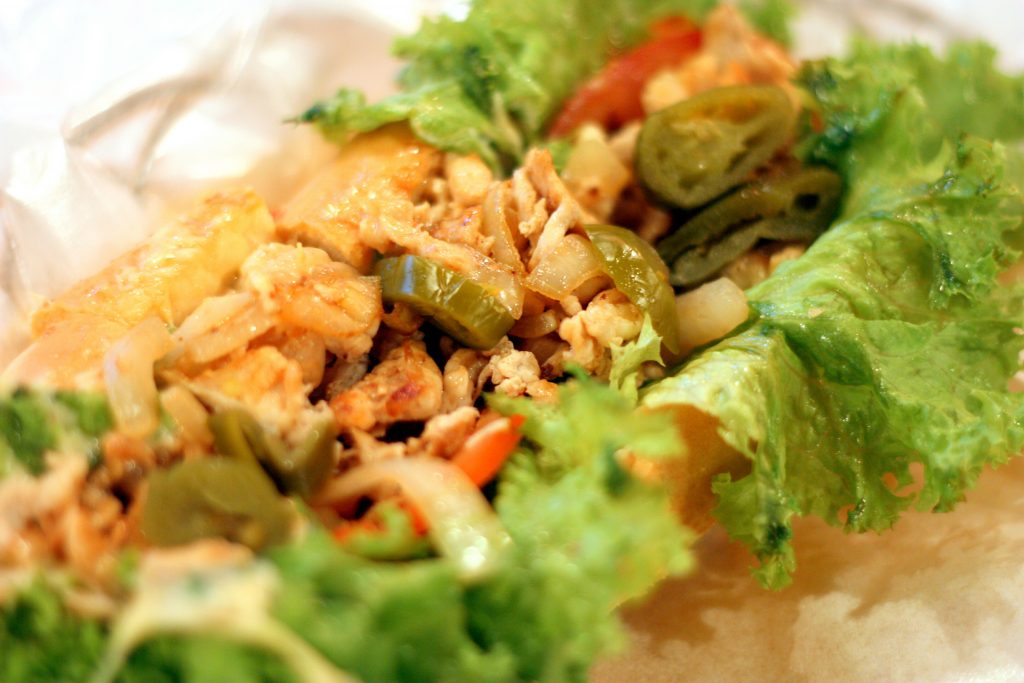 If you like your veggies, then the Hoagie Cheese Steak is the perfect choice for you!
Not only do you get to enjoy your Cheese Steak, you also get a healthy serving of lettuce and tomatoes too! Oh yeah that's fresh lettuce and tomatoes along with your beef or chicken Cheese Steak.
If you wanna go all-the-way veggies also can!
The Cheese Steak Shop has vegetarian options like the Original Vegetarian Sandwich which has spinach, mushrooms, lettuce, tomatoes, cheese, mayo, mustard and you can also add some onions if you'd like.
Alternatively, they also have the Zesty Veggie Sandwich which has roasted peppers, cheese mushrooms, grilled onions, tomatoes and whole roasted cloves of garlic!!
Ho ho ho! And we were so in luck!!! We were actually the first customers to try this…
Yeah they can spice up your Cheese Steak sandwich with some jalapeno but on our 2nd visit, we actually got to try something new that just arrived at the shop – Sweet or Spicy Peppers!!!
Oh yeah these are the real deal pickled peppers that's for sure. Think of them as… Tobasco Sauce before they are made into the famous pepper sauce (which is also available on the side at The Cheese Steak Shop by the way!).
They've got Sweet or Spicy (OR BOTH) Peppers for you to add-on so go for it! Definitely recommended!!!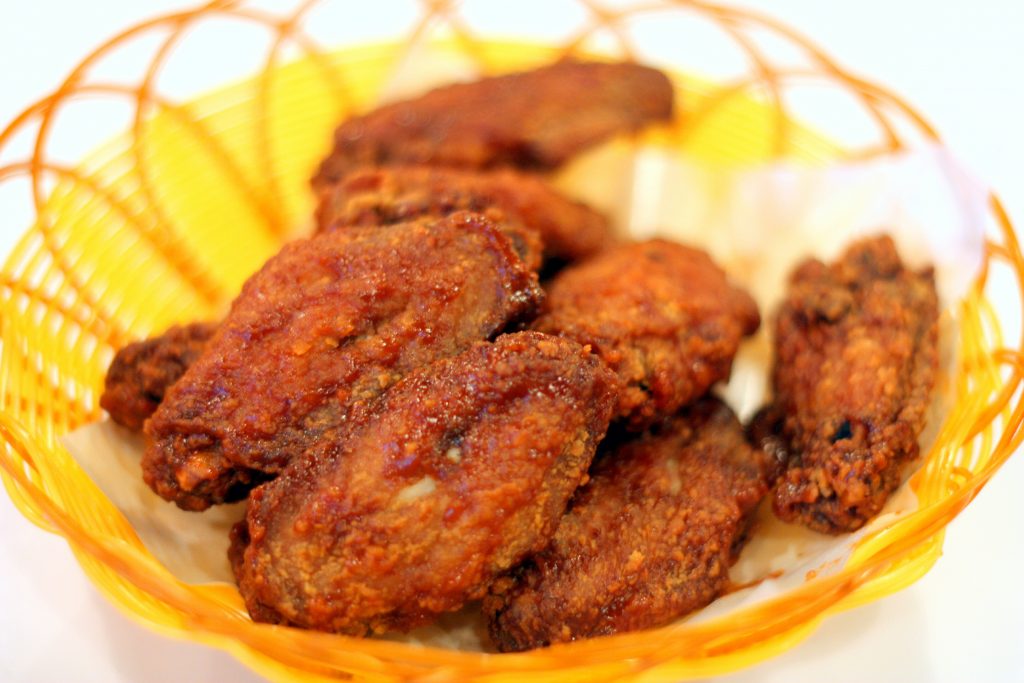 And in the case the Cheese Steak sandwiches are not enough, they also have some great sides at The Cheese Steak Shop. One of them being the Buffalo Basket.
Yeah everyone loves chicken wings right! Choose from BBQ, Sambal, Teriyaki or Hot Sauce flavour for the wings!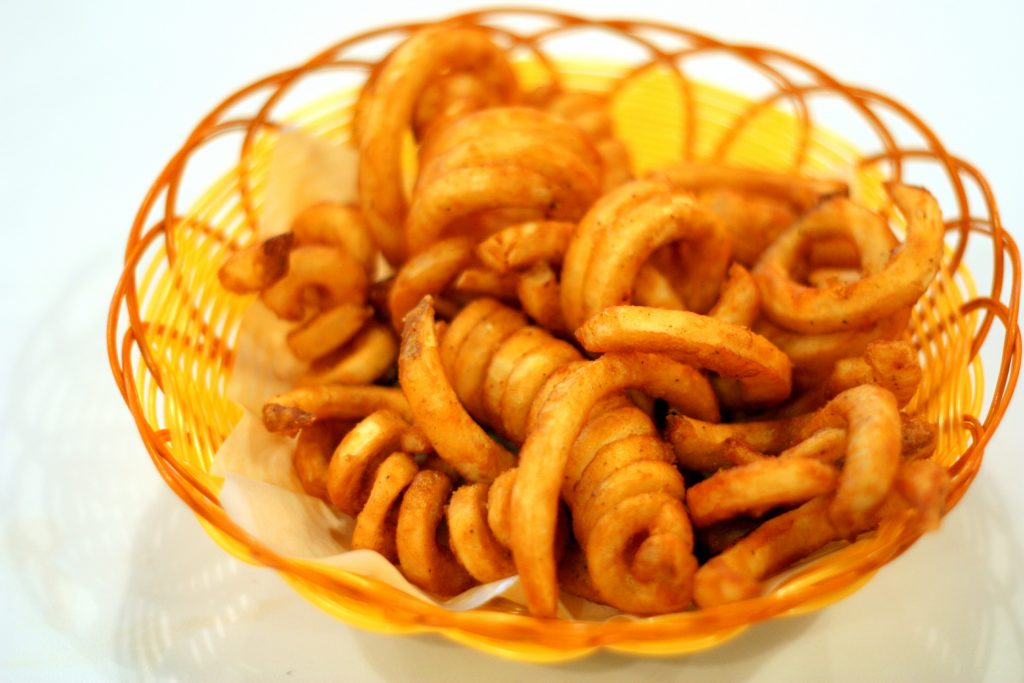 Aha! This is another must-have!!! The Twister Fries!!
And it's honestly as close to the favourite Curly Fries from A&W as we have found anywhere else so far!!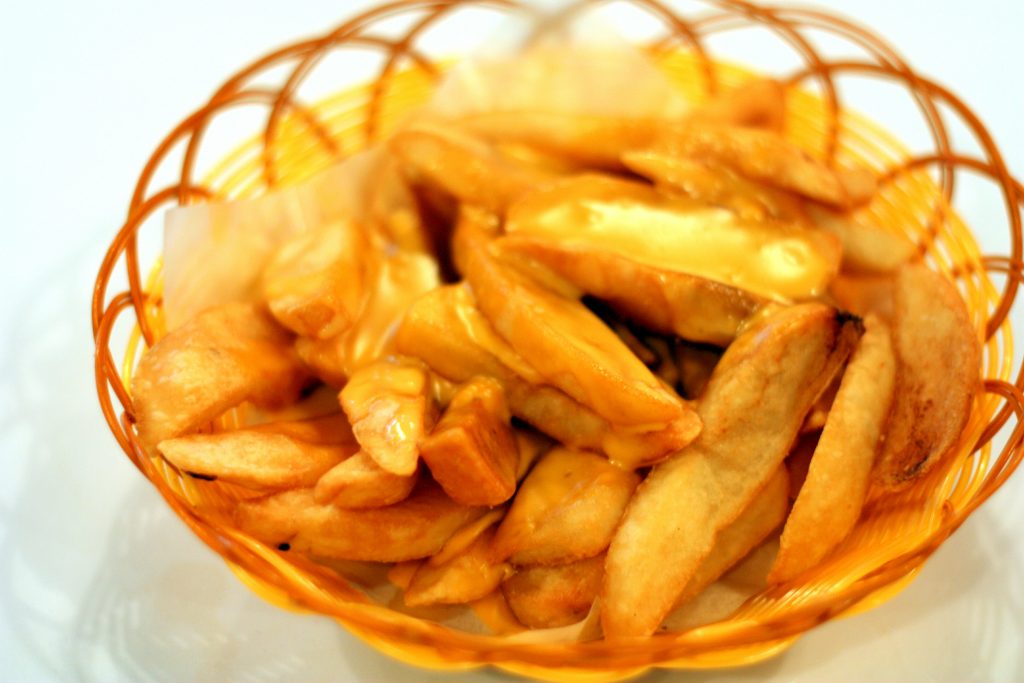 But if normal fries are your thing, fret not! They also have some pretty mean Cheese Fries too!
Good quality potato fries here with a tasty cheese sauce!
In fact, they also have Steak Fries (!!!!!) on the menu which is definitely a must the next time we visit!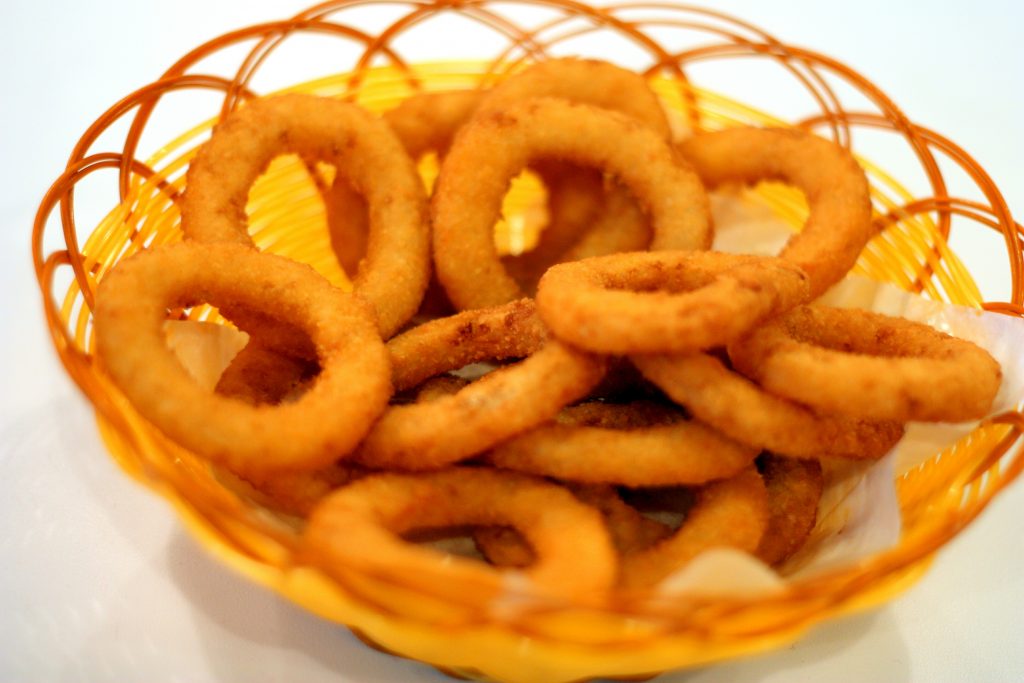 Good ol' Onion Rings deep fried to golden brown perfection.
I think somehow this really went well with the Cheese Steak sandwiches to me. But then again, I really love Onion Rings so there you go LOL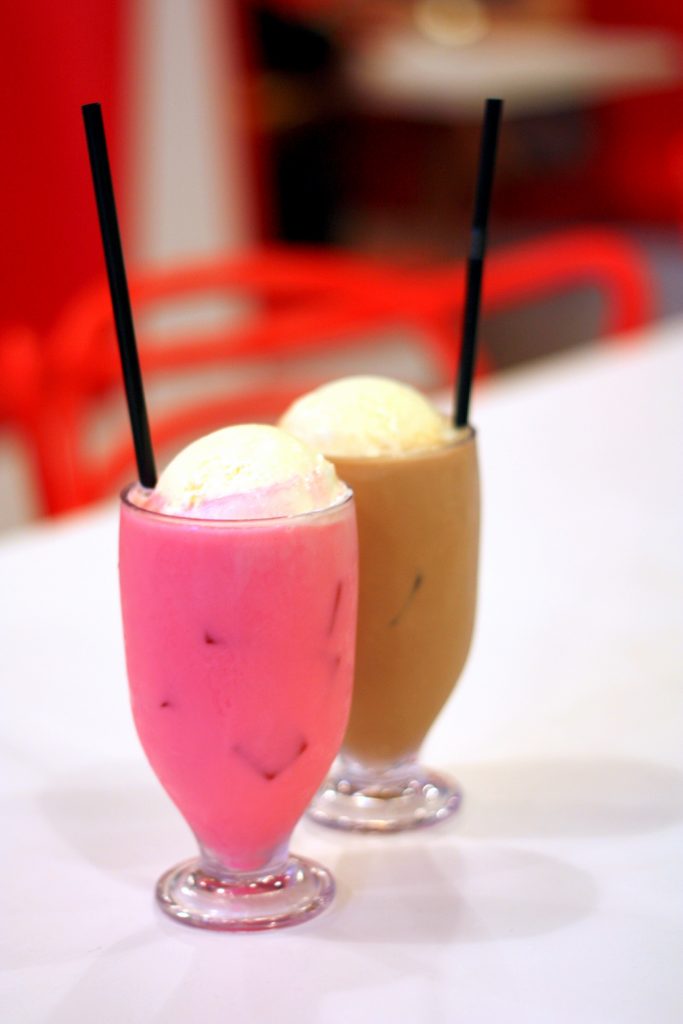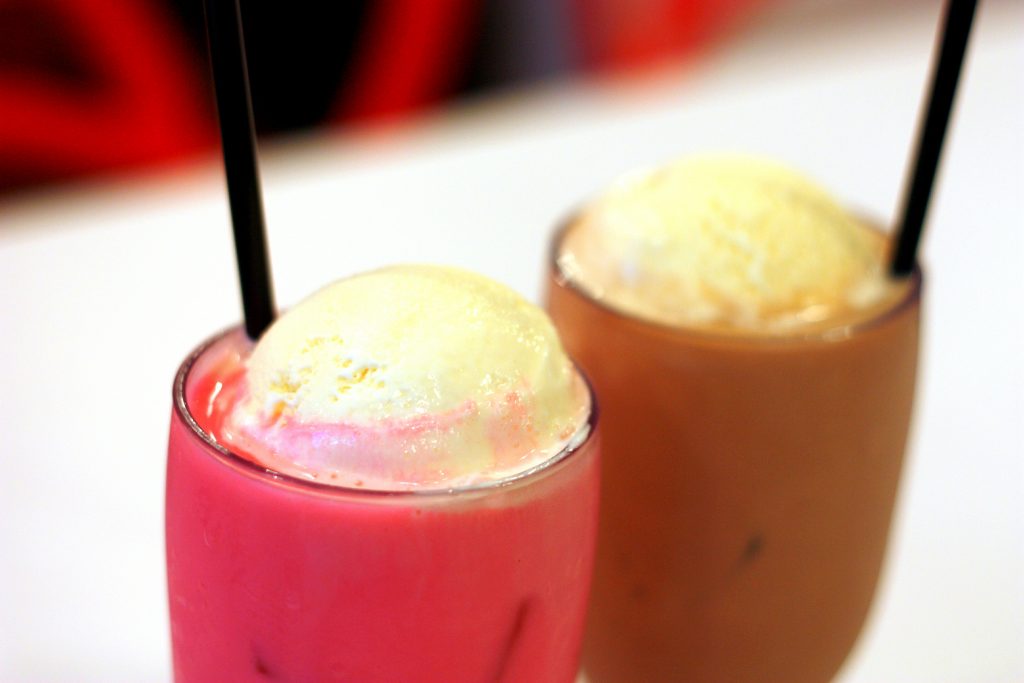 They've got the usual array of soft drinks and the likes to quench your thirst but if you'd like something a little different, try their range of floats! Vanilla ice-cream served up on a tasty drink. We tried the Bandung and the Iced Milk Coffee but they also have Black Coffee too.
I personally prefer a nice ice cold soda to go along with my Cheese Steak ;p
Some pretty nice decor at The Cheese Steak Shop too to make you feel like in good ol' Philly having a Cheese Steak or three. It even has an area for the kiddies to hang out while mum and dad have a bite.
And look out for the cool and neato signs too! Great for a chuckle.
They have plenty of tables and chairs but also some booth stalls too so it's really like a diner when we think about it.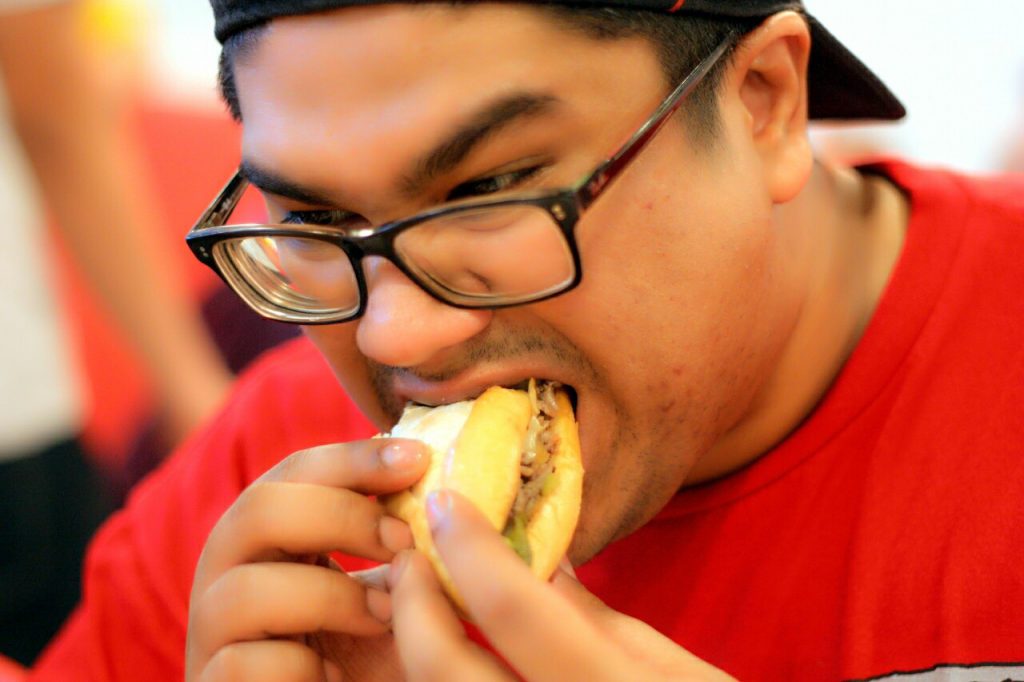 Whatever you've read in this post, there is actually more on the menu believe it or not!
The Cheese Steak Shop has so much on offer that we definitely need to visit again soon to try out more!!
And you don't have to wait for an event at the stadium before you head down. In fact, it does tend to get pretty crowded when there is an event so you can actually drop by any time to have a tasty and unique bite. It's also a good idea for a bite on the go!
And here's a tip – it's accessible only from the outside so follow the signs! It's just next to The Manhattan FISH MARKET by the way!!
Well, whatever your choice, get the authentic iconic sandwich from Philadelphia here at The Cheese Steak Shop!!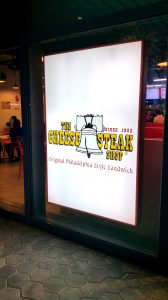 The Cheese Steak Shop (CLOSED)

Kallang Wave Mall
No. 1 Stadium Place #01-10
Sports Hub
Tel: +65 90275626
www.cheesesteakshop.com.sg
Facebook: www.facebook.com/CheeseSteakShopSingapore
Instagram: @cheesesteaksg
Operating Hours:
12.00pm til 9.00pm Daily
All information (including prices, availability of item on menu and Halal status of establishment) are accurate at the time of posting. All photos used in this site are property of The Halal Food Blog unless stated otherwise.