Well you've probably seen us posting about it on our FB and IG and you've definitely seen plenty on Halal Food Hunt's pages so we figured it's about time we made some introductions. So we'd like to introduce you to Chef Mimi and some right proper desserts!!
We first heard of and saw Chef Mimi aka The Bubbly Chef's fabulous bakes on Halal Food Hunt. From then on, we kept seeing more and more pictures of delicious treats and also hearing more and more rave reviews too. And only just over the last week did we have the chance to sample first-hand what all the fuss was about… And we're glad to report that the buzz about The Bubbly Chef is well justified!!
See, I'm the cake guy. You can give me any cake at ay time and I'm definitely going to eat it. But whether or not it's good and worth a 2nd slice is a totally different story. I'm sure you'll agree that out there are some good cakes and also some not so good cakes. The good news is – this one ALL the cakes also power so far. LOL
So let us show you just a few of the cakes she has to offer and tell us honestly at the end if you're not simply craving to have some a slice or 4.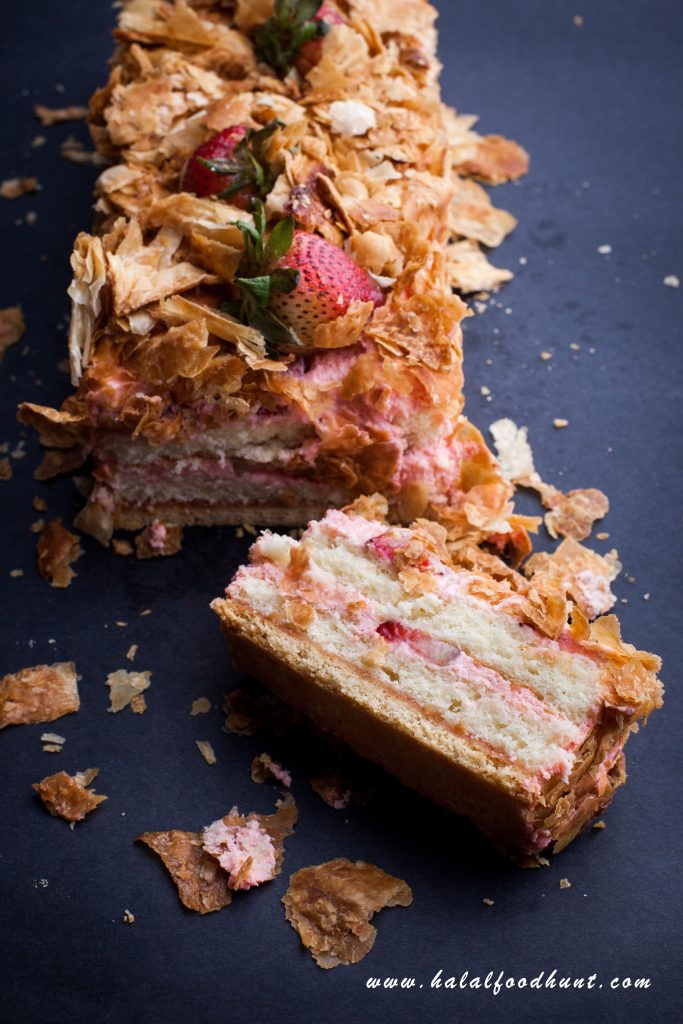 Here's an interesting take on a Strawberry Shortcake which happens to be my Darling Wife's most favouritest cake of all time ever!
Instead of being completely covered in fresh cream on the outside (for most versions), Chef Mimi's version has a mild strawberry cream coating which is finished off with puff pastry flakes. This means you still get a creamy layer but with an extra crisp texture too.
On the inside, you have a Genoise sponge layer paired with a thin almond crisp for a little extra bite. And of course, don't forget the sweet and juicy strawberries with every bite!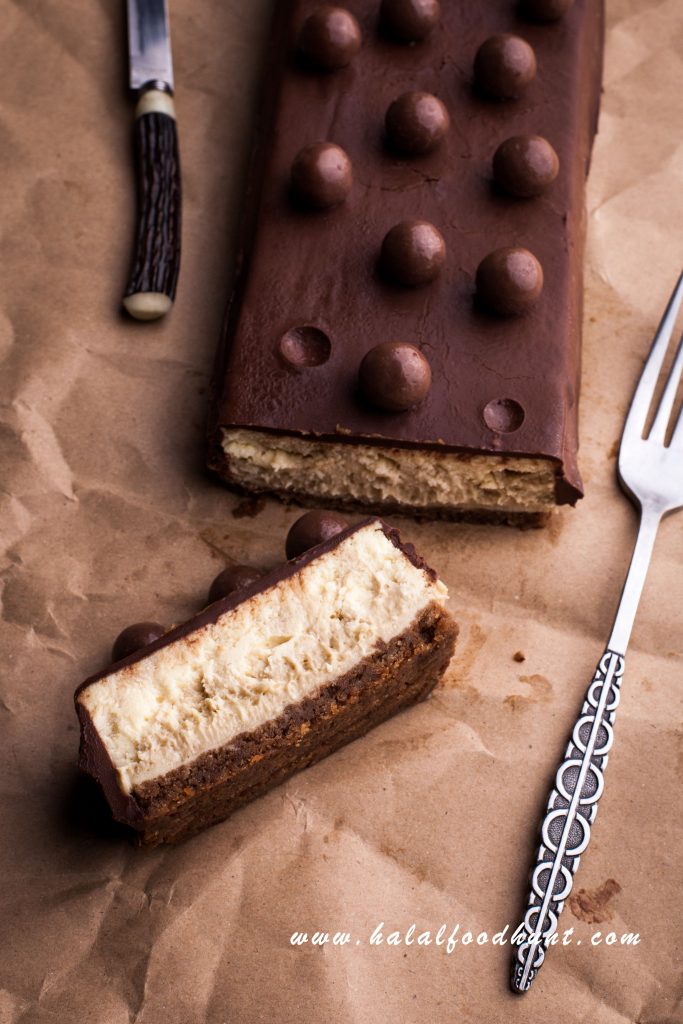 I think just the name of this cake alone is enough to make quite a few of us go "Oooohhhhhh….."
I'm saying it as I type this out right now. Seriously.
This is a cheesecake. A REAL cheesecake. It's not like those half-tastes-like-cheese types you might get outside. This one is dense and packo full of good ol' cheese goodness.
The layer at the bottom is a coffee crumb and you'll find Horlicks marbling as you cut into your cheesecake with trembling hands LOL
Top if all off with a rich decadent dark chocolate ganache and some honeycomb chocolate balls on top.
And tell us honestly – how can you say no to Horlicks / Honeycomb and/or both??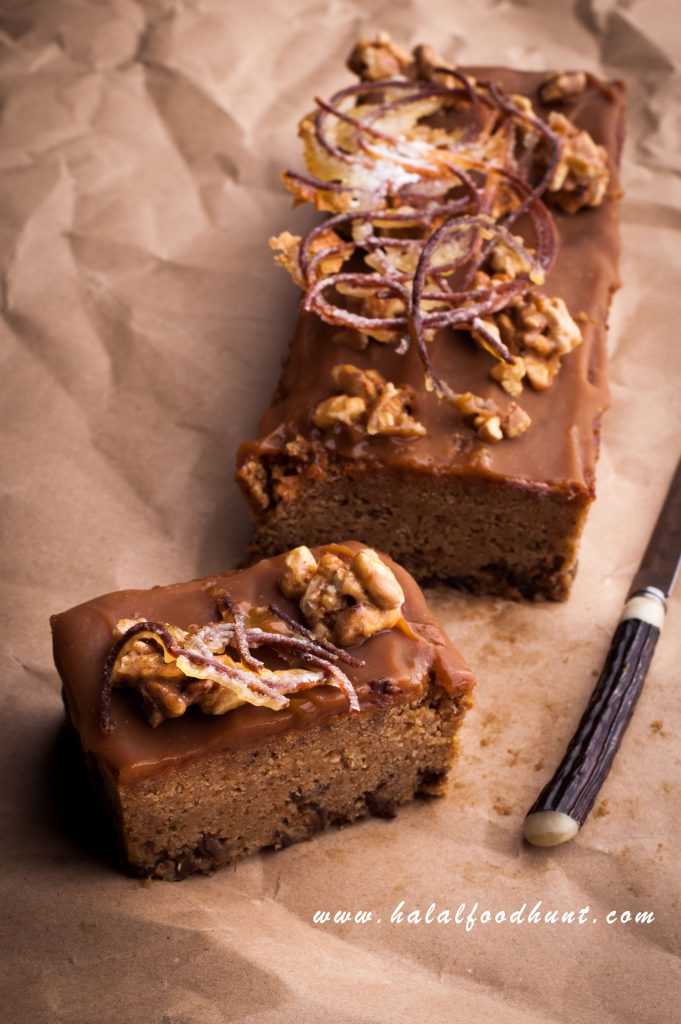 I didn't know what I was biting into when I first tried this cake because I forgot to ask about this one. But after the first few bites I got the feeling it was a cake with dates in it. And I was right! You can taste the naturally sweet dates when you chomp into the walnut pudding cake.
And the salty bit? Salted Caramel Sauce coats the outer layer of this cake! And for added wow factor, check out the sugared spaghetti strands on top! (Yes, you can actually eat them and they're quite good!)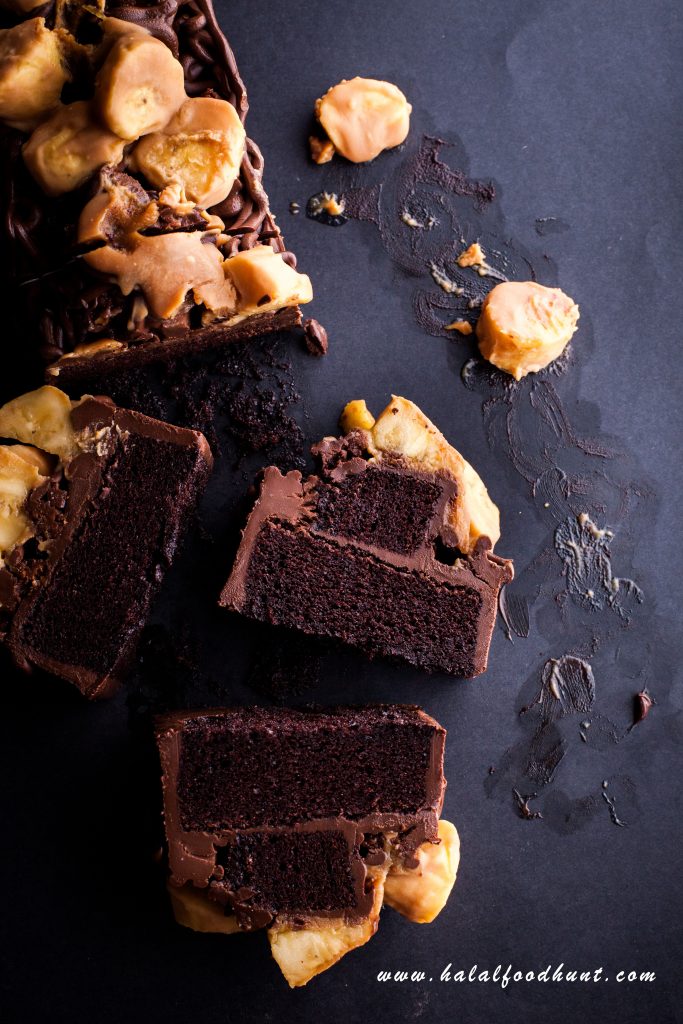 I've listed this one last but it's in no way at all the least.
To be perfectly honest, this was actually my favourite cake among the 4 we tried!
Okay picture it with me.
A thick layer of dark chocolate sponge cake. You've got chocolate ganache in between the layers and also coating the outer layer of the cake. And on that outer layer you'll find crunchy hazelnut crispy bits and pieces of sweet caramelized banana… And if that's not enough, finish off with Maldon sea salt caramel.
ZOMG let me tell you that I loved this cake so much that I placed an order for a 2nd cake over the weekend.
Seriously I really like this cake. Like seriously!
It's got all the perfect elements.
Chocolate goodness + banana chunks plus + hazelnut crunch + salted caramel = WIN WIN WIN!!!
Well if you thought the pictures look good or my description has left you salivating for more, wait til you actually taste the cakes for yourself!
As always, you can place your orders for The Bubbly Chef's super delicious bakes via our friends at Halal Food Hunt.
Head down to www.halalfoodhunt.com for pricing and availability details!
All images are courtesy of Halal Food Hunt by the way. Absolutely beautiful!!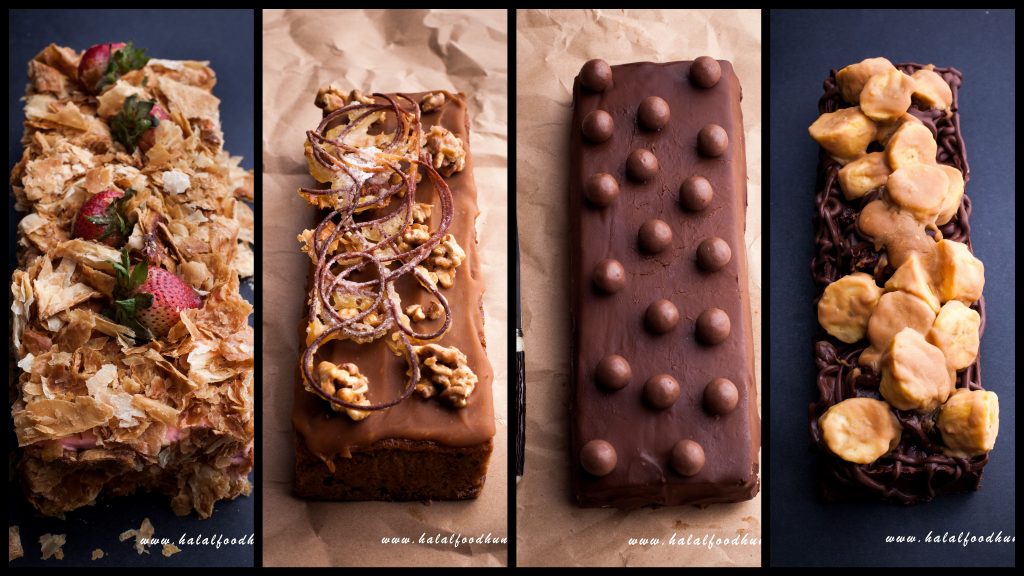 And speaking of Halal Food Hunt, Chef Mimi and baking – there's an event coming up that plenty of you might actually be interested in because it has to do with topics that are probably on a lot of ours minds.
Ever had questions or doubts about ingredients used when you're cooking or baking? Or how about when you're buying stuff at the supermarket? Halal or not Halal this? Well, fret not!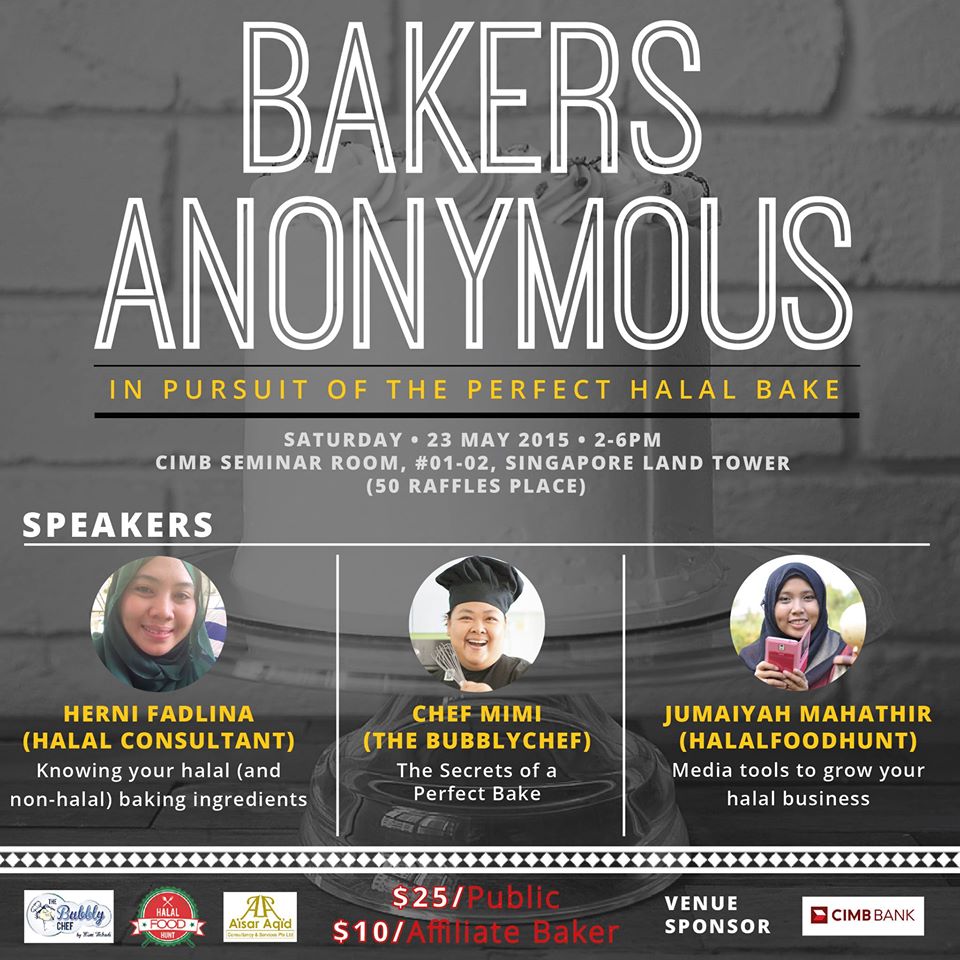 Halal Food Hunt is proud to present 'Bakers' Anonymous – In Pursuit of the Perfect Halal Bake'.
Here, you can find all the answers to your questions! Whether you're baking/cooking at home just for fun or if you're a homebaker who's peddling your delicious wares, it's important that you dis-spell any niggling doubts you might have and here, you have the perfect people to address the issues.
At the event. we will hear from Herni Fadlina – a Halal consultant who will give advice and views on the many issues of ambiguity, confusion and doubt when it comes to Halal ingredients.
Chef Mimi aka The Bubbly Chef will also be there to share her experience and tips on how to improve – and more importantly – enjoy yourselves while you bake! Perfect especially if you're looking for tips on how to brush up on baking techniques and secret tips too. Plus you'll also get to sample some bakes from Chef Mimi too!
And have you ever wondered how you can boost your home-baking business? Jumaiyah Mahathir aka Jums, one of the #halalgirls from Halal Food Hunt, is on hand to share with you on the many tools and methods to boost and expand your Halal business.
That's a great line up with plenty of useful information and knowledge ready to be imparted.
Set the date! 23rd May 2015 at Singapore Land Tower in Raffles Place! Spend an afternoon with us!
Tickets are available now at $25 for public or $10 if you're an affiliated baker with Halal Food Hunt.
Sign up at http://ptix.co/1Dx3Hxb or Text 96265757 with <bakersanonymous><name><no.oftickets><email>
www.halalfoodhunt.com
Tel: 96265757
"Halal first, everything else later!"