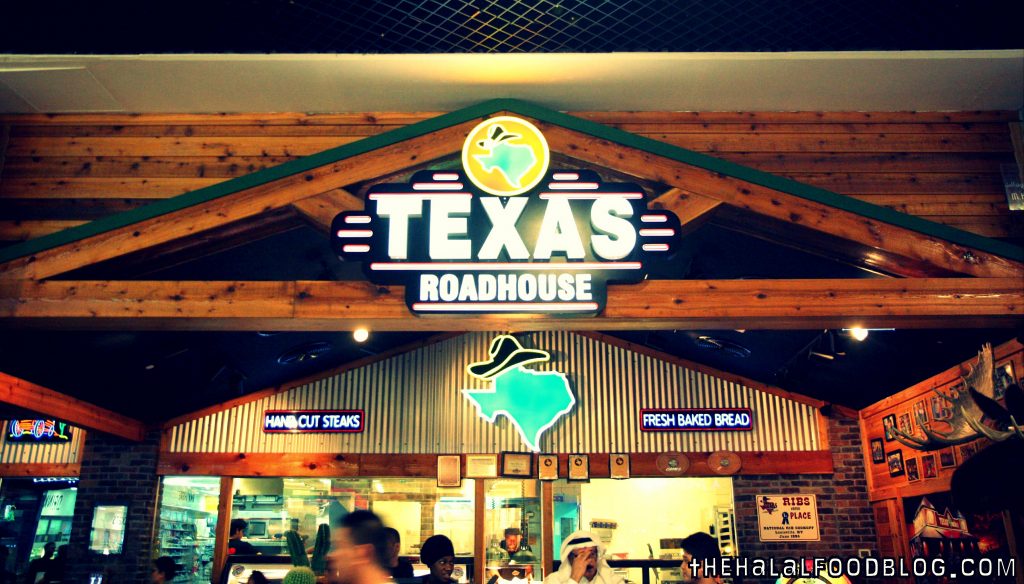 So the next stop on #TheAlshayaFoodTour in Dubai brings us to Texas Roadhouse which came as a bit of a surprise to me. I'd done some checking and found out that this place was know for its meats which included some pretty mean steaks too.
I'm a meat guy but for some reason I wasn't quite hot on the idea and I had a feeling I was in for a disappointment.
But boy oh boy was I proven wrong.
From the outside, you can tell this is a real 'cowboy' joint. No joke! They've got everything down pat from the decor to the music to the food selection on the menu too! They've got boots on the wall, neon signs, a jukebox and even animal heads on the wall (not real of course, just for show LOL). Check out Bullwinkle there!
Well, anyways it takes more than that to get me excited so what else eh?
So as the staff is bringing you to your table, you're gonna see it. A wall of meat. Awaiting orders (literally).
And things were beginning to look up already! I found this a very unique feature for steakhouse because I've never heard of it being done except in a  few high-end restaurants.
The staff carefully explains to you about the meat available and you'll have  better idea of what you're gonna order if you haven't already decided.
And in case you didn't notice, check out that monster of a cut – the 20oz (approx 560gms) Bone-in Ribye!!!
So as soon as you get to your table, you can 'get your cowboy on' with the complimentary bucket of peanuts there to get your appetite going while you browse through the (bloody extensive) menu and choose from the array of dishes available.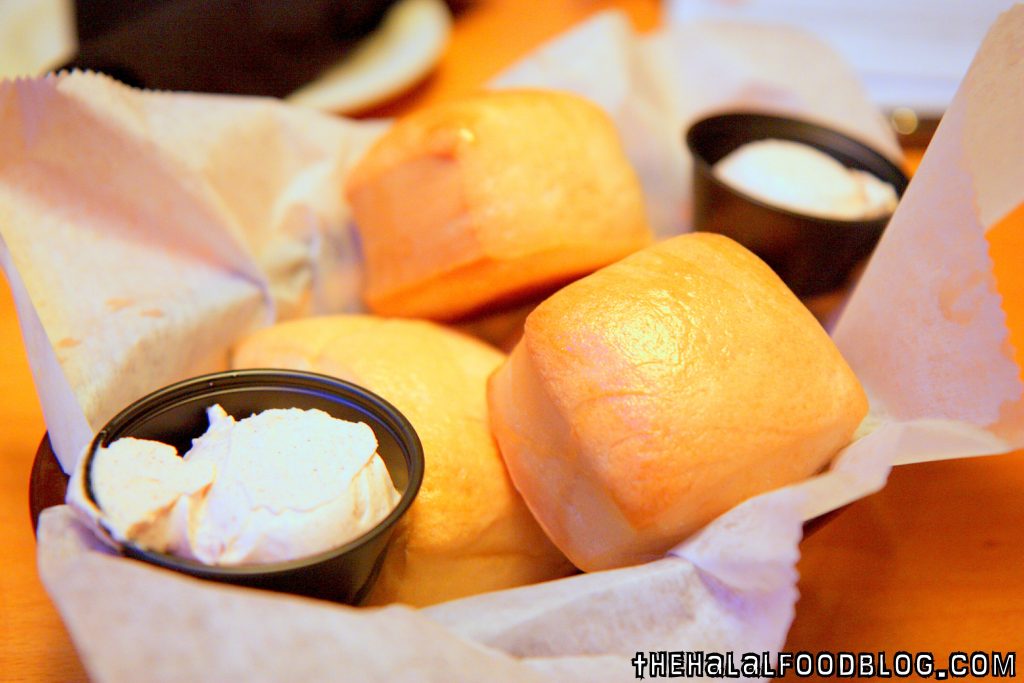 You'll also be served some of the "legendary" baked bread that comes fresh from scratch from the Texas Roadhouse kitchen. I personally thought the bread was so-so only but a lot of others seemed to really like it though.
What I WAS impressed with was the honey cinnamon butter that came with. That was definitely something I found very unique and very tasty!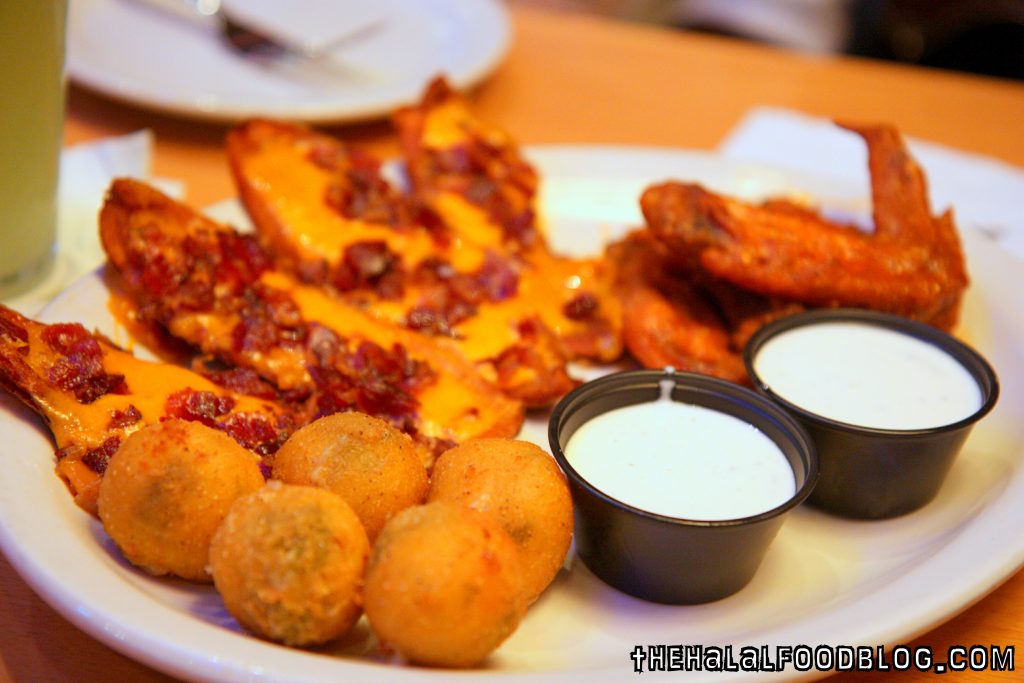 We definitely wanted to have some appetizers but well we didn't want to order too much else we might overdo it before the mains make it even halfway to the table. And in such situations, it's always best to order the Combo Appetizer. That way, you get a selection of items and get a taste of a few appetizers instead of just one. Here, you get to choose THREE!
First up, we chose the interestingly-named Rattlesnake Bites and no it doesn't have any rattlesnake meat in it LOL
It's these little dough balls made up of some jalapeno bits and jack cheese and they're deep fried goodness. They come with a Rnach dressing so dip and pop em in your mouth for a cheesy explosion in your mouth with a little jalapeno kick of course.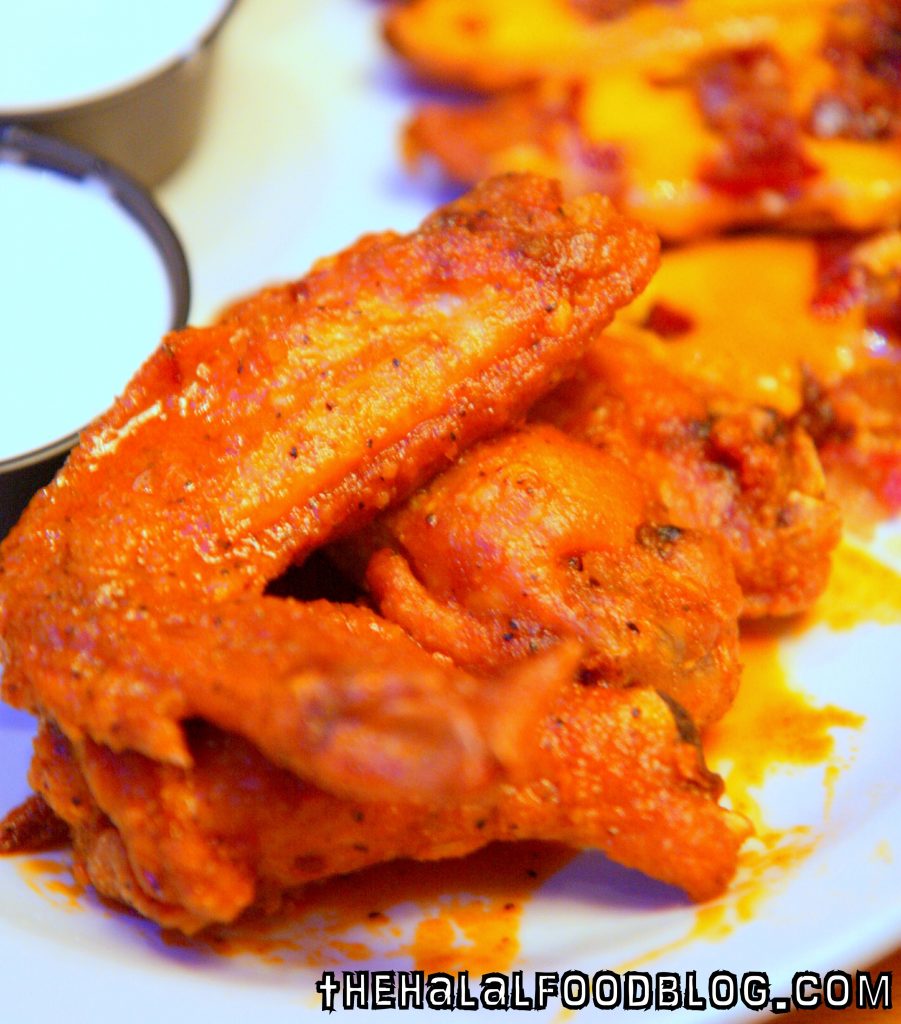 Next up was a dish that is pretty much a must-try whenever we see it on the menu – BUFFALO WINGS!!
The Smoked Buffalo Wings here at Texas Roadhouse did not pack as strong as punch as I was expecting. Yeah you could enjoy the flavour and the tang of the tobasco was more subtle compared to other versions we've had (and we ordered the Spicy version mind you). The Bleu Cheese dressing was good though but I guess overall more flavour needed overall for the wings.
We chose the normal bone-in wings but they also have a boneless version too.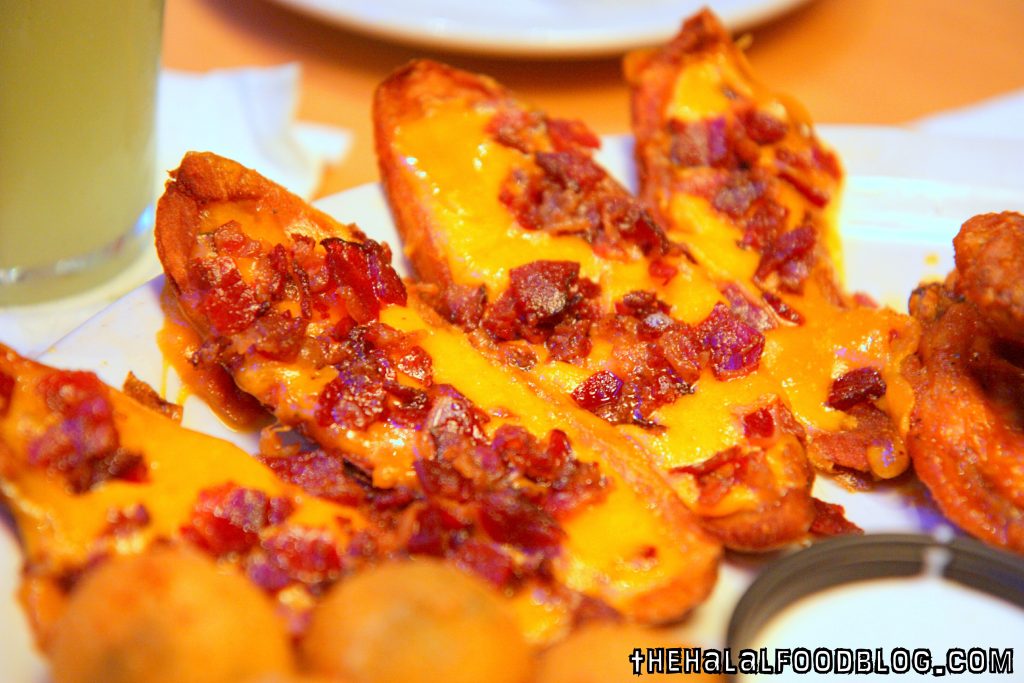 And last but not least on our Combo Appetizer trio, we had the Potato Skins!
It's been awhile since I had Potato Skins and these really looked fantastic! So you have potato skins topped off with cheddar cheese and beef bacon bits and server with some sour cream.
I definitely enjoyed the salty flavour of the cheese + potato + beef bacon bits paired with the smooth sour cream but the potato skins themselves were a little dried out which means they were a little tough to chew unfortunately.
Well, besides the 3 we chose, you could also choose the BBQ Beef Sliders or the Fried Pickles for the combo.
But hey if you know what you want and you want only that, they go ahead and order the actual serving of the appetizer you want okay! Maximum enjoyment with your choice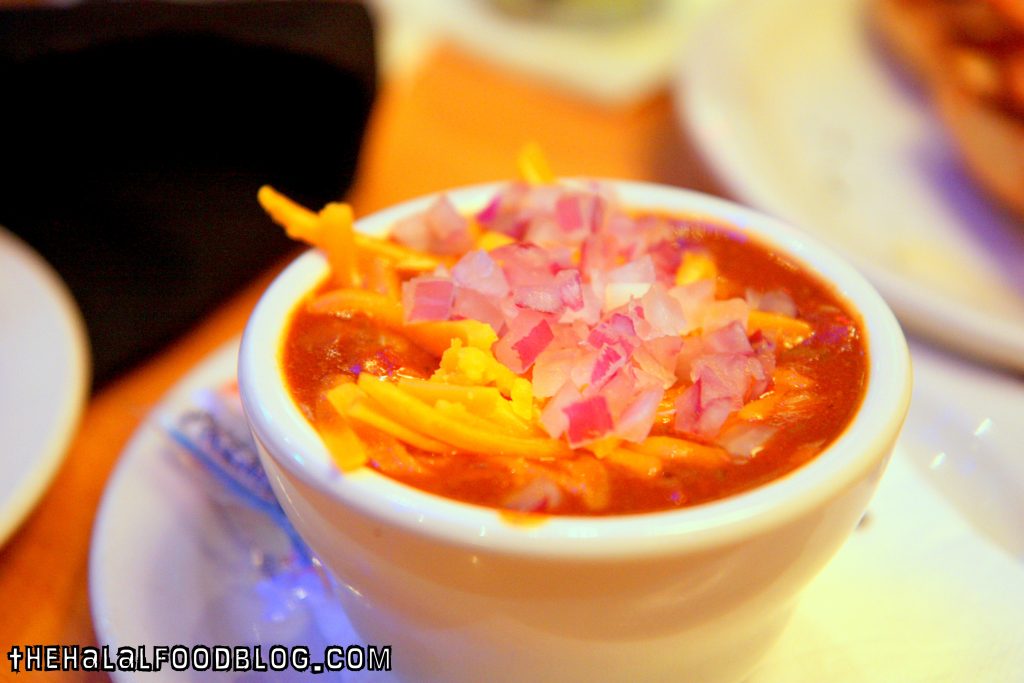 What is a Texas meal if there isn't any Chili am I right or am I right??
And let me point out from the start – there are NO beans in this Chili!
This is a good ol' Texas Chili which means there's PLENTY of beef and no beans in there at all. With every spoonful, we got morsels of tasty beefy goodness!
The Chili itself was not as spicy as we might like it but it had a great flavour which more than made up for the lack of heat and of course take a nice big scoop with the diced onions and cheddar cheese for a party in your mouth. AND IT'S ALL BEEF! Oh, we said that already eh?
Makes me wish we ordered the bowl (AED21) instead of the cup LOL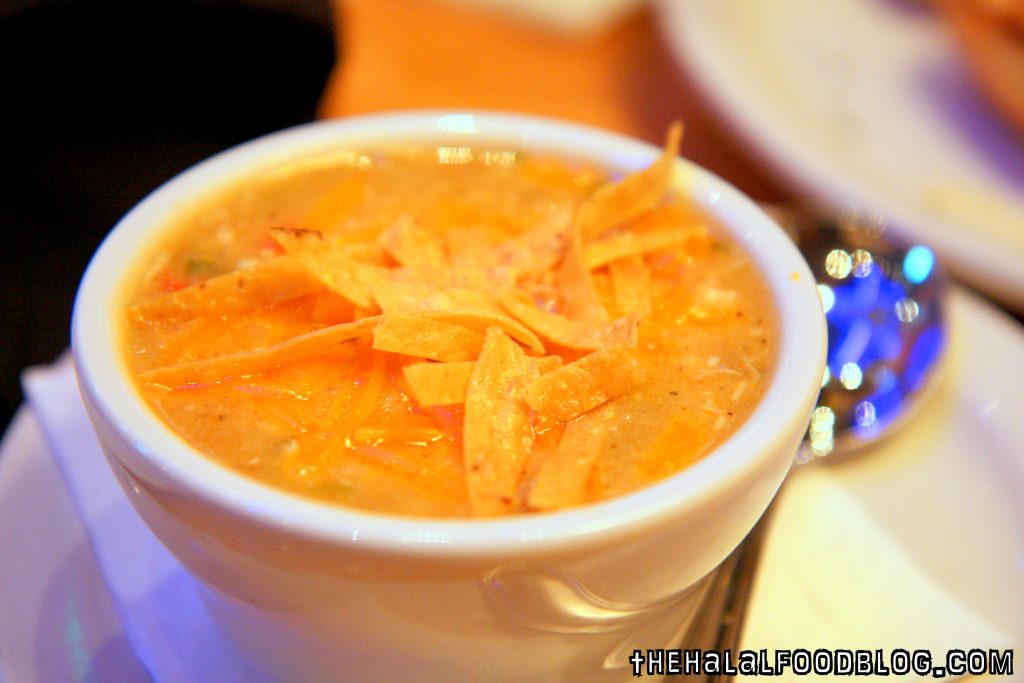 Always was curious about the Chicken Tortilla Soup and finally getting a chance to try it for the first time.
I'll say that it had a great chicken-y flavour thanks to a good chicken stock and generous morsels of chicken in there plus you do actually taste the tortilla in there 😛
The subtle flavours here are perfect for those who do not wanna mess around with the bolder flavours of the Texas Red Chili or Baked Potato Soup.
Well, on to the mains at last!!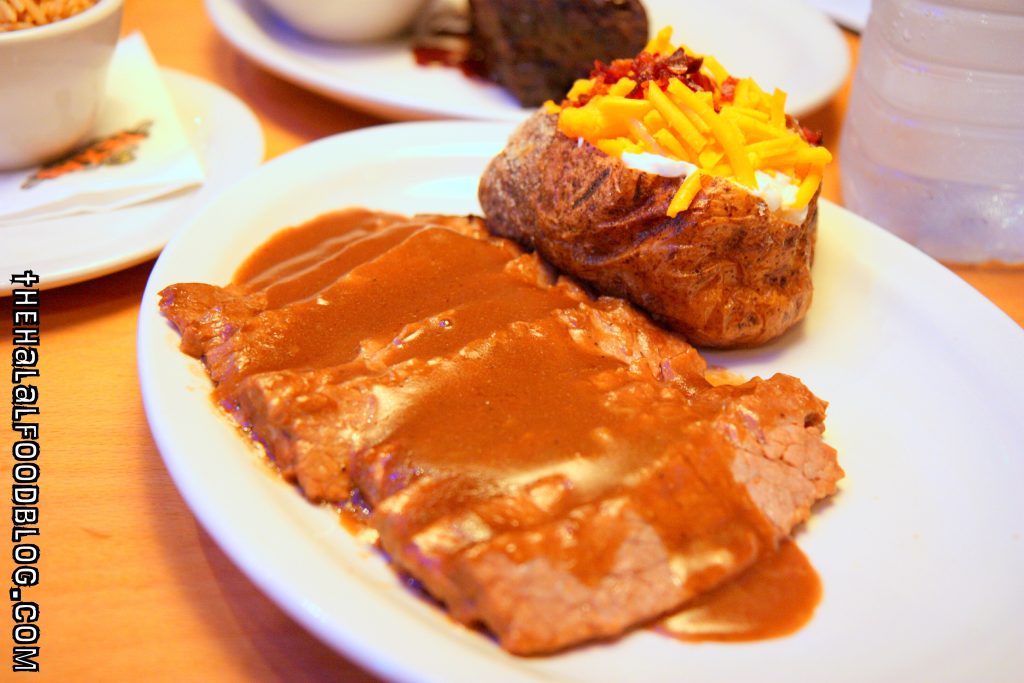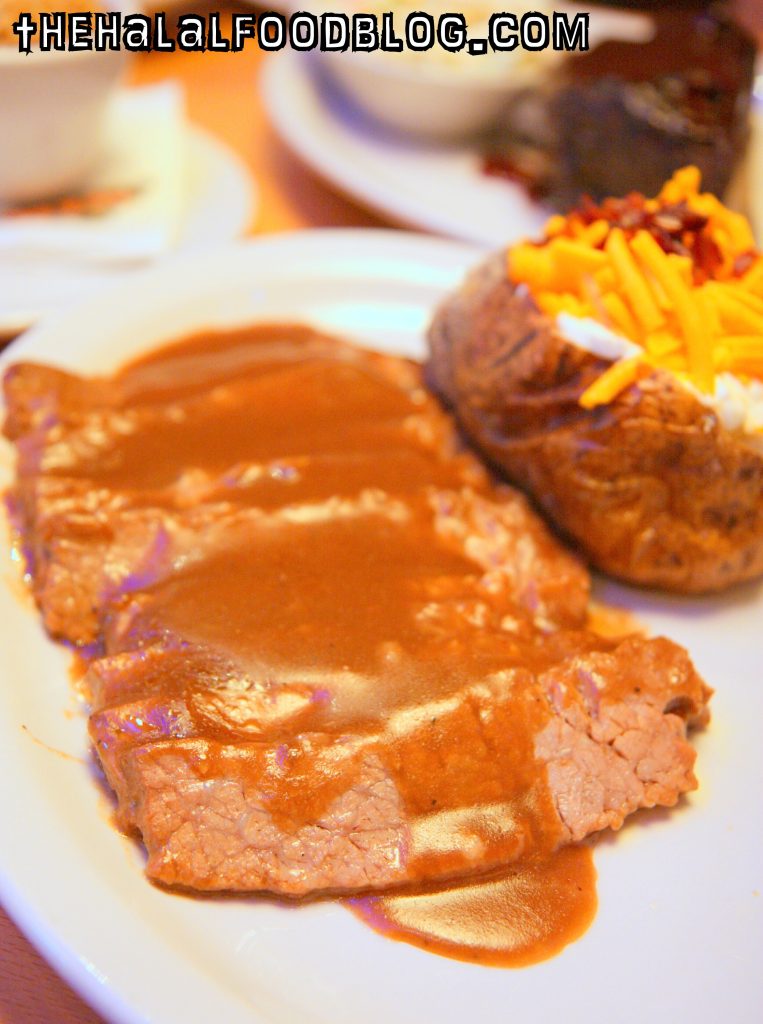 I love beef. Really really love beef. And I really really love beef brisket.
The brisket is essentially around the chest area of the cow. This means there's quite a bit of connective tissue but when cooked expertly, the result is really super tender meat. So whether it's with Beef brisket noodles or like this western cowboy style, I really really love beef brisket.
And no surprise here – the beef brisket was cooked absolutely perfectly!
Super tender and absolutely melt-in-your-mouth quality. Really really power to the max I tell you.
BUT this dish was quite lacking in flavour. The beef brisket itself was lacking seasoning (which is understandable) but the weird thing is that the gravy was also lacking flavour. You'd expect the gravy to fill in any flavour gaps right? Hmmmmm… weird.
But I'm a sucker for beef brisket so I still quite enjoyed the dish. I guess I would have enjoyed it more if it has more seasoning. Quite a pity but oh well.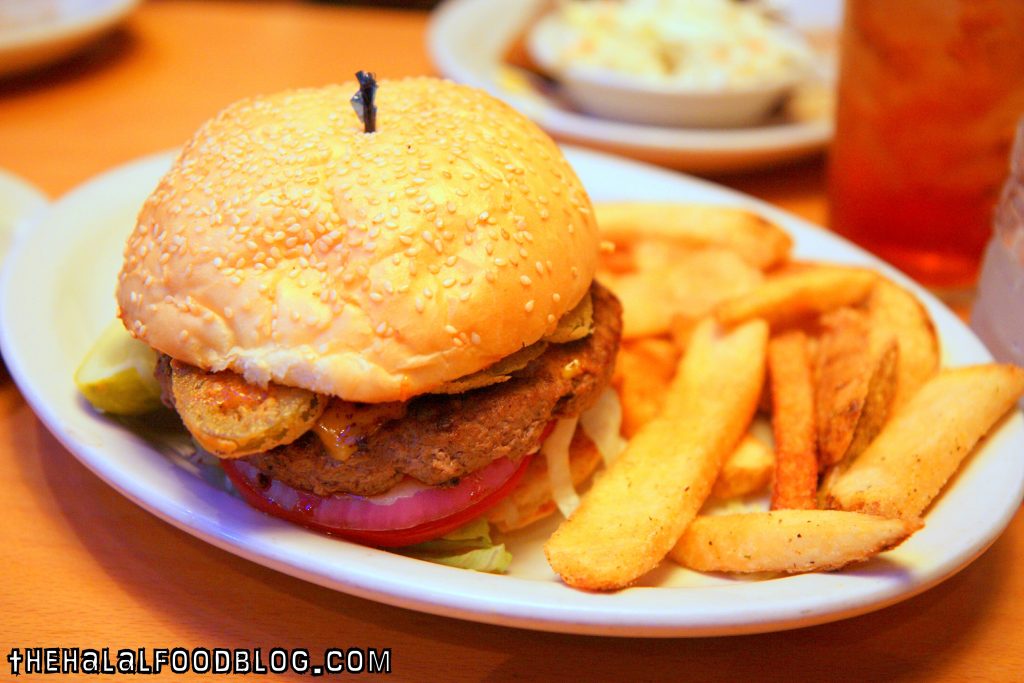 All you burger junkies out there can rejoice because they have like 8 burgers on the menu at Texas Roadhouse!! Beef also got chicken also got so take your pick!
We chose the Jalapeno burger which comes with a great big beef patty, spicy mayo and fried Jalapeno slices in there for good measure. Definitely full of flavour especially when you take a nice big bite with everything in there.
You can choose to have your burger medium-well or well done by the way. Having said that, our burger came well done even though we ordered it medium-well but hey I'm not complaining because I'm actually a well done guy myself. (GEDDIT??)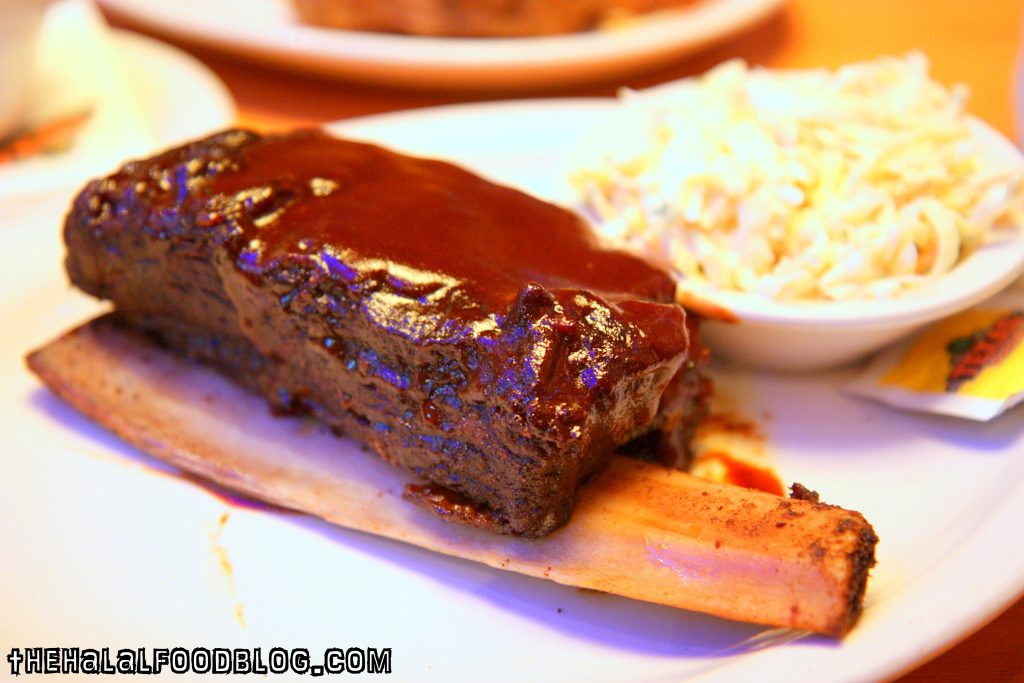 Okay okay I actually passed up the chance on snapping pics of the Bone-in Ribeye (yeah I know I'm a dumbass) but apparently it was really good and highly recommended!! If you wanna see pics please visit our IG and I'll repost a photo from one of the other great people who went along okay!
But I did get to snap and enjoy these fantastic Beef Ribs!
They put 'Award Winning' in the name so that means this dish must surely be damn good right? Well, it is!!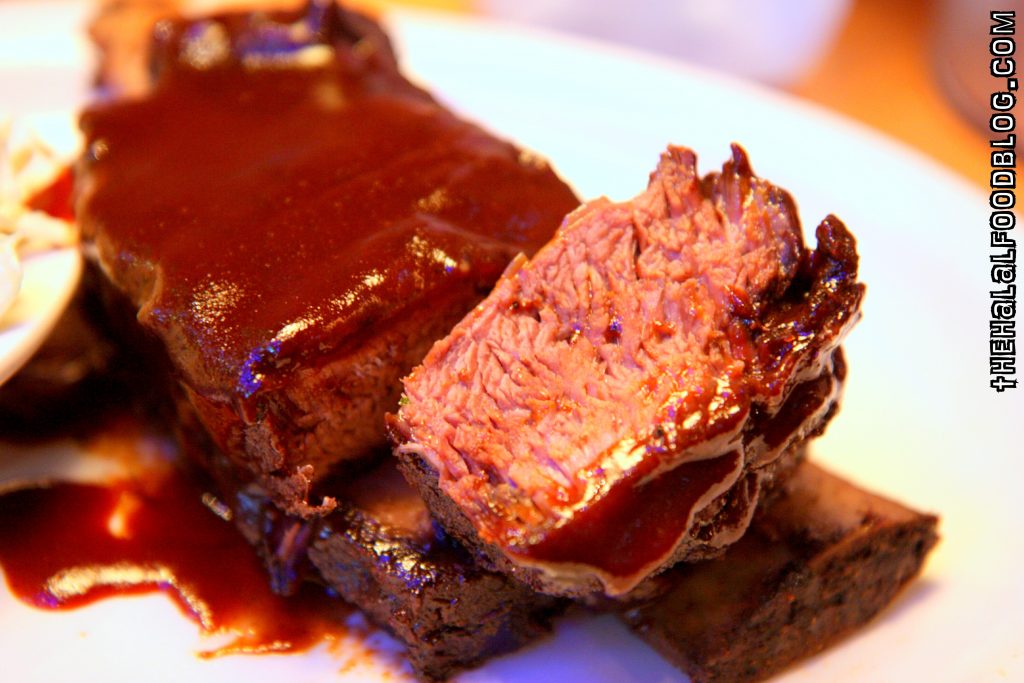 The beef was fork-tender.. THE BEEF FORK-TENDER!!! (Control yourself man!!)
Just take a look at that pic and you can see how perfectly done these ribs were. And that's no filter okay.
Great smoky BBQ flavour and if you love ribs, then there is no other choice – you simply must order this because it's the bomb I tell you!
No regrets at all on passing up on the steak. I'm sure it was good but I'm also pretty sure I would still enjoy these Award Winning Beef Ribs more than any steak.
One word we kept hearing the whole night at Texas Roadhouse was "Legendary".
I can safely say – these Beef Ribs definitely fit the bill when it comes to that.
That's just a half-portion but you can order a full portion for AED109.
And for the ribs (and many other dishes on the menu), you actually have the option of choosing one or a few side dishes to go along with your meal. They have more than 10 to choose from! Choose from Baked Potato, Mashed Potatoes, Steak Fries, Seasoned Rice, House Salad, Caesar Salad, Fresh Vegetables, Buttered Corn, Honey Glazed Carrots, Coleslaw or Cup of Soup.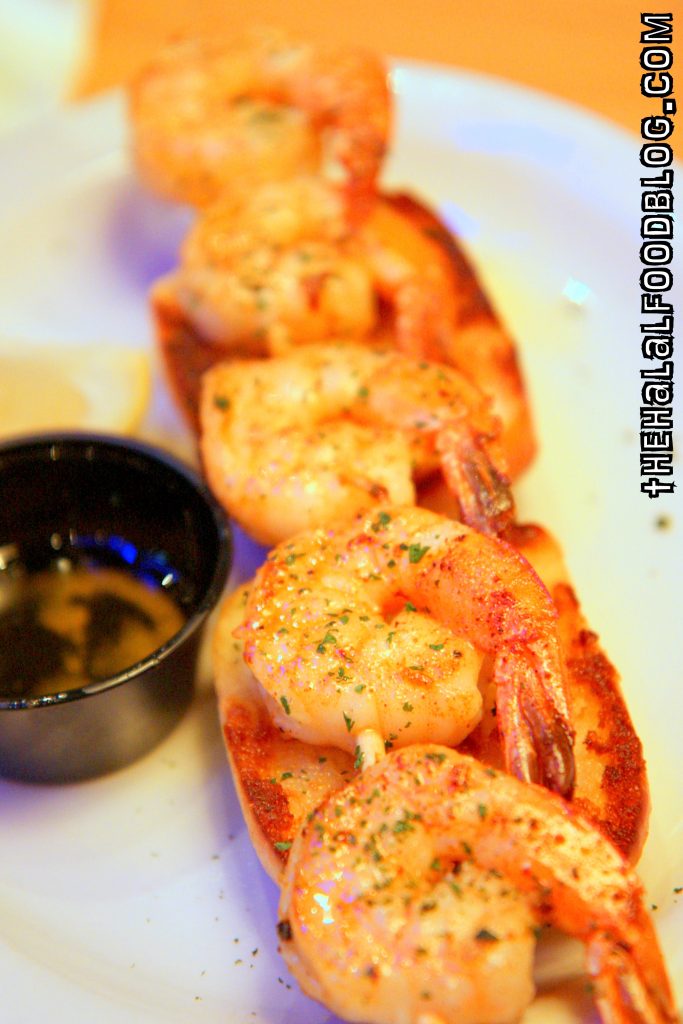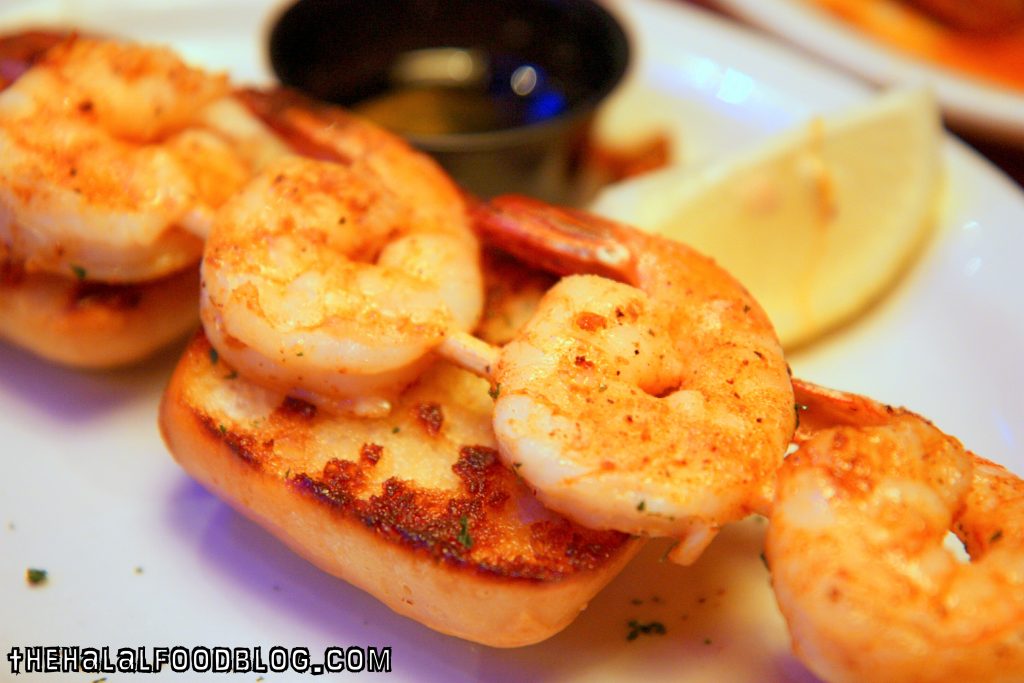 Besides the Sides, you could also add a 'Sidekick' to your meal.
Choose from a one rib portion of the Award Winning Beef Ribs or the Grilled Shrimp (or have both!!)
The Beef Ribs is obviously my choice LOL but the Grilled Shrimp is a good choice too especially for all you seafood fans. Served on buns with lemon pepper butter.
The menu actually has something for everyone. All kinds of cuts of steaks in all portion sizes. Loads of chicken dishes also got like Country Fried Chicken and Over Roasted Chicken among other dishes. Kebabs also got. Fish dishes like Grilled Salmon and Southern Fried Fish also got. They even have kids' meals! How can you possibly go wrong?!
Well, this might surprise you but with a menu that extensive, they only have 2 desserts in there!
LOL seems strange right but hey that means it'll be easier to make your choice!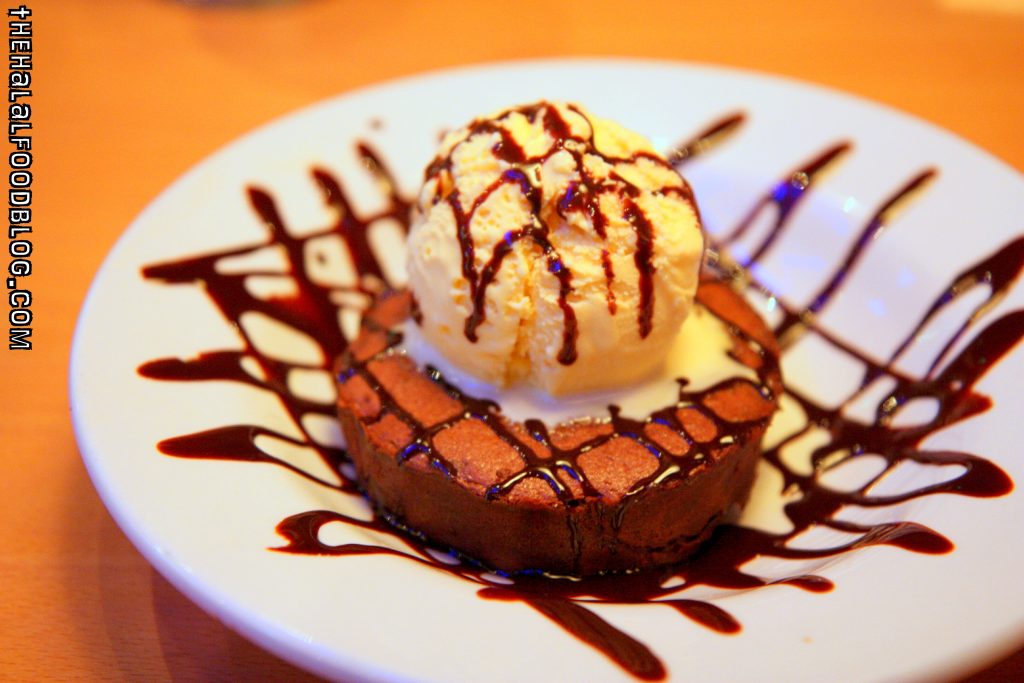 All you Brownie fans are surely going to go for the Big Ol Brownie!!
A warm fudge brownie with a scoop of vanilla ice cream an chocolate sauce to finish the job.
Well, I'm not really the brownie kinda guy anyways so I wasn't really impressed but the 2nd dessert was definitely something more up my alley.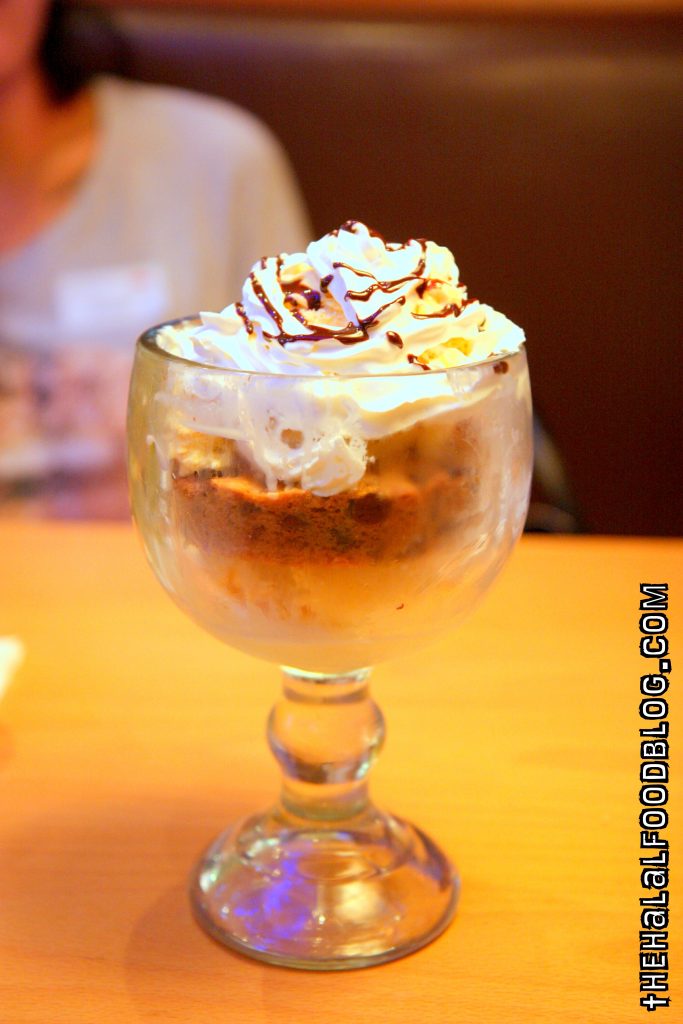 Check that out. That's the Chocolate Chip Cookie Sundae!
But where's the cookie you're asking? See that middle part in the glass? AMBIK KAU that's the cookie!!
So there's vanilla ice-cream at the bottom of the glass and then there's this giant chocolate chip cookie that's finished off with more vanilla ice-cream on top plus whipped cream (my favourite) and chocolate sauce! Think of it as more of a reverse ice-cream sandwich of sorts LOL
Don't be afraid to dig right in there okay. Put some elbow grease into and keep going til you hit the cookie and scoop up a great spoonful of everything!
They've also got a great selection of drinks on the menu by the way.
Check out their Specialty Drinks for a start – the Mint-Infused Lemonade (which was really yummy), Strawberry Cowboy Cooler and Cherry Limeade are good choices.
You could also go for refillable choices like soft drinks and coffee or tea.
But I, Adam the Hero, order something a little out of the ordinary…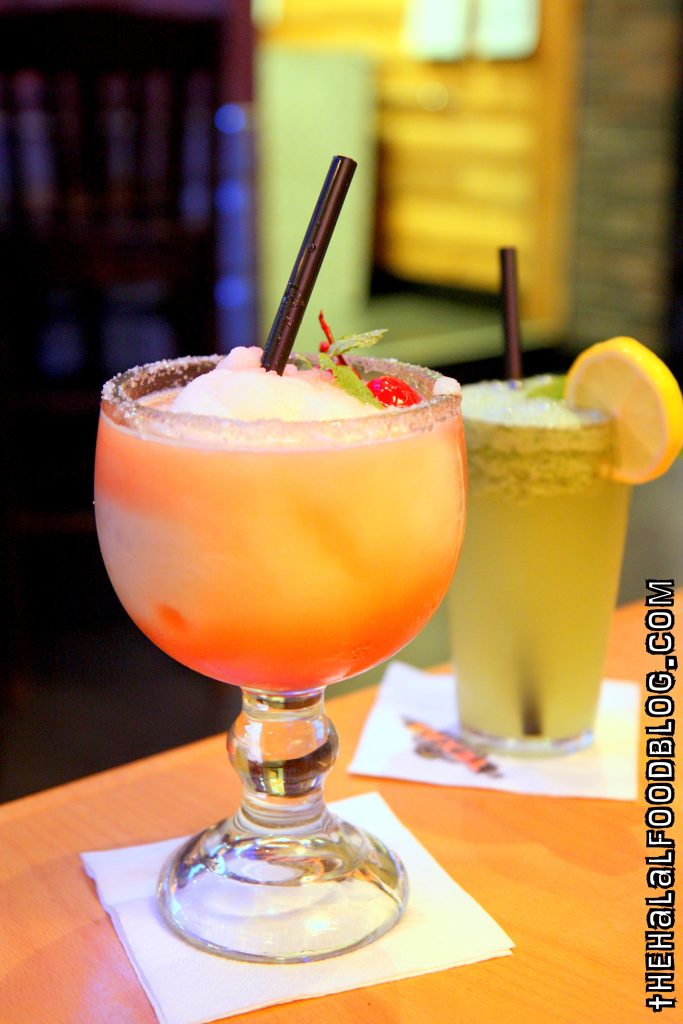 Yeah yeah yeah I know I know… but I felt like trying the Margarita okay dammit LOL
Non-alcoholic of course – they also have Original House Lime, Raspberry, Strawberry and Peach Margaritas.
Just prepare to pucker up because these Maragaritas as sourville to the max LOL after all it's lime what so don't be so surprised. But sour things good to activate the taste-buds right?
Well I walked in to Texas Roadhouse not sure what to expect. I thought I would not like the place but hey I was wrong I actually really enjoyed it! They gave a great selection of dishes and with a few touch-ups with seasoning and the such here and there, can be really maximum power already.
Oh and look out for the intervals where the staff start line-dancing in the middle of everything.
LOL all in good fun. Kata cowboy lah how can not have any line-dancing? 😛
The Dubai Mall
Unit LG112-2 Lower Ground Level
Dubai, UAE
Facebook: www.facebook.com/TexasRoadhouseME
IG: texasroadhouseme
Operating Hours: 10.30am til 11.00pm
All information (including prices, availability of item on menu and Halal status of establishment) are accurate at the time of posting. All photos used in this site are property of The Halal Food Blog unless stated otherwise.