I remember when we first visited Tash Tish Tosh in January 2014. It was a recommendation from one of our readers and at that time, they were tucked away in a little corner of Onan Road. (Remember the pink plates?)
Later that year, they moved to a new location – this time in Katong. Some slight changes to the menu here and there but still serving the good old TTT favourites that everyone loved.
And after a short hiatus, TTT re-opened in a swanky new and bigger joint in Simpang Bedok!
And it is only fitting that for our 5th feature on Tash Tish Tosh, we're reviewing some of the new items that are being featured on their menu.
Nope. There's nothing wrong with the good ol' Meathead, White Star, Tom Prawn and the rest of the gang. It's just that TTT has heard your call for some new stuff too! And boy do they have some new stuff! LOL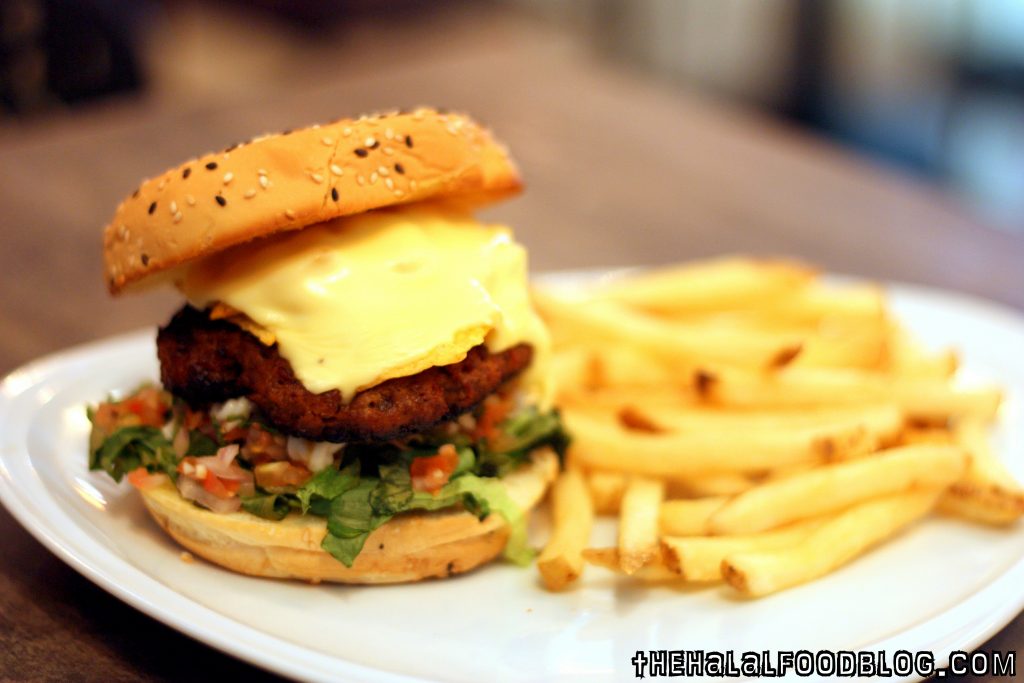 So first up is the Tash Macho Burger! Perfect for all you macho bergs out there LOL
But seriously – this is not a burger to be taken lightly!
So besides the bun (obviously like duh!), you've got a beef patty that is handmade fresh every day (none of that frozen stuff okay) and this sits on some zesty and tangy salsa. Top that off with some nachos AND nacho cheese plus an actual slice of cheese all melty and gooey and there you the macho of macho burgers.
And served with a side of skin-on potato fries for good measure!
So after you eat, you flex your muscle, slick your hair back and give a thumbs up.
You macho creature you. LOL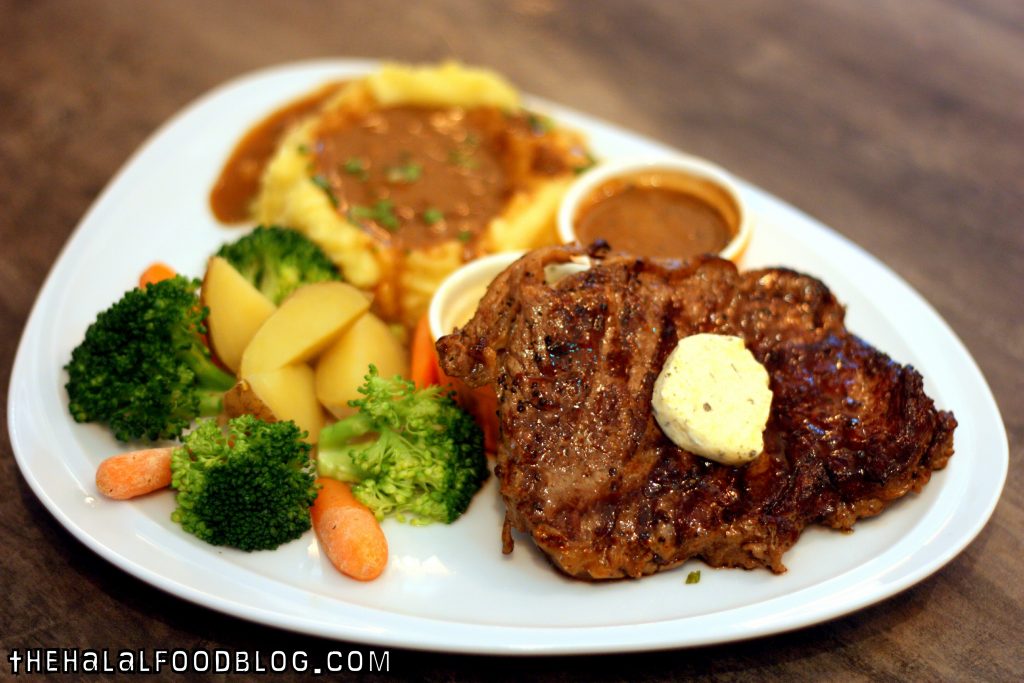 Still want more meat? TTT is glad to oblige!
They've got a few steaks on their extended menu too! They have a T-Bone Grain-fed Steak, Angus Sirloin and even a nice Lamb Rack for all you lamb lovers. Well, we went with a good ol' Ribeye!
Comes served with some veggies, some sauces too and a serving of Tashed Potatoes (but a more on that later)
So your meaty meat is served with some herb butter which you can slather over your sizzling steak. But don't worry it doesn't overpower the natural flavour of the meat itself.
The beef was the perfect done-ness which meant it was juicy, tender and you can really enjoy the great flavour you'd expect with a great steak. The dish also comes with 2 different sauces just in case you want a little extra zing – a creamy mushroom sauce and a black peppery sauce.
And of course, Angus beef is a good quality beef and if this dish is anything to go by, then the T-Bone and Sirloin should be a good choice for all you meat lovers too!
And let's not forget about an unexpected star…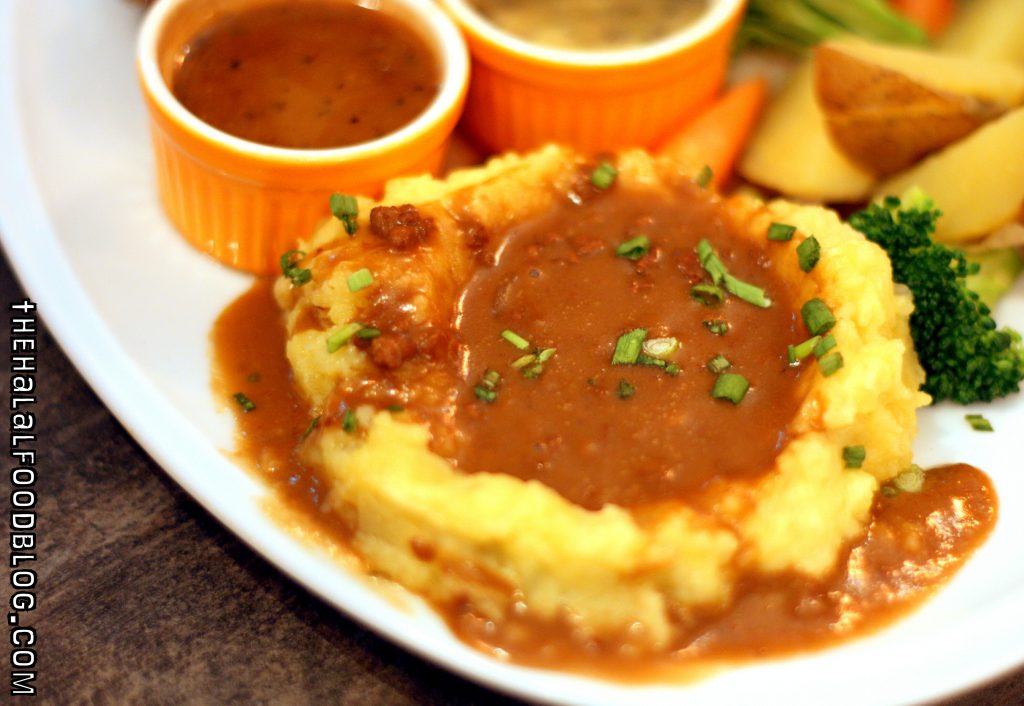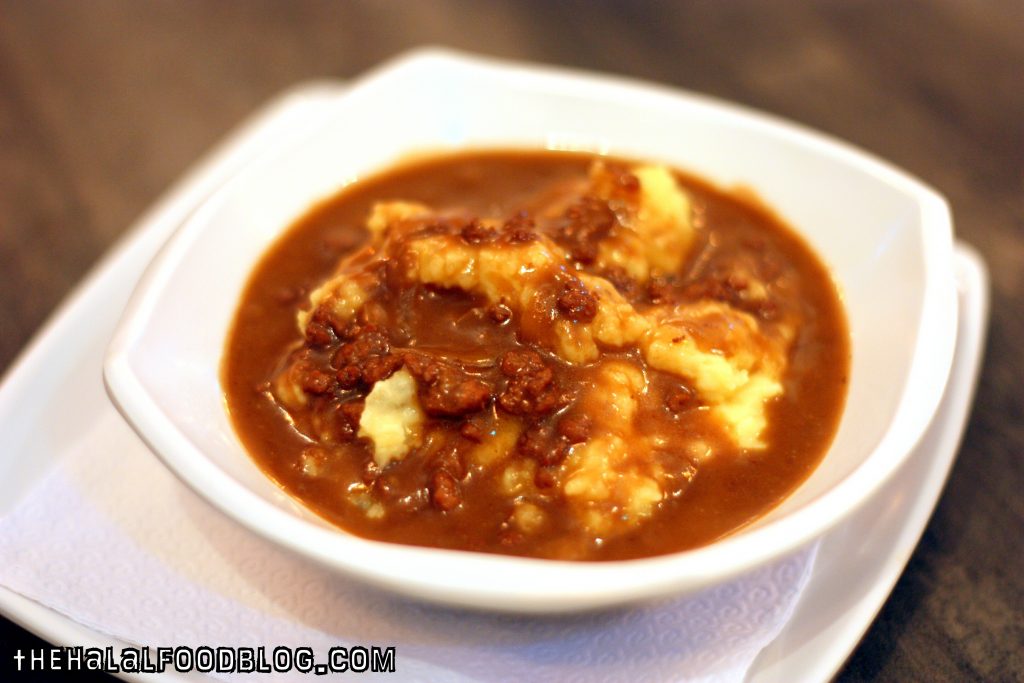 The Tashed Potatoes aka Tash Mash as we have affectionately nicknamed it.
You get a serving with any of the steak/meat dishes that you order but you can also order an extra serving for the very reasonable price of $3.90. And it's highly recommended that you do so – because SEDAP GILA!
The potatoes are creamy and smooth and on top of that, you get this beefy sauce that even has bits of minced beef in it. Reminds us a lot of those Aussie/British pies! Totally worth it and confirmed plus chop you'll be hard-pressed not to order extras.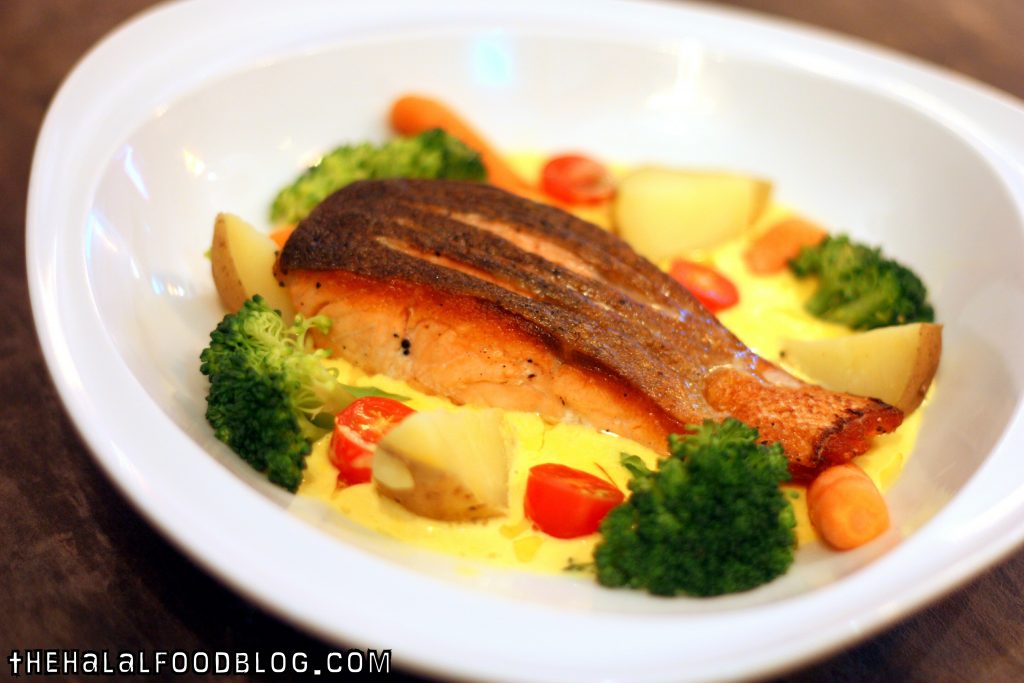 All you seafood lovers – fret not.
They do have some seafood dishes on the extended menu so mai gancheong okay LOL
First up is the Saffron Salmon – a pan-fried Salmon that bathes in a silky Saffron sauce.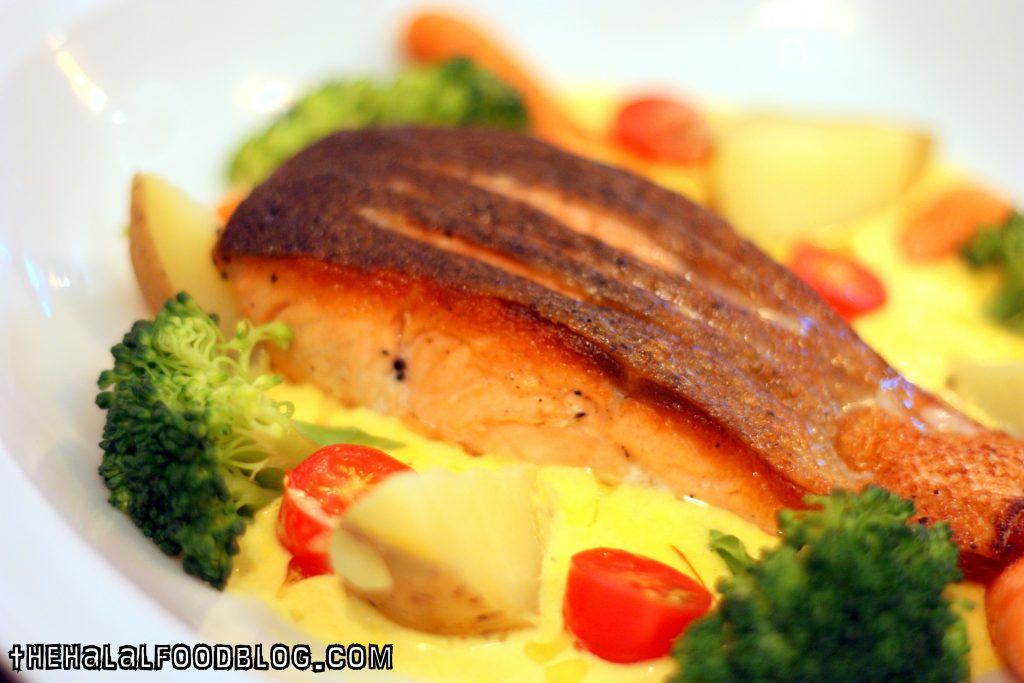 The tricky part about cooking salmon is that you might overcook it and that means it becomes dry and that is definitely not a good thing. But thankfully, the experts in the TTT kitchen know how to cook VERY WELL!! Our compliments to the chefs!
Just look at the sear on that salmon and you can see what we are talking about. And that is a pretty hefty serving of salmon too! The saffron sauce is creamy and does have a very distinctive flavour which goes well with the fish.
All you salmon lovers should definitely order this.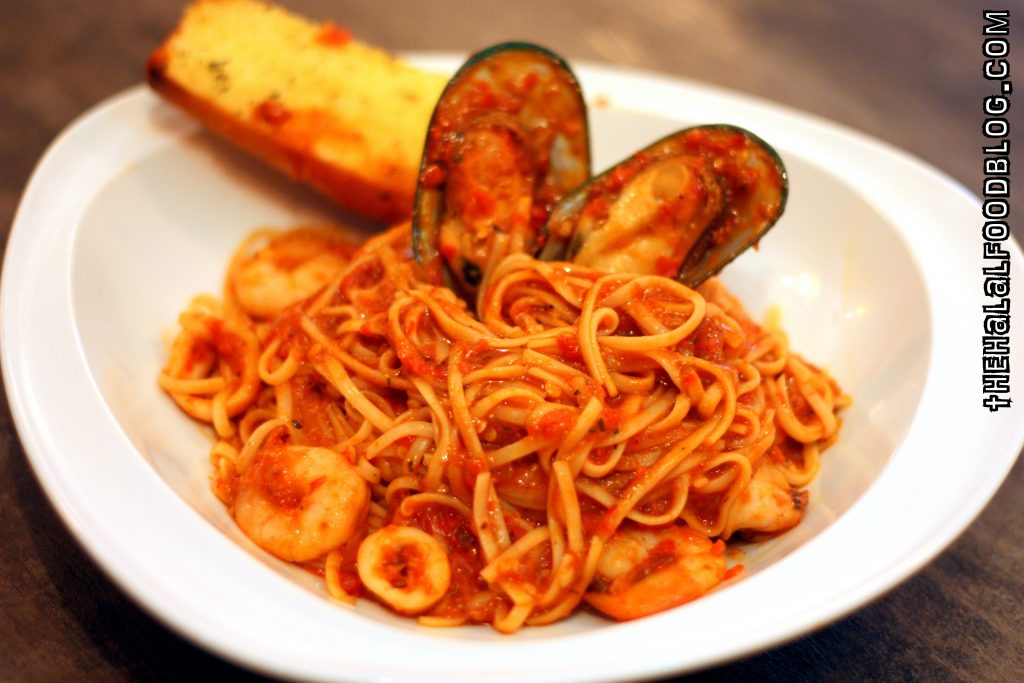 Did you know – 'Arrabiata' is actually Italian for 'Angry'?
It's little wonder that Arrabiata pasta dishes are super spicy and bound to make your temperature go up! LOL
And the PMS Belacan Arrabiata is no exception.
The 'PMS' in the dishes name actually refers to some of the main ingredients – Prawns, Mussels and Squid! So you have all this great seafood swimming in a spicy chili-based pasta sauce that has hints of Sambal Belacan.
This dish is definitely spicy there's no doubt about that. All lovers of spicy food might wanna try this for sure. The Belacan flavour did not overwhelm the dish but you'll definitely feel the heat of the chili pepper Arrabiata sauce.
Great for dipping the accompanying breadstick too!
But of course, if you're not a fan of spicy food but still want pasta, then there's always the classics at TTT like Tom Prawn, Beef Carbo, Beef Bolognaise, Seafood Pasta and the Basil Pesto too.
In fact, all the old favourites on the menu are still there including all the pizzas, subs and The Bomb of course!!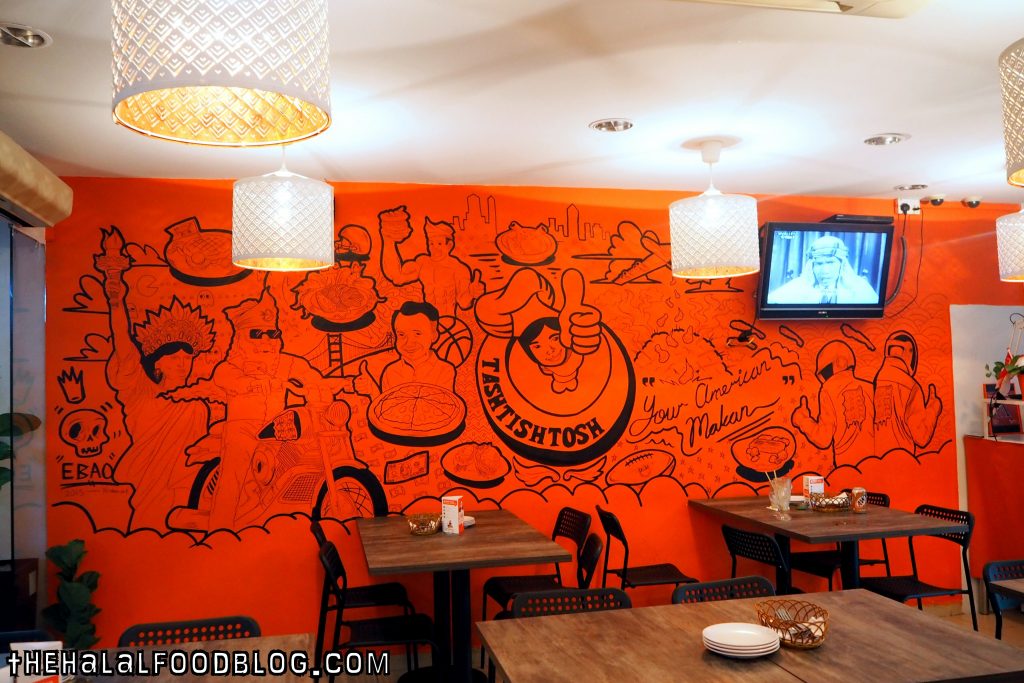 Besides the new additions to the menu, check out the new addition to the decor too!
A huge mural adorns the entire wall within TTT! Can you spot all the hidden reference??? 😛
Well, you try and find one by one when you visit TTT an d enjoy the many tasty treat on the menu both old and new. And don't forget to give the thumbs up!!!
It's been a pleasure and an honour to have been a part of TTT's growth and success all these years. And it's thanks to our readers that we get to find such great places to makan. Alhamdulillah and what a journey so far.
314 Bedok Road
Simpang Bedok
Tel: 8714 8677
Facebook: https://www.facebook.com/TashTishToshPS?fref=ts
Instagram: @tashtishtosh
Operating Hours:
3pm til midnight Daily
All information (including prices, availability of item on menu and Halal status of establishment) are accurate at the time of posting. All photos used in this site are property of The Halal Food Blog unless stated otherwise.