Lo and behold the humble Macaron (pronounced  mah-ka-ROHN).
Not to be confused with the Macaroon (pronounced  mah-ka-ROON) which can also be delicious but definitely a horse of a different colour.
Without a doubt, the popularity of the Macaron has been on the up and up in the past few years and you can see it almost everywhere – tea parties and even weddings too!
Well, it's a good thing that we have some Halal options when it comes to Macarons and pretty tasty too! One of the first few Halal Macarons we ever tried was from Tangerine Macaron and they're as popular as ever today!
We had the pleasure of trying some of their tasty creations recently and they have quite a variety to choose from. They've got flavour upon flavour to choose from and we got to try NINE different Macarons!
We're gonna break 'em down in the order we received them okay.
First up was an amazing Mini-Macaron Tower!
(Yes – that's considered a MINI tower can you believe it?)
So that's 4 tiers of these tasty little Macarons and they come is a wide array of flavours and colours. We've seen quite a few beautiful looking ones on the Tangerine Macaron FB and IG pages and by the looks of it, you can pretty much choose the flavours/colours to match any specific theme you're aiming for.
Perfect idea for that tea party with friends or even as a gift too! And it's so convenient to bring with you if you're going out for the event. We'll show you a pic later of the carrier!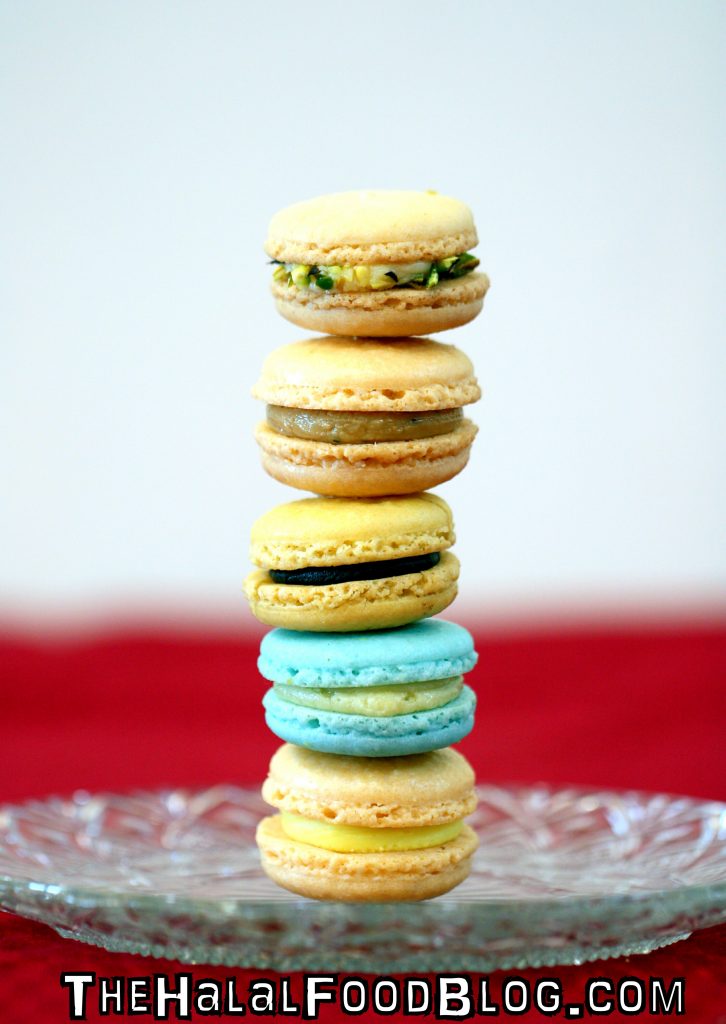 FUYOH! Let me just say that it took us quite awhile to stack those Macarons okay! LOL
So from top to bottom there, we have White Chocolate Pistachio, Milk Tea, Dark Chocolate, Horlicks and Lemon. Some pretty tasty flavours there if I do say so myself. I'd be hard-pressed to choose a favourite because I really enjoyed them all!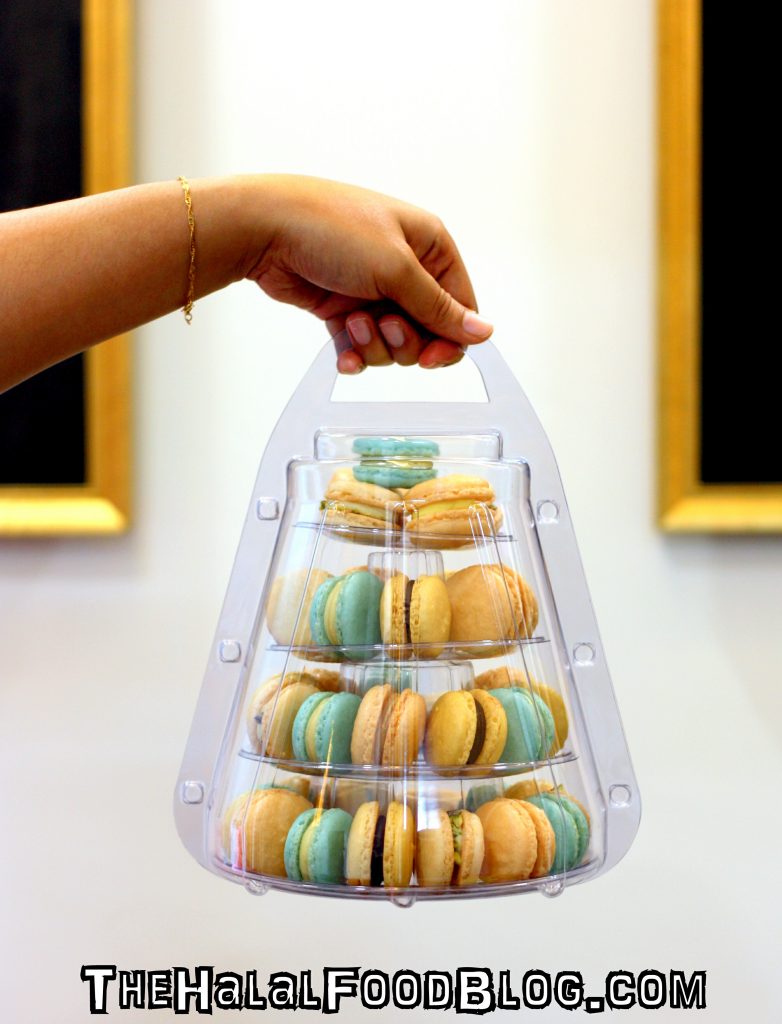 Check out this nifty packaging that also serves as a carrier! Super handy and holds your Macarons perfectly!
Next up were some Macarons that came in a box and probably a more likely choice for you to pick up a sweet treat for yourself and the family. Something to munch on for teatime on the the weekends with a nice pot of tea maybe?
There were 12 Macarons in a box. Just nice!
From top to bottom, we have Choc Turtle, Milo, Lemon and Salted Caramel!
And in case you're wondering what on earth kind of flavour is Choc Turtle… don't worry okay no turtles were harmed in the making of these Macarons LOL
Choc Turtle is actually Milk Chocolate with a Caramel Pecan centre! SEDAP!!
Besides the 9 flavours we have featured in this post, we also saw other flavours from Tangerine Macaron like Peanut Butter, Bandung, Cream Cheese (!!!), Nutella, Rocky Road, Cookies & Cream, Vanilla, Green Thai Milk Tea, Chocolate Marshmallow, Nutella Cheesecake and who know what other mouth-watering flavours they can come up with! It's nice to see a mix of some local flavours in there too!
If we had to make a suggestion, maybe… Strawberries & Cream or perhaps Orange Chocolate!!
And those are some examples we saw on the Tangerine Macaron Instagram page. So pretty right!
Perfect choice that unique engagement / wedding set-up right!
Choose your flavours and colours. If you have a theme, don't be afraid to ask.
Drop the Tangerine Macaron team an email at [email protected] or a PM/DM okay!!
Special thanks to the team from Tangerine Macaron!
Facebook: www.facebook.com/tangerinemacaronsingapore
Instagram: www.instagram.com/tangerinemacaron
Email for orders: [email protected]
All information (including prices, availability of item on menu and Halal status of establishment) are accurate at the time of posting. All photos used in this site are property of The Halal Food Blog unless stated otherwise.