Confession: I have a really big soft spot for Takoyaki.
I remember trying it yearsssssss ago and was hooked ever since! It's become a mainstay and big favourite at pasar malams and it was so great to see Malay/Muslim operated Takoyaki stall popping up at pasar malams and bazaars over the past few years.
On top of that, we now see quite a few home-based Takoyaki options too! We've covered a few in the past and there seem to be more coming around which is absolutely great!Not only are we spoiled for choice, we can now enjoy Takoyaki in our own home! Perfect for bringing to functions too hehehe
It was a pleasant surprise to see an ex-colleague posting that she had started her own home-based business and I finally managed to place an order for some of her famous TakoyaKING recently.
Woooooooo macam best like that right!! LOL
Well, TakoyaKING has several different fillings to choose from so you have a bit of thinking to do before you place your order. So many fillings to choose from and even I had a bit of problems choosing my faves LOL
Choose from Squid, Prawn, Crabmeat, Hotdog, Mushroom, Cheese and Salmon fillings. There are a few combinations that are possible and fillings are subject to availability so you have to look out for updates for which ones are available for order that week.
Of course, your TayoyaKING comes with the usual suspects including their signature Takoyaki sauce, creamy mayonnaise and copious amounts of dried bonito flakes!!!
Prices may vary depending on which fillings you choose (because some are premium fillings). For our order, we went with 2 boxes with 10 Takoyaki in each box. Selected fillings were Crabmeat + Prawn ($7.00) and Squid + Cheese ($7.00 + $1.00 for cheese).
The good thing about the Takoyaki was that it was not too dough-y (if you know what I mean). It even had a food flavour to it so it turned out to be a very satisfying bite. It is especially when you've added the Takoyaki sauce, mayonnaise and dried bonito flakes (which can be packed separately of course). By the way, the Takoyaki sauce is a bit more on the tangy side (than the usual salty side) in case you were wondering. The deep red hue was definitely very appetizing!
I think from the photos you can also see that the Takoyaki balls were quite considerable in size (compared to some of the smaller ones you might get at a pasar malam for example). So do not underestimate a box of 10 Takoyaki – it can be quite filling okay!
The big surprise flavour for me was the Cheese! It was really flavourful and still a bit gooey (after a quick zap in the microwave before serving) so I ended up whacking all the cheese ones first before attacking the others LOL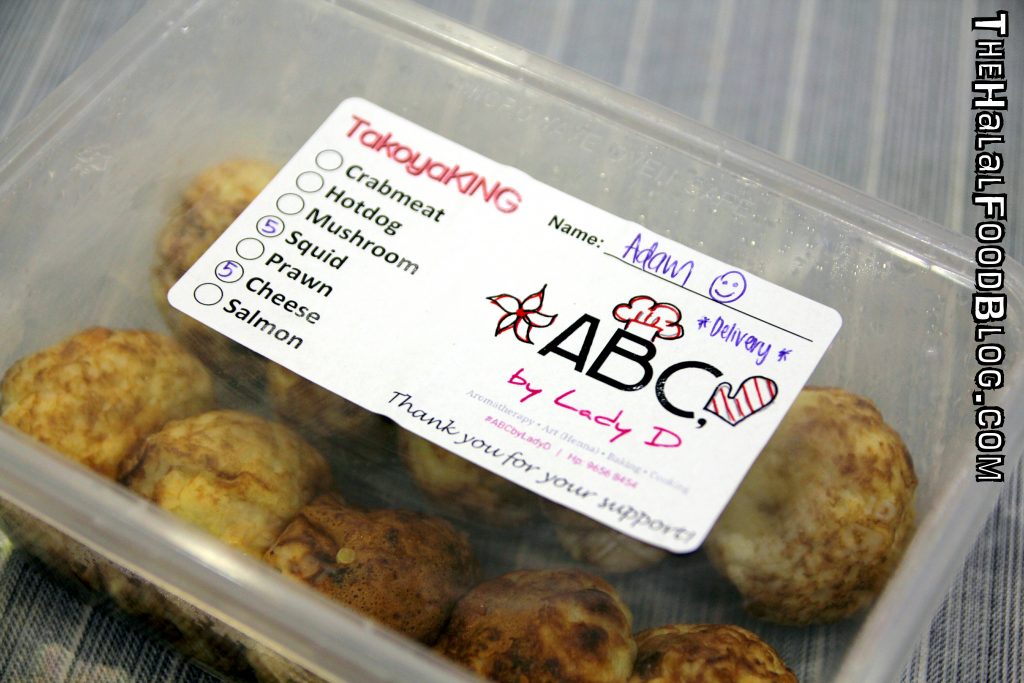 So TakoyaKING by Lady D opens orders regularly but from what we can see, order slots are taken up really really quickly so you've gotta keep updated. Follow her on Facebook and Instagram so that when you see the announcement up, you can head to her site at bit.ly/takoyaking to place your orders.
Latest update – she's also launched OkonomiyaKING as well! So something new to try for all you fans.
bit.ly/takoyaking
Facebook: www.facebook.com/abcbyladyd
Instagram: @abcbyladyd
All information (including prices, availability of item on menu and Halal status of establishment) are accurate at the time of posting. All photos used in this site are property of The Halal Food Blog unless stated otherwise.