We all know Swensen's right? I mean, come on, who doesn't know Swensen's???
It's been like the go-to place for family makan for ages. Got family celebration = automatically Swensen's!
In fact, we were just talking about it that day and it brought back memories of the old Swensen's at the Viewing Gallery at Changi Airport Terminal 1 when we used to visit there as kids. Wah last time when we heard we're going to airport means happy to the max because probably gonna makan Swensen's LOL
My standard safety dish at Swensen's has always been the Fish And Chips (you also right!!) but over the years, Swensen's has definitely reinvented and expanded its menu with some pretty interesting dishes. Besides the new/revamped permanent dishes, they also have special themed dishes which run at various times during the year.
If you remember, last year they had the special SG50 Menu right?
Well, this year, they're inviting us to go on a tour with them… A world tour of gastronomic proportions!!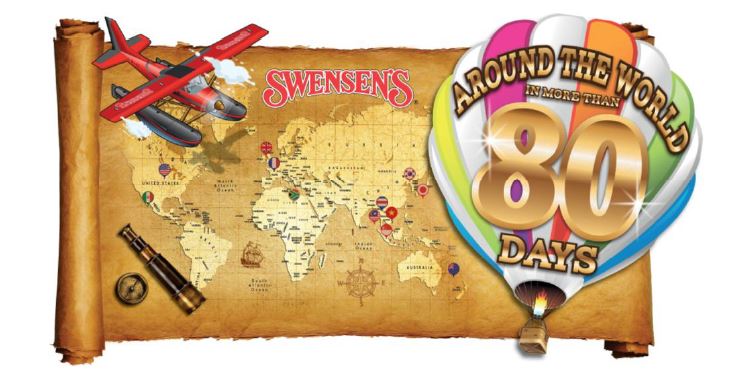 Oh yeah we're on our way to enjoy dishes from all over the globe! Swensen's presents their Around the World in More Than 80 Days menu! The dishes will be introduced progressively each month throughout the year!
We only managed to try 1 of the dishes from the 1st leg of the tour (show you all the pic later!) and we are now into the 2nd quarter of the year which means the dishes for the 2nd leg of this makan tour will be spread out with a new dish every month from April til June!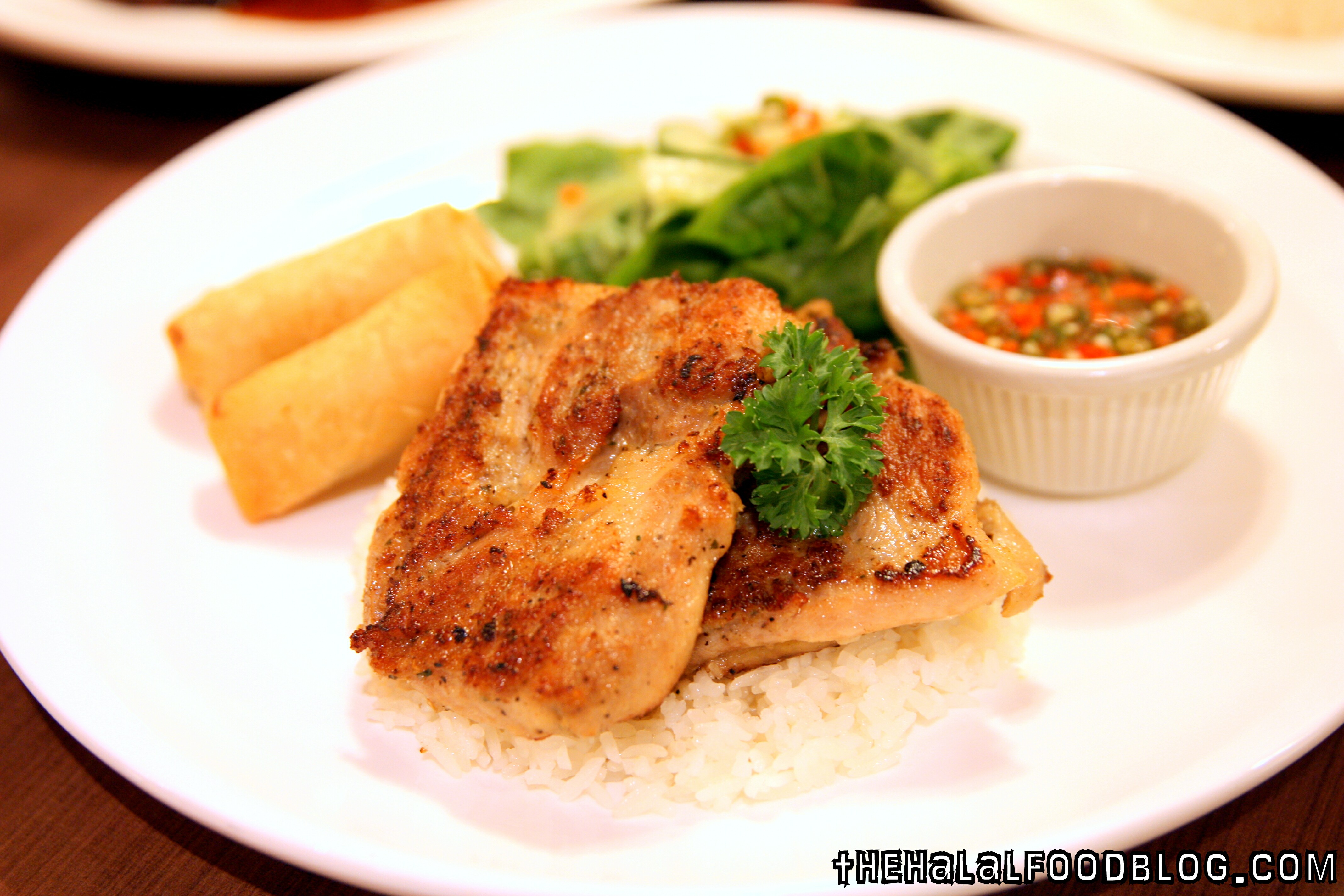 For the month of April (which is finishing soon! Sorry eh lambat!), they have a dish from Vietnam!
The dish is called Gà Nướng Sa aka Grilled Lemongrass Chicken and it actually seems like a really simple dish and it's got a nice clean flavour to it too.
The chicken fillets are grilled and a nice char on the outside but definitely still tender and juicy on the inside.
There is also a dipping sauce made up mainly of fish sauce, lime juice and some chopped up scallions, carrots and chillies. The sauce is actually nice because the fish sauce and lime juice combinations gives it a salty-tangy flavour and a good pairing with the grilled meat. But I did expect it to be a bit spicier because of the chillies though.
On the side you get some rice (which is flavoured a little like the rice you'd get with chicken rice but milder) and also some Fried Spring Rolls for good measure.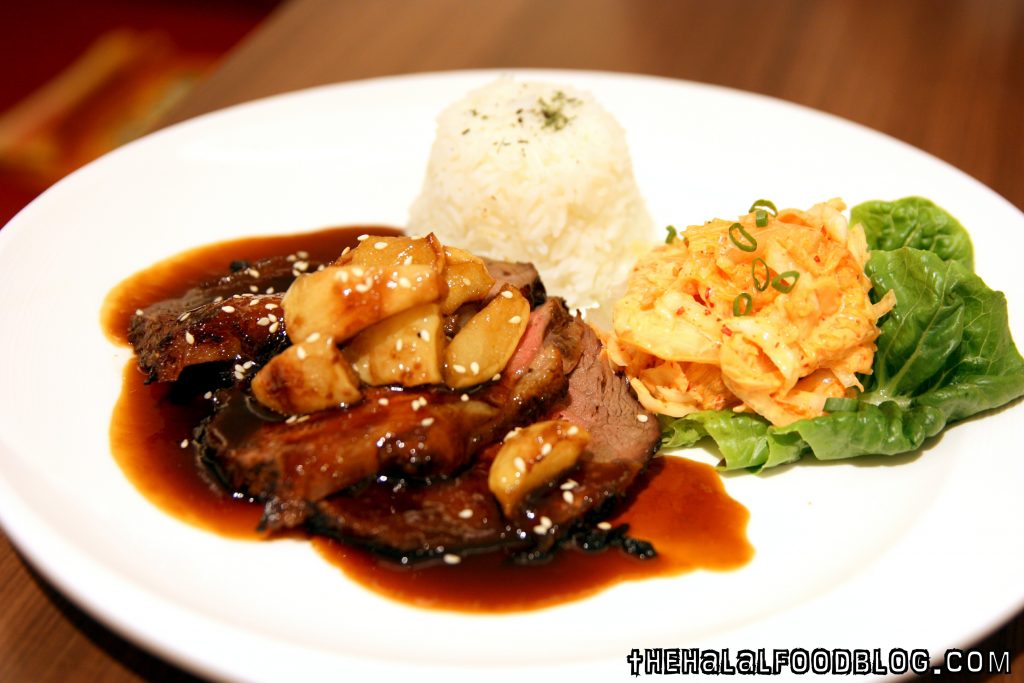 May is almost here and that also means the next dish is going to be available soon too.
And this one is for all you fans of all things Korean (I know you were watching Descendants of the Sun right! LOL)
The Bulgogi Roast Beef has flavours from the ever-popular Korea!
Slow-roasted beef is sliced (and they're pretty thick slices too!) and paired with Swensen's very own Bulgogi sauce which has a bit of a savoury-sweet flavour to it. On the side, you have some white rice and some Kimchi Coleslaw!
I have to be honest and say that of all the dishes I tried during this session, I probably enjoyed this one the least and it's mostly down to preference I guess. I love roast beeg but I do prefer it to be a bit more well done. This was a little too pink in the middle for me and this did not go well with the Bulgogi sauce.
The Kimchi Coleslaw was also a miss for me although I have to say that quite a few others did enjoy it including my fellow diner at the same table too. The best part of the dish for me was actually those poached pears which garnished the dish! Sweet and perfect flavour to go along with the dish.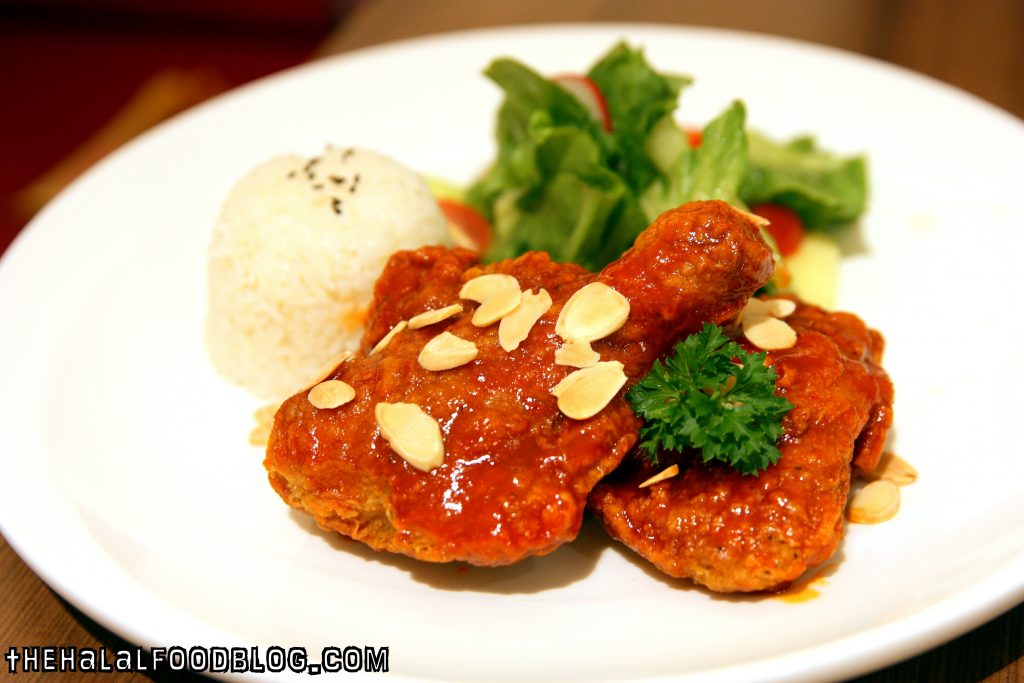 And last but definitely not least on this 2nd leg of Swensen's 'Around The World In More Than 80 Days' is a stop across the Causeway to Malaysia where we get a dish that is familiar but with a spicy twist!
The Ayam Volcano serves up 2 pieces of fried chicken that have been coated in a spicy sauce. The sides that comes with are more of that savoury rice (like chicken rice like that) and also some Mango Salad.
One bite into the chicken and I immediately recognized the flavour of the sauce…
It tasted soooooooo much like Lingham's Extra Hot Chili Sauce (which many of you probably have tried too!) but that is not a bad thing because we love Lingham's! LOL
There's no doubt that the Fried Chicken at Swensen's has always rocked and sedap to the max and now it's been paired with a great tasting sauce that really is quite spicy! The chicken skin has a great crisp to it and it's still super juicy so this dish is a win for me and the best dish of the day (I guess I'm a sucker for fried chicken!)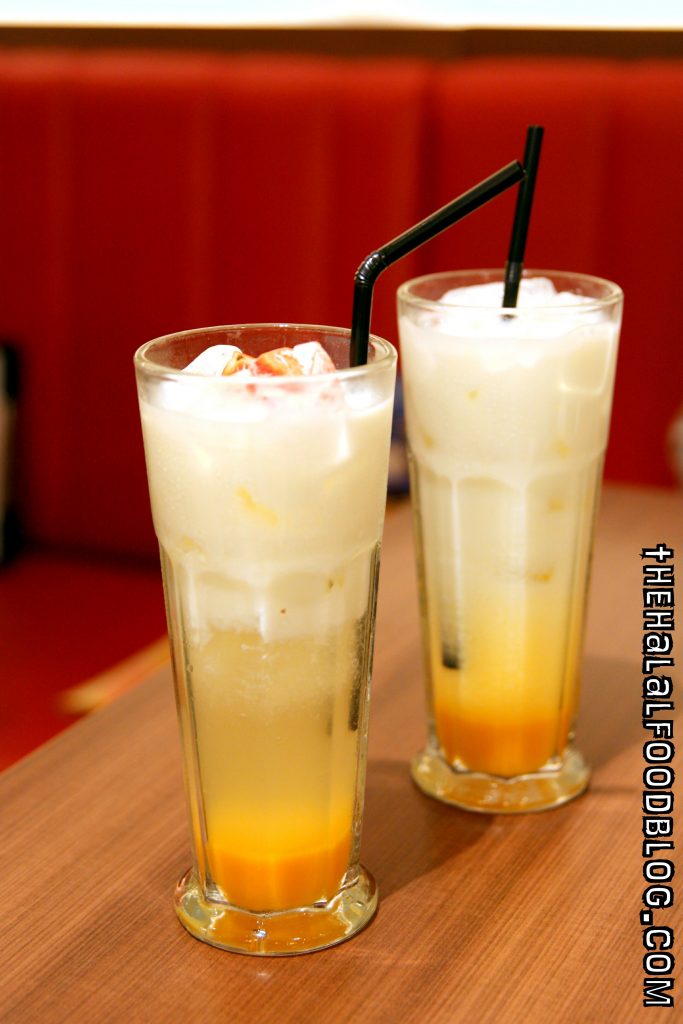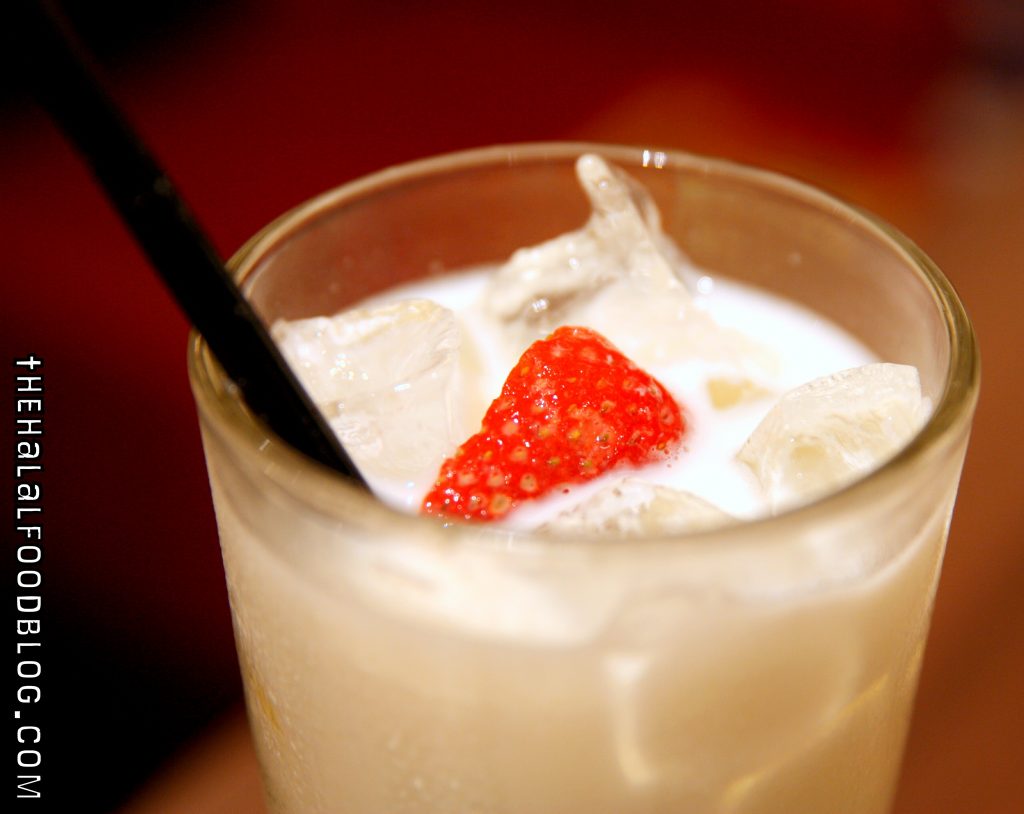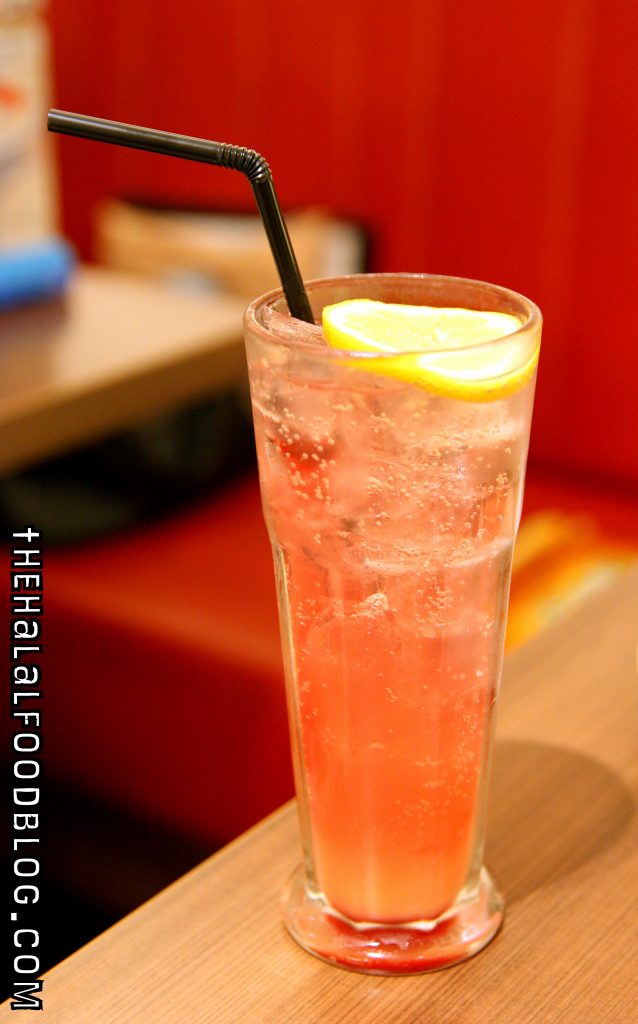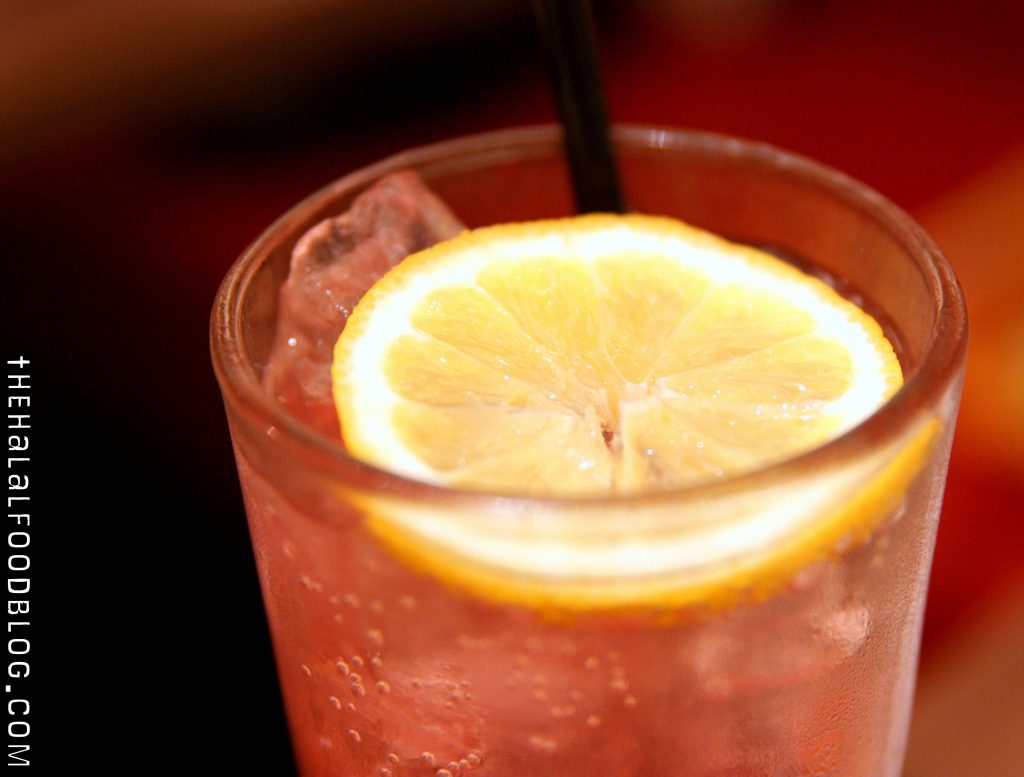 Between April and May, Swensen's also offers some pretty tasty and refreshing beverages and at the introductory price of $3.90, it's definitely worth it!
The Mango Peach Tropics is a fruity-flavoured beverage with a bit of milk in there to give it a creamy finish. If you love mango and/or peach then this is the one for you (although the milky part was totally lost on me LOL)
The Sparkling Pink Lemonade definitely had a stronger and more distinct flavour to it. And by distinct, I mean it was really tangy! Prepare to pucker up with this fizzy lemonade that really gets your appetite going and is super refreshing thanks to the sour edge it has!
Well, there you have it – Swensen's has you covered for the next couple of months with some really interesting dishes. I'm actually really excited to see what's next on the 3rd leg of the Around The World In More Than 80 Days but in the meantime, you can bet we'll will be visiting Swensen's while we wait (especially for that Volcano Ayam in June!!)
23 Restaurants Islandwide
Operating Hours Dependent on Individual Restarants
www.swensens.com.sg
Facebook: www.facebook.com/SwensensSingapore
Instagram: @swensenssingapore

All information (including prices, availability of item on menu and Halal status of establishment) are accurate at the time of posting. All photos used in this site are property of The Halal Food Blog unless stated otherwise.