Yes yes yes yes yes we are already into the final stretch of 2015! Can you believe how time has flown????
And for these final 2 months, you will see us trying our very best to include (at least some lah) healthy choices when it comes to our lifestyle!
Makan makan makan and yes it does take its toll. So as far as possible, we definitely want to try our best to keep in shape and keep healthy! I mean, we've at least got to try right? So come on as #TheHalalFoodBlogGoesHealthy and we start with a familiar name – SunMoon!!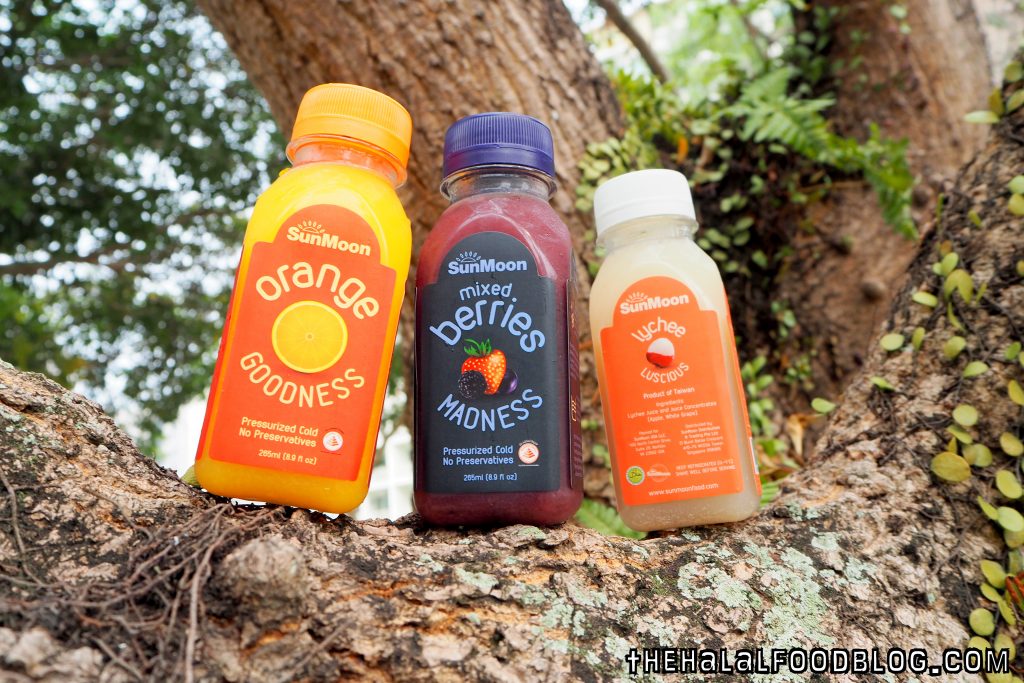 Confirm plus chop you all remember our posts on SunMoon right?
You know those little fruit cups? The ones with the fresh fruit and excellent as an on-the-go snack? They even had the special limited edition DC ones?
Well, they've taken it to a whole new level with their range of High Pressure Processing (HPP) Juices!!
So what exactly is High Pressure Processing (HPP) you ask?
Well, to cut a long story short – HPP is a method of preserving foods but at the same time, the foods does not lose their nutritional value. In fact, the foods not only stay fresh longer but also retain the natural goodness they started with!
It can get quite scientific when you read up about it but the bottom line is that the HPP method is one that ensures the quality and goodness of the foods are not lost during the process. And in this case, it's juices!
Whether you're in the concrete jungle or maybe you're enjoying nature. Toiling away at work or exercising your way around. Now, you can enjoy a high quality and naturally healthy juice courtesy of SunMoon!
They have got 3 great juices to choose from – Mixed Berries Madness, Orange Goodness and Luscious Lychee! You can take your pick of any of the 3 and you will probably have a hard time choosing a favourite because they are all so yummy! But if I had to choose one, I'd say…. Mixed Ber… no.. Luscious Lychee! I think. LOL
Anyways, thanks to HPP, these juices can be bought and kept chilled for up to a whopping 45 days! So you can stock up and need not worry about running out.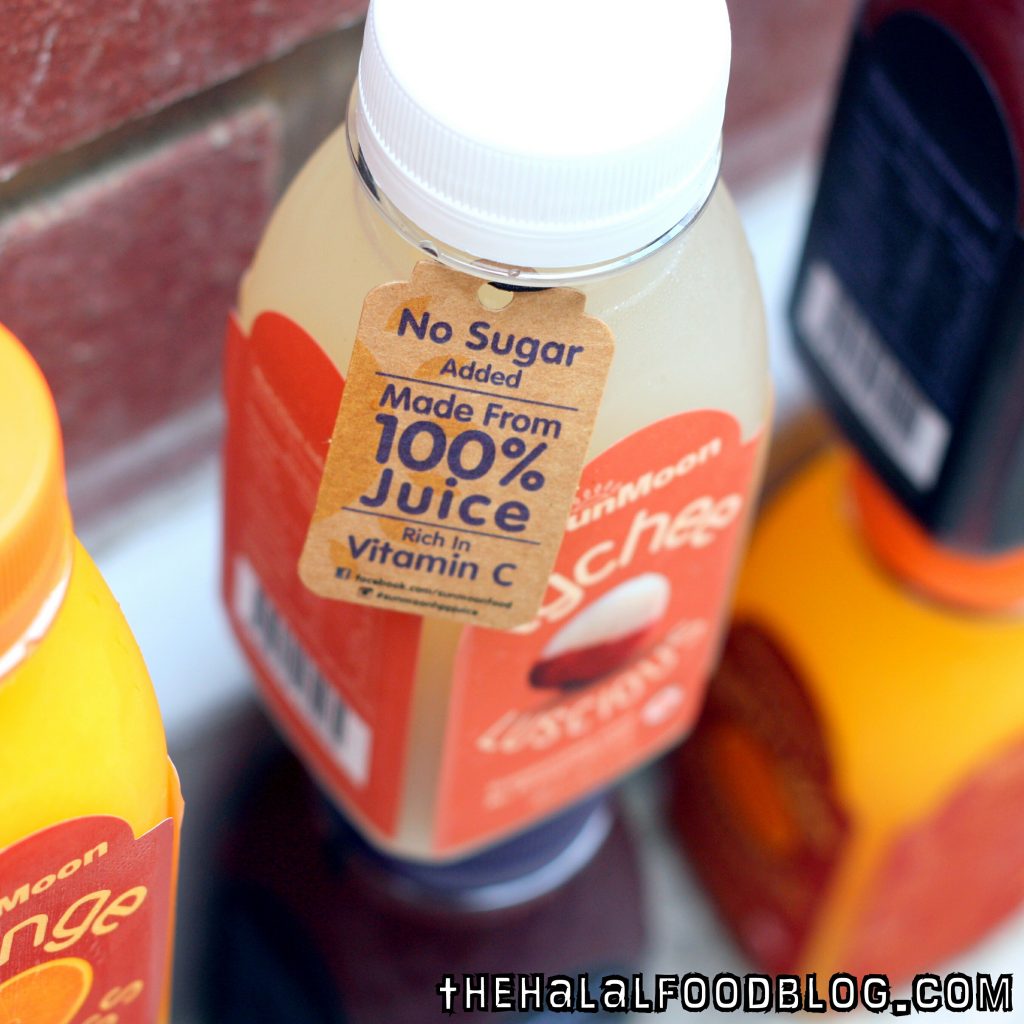 Whatever is in that bottle is 100% natural fruit juice. That means no sugar, just juice!
And you'd be surprised at how naturally sweet the juices are. I had a hard time believing it myself to be honest but I guess you simply have to taste if yourself to believe it.
It's little wonder that the SunMoon HPP Juices have the 'Healthier Choice' logo!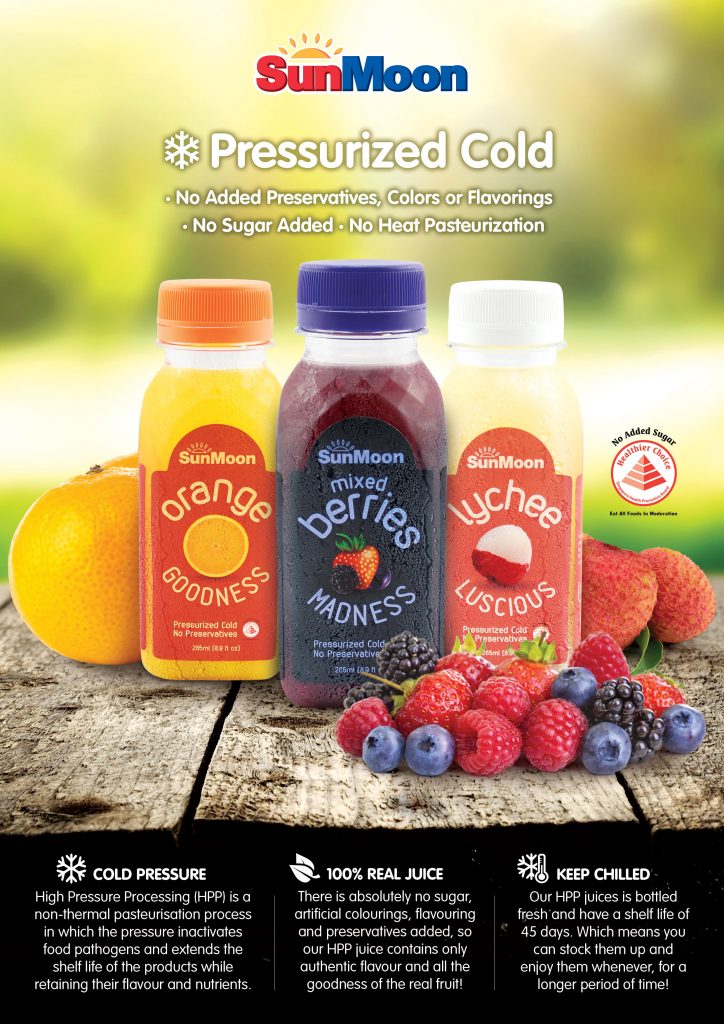 SunMoon HPP Juices are priced at $2.95 per bottle which is very reasonable considering how much you'd pay for juices out there. Plus, you are guaranteed that the juices are tasty, healthy and can last longer too!
You can order online at www.sunmoondirect.com or just pop into a 7-11 to get your hands on some HPP Juice!


SunMoon
www.sunmoondirect.com
FB: www.facebook.com/sunmoondirect
All information (including prices, availability of item on menu and Halal status of establishment) are accurate at the time of posting. All photos used in this site are property of The Halal Food Blog unless stated otherwise.