So I've been reading online about an eatery that was just certified Halal (which is always a good thing). But then I also read a claim by them that they were the first salad/wrap chain to be certified Halal.
And after awhile, I suddenly thought to myself "Waitaminute. That's not right issit."
(Yes, I said it in a British accent)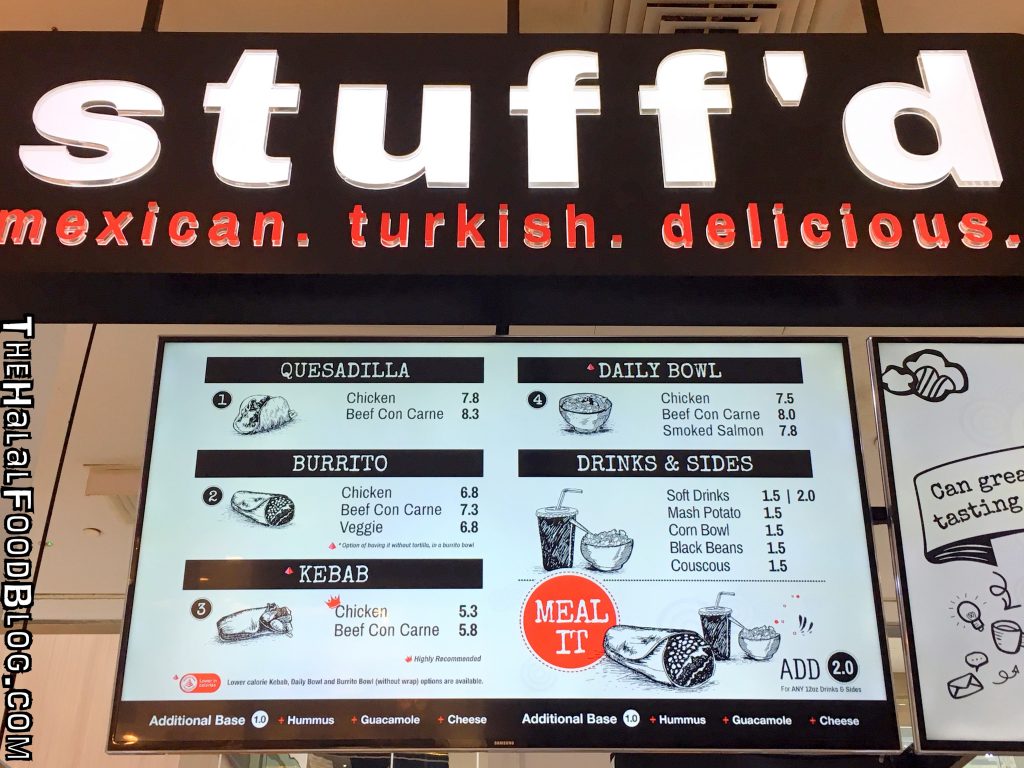 Correct me if I am wrong but I believe Stuff'd kinda falls into the same category? Errrr Burrito and Kebabs are considered 'wraps' right? LOL
Well anyways, Stuff'd has been awhile for quite awhile and they've been certified Halal for almost a year now. In fact, Stuff'd seems to be a big favourite with our readers who are the ones who recommended it to us in the first place!
So what's good at Stuff'd? Pretty much almost everything apparently.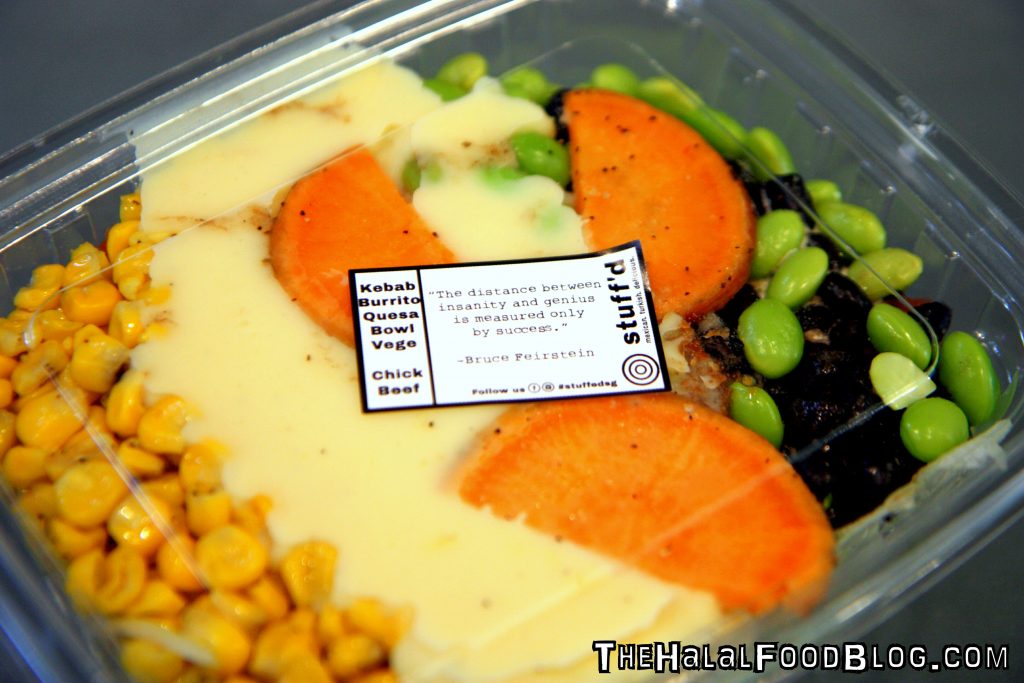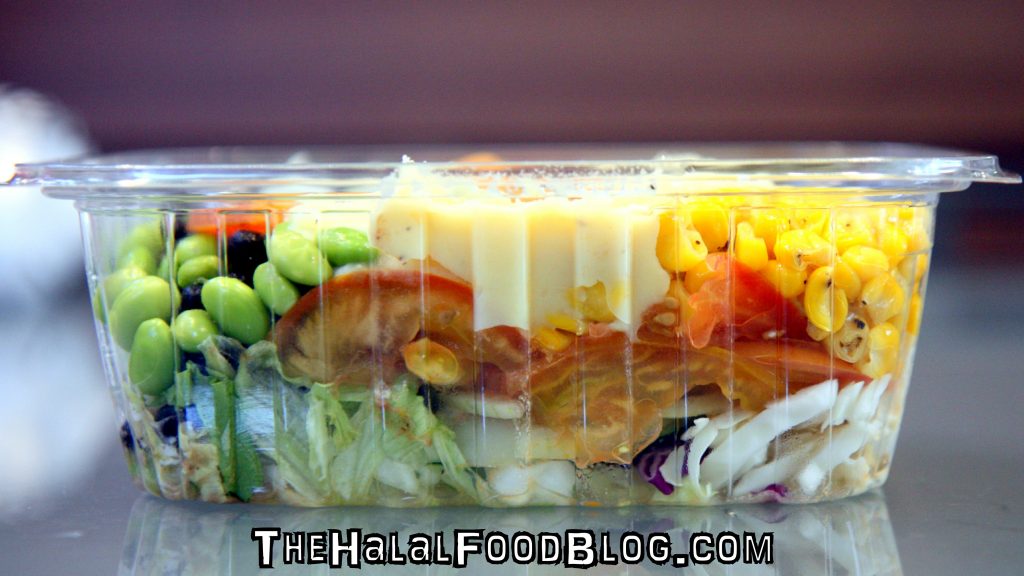 First up is something that is all the rage out there – Salads!
At Stuff'd, they call it the Daily Bowl – I honestly think it's because it could really last you throughout the whole day! Half for lunch and then half for dinner. No joke!
You get to choose a base (e.g. lettuce, cabbage etc) and you can choose either Chicken, Beef Con Carne or Smoked Salmon for your protein. Next comes the fun part – you get to choose several components to build your salad. And they have so many to choose from!
We're talking about classic ingredients like tomatoes, cucumbers and onions but also some pretty interesting ones too like Edamame, Black Beans, Sweet Potatoes, Corn, Mashed Potatoes and even Soba! That's not all by the way, there's more! But you get the picture right LOL You get to choose FIVE toppings which is a lot!
Last but not least, you get to choose 2 sauces/dressings to go into your Daily Bowl. They've got classics like BBQ, Honey Mustard, Mayo and Sweet Thai Chili but perhaps you might try the spicy Habanero sauce or the hot fvourite Roasted Sesame.
You have the option of adding additional special toppings like cheese, guacamole or hummus by the way. (I wish they'd give cheese as a default option in the toppings!!)
All in all, a very filling bowl and definitely a good choice for all you salad lovers.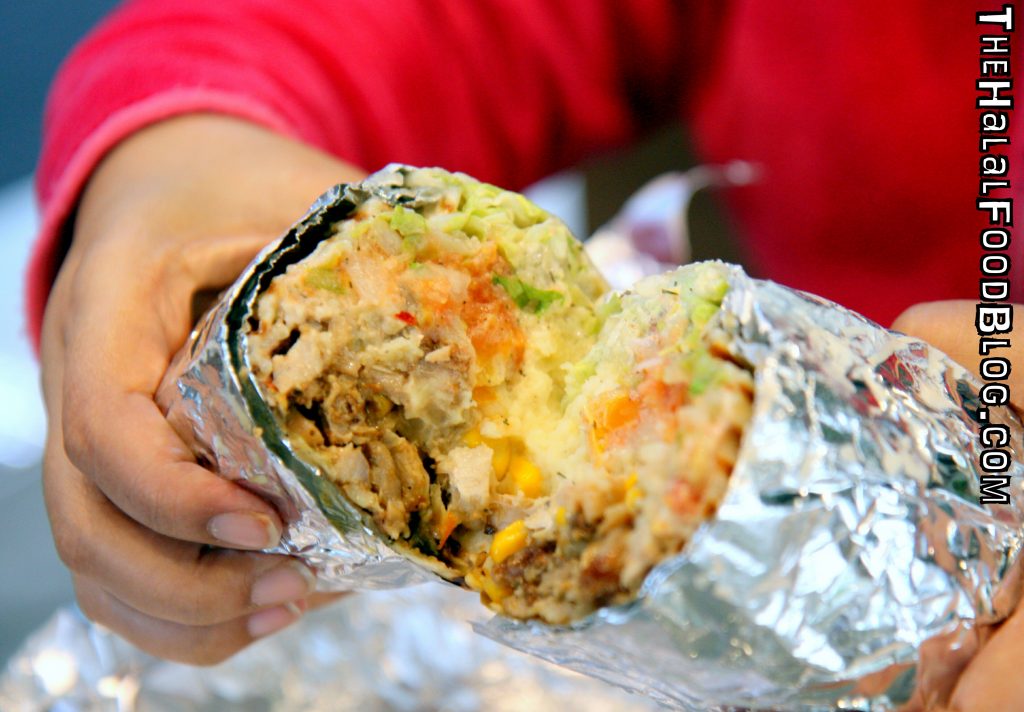 Yes, that monster is the Stuff'd Burrito!
I think we are beginning to see why they're called Stuff'd LOL
Again you get to choose either Chicken, Beef Con Carne or Smoked Salmon and the rest is pretty much built like a classic Burrito that includes lettuce, salsa, sour cream and you can add additional toppings too of course. If you're not in the mood for a big wrap, they can serve it in a Burrito Bowl too (think of it as a deconstructed Burrito salad).
Here's a tip – you might wanna leave the Mashed Potatoes out of it for this one LOL just order it as a side or something lah okay.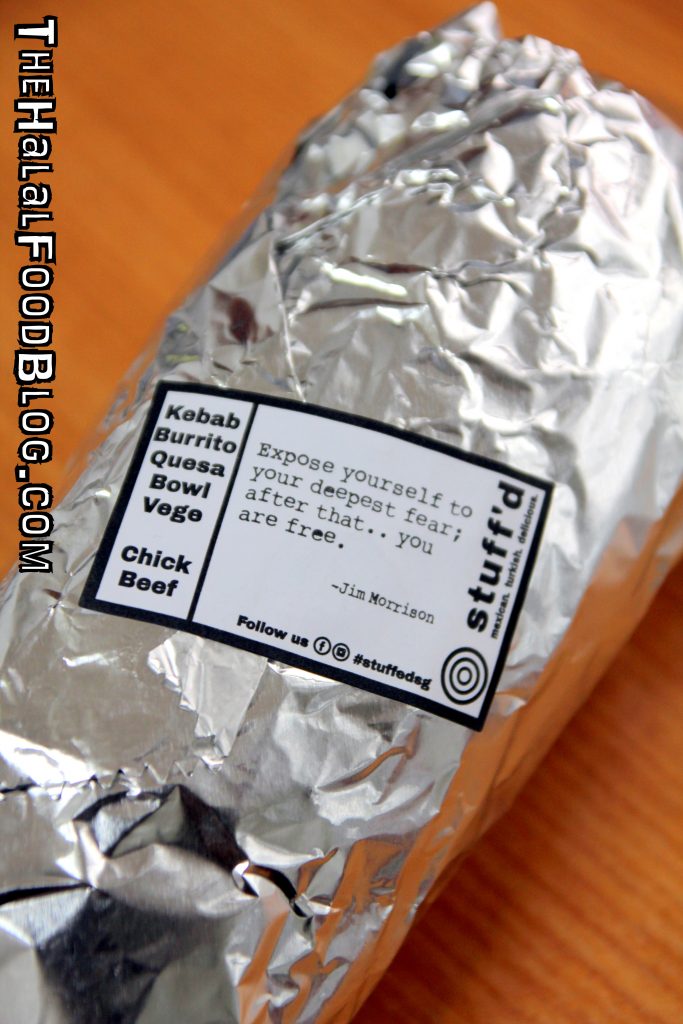 Let's not leave out the all-time favourite Kebab right! Stuff'd gives you a choice of either chicken or Beef Con Carne for your kebab and it comes with all the usual suspects within the tortilla wrap.
Interestingly enough, I didn't quite fancy the kebab personally (because it was a bit on the small side) but seems like everyone else including my Mum loves it LOL so I guess it's up to individual as usual. I guess I'll stick to the Daily Bowl and Burrito.
The only other item on the menu that we haven't tried is the Quesadilla which is more of that great Mexican flavour that Stuff'd is famous for.
So there you have it – a quick rundown of what's offered at (what I recall as) the first Halal-certified wrap/salad chain Stuff'd. They've been growing from strength to strength and have 16 outlets spread out islandwide! Still a big favourite and go-to place for a lot of our readers and I guess it's easy to see why! So head down to your nearest Stuff'd outlet and have a go.
*I will refrain from making a pun about getting yourself Stuff'd at Stuff'd*
*Oh wait I think I just did*
PS a big double fist knuckle bomb to Stuff'd for their really great and generous 'Ramadan Kebab' initiative which they held last year. They actually give out free kebabs to the needy during Ramadhan. Insya Allah they'll be able to keep this initiative going with everyone's support.
16 outlets islandwide
www.stuffed.com.sg
Facebook: www.facebook.com/stuffedsg
Instagram: @stuffedsg
Operating hours vary with each outlet
All information (including prices, availability of item on menu and Halal status of establishment) are accurate at the time of posting. All photos used in this site are property of The Halal Food Blog unless stated otherwise.