Okay it's no secret that Srisun Express has one of the best Tandoori selections we've ever had among other great dishes they have on their menu (like the Mee Goreng Special!!) so we were pretty excited when we heard that they were coming up with a Thai Seafood menu!
And what an extensive menu it turned out to be! From familiar favourites like Nasi Daging Merah to Tom Yam!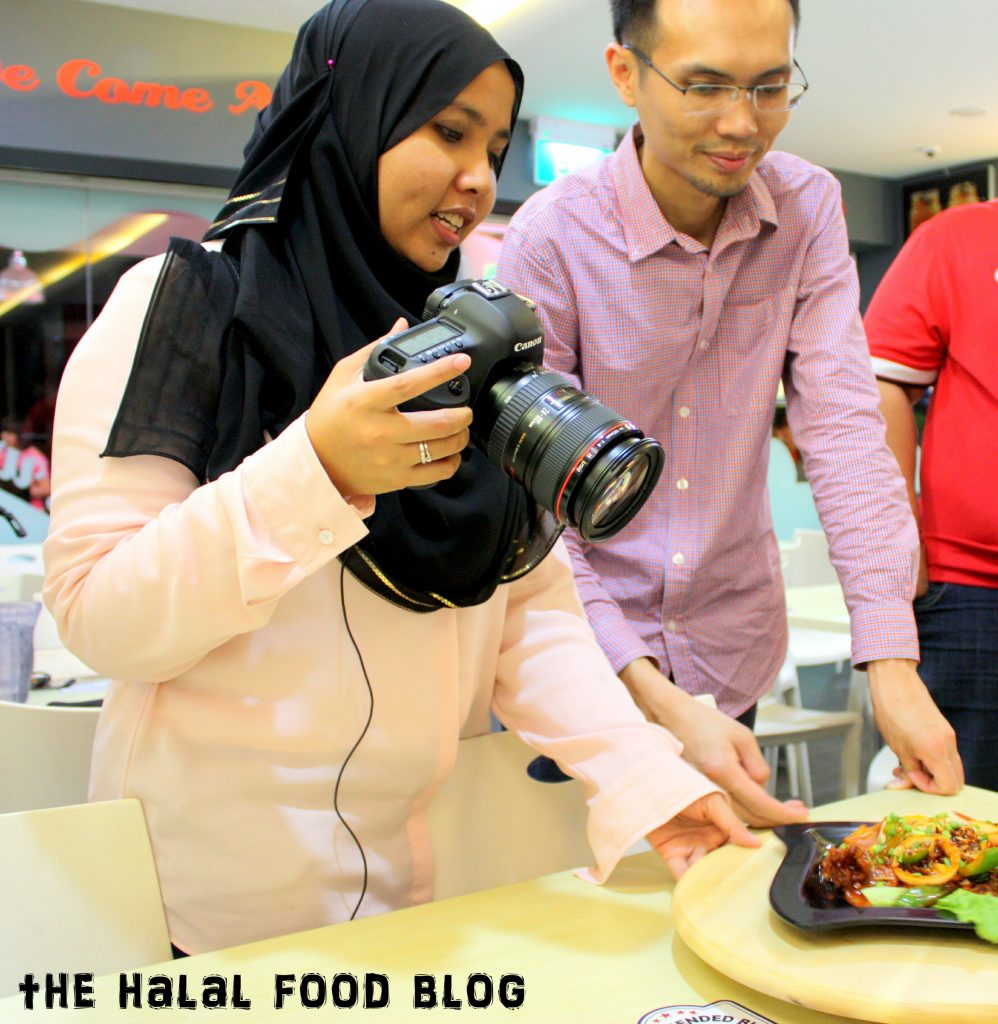 And as a special treat, we've got Jumaiyah aka Jums from the Halal Food Hunt team and hubby, Mahathir, joining us for this big feast! Good food is always best when shared with friends and family right?
Time to makan!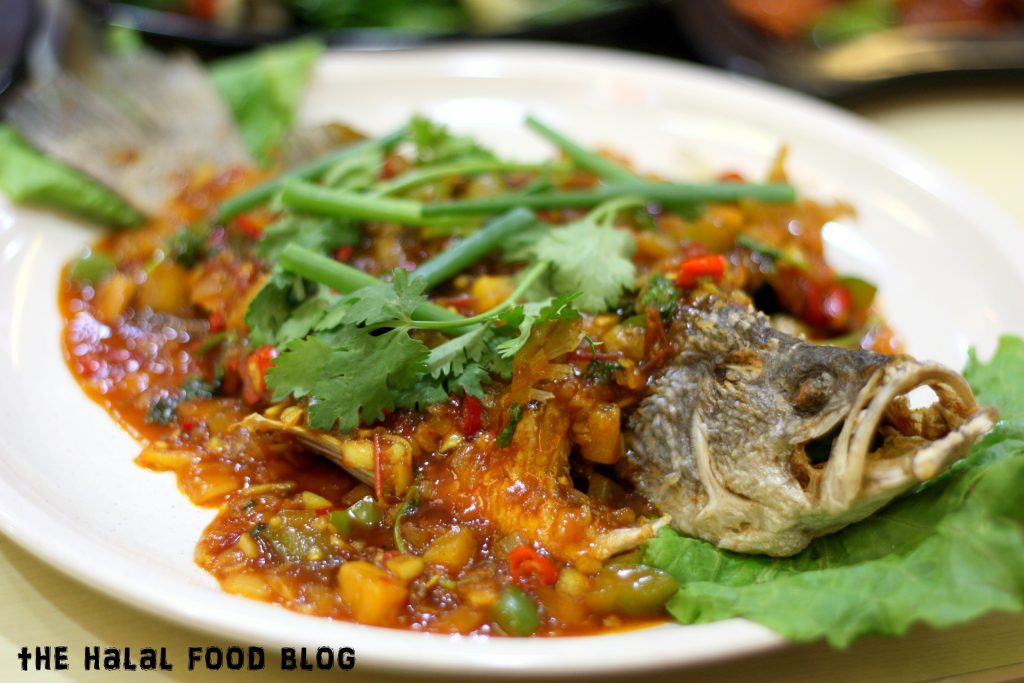 One menu item you're always gonna be tempted to order is a fish dish so we settled on the Ikan Siakap Tiga Rasa.
The Siakap aka Seabass was deep fried goodness and topped off with the Tiga Rasa sauce which was packo with pineapple, capsicum, chilli and onions. The sauce itself was flavourful and very tasty. The 'three' in 'Tiga Rasa' is supposed to be Sweet, Sour and Spicy and they are all covered here. Be sure to request for extra spicy when ordering if you feel like you want an extra kick!
And here's a tip – be sure to eat the dish while it's nice and steaming hot!!
Other choices for fish dishes include Sambal, Kicap, Steamed with Halia and (our usual fave) Steamed Ikan Siakap with Limau which we intend to try the next time we visit!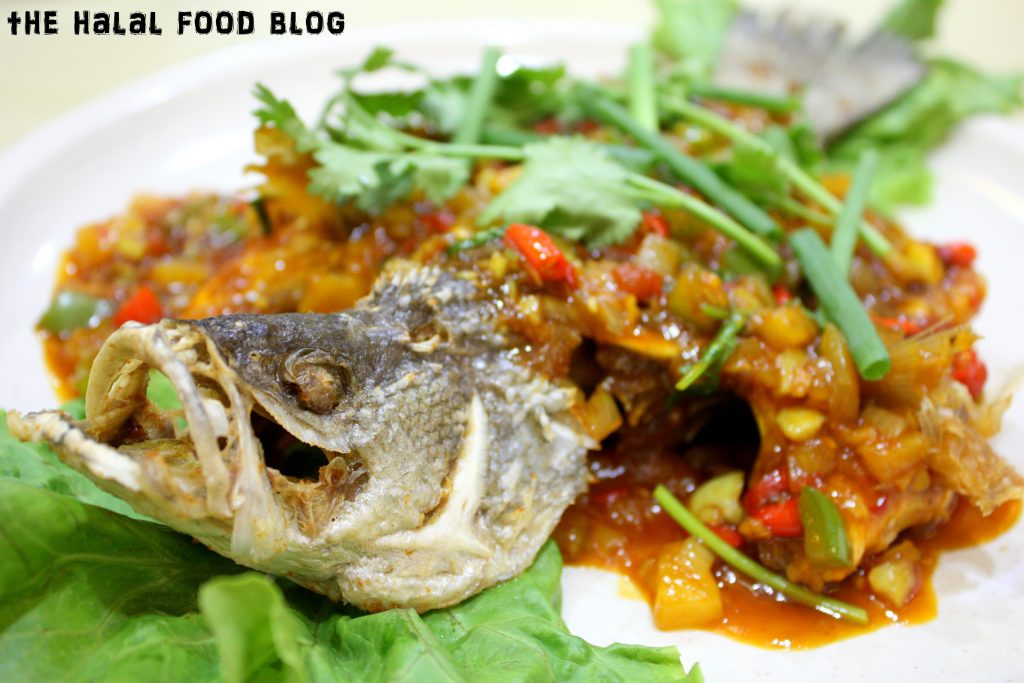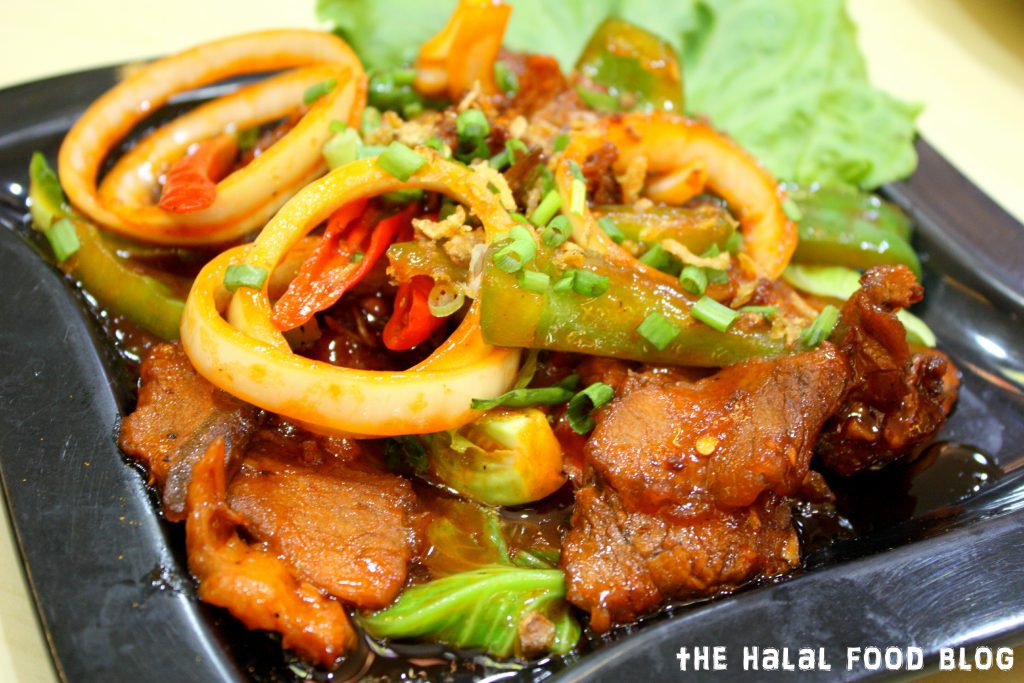 Okay so I'm the meat guy and this is always a must when I see it on the menu to be honest with you.
When we used to go out for supper somewhere and there was a Thai Seafood menu, I would definitely order a Nasi Daging Merah and a bowl of Tom Yam Soup and I was all set! Total favourite here!
This dish was a winner with pretty much everyone. Jums and Mahathir enjoyed the tender meat and tasty sauce. It's very easy for the meat to be super tough (trust me I've had A LOT of Daging Merah) but it's really good here. But this dish was not too spicy so you can probably ask for extra spicy if you'd like. High ratings all around for this one.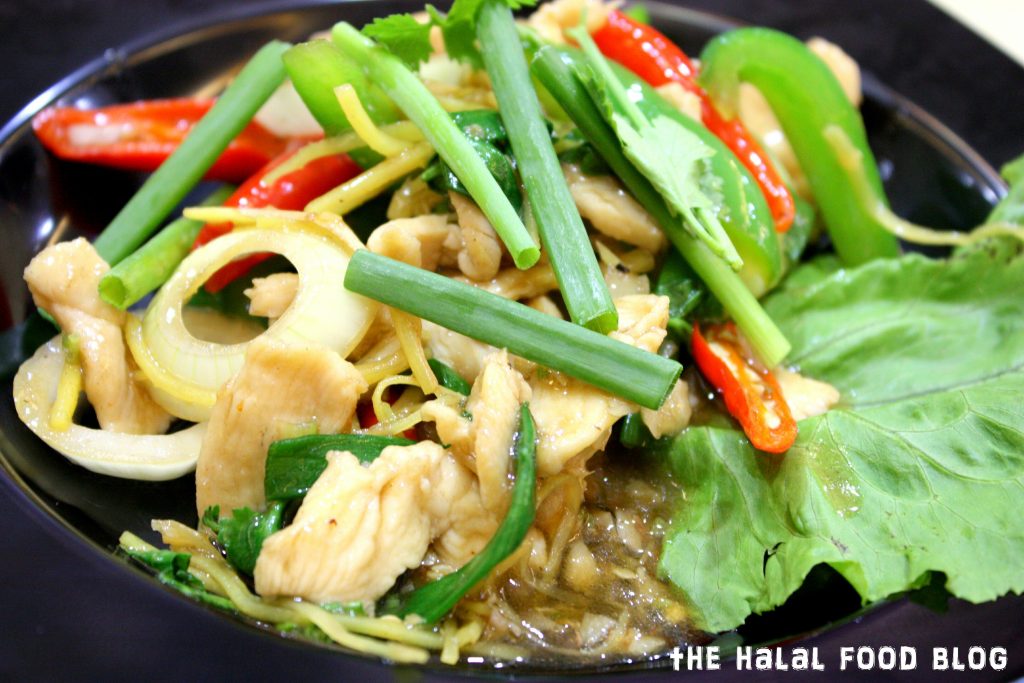 For our Chicken dish we decided to try the Ayam Masak Halia much to the chagrin of Mein Brudder who doesn't really fancy the ginger if you smell what The Rock is cooking (and he's cooking Ayam Masak Halia here).
This was not bad leh. Very tasty (because we are quite okay with Ginger) but wish the chicken pieces were a bit bigger though. But still a good choice!
If you are like Mein Brudder and don't like Ginger, maybe you can go for the Goreng Kunyit, Masak Kicap, Masak Sambal or Masak Padprik! But Ginger is good cos helps to buang angin right? LOL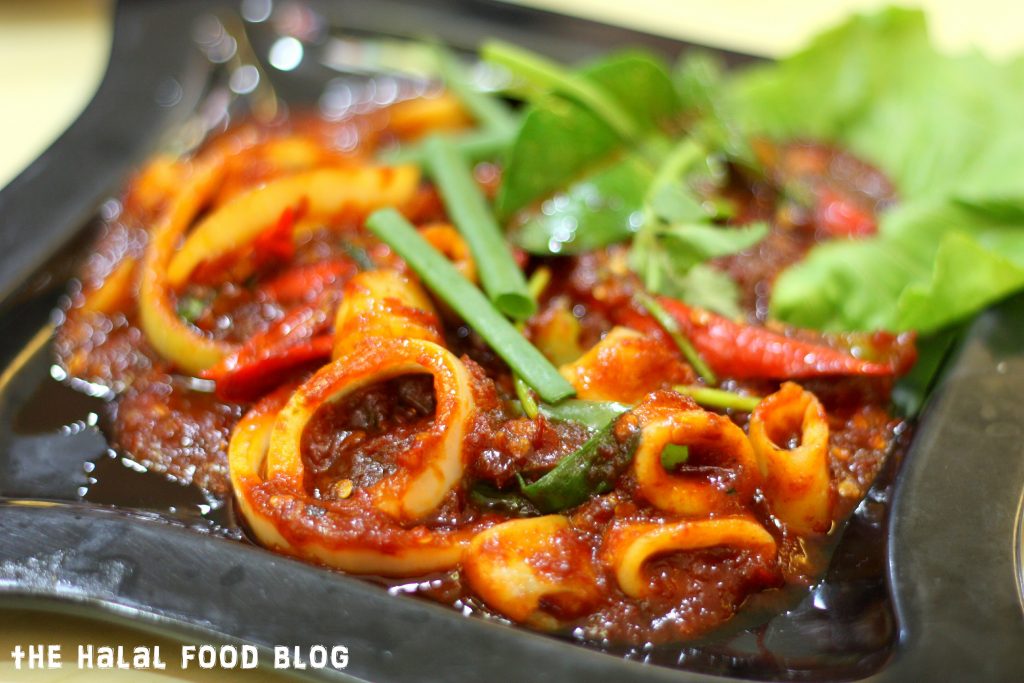 All you sotong lovers are gonna be happy with this one. Another hit with all reviewers here!
The sambal was tasty! Spicy with a little hint of sweetness so you get a nice kick but it doesn't burn your mouth off. But the best part was that the squid was really well-cooked. Don't you just hate it when they overcook the sotong and it becomes all tough and/or rubbery? Well, none of that here! Tender sotong FTW!
I'm really fussy when it comes to my sotong and I normally only have it when it's deep fried like Calamari or something so if I say this is nice means it must really be something worth trying! Coming from a fusspot like me!!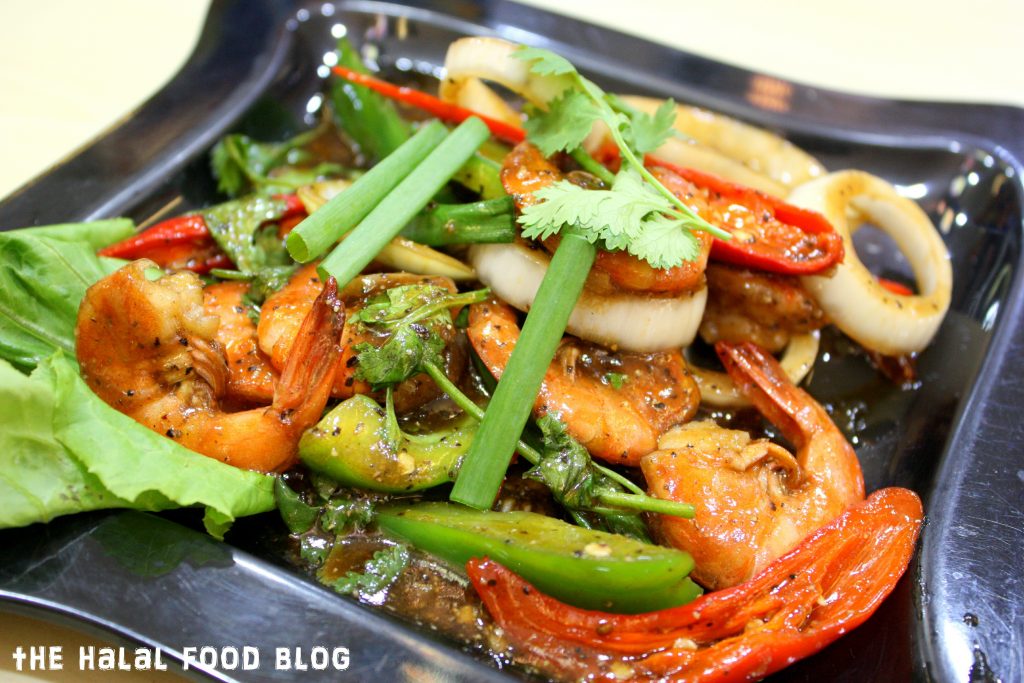 Another thing I'm fussy about (along with like 500 other things) is prawns. But here's another dish I enjoyed.
Tasty Black Pepper sauce with tender and fresh prawns is a winner right? I think of all the choices of how to cook prawns, the Black Pepper might be one of the best choices. 3 out of 5 reviewers gave this a high rating! Cos they really enjoy prawns!! LOL But even for those who don't fancy prawns so much (ahem ahem me) it was still tasty!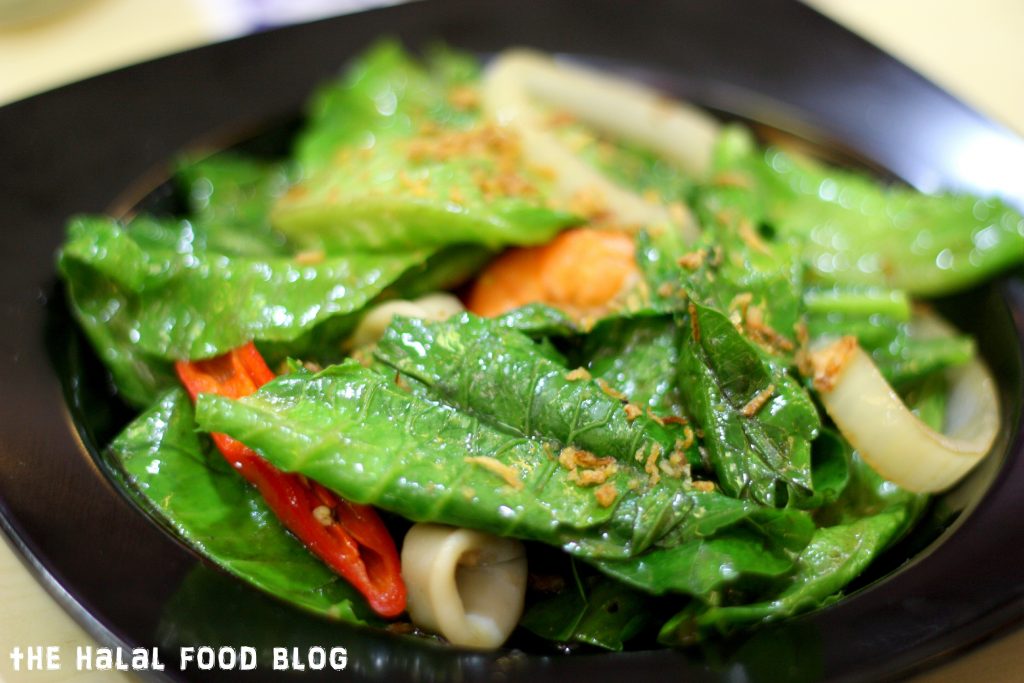 Don't forget to have your vegetables! They are good for you! LOL
But seriously. Eat your veggies okay kiddies.
You've got quite a few choices when it comes to vegetable dishes on the Srisun Express Thai Seafood menu so we decided to go with another crowd favourite – Baby Kailan Oyster Sauce. And boy oh boy did we make the right choice!
The greens were fresh and cooked so well that they carried the tasty flavour but still remained nice and crunchy!
Jums gave this dish a 5/5!!! Definitely a good choice!
Other veggie choices include Cap Cai, Kailan Ikan Masin, Kailan Belacan, Kailan Daging, Kang Kong Oyster and Kang Kong Belacan but give this Baby Kailan Oyster a try!!! It's really good!
We decided to try the Sup Campur and not the Tom Yam so that our little princess could join us in this feast.
The Sup Campur is just as the name implies – everything mixed in!
You've got little bits of seafood like sotong and also meat like chicken and beef too. And of course, you've got a good serving of veggies in there too.
The taste kinda interesting though. It had a bit of a tang probably from the tomatoes. Took a bit of getting used to LOL but it's worth it to have this soup if you can't decided what you'd like because it's got everything in it!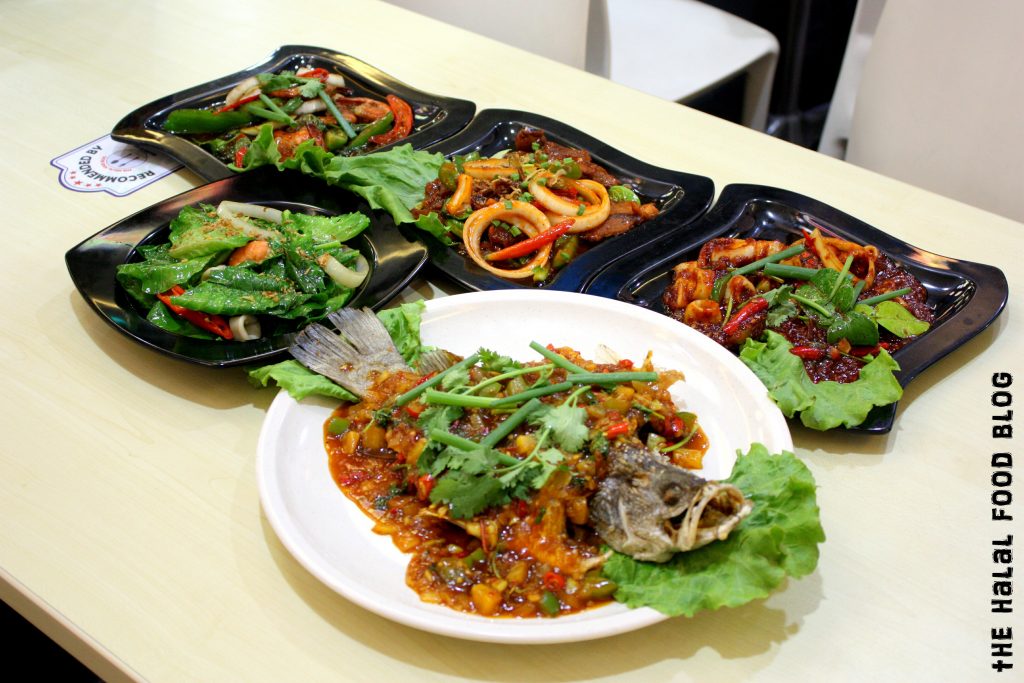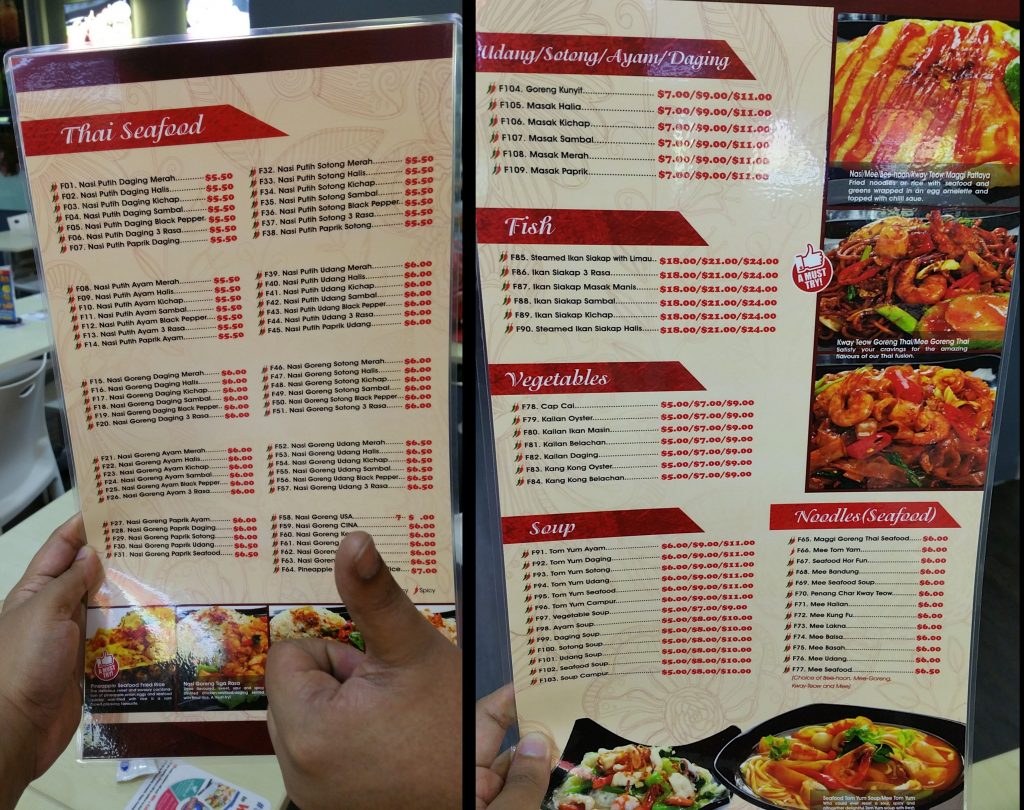 So that's quite a feast we enjoyed but as you can see, we barely scratched the surface! The new Thai Seafood Menu is like 2 pages long!! So many options that you are going to be spoiled for choice! I can tell you that is a problem I always have when it comes to deciding what to order because it's all so tempting! So best is to go with more people so can order more and try everything! LOL
But – Daging Masak Merah mau lebih!!!
SPECIAL OFFER!!
When you visit Srisun Express and try their Thai Seafood Menu, tell them that you read about it on The Halal Food Blog and enjoy a 10% discount off your total bill! That's a really good deal!!
Thai Seafood menu is available from 5pm to 2pm everyday!!
So head on down to Srisun Express today and let us know what you think of their new Thai Seafood menu okay!
Tag us in your FB or IG pics lah okay!!!
  Blk 212 Hougang Street 21 #01-343
http://www.srisunprata.com/
www.facebook.com/pages/Srisun-Express/1471473693091910
Instagram: @srisunexpress
Operating Hours: 24 hours Daily (Thai Seafood 5pm-2am)
All information (including prices, availability of item on menu and Halal status of establishment) are accurate at the time of posting. All photos used in this site are property of The Halal Food Blog unless stated otherwise.
---
Srisun Express offers 10% off for all FRIENDS Card holders. Valid on weekdays only excluding weekends and Public Holidays.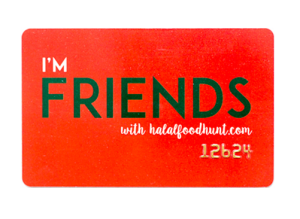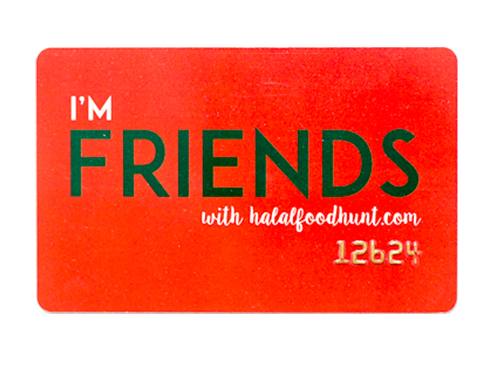 Get your FRIENDS with halalfoodhunt.com Rewards Card now at only $18/year and unlock discounts at over 60 halal restaurants, cafes, bakeries including online e-commerce businesses in Singapore. For a full list of where you can enjoy your card, click here.