So you may have seen that we were recently featured on Eat Food. Live Food. and one of the conditions we requested for the interview was that the interviewer, Mr Hairil Sukaime, meet us a place he loved to makan at so that we could review it at one shot.
As you can probably guess by now, we met at Sinaran Muslim Seafood which is located in the Teck Whye / Choa Chu Kang area.
So we ordered some light bite dishes and I had the Chicken Rice (which will incidentally be the next installment of our Chicken Rice Chronicles) it wasn't much but it sure was tasty! Well, most of it anyways LOL
We could have gone for the deal with the whole fish instead of fish slices but that would probably have been too much so we decided on something we knew we could manage and there were no regrets let me tell you.
Most times when we see Sliced Fish in a Sweet & Sour dish, it's normally those thick fish fillets which are processed fish meat coated in flour. No, we're not talking about those thin ones you have with your Nasi Lemak but those thicker ones lah I'm sure you know what we mean right? Well, no such thing here.
They use actual fish slices (I'm guessing probably Ikan Kerapu aka Grouper) which they lightly coat with some flour for the crisp and that is it. The fish was fresh and the coating was light enough that you have the texture but still have a nice crisp to it. It probably helped that the fish slices were not too thick.
The sauce was also really tasty and it was just right amount that you get that great sweet and sour flavour but not the headache of the fish swimming in the sauce.
Hairil pointed out that they're not stingy with the onions either which were sweet!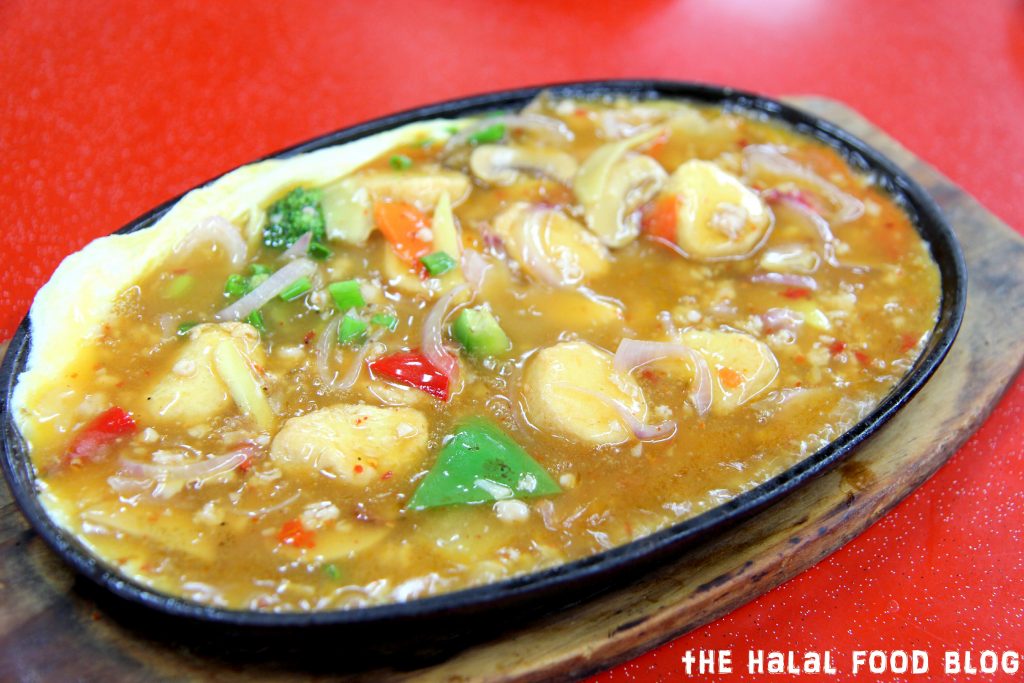 Here's where we were pretty divided.
It was a basic recipe here of lightly fried Silken Tofu pieces with bits and pieces of veggies like broccoli, mushrooms, onions and green peppers. There is of course a sauce to hold it all together as it lies atop a bed of egg in the hotplate.
The dish arrived bubbling hot (it's a hotplate like duh) which is something that always gets the appetite going. But I think maybe it's because I'm comparing it to other Hotplate Beancurd dishes that I've tried before that makes me think this doesn't quite meet the mark.
Take for example the Hotplate Beancurd at Rex Mackenzie. The sauce is tastier and has more goodies in it (like minced chicken etc) and is even a bit more spicy. Guess maybe I was thinking about that one too much LOL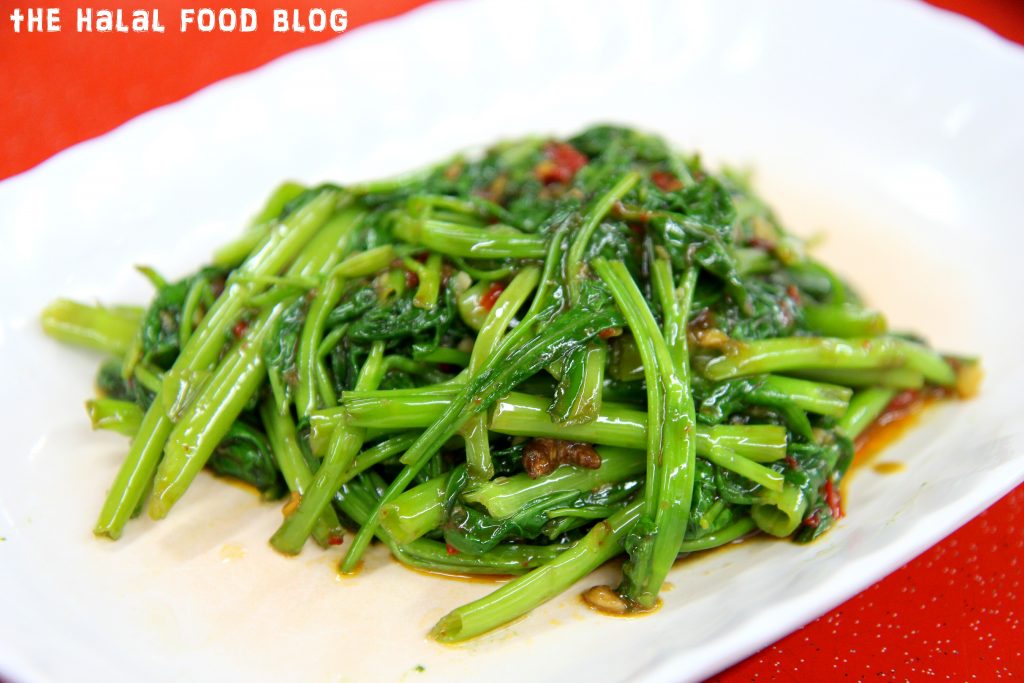 Come on everyone loves Kang Kong right? Especially when it's Kang Kong Belachan!!
And the one at Sinaran is power to the max. Probably one of the best tasting and well-cooked we've had to be honest according to Mein Bruder.
Hairil says he orders this every single time his family and him makan here and it's easy to see why. The veggies were fresh and really tasty. The belachan doesn't overpower everything and this dish actually has the right amount of spice level for everyone to keep digging in.
Adam's Verdict:
Sweet & Sour Sliced Fish 4.5/5 — Hotplate Beancurd 3/5 — Kang Kong Belachan 4/5
Azlan's Verdict:
Sweet & Sour Sliced Fish 4/5 — Hotplate Beancurd 2.5/5 — Kang Kong Belachan 5/5
Hairil's Verdict:
Sweet & Sour Sliced Fish 4/5 — Hotplate Beancurd 4/5 — Kang Kong Belachan 4/5
Well, there you have it folks! Thank goodness the food was good because we went all the way to Choa Chu Kang for it! LOL Well worth the visit if you're in the area for sure!
Special thanks to Hairil for having us down for a chit-chat over a sumptuous dinner!
Read his post which features his interview with us on his site Eat Food. Live Food. where we talk about general makan stuff among other things. It's always nice to have good food with good company!
Sinaran Muslim Seafood
Block 26 Teck Whye Lane
#01-170
Tel: 67690866
Operating Hours: 11am til 11pm Daily
All information (including prices, availability of item on menu and Halal status of establishment) are accurate at the time of posting. All photos used in this site are property of The Halal Food Blog unless stated otherwise.