We had such an enjoyable meal when we were first invited to Siam Kitchen earlier this year that we wanted to make a point to visit again to try out some of the other dishes we'd seen on the menu.
There were plenty of great Thai dishes available and since we love Thai food so much, it was a no-brainer – we simply had to go back! So on a day where we really could no longer tahan and needed some Thai food in our bellies, we mad our way back to Eastpoint Mall and back to Siam Kitchen!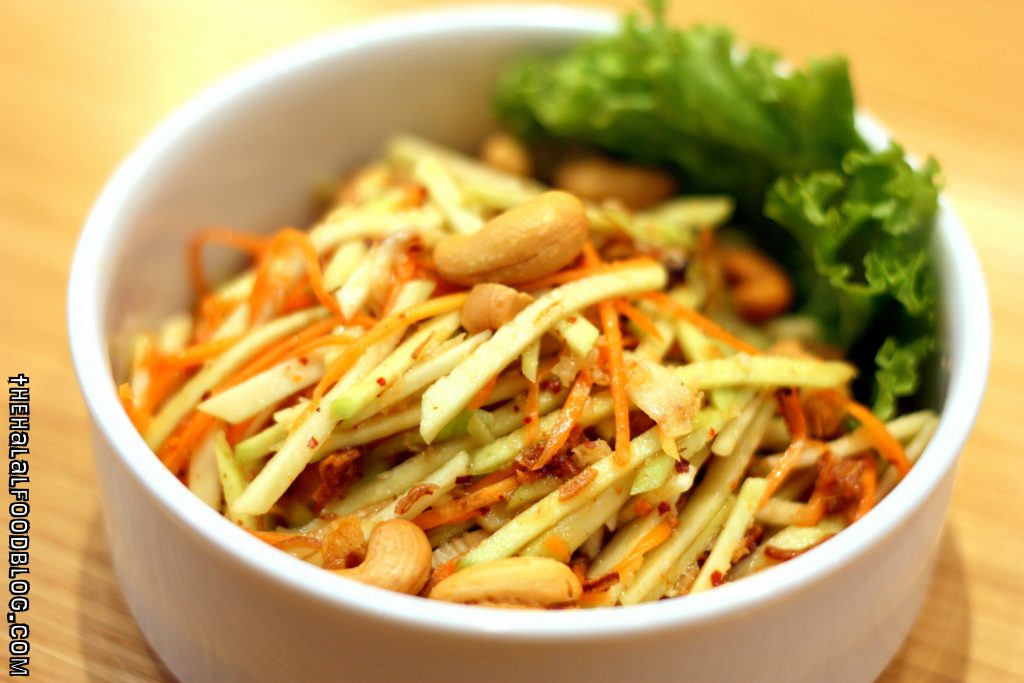 On our first visit, we got to try some dishes that I guess we probably would not normally order because we're so boring and always order the same thing LOL and so that's what we did this time. We ordered some Thai dishes that we'd normally order to see how the Siam Kitchen version were like.
We wanted to order the Som Tum (aka Papaya Salad) but in the end, decided on the Mango version instead. The Spicy Mango Salad (Yam Mamuang) is a great way to start a meal because the spicy and sour notes really get your appetite going!
Green mangoes, carrots and peanuts all tossed in a spicy-salty dressing is sure to get you all ready for the big meal. Anyways one serving is enough to share with everyone.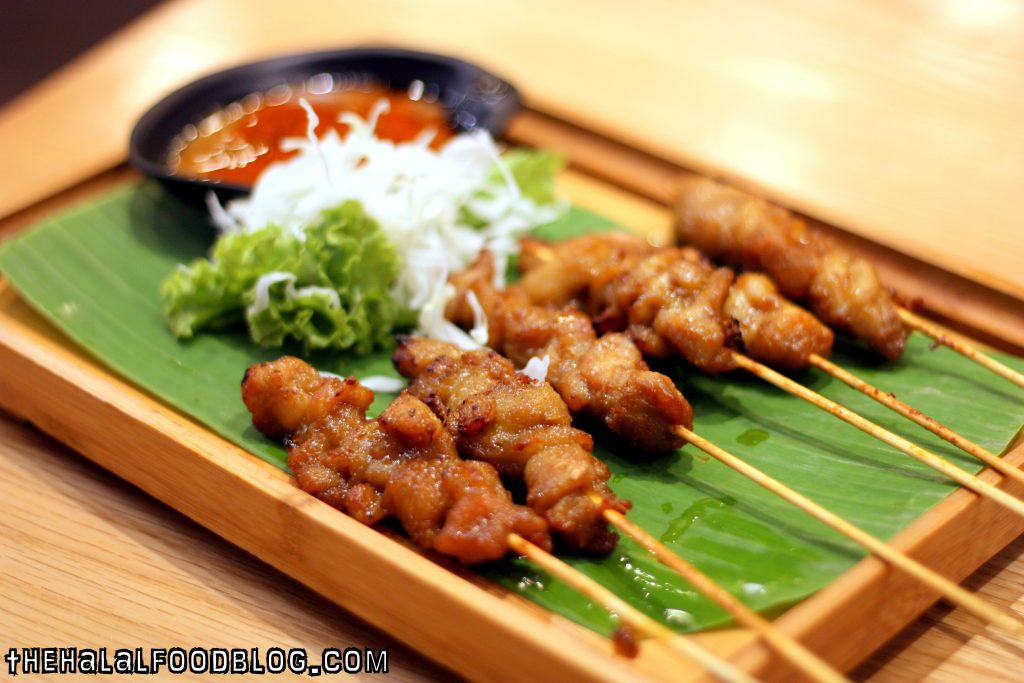 Believe it or not, Thai Satay is also one of our fave starters when it comes to Thai food. We may be used to our very own version and to be honest, the Thai version is very very similar but it's still something that's super tasty epsecially when done right.
Wah the version at Siam Kitchen really power lah! No kidding!
The chicken was super tender and super flavourful. Every bite was simply delightful especially when enjoyed with the peanut gravy but on its own also can. The biggest fault was there were only 6 skewers per serving. For that price, maybe 8 (or maybe even 10!) skewers would have been nice.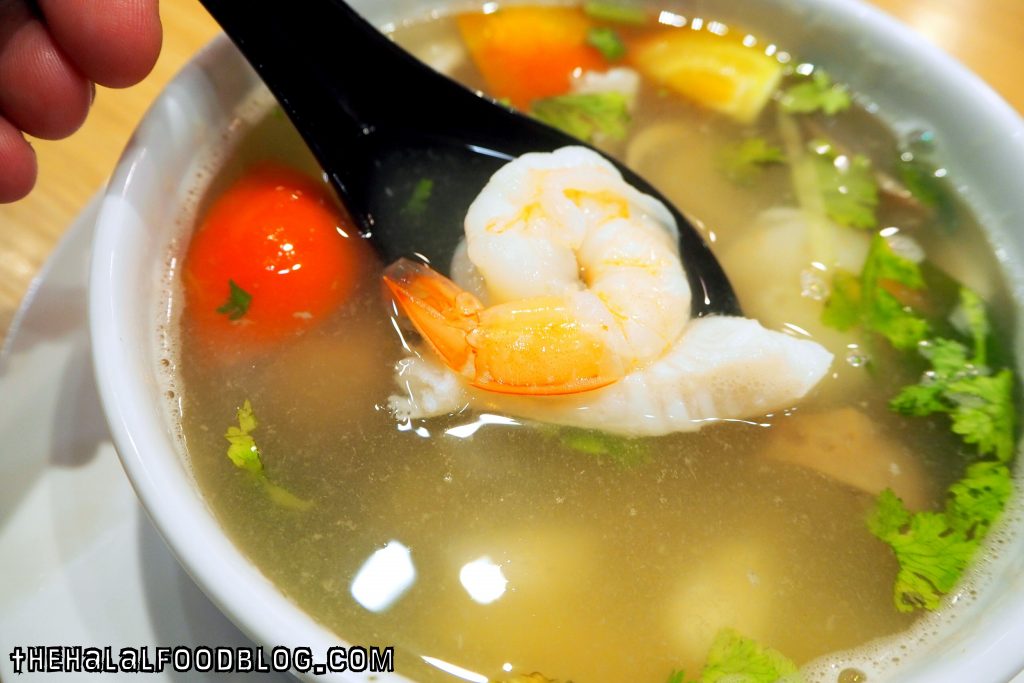 Finally we get to try some Tom Yum Soup at Siam Kitchen LOL
Would it live up to our expectations?
We could have chosen the Red Tum Yum Soup with either prawns or seafood or maybe even the Coconut Tom Yum Soup with Chicken but based on our experiences from having Tom Yum in Thailand, the spiciest of the spiciest Ton Yum Soup we've ever had was of the clear variety – so that's what we ordered here.
Hmmmmm…. well it wasn't bad or anything. But I guess it was rather underwhelming because we really thought we gonna start breathing fire LOL but I guess we were thinking about Thailand too much. A pretty decent bowl of Tom Yum overall packo full of seafood.
If you're not in the mood for Tum Yum, they also have some apparently tasty Beef Soup too.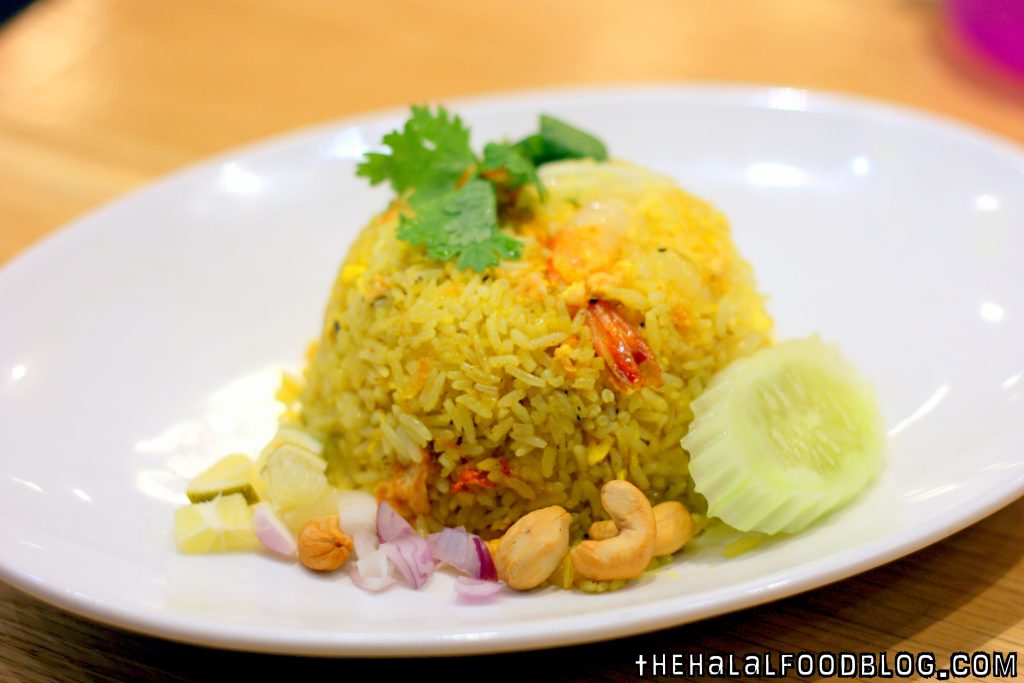 We heard a story that Pineapple Fried Rice is a dish that was actually 'invented' in Singapore! Well, that has not stopped the dish from becoming synonymous with Thai cuisine right? I mean, surely you've ordered Pineapple Fried Rice and it comes served in the pineapple shell?
Well, the Pineapple Fried Rice with Seafood at Siam Kitchen is pretty decent. Definitely a good choice if you're looking for something with some extra flavour to share with the kids which is actually the reason we ordered this to try – so that our Little Princess could have some Thai food too!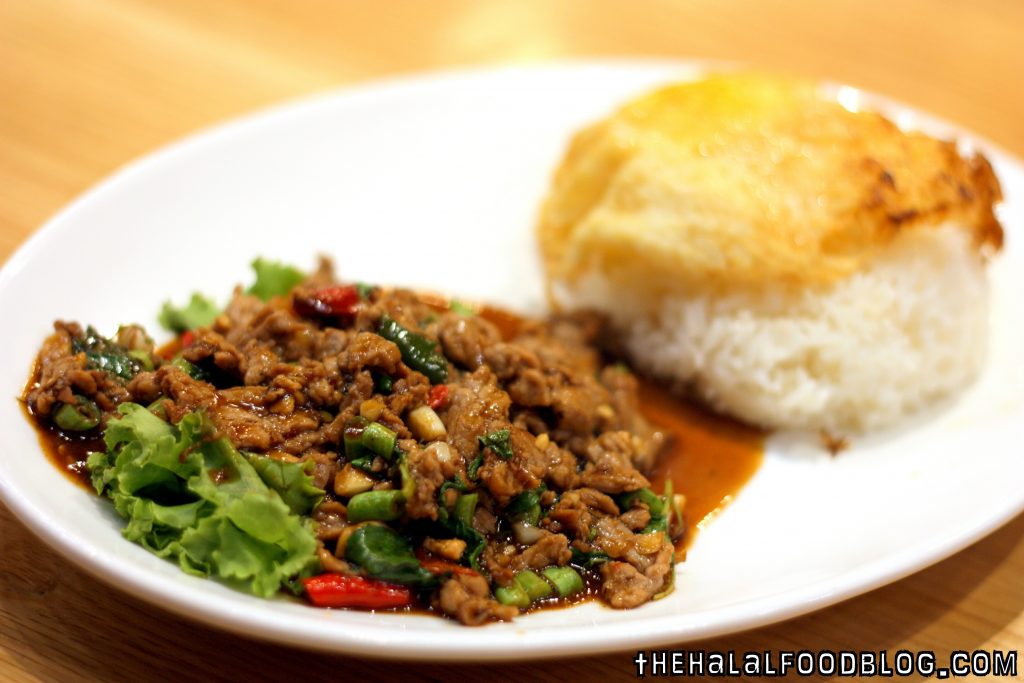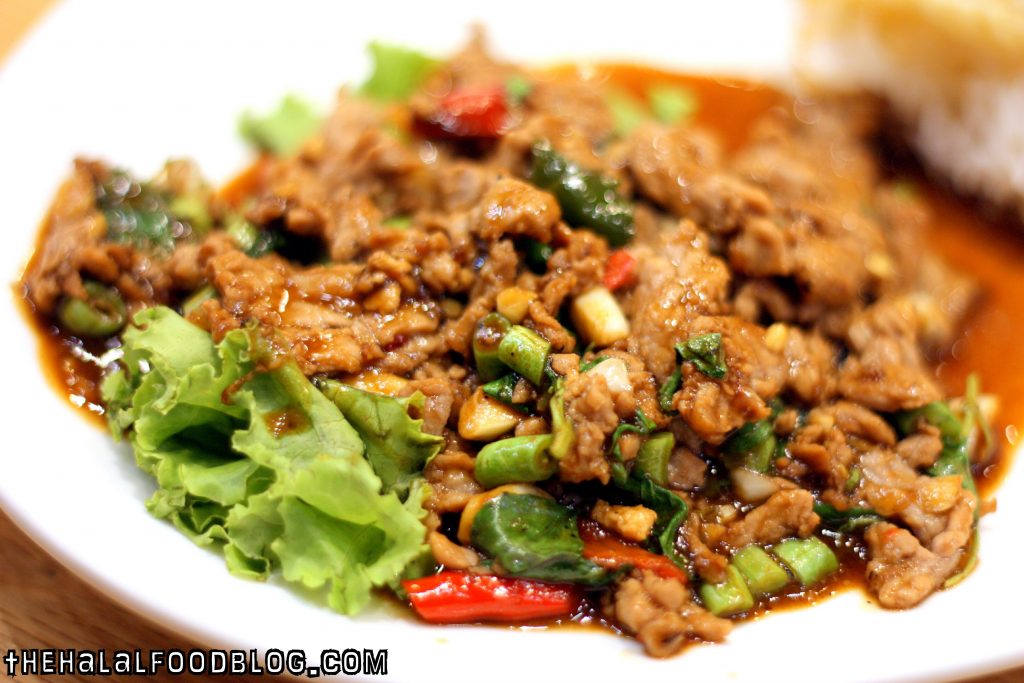 Besides Shrimp Paste Fried Rice, when we visit Thailand, I also love to order a side of either Chicken or Beef stir-fried with Basil and here we ordered a serving of the Minced Beef with Basil (Phad Kra Prow Neua).
Stir-fried with a nice beefy flavour and a bit of a salyy edge which is very welcome. But there is no mistaking the delicious flavour that the Basil brings to the dish. Absolutely sedap to the max!!
Served with fragrant white rice and a fried bull's eye egg. Simple but satisfying.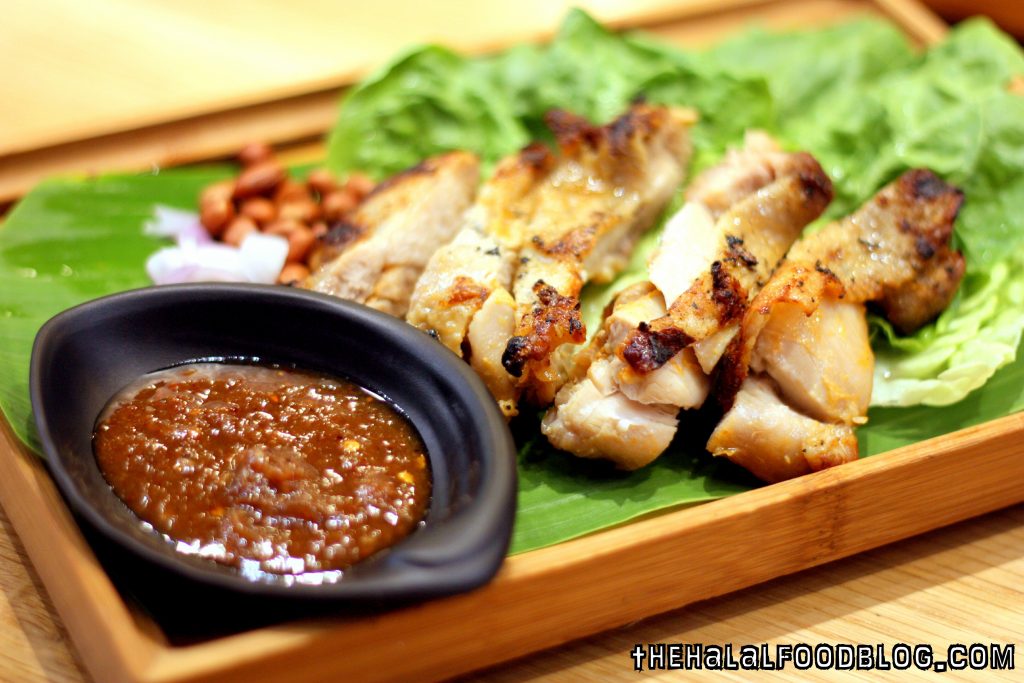 Remember the superb Butterfly BBQ Chicken from our first visit? Well, we loved it so much that we ordered it again! But alas, it was not meant to be and it was not available during our 2nd visit so we settled on the Grilled Chicken Thigh with Lettuce Wrap instead.
Well, unfortunately this one came nowhere to close to the Butterfly BBQ Chicken… Hmmmm….
First things first, it was cold when it arrived. It was just barely warm and since it's a grilled dish, that tells us that this was probably not prepared fresh to order or it was not sent to the table until after a lengthy delay. Well, whatever the case, that was a big turn-off.
So anyways, you're supposed to take some of the grilled chicken along with some of the condiments like onions and peanuts, add some of the special chili sauce and wrap them all up in a lettuce leaf like a wrap.
The chicken also seemed to be pretty dry. The saving grace was the special chili sauce which has q a good flavour and a pretty good spicy kick too!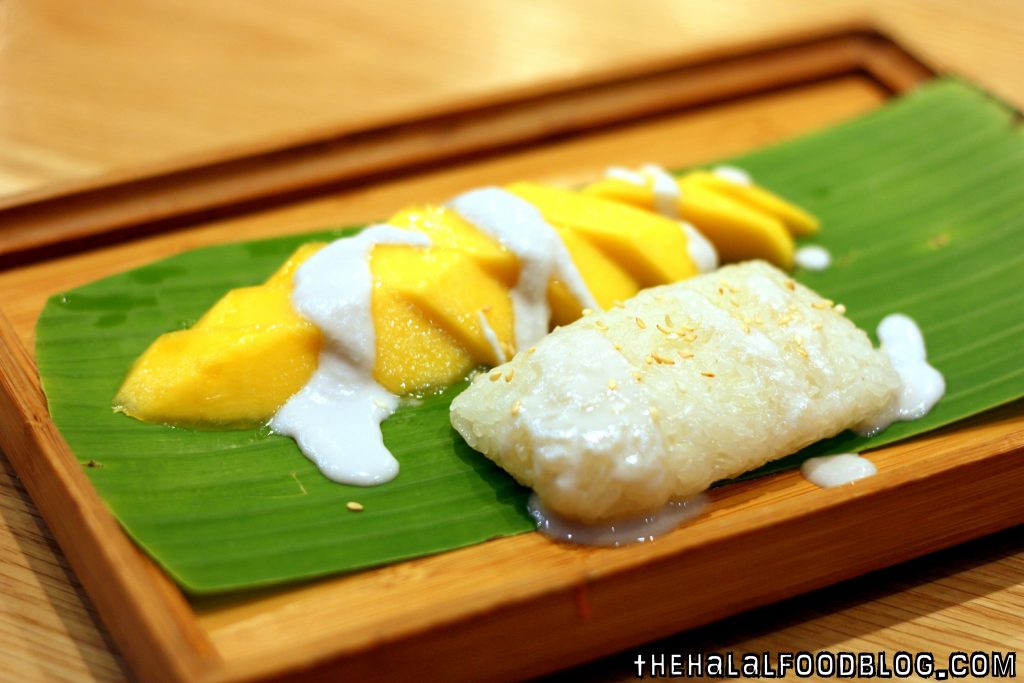 There are plenty of Thai desserts and we're pretty sure everyone has their favourite. But I think if we ran a poll, Mango Sticky Rice (Khao Neaw Mamung) might actually comes out on top as the #1 favourite. Are we right?
And yet again, it's something that is so simple in nature that is so satisfying.
I have friends that will make a beeline straight to get some Mango Sticky Rice the very first thing once touching down in Thailand. No joke! And it used to be the case that you could only get this dessert in Thailand or at least a decent version anyways.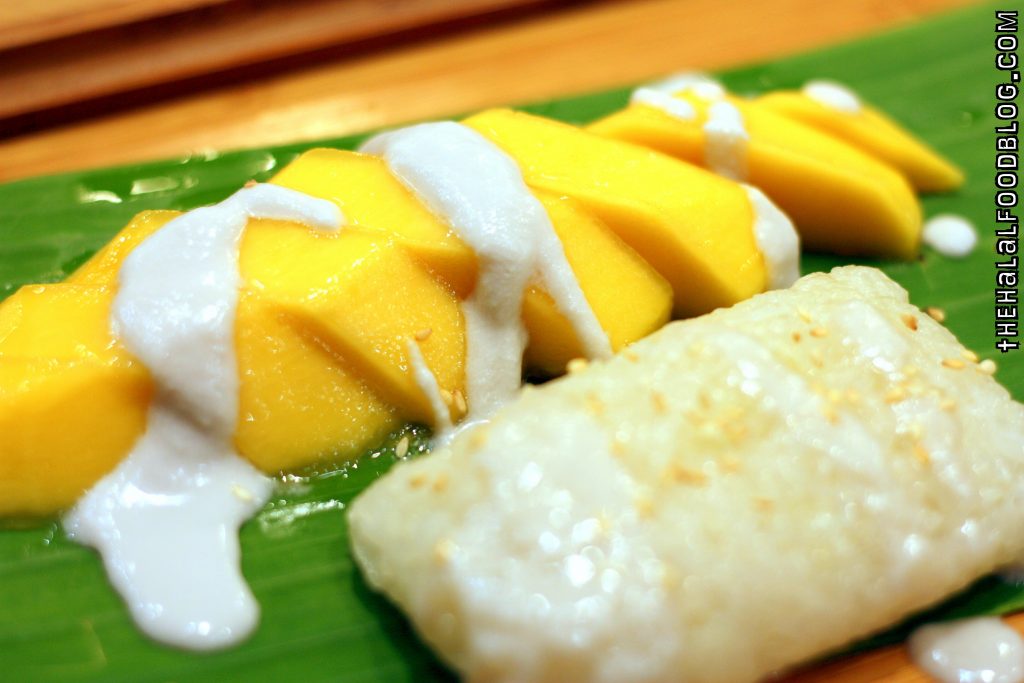 Well, look no further. We can get a great Mango Sticky Rice right here in Singapore and it can be found at Siam Kitchen!
The mango is super duper sweet! Just the perfect ripeness!
And don't get me started on the sticky rice… it's served warm which makes a HUGE difference. Plus it's quite soft (soft eh not mushy okay) so you can cut into it with a fork very easily.
Get some sticky rice, mango and of course some of the tasty coconut cream and you have a winner.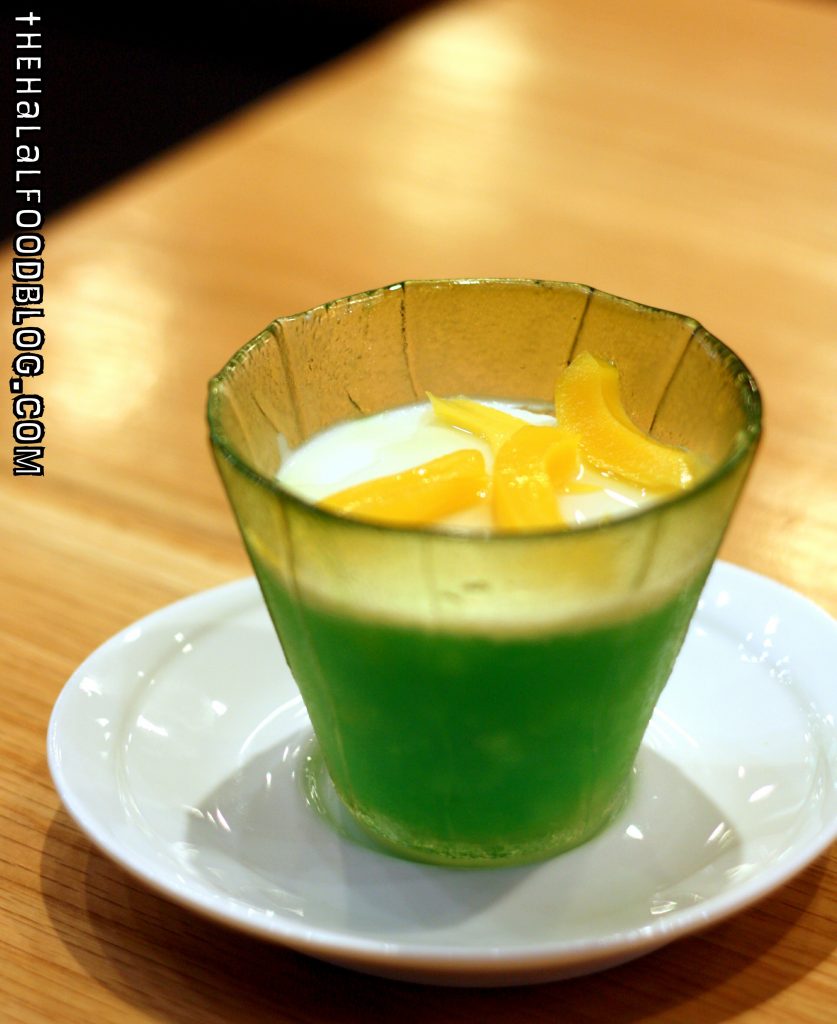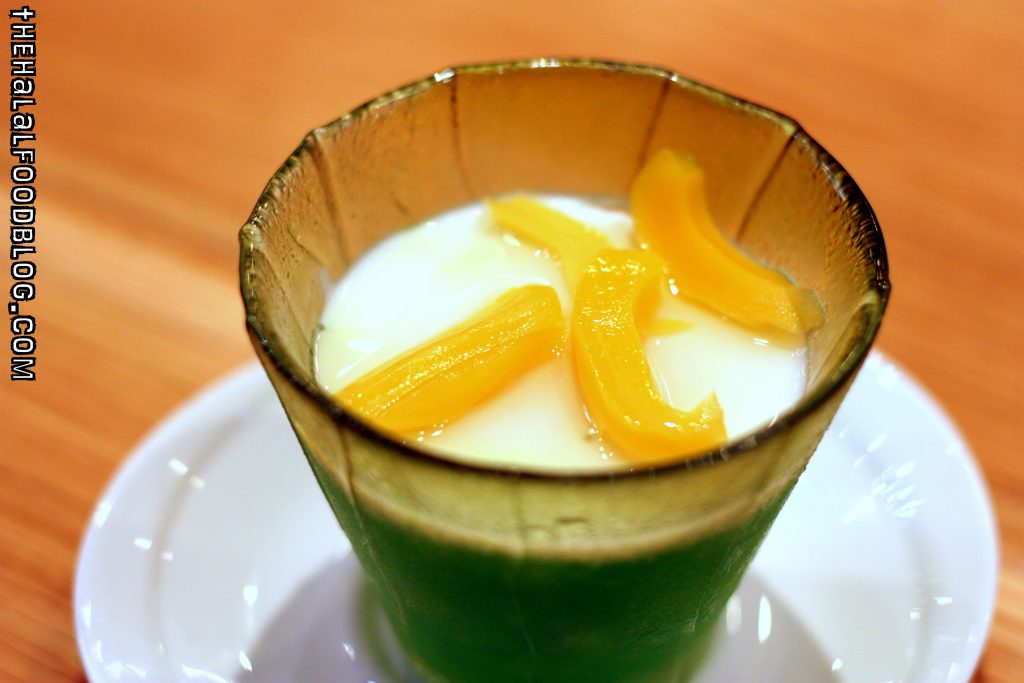 If you're in the mood for something a bit different, try the Water Chestnut and Coconut Custard.
And believe it or not, this is actually something you might have actually already had before… let us explain.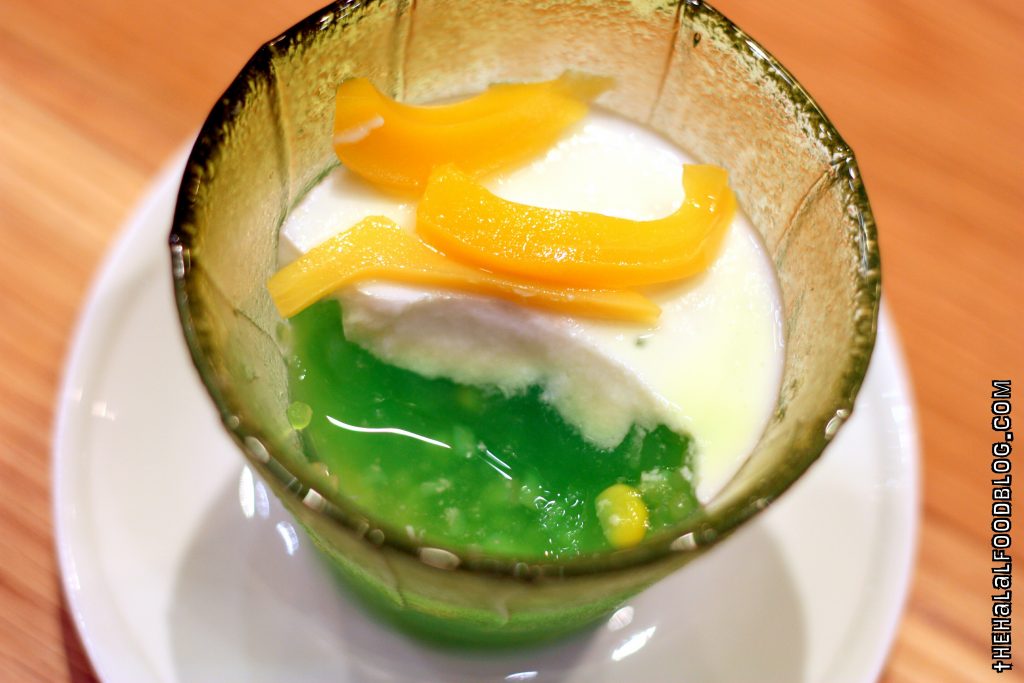 So the bottom layer (green colour) is a water chestnut agar-agar with actual bits of water chestnut in there and this is topped off with a layer of coconut custard. Sounds familiar? Oh yeah, this is pretty much a version of a familiar Thai dessert we all know as – Tako!
You know those small square desserts in those coconut leave packages right?
The main difference here is that the have some jackfruit slices to garnish but the flavour is essentially the same. Let's think of it as…. Thai Tako XXL! LOL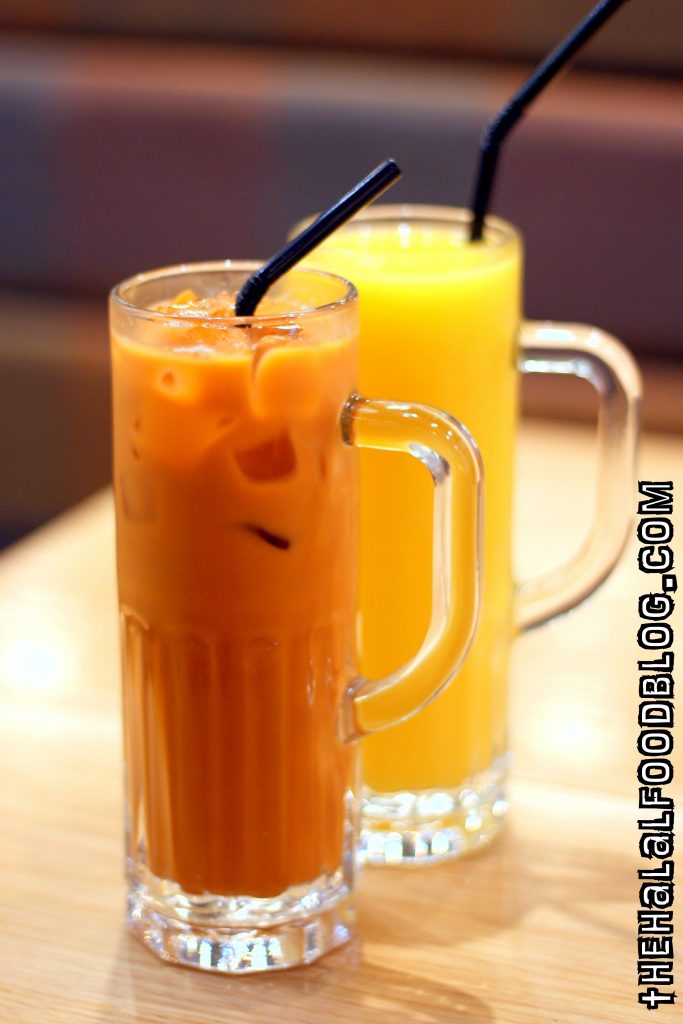 We rounded off our meal with some refreshing beverages of course.
The Thai Iced Milk Tea is a familiar favourite with plenty and seems to be one of the trending beverages at the moment but it can be pretty hard to find a tasty version. The version at Siam Kitchen is not bad but we guess it just ranks as so-so in our books. Lacking that sweet edge despite the distinct Thai tea flavour.
The Thai Mango Slushie on the other hand is REALLY sweet. It tastes like the blended up some of those super sweet dried mangoes with some ice LOL very refreshing but can ve pretty overwhelming.
Adam's Verdict:
Spicy Mango Salad 2.5/5 — Thai Chicken Satay 4.5/5 — Clear Tom Yum Soup with Seafood 2.5/5
Pineapple Fried Rice with Seafood 1.5/5 — Minced Beef with Basil 3.5/5
Grilled Chicken Thigh with Lettuce Wrap 1.5/5 — Mango Sticky Rice 5/5
Water Chestnut and Coconut Custard 2/5
Maryah's Verdict:
Spicy Mango Salad 2.5/5 — Thai Chicken Satay 5/5 — Clear Tom Yum Soup with Seafood 3/5
Pineapple Fried Rice with Seafood 2.5/5 — Grilled Chicken Thigh with Lettuce Wrap 2/5
Mango Sticky Rice 5/5
Well, there you have it. Another satisfying meal at Siam Kitchen.
And the best part is – there are still so many more dishes on the menu that we want to try! LOL
Luckily for us, they're still in the East at Simei but don't fret – they have outlets in Lot 1 Shoppers' Mall, City Square Mall, Nex and Bukit Panjang Plaza too so everyone can head down and have some tasty Thai food!
Eastpoint #02-05
Tel: 6337 3777
www.siamkitchen.com.sg
Facebook: www.facebook.com/SiamKitchen.sg?fref=ts
Operating Hours:
11.30am til 9.30pm Daily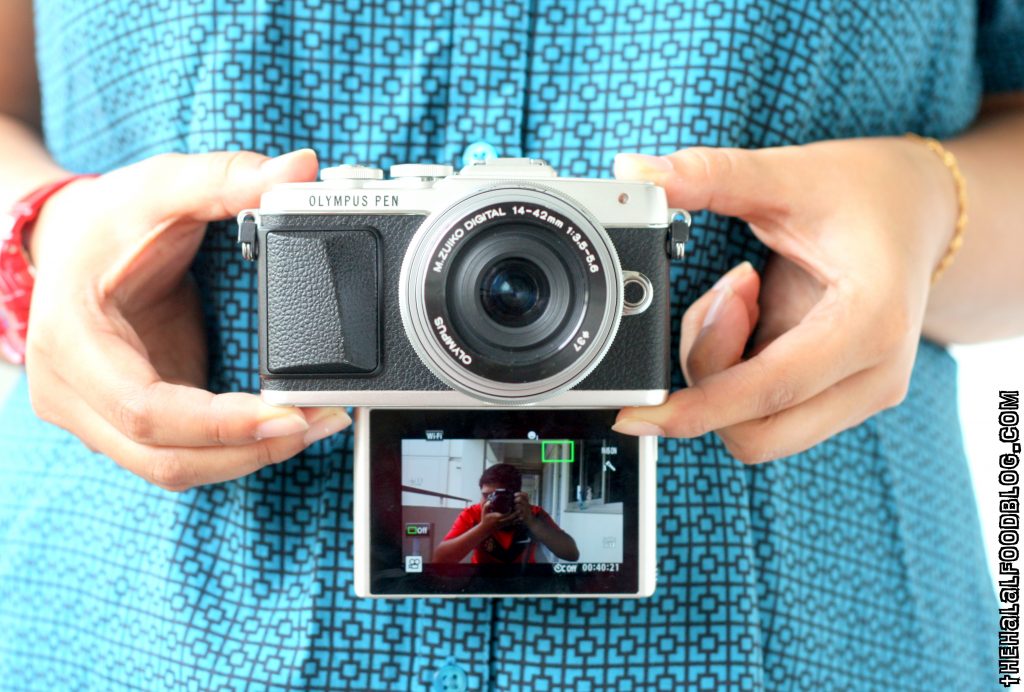 By the way, some of the photos in this review were taken using the Olympus PEN Lite E-PL 7!
This camera was made for taking selfies but as you can see, is very versatile and great for any scenario including food photography as well!
Boasting some great features including a touchscreen that can be flipped down for the perfect selfie shot, image stabilization plus you can interchange the lenses to suit any situation. This is one of the many great cameras from Olympus that has plenty of features all packed into a small and handy package!
For more details, head down to www.olympusimage.com.sg
Special thanks to the team at Olympus Singapore for giving us a chance to snap away with Olympus!
#olympusPEN
All information (including prices, availability of item on menu and Halal status of establishment) are accurate at the time of posting. All photos used in this site are property of The Halal Food Blog unless stated otherwise.
---
Siam Kitchen offers 20% off for all FRIENDS Card holders. Valid Mon-Thur only. Valid for dine-in only. Not applicable on the eve of and Public Holidays, and festive promotional periods (eg. Father's Day, etc.) unless otherwise stated. Not applicable with any other promotions, discounts, offers or any bank privileges.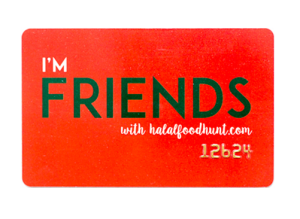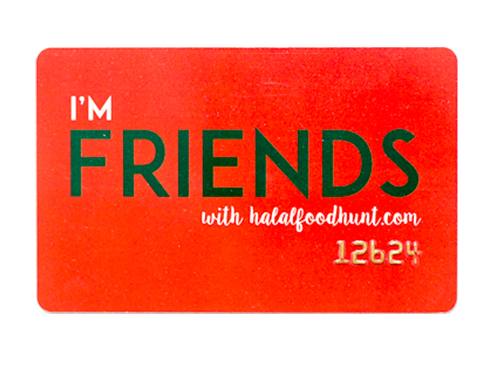 Get your FRIENDS with halalfoodhunt.com Rewards Card now at only $18/year and unlock discounts at over 60 halal restaurants, cafes, bakeries including online e-commerce businesses in Singapore. For a full list of where you can enjoy your card, click here.