Wah it's been quite awhile since we visited Siam Kitchen! One of our favourite places to go to for some Thai cuisine and what's more – they've had a slight revamp to the menu recently!
We've visited them a few time before as you may remember (you can read about our past visits by clicking HERE!) but it was just about time for us to pay another visit to check out not only a few new items on the menu but also a special Set Menu promotion they have just for this festive season!
Tis' the season for sharing and this Set Menu is perfect for just that 😀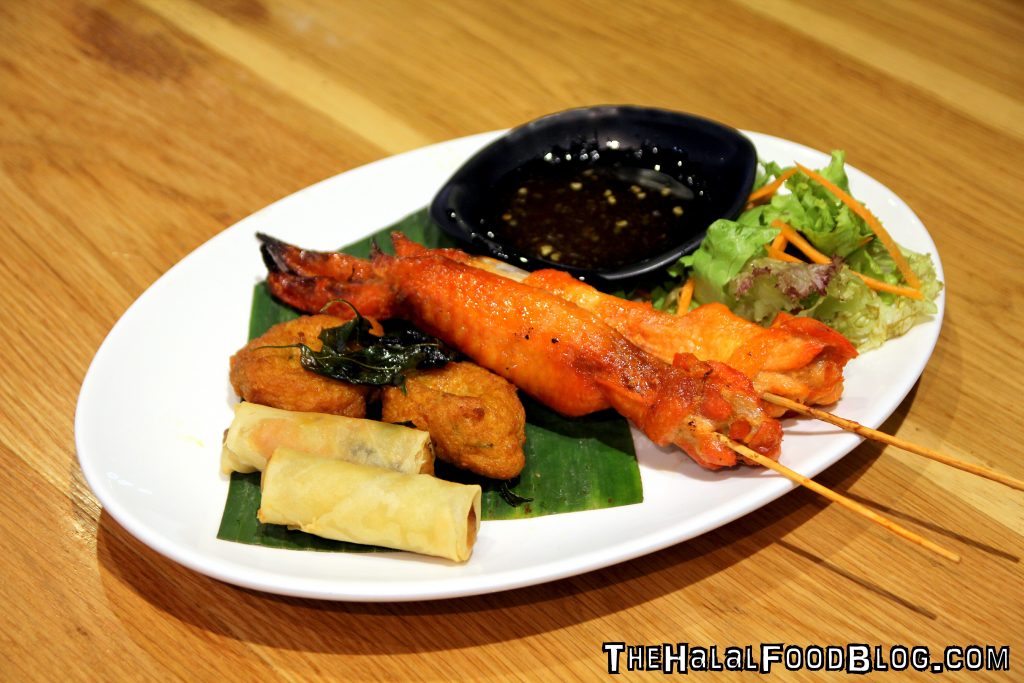 So Siam Kitchen's Holly Jolly Christmas Menu is the perfect choice for when you're going there to dine in a group. They have sets that are suitable for 2 or 4 pax and the menu includes some of the top favourites from the Siam Kitchen menu.
The festive set menu comes with Thai Jasmine Rice but before you get to that part, it's always good to enjoy some starters to get things going and the Merry Platter has something for everyone!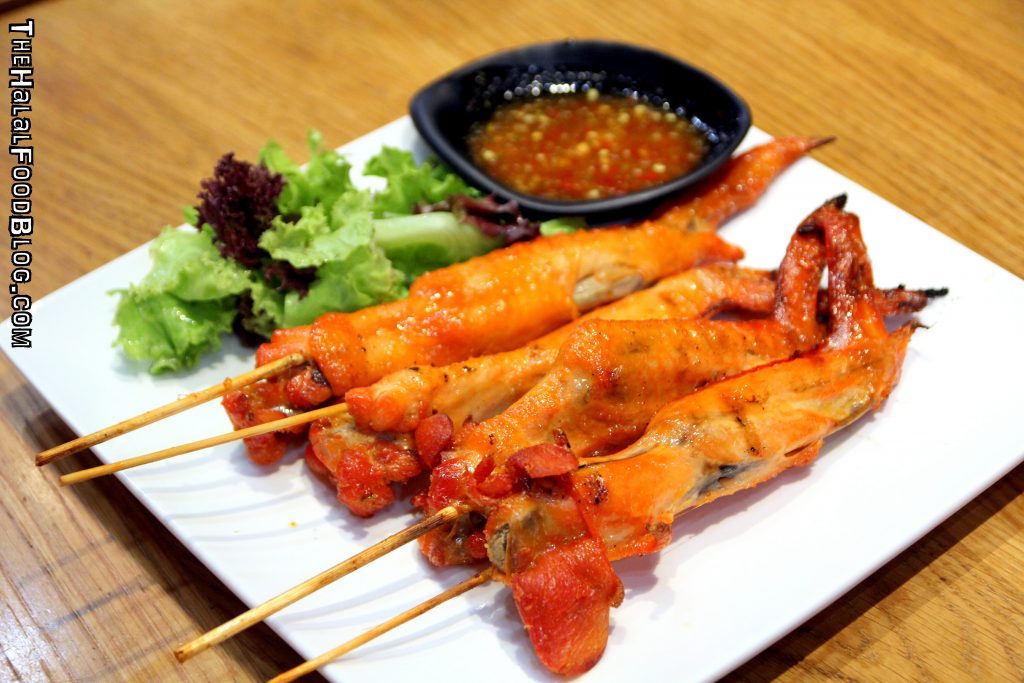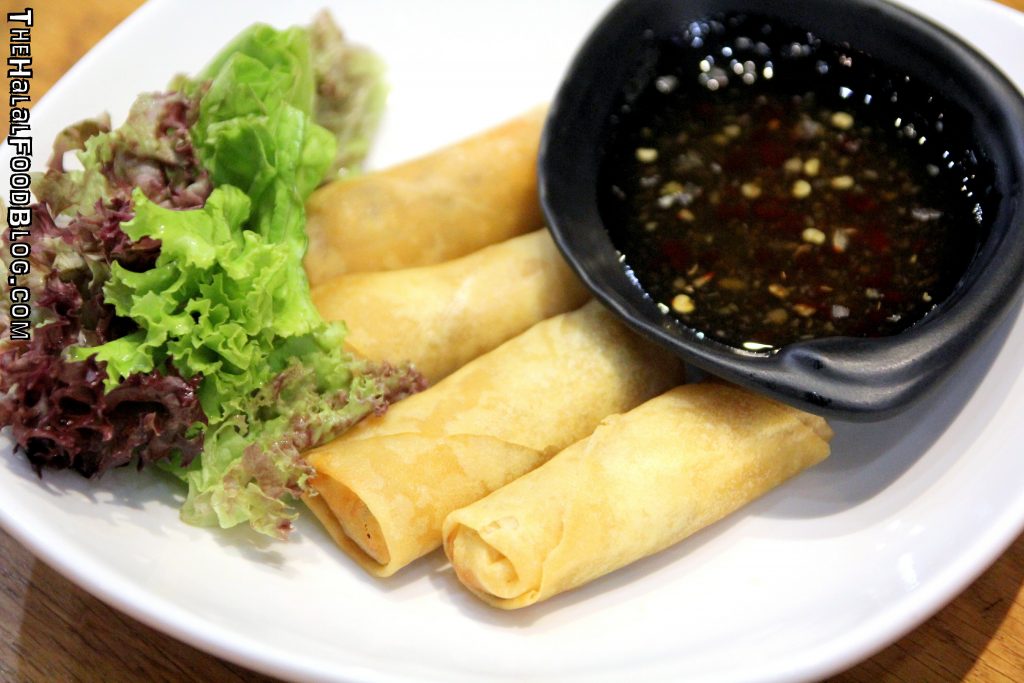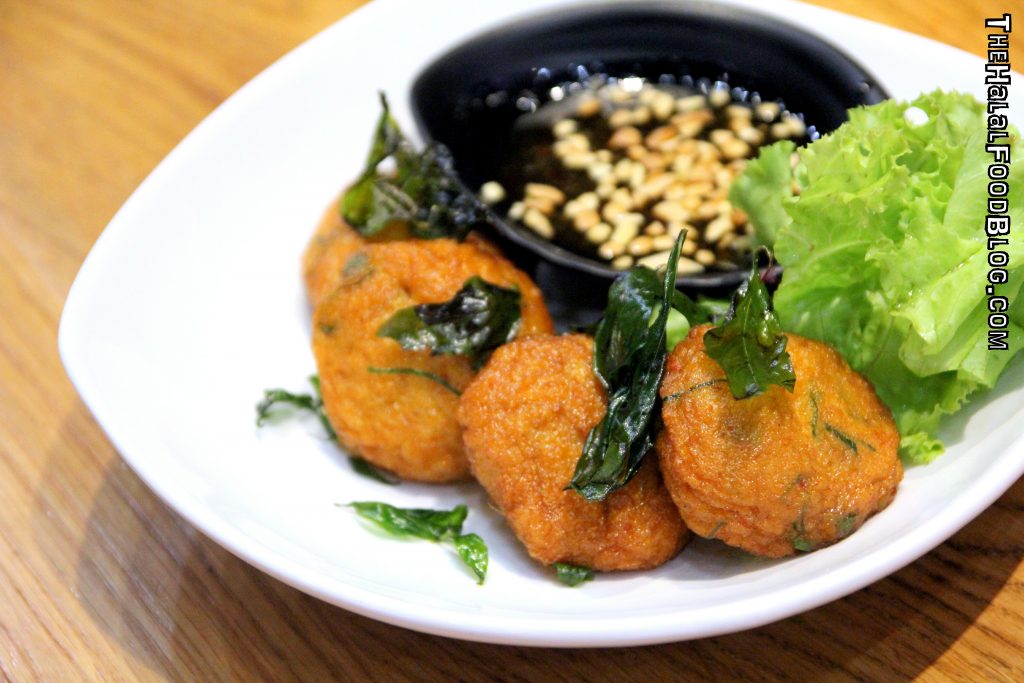 Here are a few Thai classics and a great way to start the feast for sure.
I absolutely love Thai Fish Cakes! They've got a great flavour thanks to the spices (and those Kaffir lime leaves!) and always great to tuck into these tasty beauties. The Deep-fried Spring Rolls are a standard order for sure. These and the Fish Cakes simply MUST be enjoyed with the sauces that accompany them!
Last but not least, the Merry Platter also includes Southern-Thai Style Grilled Chicken Wings. Perfect not only for the adults but also the kids too! And yes, the sweet-spicy sauce is mandatory for dipping too 😛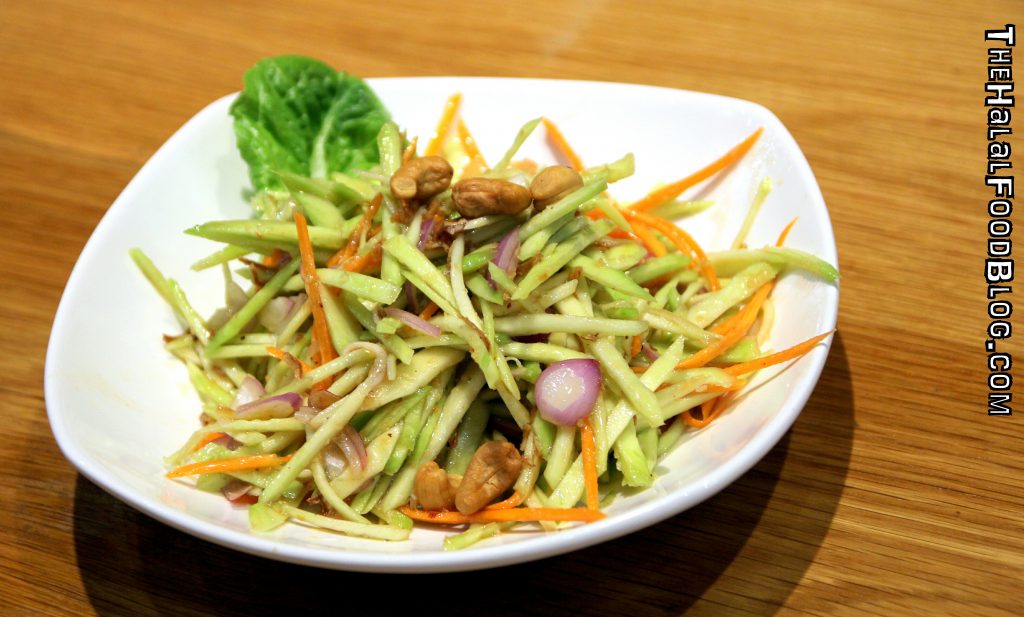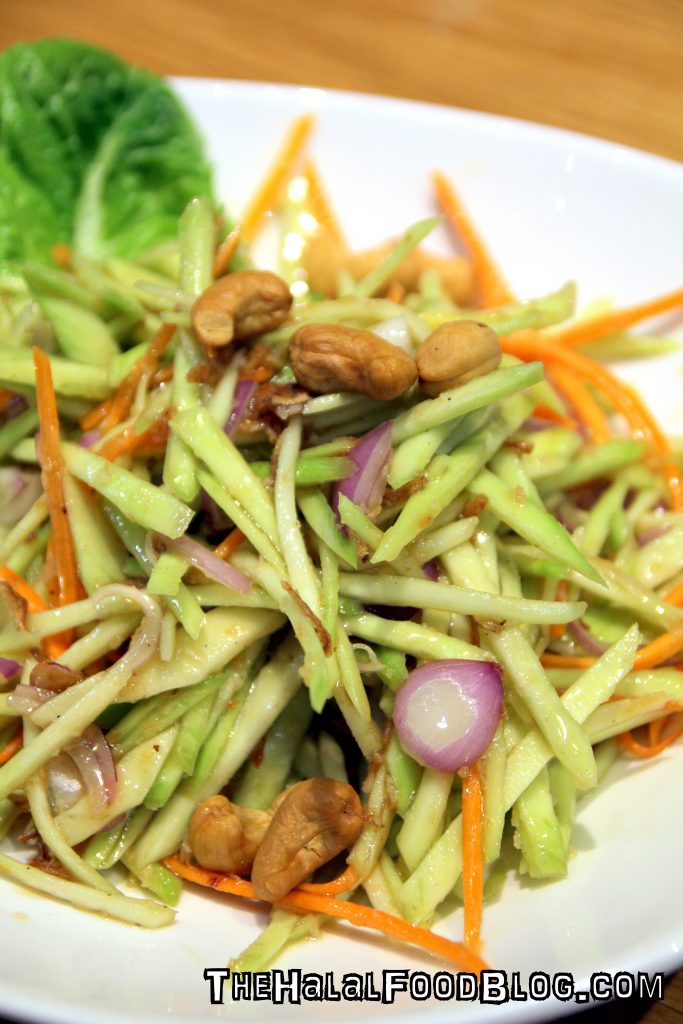 Speaking of classics, we're taking a break from Som Tum (Papaya Salad) for awhile and went with the Yam Mamuang aka Spicy Mango Salad which is just as tasty!
Hints of sweet, salty, spicy and (definitely) sour make this a great starter because the tangy flavour really gets your taste buds and appetite roaring for more! You want more? You've got it!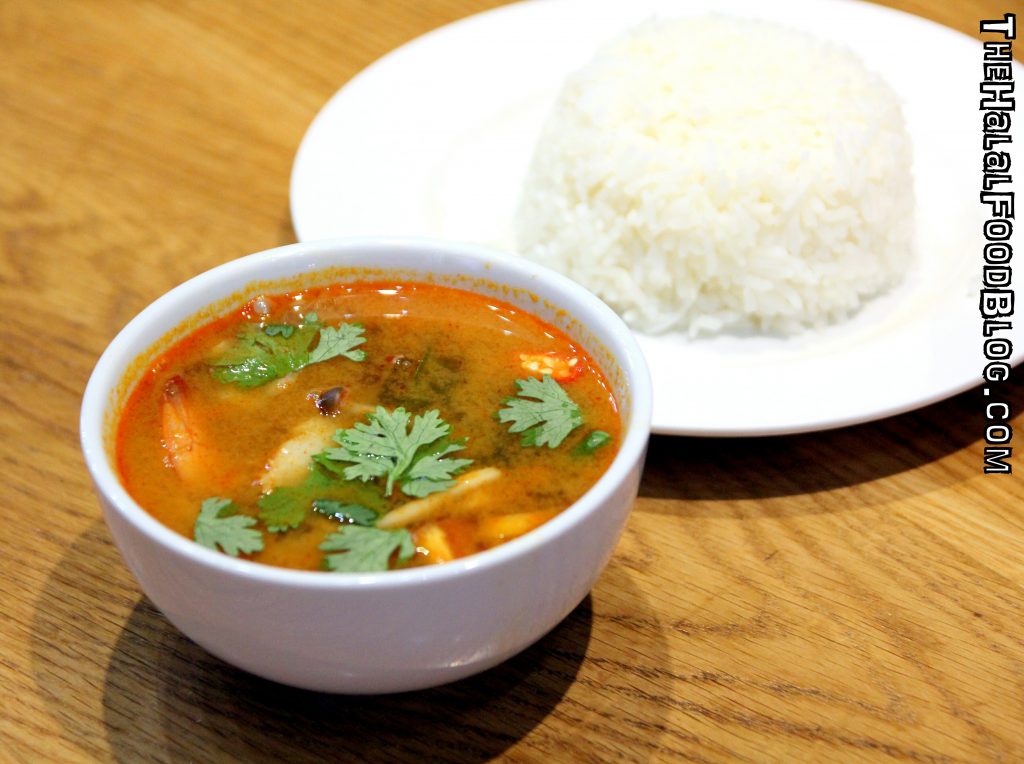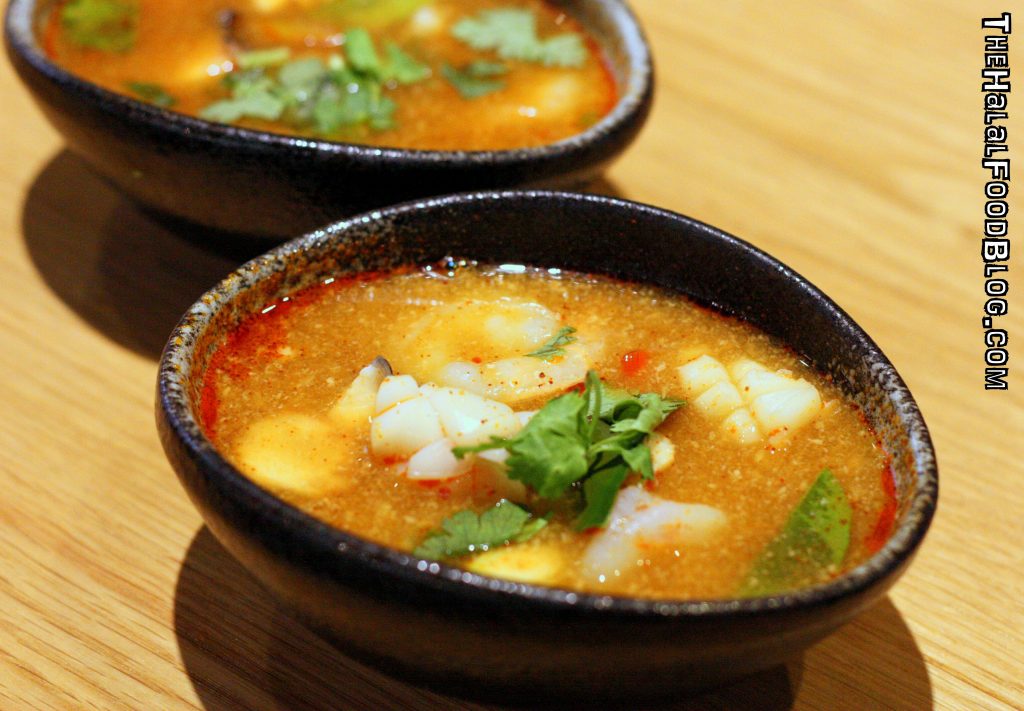 We're very sure that EVERYBODY is familiar with this signature Thai dish – Tom Yum Goong!
Let's face it – no Thai meal is complete without Tom Yum in some way or form. Whether it's the Red, White or Creamy, it's a MUST HAVE! The Red Tom Yum Soup with Seafood has not only that great Tom Yum flavour we all know and love but it's full of seafood!!
Fish, squid and prawns all 'swim' in spicy, sweet and sour broth that goes great with the rest of the dishes. In fact, one time kena hot hot with some rice also power! 😛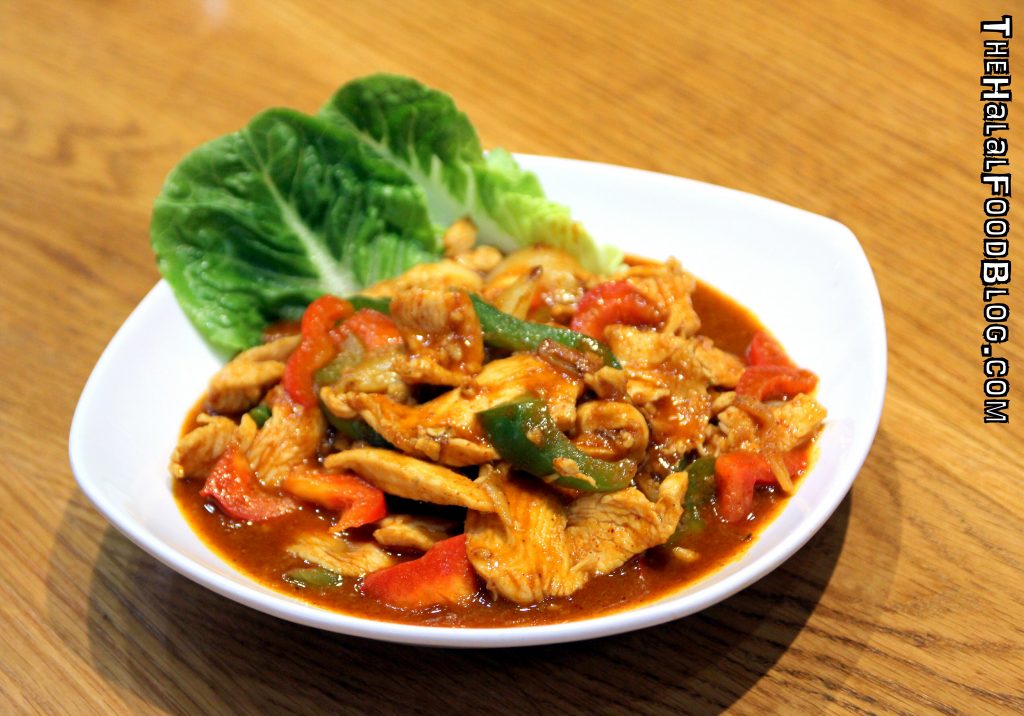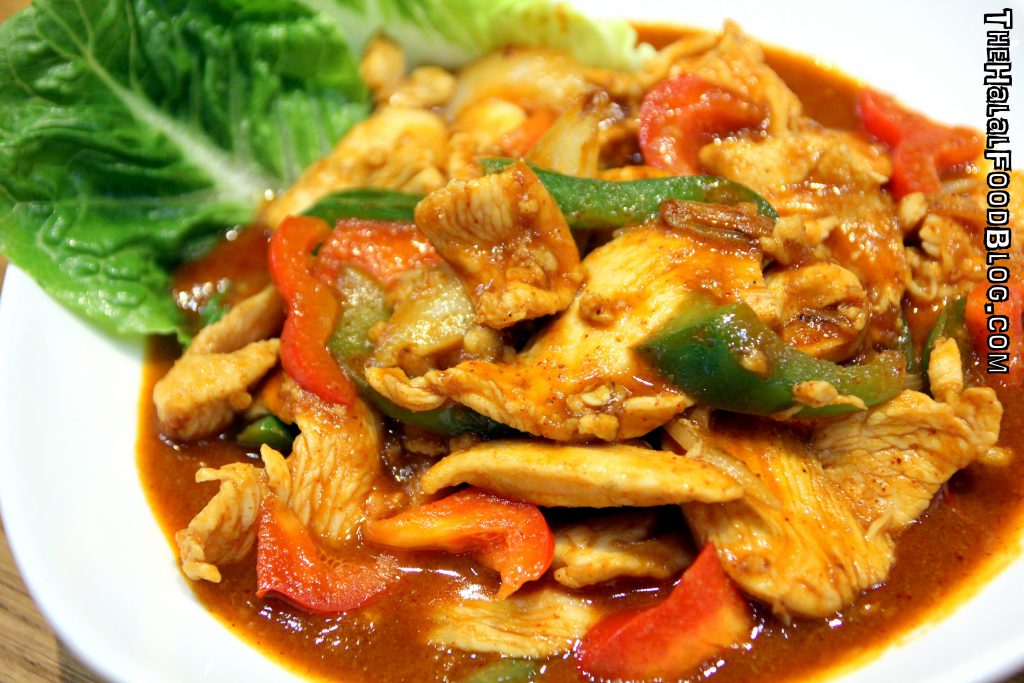 I have to admit that when it comes to Thai dishes involving chicken, we'r quite guilty of sticking to the ones that we're used to ordering all the time. So that means it's almost always Thai Basil Chicken or the amazeballs Grilled Butterfly Chicken LOL
So it was actually really nice to get to try something different 😀
The Stir-fried Chicken in Chili Oil has got a good flavour that reminds me a lot of like 'Daging Masak Merah' (which is supposed to be Thai anyways) to be honest.
The Chili Oil does give quite a fair amount of heat but I'm guessing all you 'Chili Champions' will find this one lower on your Pedas-O-Meter LOL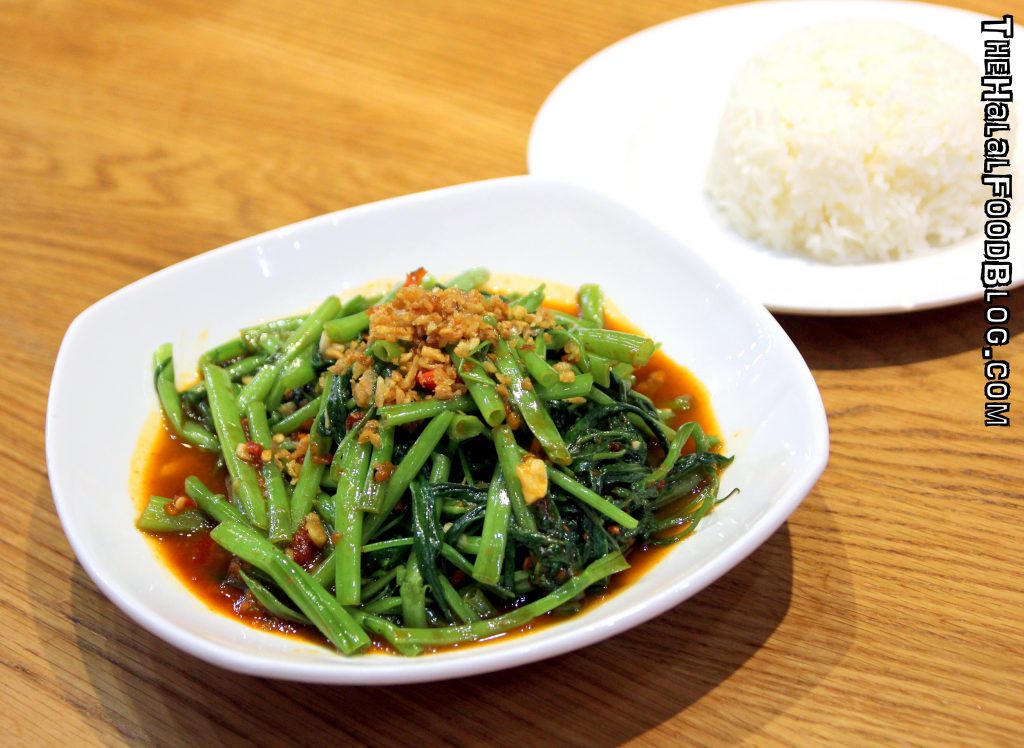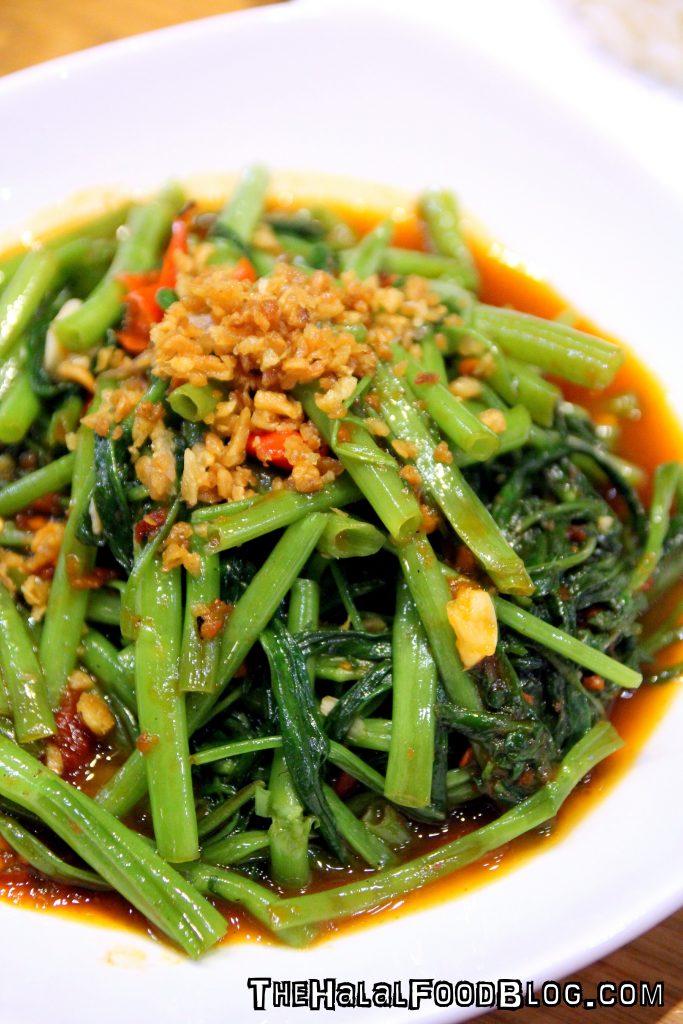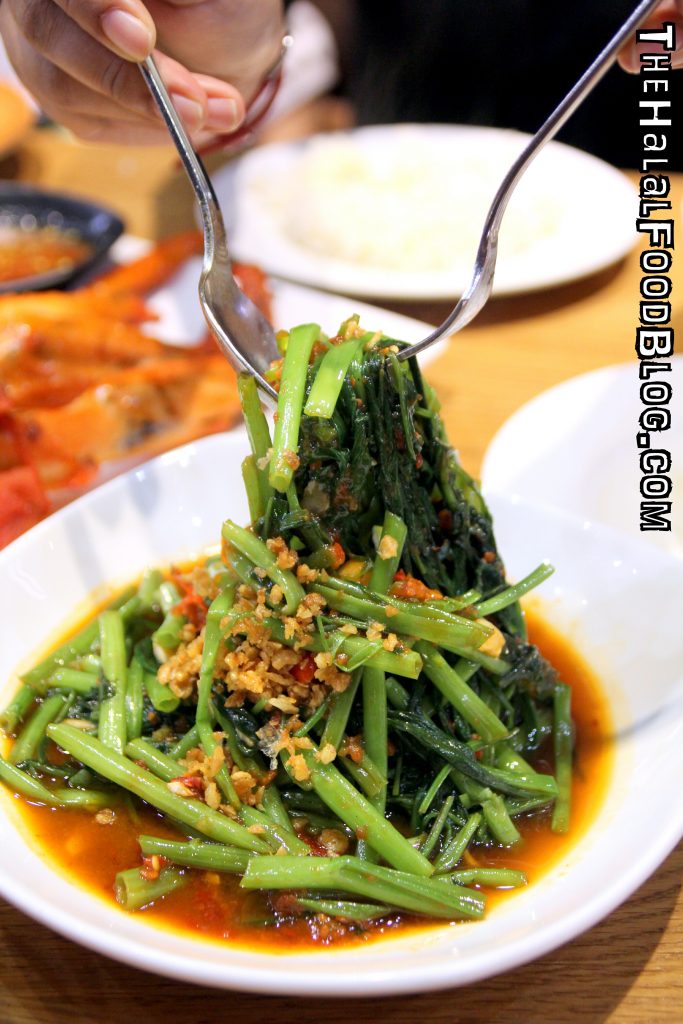 Woooooooo is your mouth watering yet???
Sambal Kangkong anyone? 😛
Stir-fried Morning Glory with Sambal Sauce (yes, Morning Glory is the English name for Kangkong) is probably one of the all-time favorite dishes when having a big meal.
I think there's something just so satisfying in this seemingly simple dish. I say seemingly because despite its humble nature, this dish packs a big punch in the flavour department!
Wah all those dishes above in a set meal? Power or what!
But… we're not done yet.. Don't forget dessert!!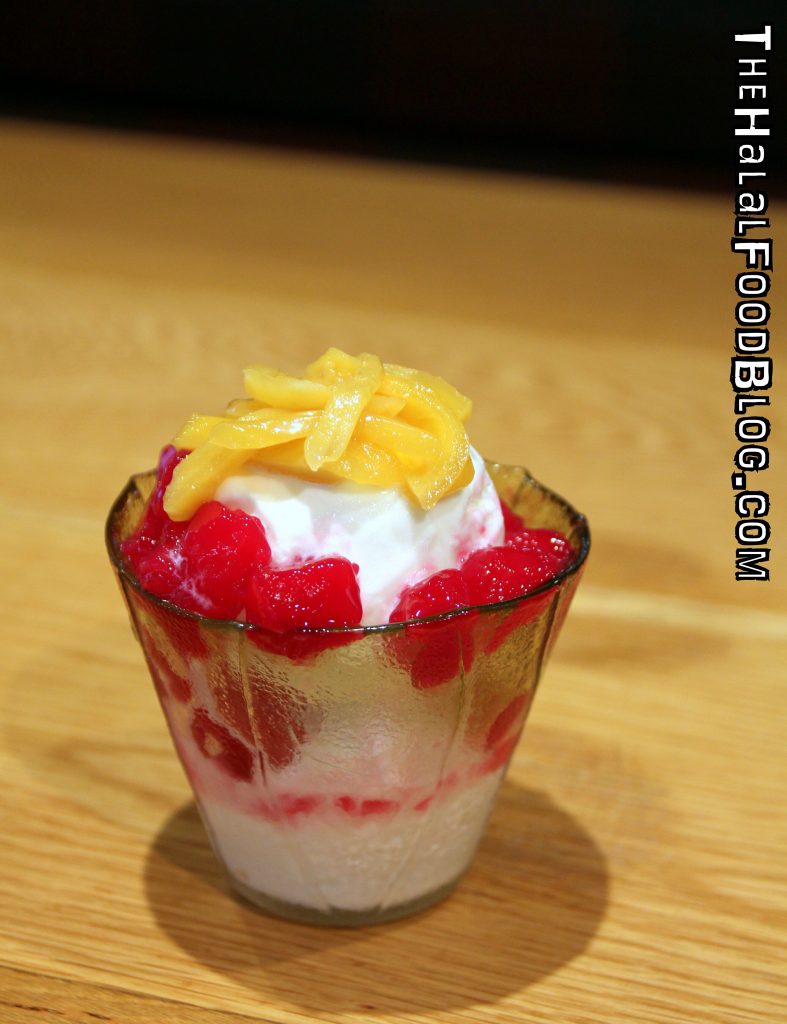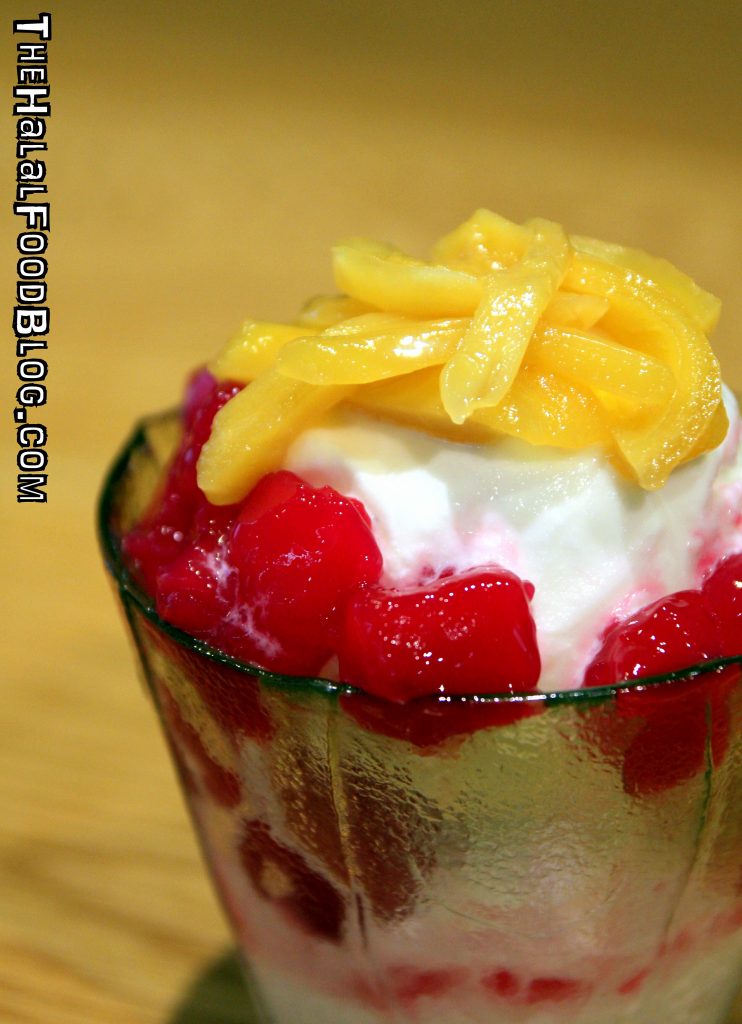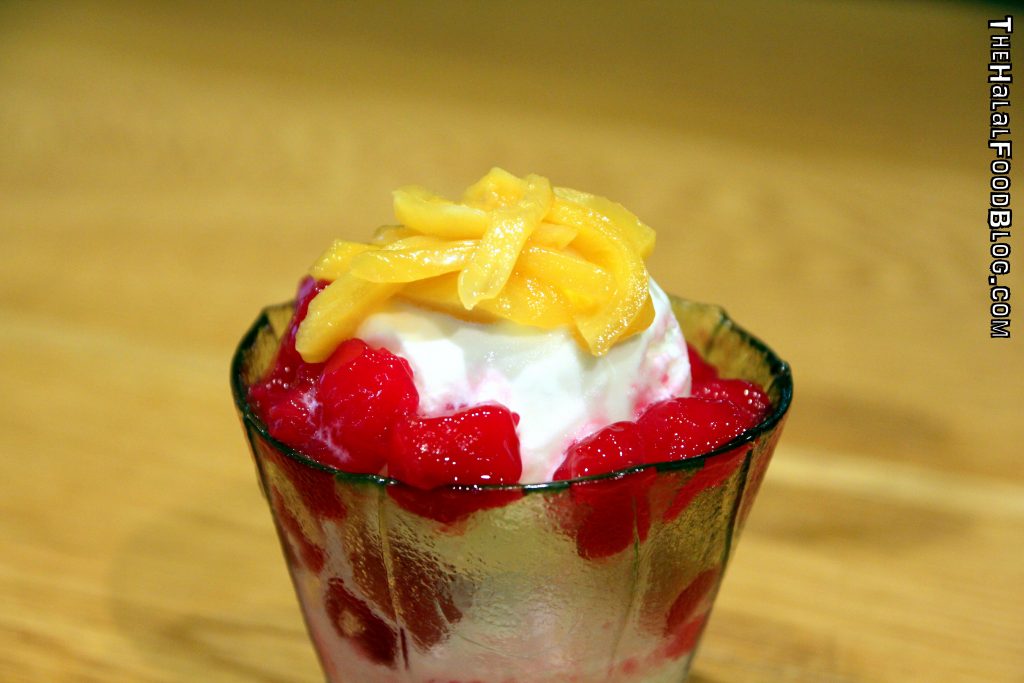 Dessert for Siam Kitchen's Holly Jolly Christmas Menu happens to be… JENG JENG JENG!!
Red Ruby with Coconut Ice Cream!!
Yes, the little red Sago globules with bits of water chestnut are great. And sweet sweet sweet jackfruit is always a bonus. But the star of this one – that luscious creamy Coconut Ice-Cream!!
To put it in simple terms – this is a dessert that you will not be willing to share.
(PS the set also comes with a drink okay!)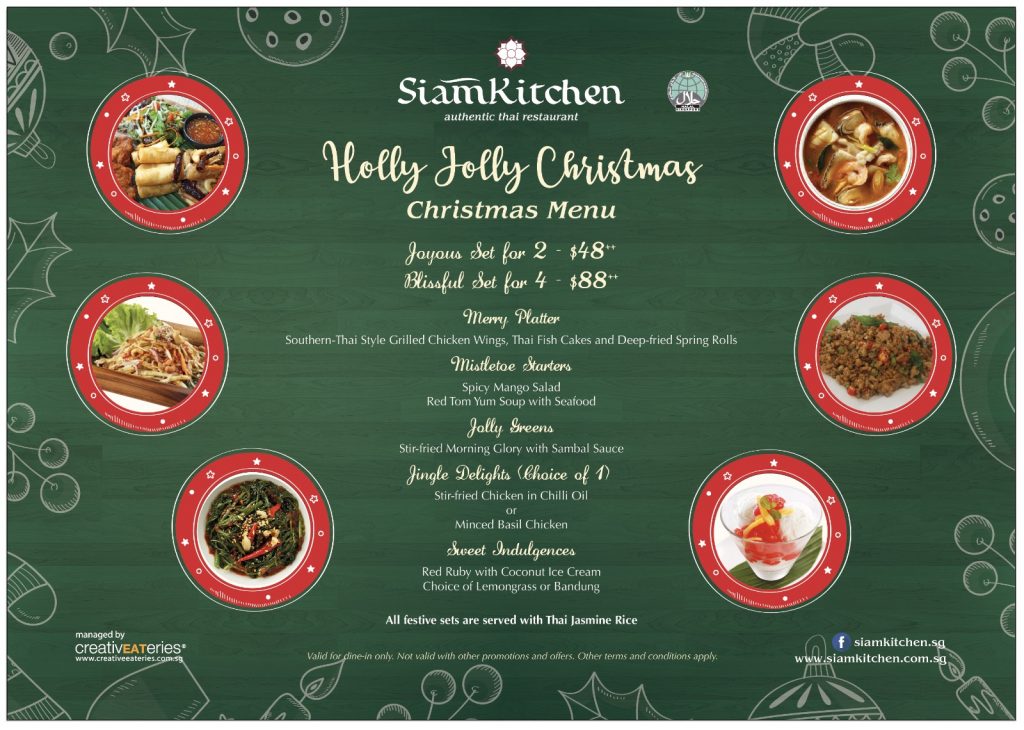 Siam Kitchen's Holly Jolly Christmas Menu even lets you choose how big you want your serving to be. You can choose the Joyous Set for 2 pax or go bigger with the Blissful Set for 4 pax!! This is fantastic and is also in line with serving size choices available on their regular menu too (more on that in awhile!).
A very generous serving of delicious Thai cuisine made even better when shared with loved ones!!
But, we're not stopping there! We went the extra mile (burp!) and here are more dishes we'd like to recommend! These following dishes are not part of the Holly Jolly Christmas Menu but you can add these dishes on as extras to add a little variety!!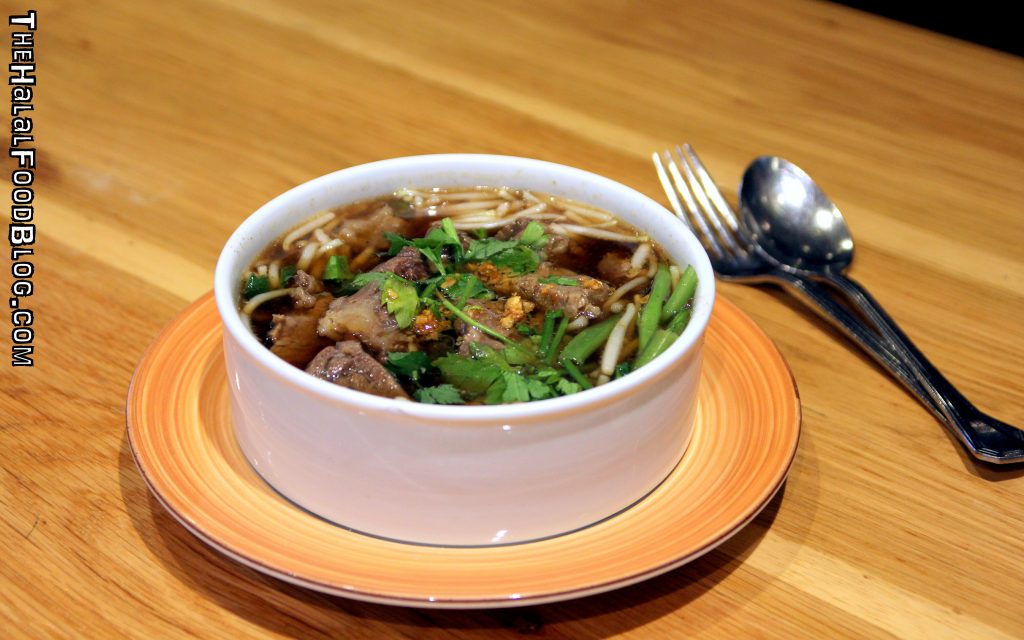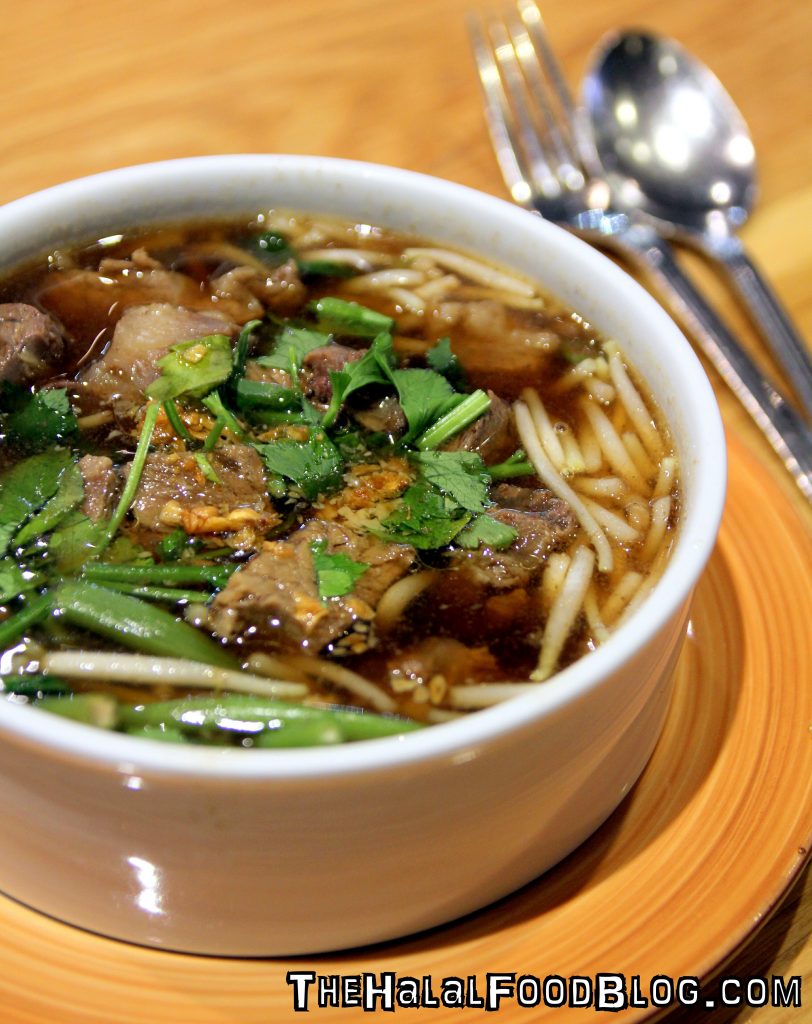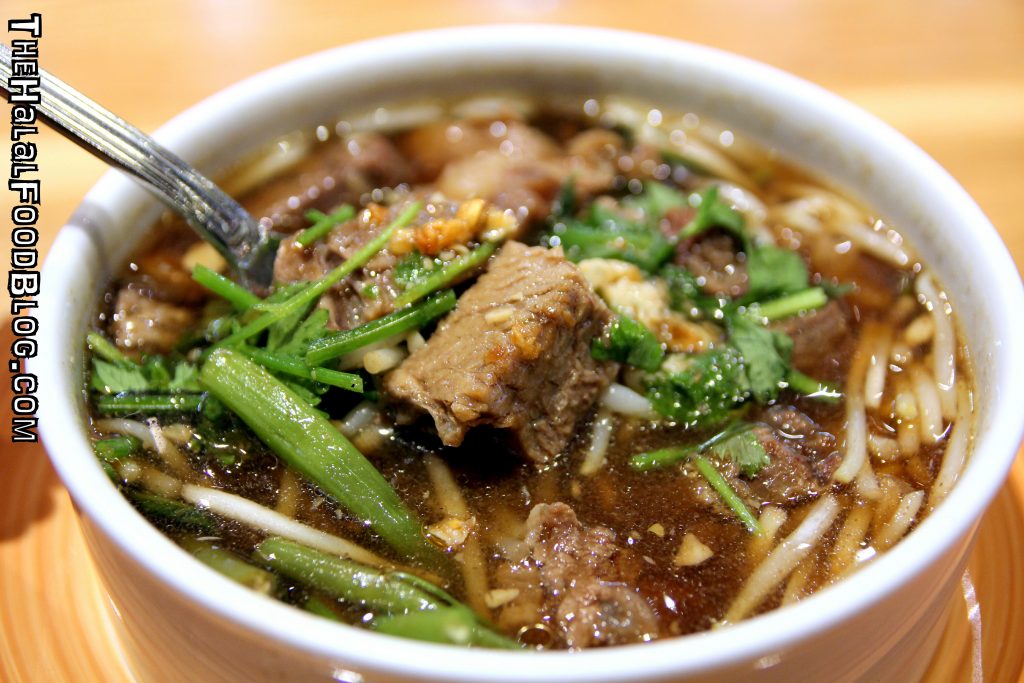 They didn't give it a fancy name so when you see just 'Beef Soup', you might be like… Hmmmm…
But WOW you really have to try this!
It's got a great hearty beefy flavour that is synonymous with Thai Beef Soup. Tender beef and a very unique broth means this one is a winner in our books! Looks like Tom Yum has a worthy contender especially for those who are looking for a non-spicy alternative.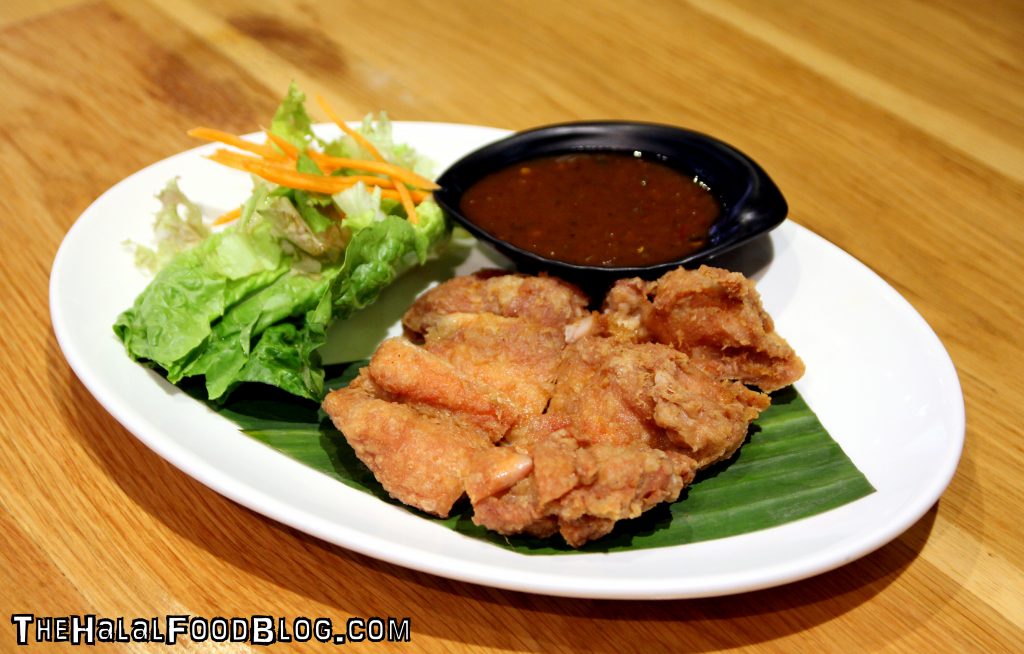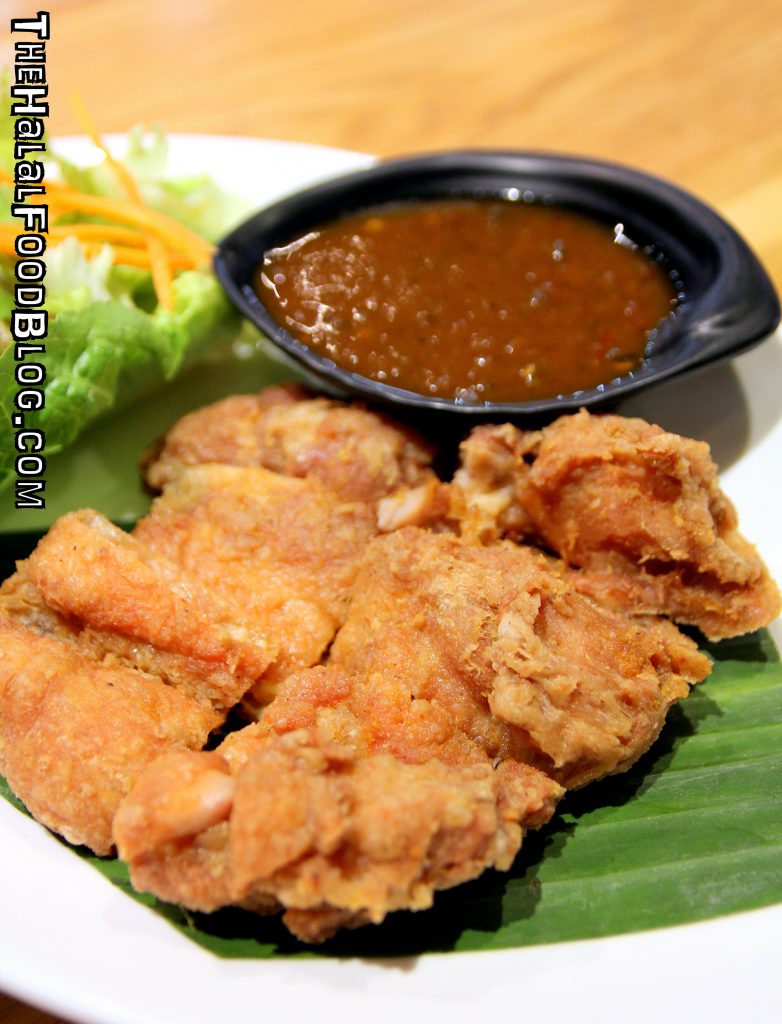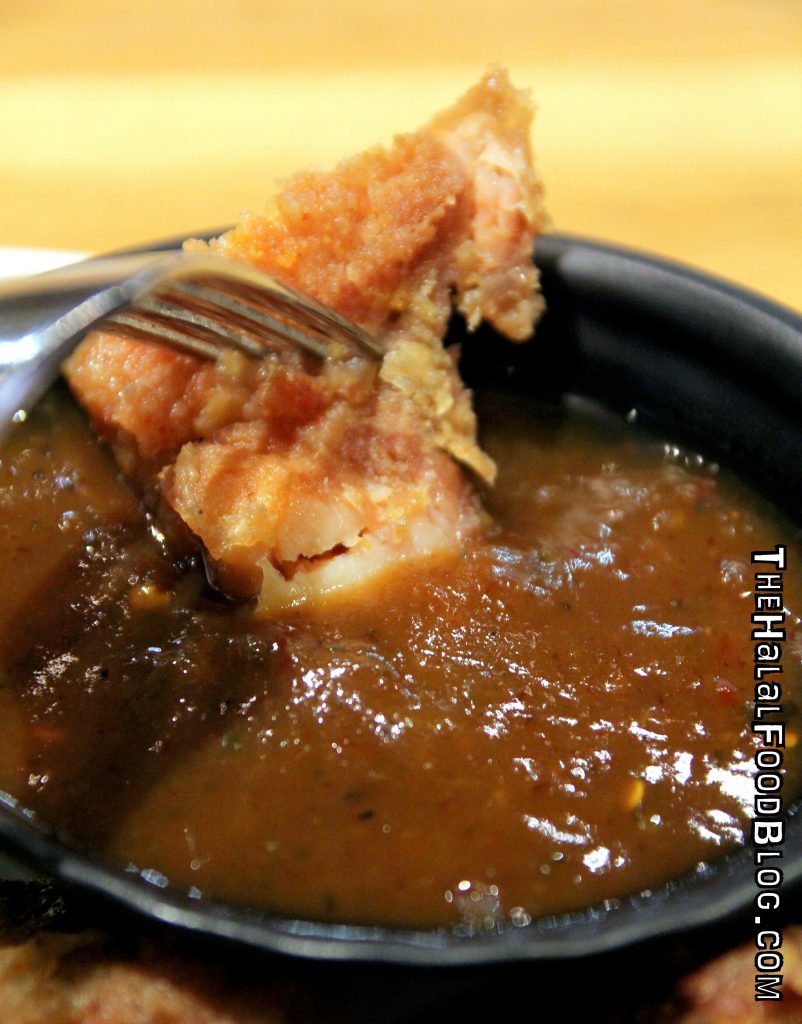 The Prawn Paste Chicken with Jaew Sauce can also be enjoyed with your rice and/or noodles but I think it is aptly listed in the 'Appetizers' section because this one really got my appetite going!
Really bold flavours here with the prawn paste chicken (think like Har Cheong Gai!) and enhanced further with the Jaew sauce. This is the first time I'm trying Jaew Sauce which is apparently made with dried chillies so got plenty of kick! A little research tells me that there are two famous Thai dipping sauces for chicken – one is the famouse Thai Sweet Chili sauce we are so used to (and served with a few of the other dishes at Siam Kitchen) but at the other end of the spectrum is this Jaew Sauce! Learned something new today!
The chicken itself has a really great crispy coating so enjoy that crunch!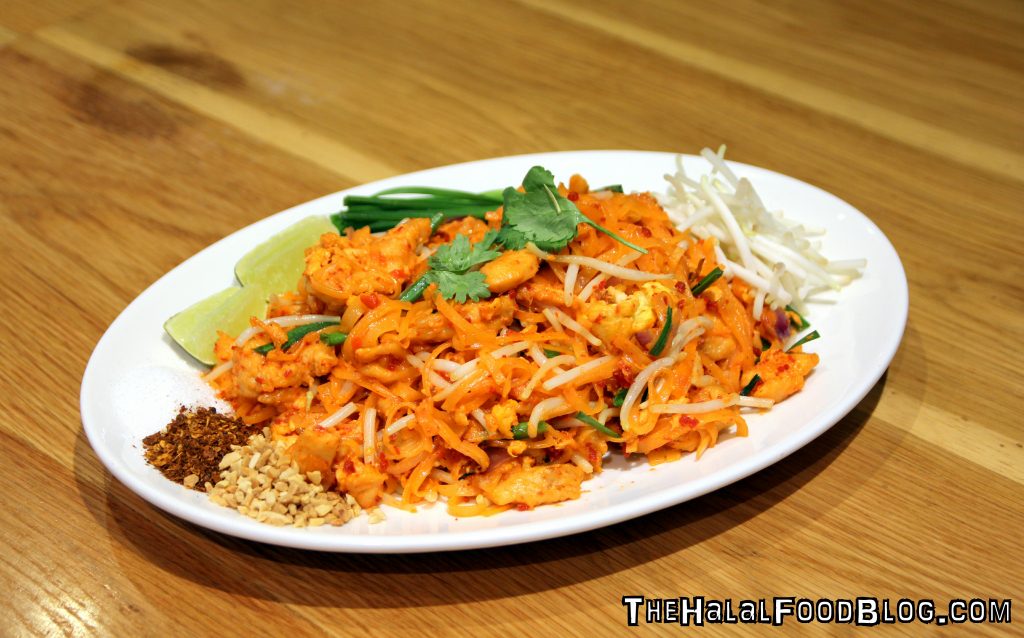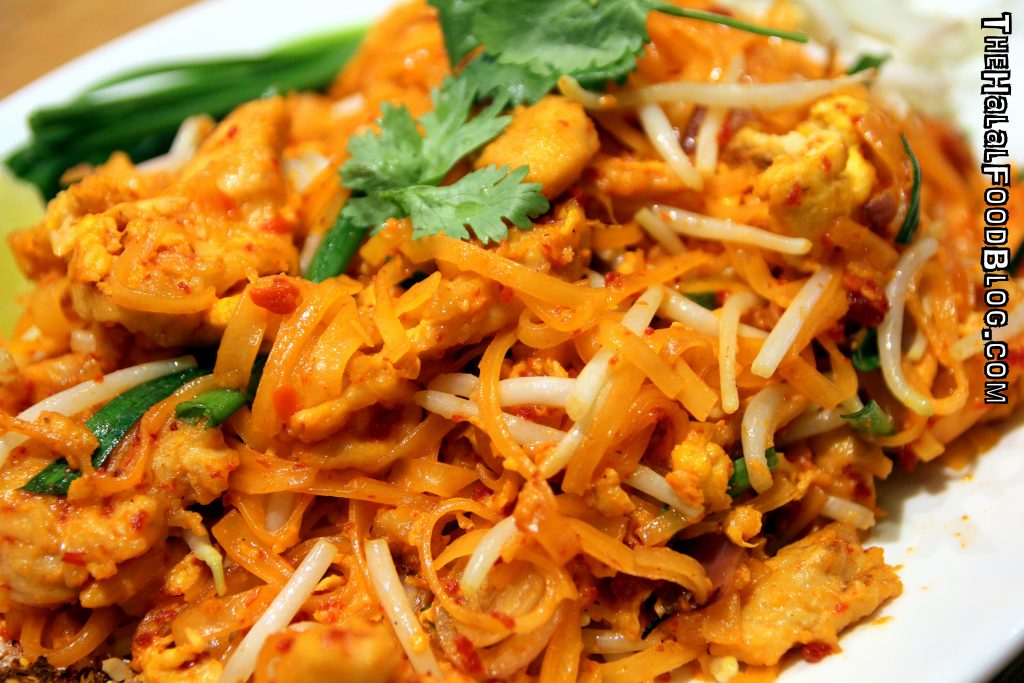 Mein Bruder's favourite Thai noodle dish is an auto-order – Pad Thai!
Glass noodles stir-fried with a whole host of goodies and all ready to be devoured LOL
And remember that serving size thing I was mentioning earlier? Well, you can now choose serving sizes for certain dishes at Siam Kitchen!
The serving you see above is actually a Pad Thai serving for 2 people! Getting to choose your serving size means more chance to enjoy other dishes! Sharing is caring so makan together-gether and enjoy more! 😀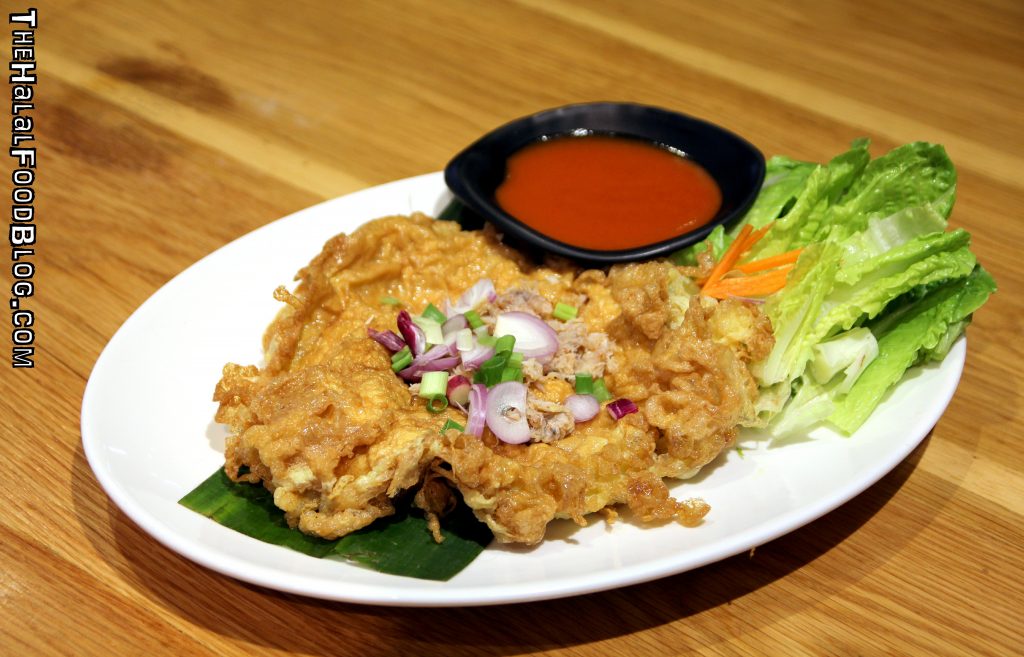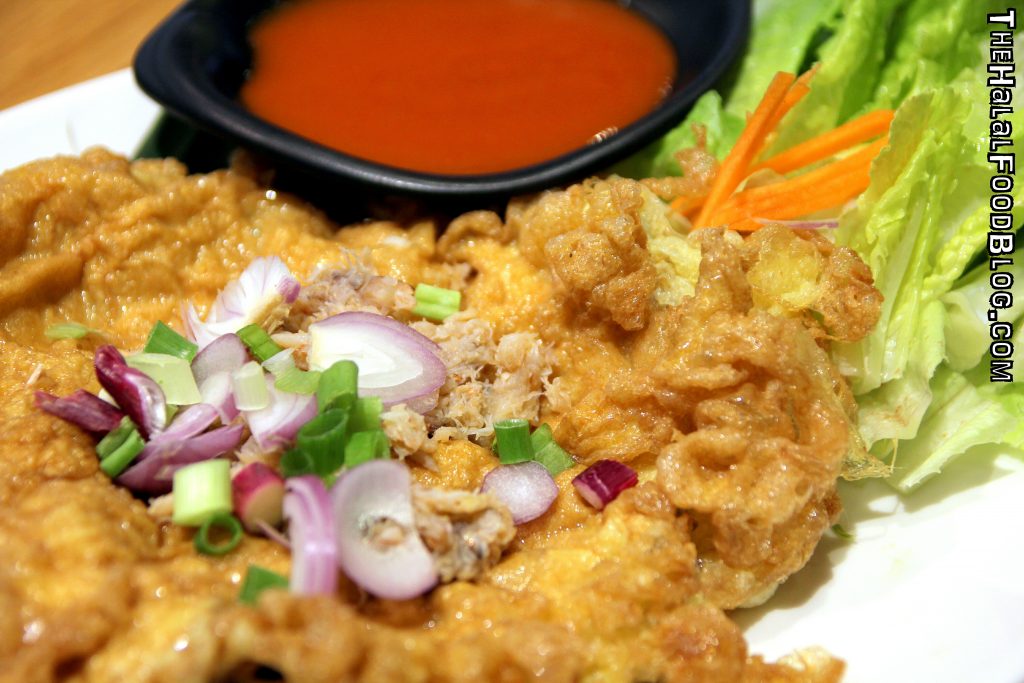 Fluffy fried omelette topped off with some crab meat? Who can resist??
Okay lah the crab meat is secondary to be honest.. that delicious omelette is the star!
PRO TIP – one time kena this one plus rice plus Tom Yum Soup = settle the kettle!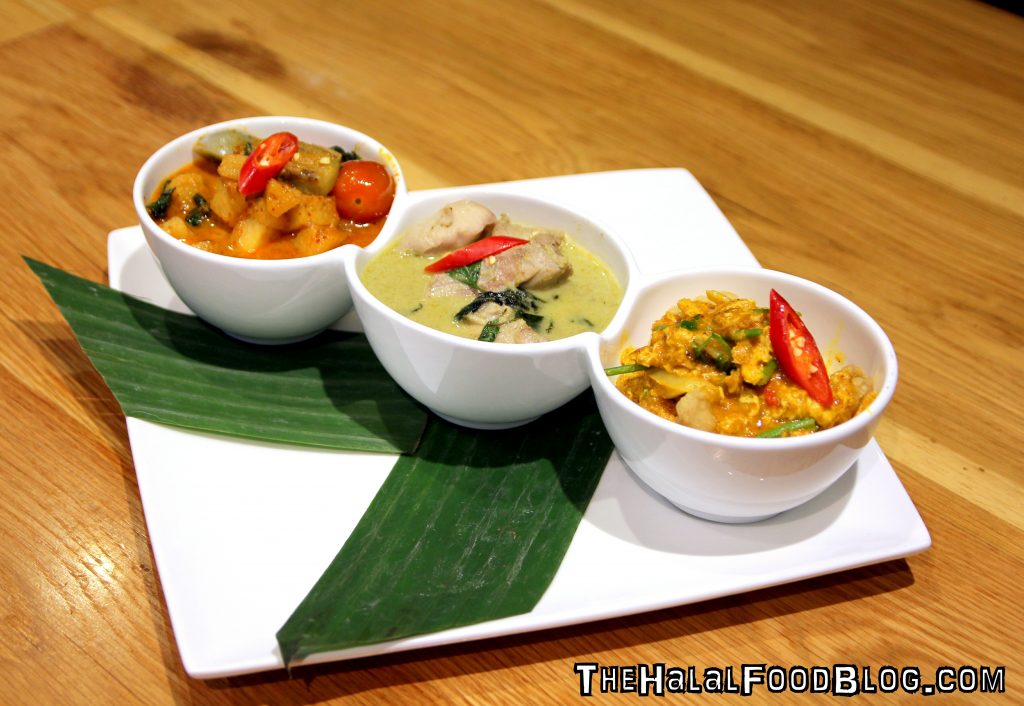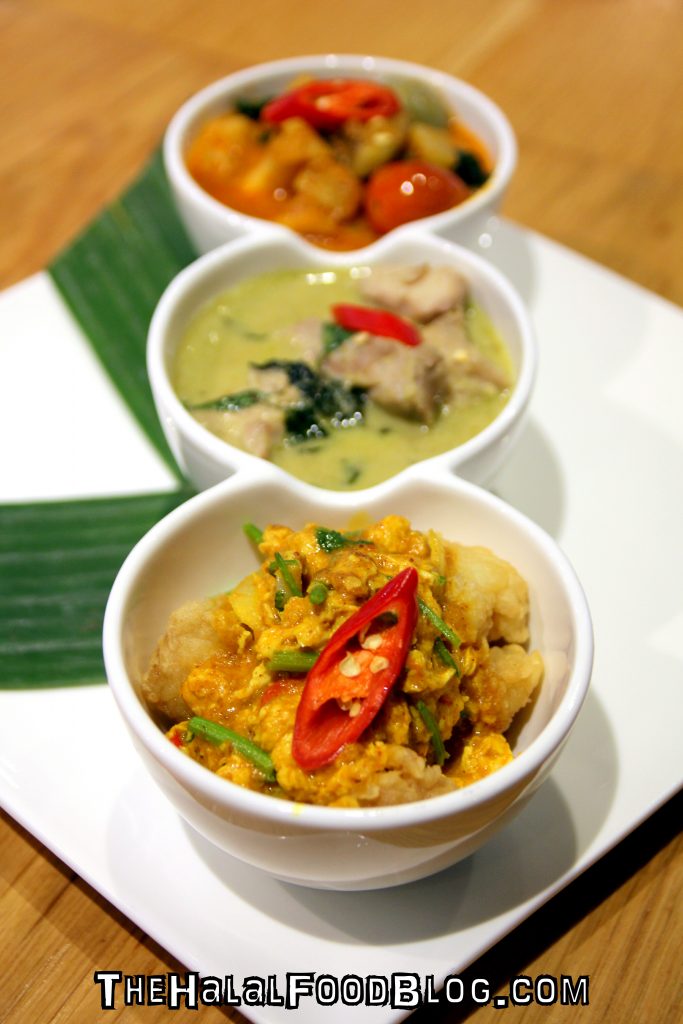 Another chance not just to share but also to sample different dishes all in a single platter!
Have you ever had the problem of not knowing what to order because you either didn't know which dish you'd like best or maybe you like them all and wanna have a bit of each? This is the one for you!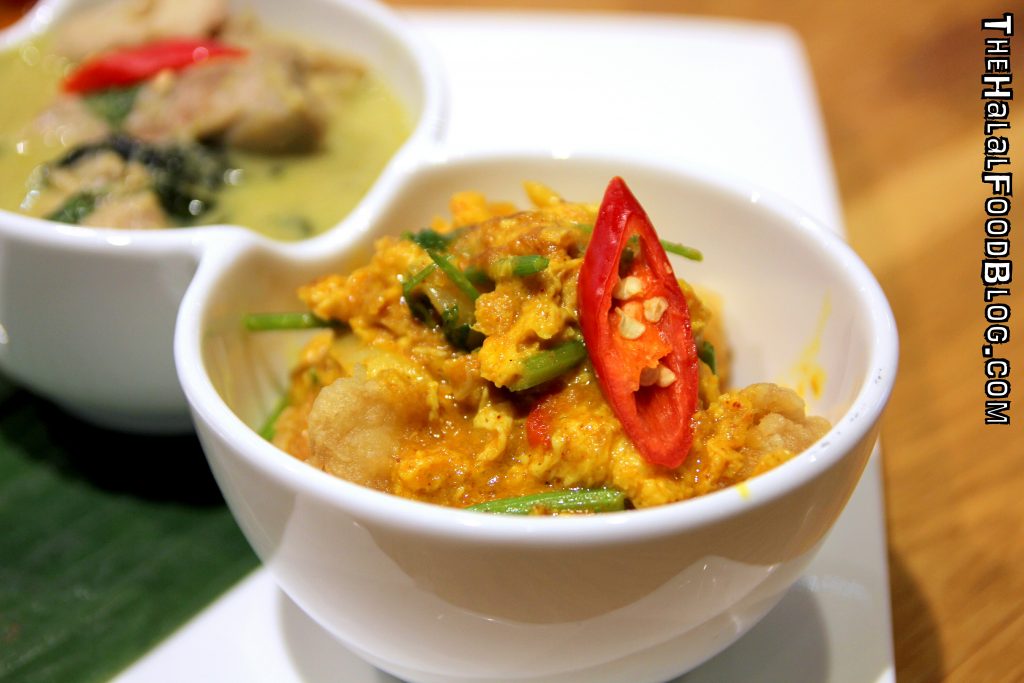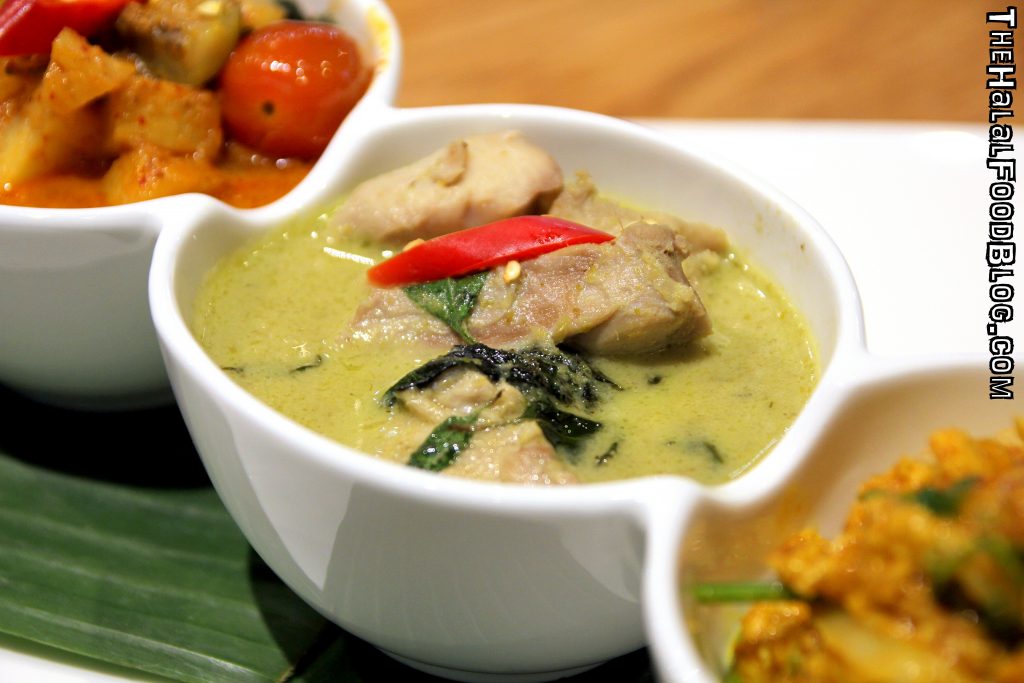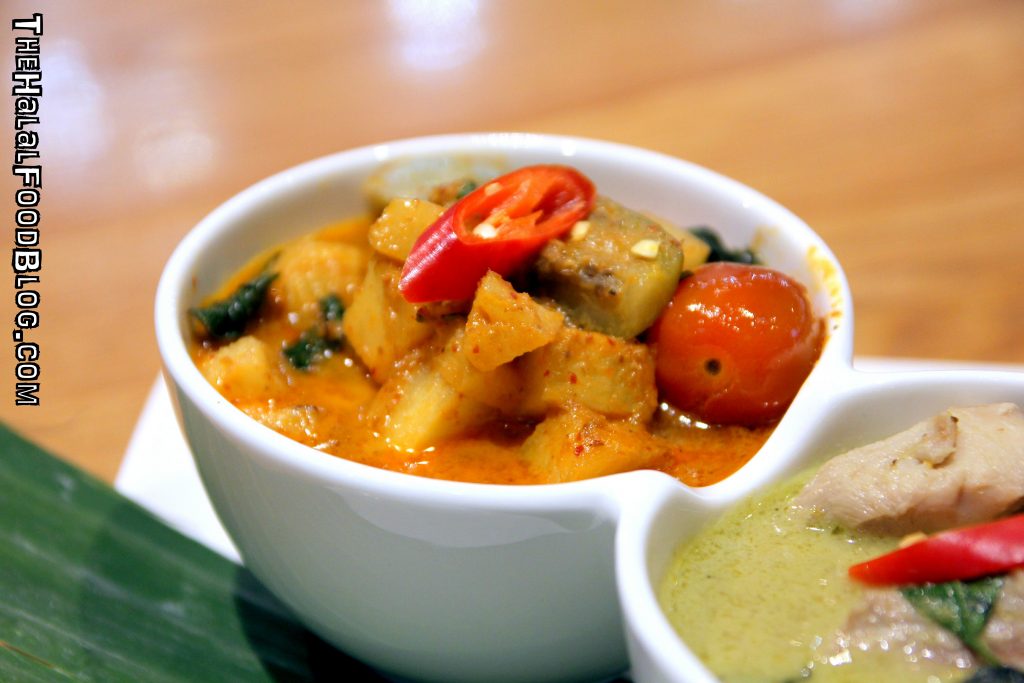 The Mixed Curry Platter features 3 different curries from the Siam Kitchen menu. This gives you the perfect opportunity to savour the different flavours of 3 signature Thai curries!
My personal favourite is the milder Thai Yellow Curry which I really enjoyed when they used to have the Thai Yellow Curry with Soft Shell Crab (BRING BACK THE YELLOW MELLOW). Fans of bolder flavours will enjoy the Green and Red Curries for sure!
Other platters they have include the Appetiser Platter, Grilled Chicken Platter and the Mixed Grill Platter!
Well, there you have it folks! Some of our favourite dishes to be enjoyed at Siam Kitchen! Be sure to enjoy their Holly Jolly Christmas Menu which is available for a limited time only! สนุกกับตัวเอง!!
SIAM KITCHEN IS
FRIENDS WITH HALALFOODHUNT!!

Siam Kitchen offers 20% discounts off total bill* with the  FRIENDS with Halalfoodhunt.com Rewards Card!!
Get your FRIENDS with halalfoodhunt.com Rewards Card now at only $18/year and unlock discounts at over 150 Halal restaurants, cafes, bakeries including online e-commerce businesses in Singapore. For a full list of where you can enjoy your card, click here.
*T&Cs apply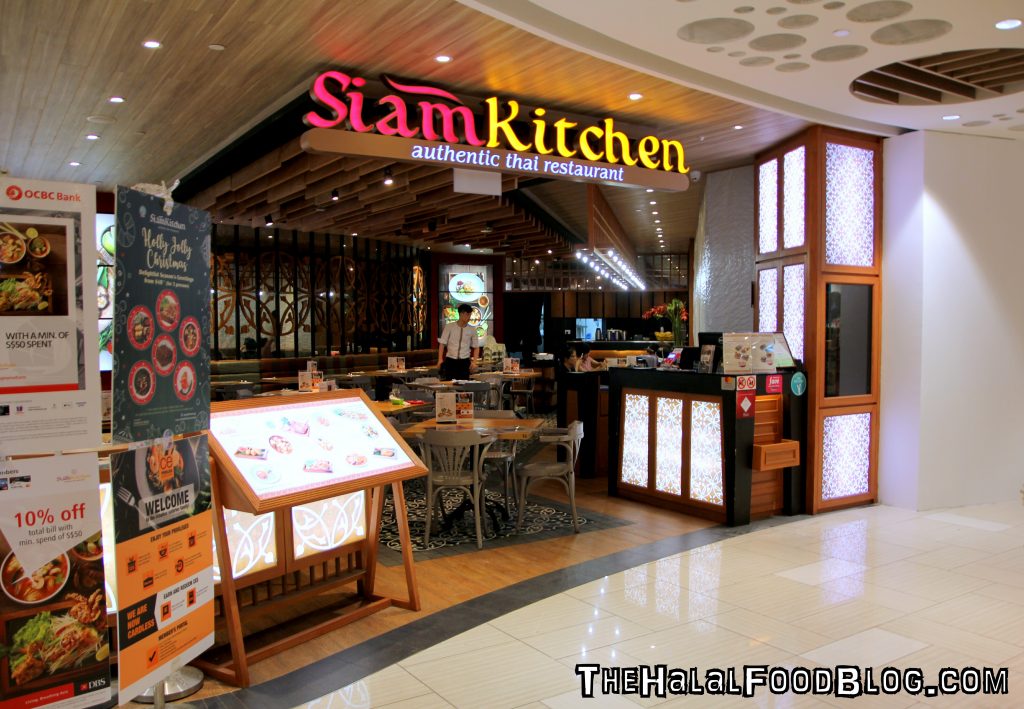 SIAM KITCHEN
www.siamkitchen.com.sg
Facebook: www.facebook.com/SiamKitchen.sg
Instagram: www.instagram.com/siamkitchensg
Siam Kitchen Simei
Eastpoint Mall
3 Simei Street 6 #02-05 S 528833
Tel: 67855722
Siam Kitchen Bukit Panjang Plaza
Bukit Panjang Plaza
1 Jelebu Road #02-18 S 677743
Tel: 67658839
Siam Kitchen Lot 1
Lot 1 Mall
21 Choa Chu Kang Avenue 4 #02-25 S 689812
Tel: 67664766
All information (including prices, availability of item on menu and Halal status of establishment) are accurate at the time of posting. All photos used in this site are property of The Halal Food Blog unless stated otherwise.