So we put out the call on our Instagram asking you, our readers, to recommend a baker who could perform a bit of magic for our Little Princess' 2nd birthday party.
She'd recently taken quite a liking to those surprise eggs and so we thought it'd be cool to get a 3D Surprise Egg Cake done up. But as cool as it sounds, we knew it'd be no easy task! And what a response we got! As usual, our readers rock to the max and gave a lot of great suggestions! But we saw a name that popped up a few times in the comments. And as luck would have it, we received a DM from SG Birthdaycakes awhile later!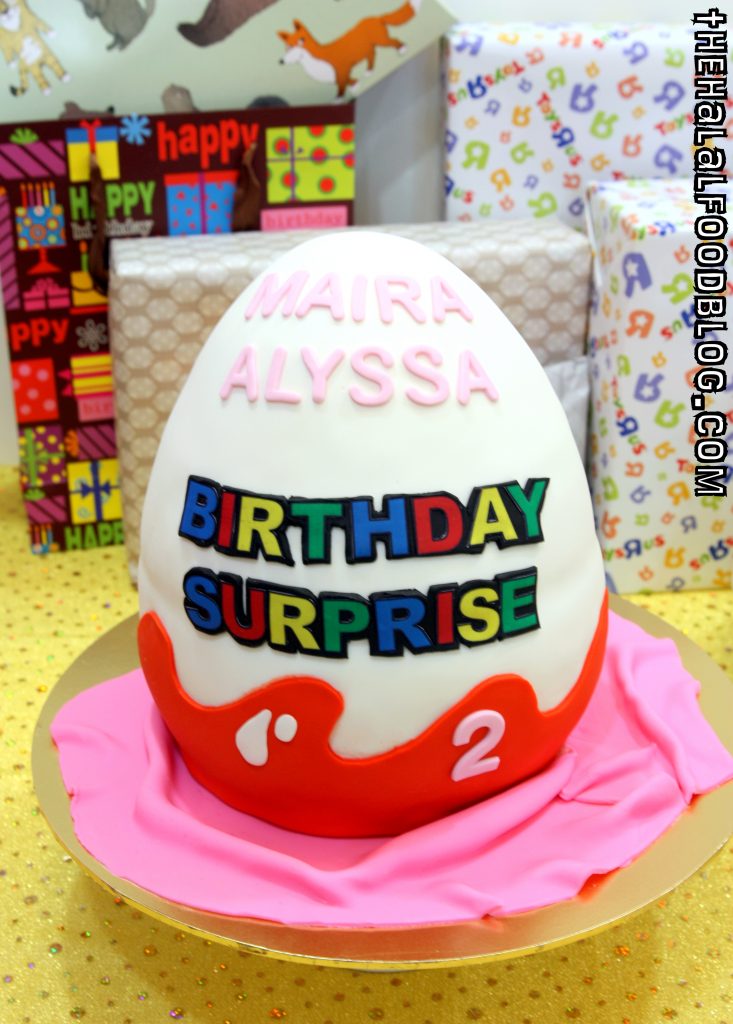 And what a cake it turned out to be!!
We planned for quite a bit but this really turned out exceptionally well! What a great looking cake!
Okay okay excited a bit there LOL let's go back a bit and talk about how the process came about…
We had a good idea about how we wanted the cake to look like so we sent over a photo we saw online and also gave some information on what we would like to have written on the cake if possible. Very impressed with the ease of communication and they were very happy to accommodate on ideas that were feasible. Of course don't go and give some kind of nonsense request lah LOL but so far so good leh!
Woweeeeeee what a fantastic looking cake lah I can't get over it LOL
The exterior of the cake is made up of fondant so it's pretty solid and will definitely sit there and look pretty while your party goes on with no problem.
We got one of those number candles ourselves (had to get a big one to match the cake!) and stuck on top for the birthday girl to blow out. And speaking of the birthday girl, what exactly did she think of the cake?
It's quite safe to say that the birthday girl was SUPER happy with the cake LOL
As soon as it arrived and she saw it, she sent "Wahhh!" and could not keep her eye of it! Poor thing kept wanting to get at it the whole time even though it was another hour til cake cutting.
Well, she wasn't the only one impressed with the looks of the cake that's for sure! Everyone, both kids and adults, were really impressed with how the cake turned out because it was really like a giant Kinder Surprise egg!
You can choose from several different cake flavours and they also have several fillings too in case you want to add that little extra something to your cake. This is not a bad idea so you can have different flavours that you guests can enjoy. Maybe some like chocolate while some like maybe some strawberry instead?
For the cake, you can choose from Chocolate, Vanilla Butter, Strawberry, Orange or Chocolate Orange (we chose the Chocolate and the Strawberry by the way) and top up a little bit for the fillings.
They have standard fillings like Chocolate Fudge, Vanilla Frosting and Nutella but look out for their Premium Fillings like Fresh slice bananas with chocolate fudge and also Speculoos!!
SG Birthdaycakes has been in the business since 2011 and as we can see, they make really spectacular looking cakes! They've even made cakes for a lot of local and foreign celebrities too! Plus, you'd probably have read about them in the newspapers and perhaps even seen them on TV!
Besides 3D Cakes like the one we got, they also make plenty of other great stuff too like Cupcakes and Buttercream Cakes plus it's for all events like weddings, engagements and not just birthdays. Safe to say that if you have an idea you'd like to see as a cake, why not ask SG Birthdaycakes because they can probably do it LOL
Plus the good thing is that their prices vary depending on the complexity of the cake but they have cakes to suit all budgets so don't be afraid to ask them okay! The end result is a cake that will impress all your guests! 🙂
Check out their website www.birthdaycakes.sg for full details on the awesome cakes you can expect from SG Birthdaycakes and drop them a line if you have any questions okay!
We'd like to extend a very super special THANK YOU to the SG Birthdaycakes Team for sending us a spectacular looking cake and making a little girl's birthday extra special!! Thumbs up to you!!
www.birthdaycakes.sg
Facebook: www.facebook.com/sgbirthdaycakes
Instagram: @sgbirthdaycakes
All information (including prices, availability of item on menu and Halal status of establishment) are accurate at the time of posting. All photos used in this site are property of The Halal Food Blog unless stated otherwise.