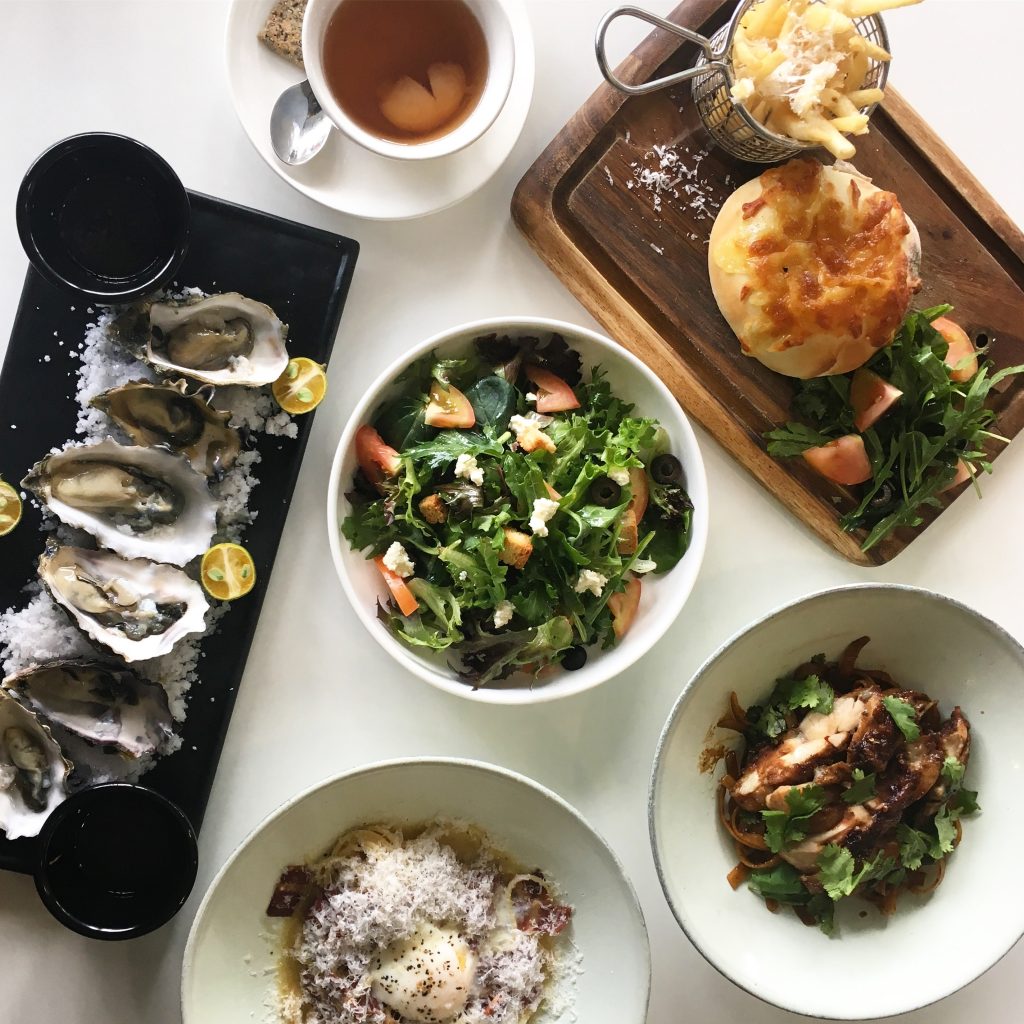 Just before the Chinese New Year long weekend, I had the pleasure of visiting Seven7h Cucina with the ladies from Halalfoodhunt.com and it was such a great experience that I decided to head back there again a few days later with the whole family in tow so we could have more dishes from the extensive menu!
Now, that's saying something am I right or am I right?
So here's what we covered over 2 visits to Seven7h Cucina – a new and exciting bistro specializing in Italian fare!
In case you were wondering, Cucina translates to 'kitchen' and in this kitchen, they're churning out Italian favourites and some pretty interesting fusion flavours too. Well, we have A LOT to cover so let's get started.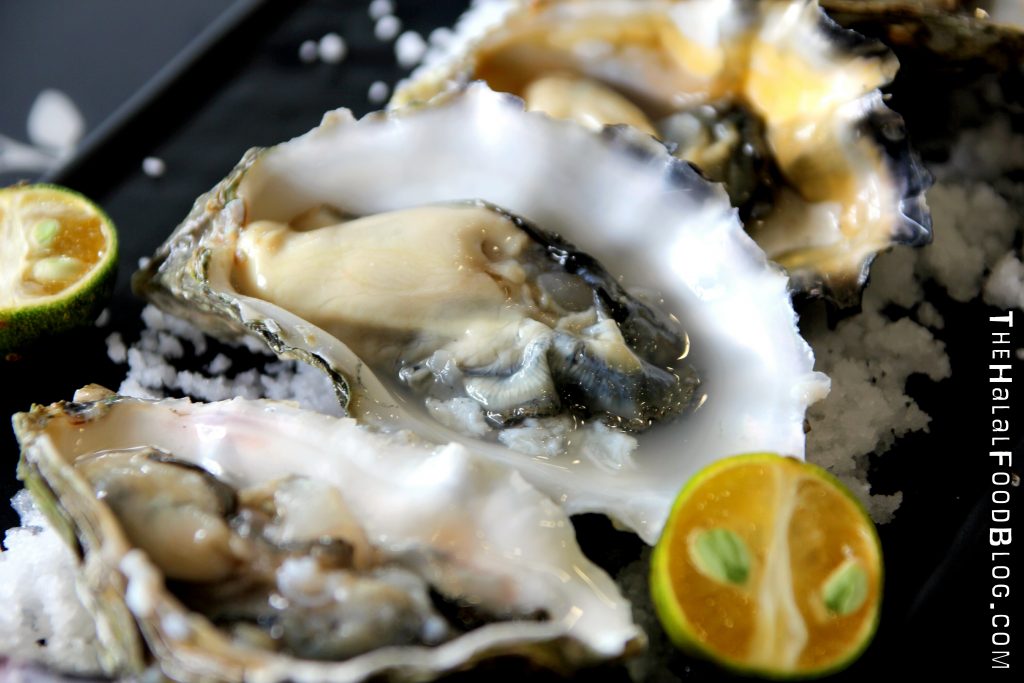 Here's a tip to start off with – there's a big board on the wall at Seven7h Cucina. It's got a few of the menu items on there but you'll also see some SPECIALS on there too from time to time and it might be a good opportunity to have something that's only available for a limited time.
In our case, it was freshly shucked Oysters! But with that Seven7h Cucina twist of course.
Normally, you'd probably enjoy yous oysters as is or perhaps with some lemon and Tobasco sauce for good measure but at Seven7h Cucina, you will go a little bit more of the local route!
Instead of lemons, get your tang courtesy of some limes and in place of Tobasco sauce, spice things up with chili kicap! And believe me – the chili kicap definitely has that spicy kick thanks to the chili padi they use in it! Definitely something a little different for sure.
And if you've never had oysters before and were afraid to try them. this is a good chance!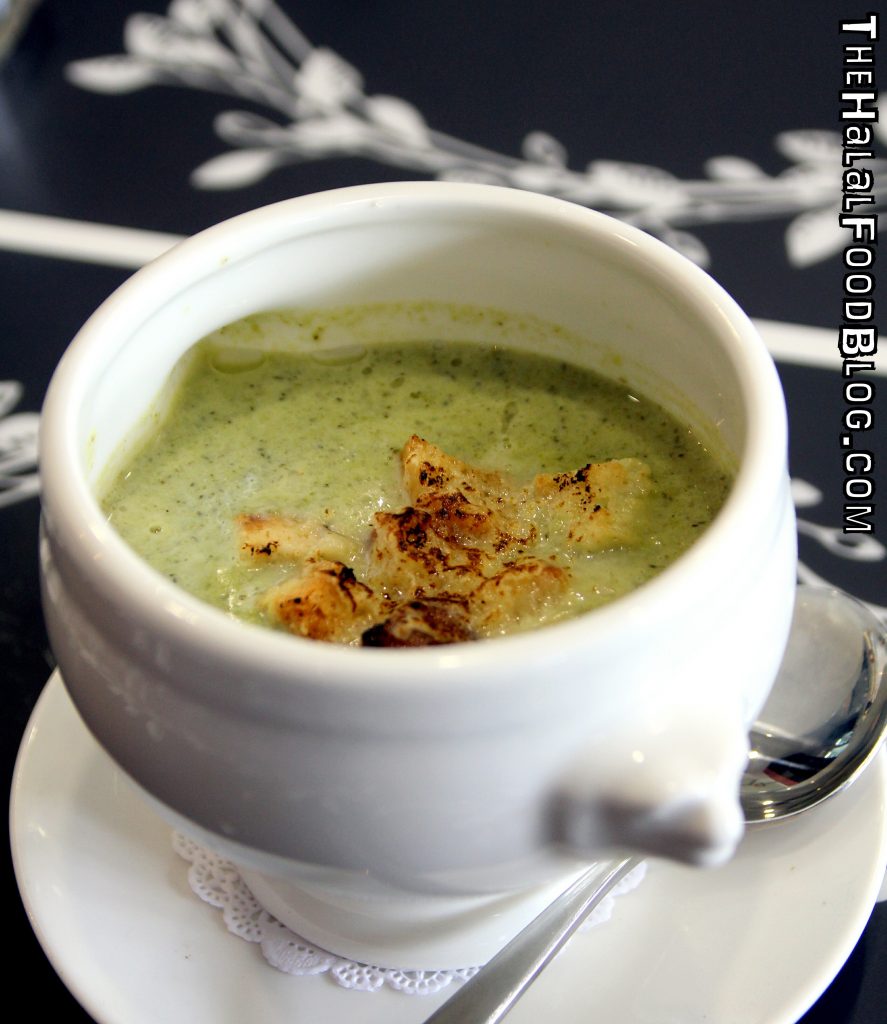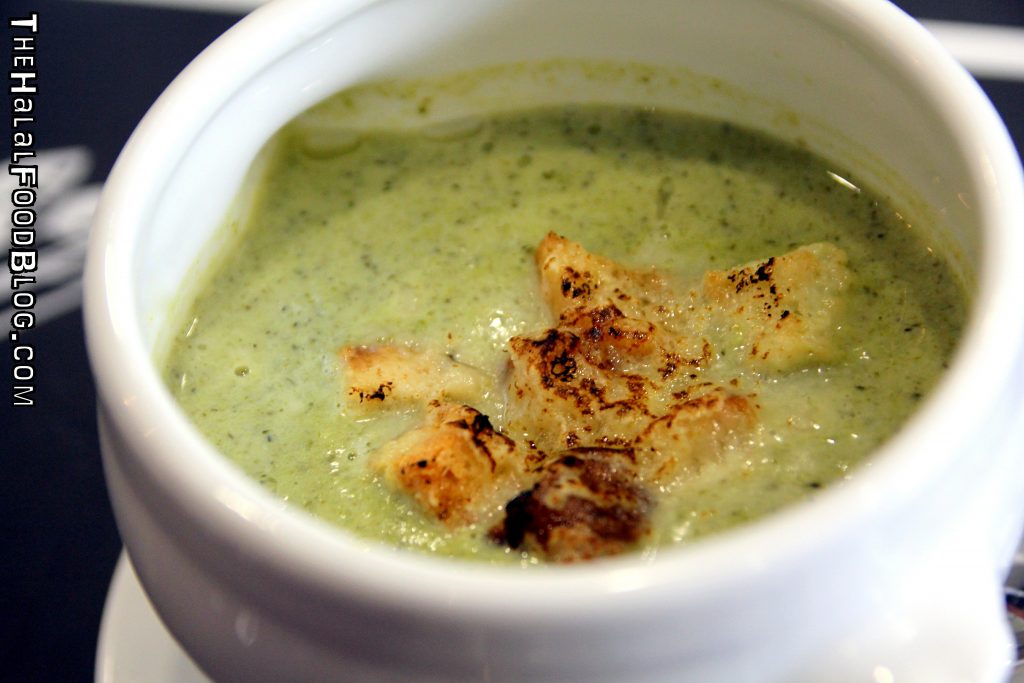 Zuppa is your 'Soup of the Day' so check with the friendly staff what's being served when you visit.
We had the Cream of Broccoli which was actually pretty tasty. Thick and a little bit creamy with a very strong hint of truffle oil in there. And if I am not wrong, I saw them torching the croutons before serving to give that little bit of extra char.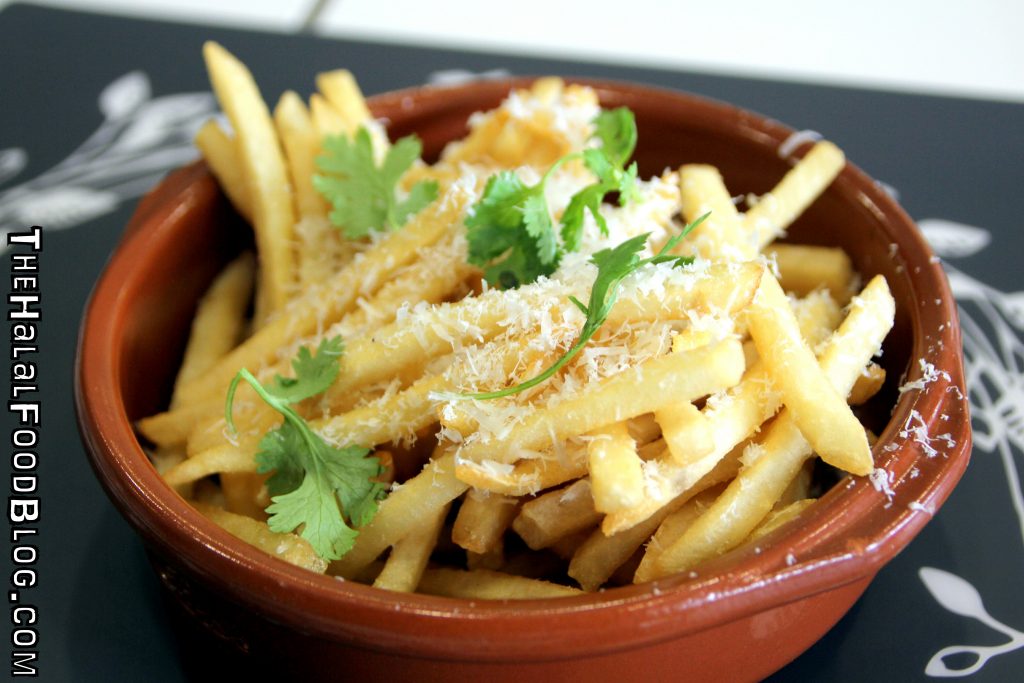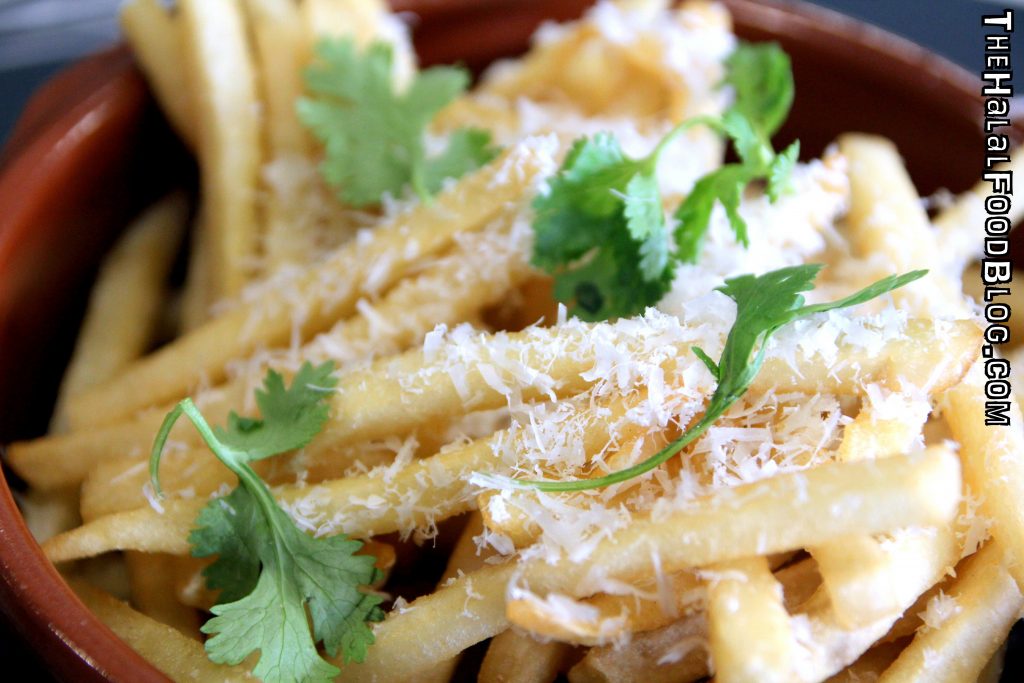 And speaking of truffle oil, here's one that is bound to be a favourite of many – the Tartufo Fries!
A hearty serving of hot fries doused with white truffle oil and a generous grating of Parmesan for good measure.
This is a must have a perfect for sharing to get everyone's appetites going for the big meal ahead.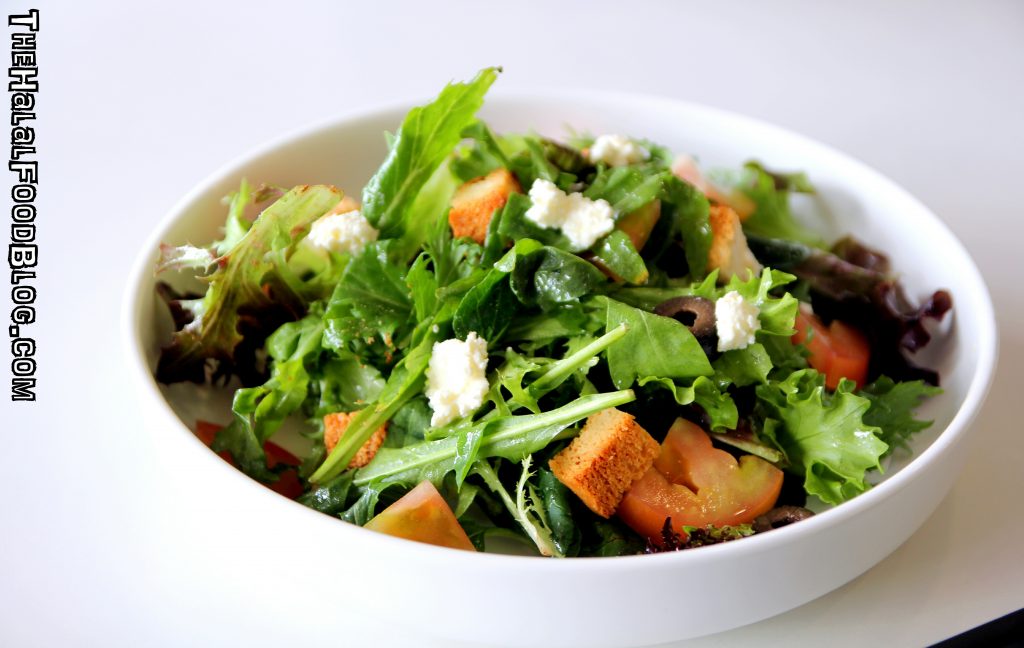 Something else that is perfect for sharing is the Insalata Mista which basically translates to Mixed Salad. I don't know about you but I don't mind a serving of salad to go with every meal!
So with the Insalata Mista, you get a good mix of fresh, crisp greens. In the mix is also some tomatoes, black olives, Ricotta cheese, croutons and some olive oil vinaigrette for the dressing.
A pretty decent salad overall but I personally would have liked a bit more dressing with the salad. Yeah yeah yeah I know less dressing is healthier but just a little bit extra can't hurt right LOL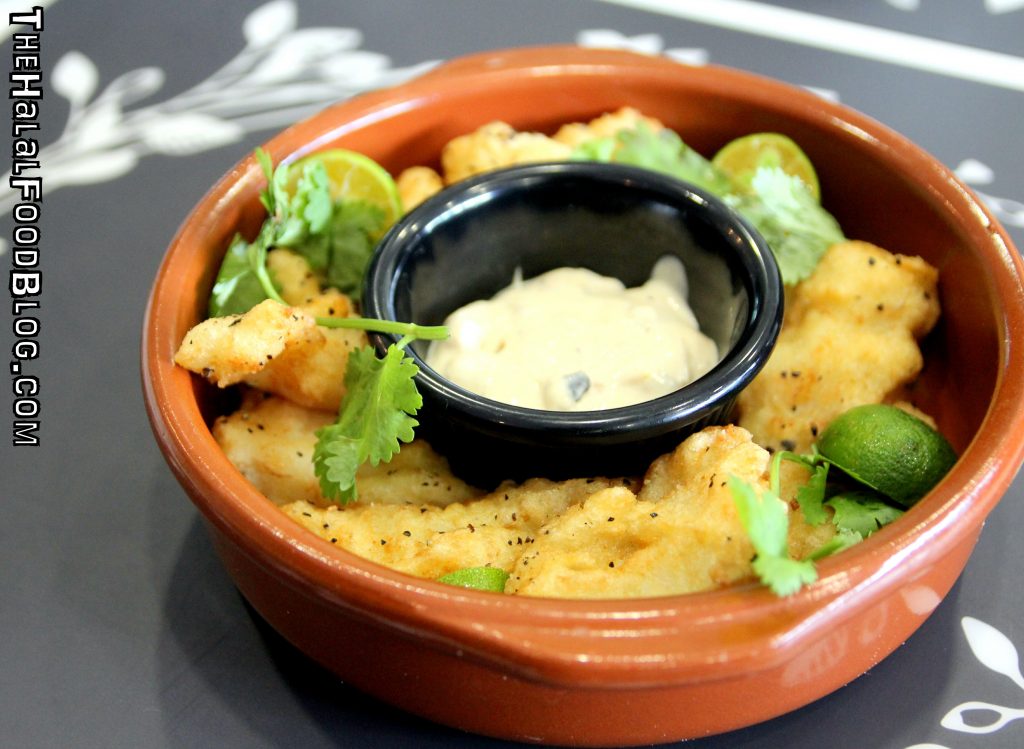 The Frito Pesce is the last of the starters we are featuring. It's a serving of smoked fish that has been battered and fried up and served long with a fennel sour cream. Think of it as… an Italian-styled Fish & Chips in a way!
This dish was a bit of a miss for me personally as I would have liked the batter to have a bit more of a crisp. But this would definitely be a good choice for the little kiddies now that I think about it.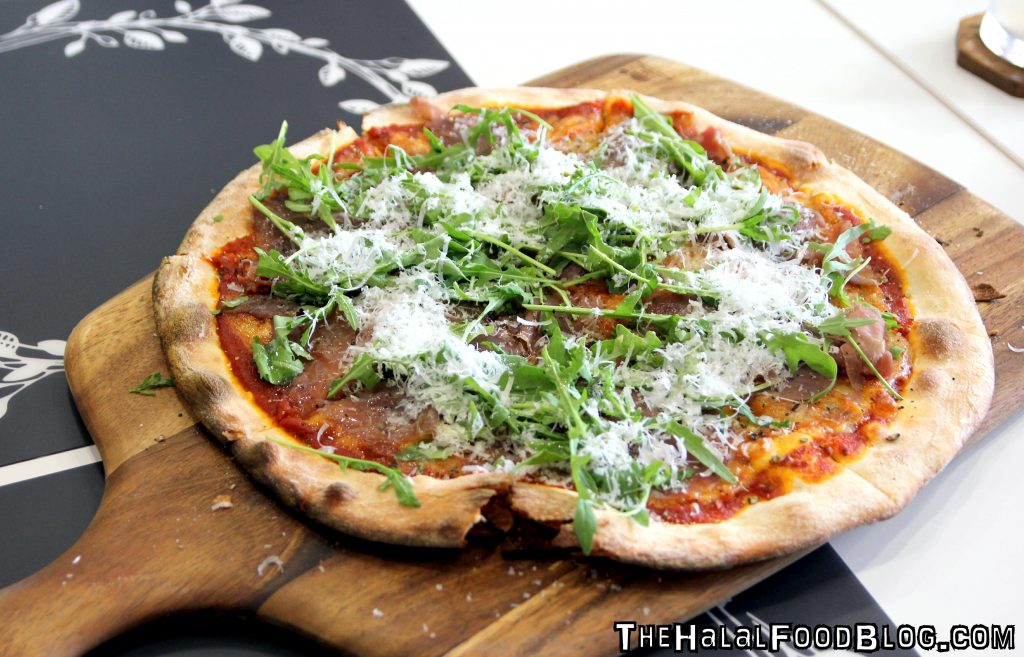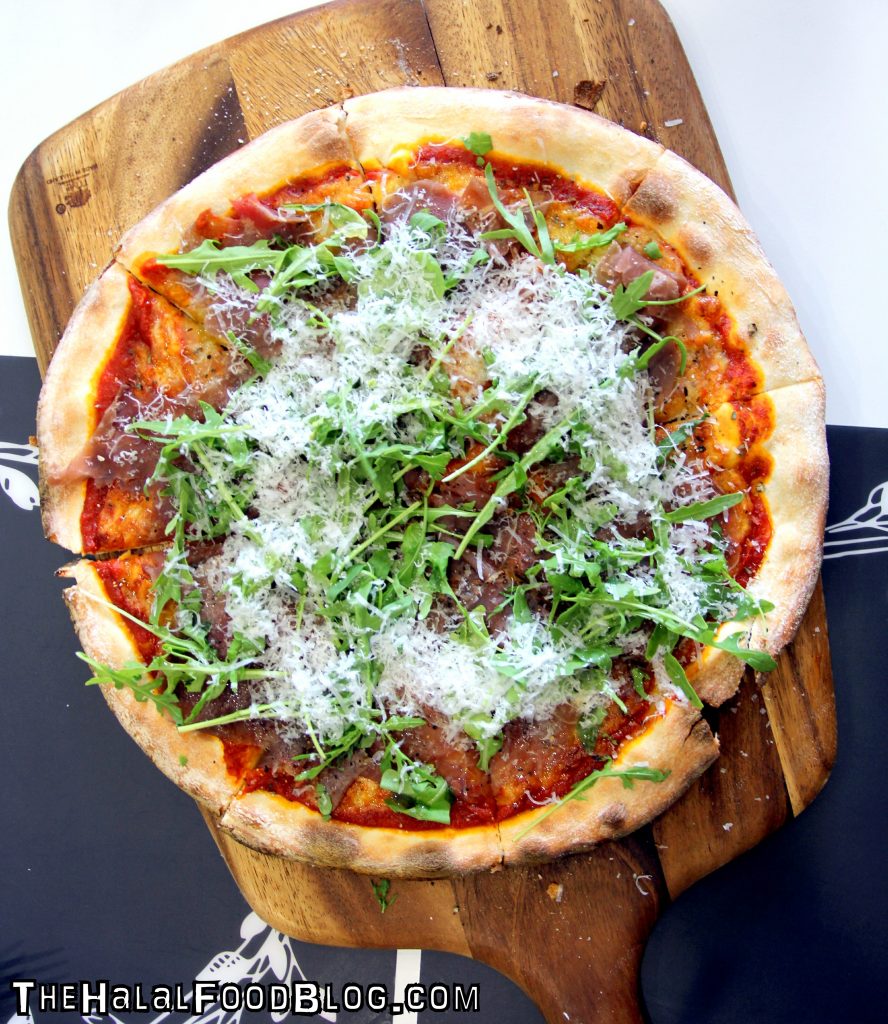 There are about 8 different pizzas to choose from on the menu at Seven7h Cucina and they have pretty much everything from seafood to lamb to chicken to beef LOL
One of the more interesting ones was the Bresaola Pizza which is definitely not something you see at many Halal eateries. In fact, I don't think I've seen Bresaola anywhere in Singapore before!
It's a thin crust pizza and they make their dough fresh and from scratch at Seven7h Cucina and I must say it's an absolutely delicious dough they have going there. Nice and crusty!
For the Bresaola Pizza, they layer tomato sauce, sliced tomatoes, sage, cured Bresaola beef and top everything off with some Arugula (which I absolutely love in both my salads and on my pizza!). Now, the Bresaola beef is understandably a little on the salty side because of the curing process and it may not be for everyone but I definitely love it.
The star definitely has to be the Bresaola beef for sure. But what exactly is Bresaola you might be asking. Well, it's actually a method used to cure meats, in this case – beef.
So the meat is salted and the air-dried for an extended period of time (normally a couple of months if not longer). This allows the moisture to be drained from the beef and for it to acquire more of a briny flavour thanks to the salt. Normally, you'd have it as part of Antipasti with some bread or perhaps even with a salad but definitely fine with a pizza as well. And to paraphrase Guy Fieri – "it's sliced so thin, it only has one side!".
From what I hear, they cure their own meats at Seven7h Cucina because it's super difficult (perhaps even near impossible) to find or even import Halal versions. Wah, I wish they'd take me on a tour of their curing room. I'd be in heaven for sure!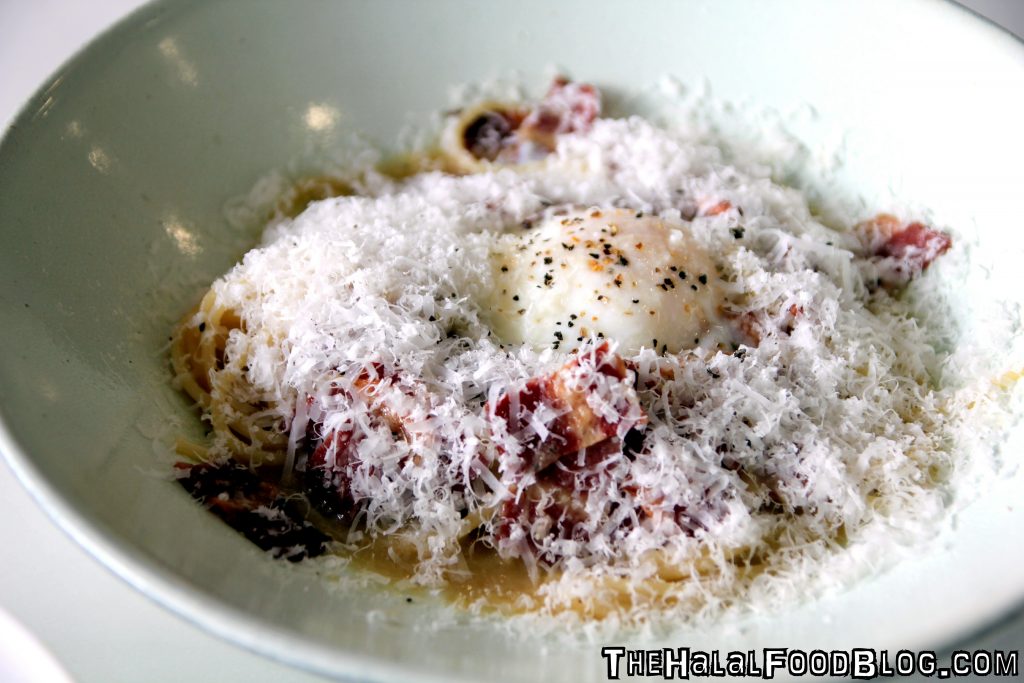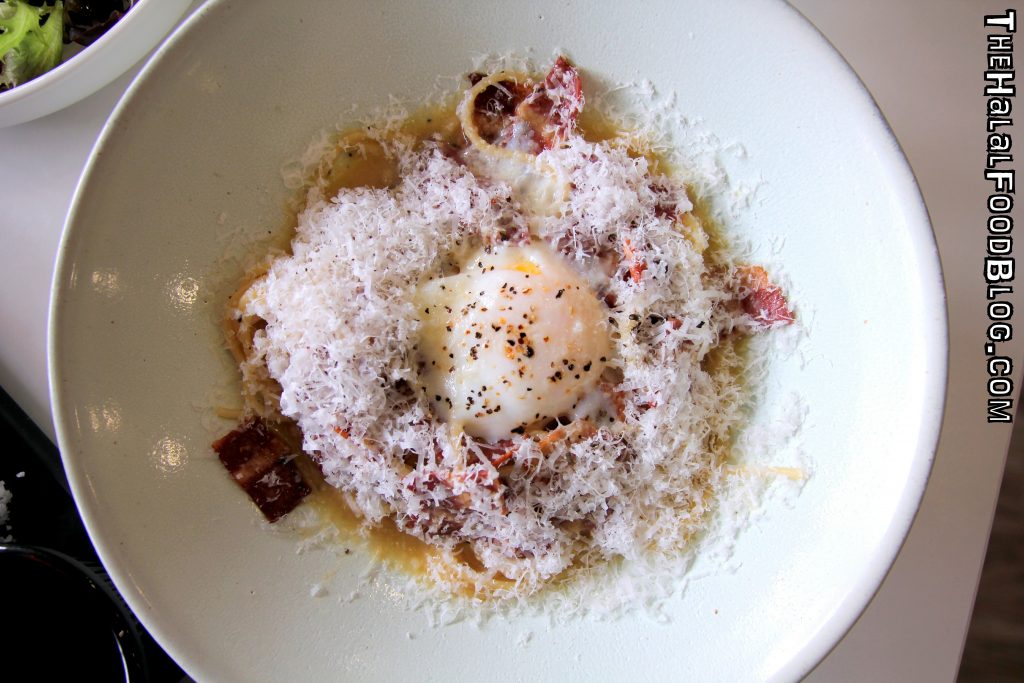 Quite a few pasta dishes to choose from as well and I was pretty interested to see how authentic they'd stick to with some of the pastas because the truth is, a lot of places just take shortcuts especially when it comes to dishes like Carbonara.
Good news – Seven7h Cucina is the real deal!
A lot of people have the wrong impression of Carbonara and most of the time, it's not even their fault. A lot of places serve up a Carbonara which has a rich creamy sauce which is sometimes pretty tasty but it is unfortunately not Carbonara. An authentic Carbonara is made of just eggs, cheese, a little meat (like beef bacon) and black pepper.
That's all. Just those 4 things plus your pasta. Seriously.
And that's how they serve it at Seven7h Cucina.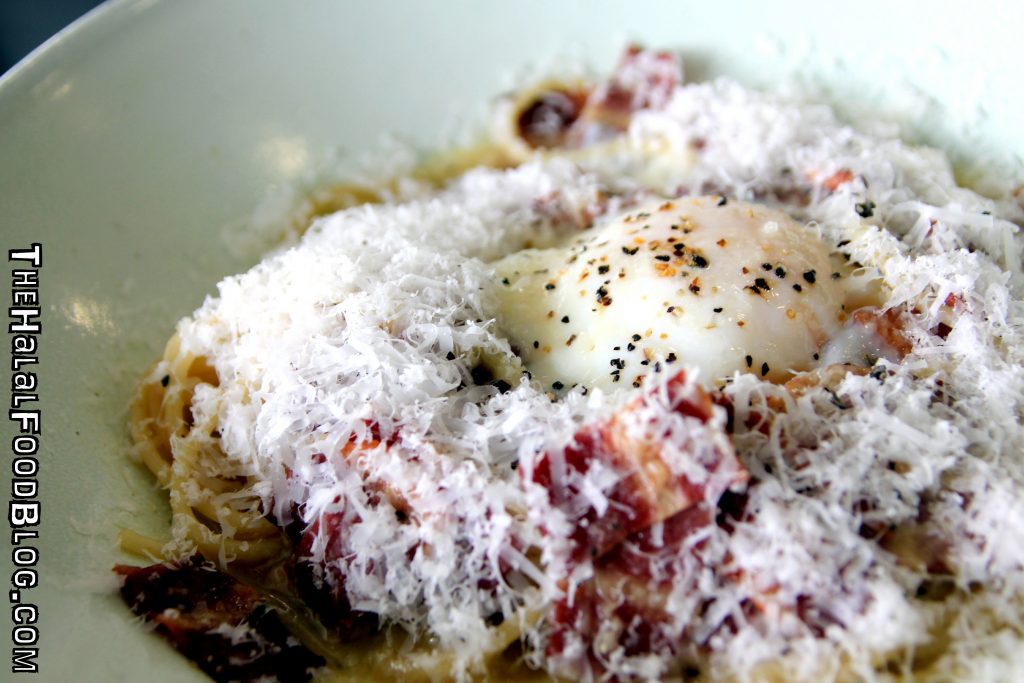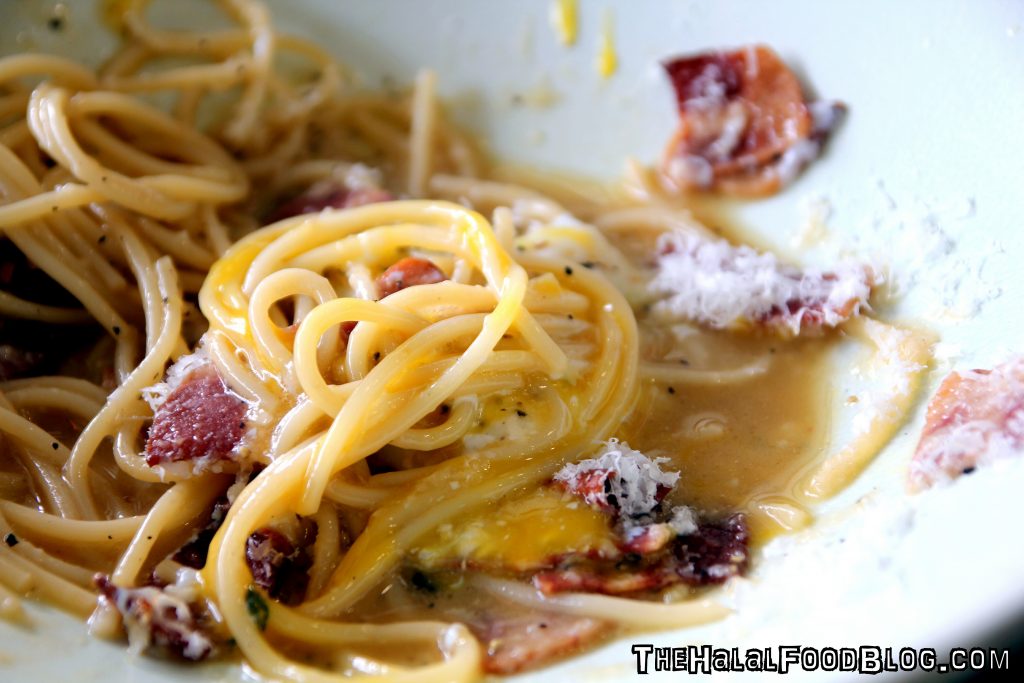 What a beautiful mess that is! And absolutely delicious too.
I'd like to say that no poached eggs were harmed in the making of that video but who am I kidding LOL
How do I gauge the sedap-ness of the Carbonara at Seven7h Cucina? I ask Mein Bruder because he is the Carbonara Master in the family. He is so insistent on the authentic version that he would rather make it at home. Which he does and his version also really power. So when he says the Seven7h Cucina version is good, it's good!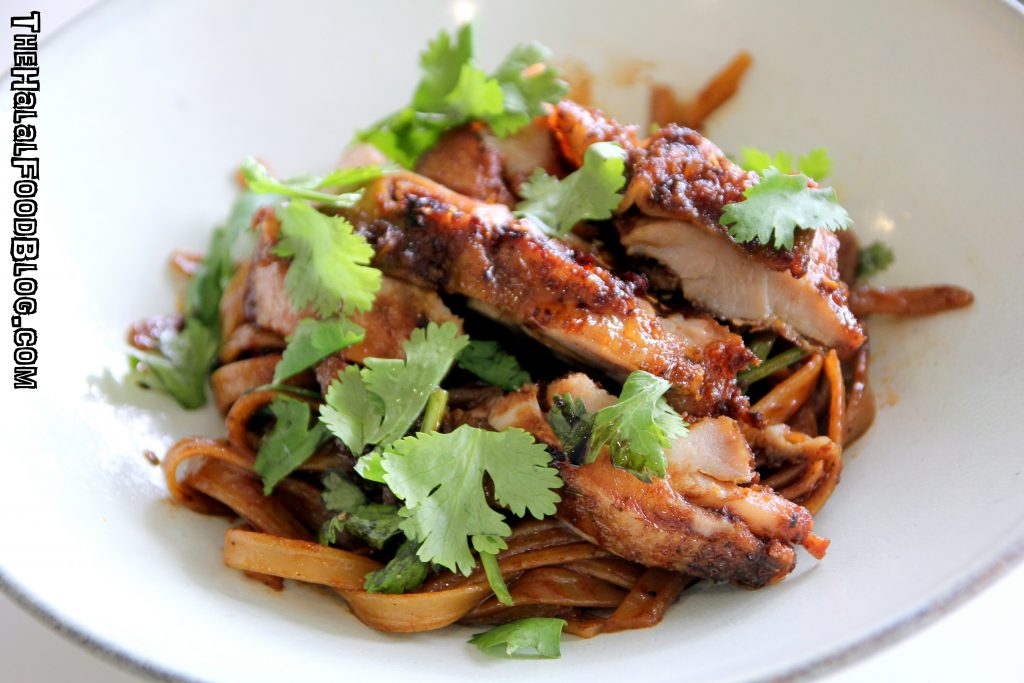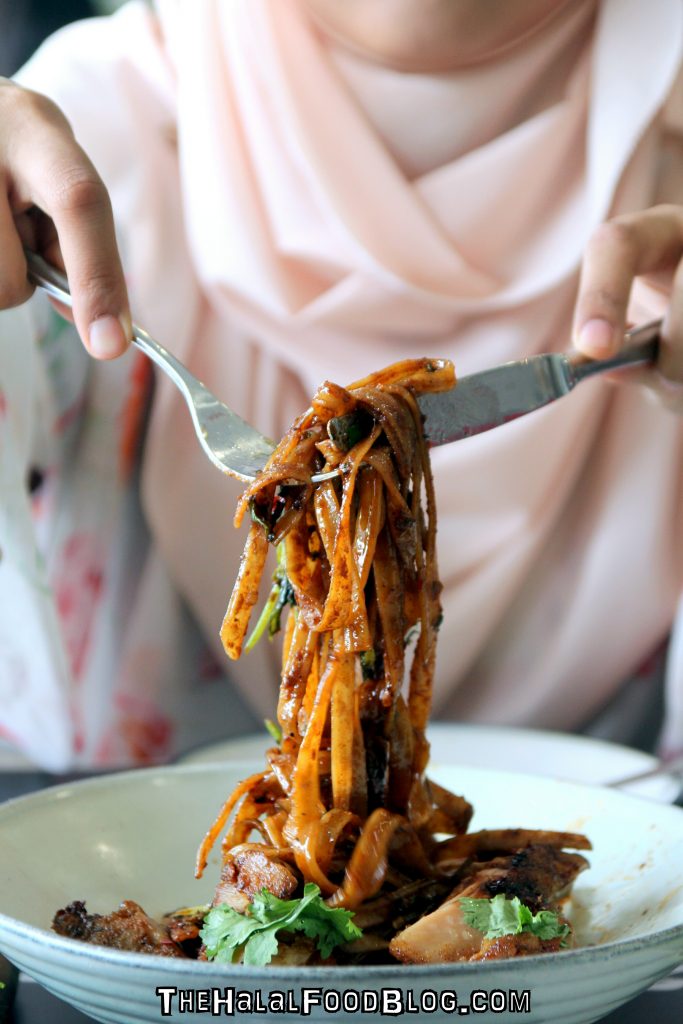 Another pasta we had was a bit of a fusion dish. Roasted chicken is served up with some pasta and a mild chili kicap sauce. It obviously has a very distinct flavour which is more sweet/salty then spicy. I guess to a certain extent it goes well with the idea of the roasted chicken but I'm afraid the combination with the pasta was a bit lost on me.
They do have other pasta dishes to choose from of course including Seafood Aglio Olio, Bolognese and Bianca Tartufo. You also get to choose your pasta by the way – Spaghetti, Fettuccine or Fusilli.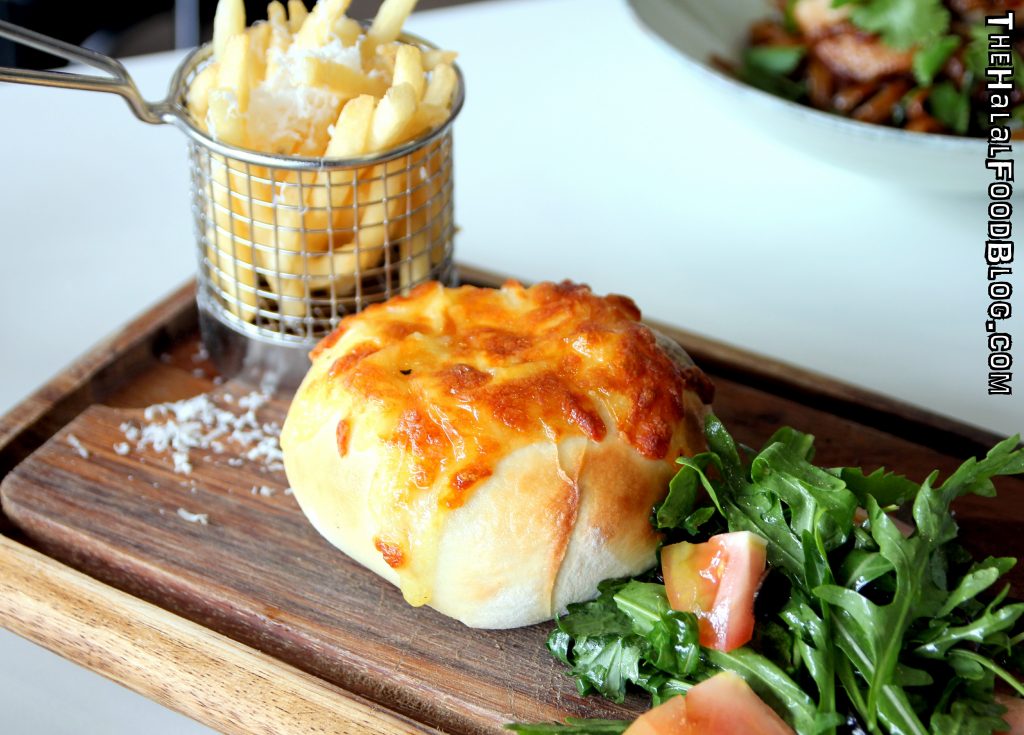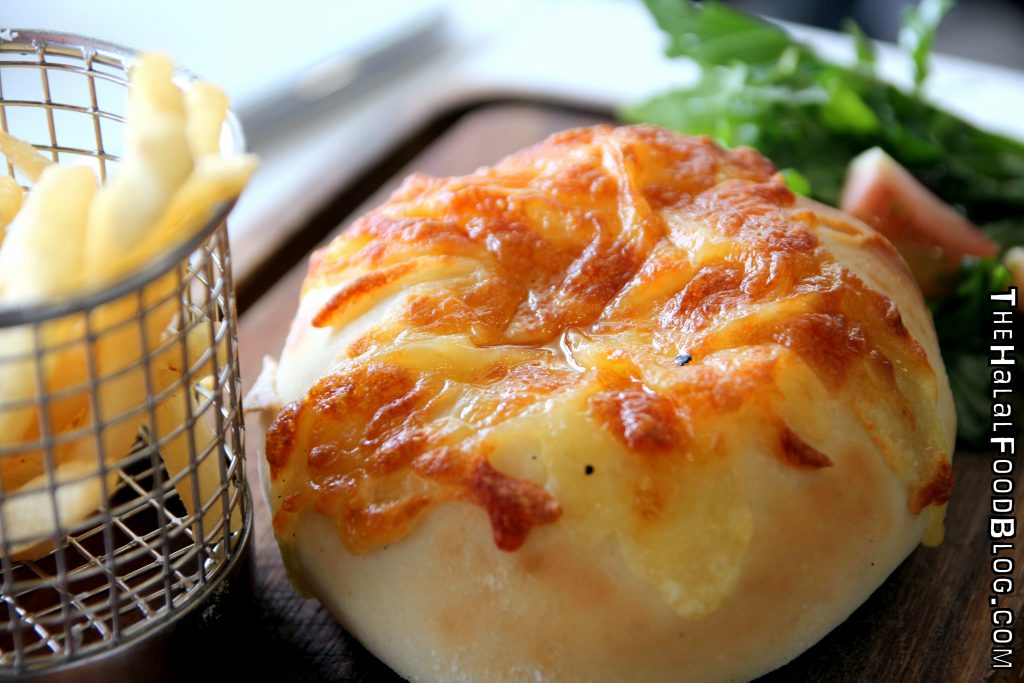 One of the signature dishes at Seven7h Cucina is the Pizza Berg which you might have seen making the rounds on social media over the past couple of weeks and with good reason too. It's a pretty unique now that I think about it and of course, it tastes good too!
So what exactly is a Pizza Berg?
The outer layer is actually that tasty Seven7h Cucina pizza dough that pretty much wraps around and encases all the other ingredients within. Kinda like one giant bun with fantastic fillings if I may LOL
The main component is a juicy meat patty. You have a choice of either beef or lamb by the way (we had the lamb). There's a serving of Pomodoro sauce in there and also a pretty decent amount of cheese too which is what'll make you associate this with a pizza. There's also some caramelized onions and chili relish that contribute the rest of the flavours in the Pizza Berg.
It's a pretty interesting idea and Seven7h Cucina managed to pull it off with a tasty result in the end. It may seem like a lot but the serving is just nice for 1 person and comes with a side serving of Tartufo Fries and salad on the side for good measure. But then again, you can always share if you intend to have other stuff on the menu as well.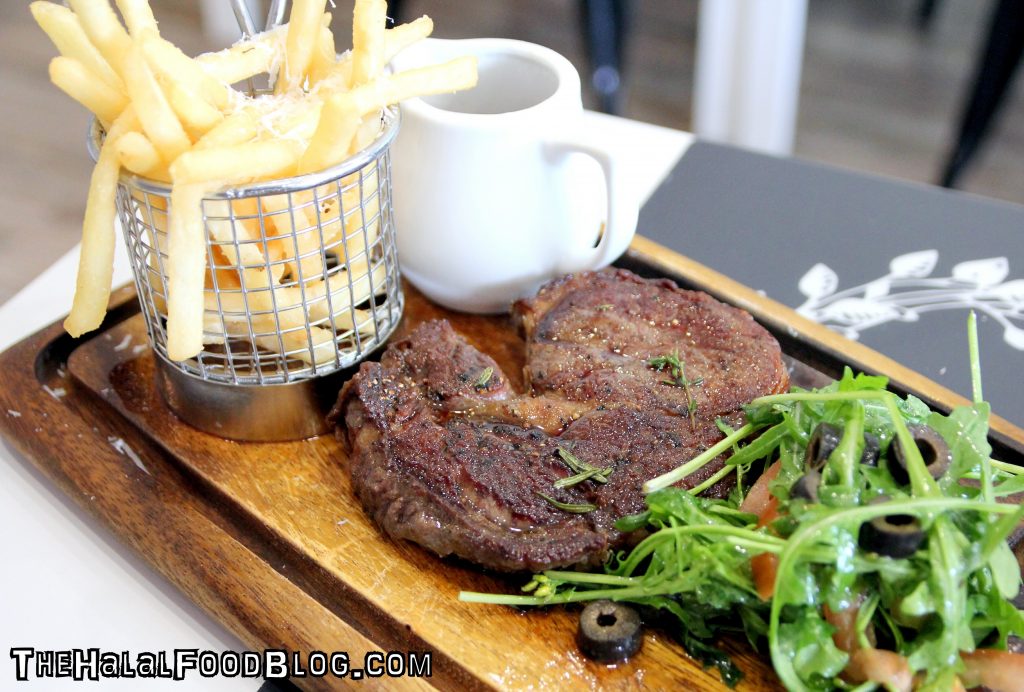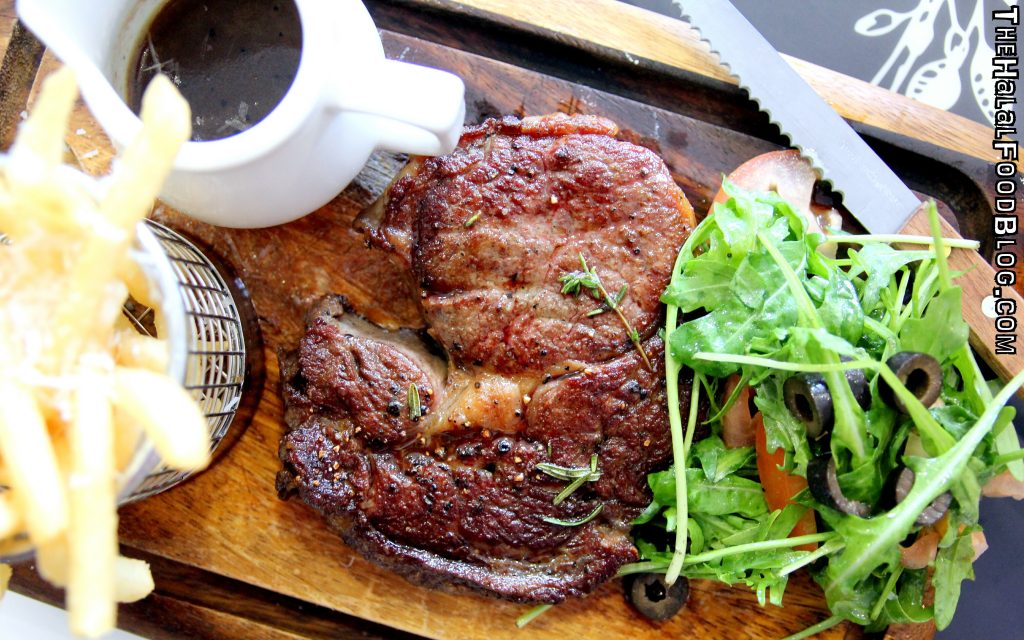 We're big meat eaters so it was pretty natural that were going to order the one and only steak on the menu. And what an excellent decision it turned out to be!
You have a decent sized Ribeye steak that has been cooked absolutely PERFECTLY and served along with some Tartufo Fries, Arugula Salad and some Manzo Jus.
I'll just go ahead and say it – this is probably one of the best steaks we've eaten in recent times.
Really good quality beef that really shines with minimal seasoning and a good cook behind the grill.
We are talking about melt-in-your-mouth beef here people! Tender and juicy! Salt, pepper and a little rosemary mean you still enjoy the natural flavours of the beef that are further enhanced with that jus that comes with. Pretty much everything about this dish clicked perfectly. And it's such a steal at that price. A 5 star dish for sure!
Extra points to the master behind the grill who cooked the steaks (we ordered 2) to absolute the absolute perfect doneness as requested. As you know, some places (who may even claim to be 'specialists' in steals) can get it wrong somehow but this one is a winner. I only hope the same cook is behind the grill. FOREVER. LOL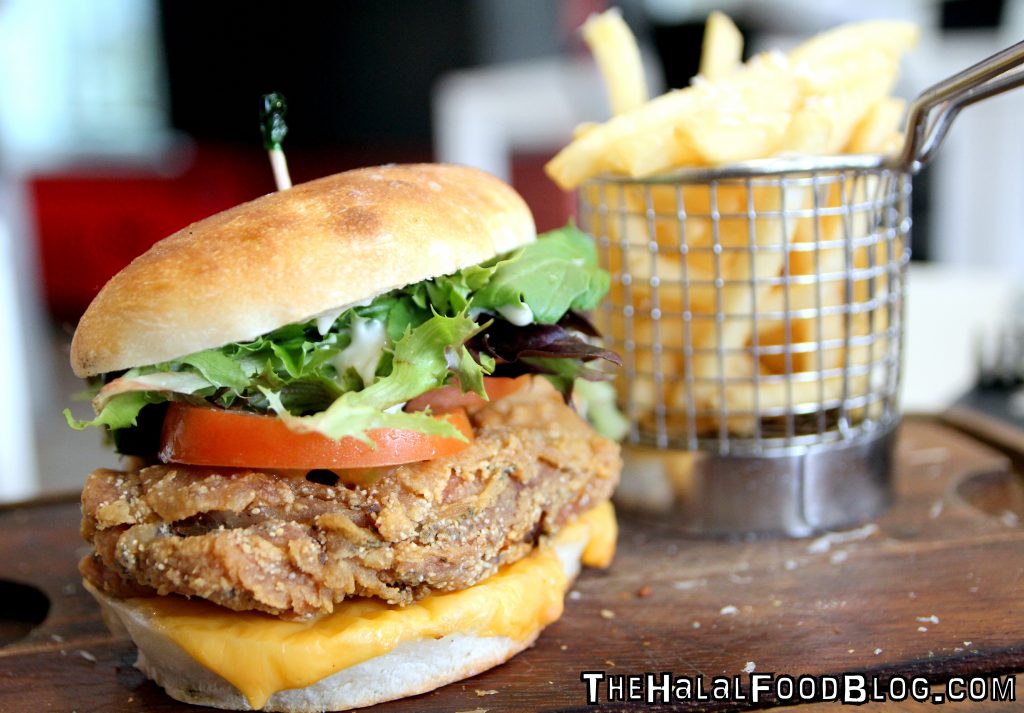 And last but not least, we had one of the Panino Caldo (Warm Sandwiches) from the selection on the menu. We'd already had the Bresaola (cured beef) and the Pesce (fish) in other dishes so we decided on the Fried Chicken Panino in the end. Actually, I saw someone else order it during our first visit and it looked absolutely power so I could not help resist but order to try LOL
A very hearty chicken thigh patty is deep fried to crispy perfection and teamed up with red onions, some greens, orange Cheddar and for the sauce, some garlic aioli and spiced BBQ sauce.
Chicken patty was great (because deep fried goodness) and I actually loved the slightly crusty bread which was great at holding everything in. But my advice is to eat it while it's still hot!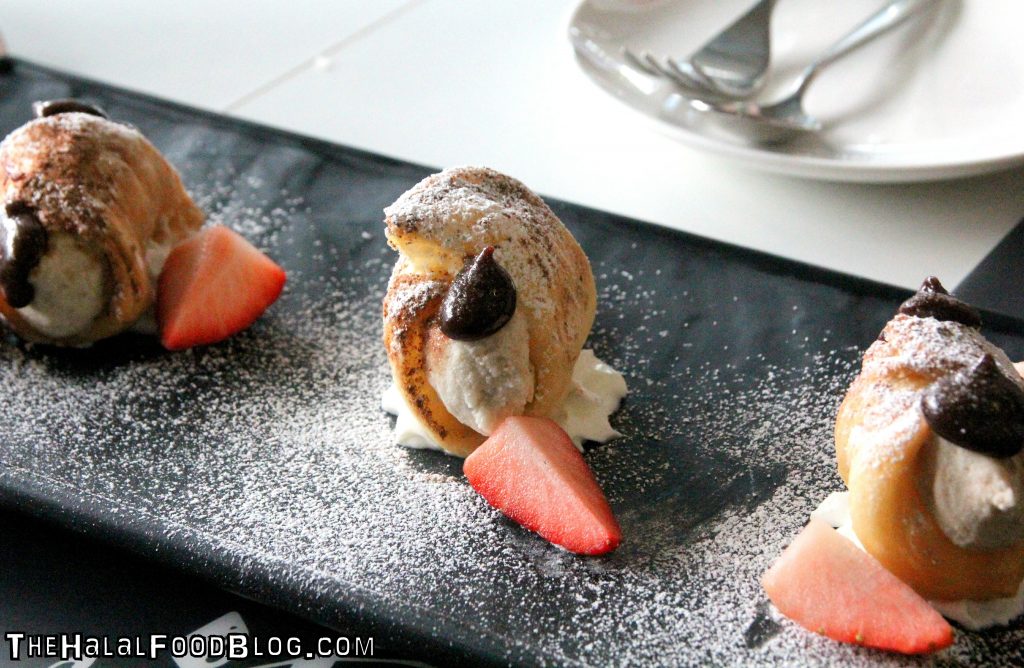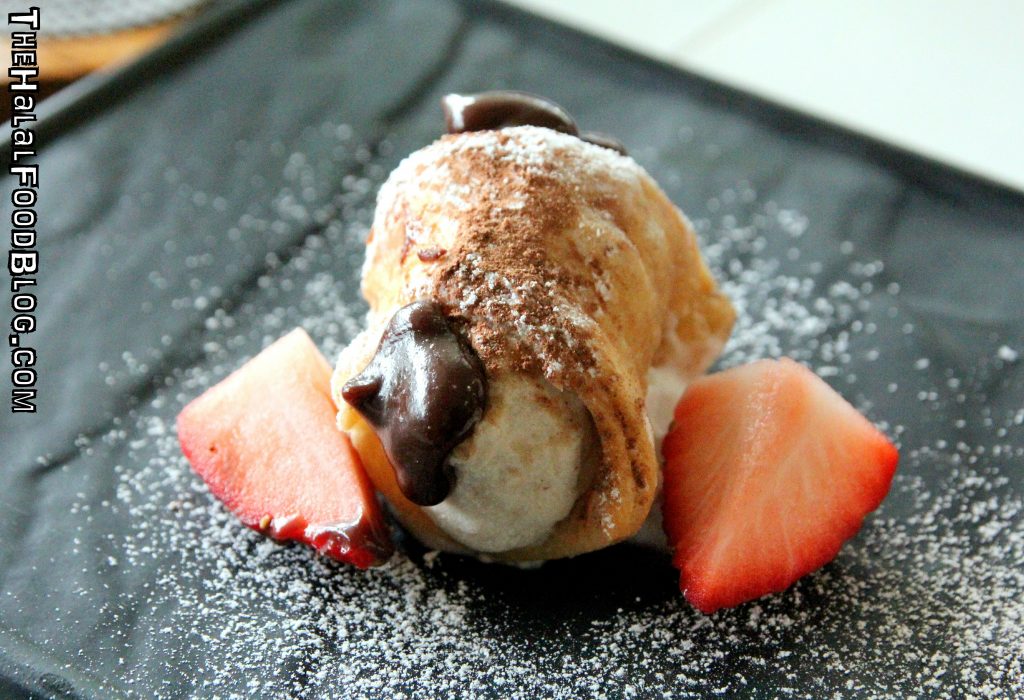 Onto some dessert to end our meal and some pretty interesting Dolce awaited us.
First up was the Yam & Ricotta Cannelloni which is a special dessert and not listed on their regular menu so it's your luck if they have it available when you visit.
These mini pasty shells are piped with a yam and Ricotta cheese filling and everything is topped off with some chocolate and dusted with some powdered sugar for good measure. The Yam & Ricotta filling was very interesting and had a slightly thicker texture than expected but it is not overly sweet. In fact, even with the chocolate and powdered sugar, it kinda gave a nice balance so if you like it only slightly sweet, this is a good choice.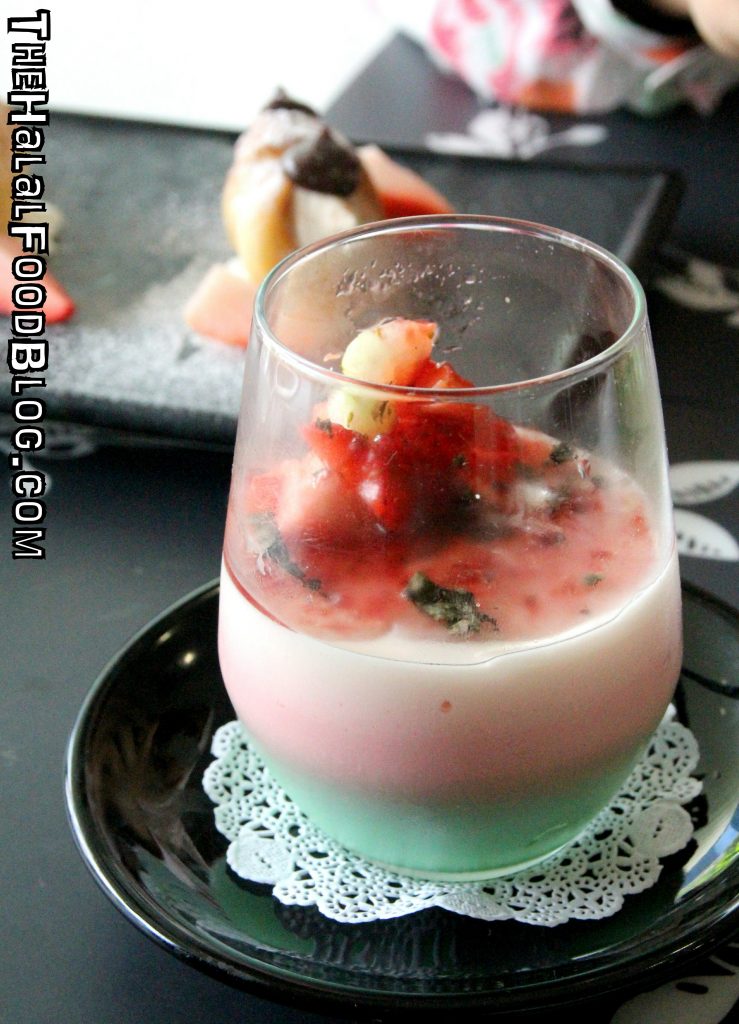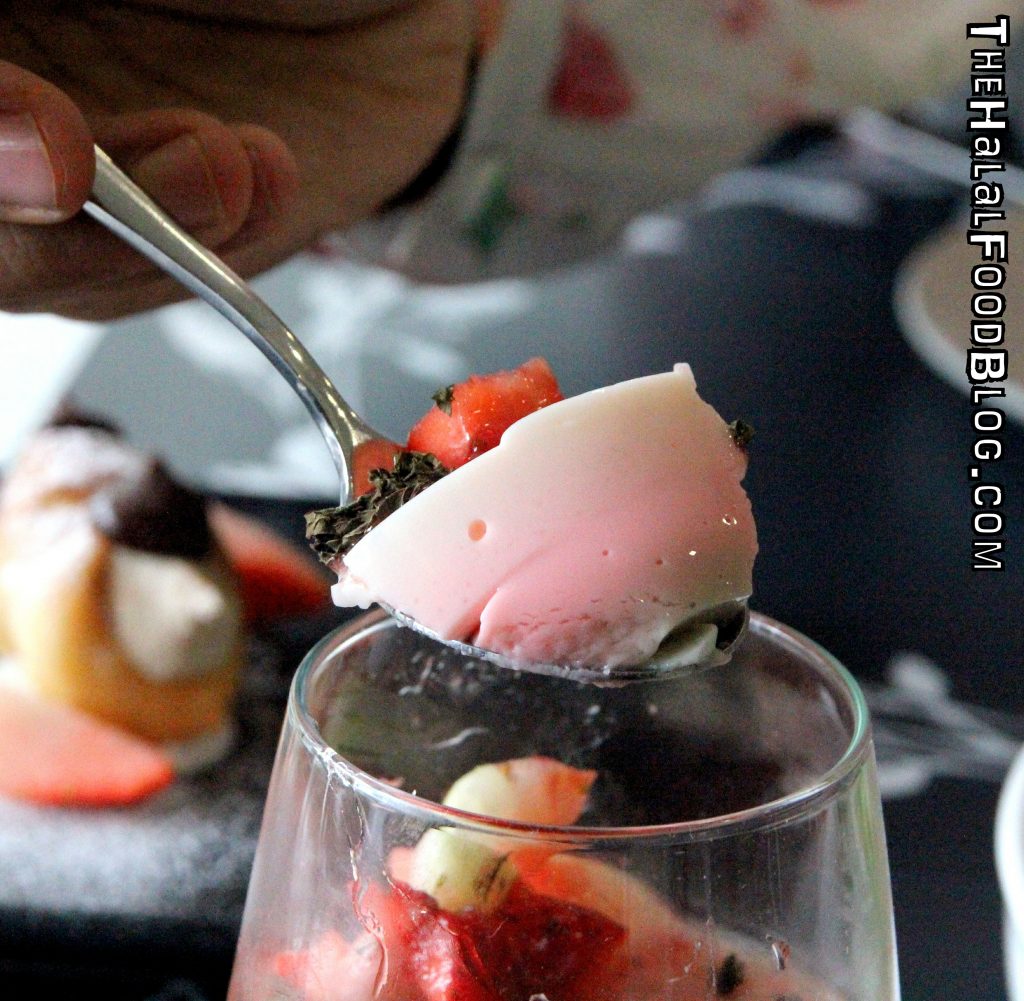 When it comes to Italian desserts, there are 2 that come to the top of my mind – Panna Cotta and Tiramisu (which they also have on the menu by the way).
The Panna Cotta at Seven7h Cucina is rainbow coloured and topped with a berry coulis that gives a nice balance against the creamy pudding. The version here does take on a bit more of a jelly-like appearance but once you pop it in your mouth, you definitely enjoy that smooth and creamy texture we all love about Panna Cotta.
My only regret is that we didn't also order the Tiramisu!! (Guess that's my excuse to visit again!)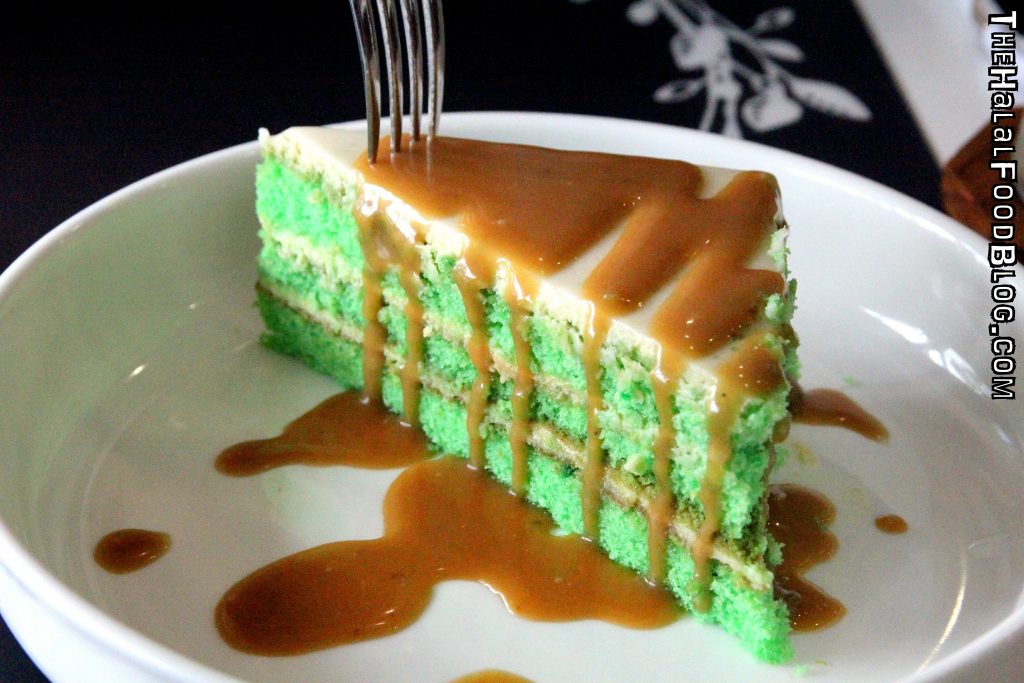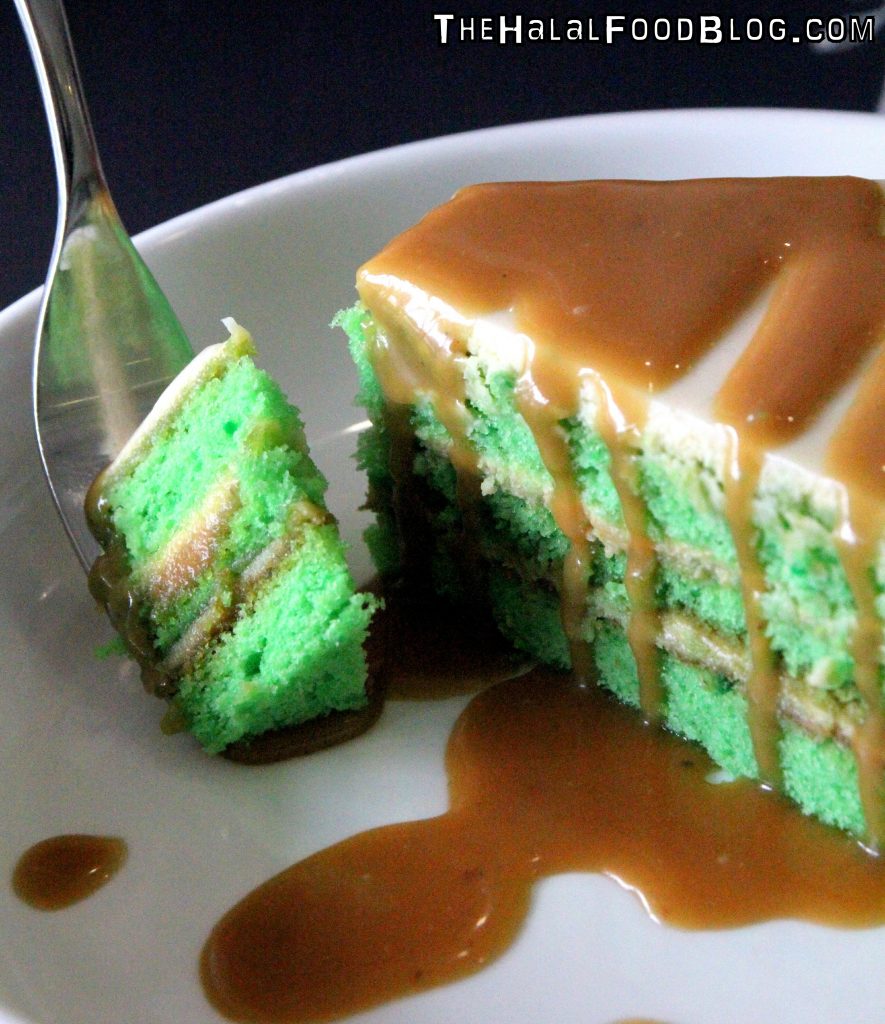 A little bit more of a local flavour with the Ondeh Ondeh Cake. They actually have different cakes on offer from time to time so do check with the friendly staff or have a peek at the display at the front of the restaurant.
And by the way, that Gula Melaka drizzle is powerrrrrrr sedap!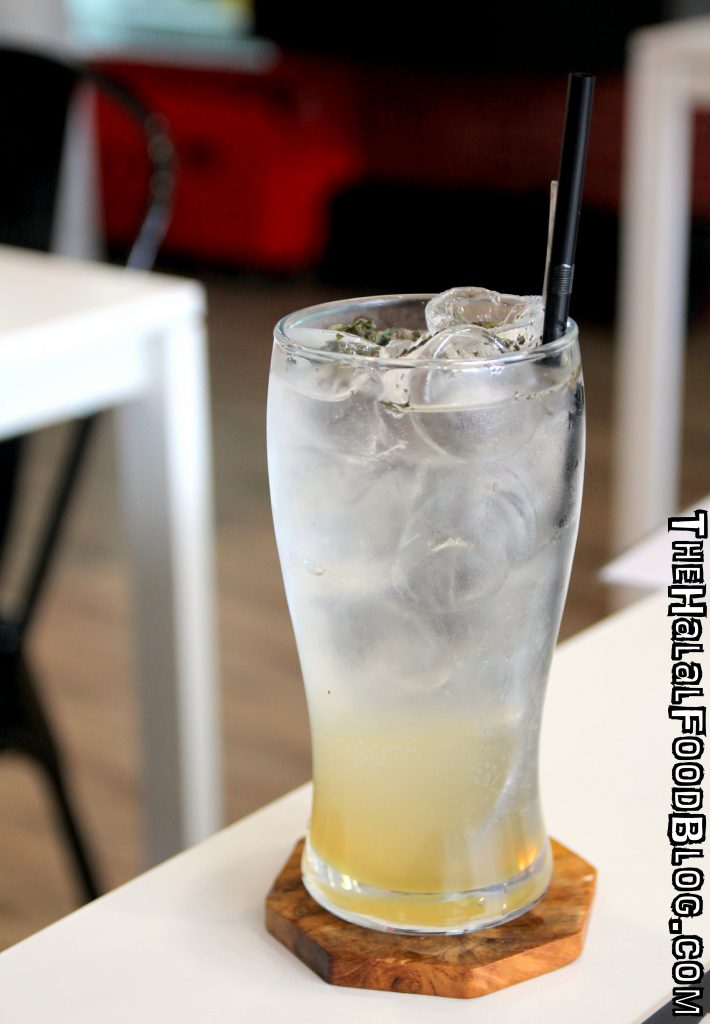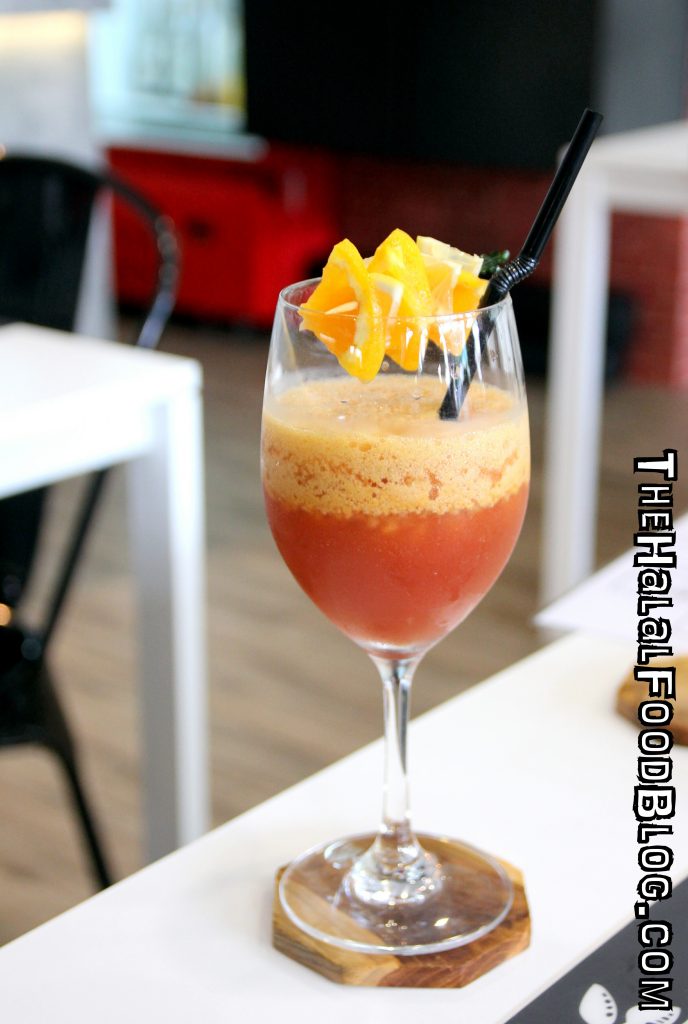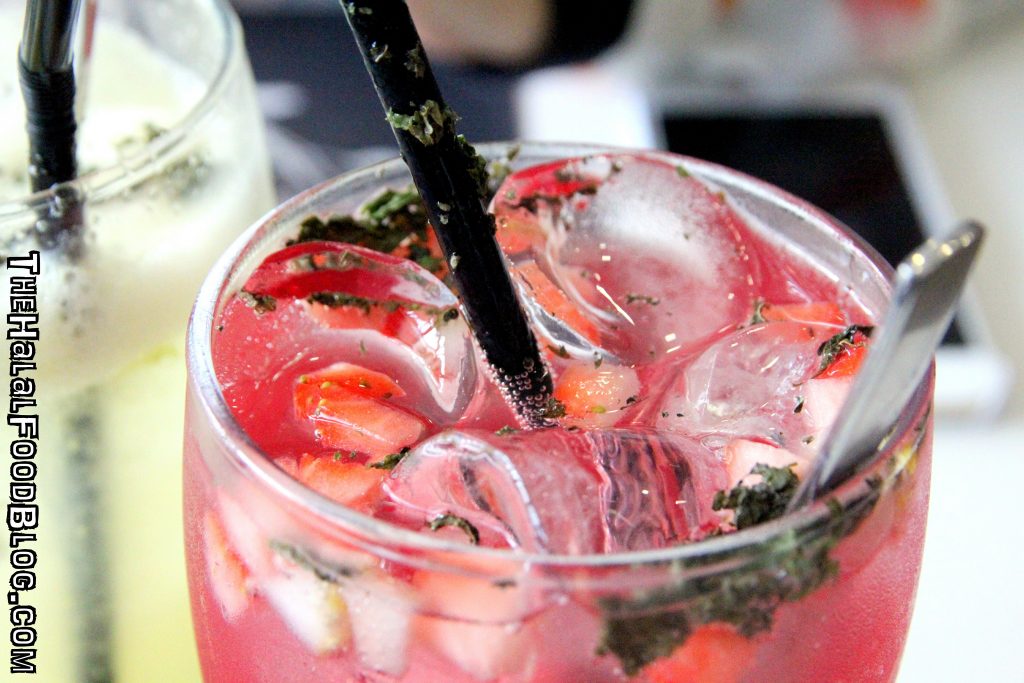 A pretty interesting list of beverages on the menu as well at Seven7h Cucina with sodas and milkshakes taking the spotlight. We tried the PPAP (Pineapple and Apple), Frozen Myang (Premium grape juice, orange, apple and lime) and the Tumble Bae (Strawberry and Orange) with only the Perawan Mojito (Lime and Mint) being missed out.
The Tumble Bae was my favourite with the right balance of sweetness and tang.
Each of the 'Fizzy Drinks' is priced at $5.90.
Besides that, they also have Happy Sodas and Milkshakes on the menu.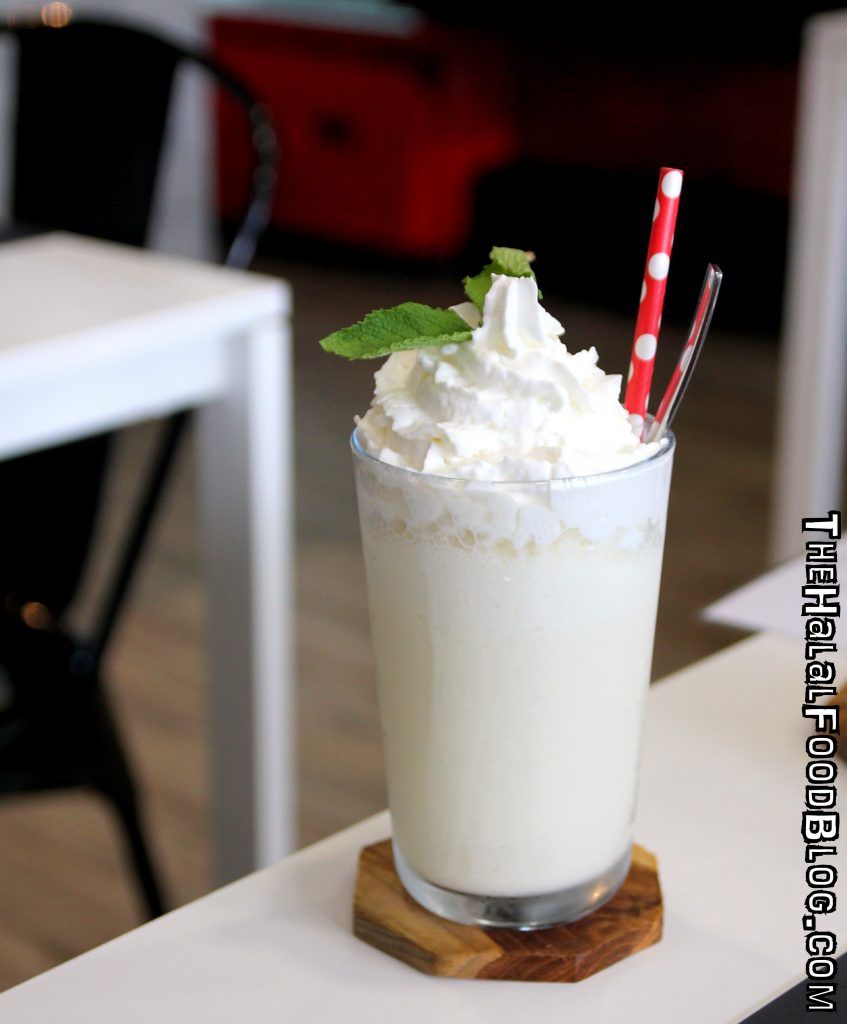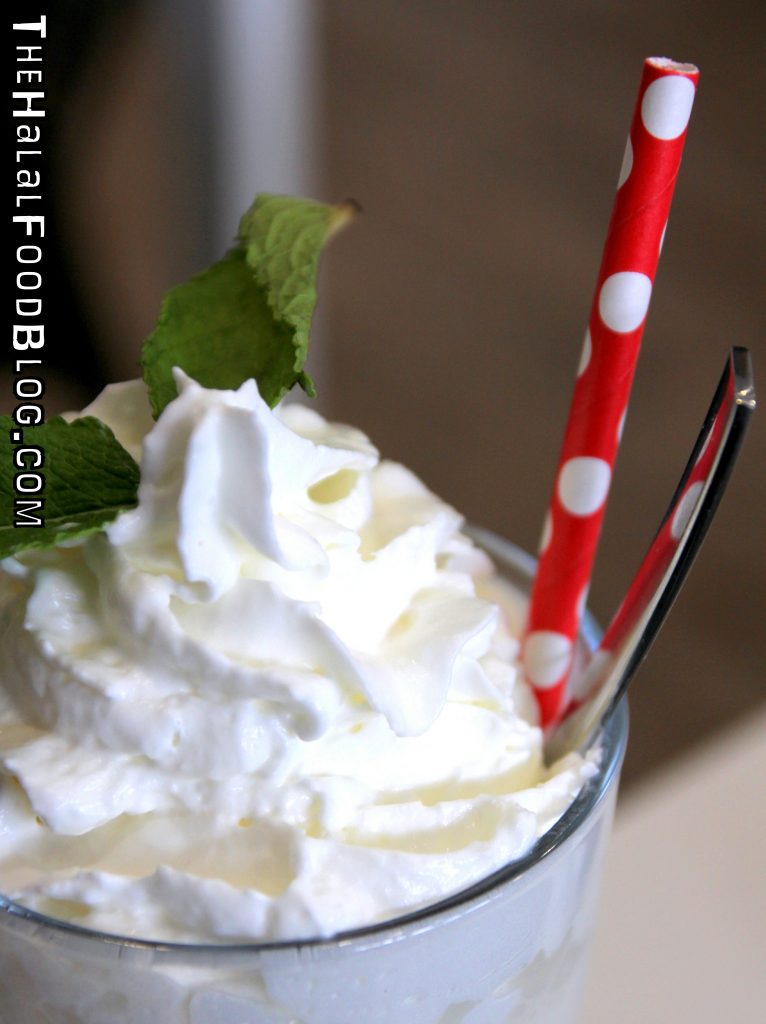 I simply have to mention the one milkshake (that was ordered by Mein Bruder) – the Meleleh.
This was the best drink at the table in my opinion! Sedap to the max! LOL
The menu says "Passion, Banana, Pineapple' and I can definitely taste the banana syrup and maybe even a hint of pineapple. At first, we were thinking "Hmmm.. not much passionfruit taste leh"… and then we realized that the menu did not say "Passionfruit". The menu said "Passion". Which is probably why it tastes so delicious! Because of all the passion they put into making this milkshake! LOL but seriously – it's damn sedap. No wonder lah they named it the Meleleh.
They also have other milkshakes like Minion (Banana and Orange), Elmo (Strawberry), Vaniglia (Milk, Vanilla and Ice Cream), Dalmatian (Oreo and Raisin) and the Chocolate Mentel (Chocolate and Mint) FYI.
I love the vibe at Seven7h Cucina. It can be a laidback, chillax kinda vibe in the daytime for lunch and it even be a bit more sophisticated chic in the evenings for dinner. Definitely a place to consider for gatherings with family and friends or even that dinner date you've been planning for awhile.
One of the geniuses behind Seven7h Cucina is Chef Firdauz Nasir who is no stranger to the ever-changing food scene here in Singapore, You may even had dined at other establishments where he was in charge and you may even have noticed. Well, you can see him from time to time behind the kitchen counter at Seven7h Cucina and you'll see the dedication and passion he (and in fact, all his staff) displays when it comes to the food they churn out.
When I speak to him about his food and his plans for Seven7h Cucina, I can tell that not only does he have big plans to set Seven7h Cucina apart from other bistros but he intends to do so with only the best quality food being served. Quite a large percentage of the ingredients is specially imported and they do intend to make a few adjustments to the menu every couple of months or so and hopefully introduce more exciting dishes.
Well, by the looks of it, Seven7h Cucina is set to be one of the hottest places to visit this year for a hearty and delicious meal. Here's wishing Chef Firdauz and team all the best and we're definitely looking forward to visiting again and seeing what else there is to be enjoyed. Delizioso e grazie!
PS I still gotta go back for that Tiramisu!
*Seven7h Cucina is Muslim-owned and is currently undergoing Halal certification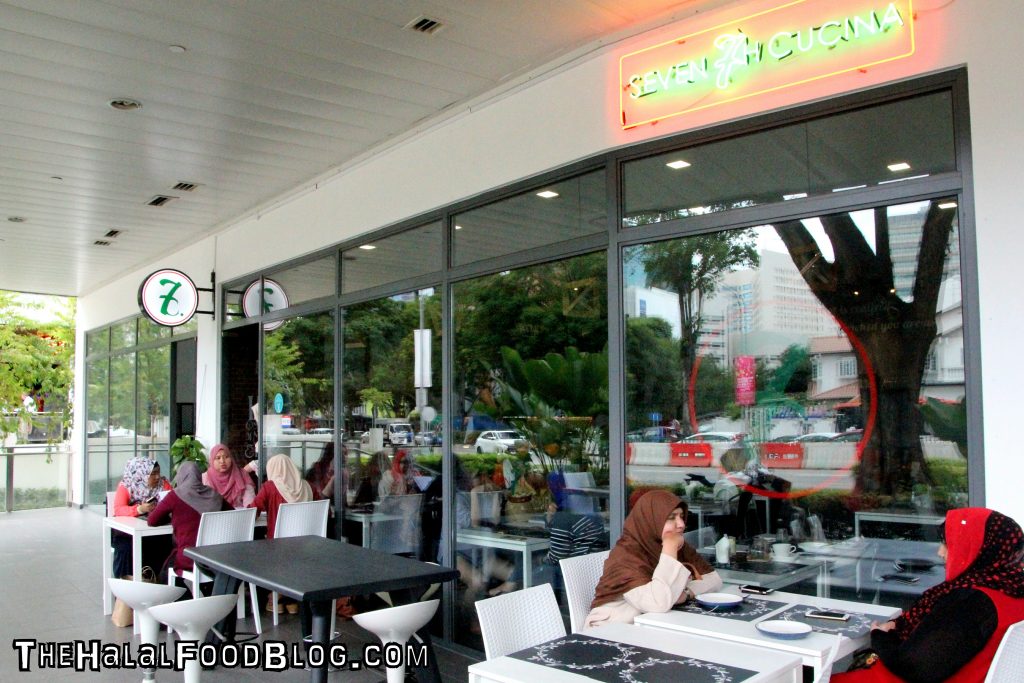 Seven7h Cucina
275 Thomson Road #01-01
Novena Regency
Tel: 6493 2134
Facebook: www.facebook.com/seven7hcucina
Instagram: @seven7hcucina
Operating Hours:
11.00am til 4.00pm (Lunch)
5.00pm til 10.30pm (Dinner)
Daily
All information (including prices, availability of item on menu and Halal status of establishment) are accurate at the time of posting. All photos used in this site are property of The Halal Food Blog unless stated otherwise.
---
Seven7h Cucina offers 10% off for all FRIENDS Card holders. Valid on all purchases except set meals.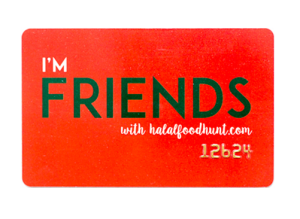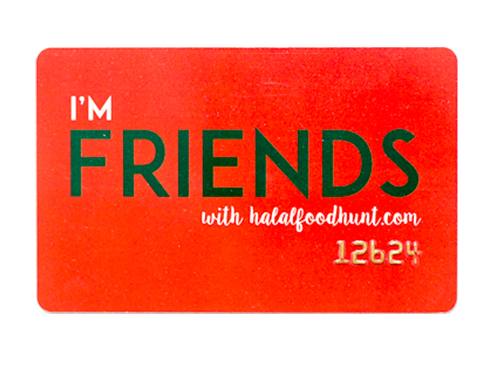 Get your FRIENDS with halalfoodhunt.com Rewards Card now at only $18/year and unlock discounts at over 60 halal restaurants, cafes, bakeries including online e-commerce businesses in Singapore. For a full list of where you can enjoy your card, click here.