I'm sure all of you have heard of (and most probably dined at) Seoul Garden. After all, it was one of the first makan places in Singapore to ever offer Halal-certified Korean cuisine. Yeah it was mostly Korean table BBQ but hey that was already a really big thing at that time seh!
Soon after, Seoul Garden HotPot came along and offered a little bit more variety when it came to Korean Cuisine.
Hotpot and Bibimbap? Those are definitely Korean faves!!
Well, we stumbled upon the restaurant at Harbourfront many years ago and it was a so-so experience to be honest with you. No Table BBQ buffet or anything like that but it was nice to be able to try some Korean cuisins. but we never really made our way back because, well, it's really far from where we live!! But we had to visit Harbourfront again recently and we made it a point to visit Seoul Garden Hot Pot and see if anything had changed.
And boy oh boy were we pleasantly surprised!!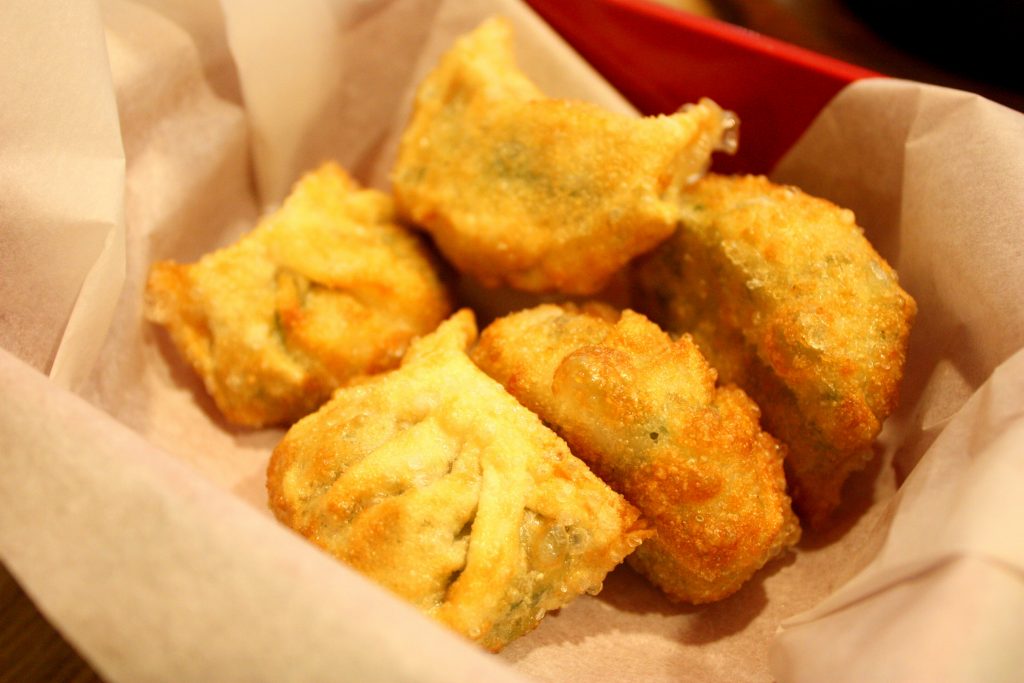 As usual, we started with some appetizers 😛
Or as they call it in the menu – Banchan (which we guess means Appetizers LOL)
I've seen Mandu in TV shows before but this was actually the first we'd actually tried it to be honest.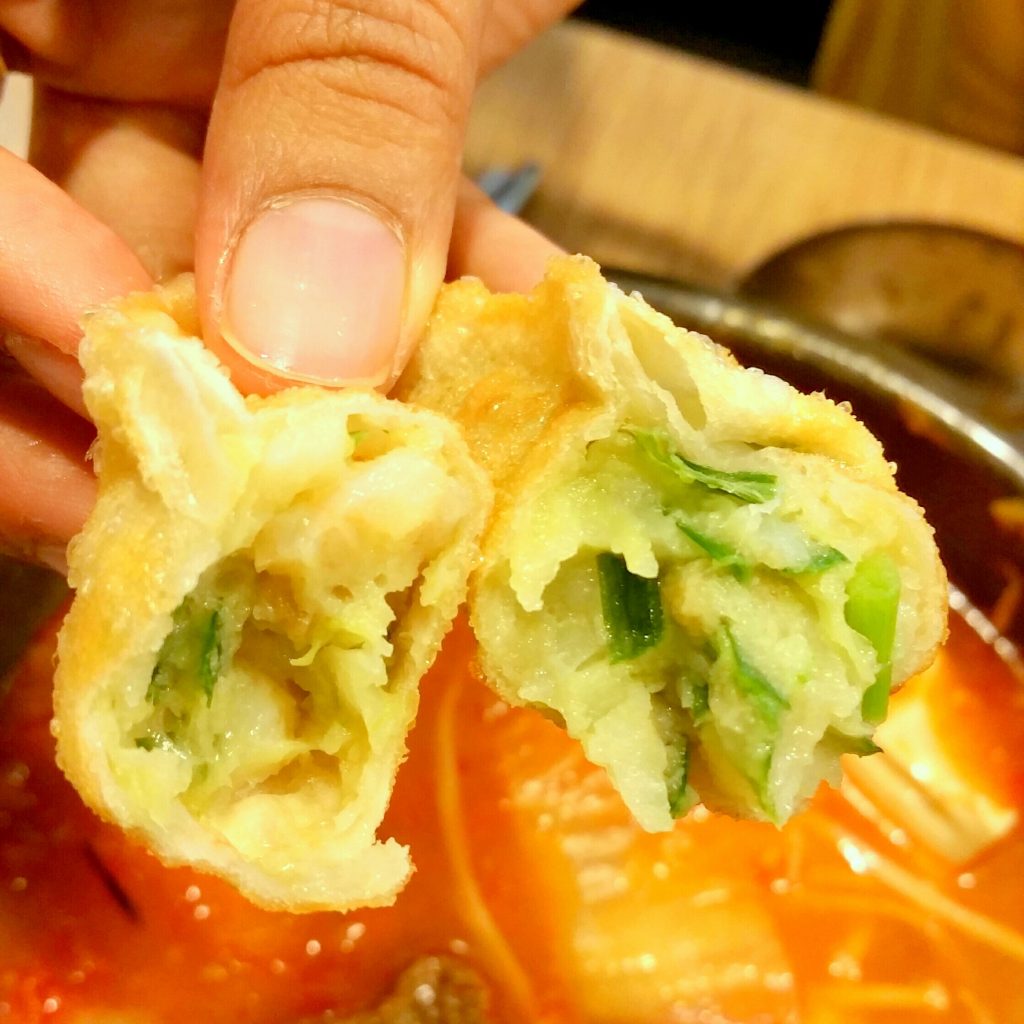 To be very honest I was actually pretty underwhelmed with the Mandu. Maybe I was expecting too much (like a really tasty Korean Har Kow or something) because I really didn't like it.
Mandu is apparently a traditional Korean dumpling that is stuff with seafood and some veggies. So you've got some shrimp in there and what appears to be chives or spring onion or something. It comes with the Korean chili dipping sauce and a good thing too because I found the dumplings to very bland.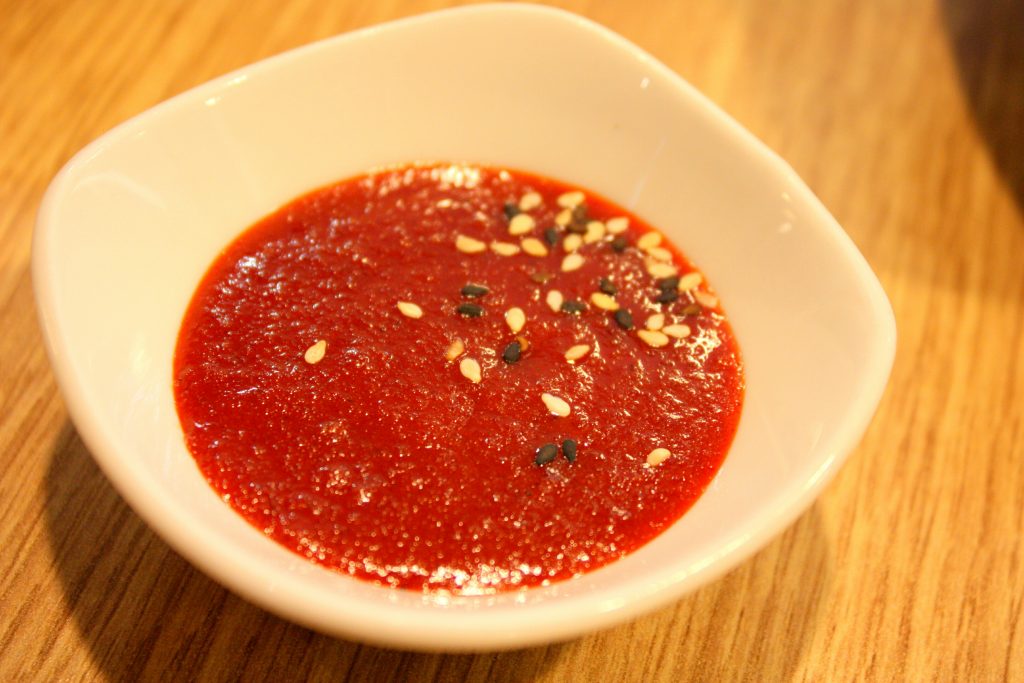 Well, my Darling Wife quite enjoyed the Mandu while for me this was probably the one dish we had that meal that I didn't really fancy.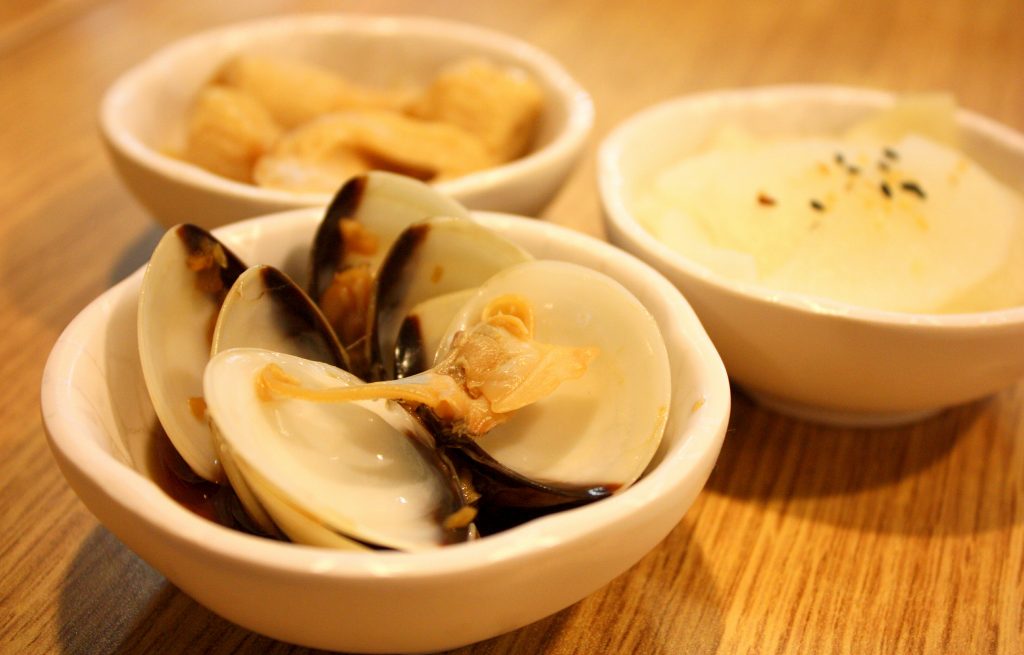 We also ordered some Namul (seasoned vegetables / seafood) to go along.
We actually added $2 to our main dish so we got 3 sides of the Namul of the Day! Good deal!!
They have quite a few choices but we were served the 3 which were set for the day which were namely…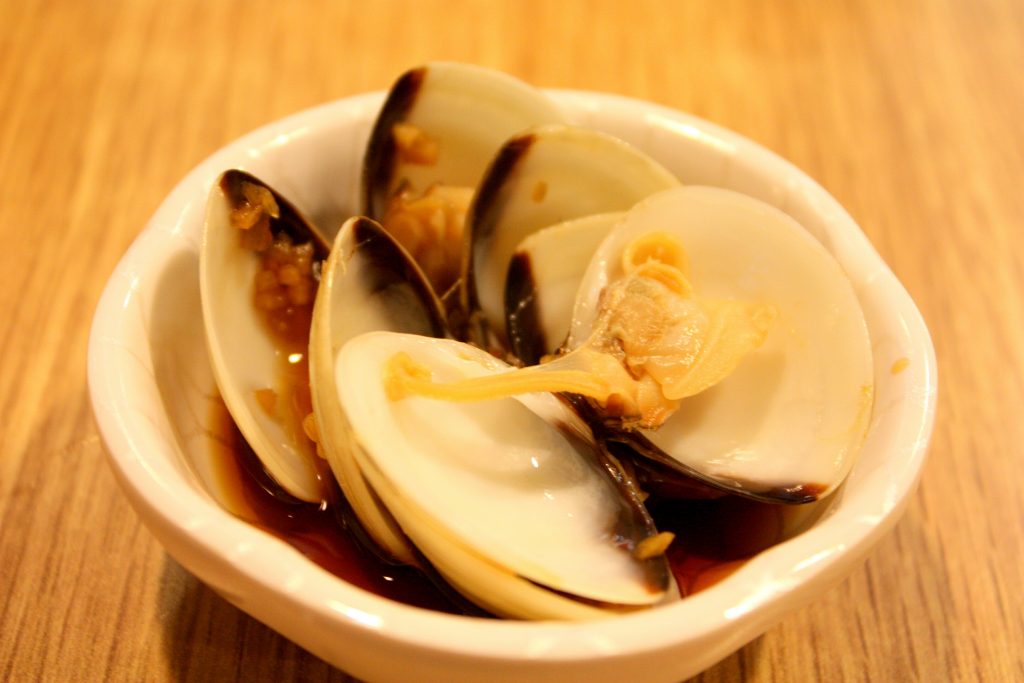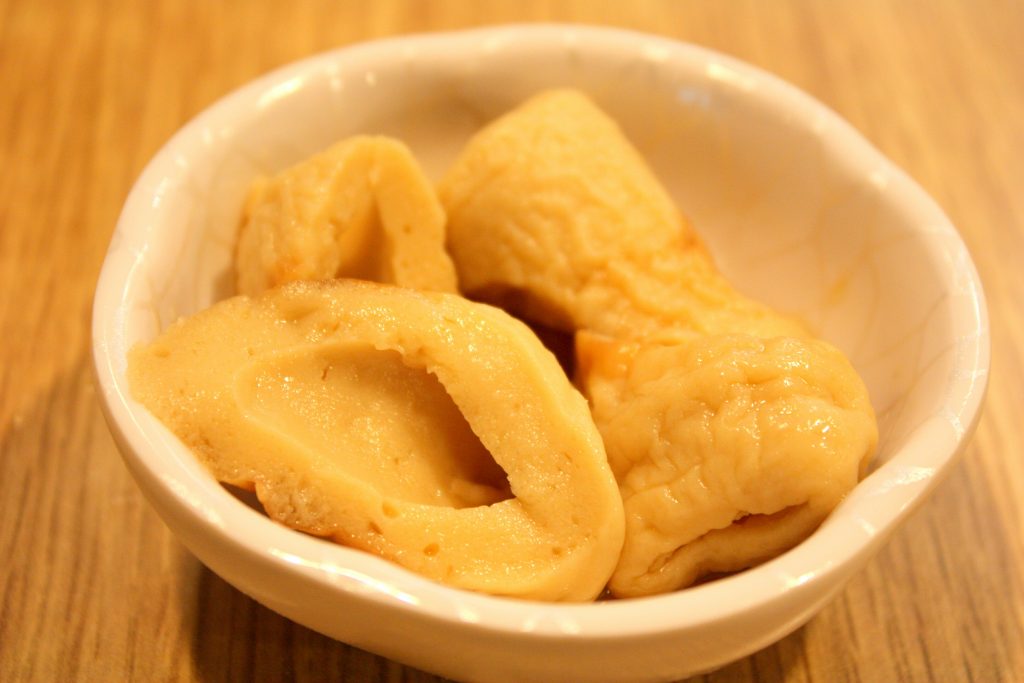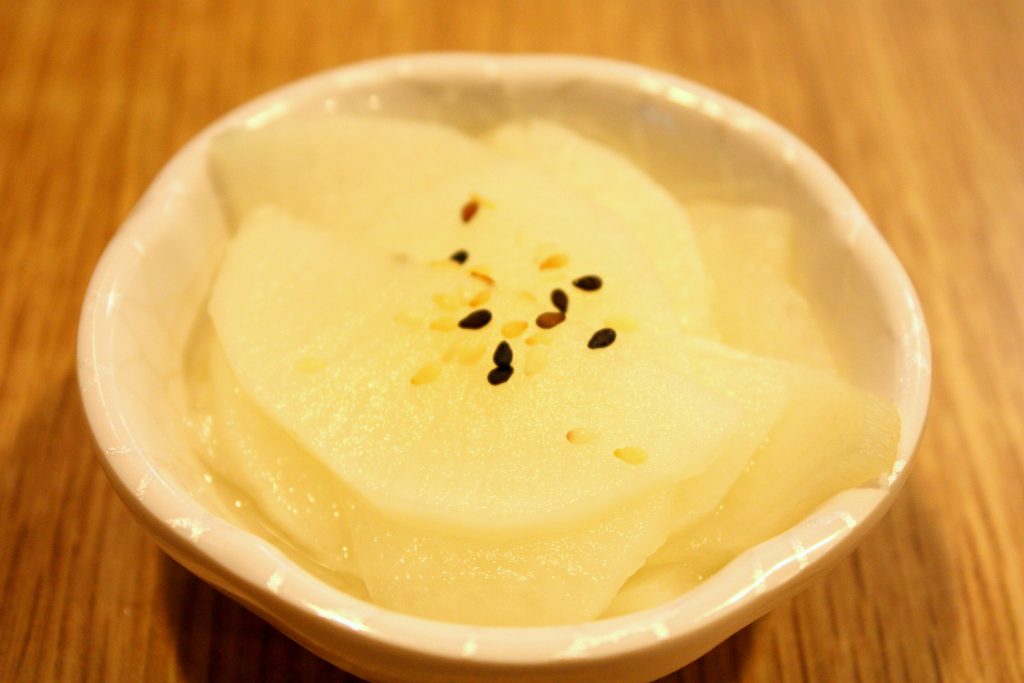 The Seasoned Cold Clams were actually pretty tasty! That's because they're bathing in this soy sauce and I love salty food LOL but if you don't dip into the soy sauce, they're still tasty.
I've had Chikuwa before (I think) and somehow the version here seemed to be…. extra soft.
Maybe it's intended to be that way but yeah it's kinda like fish paste that's been shaped and seasoned and cooked (you've had it during Yong Tau Foo probably.. the small fish tube with the brown stripe). This is another case where I was thankful for the dipping sauce!
And my fave of the trio was the Wasabi Pickled Radish. I absolutely love white radish especially when it's pickled. So if that's your taste, then you're gonna love this too! And don't worry about the Wasabi because it's so subtle we didnt even notice it. In fact, if it wasn't in the name, we wouldn't have known there was Wasabi involved.
They've got other Namul like Spinach, Pickled Cabbage, Marinated Lotus Root and Seasoned Baby Octopus among other things and they cost $4.90 each ala carte. Don't worry – we'll cover a few more later okay 🙂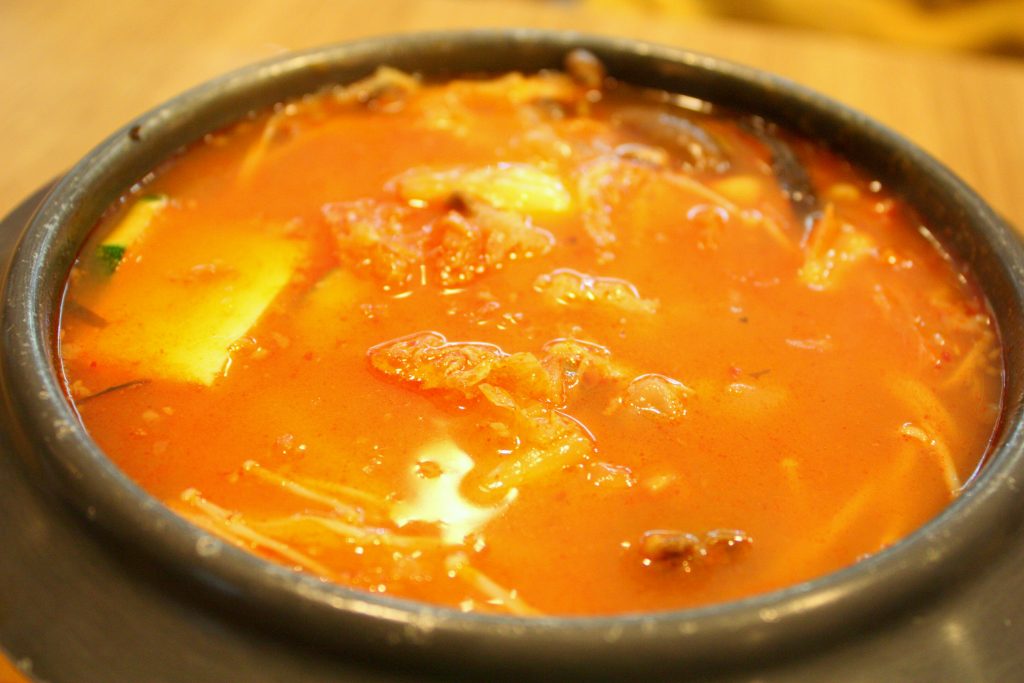 Let us start by saying – ZOMG!
We were looking for a spicy HotPot but more than just veggies at the same time and we found it in this dish! And all the better that's it's beef and beef tendon!!
So you're served this nice big pot that's still bubbling because there's a small flame to keep it piping for you. The kimchi stock  was absolutely delicious and for this dish, the beefy flavour definitely shines through in the stock too! We're talking about real comfort food here. Imagine having this when you're got a cold or maybe during rainy weather… Wah super shoik!!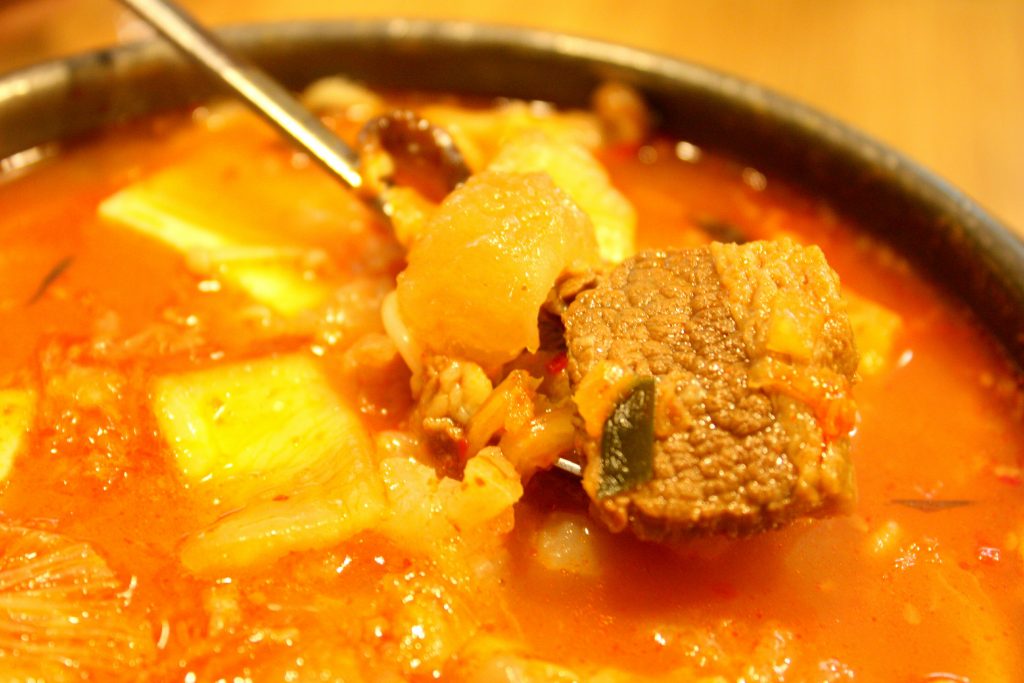 The beef was super tender as you can imagine and the tendon were little morsels of gelatinous goodness! Pair that with come veggies like cabbage and cucumber and this is a winner folks. We added some soft tofu for an extra $1.00 and it was totally worth it.
They have plenty of other types of Hotpot to choose from including Seafood, Mandu, Dubu Jjigae (Tofu, mushrooms, clams and egg) and even a Ginseng Chicken Hotpot too!
The Hotpot comes served with some white rice but you can top-up to Kimgaru Rice which is a shredded seaweed rice. Totally recommended by the way.
The option to change to Kimgaru Rice also applies to the following dish…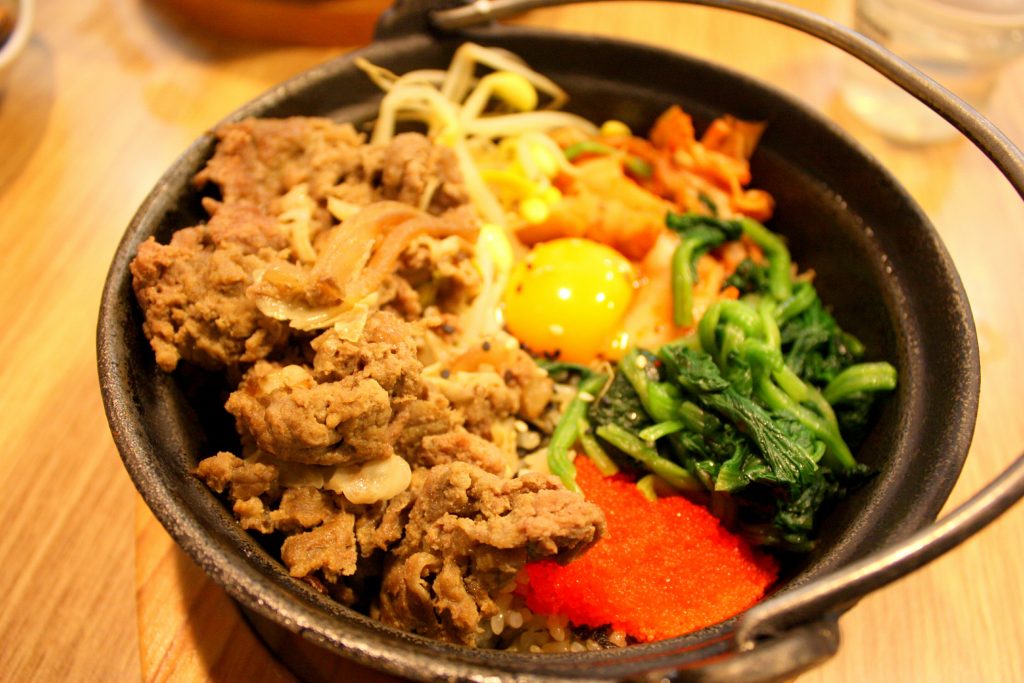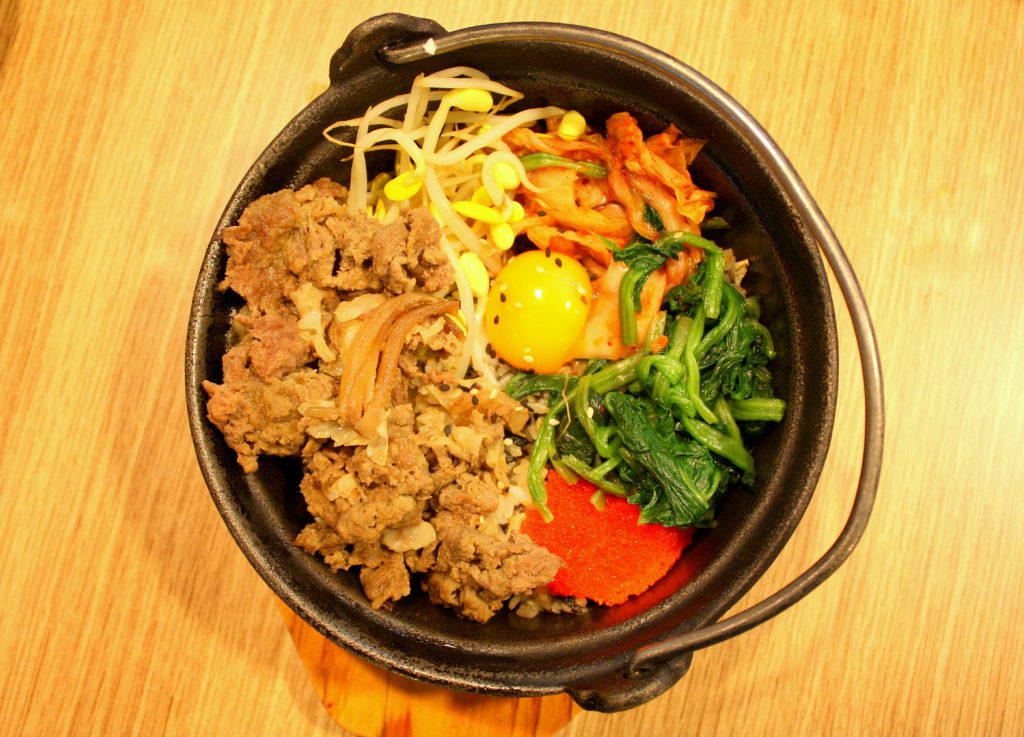 I have such a thing for Bibimbap. If I see it on the menu, there's a 99% chance I'm gonna order it.
There's just something about a nice big hot pot of rice mixed up with all kinds of goodies! Can't resist!
So what exactly is Bibimbap? Well, it literally translates to 'Mixed Rice' and there are so many varieties to choose from. You've got chicken, fish, seafood and veggies Bap. But one of the all-time faves is beef and I'm specifically referring to the Beef Bulgogi Bap!
So a bed of rice (I upgraded to Kimgaru Rice by the way) is laid out with tender and succulent slices of seasoned beef bulgogi that is super tasty. Accompanying the beef is been sprouts (crunchy!!), Kimchi, onions, spinach and even some Ebiko roe too!! You can also add a spicy kick with the chili sauce they have at the table!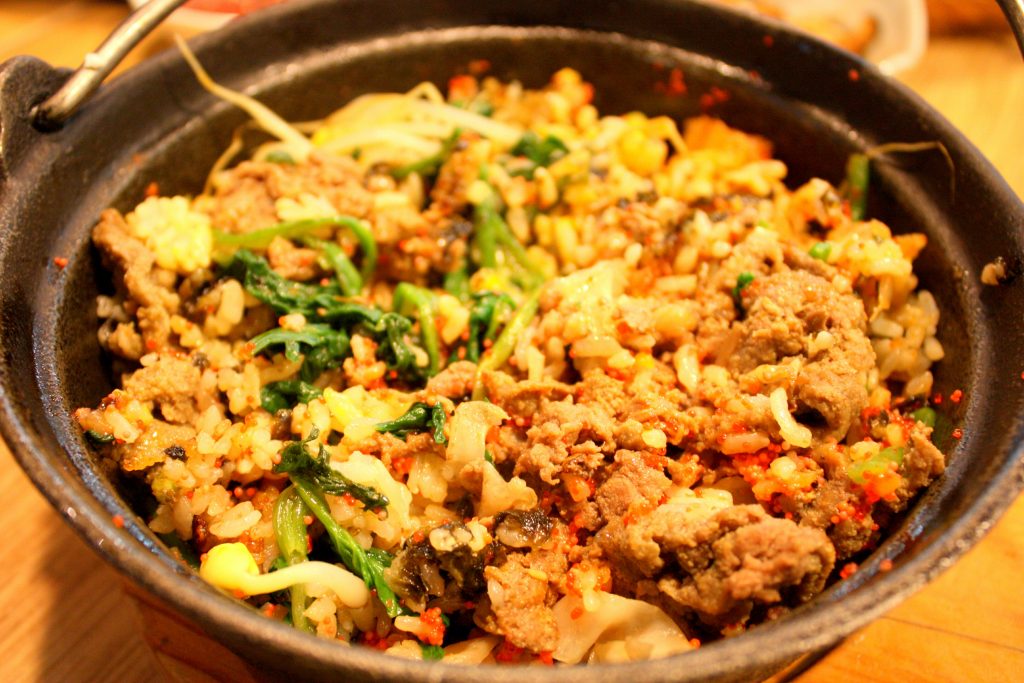 So after mixing up the whole lot, this is probably what you'll end up with – a nice tasty hot mess! LOL
So dig in and savour every spoonful because it's really a super satisfying super comforting and super filling dish.
To be honest I kept switching between the Hotpot and the Bibimbap because they were both so good :\
Plus I'm really greedy 😀
Oh and before we forget, we did promise a few more Namul yeah?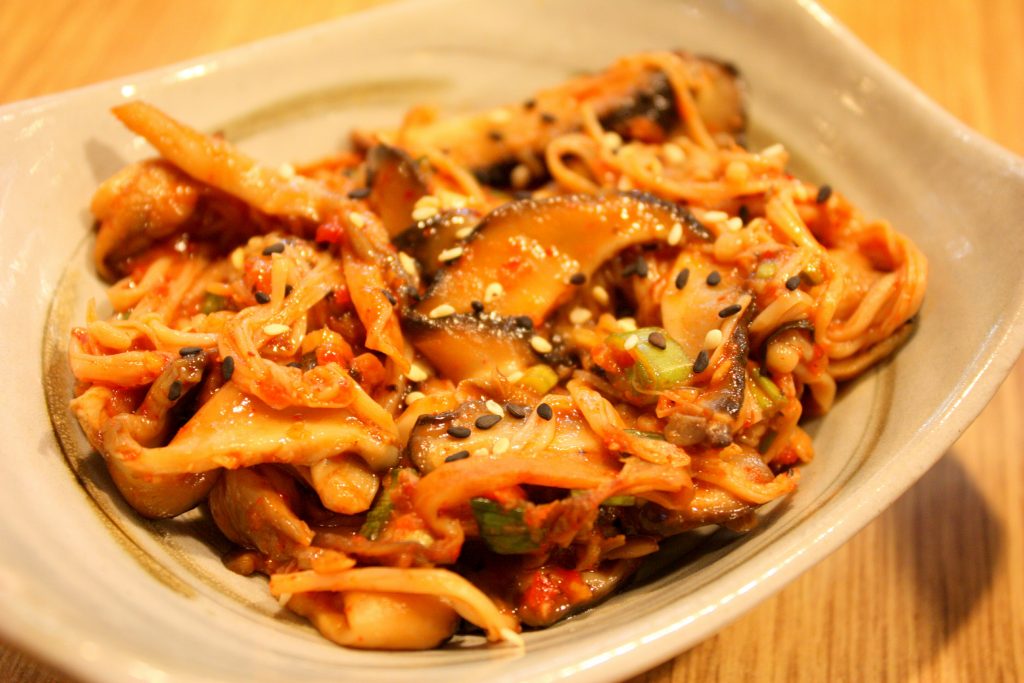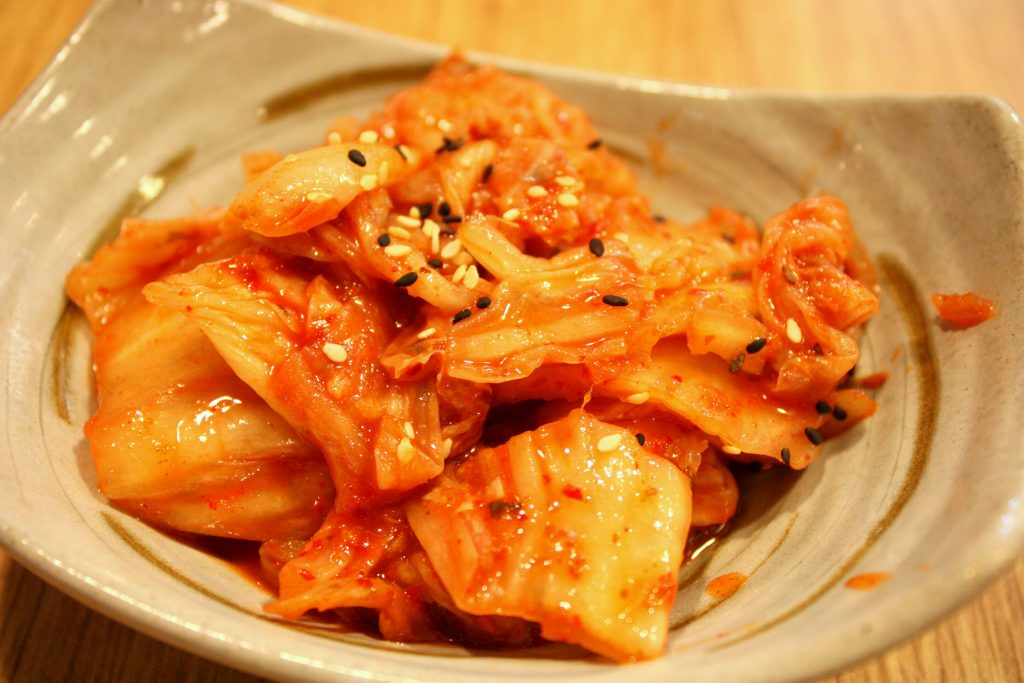 Kimchi ($4.90)
Kimchi is probably one of the foods most associated with Korean food and for good reason too – it's bloody delicious! All nice and crunchy and spicy ooh la la! Well, it is to us anyways. Pickled spicy cabbage? Can't go wrong there. If you haven't tried it before, try it!!
And of course our love for mushrooms knows no bounds! The Assorted Mushrooms also has a spicy kick to it (much like Kimchi) so you'd probably be better off just ordering one or you'll be in danger of not finishing all your food! This is like another level of Kimchi but with mushrooms!!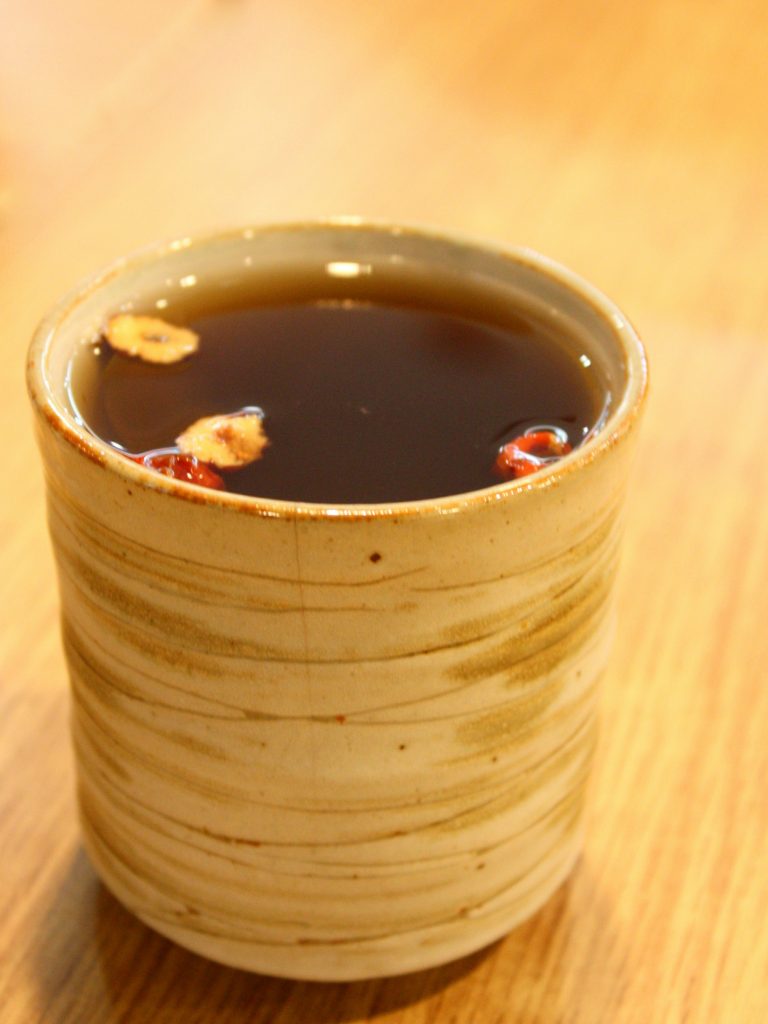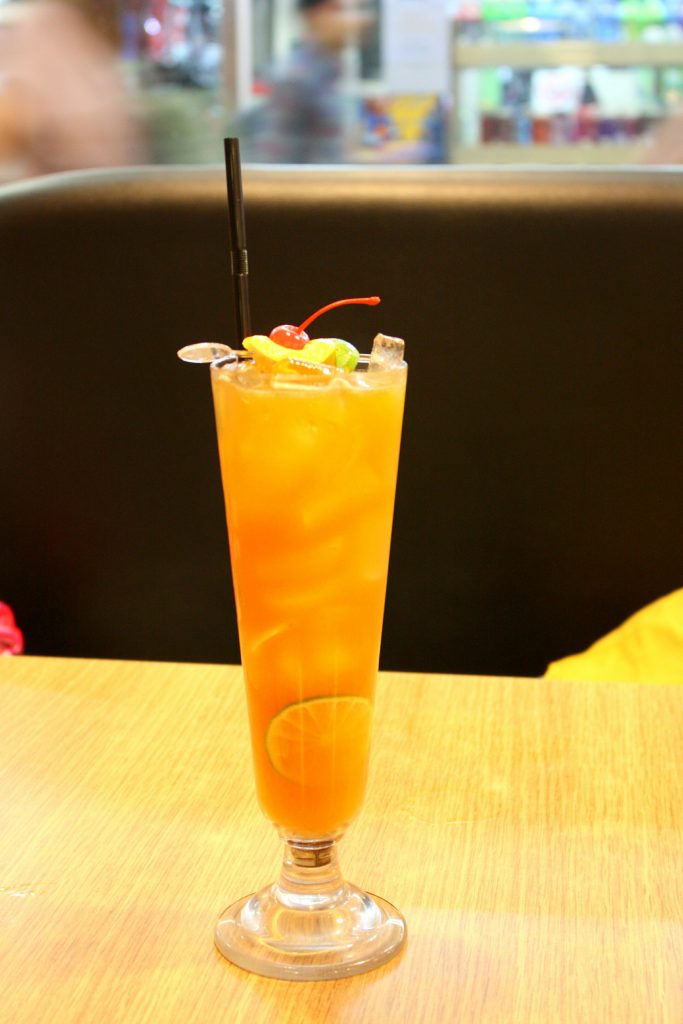 So to wash down all that yummy (and spicy) food, try the Cinnamon Tea. You can either have it hot or cold and it's prefect to cleanse your palate as you indulge in all the various Korean flavours. And the best part – it's free flow!! But don't overdo it because if you drink too much you're not gonna be able to finish all that food.
Or for a tropical touch, go for the Iced Lime Tea. Tangy and refreshing and not overly sweet. This one should be a hit with the kids too.
Adam's Verdict:
Beef And Tendon Hotpot 4/5 — Beef Bulgogi Bibimbap 4.5/5 –Mandu 1.5/5
Kimchi 5/5 — Assorted Mushrooms 4.5/5 — Cinnamon Tea 5/5 – Iced Lime tea 2/5
Maryah's Verdict:
Beef And Tendon Hotpot 5/5 — Mandu 4/5 — Kimchi 4.5/5 — Assorted Mushrooms 4.5/5
Cinnamon Tea 4.5/5 — Iced Lime Tea 4.5/5
CHILD FRIENDLY RATING 4/5
Baby chairs available and plenty of space to fit a stroller in between tables too. Just watch out for those hotpots and kids y'know what I mean?
Seoul Garden HotPot seems to have made some major improvements since the last time we visited. A great menu where pretty much almost everything we ordered was delicious and the staff were super warm and polite too. it may be a really long journey to Harbourfront but luckily they also have Seoul Garden HotPot restaurants at Cineleisure Orchard, IMM Building, Jurong Point and Paya Lebar Square!
Hope we get to drop by again soon because there are so many other things to try on the menu.
But something tells me we're gonna order a lot of the same stuff!
  HarbourFront Centre
  1 Maritime Square #02-03/04
  Tel: 6275 6338
  www.seoulgarden.com.sg/sghotpot
  Operating Hours 11.30am til 10.30pm Daily
All information (including prices, availability of item on menu and Halal status of establishment) are accurate at the time of posting. All photos used in this site are property of The Halal Food Blog unless stated otherwise.