I remember when we first visited the Seoul Garden HotPot at Harbourfront. It was a really enjoyable meal no doubt but unfortunately it was a really long ways away from the East where we are based. Well, the good news is that Seoul Garden HotPot has opened more outlets!
We were lucky to chance upon the Seoul Garden HotPot located at one of the newer malls in the East – Paya Lebar Square! There were so many choices we saw while we were walking around but our mission was clear – we had to have that delicious Korean food!!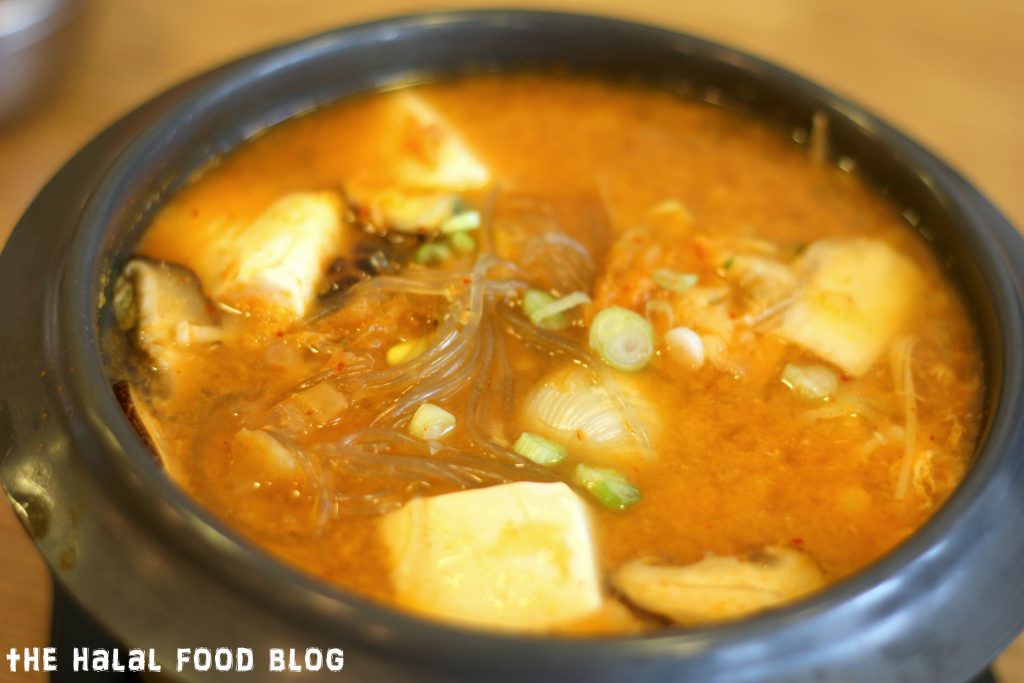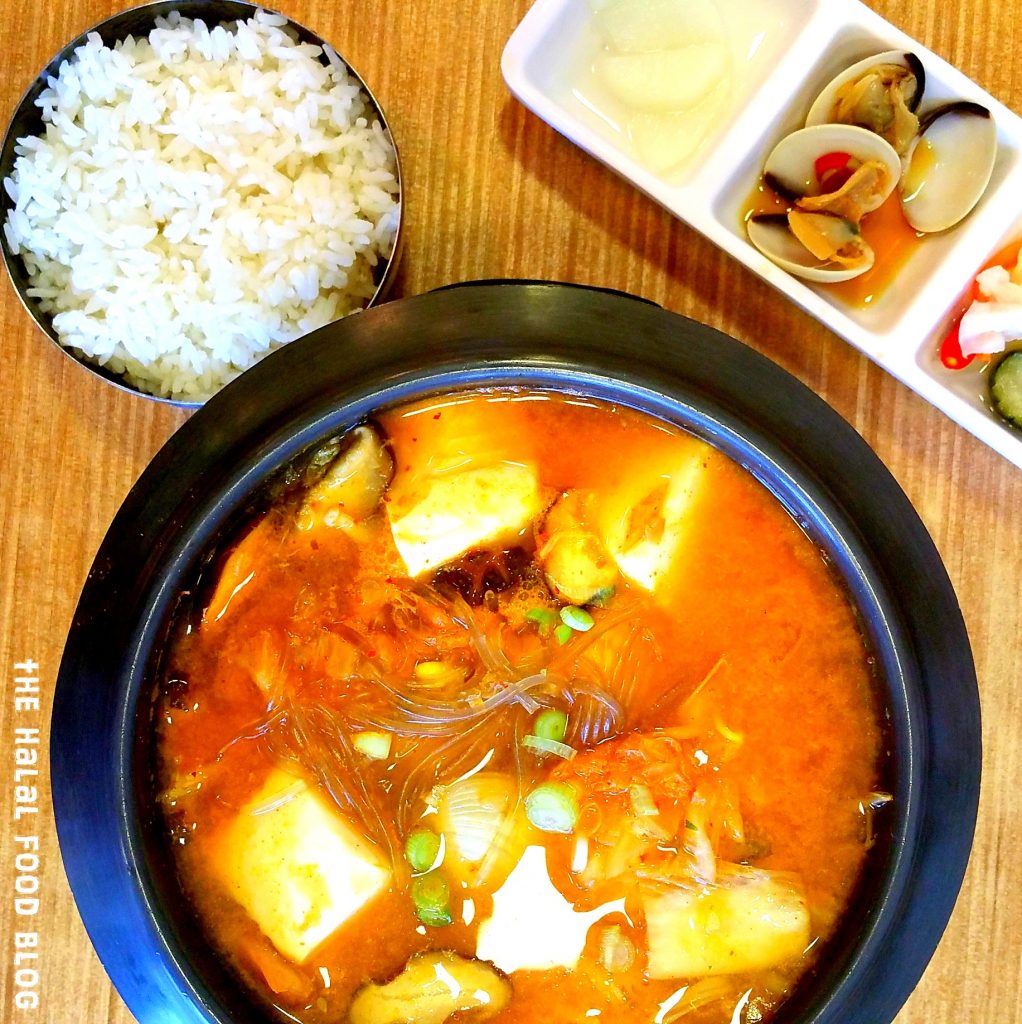 During our first visit, we had the Braised Beef and Tendon HotPot and this time we wanted to try a different one. Partly because we wanted to try something new but also because we wanted to have something that my Darling Wife could also share with our Little Princess.
The Dubu Jigae HotPot turned out to be the perfect choice!!
It's got mushrooms, clams, some Pollack fish slices (more on that later) and also lots of soft tofu in there so it's actually quite a healthy choice now that I think about it. And definitely suitable for sharing with children like I mentioned earlier. It's got a nice and subtle taste to it and suitable for those who don't really like it too spicy.
And speaking of spicy, this is one of the HotPot choices that comes in a Kimchi Jigae stock base. This is supposed to be a spicier version compared to the Miso base (which you can choose for some of the other HotPot choices). But anyways it's not as spicy as it looks. Seriously.
And if we were to compare with the Braised Beef and Tendon HotPot, I think that the Braised Beef and Tendon HotPot has a richer and deeper flavour probably because of the beefy essence to that one. This Dubu Jigae HotPot has simpler and healthier items in it hence a more pure flavour I guess. Anyways, still sedap lah. LOL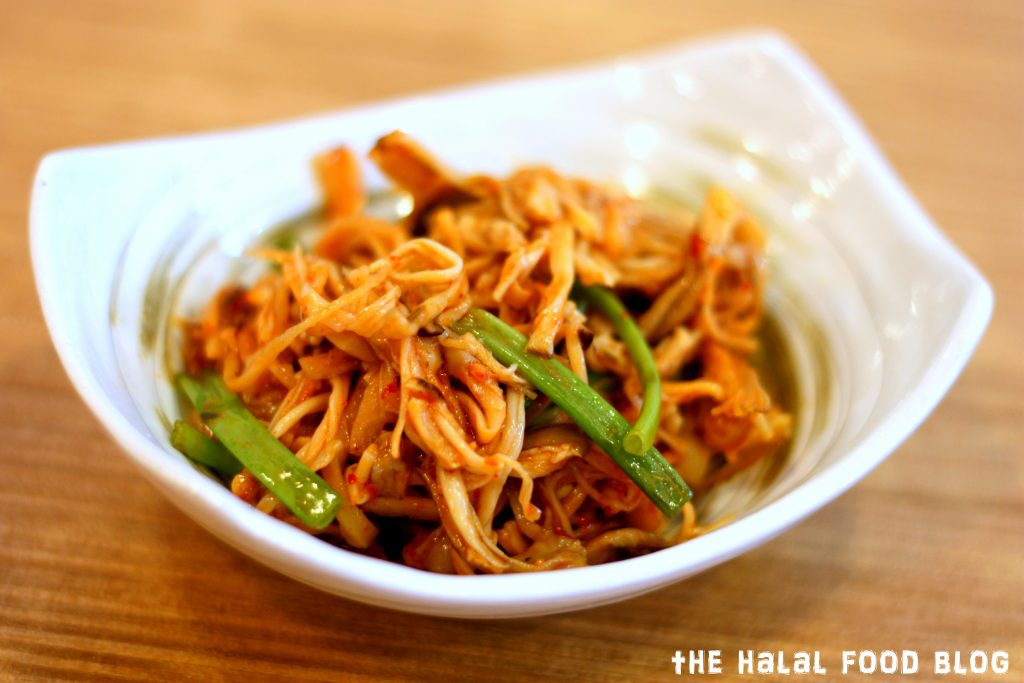 Alamak I should have started with the side dishes and appetizers lah LOL sorry sorry.
The Assorted Mushrooms was a favourite during our first visit so we definitely had to have it again this time. But it's a little different here. The first one we had consisted of a wider variety of mushrooms while this one seems to have pretty much Enoki mushrooms. Not to say that it's not delicious that is. The Kimchi flavour still shines through and we will always love mushrooms. Guess it's just… different.
Check out the pic of the original by clicking HERE.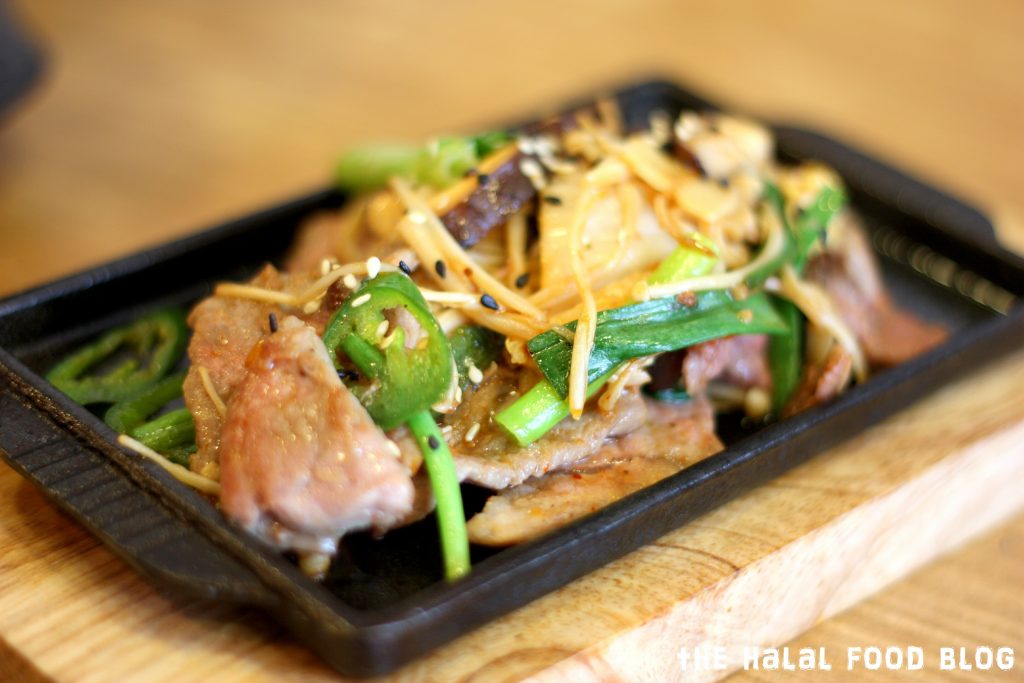 Whoa this must be the best find of this meal!!
So we saw the hotplate choices and we chose the beef and no regrets at all. This was absolutely delicious! The beef slices were tender and cooked just right! There's some veggies (including mushrooms) mixed in there so it seems more like a beef stir-fry served on a hotplate but maybe being simple is why this dish was a winner with us.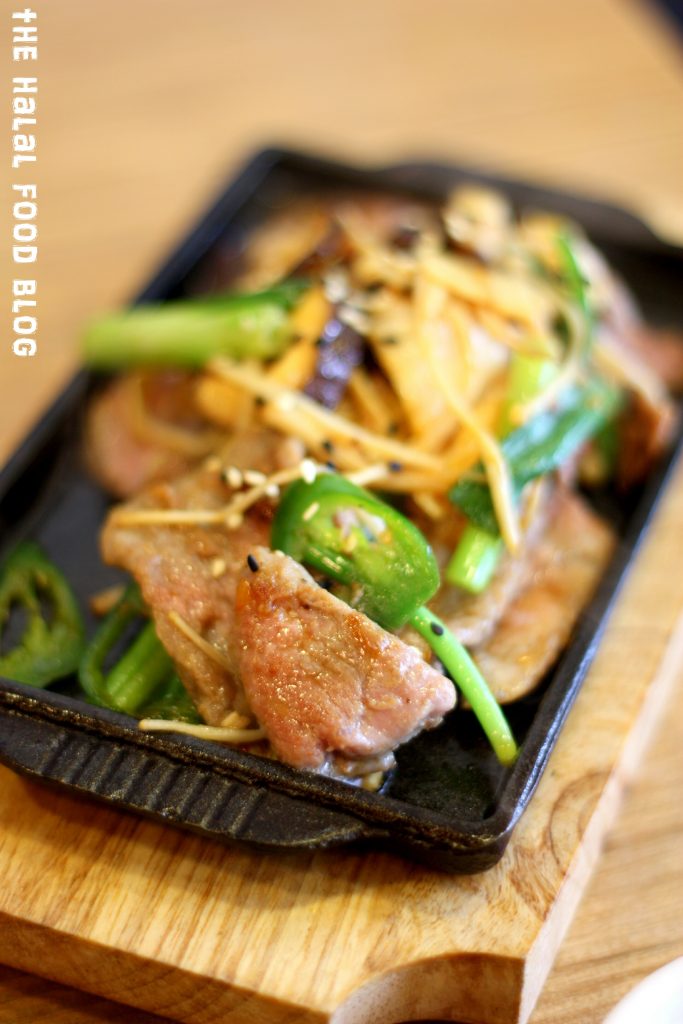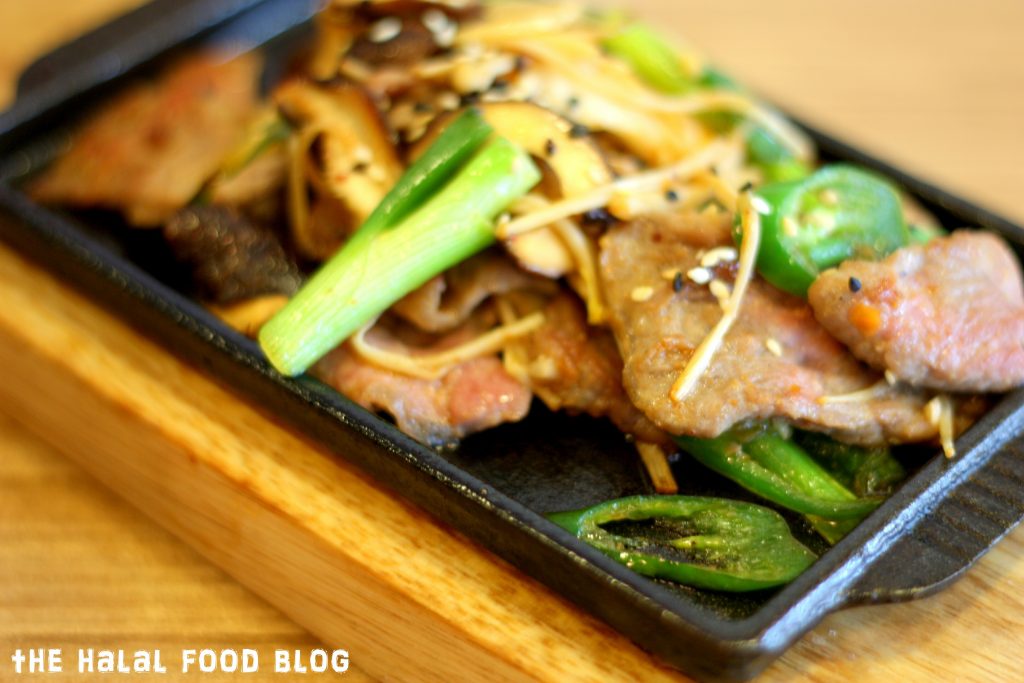 There was also very minimal seasoning on the beef. No sauce or gravy. Just beef and some veggies.
And it was absolutely power to the max.
I guess the only thing we'd probably like more is if the dish didn't cost so much LOL
At $12.90, wished there could have been more meat perhaps? Or lower the price for the same? Oh well.
Once in awhile okay lah. At least sedap.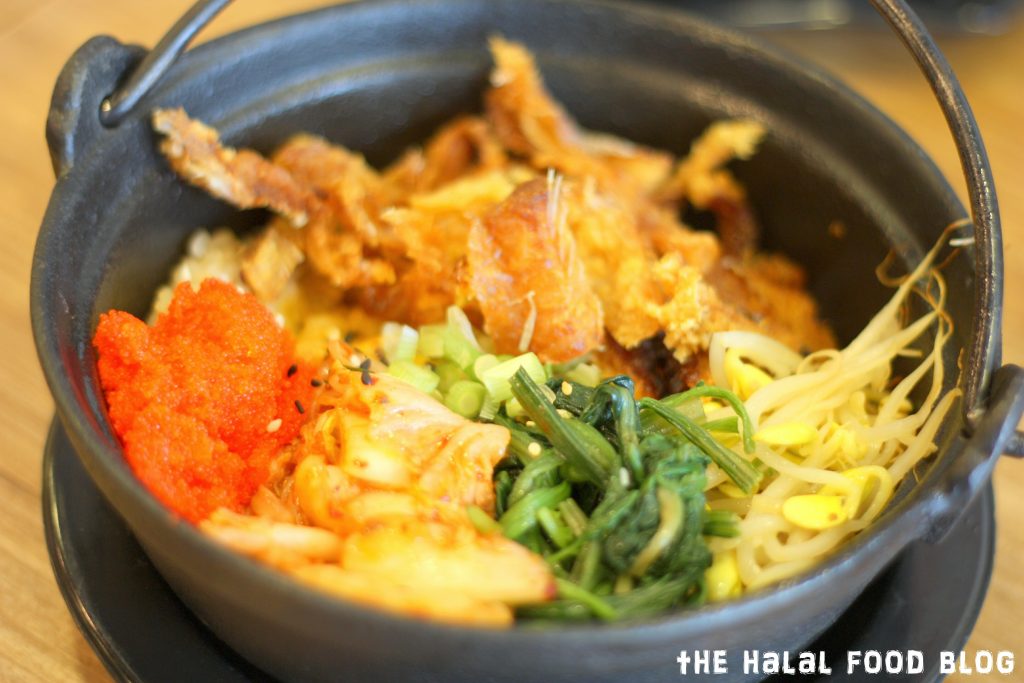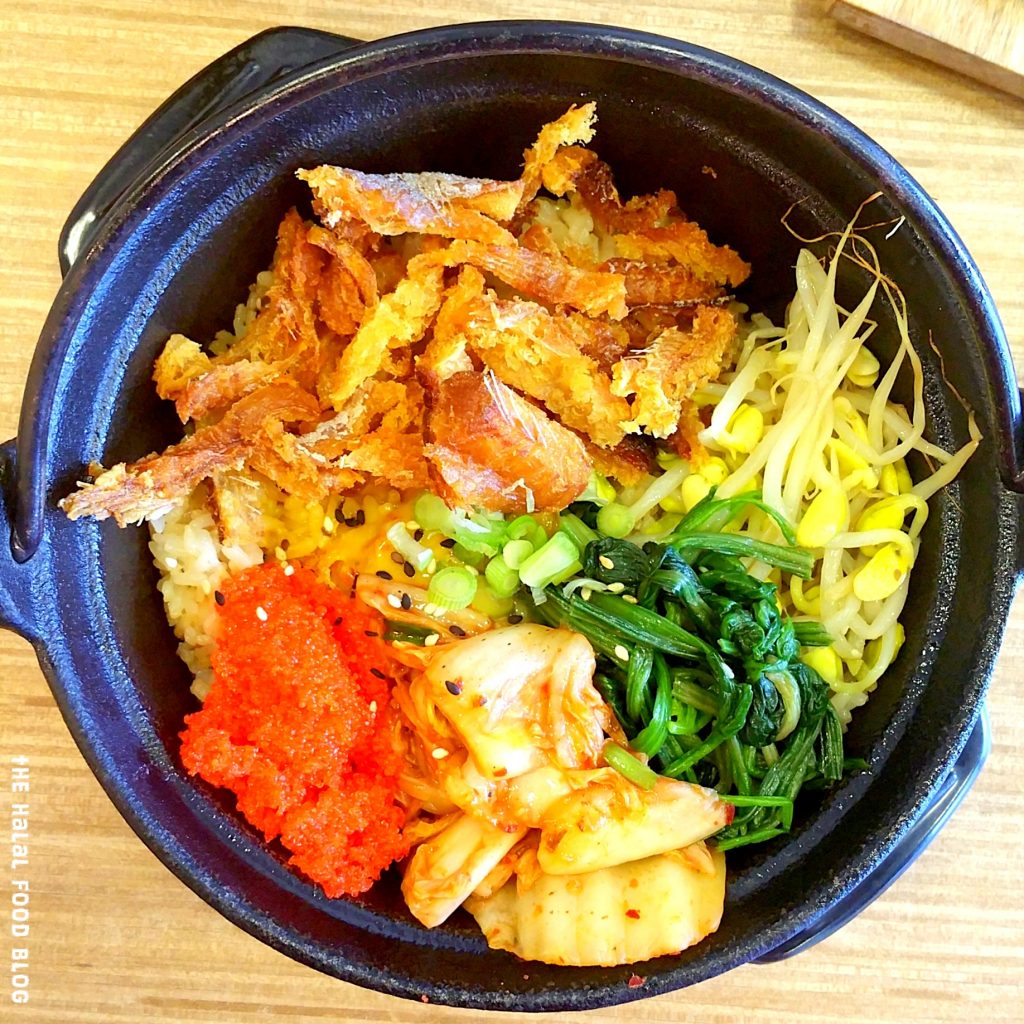 As always, I end up ordering Bibimbap. I guess there's just something about it that I love so much. Maybe it's all the different components that make it up. Maybe it's the mixing it all up. Maybe it's the big metal pot. Who knows. I only know that I really like it. LOL
Last time I had the Beef Bulggogi Bap which I think would probably be a first choice for most people (either that or the Chicken Bulggogi of course) but I figured I'd try something else this time so it was either this or the Prawn Omelette Kimgaru Bap.
The usual components are still there including spinach, bean sprouts, Kimchi, Ebiko roe, egg and of course, the Pollack Fish. Everything rests atop rice which you always choose to top-up and get Kimgaru Rice which is kinda like a seaweed rice (and something we highly recommend).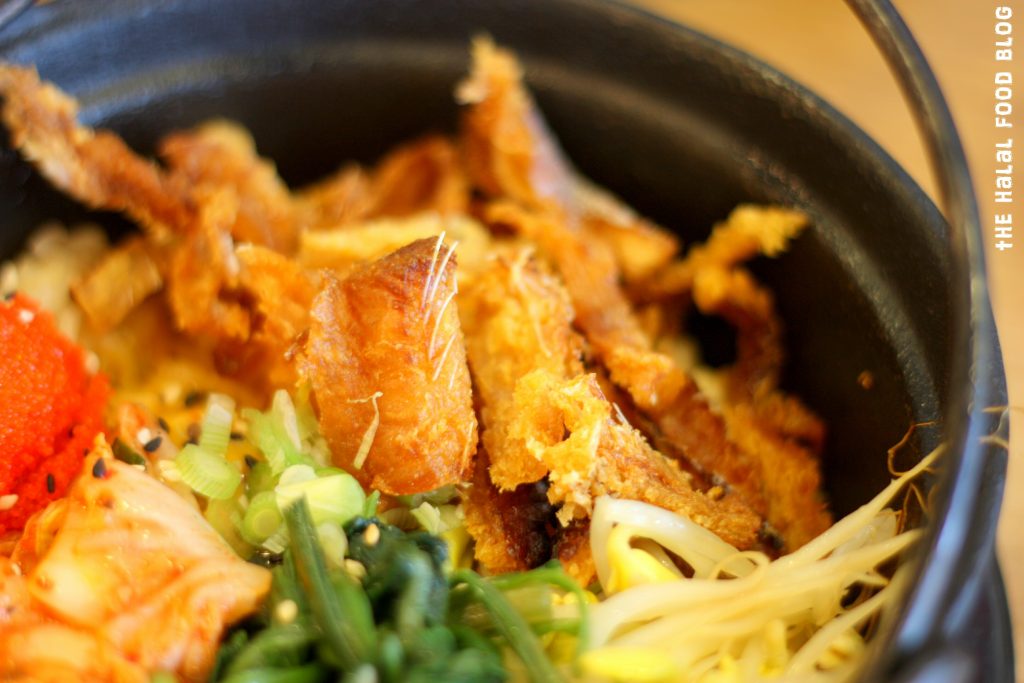 You know what – I tried to find the Malay name for Pollock and I couldn't find the answer!! LOL It's also referred to as the Pollock in most cases but it's the Pollack Fish on this menu. Who knows maybe one of you can send us the answer! (Seriously. If you know, please tell us)
Well, what we do know is that it's a whitefish and related to the Cod somehow.
For this dish, it's deep fried so it becomes quite crispy. I actually think that the fish is a little dried before it's used which is quite okay because it's got texture to it. I'm not sure if it's for everyone but I actually really liked it.
You'll also find some slices of this fish in the Dubu Jigae HotPot (and probably the Seafood HotPot too) but because it's soaking on broth, it gets quite soft and still very nice.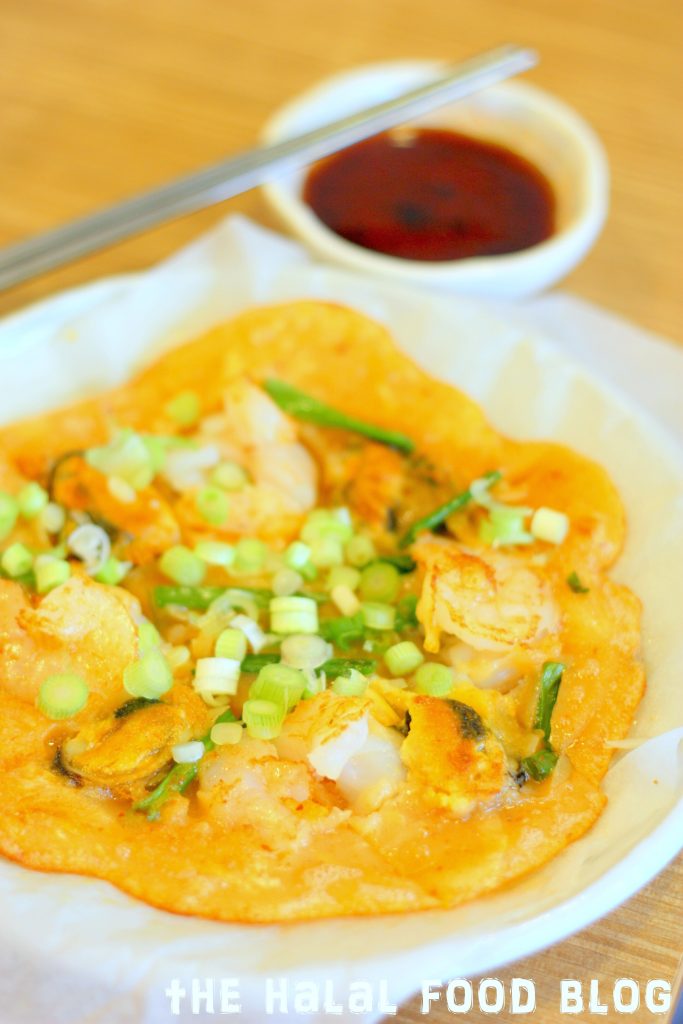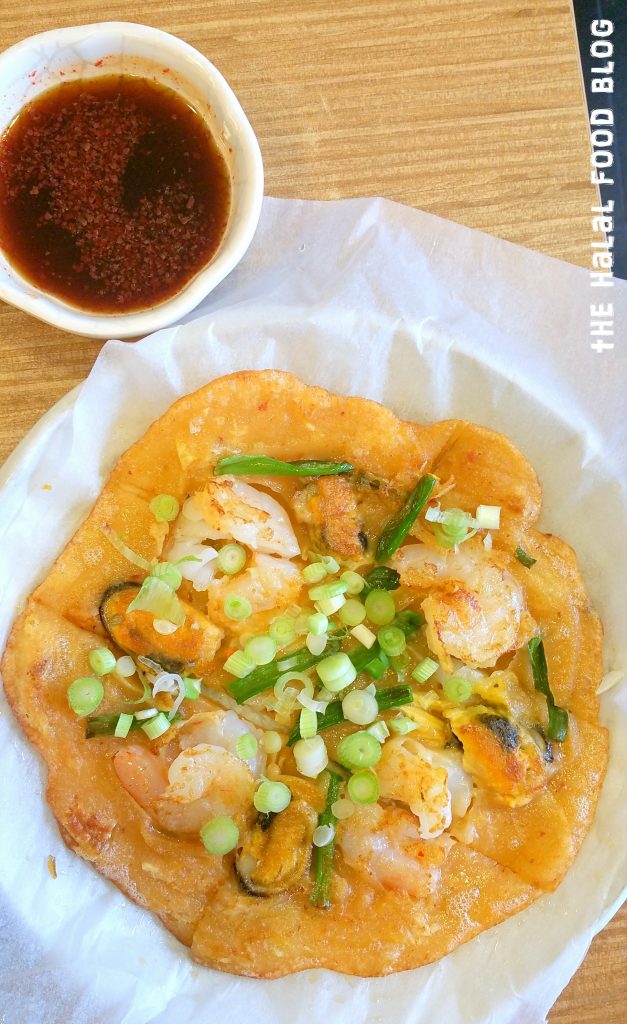 A surprise dish was presented to us by the restaurant manager in the middle of our meal (no, this wasn't a food tasting) and he says he wanted to get some feedback from diners about this dish. As always, we're glad to oblige when it comes to eating more food LOL
So the Seafood Pancake is a pancake (like duh) with mussels, prawns and some spring onions. Very simple and served with kinda like a chili vinegar dip or something like that.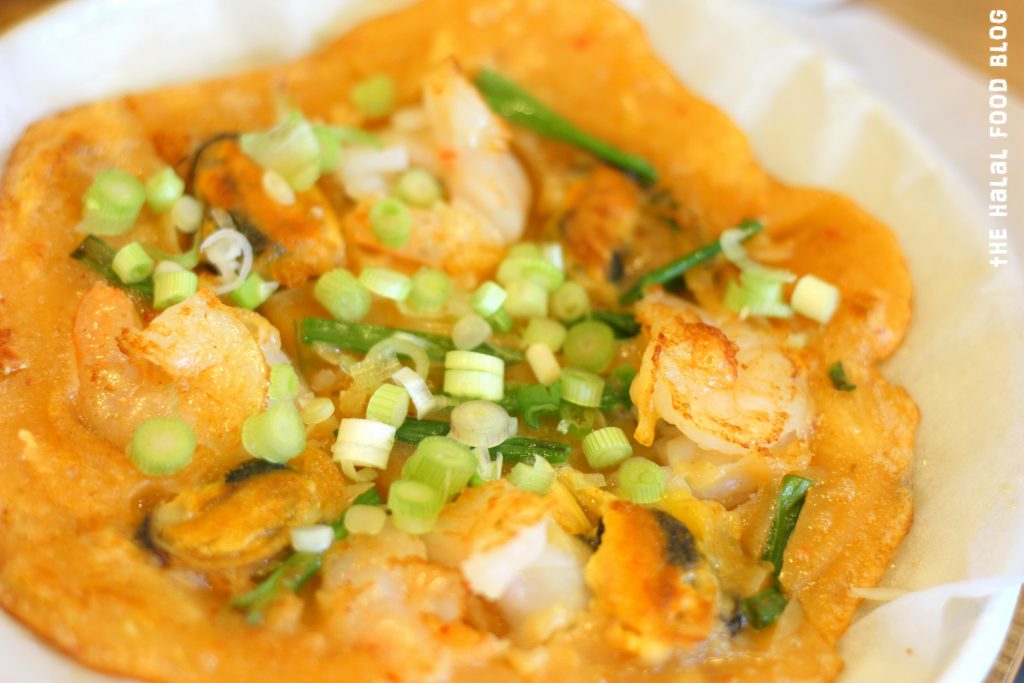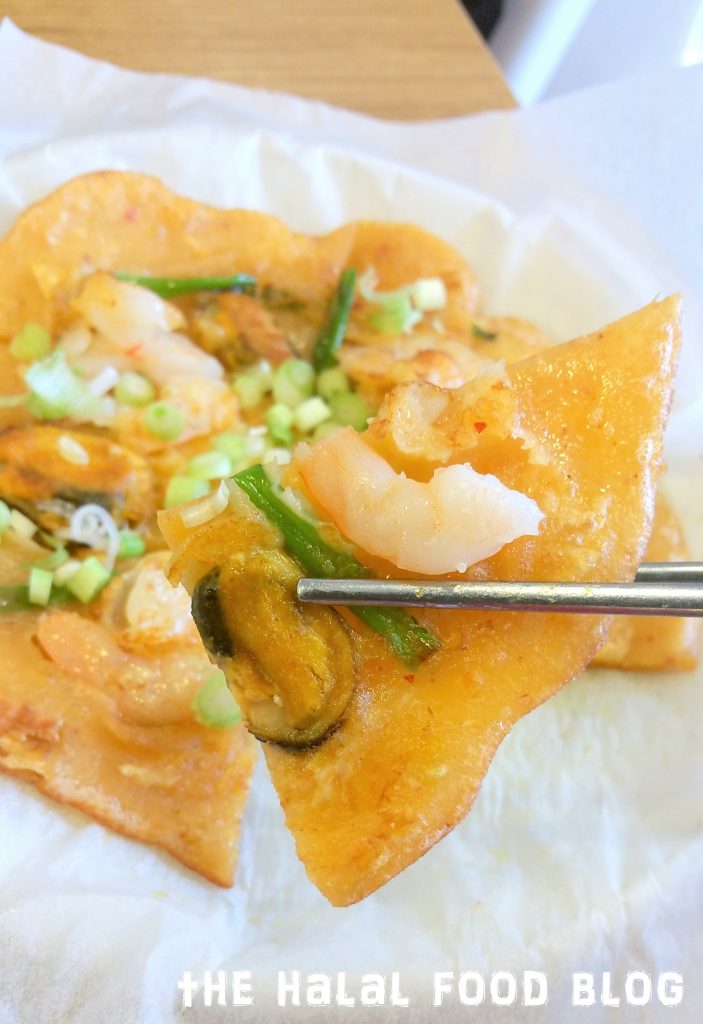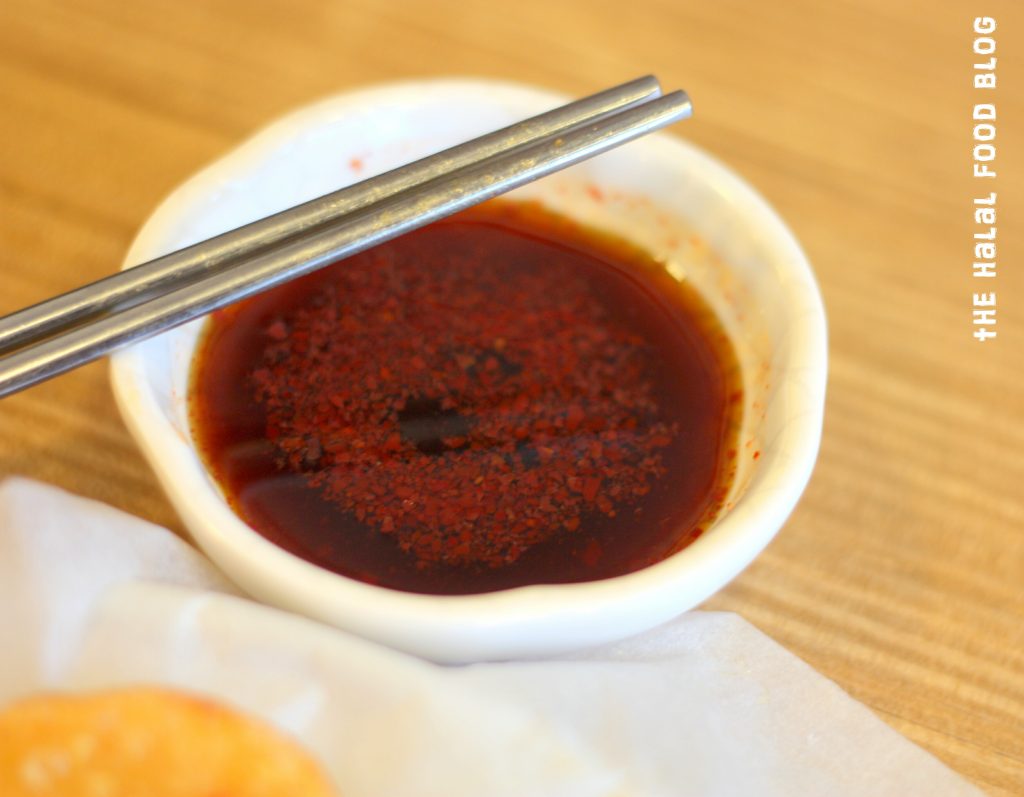 The pancake itself was quite plain-tasting so the Chili Vinegar Soy dipping sauce was a great accompaniment. It's a quite a nice bite when you snap up the pieces with the mussel and prawn. CHOMP!
The feedback that we DID give to the restaurant was that the middle of the pancake seemed to be a little bit on the thick side which meant it became quite dough-y to bite through. Do you get what we mean? Maybe a little even-ing out would be nice.
But still a good starter nonetheless.
Adam's Verdict:
Pollack Fish Bap 3.5/5 — Dubu Jigae HotPot 2.5/5 — Marinated Beef Slice 5/5
Assorted Mushrooms 3/5 — Seafood Pancake 2.5/5
Maryah's Verdict:
Dubu Jigae HotPot 3/5 — Marinated Beef Slice 5/5 — Assorted Mushrooms 3/5
Seafood Pancake 2/5
CHILD FRIENDLY RATING – 3.5/5
Seoul Garden HotPot remains the #1 choice when it comes to Korean food for us. Probably because we can't find any other Halal-certified ones that can match up. So until then, this is the place to go!
The food is great. The restaurant is clean and spacious. The staff are friendly. The service is top notch
Definitely worth a visit. Should even consider visiting on one or a few of the days during Ramadhan for Iftar with family and/or friends who are fans of Korean food (and the K-Pop music that plays in the restaurant LOL)
Seoul Garden HotPot
Paya Lebar Square
60 Paya Lebar Road #01-05/06
Tel: 6341 6077
www.seoulgarden.com.sg/sghotpot
Operating Hours 11.30am til 10.30pm Daily