Recently, we received messages from some of our readers… about a place… in Woodlands 😐
When it comes to sudden chatter about a makan place, 3 is the magic number!
Even though we are nowhere near Woodlands, I reckon it seemed like a good idea to visit since so many people were recommending it right?
At least she said "abang" and not "uncle" 😛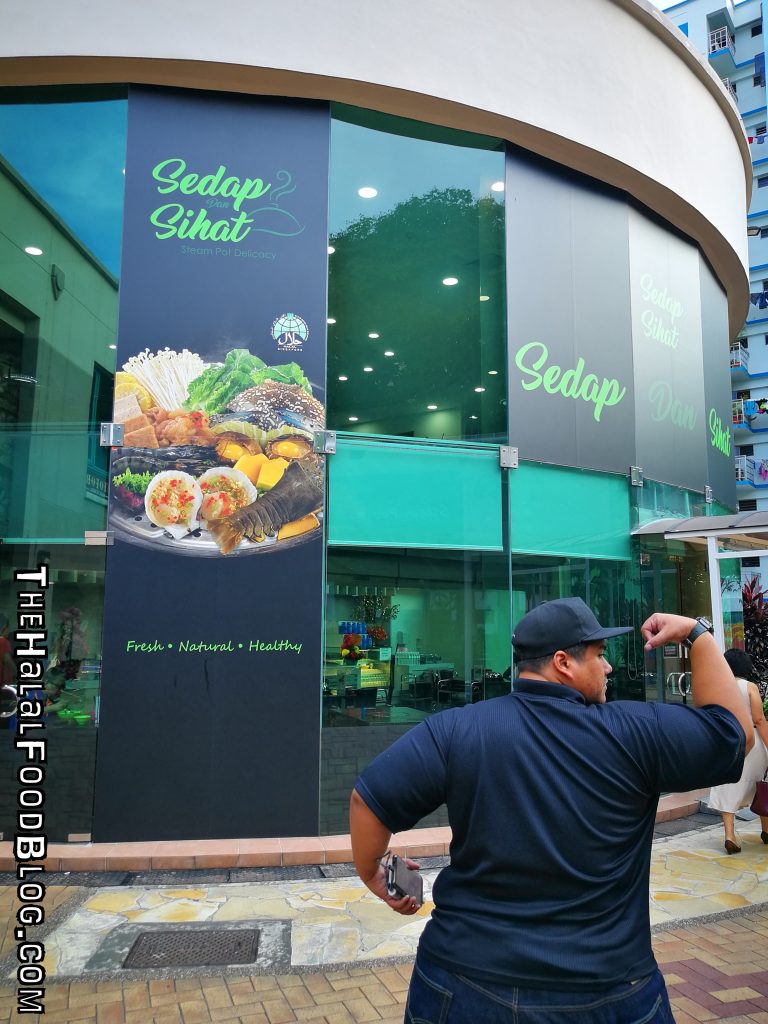 Yessah! Recommendations from our readers are ALWAYS APPRECIATED!! Even though we may not be able to visit every single one of them, we do try our best okay! And so, one nice Thursday evening (which was yesterday by the way!) we all drove up to Woodlands and decided to have ourselves some Steamboat!!
Oh wait.. it's not quite Steamboat lah!!
They do have some Fish Steamboat (but it's not quite what you think… more on that later) but the main attraction at Sedap Dan Sihat is actually something called 'Steam Pot'!
Apa tu eh Steam Pot?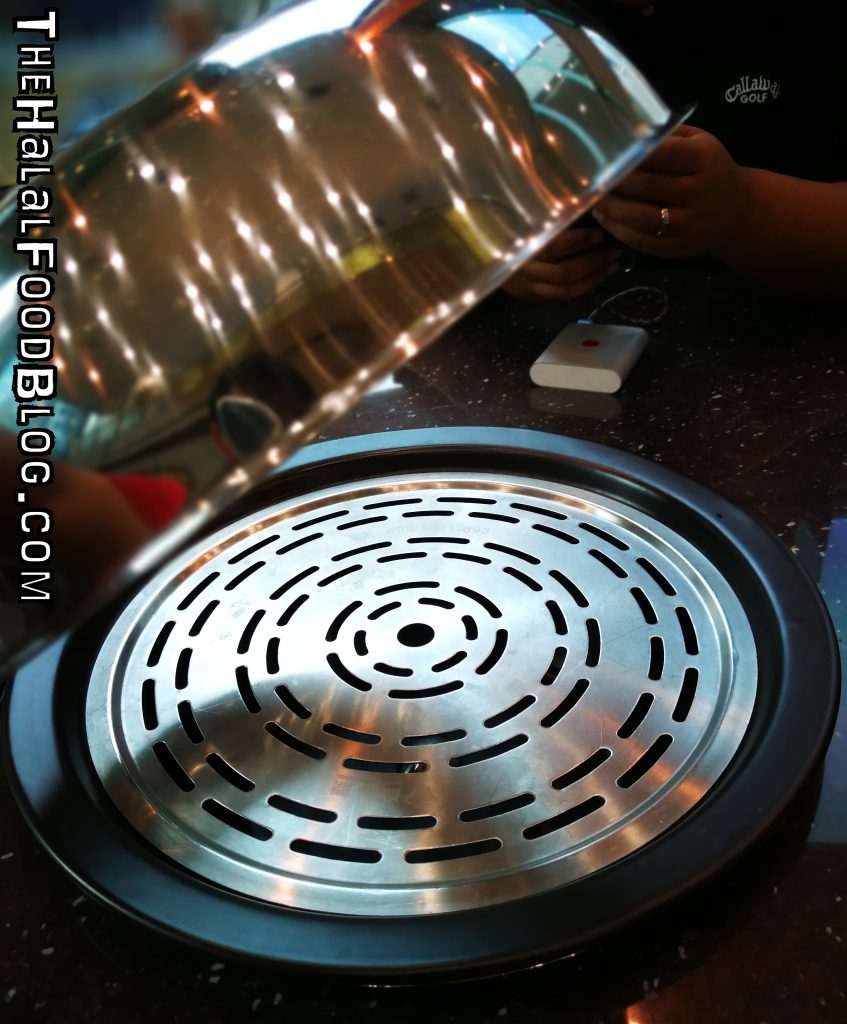 Aha! That's a steam pot! As you can probably tell by now, we enjoyed some steamed delicacies at Sedap Dan Sihat, which actually does fit their name since steaming is supposed to be a 'healthy' cooking method right? This is a good idea not just for those who are looking to gather around and enjoy (literally) steaming hot food but also for those who might prefer this style of cooking (maybe for health reasons).
They have Steam Pot Sets for a minimum of 2 pax (or maybe 1 pax if you're like REALLY HUNGRY/GREEDY) and it goes all the way up to 5-6 pax depending on your group size. You could also choose your stuff to steam on the ala carte menu too by the way so everyone is covered.
There's quite a bit of other stuff on the menu too but more on that a little later okay.
Now, it's time to get your flame steam on!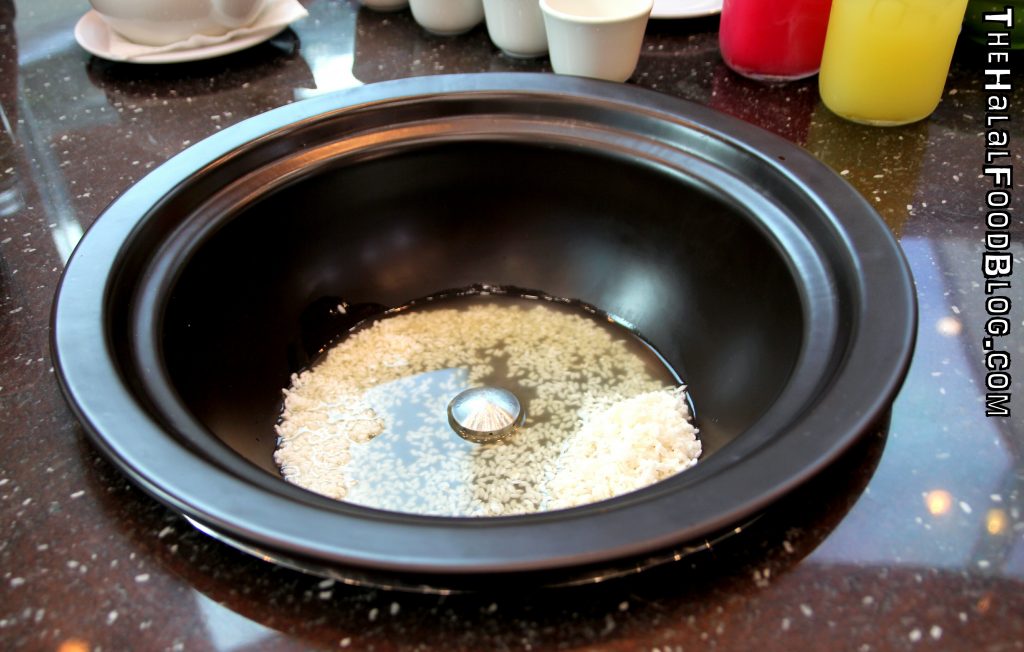 We took a set which consisted of quite a lot of stuff for steaming but we also added the option to have some Congee too. And the Congee is not prepared in the back and then served to you just like that – it cooks along with your meal!
So they add Jasmine rice into some stock into the steamboat (which is also the same one they use for the Fish Soup Steamboat and quite possibly the Hor Fun as well I'm guessing) and then add some LaLa and dried scallops and then they let it just simmer. And it will simmer throughout your whole Steam Pot meal LOL so don't expect to have any Congee immediately okay.
We will revisit the Congee later. In the meantime, we enjoyed our Steam Pot!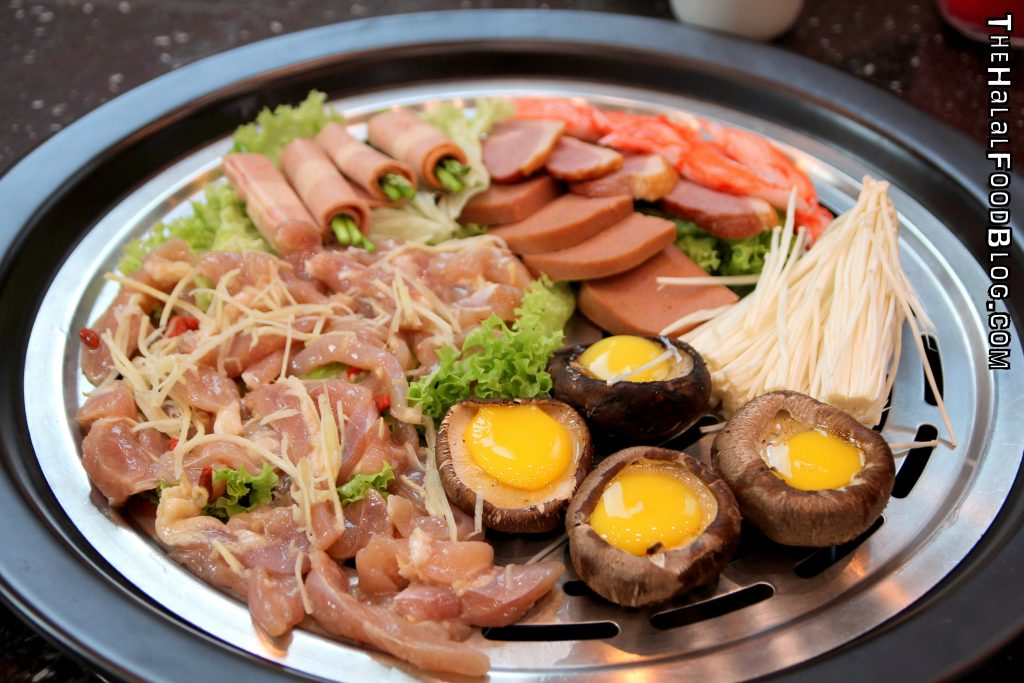 So this was Round 1 of our adventure in Steam Land (sounds so wrong lah).
We chose the $88 Set D which was good for 3-4 pax. It consisted of quite a wide variety of items which they serve all at once and set it up on trays which are put at the side of your table. It's really quite up to you what order you'd like to steam the items.
Our first round, we put the Marinated Ginger Chicken, Chicken Luncheon Meat, Smoked Duck Enoki Mushrooms, Shitake Mushrooms with Quail Egg, Turkey Bacon w Asparagus an Japanese Crab Sticks. Kira like macam appetizers round like that ah 😛
Excuse me… there's a technique to opening up the lid okay…
It was actually quite a good start to the meal. The Mushrooms with Quail Eggs were big hits with us and probably gonna be the same with you so prepare to order more from the ala carte menu LOL
I actually really quite enjoyed the Ginger Marinated Chicken. I will be honest that I don't really enjoy steamed chicken but in certain scenarios, it can be quite sedap and this was definitely one of those scenarios.
Some of you may be thinking to yourselves right about now – "looks like bland only".
Well, this would be a good time to mention the condiments and seasoning counter.
There is a counter where you can go to get some sauces and seasonings. Some you can probably use directly on the food your steaming and a lot of you will probably combine and mix up your own dipping sauce.
They've got like 20 different things for you to choose from. From peanuts to light soy sauce to chili oil to sambal belacan to chicken rice chili to sesame oil to good ol' cut chili padi.
I went with a classic Asian dipping sauce myself and Mein Bruder concocted his own sauce which was kinda like those Japanese Peanut Sesame sauces so many people like. The possibilities are endless and you're definitely gonna wanna get some for your table.
But one feedback – some choices they should seriously consider getting are things like Fish Sauce and definitely some of that Sweet Thai Chili Sauce. Would go really well with the chicken and also the seafood! Speaking of seafood…
Round 2 had us indulging in some prawns, scallops, LaLa and more Chicken Luncheon Meat (for Our Little Princess of course LOL) and everything was really fresh.
Mum didn't really fancy the scallops I think because they went a little bit tough. They give you a guide on how long to steam your food etc and it's all controlled by this electric remote panel thingy on the table. But just keep in mind not to steam your food for too long! (The Squid we had later on also went too tough despite the staff steaming it for us for the recommended 2 minutes).
Round 3 were some Flower Crabs, Crayfish and Sweet Corn. All really fresh and really tasty too! Especially with my special Classic Asian Dipping Sauce LOL 😛
Here's a recap of what we had go into the Steam Pot (and then into our tummies)…
The last pic is actually some vegetables that for some reason were steamed last LOL we recommend you steam them first so you can enjoy with the rest of the food and also your rice which comes with the set (can change to Chicken Rice rice by the way!!).
But hey, what happened to the Congee?
So the idea is that all the flavours from the food you steam in the Steam Pot will (at least a little bit) drip down into the Congee which is boiling away in the pot below. Should be a pretty flavourful pot of Congee right?
Wrong. LOL sorry to say but there was no additional help from anything. It was just the subtle flavours of the stock, LaLa and Dried Scallops. Keyword is subtle.
No doubt, it's a very clean flavour and it's always nice to have a really hot bowl of fresh Congee. But don't forget to add at least a little bit of seasoning. When we gave feedback to the staff, apparently they forgot to hand us this bottle of seasoning for us to use LOL kwang kwang kwang oh well what can I say.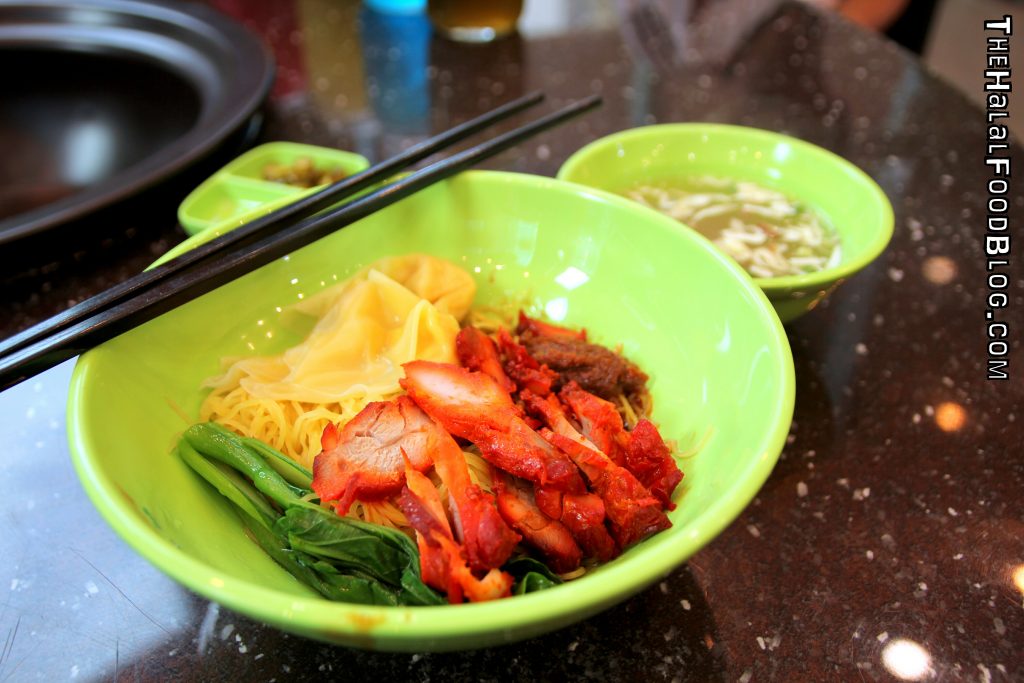 Well, we ordered some extras to enjoy on the side too. The Chicken Char Siew Noodles were actually really good! And we heard the Chicken Rice is not bad too! They even have dishes like Ayam Penyet and Ayam Bakar too among others.
Seems weird? Well, Sedap Dan Sihat is actually managed by the Kopitiam Group (which is also operating their foo court just adjacent to Sedap Dan Sihat) so you get to enjoy some your familiar Kopitiam favourites while dining at Sedap Dan Sihat too. Very useful if you're looking for other stuff besides just the Steam Pot.
Drinks are from there too by the way LOL but we recommend the hot Chrysanthemum Tea!
Sedap Dan Sihat is actually a pretty good choice for dining especially with a big group. Compared to other variations like Steamboat or Halal Mookata or stuff like that, for Steam Pot you ust set it up and let it cook then everyone can tuck in together. Leaves more time to just relax and chit-chat in between 🙂
This reminds me of a non-Halal Steam Pot joint where they stack the food up into a tower but the problem with that is that it apparently steams the food for too long which is no good. This way is much better I guess since it's done in individual stages.
Prices range from between $30 to $128 for the Steam Pot sets and they have other stuff like Fish Steamboat and Signature Hor Fun too. If you're worried about a crowd, you don't need to be because they have indoor seating and also a giant covered space for outdoor dining.
If you have a Kopitiam Card, show it when making payment and enjoy 10% off your bill!!
Thanks to everyone for recommending and keep on makan-ing!
(PS is it this one called Confirmed Steam? LOL)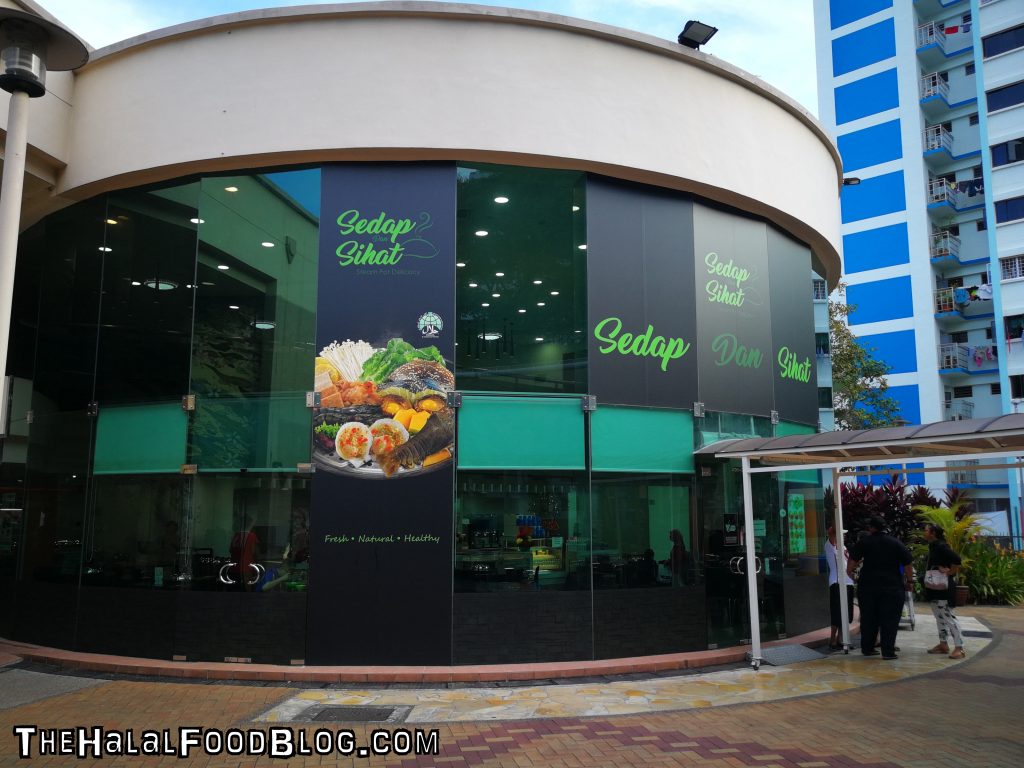 Sedap Dan Sihat
Vista Point
548 Woodlands Drive 44 #01-20
Tel: 6891 2663
Facebook: www.facebook.com/pages/Sedap-Dan-Sihat-at-Vistapoint/1357412584349621

All information (including prices, availability of item on menu and Halal status of establishment) are accurate at the time of posting. All photos used in this site are property of The Halal Food Blog unless stated otherwise.