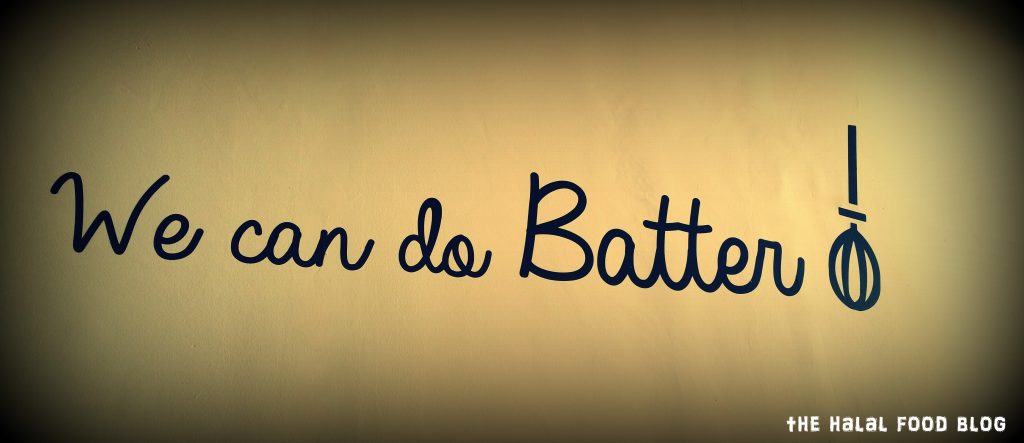 So we've been wanting to drop by Sarah's for the longest time since it first opened its doors and finally we made our way down one sunny Sunday afternoon. And the funny thing is – it's situated at East Village in Simpang Bedok which is considered quite near for us (East-side FTW am I right?)
So we've read quite a few reviews online and even some from our friends who have visited and reviews were mixed to be honest. I guess the best way is to check it out yourself right? After all, one man's pancake can be another man's waffle. Or something like that.
So they've actually got quite an extensive menu which includes Appetizers and a selection of both Sweet and Savoury pancake platters. We decided to try one from each side of the tracks to have a good feel of what we might order next time we visited.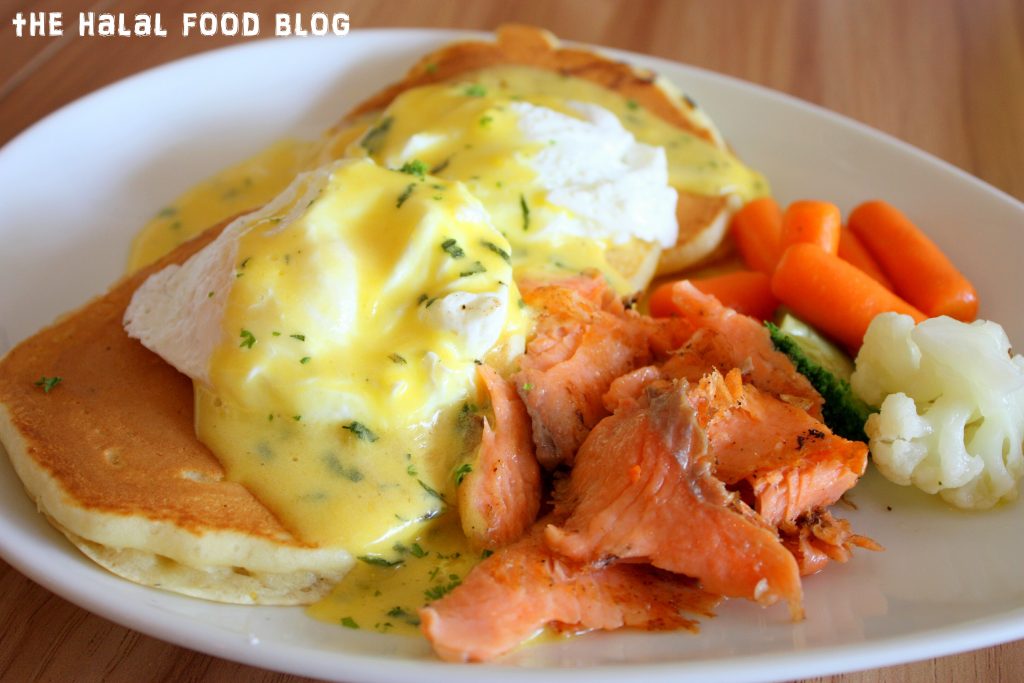 You all know this was definitely coming because we have a thing for poached eggs and I'm a sucker for smoked salmon. So put them together on a plate with some pancakes and you've got me hook, line and salmon. But we've never had Eggs Benedict served on pancakes before leh….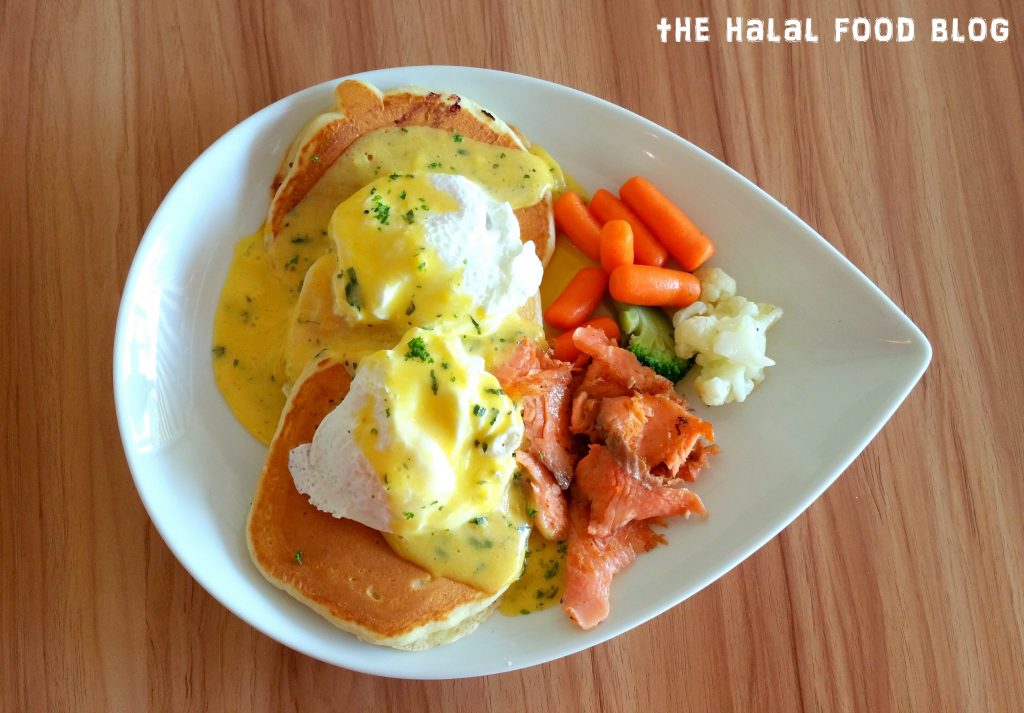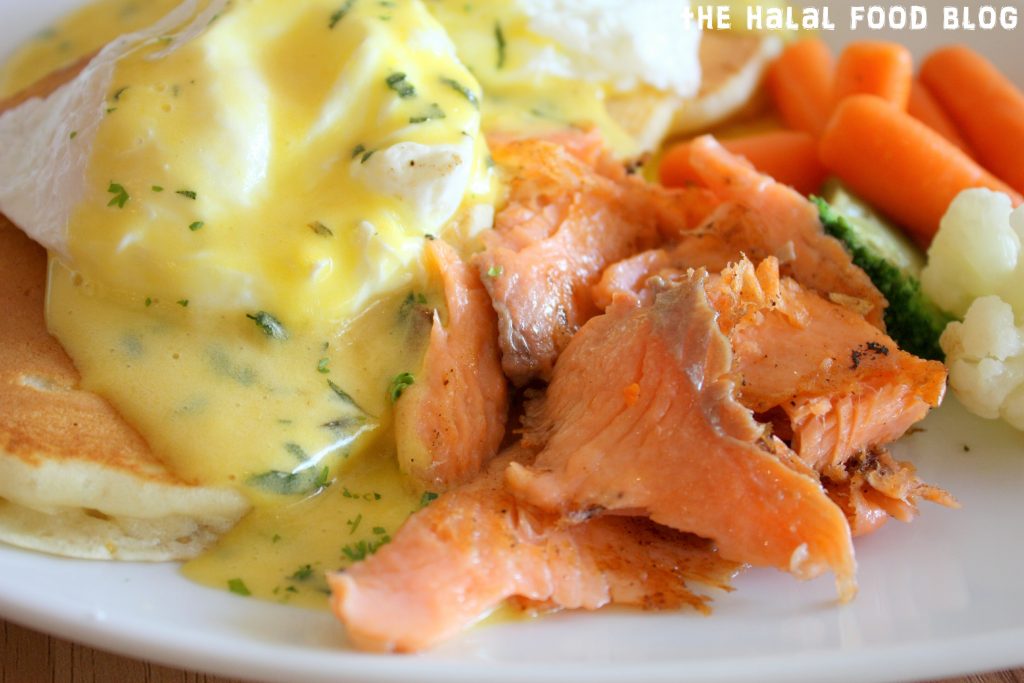 Let me start off with the smoked salmon.
I don't know about you but I've personally never had smoked salmon that's been cooked before. It's normally served as-is in most cases but here they decided to (I think) grill it for a bit.
But that didn't make much of a difference because I actually really liked it! The nice and slightly salty flavour of the smoked salmon still shines through for sure although cooking it seems to have made the texture a little tougher and more chewy. But hey a few extra chews is not going to put me off my fave smoked salmon okay.
We were however a little disappointed with the mixed veggies which is made up of baby carrots, broccoli and cauliflower. The carrots were a little under-cooked so the middle was still raw. Which is still fine because we can eat raw carrots right? Guess it's just that you wouldn't expect these veggies to be a little raw after boiling.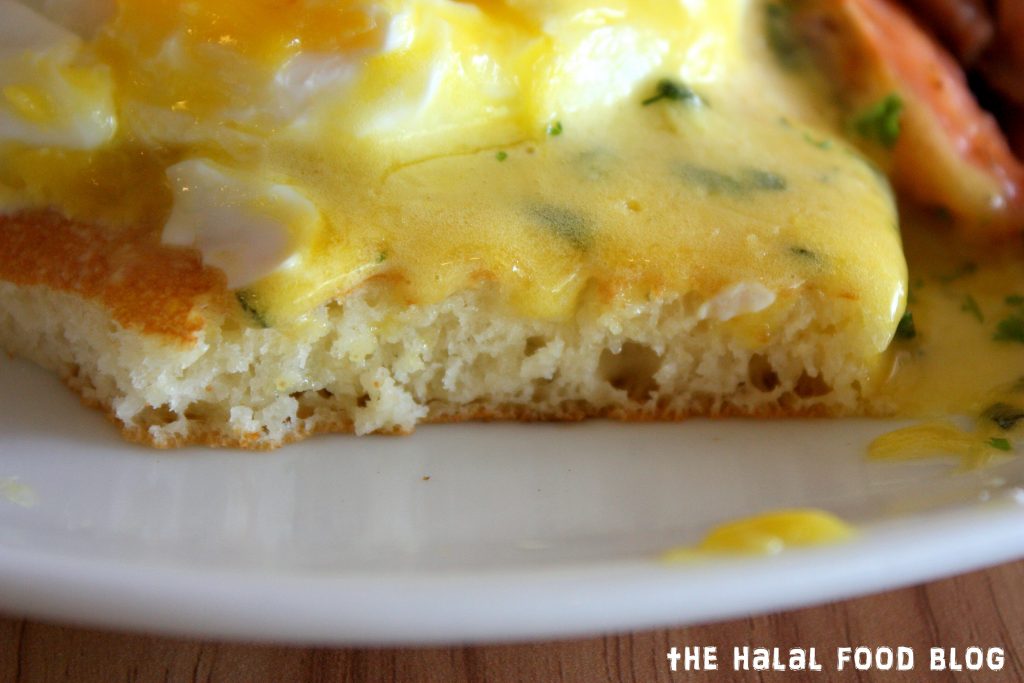 The sauce was also a little underwhelming unfortunately. Would have loved a bit more flavour though.
But the pancakes were nice and fluffy! Definitely cooked well and you can see they don't go all soggy with the sauce all over but still do a great job of mopping up when you need it to soak up all the eggs and sauce. In fact, the size of the pancakes with this dish was very generous. And with 3 pancakes of that size piled up, it's definitely a filler-upper with more than enough to share.
And speaking of soaking up eggs….
Errrrr…. well at least it was kinda runny…
And the 2nd egg was completely cooked through so no runny yolks there either… And we had such high expectations after seeing a video on their FB page too!
Oh well… our obsession with searching for the perfect runny yolk goes on…
But you gotta admit… that was a pretty decent dish right.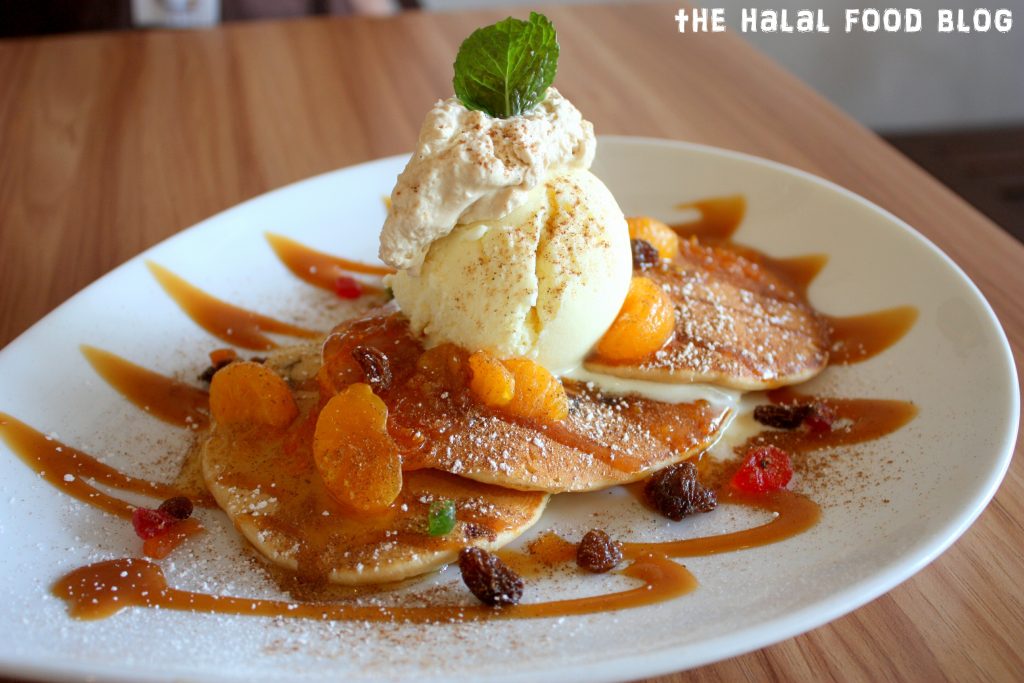 For the sweet dish we went with something that was marked as 'new' on the menu and seems like a really good idea too. Fruitcake Pancakes! Sounds weird we know lol but it's good!
So what is it exactly?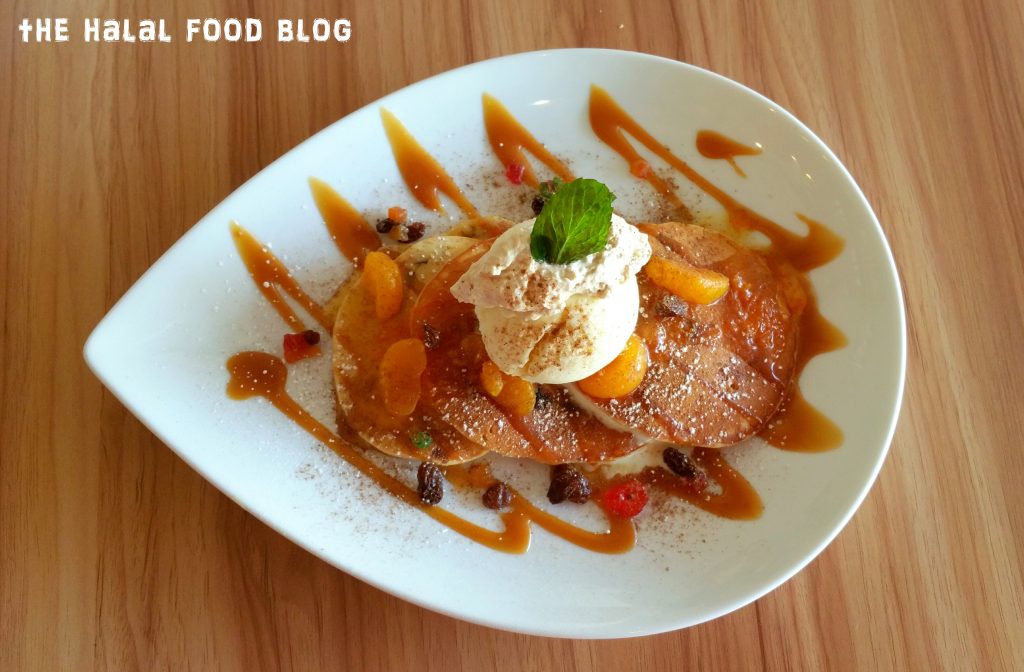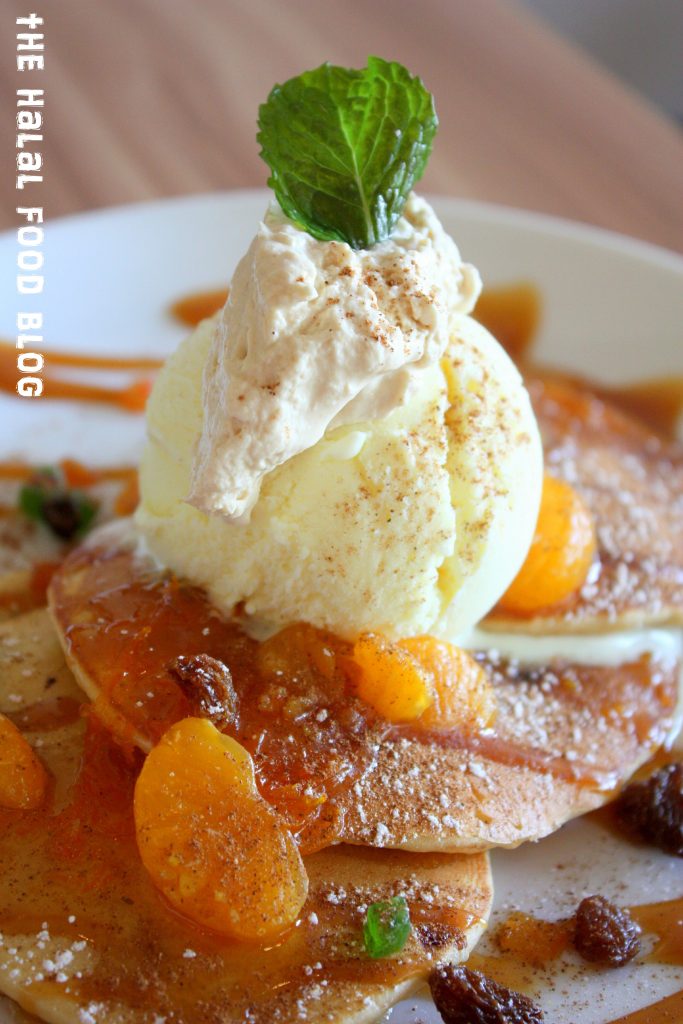 So we've got 3 pancakes which are actually caramel mixed fruit pancakes. Top that off with orange compote and vanilla ice-cream! Not enough? Okay top off the top off with some caramel whipped cream! Woo hoo!!
Yeah it looks like a bit of a mess we know… but some of the best meals to be had always look a mess. And this was no different! One thing to note is the slightly smaller size of the pancakes which we found very suitable. Nothing like a short stack of pancakes with all the goodies!!
Okay so we'll answer 2 questions you're probably asking right about now…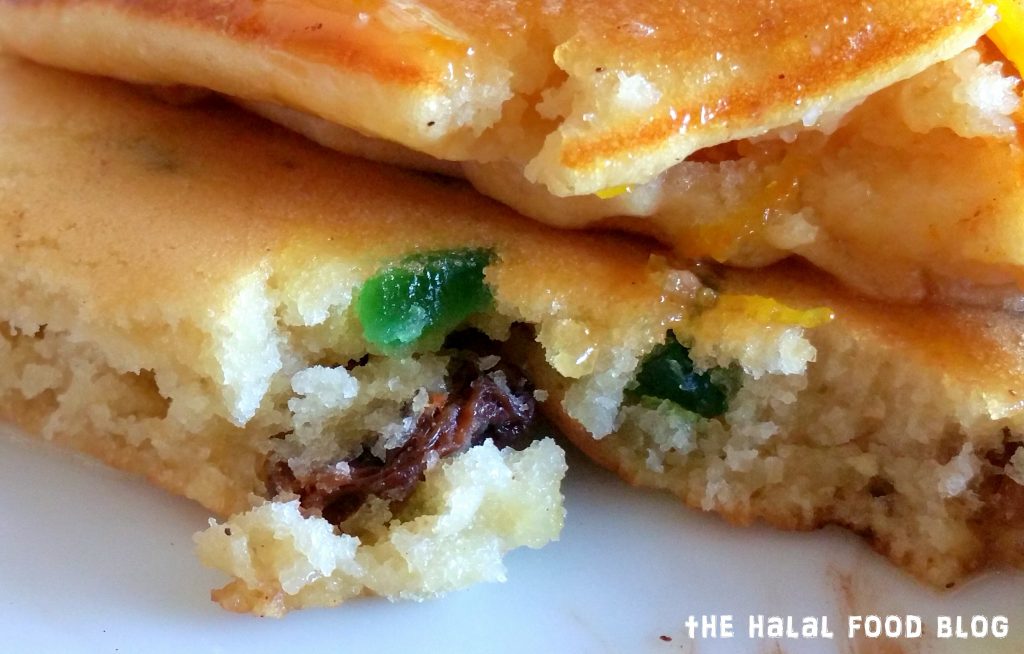 1. What exactly do they mean by mixed fruit pancake? Well, just like the name implies… fruitcake!
You've got some raisins and candied cherries in there so you're in for a sweet treat! Fruitcake rocks!
And question number 2 is probably – "What's a compote?"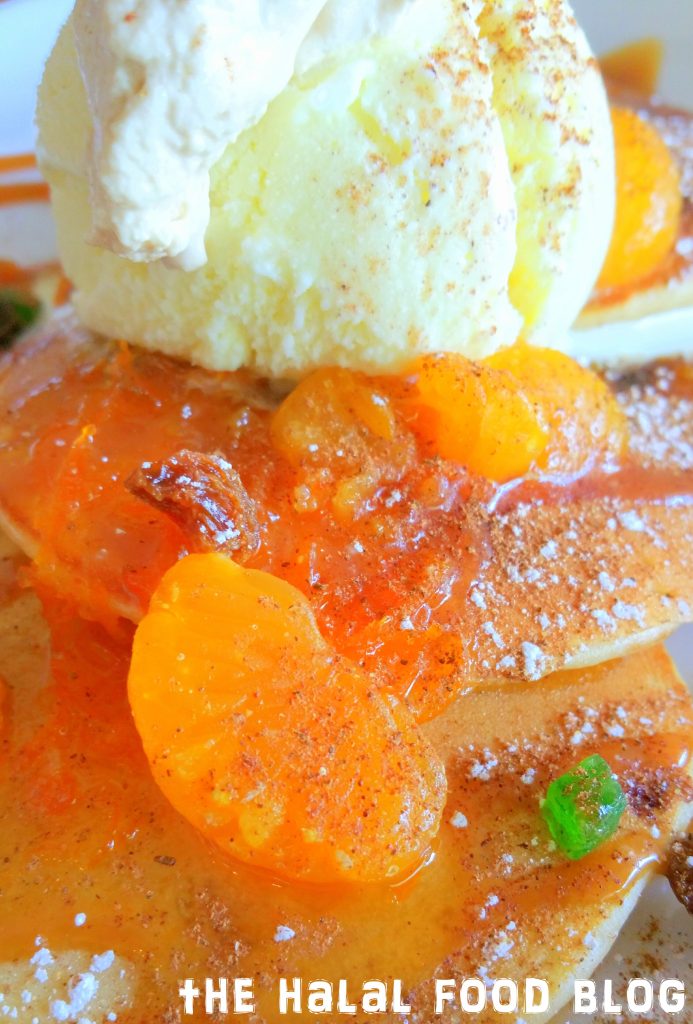 Now THAT is a compote! LOL
Think of a nice sticky gooey watery jam or preserve complete with fruit bits and there you have a compote!
They actually have so many pancakes to choose from (both sweet and savoury).
They've got the Morning Run which comes with turkey bacon, scrambled eggs and mixed veggies. Maybe you might fancy something more earthy like the Wild Mushrooms which features mushroom ragout! Some interesting fusion inspired ones include Ala Mak! (coconut milk and pandan pancakes with muar otah!!) and Al Istanbul (comes with lamb and hummus!).
Sweet pancake choices include the traditional Stacker Decker of if you're adventurous then try the Ala Dol (think of Chendol with pancakes). Chocolate lovers can go for The MJ (black and white chocolate with caramelized banana) or the El Mexicano Choc Crepes perhaps?
You're definitely spoilt for choice that's for sure! Great place to bring the kids too!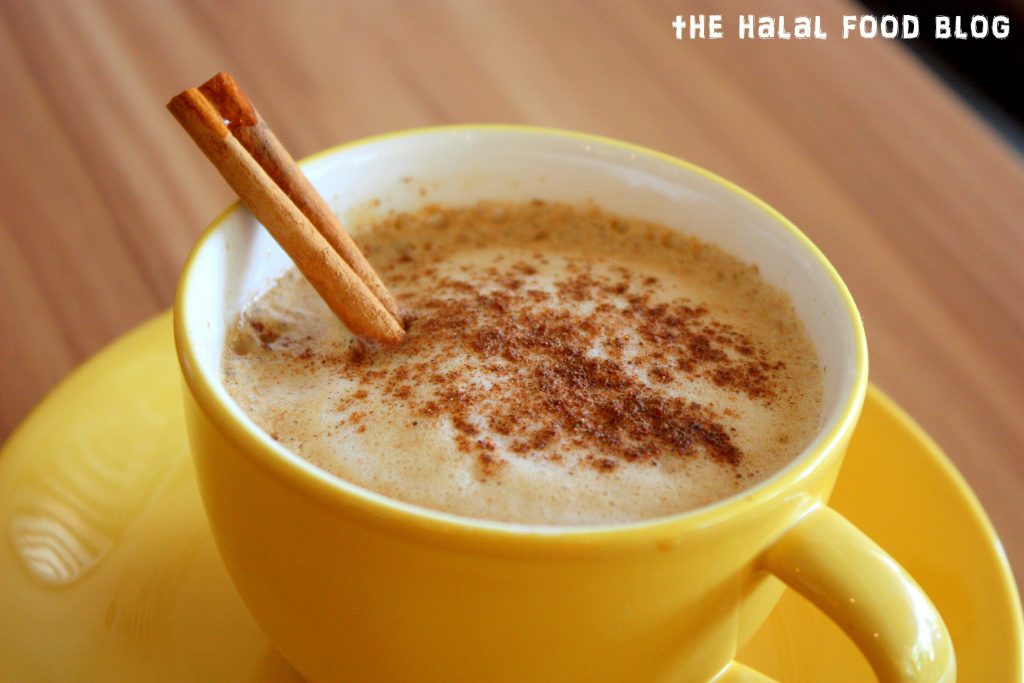 To wash it all down, I decided to have a nice cuppa Cinnamon Latte.
It definitely had the cinnamon flavour down pat that's for sure. But with all hot drinks, I ended up finishing it too fast. That's just me – if it's hot drink, I've gotta finish it hot. That's why I always order cold drinks LOL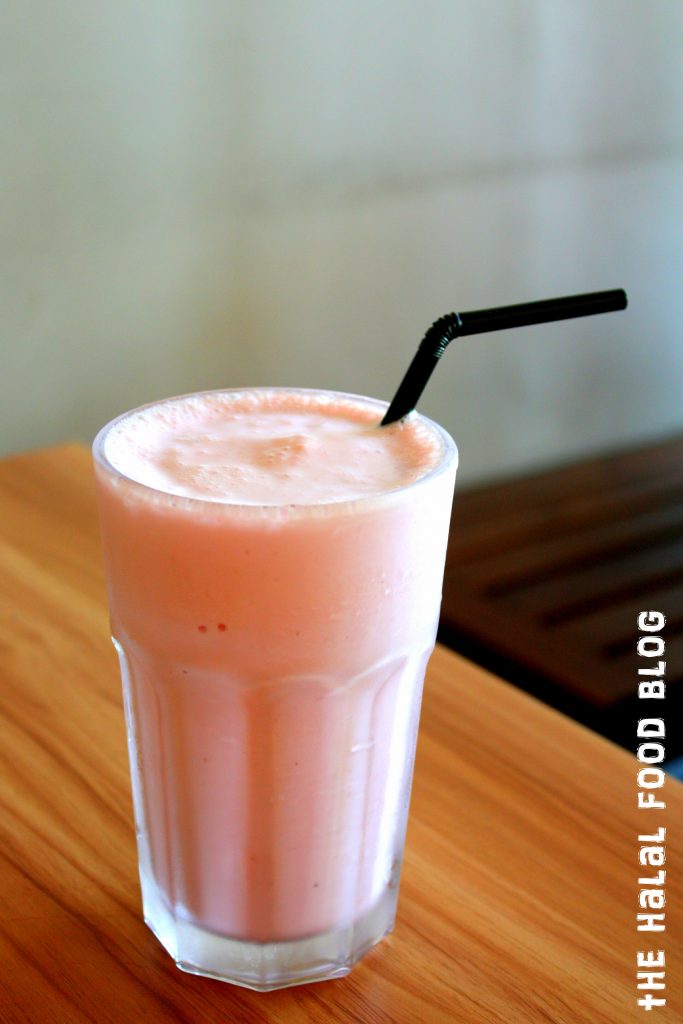 My Darling Wife decided to go with a favourite – the Strawberry Milkshake!
The flavour was not bad but it ended up being a little too watery than expected. So technically we ended up with strawberry milk. But a delicious glass of strawberry milk nonetheless.
Adam's Verdict:
The Benedict 2.5/5 — Sarah's Fruitcake 3.5/5 — Cinnamon Latte 2.5/5 — Strawberry Milkshake 2/5
Maryah's Verdict:
The Benedict 2/5 — Sarah's Fruitcake 3/5 — Strawberry Milkshake 1/5
Child Friendly Factor – 2/5
Premises were a little crampy but they do have high chairs which is always nice!
One of the common things we heard about Sarah's was what people might consider rather high prices of the dishes. Which we don't deny it's a little on the pricy side but hey you gotta remember that this is a very specialized eatery and the location is also very convenient. Where else lah you wanna get? Once in awhile treat yourself if it's okay!
And they really do have quite a few more interesting dishes on the menu!
Appetizers include Indo Fries (which is apparently Tempeh fried up and served with chili kicap!) and even Shrimp Macaroons. And I'd be a fool not to mention that they have pasta dishes too!
The staff were really friendly too which is always nice. Hope to visit again soon and try some other dishes!
  East Village (Simpang Bedok)
  #01-62
  www.sarahspancakecafe.com.sg
 
  Operating Hours: 10.00am to 10.00pm Daily
All information (including prices, availability of item on menu and Halal status of establishment) are accurate at the time of posting. All photos used in this site are property of The Halal Food Blog unless stated otherwise.