สวัสดีเพื่อนของฉันเป็นอย่างไรบ้าง!
This one has been on my mind since it opened but as always, we're always waiting for certificates to be issued and also there's a good chance you'll hear some chatter about it in advance from people who've already visited. But without a doubt, Saap Saap Thai was one of the most eagerly anticipated eateries at Our Tampines Hub!
I think the reason for this is not only because it's Thai food (which everybody absolutely loves right!) but it might be because of a specific dish on the menu that a lot of us have had to go across the Causeway to enjoy… Will it be able to meet expectations? Well, a little more on that later.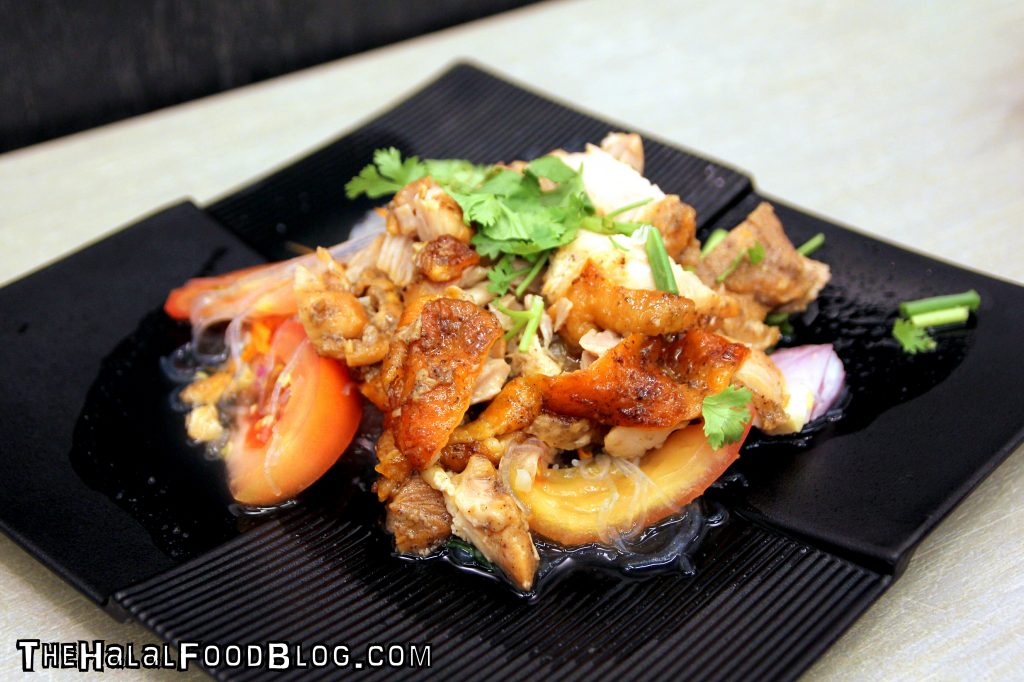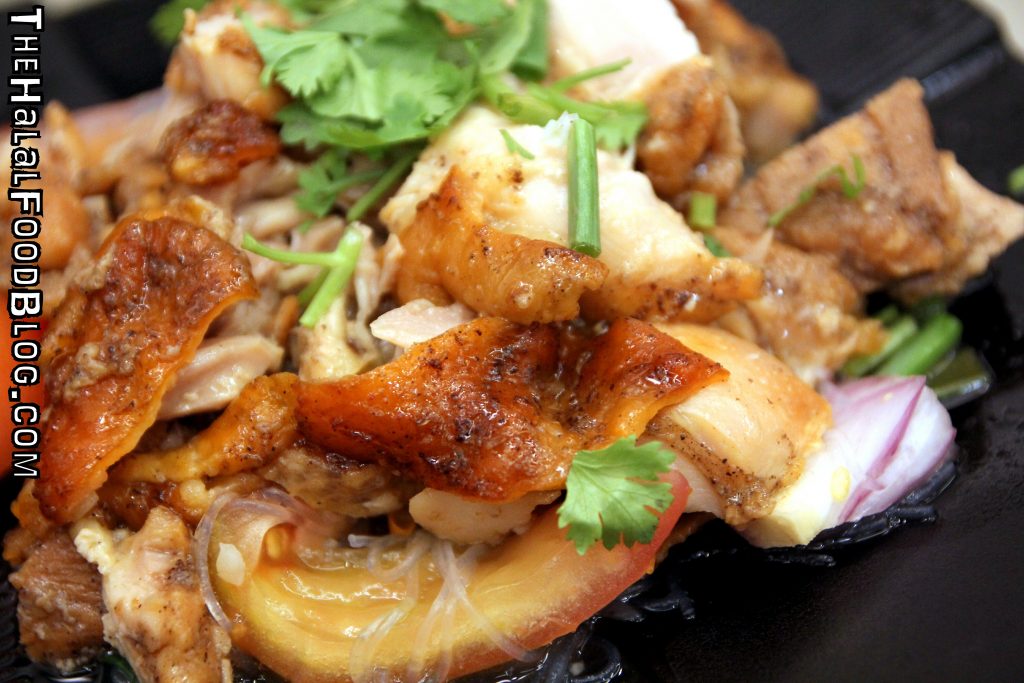 The first dish we are featuring is actually the last dish I ordered when I was at the counter simply because I was so undecided if I should order it or not. In the end, I decided to consider it a side dish and order it anyways and I have to say that I'm SO HAPPY that I did.
The Yum Grilled Chicken Thai Salad turned out to be absolutely delicious! It's a warm Glass Noodle Salad that has some tomatoes and onions tossed in. The star of the dish was surely the grilled chicken that crowned everything. It was super tasty and super tender. I don't know if there's anything special about their grilling method but FUYOH the grilled chicken here damn power no joke!
You could also choose other toppings like Seafood, Beef, Fish or Fried Chicken.
Speaking of fried chicken…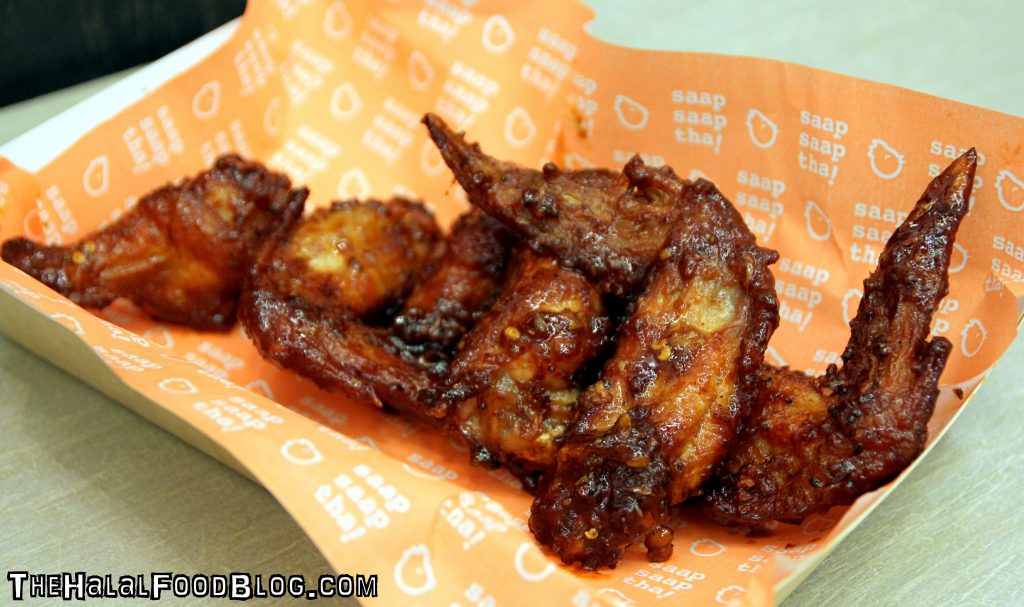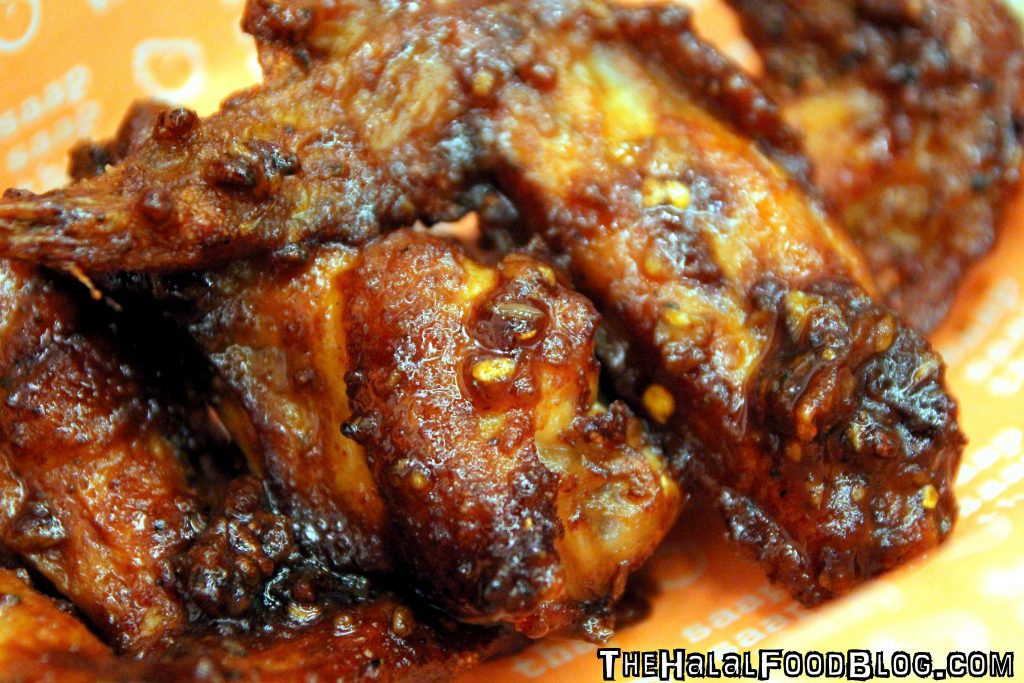 The Thai Crispy Chicken comes in 2 versions – Original and Saap Saap Sauce. They also have Thai Fried Fish too btw.
So these chicken wings are deep fried goodness that have a good crisp to them so you're in for quite a satisfying bite when you chomp down. If there's a choice for a sauce, we're most probably gonna take it and I'm guessing the Saap Saap Sauce version probably has a bit of an edge over the Original.
The sauce itself is described as (sweet, sour and lightly spiced). I guess that's a fairly accurate description. Even though I didn't really detect any sourness, it did get the hints of sweetness. Definitely accurate in the description is 'lightly spiced' because it really wasn't that spicy at all. In fact, Our Little Princess is the onw who polished off most of the wings LOL
My Darling Wife enjoyed the wings very much to but I'm kinda 50/50 on the wings mainly because I wish they'd up the flavour game a little bit. Maybe go a little sweeter and/or spicier? They can give a wedge of lime on the side if they wanna give people a chance to cool things down then which also adds to the 'sour' component.
Well, still probably a must-try at least once I guess.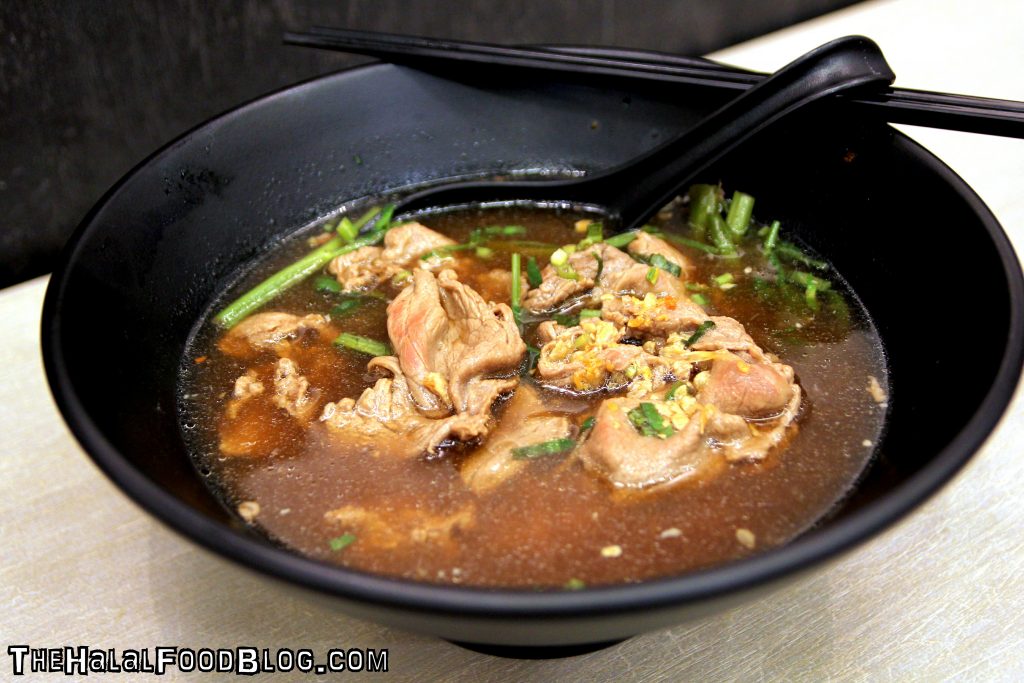 "ZOMG THEY HAVE BOAT NOODLES!!!" was my first reaction when I passed by and saw the menu at Saap Saap Thai. In fact, I'm willing to bet that is also what a lot of you got excited about right?
Well, for those who are expecting the same small bowls of Thai Boat Noodles we may be accustomed to in JB and KL, sorry to disappoint you but this is a big-sized full serving! I'm not sure about you guys but for me, this make a IG difference (pardon the pun).
The dish consists of a very generous serving of rice noodles, slices of Australian Beef (which are to be served medium according to the menu) and a couple of beef balls all bathing in a Thai beef broth.
For me, I found the noodles a downer mainly because as a full-sized dish, the rice noodles tended to soak too long and that means they'd start to get soggy and break apart after a bit of soaking in the noodles. I guess this is inevitable in this case but I can't help but draw comparisons with the smaller-sized boat noodles are are more accustomed to.
PRO TIP – Mix up your noodles as soon as your dish is served! They tend to clump together after blanching so if you don't stir it up, it might turn out to be quite a mess (like in our case). The kitchen staff should technically just give a quick mix before serving but just in case they don't, just do it as soon as the dish arrives!
The Australian Sliced Beef…. hmmmmmm…. where do I start. The menu states that the beef will be served medium which is totally the correct way because the beef is sliced so thinly that they should just be blanched for a second or two and then served with the noodles so they remain nice and tender. Ours was.. well.. not quite medium.
In fact, it was not even quite tender. Quite a lot of the beef was really tough and chewy for me which was a total disappointment. It's weird because the sliced beef in the Tom Yum Noodles we had were perfectly good. This dish was the only one that stated 'Australian Beef' so I'm not sure if the same beef is used with ALL sliced beef dishes here but bottom line is that it didn't quite live up to expectations.
To be honest – the Beef Balls were excellent! They were so good that I'd even order a separate order of just the Beef Balls if possible but unfortunately they are not listed separately on the menu. Perhaps they should have a Beef Balls Noodles or a Beef Balls Soup on the menu. Weirdly enough, they have Chicken Ball Noodles on the menu.
But the saving grace for this whole dish was the beef broth. It was hearty, full-flavoured and definitely high on the tasty scale. Slurp away and enjoy that great beefy flavour!
Pity about the rest of the dish though. Based on this experience, all the more I'd stick to the smaller Boat noodles. By the way, they also have a few other versions namely Beef Brisket Noodles with Tendon, Beef Boat Noodles Deluxe (which has beef, brisket, tendon and beef balls), Chicken Boat Noodles and also some Crispy/Grilled Chicken Noodles too.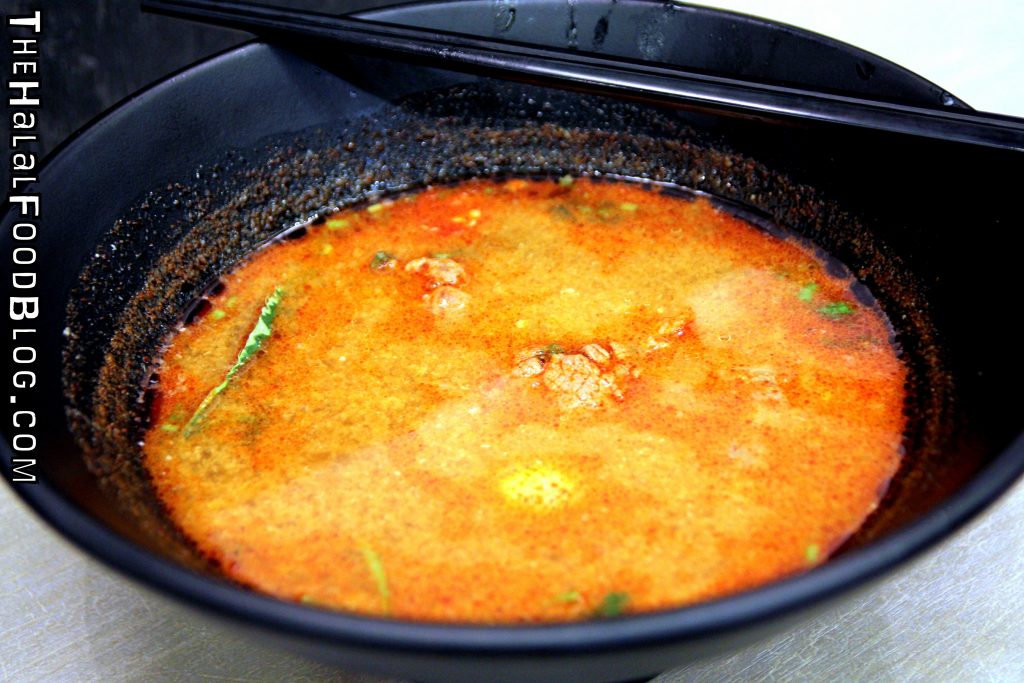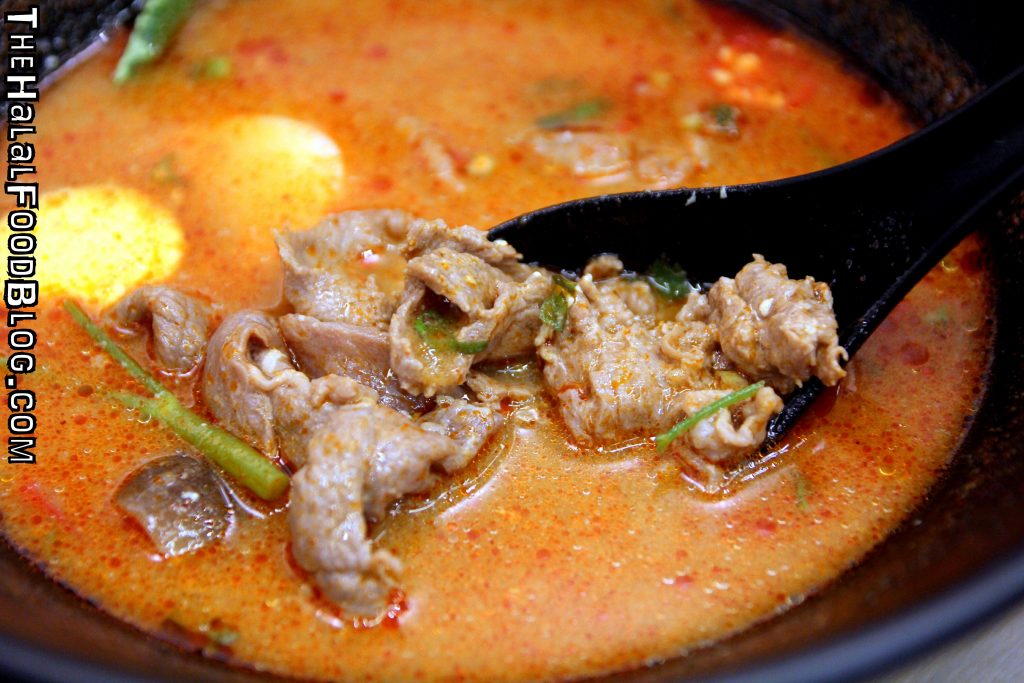 When we arrived at Saap Saap Thai, we bumped into some friends who had just finished their meal and this was one of the dishes they'd tried. And one remark turned out to be the perfect summary of this dish.
"It's sedap. But doesn't taste like Tom Yum".
You can taste the chili flavour for sure and the influence of the Kaffir lime leaf is apparent but the flavour of Tum Yum was really just a slight hint in this dish. I'm talking about super duper minor hint LOL I think it might be the most mild Tom Yum flavour we've ever had.
It's got beef slices (which is were surprisingly tender compared to the Boat Noodles) and (weirdly) a whole hard-boiled egg all swimming in the 'Tom Yum' broth. My Darling Wife chose to enjoy here with noodles but you could also have it served with rice by the way.
They also Seafood, Chicken, Fish and Prawn versions on the menu.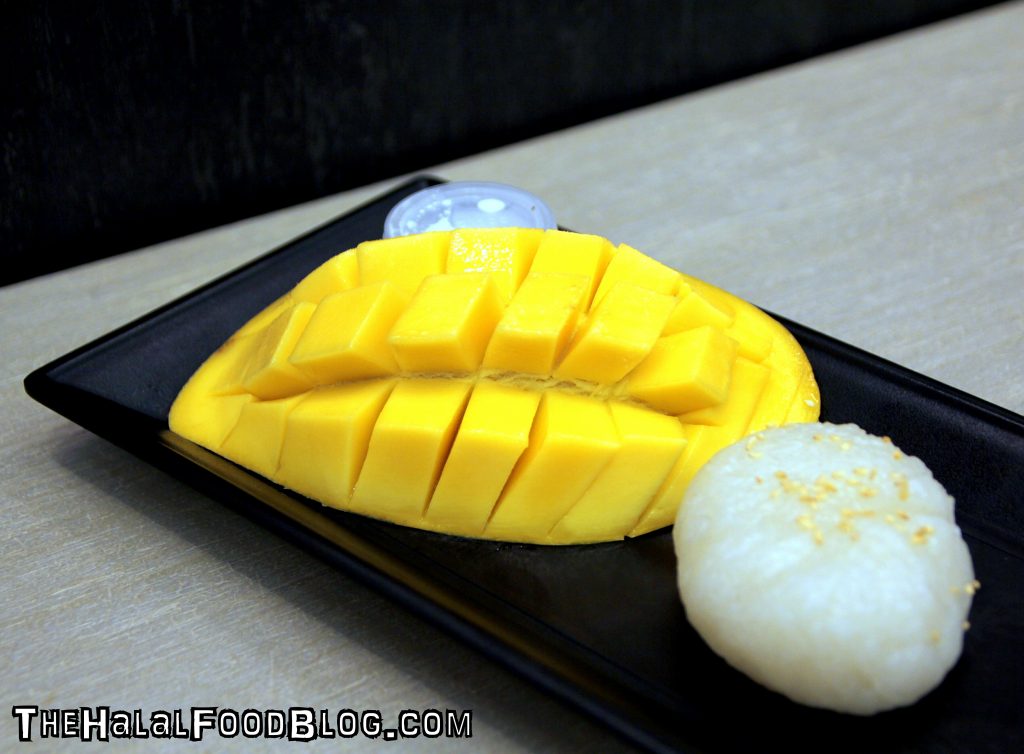 They've given some of their Mango desserts interesting names based on popular dances. The Mango Sticky Rice is known as the Mango Tango, the Mango Sticky Rice with Red Bean is Mango Cha Cha Cha and the one with ice-cream is Mango Twist.
I'm going to be super duper honest here and say that I wish they'd just stick to the classic Mango Sticky Rice. But that's just me LOL
A ball of sticky rice awaits on the side as the mango bathes in the coconut cream that you pour over separately. The glutinous rice itself was a bit on the hard/chewy side for us BUT IN ALL FAIRNESS we'd ordered it with the rest of our food at the beginning instead of separately simply because we didn't wanna endure the queue again (more on that in awhile). Who knows, it might be super soft if eaten while still 'fresh'?
By the way, the mango is a game of chance apparently. Our friends who makan-ed earlier said their mango was sour! But ours was 'luckily' a bit more on the sweet side than sour. I guess it's really the luck of the draw!
Quite a few Thai favourites on the beverage menu at Saap Saap Thai! You've got classics like Iced Lime Thai Tea,  Original Iced Thai Milk Tea (also the Green Tea version) and Iced Thai Soda.
Of the 2 we had, I'm gonna stick to Original Iced Thai Milk Tea (and probably Original Iced Thai Green Milk Tea) from now on LOL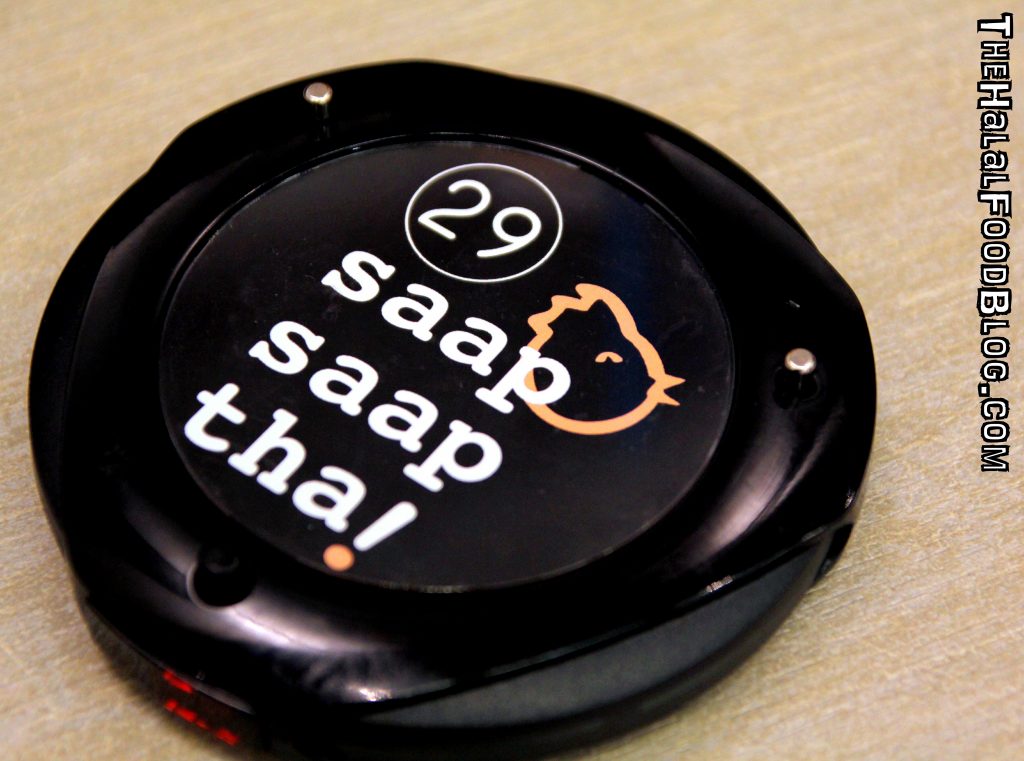 The only other humble feedback we have about Saap Saap Thai is the manning of the ordering counter.
Every time we pass by Saap Saap Thai, there's a long queue at the counter. Yes, it could very well that the food there is quite delicious but from our own experience, it could also be that there are not enough people manning the counter. We visited around 7pm (which is considered peak period lah right) but there was only 1 guy manning the counter. Only after like 10 mins of queuing was a 2nd cashier made available.
May it was sui-sui change of shift takeover time? Maybe best not to do it during peak hours then I reckon.
I'm just highlighting this because it does impact the dining experience and most probably also people's decision when choosing a makan place. We have sent feedback directly to the management as well but just in case, hope that someone reads this so that our fellow diners can have a smooth experience there.
PS you order and pay at the counter and they also make your drinks there too for immediate collection. Food is collected later at the collection counter when your 'pager' goes off.
Adam's Verdict:
Yum Grilled Chicken Thai Salad 4/5 — Thai Crisp Chicken 3/5 — Signature Australian Beef Boat Noodles 2/5 — Tom Yum Sliced Beef Noodles — 2.5/5 — Mango Tango 2.5/5
Iced Lime Thai Tea 2.5/5
Maryah's Verdict:
Yum Grilled Chicken Thai Salad 4/5 — Thai Crisp Chicken 5/5 — Signature Australian Beef Boat Noodles 3/5 — Tom Yum Sliced Beef Noodles — 4/5 — Mango Tango 2/5
Original Iced Thai Milk Tea 4/5
Okay lah overall I guess maybe a mixed experience on our first visit but I'd safely say that we would definitely visit again especially to try some of the other classic Thai dishes on the menu.
That's right – I'm looking at you Thai Basil Beef Rice…
ขอขอบคุณ!
Our Tampines Hub
#01-100
Facebook: www.facebook.com/saapsaapthai
Operating Hours: 11.00am til 10.00pm Daily
All information (including prices, availability of item on menu and Halal status of establishment) are accurate at the time of posting. All photos used in this site are property of The Halal Food Blog unless stated otherwise.