Believe it or not – the first time we visited ROUSE on Dunlop was just about a year ago during Ramadhan. We were going to be featured on HungryGoWhere's Guest Instagrammer spot and wanted to include their Spicy Asian Penne Crab Pasta which turned out to be one of the better dishes we had.
Well, we promised we'd be back for more because there were item on the menu that were really tempting. And can you believe that it took us pretty much a whole year to make our way back!
To be honest, we originally planned to visit so what we could review some of the special items on the menu that ROUSE was serving specially just for Ramadhan. But as it turns out, we ended up ordering stuff that was NOT on that special menu but from their regular menu instead. So that's why you don't see a 'Ramadhan Special' tag on this post. You can still enjoy these dishes after Raya has passed.
So let's get to it!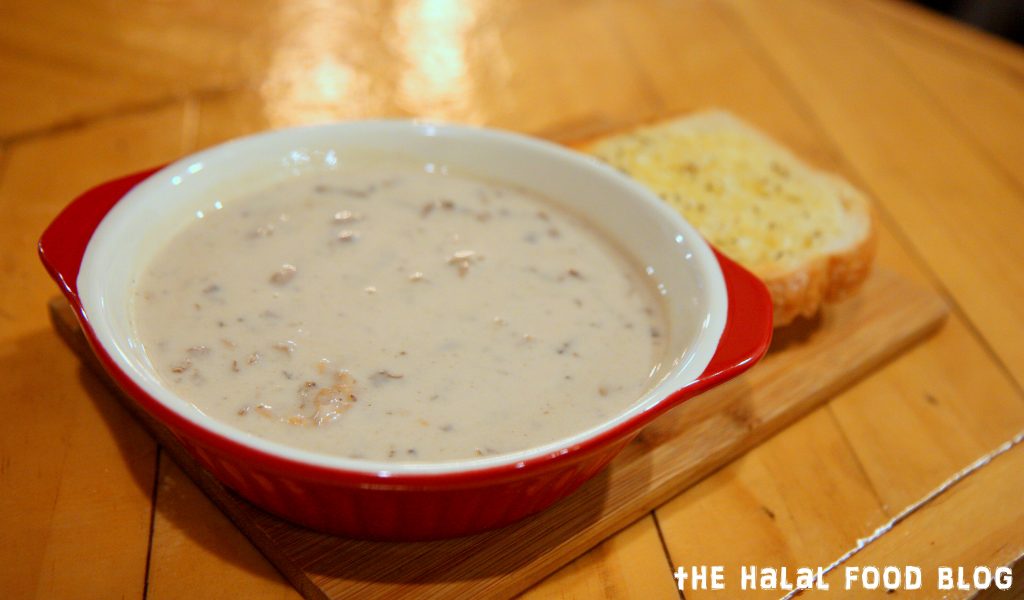 So we started with some Starters because that' what Starters are for – starting. LOL
First up was the Mush-Mush which is the ROUSE version of the Mushroom Soup (or as they call it – Shoup) and it comes served with some lightly buttered toast for celup-ing plesure.
This was a kinda rustic take on Mushroom Soup which we really enjoy. You've got  really nice and earthy flavour of mushrooms which is always welcome at our table. Plus it's brimming with mushrooms!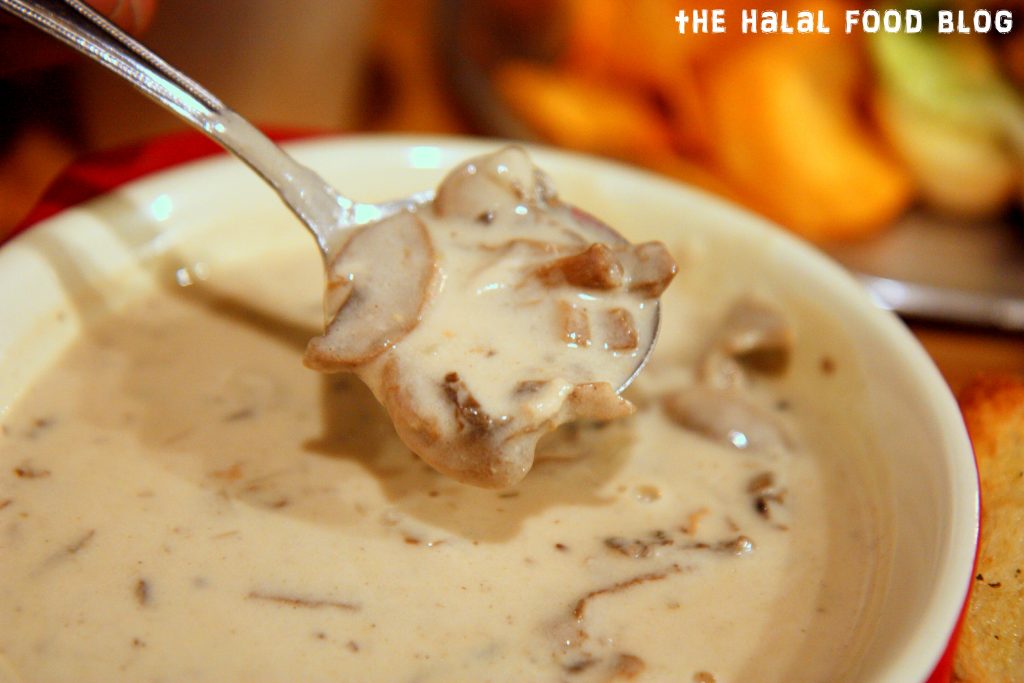 The Mushroom Shoup was creamy and actually very nice. Except for one thing… This particular batch was a bit too heavy on the salt. I'm not complaining because I absolutely LOVE salty food but if I say it's salty, means it must be pretty salty. But hey could have been just a one-off.
I think there's a saying that if the food is too salty means the cook wants to get married or something like that right 😛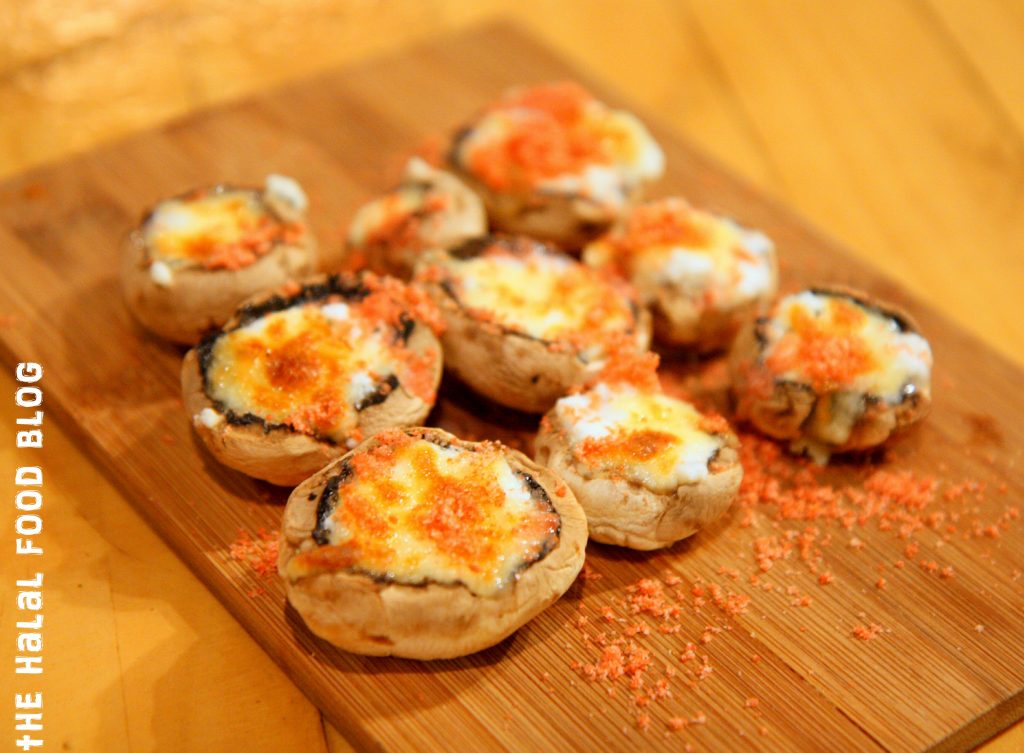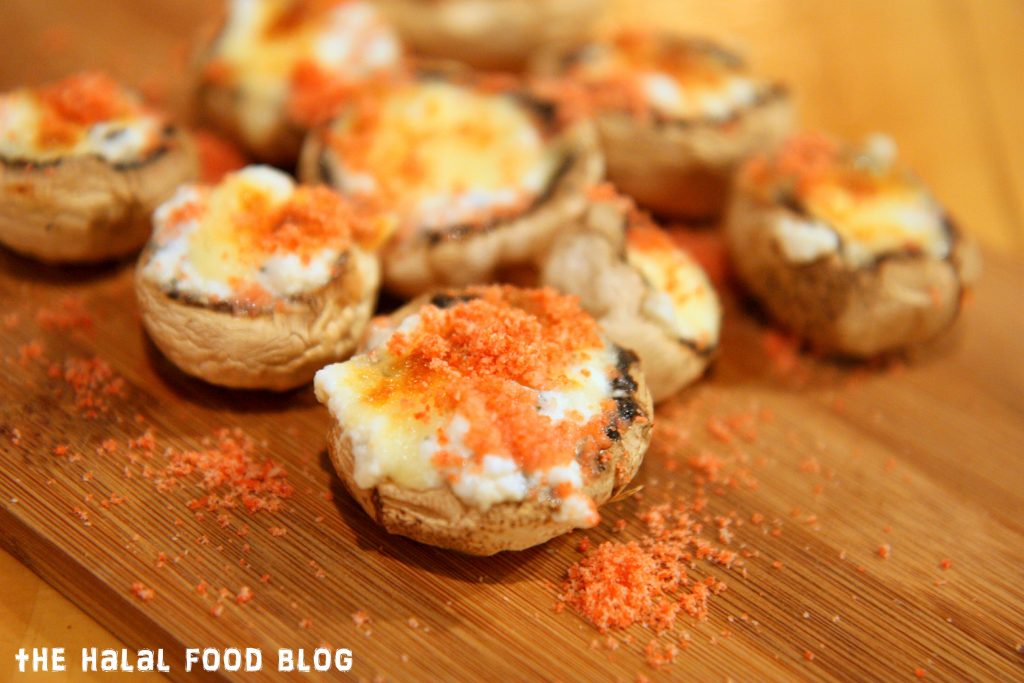 So these tiny little things are Swiss Brown Mushrooms and they're filled-up with a little Ricotta cheese and then you've got some 'crumbs' sprinkled over for some added flavour.
Not sure why we chose 2 mushroom dishes for our starters. Maybe that was overkill? But not really leh.
Unfortunately these mushrooms were a little lacking for our taste. I guess the overpowering flavour was the 'crumbs' the sprinkle over? I could be wrong but it kinda reminded me of those soy-based Baco-Bits that we have with those Baked Potatoes sometimes?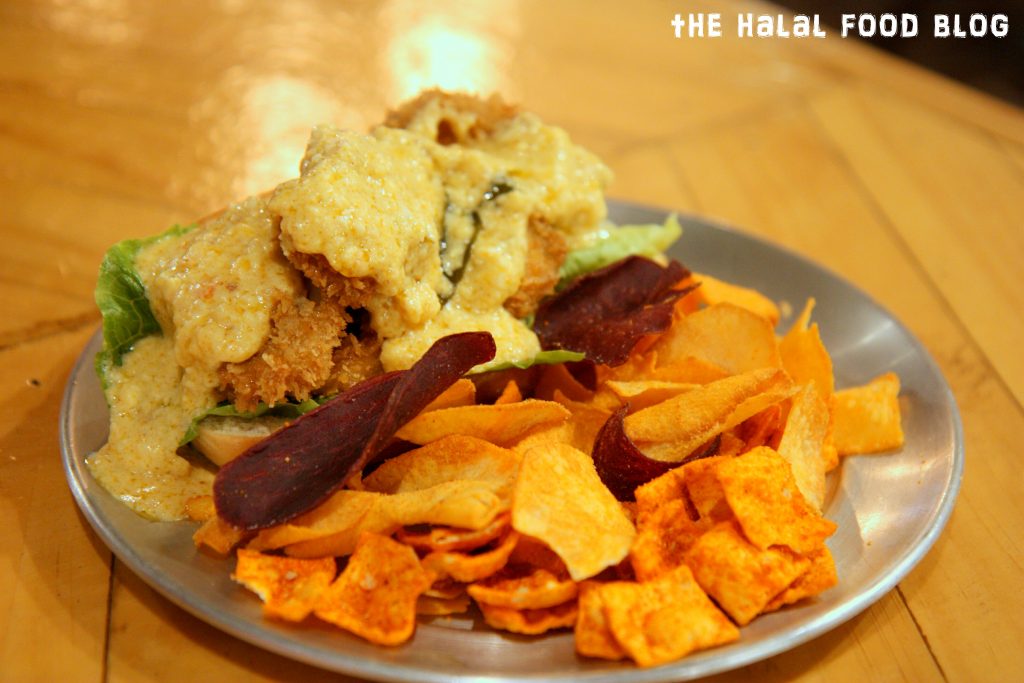 This was actually the first dish we confirmed decided on when we first went through the menu. Because you know how much we love Salted Egg stuff right?
So you've got a roll (basically a hot dog bun) and they pile on a whole load of deep-fried breaded calamari that has been smothered with some Salted Egg gravy. *drools*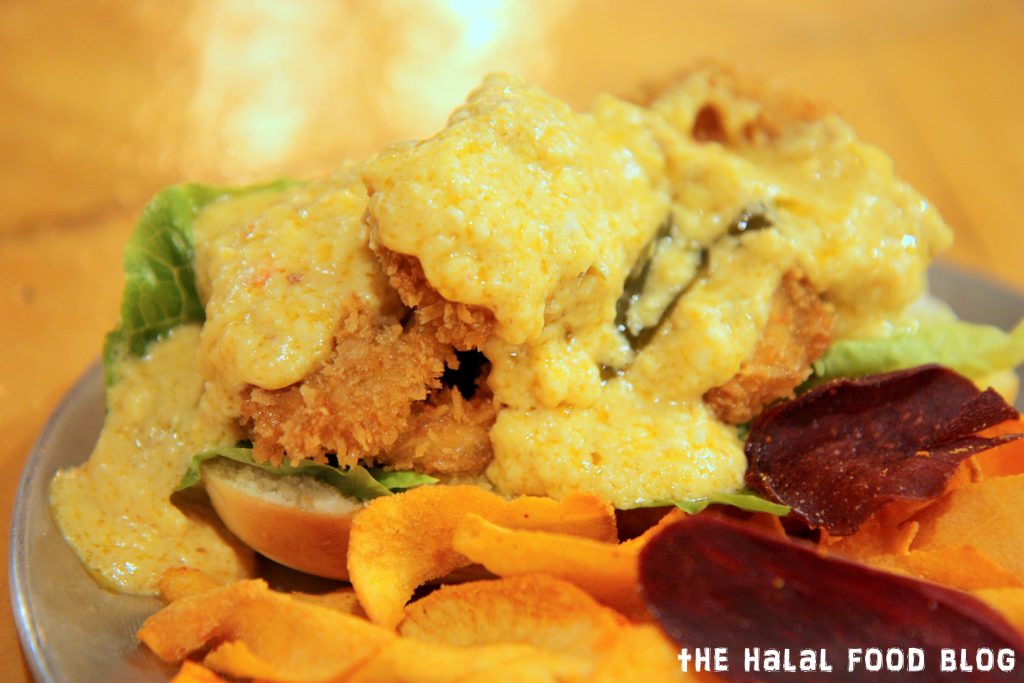 Totally enjoyed the calamari. Anything deep fried is high up on our 'power to the max' list and if it's been breaded, lagi best because you've got that extra crunch when you chomp down.
The Salted Egg gravy was actually not bad. But we have to point out something that some people (including us) might miss when we first see this on the menu (after all, kan excited nak makan salted egg). This a 'Salted Egg' sauce as opposed to a 'Salted Egg YOLK' sauce. This means the whites are incorporated into the gravy and not just the yolks as would be in some other dishes. You can see it in the pic above if you look closely.
But hey – nothing wrong with that. This is still a tasty dish. Just wanted to point that out that's all 🙂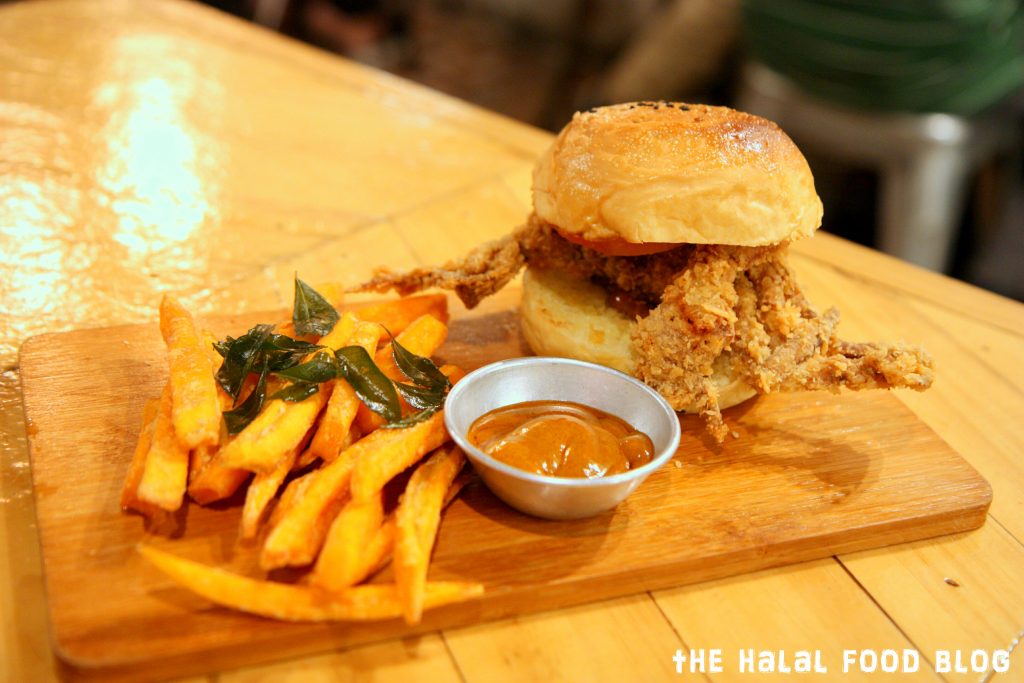 Here's a dish that we've heard a lot about and kept seeing it on ROUSE's Instagram over and over again. Wasn't too sure how it was going to turn out but definitely one of the dishes we had on the list since our first visit.
Take two buns, toasty a little and butter them up (Mein Brudder says they should butter them up even more! Tak cukup!) and in between, place a crispy-batter-fried soft shell crab. Round it off with a little dollop of a special curry concoction and serve with some sweet potato fries and more savoury curry sauce.
I quite liked the crispy soft shell crab. It has a nice and tasty batter and it was fried really well. And for me, I quite liked the buns too. But…. I wasn't quite going for the curry sauce they had….
I know that the first thing that comes to peoples' minds when someone says "Curry Sauce" is the type you get from McDonalds. To be honest, that's not what we were expecting at all. But this one has a very strong taste of curry. We are talking about the pure curry flavour here that's in a consistency that's just a little more fluid than a paste. I guess the best word we can think of to describe it was a 'pekat' taste.
I'm sure some people like it. But surprisingly, even though we love our curry, this was a miss for us.
I know that they were going for a little Asian touch in this dish which is totally commendable. I'm thinking about how this might taste with some like…. maybe a Kimchi Coleslaw type deal? Just a thought 😛
The sweet potato fries are good by the way. You can also order them separately as a side if you'd like.
I am just going to go right out and say it – THIS WAS THE BEST DISH WE HAD THAT EVENING.
And what a surprise too! When I saw it on the menu, I thought it was gonna be like those Tortillas kinda platter with some fries and some salsa and some chunks of meat tossed in you know what I mean? Oh how wrong we were….
This turned out to be such a great dish for us! In fact, it was the last dish we started on after the first two so we were already pretty full but we still whacked until finish. Seriously.
There are few things better than a good cut of meat that's cooked well. And the person who cooked this got it absolutely spot on! Just look at the done-ness on that. Absolutely beautiful!
Here's a cut of Sirloin steak with minimal seasoning. We're talking about probably just some salt and pepper and they grill this bad boy before topping off with some brown gravy. What a great way to have a steak (I know some of you will probably do without the brown sauce) because you really get to enjoy the flavour of the beef.
This takes us back to when our dear ol' Dad used to get his own cuts of steak from this guy in Tekka Market. Then he'd come home and cook us some steaks with just the minimal seasoning. And that's what this tasted like. Something familiar. Something absolutely tasty.
I don't know if I'm being very simple or very deep. But the bottom line is – this was a good steak to us.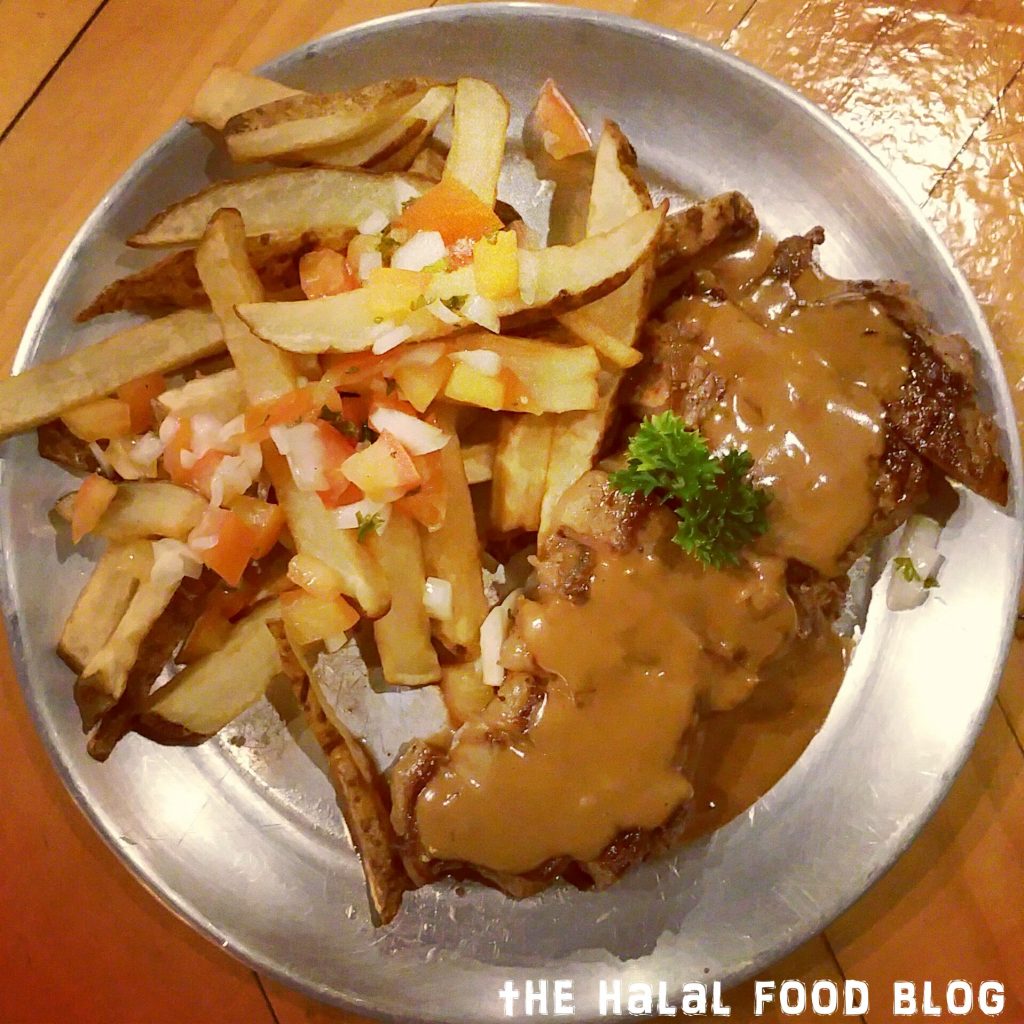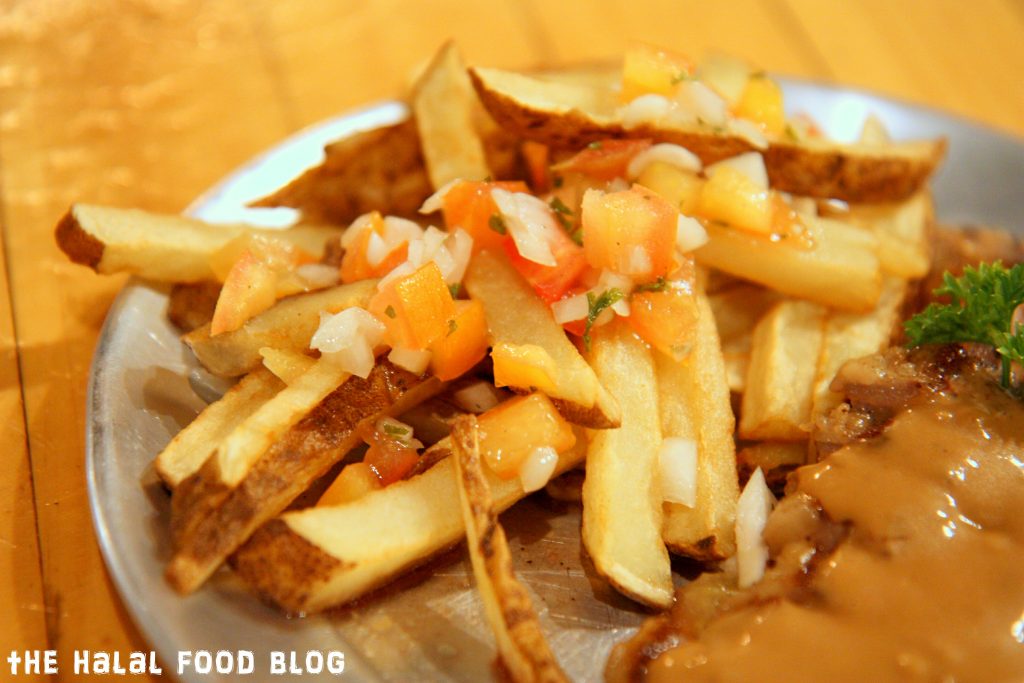 Mein Brudder totally enjoyed the Salsa Fries too!
We're talking about skin-on potato fries and the reason he liked them so much is because they were a little on the 'soggy side'. Not soggy as in wet but soggy as in soft.
Plus – meat and potatoes combo? Winner. Next better player.
We did have an interesting observation about the serving dish though which is a simple metal plate. Mein Brudder found it a little off-putting but I could see how it tied-in with the whole industrial feel of ROUSE.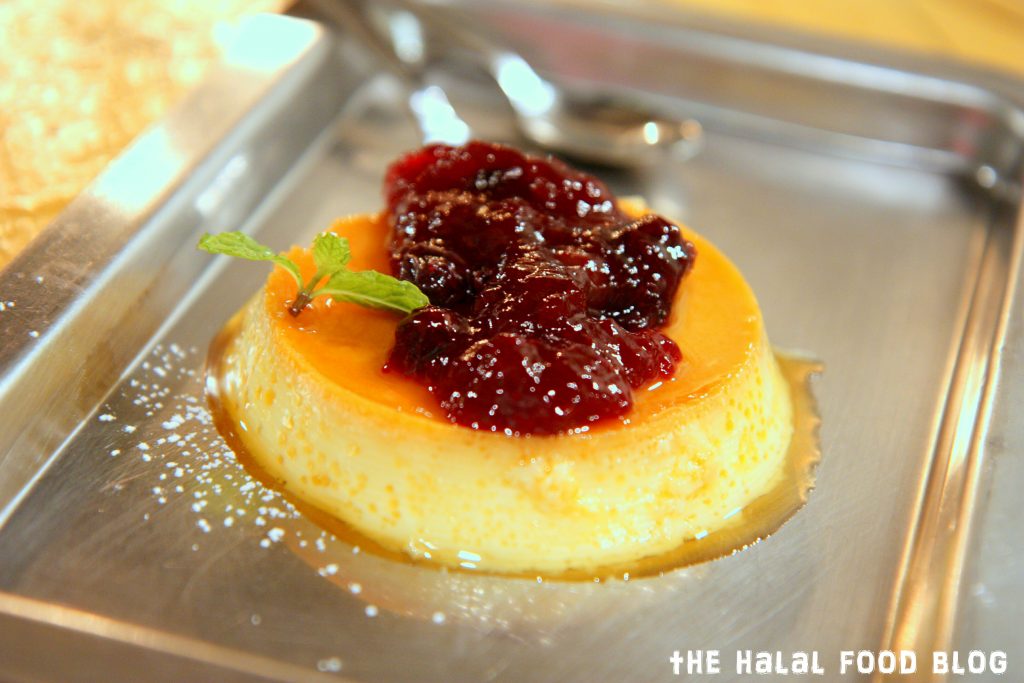 AHA! We DID try something from their Ramadhan Menu selection after all! LOL
So for dessert we went for the Caramel Flan which was pretty light in texture with just the right hint of sweetness thanks to the sugary syrup. You can choose either the Blueberry Compote or the Orange Sauce by the way. We chose the former and it was actually not bad. And yes I realize that it's not blue in colour so I'm not actually sure if what we got was Blueberry Compote but it tasted nice LOL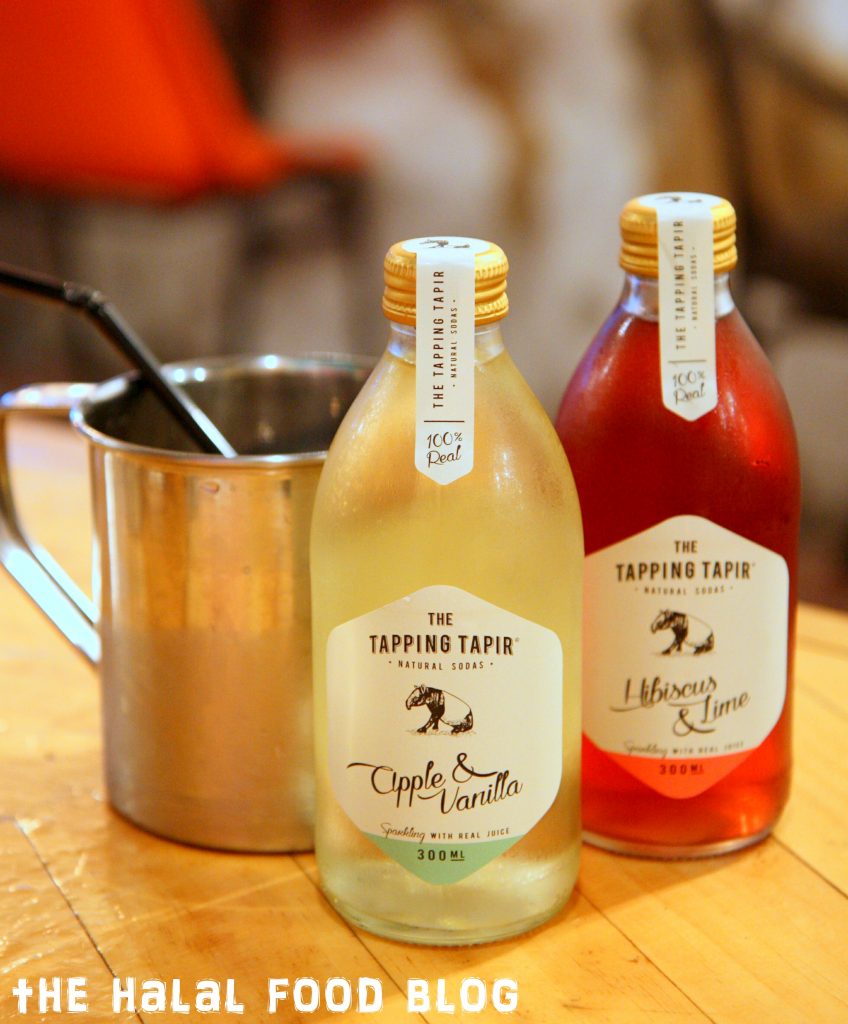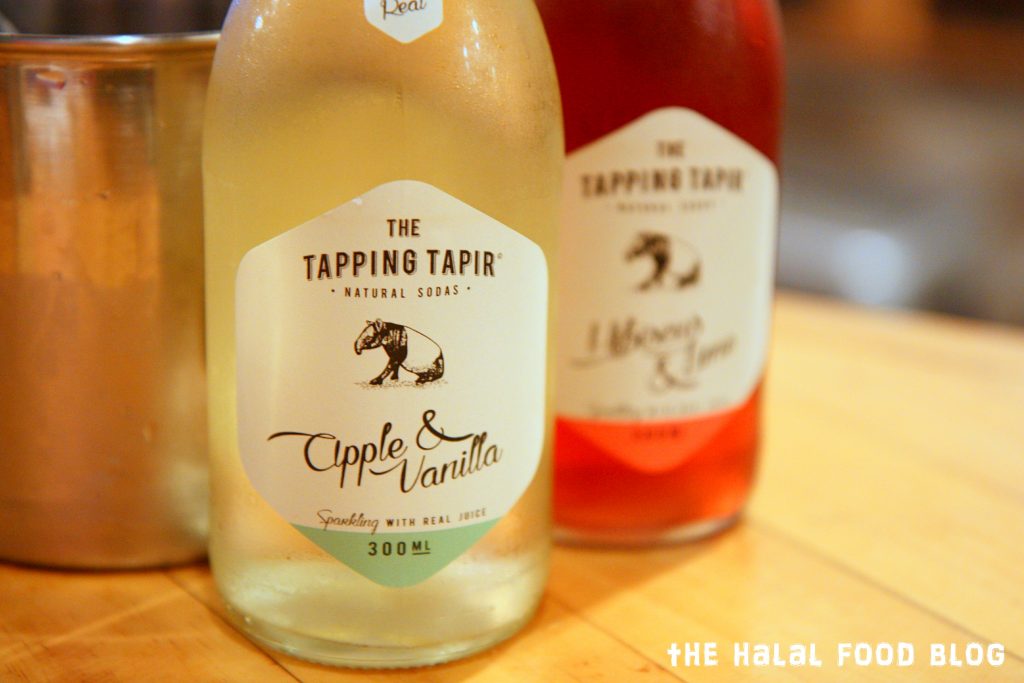 Saw this on the counter and figured we'd have a go.
Quite a few flavours to choose from too! Besides the Apple & Vanilla and the Hibiscus & Lime (pictured), they also have Grapefruit & Camomile and Guava & Lemongrass.
To be honest they all sound delicious and seems like this is my kind of soda.
Very crisp flavours that did not come on too strongly. To be honest I'm not one to really go for these kind of 'natural' or 'artisan' or 'organic' what-nots but all in all I'm just saying that I really enjoyed this soda. Plus puasa so I was really really thirsty LOL
If you want something to double-up as both your beverage AND your dessert, perhaps you'll consider the Lime Sorbet Passionfruit Tea?
So the Passionfruit Tea is… Passionfruit Tea. No surprises there. But I'm quite a sucker for ice-cream and sorbet still counts. But I kinda reckon I will stick to those sodas the next time we visit if you know what I mean.
Adam's Verdict:
Mush Mush 3/5 — Shroom Shroom 2/5 — Krusty Kari Burger 2.5/5 — Salted Egg Calamari Roll 3/5
Steak and Salsa Fries 5/5 — Flan with Blueberry Compote 3/5 — Tapping Tapir Sodas 4/5
Lime Sorbet Passionfruit Tea 1.5/5
Azlan's Verdict:
Mush Mush 3/5 — Shroom Shroom 2/5 — Krusty Kari Burger 2/5 — Salted Egg Calamari Roll 3.5/5
Steak and Salsa Fries 4.5/5 — Flan with Blueberry Compote 3/5 — Tapping Tapir Sodas 3.5/5
Lime Sorbet Passionfruit Tea 4/5
Well there you have it kiddies. Our 2nd visit to ROUSE and it was actually pretty nice. Yeah we will probably visit again to try out some more stuff but I reckon we'll probably order a few things we already know we like 🙂
And yes they do have a special Ramadhan menu out there til the end of the fasting month. So check out their IG for details on the dishes and also on how to make reservations to Iftar there.
PS they put up a sign outside on the building so it's a bit easier to find them now.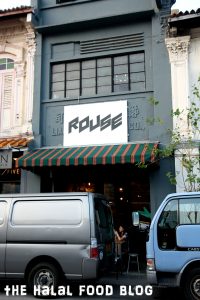 ROUSE

36 Dunlop Street
Tel: 6292 2642
www.facebook.com/rouseondunlop
Operating Hours
Mondays, Wednesdays, Thursdays 12:00 – 22:00
Fridays and Saturdays 12:00 – 23:00
Sundays 11:00 – 19:00
Closed on Tuesdays  
All information (including prices, availability of item on menu and Halal status of establishment) are accurate at the time of posting. All photos used in this site are property of The Halal Food Blog unless stated otherwise.