Awhile back, we had the privilege of being invited to stay at Renaissance Johor Bahru Hotel to not only experience the famed Renaissance hospitality but also the many dining delights available to choose from at the hotel. As you all know, we love to eat so this was a great chance for us to try out some new makan and, of course, share it with all of our readers!
The full review on our stay at Renaissance Johor Bahru Hotel is coming soon but in the meantime, let us show you what we enjoyed at Wan Li Restaurant.
Wan Li Restaurant serves up a great selection of Cantonese cuisine in very cozy setting which not only adds to the charm of the meal but also gives you an air of comfort so you enjoy your food even more.
Since we were invited, they has a special menu of dishes ready to be served to us but looking at the menu, we saw plenty of dishes that not only sounded tasty but also many dishes that were unique and actually some we'd consider to be very exotic. But more on that later okay – now we makan first LOL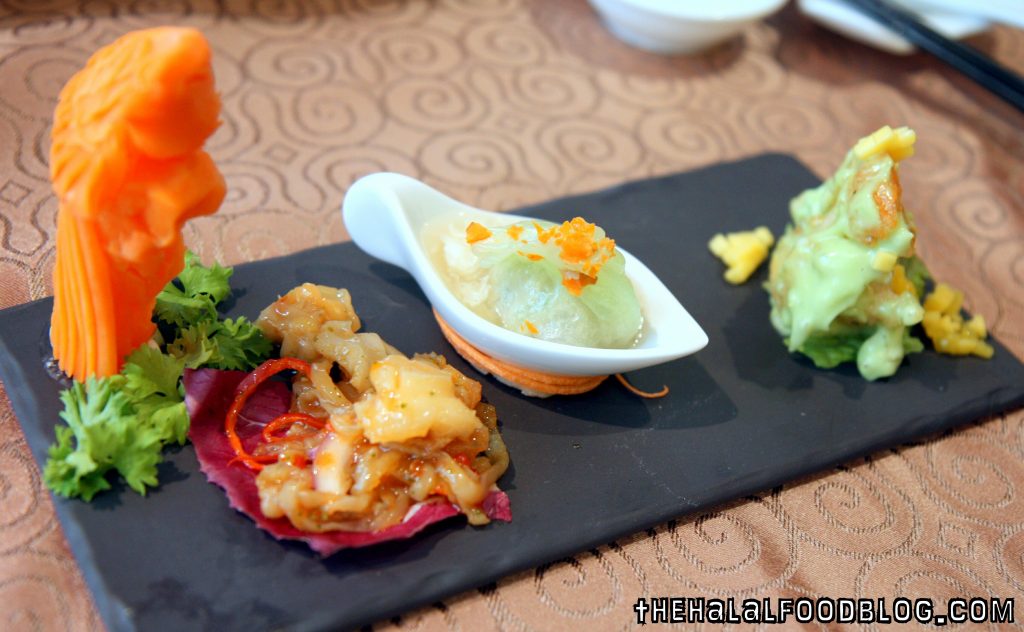 From left to right, we have the Thai Style Marinated Jellyfish, the Steamed Jade Dumpling with Egg White Sauce and Wan Li Signature Wasabi Prawn with Fresh Mango. A trio of treasures? 😛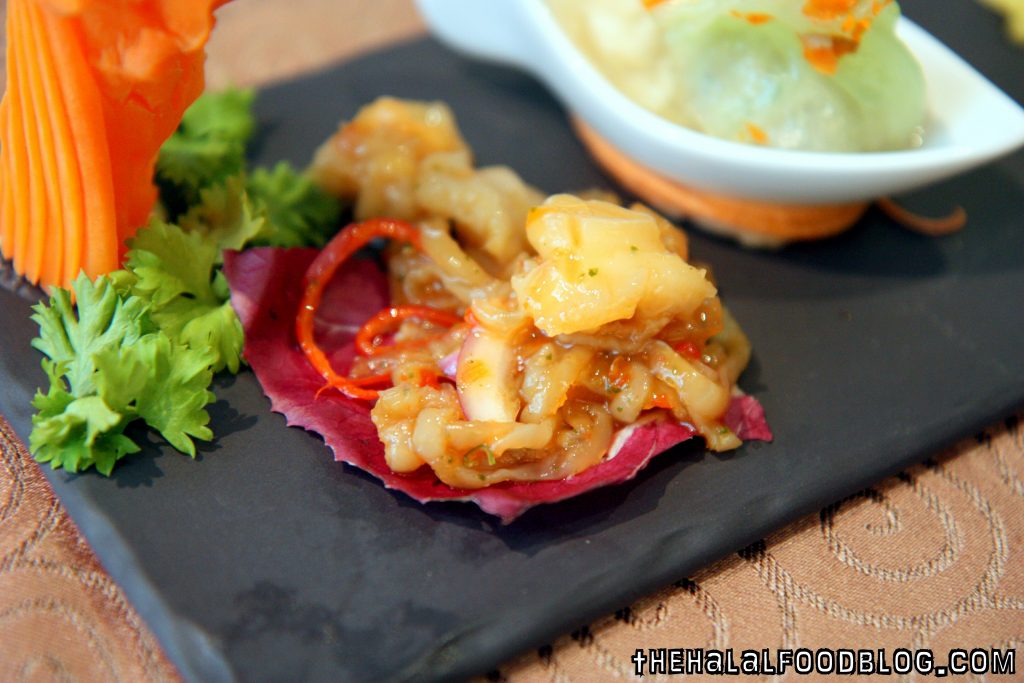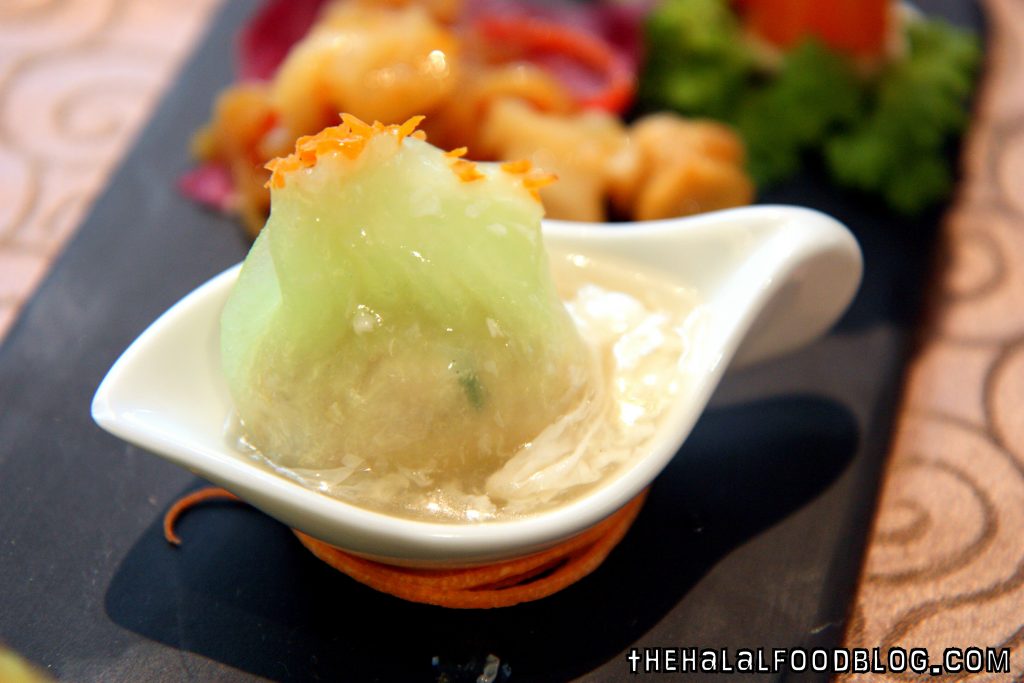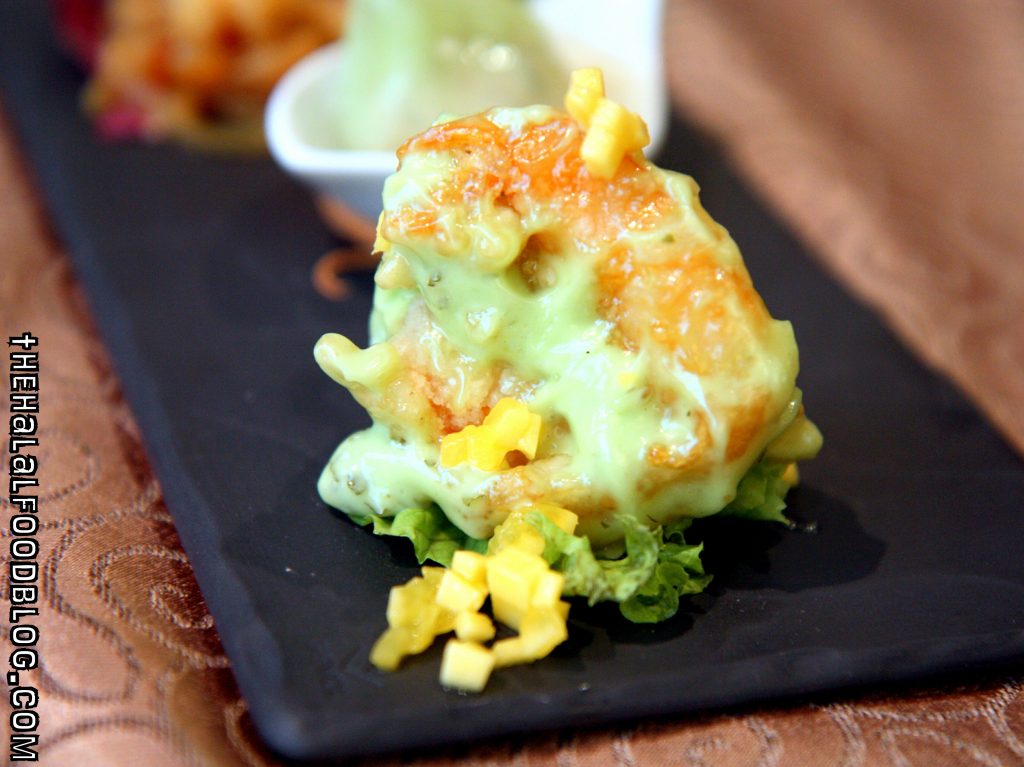 Quite a nice start to the meal I'd say. Enough to whet your appetite but and give you a taste of the variety of dishes available on the menu. But you're definitely still going to hungry of course!
The Thai Style Marinated Jelly Fish was very flavourful and reminded us a lot of the type you might get when you're invited to a hotel wedding dinner y'know what we mean? And please don't be put off by the word 'jellyfish' okay. If you haven't tried it before, go for it! You might actually like it like we do LOL
The Steamed Jade Dumpling with Egg White Sauce was okay but I guess it wasn't exactly the best item on the platter. And we do love our dim sum right but I guess this was just okay-okay.
The Wan Li Signature Wasabi Prawn with Fresh Mango was a bit puzzling. It was actually very tasty and we really enjoyed it but to be perfectly honest, the appearance actually leaves a lot to be desired LOL don't get us wrong we love this messy kind of look and all that but when I first saw it, I didn't actually know what it was until someone pointed out the shape of the prawn. And I didn't really get the mango in all of it but the Wasabi mayonnaise was tasty and the coating was nice and crisp.
We also wanted to specially point out and commend these little bird figurines carved out of carrots!
Yeah I know the first picture makes it look like a really sinister-looking bird but hey it takes some skill to carve these out and we were actually pretty impressed.
Just make sure you don't eat them okay. No matter how much you love your veggies. LOL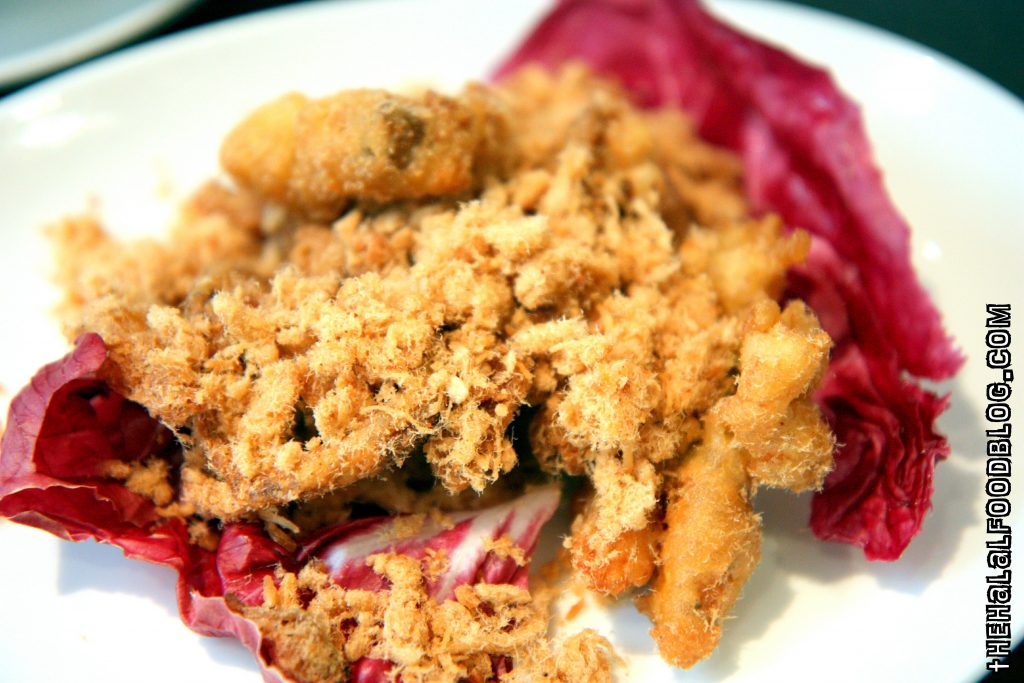 We lurrrrrrrve soft shell crabs and we lurrrrrrrve chicken floss so this was a win!
The soft shell crabs were cut up, some simple seasoning and then coated before being fried to a perfect crisp. Stir them up in some chicken meat floss and we're all done. Serving size was a bit small but after all, this is an appetizer so leave some space for the rest of the meal.
Plus, it's like only RM18++ so if you really like it then order more!
Anyways besides that, they also have plenty of other choices for appetizers on the menu including Crispy Silver Fish with Salt and Pepper, Smoked Duck Breast with Honeydew in Apple Sauce and also the Crispy Mixed Vegetables 'Tempura' (which we reckon is like the Japanese-style Kakiage)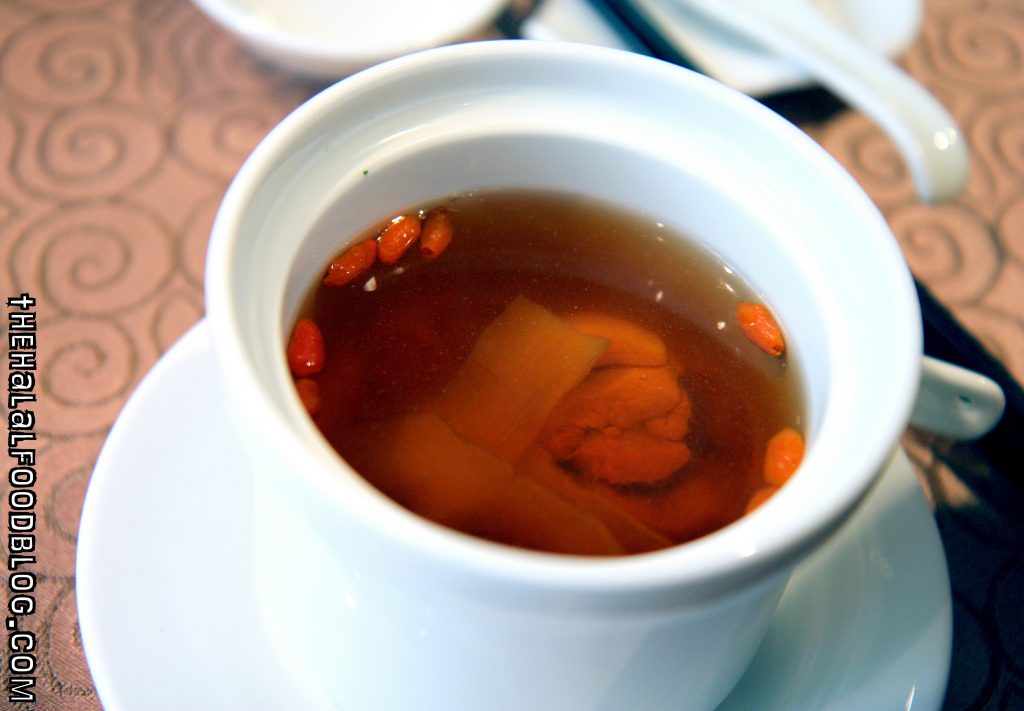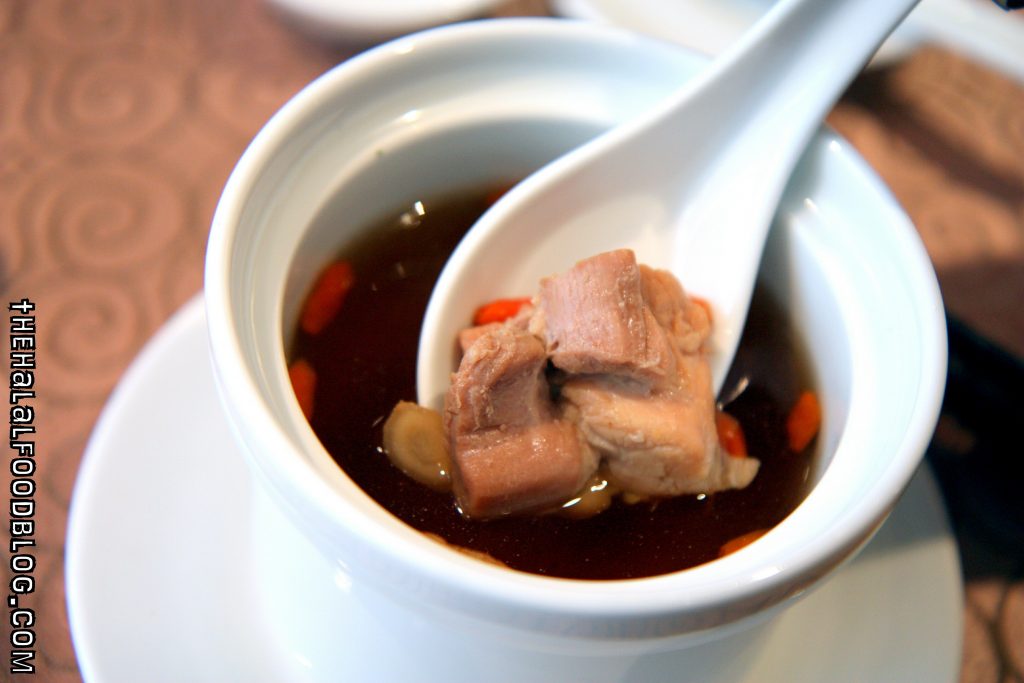 Okay lah we were totally not sure what to expect here because this is a clear soup and technically you'd consider it being a herbal soup (with Ginseng and double-boiled and all that) but boy oh boy this was really good!
First things first, they use Village Chicken aka Ayam Kampung which was super tender because of the cooking process. How exactly does double-boiling work? Well, they put all the ingredients in a small pot (normally clay or ceramic) and then this small pot is placed in a bigger pot. It's in this bigger pot that the liquid is boiled so the food in the smaller pot gets cooked. It's not quite steaming but this cooking method is normally used when cooking delicate ingredients (e.g. herbal tonics etc).
So not only is the chicken super tender, the soup is actually really tasty too! There's Ginseng (obviously) and Wolfberry in there plus some other goodies too. Top marks for this soup.
But if not, then maybe consider the Crabmeat Sweet Corn Soup with Egg White (RM16++), Hot and Sour Soup Szechuan Style (RM14++) or the Braised Fish Maw Soup with Seafood and Dried Scallops (RM18++).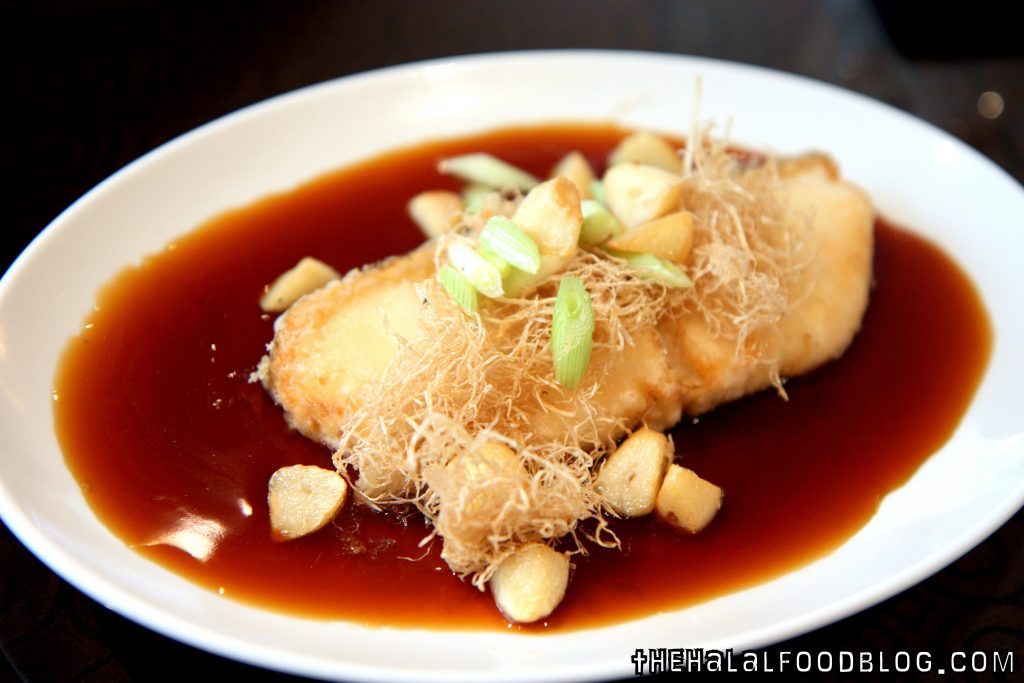 Wan Li Restaurant prides itself on serving not just tasty and authentic Cantonese cuisine but also fresh seafood.
You might actually be amazed when you see the number of seafood dishes available on the menu. It's just the types of seafood but also the many different ways the seafood can be prepared too!
We had the pleasure of enjoying the Crisp-Fried Fillet of Cod Fish with Fragrant Garlic and Superior Soy Broth. The cod fish flesh was super fresh! It had a great texture because it was firm and had a natural sweetness to it which was a very nice contrast to the Superior Soy Broth which has a salty edge to it.
You will realize at the end of this post that they did not serve any dishes with rice of noodles during our meal there and we are not complaining because we had great dishes like this to eat and this also meant more space for the dishes in our tummies LOL
And before you ask, that shredded ingredient that garnishes the dish is actually shredded ginger.
Other 'Fish Fillet' dish choices include the Oven-baked Cod Fish in Honey Sauce, Steamed Cod Fish topped with Preserved Vegetables & Dried Shrimps, Stir Fried Fish Filler with Ginger & Spring Onions and the Sweet & Sour Fish Fillet. And this is not yet including the FRESH seafood options! More on that later!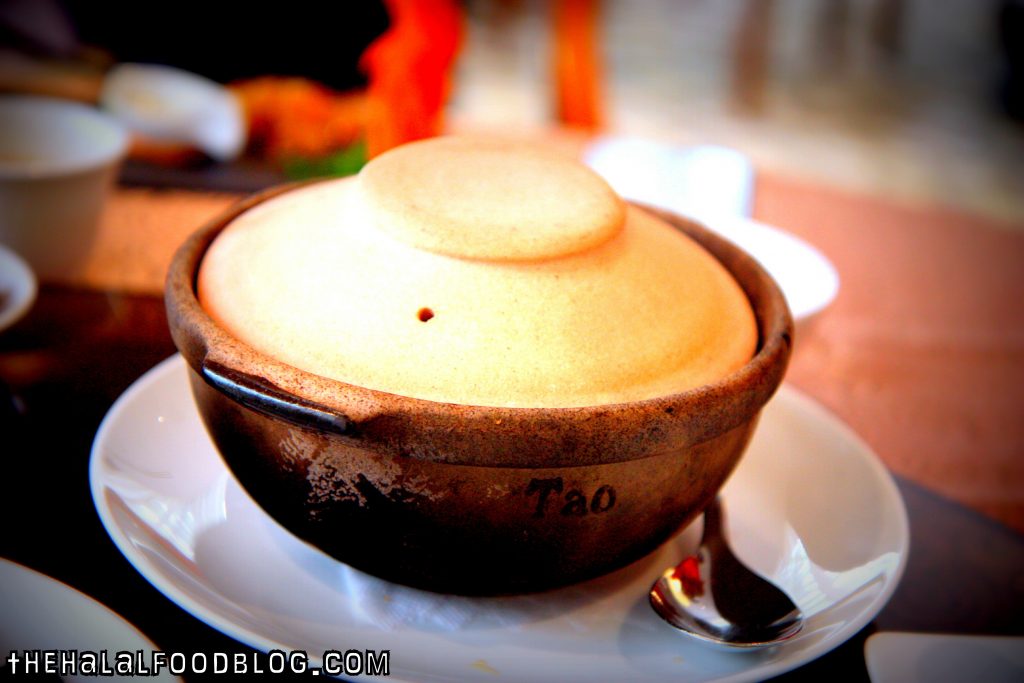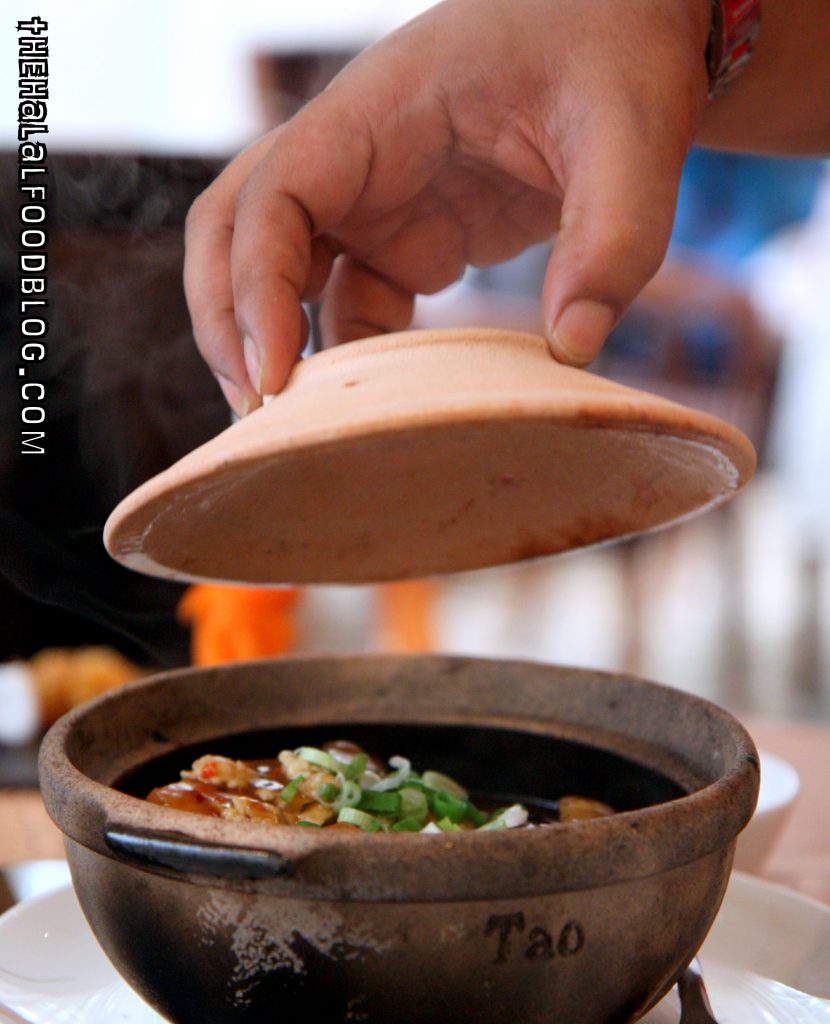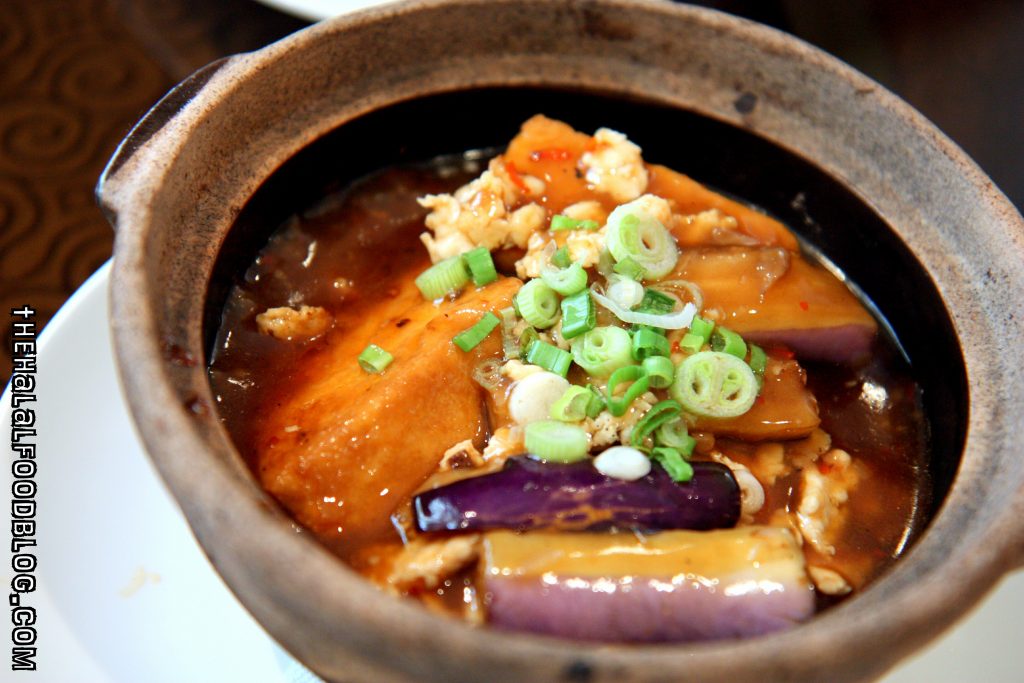 Absolutely love claypot dishes! There's something about cooking in a claypot that makes the dish all the more appetizing I guess! Especially when they open the lid and the steam escapes and the dish is still bubbling!
This beancurd dish was not bad actually. It had a bit of a spicy flavour actually so the gravy within went very well with the beancurd which doesn't really have much flavour. Not sure if you're fans of eggplant or not but we were so no complaints here! Anyways it's not cooked to the point that it becomes mushy or anything like that.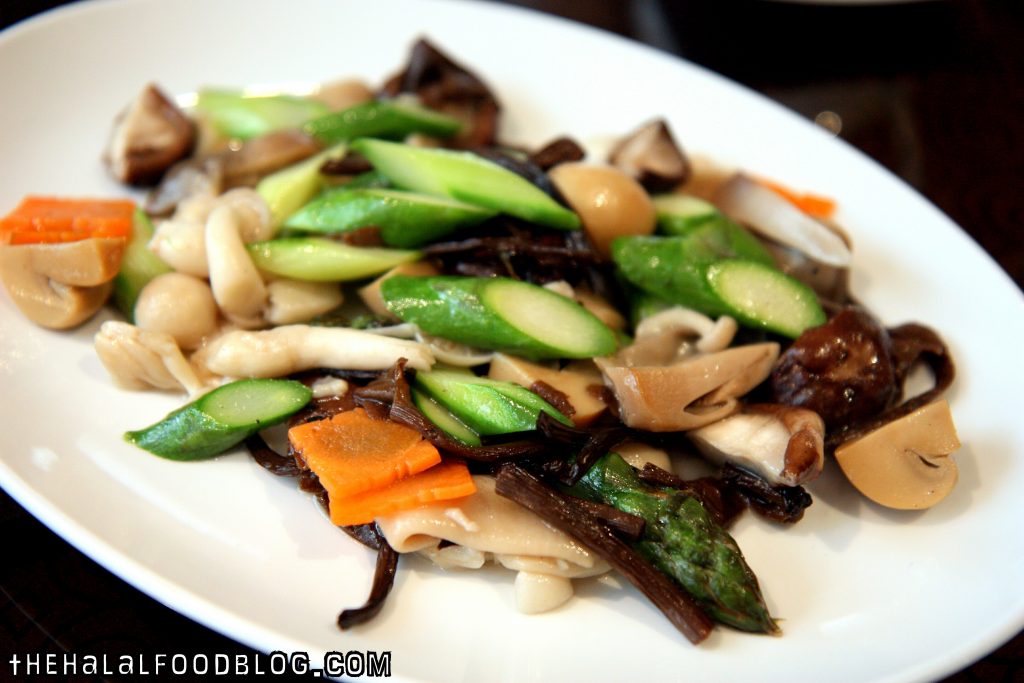 This was probably the most disappointing dish of the meal.
And no it's not just because it was the vegetable dish okay! LOL
It wasn't bad or anything like that. They've got asparagus, carrots and an assortment of mushrooms all stir-fried. The dish turned out a bit bland in the end. Looking at the menu, we saw quite a few more dishes like the Wok Fried Kailan with Ginger that might have been more up our alley.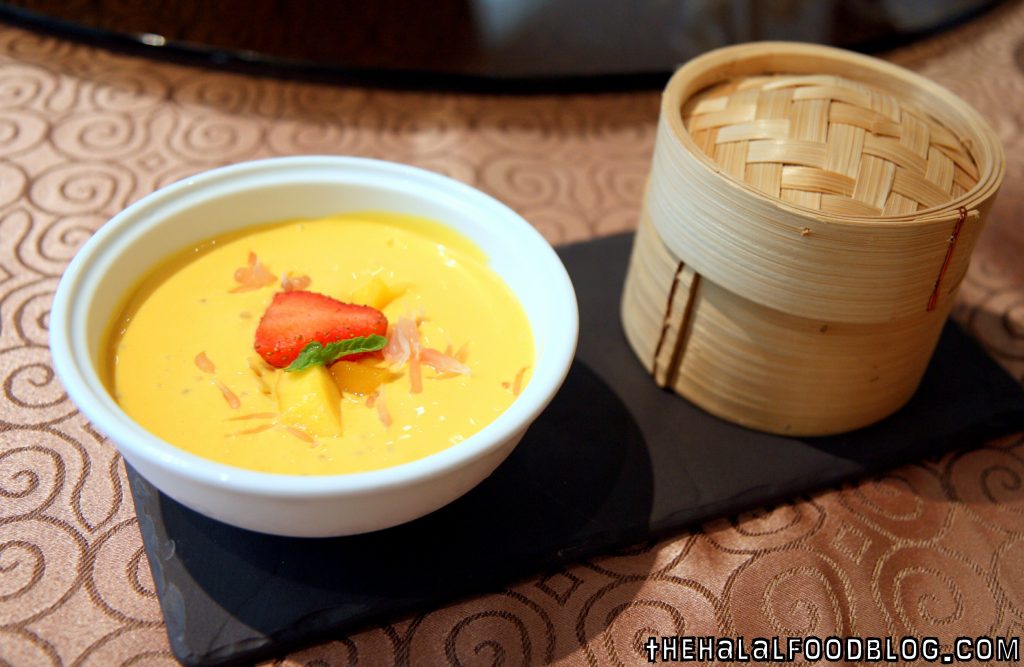 And last but definitely not least, we arrived at the dessert course!
And judging by just the name of the dish, we were in for a treat (you know we have a thing for salted egg yolk stuff)
So first up was the Chilled Mango Puree & Pomelo which also has some sago in there somewhere.
The mango puree itself was really good! It's not those diluted type which gets all watery by the time you start digging in. You really get the pure mango flavour here. Add that with the pomelo bits (which happens to be Mein Bruder's favourite) and we have a winner.
And by the way, it's actually quite a big serving in that bowl. Oh so good and totally worth the price.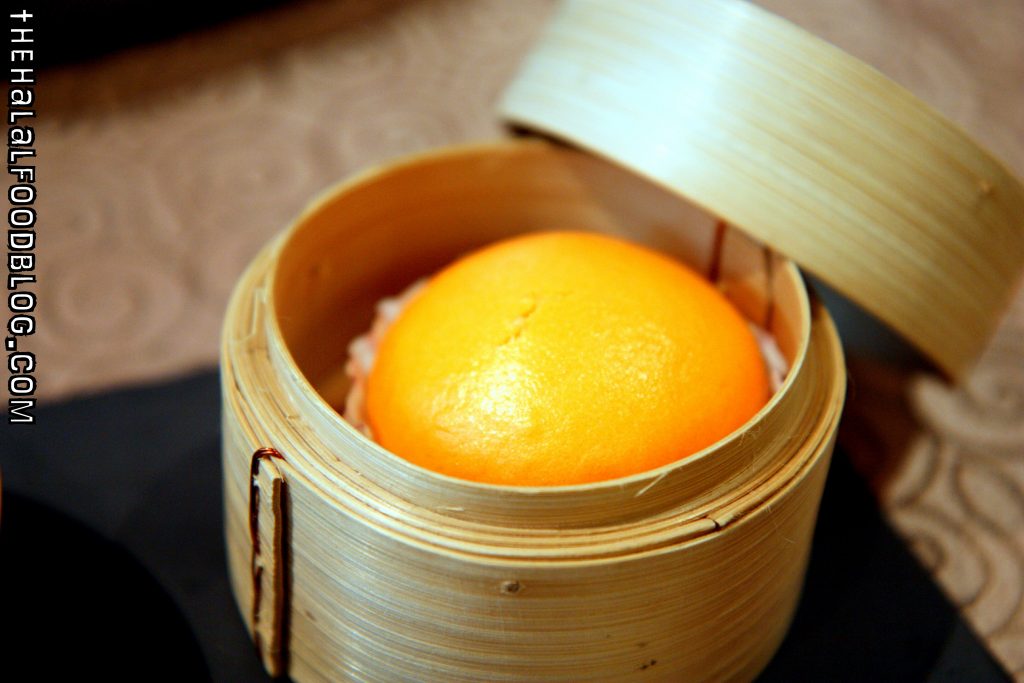 JENG JENG JENG!!
And the climax of our meal was here – The Golden Custard Bun…
So what's hiding inside that steamed little pocket?
Oh yeah that's right. Salted Egg Yolk custard is packo and hidden inside that soft little bun.
So no matter if you bite into it or you tear it apart with your hands, all that salted egg yolk goodness is gonna flow!
Come to think of it, better not bite straight into it because that filling is actually pretty hot.
And in case you're still not convinced, we even took a video LOL
But it's a bit of a fail because the bun didn't tear apart like we planned but it's still a great video and YOU MUST watch it with the sound on because it's got the background music from the restaurant that fit perfectly LOL
Our buns runneth over. Like literally lah LOL
You can also order the The Golden Custard Bun (RM8.80++) ala carte in the menu under the Dim Sum section.
And boy oh boy do they have A LOT of Dim Sum to choose from!!! Want us to list it out??? Ok.
Shanghai 'Xiao Long Bao', Superior Har kao with Water Chestnuts, Superior Siew Mai, Steam Bean Curd Sheet rolls with Oyster Sauce, Steamed Prawn & Scallop Dumplings, Steamed Chicken Fillet in Black Bean Sauce, Steamed Chicken Feet in Black Pepper Sauce, Steamed BBQ Chicken Buns, Steamed Lotus Paste Bun with Salted Egg Yolk, Glutinous Rice in Lotus Leaf, Crispy Chinese Chives Pancake, Deep Fried taro Pancakes, Deep Fried Golden Chicken Dumplings, Deep Fried Beancurd Skin Rolls with Prawn, Pan-fried Shanghai Dumplings, Pan-fried Radish Cake, Deep Fried Sesame Balls with Lotus Paste, Baked Egg Tarts, Baked BBQ Chicken Pastry, and a whole host of porridge dishes too!
And guess what – Wan Li Restaurant has an ALL YOU CAN EAT DIM SUM BUFFET til the end of October!! And it's ONLY RM46 nett per person!!! You get all that plus more that we probably missed out LOL Now is that a great deal or what!!
Wan Li Restaurant is actually a great place to hold functions too actually. Maybe some office retreat or lunch/dinner celebration? They've got a really nice ambiance the restaurant is definitely very very spacious. And since Renaissance Johor Bahru Hotel is so close (it's like literally 5 mins drive after you pass through the immigration), this is definitely a great idea for a group excursion! Rent a bus or van and one whole gang can go and enjoy LOL
Wan Li Restaurant is issued with a Samak/Sertu from JAKIM as opposed to a Halal certification because alcohol can be served in the restaurant (just like plenty of other restaurants and eateries in Malaysia). Rest assured that there is no alcohol used in the food of course.
And in case any of you were wondering about what the kids might be able to eat while you're there…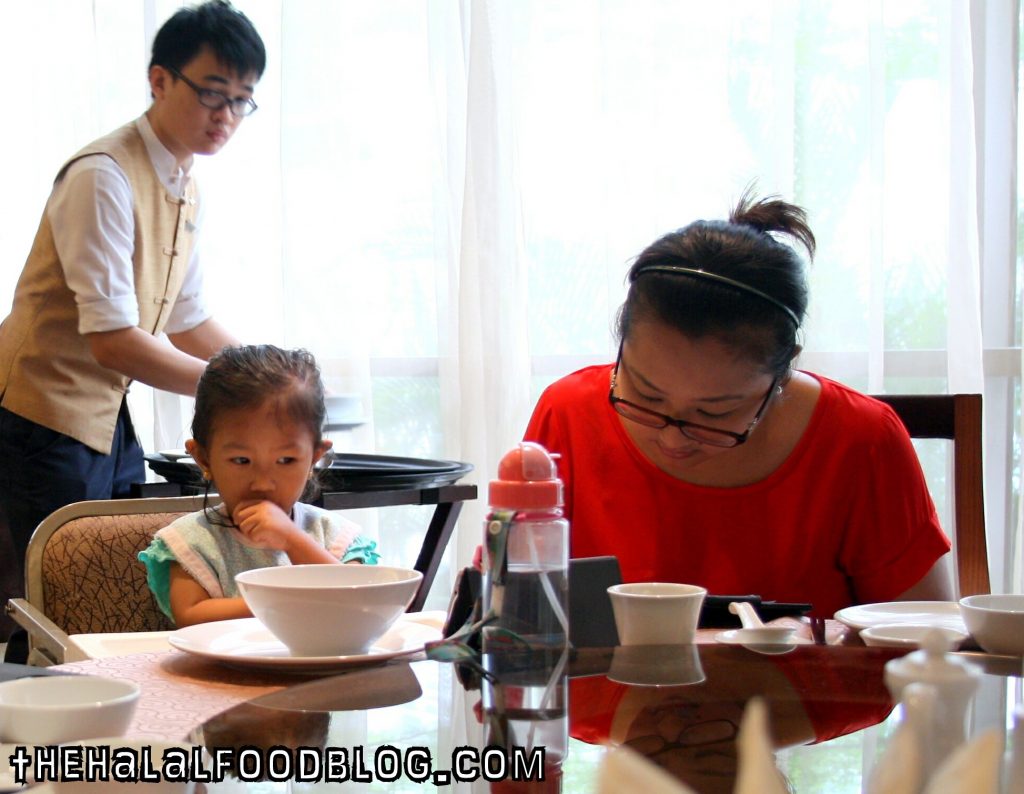 "Hmmmm… what shall I eat" thinks Maira Alyssa LOL
A lot of the Dim Sum on the menu is suitable for kids like the buns and all that but for the really young ones, they also have quite a number of porridge dishes too as we mentioned earlier.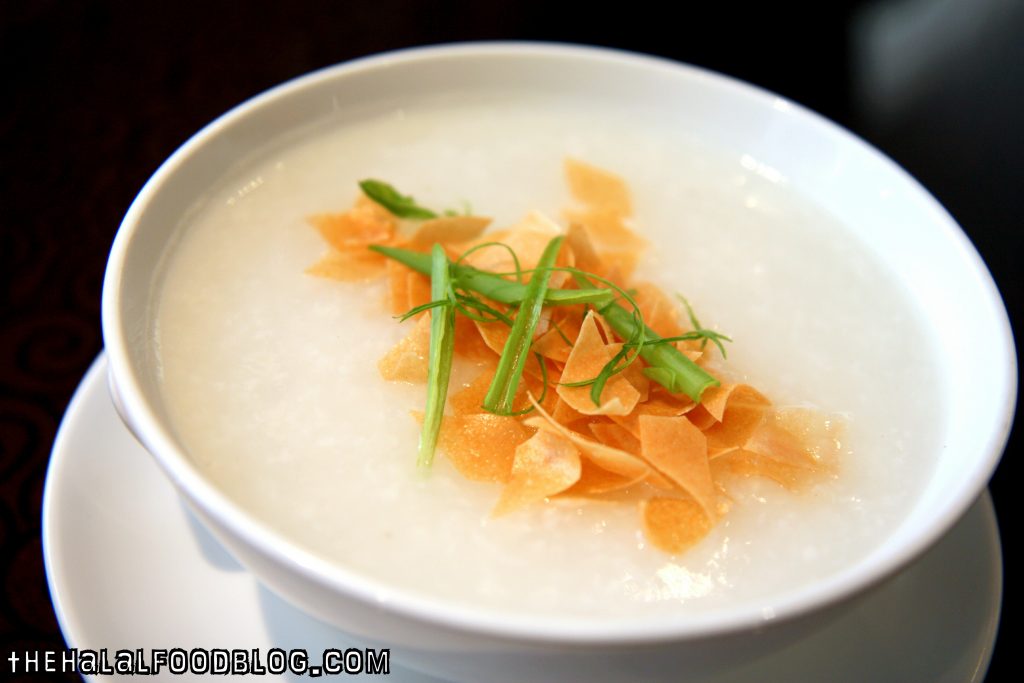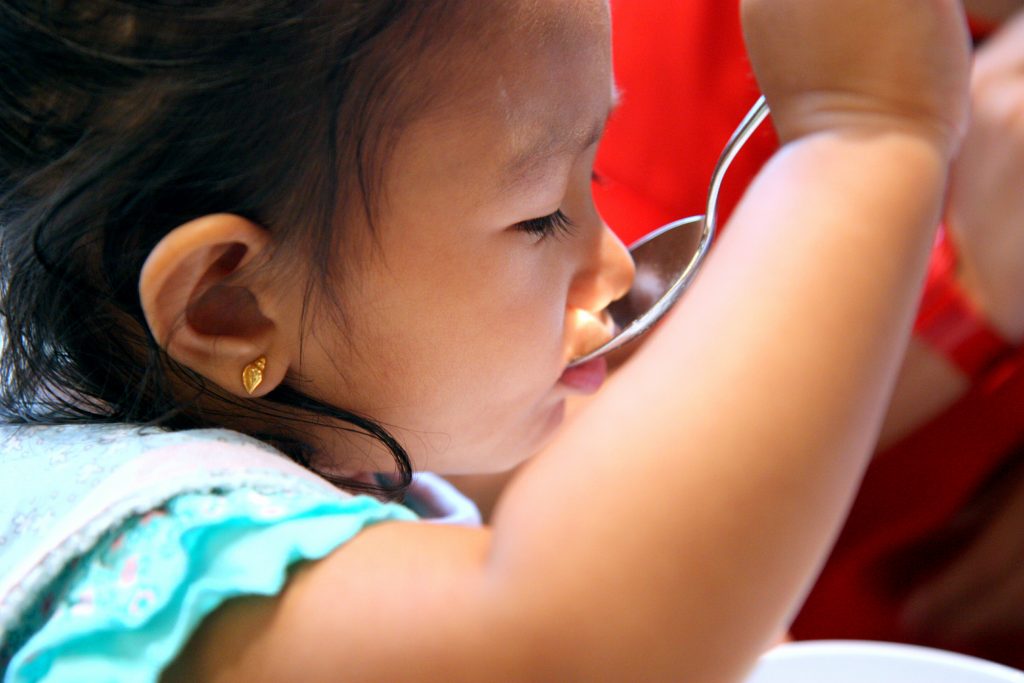 Our little Princess actually hasn't fancied porridge (or any semi-fluid foods) for a few months now but she really went to town on that bowl of porridge so that means it has to be good LOL they've got slices of fish in there too so it's nutritious and filling too.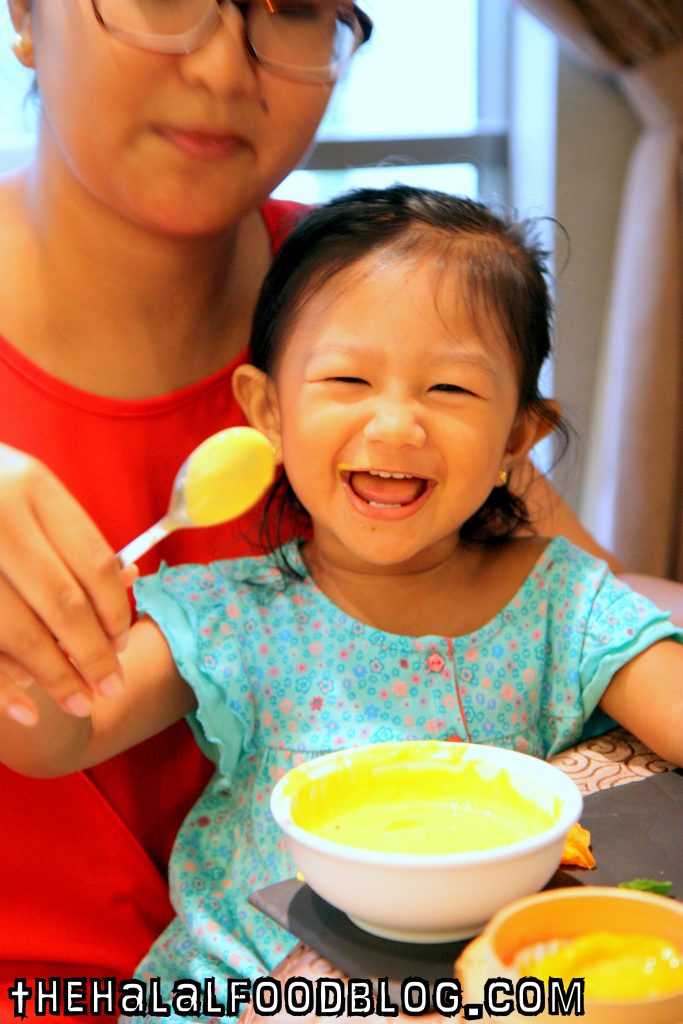 And before we forget to elaborate on what we mentioned at the start of the post, Wan Li Restaurant is famed for a few other things too by the way.
If you visit, be sure to try the Roasted Peking Duck and/or the Traditional BBQ Duck which so many of our readers mentioned are definitely MUST HAVE dishes when visiting Wan Li Restaurant.
Plus, don't forget the LIVE Seafood too!
They have got the works from live fish (like Marble Goby, Dragon Tiger Grouper, Pomfret, Deep Sea Grouper, Seabass) and even seafood so special that you have to order in advance like Deep Sea Mouse Grouper / East Star Grouper, Napoleon Wrasse Fish, Scotland Bamboo Mussels, Fresh Oysters, Geoduck, Sabah/Australia Lobster and even Live Crabs too. This tells me that the seafood is confirmed plus chop super fresh!
And you can choose how you'd like the seafood cooked like Steamed (various styles) or fried/braised with various sauces etc. Just be sure to choose your seafood and confirm the pricing before confirming your order because the Live Seafood is priced by weight okay.
Bottom line – Wan Li Restaurant definitely has plenty to offer. Authentic Cantonese cuisine is well-represented here and we can't wait to visit again because there are still so many things we want to try!!!
Special thanks to the Renaissance Johor Bahru, Marriott Group and Wan Li Restaurant for having us!
Renaissance Johor Bahru Hotel
Lobby Level
2, Jalan Permas 11, Bandar Baru Permas Jaya
81750, Masai, Johor, Malaysia
Tel: +60 7-381 3333
www.marriott.com/hotels/travel/jhbbr-renaissance-johor-bahru-hotel/
Facebook: www.facebook.com/RenaissanceJohorBahruHotel
Instagram: @renaissancejohorbahru
All information (including prices, availability of item on menu and Halal status of establishment) are accurate at the time of posting. All photos used in this site are property of The Halal Food Blog unless stated otherwise.