One of our favourite buffet spreads (for any time of the year) gets even more special during Ramadhan! During the fasting month, AquaMarine not only offers its usual famous buffet spread but also some seasonal favourites. This year, the delectable Ramadhan selection is more impressive than ever!
We were very honoured to be invited to a very special peek at some of the best dishes being offered on the special Ramadhan spread at AquaMarine this year and we're obviously pleased to share all the yummy details with you!
Besides the amazing sections of the buffet like their famed Chilled Seafood spread, their Sushi and Sashimi counter and, of course, their impossible-to-resist Desserts, AquaMarine has curated a whole host of specially prepared dishes to commemorate this special month.
Join us as we run down a few of the highlights!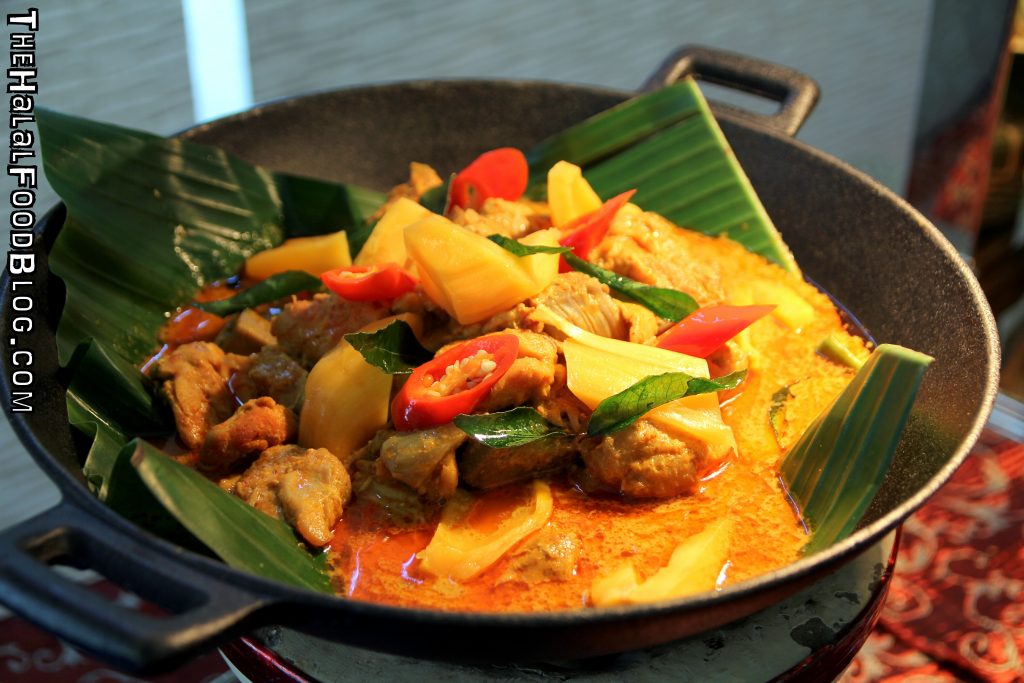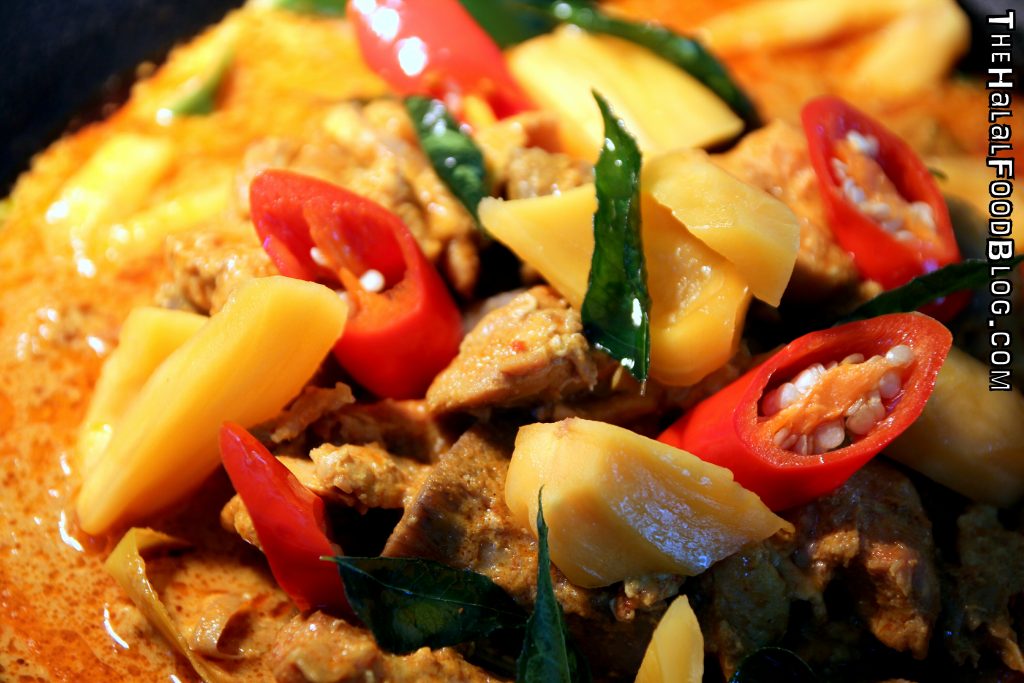 Here's a dish that takes a bit of an interesting twist on a traditional dish.
So Chicken Curry is a dish many of us are familiar with and love for sure! And in Malay cooking, we're no stranger to using Jackfruit aka Nangka as an ingredient but it's mostly with young Jackfruit and in dishes like Lemak or Lodeh for example. Well, they've interestingly used the sweet Jackfruit here!
The result is a hint of sweetness that translates well with the curry but you'll only get the full recognizable flavour of the sweet Jackfruit when you bite into the flesh itself. A unique touch indeed!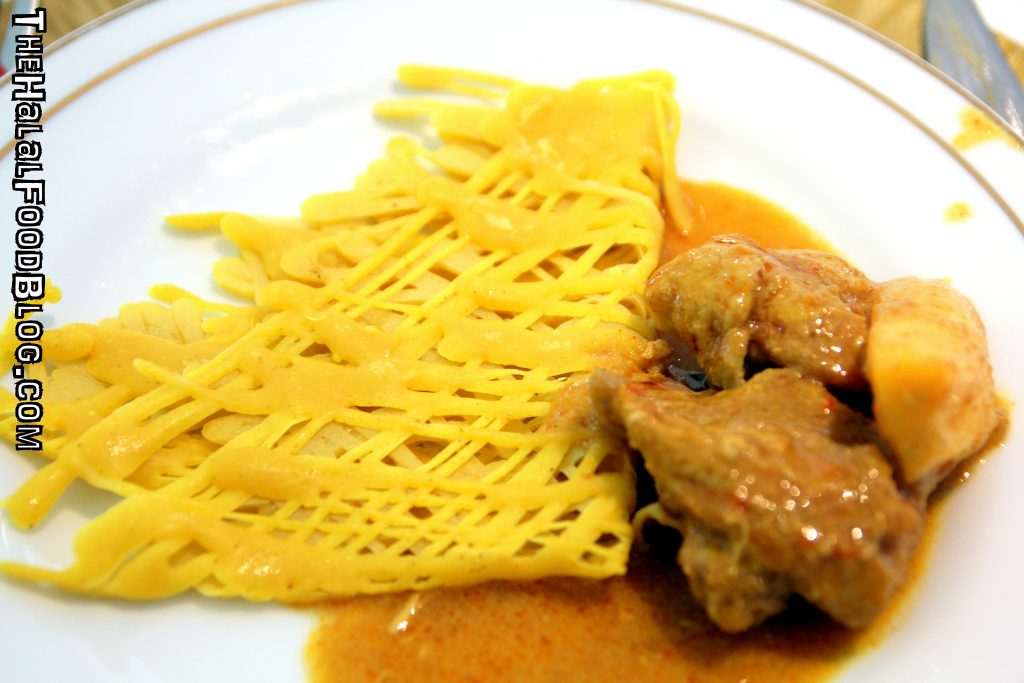 The Chicken Curry is delicious by the way! Best enjoyed with white rice or some of the freshly-made Roti Kirai aka Roti Jala that adds further to the enjoyable experience of savouring the Chicken Curry 🙂
But that's not the only dish that has a bit of an AquaMarine twist…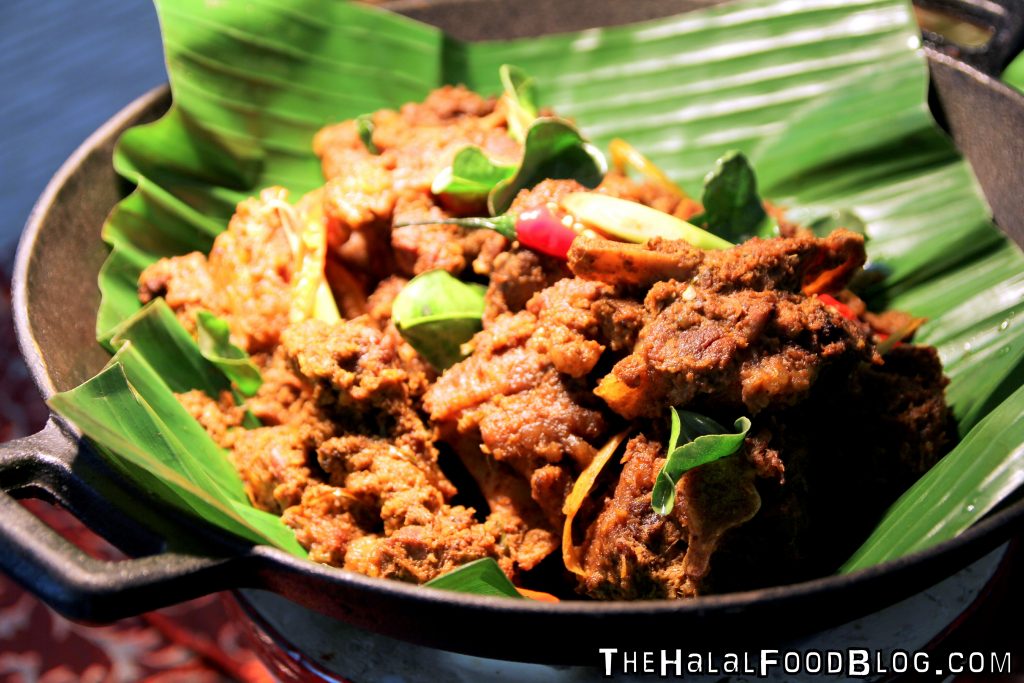 Over the past few Ramadhans, we've seen quite a few variations of the beloved Rendang crop up. We've had Veal Rendang and even Beef Cheek Rendang too! AquaMarine's version this year is the Wagyu Beef Oxtail Rendang and… it is the BEST variation of Rendang that I have EVER had!
Admittedly, I was never a big fan of Oxtail unless it's the 'bakar-ed' (grilled) version. The Wagyu Beef Oxtail Rendang is absolutely glorious and the choice of Wagyu Beef Oxtail was a great one. You get tender morsels of meat and just the right amount of fats here and there that add to the flavour.
The flavour of the Rendang itself is robust and will surely please any Rendang purists out there because despite the addition of the amazing Wagyu Beef Oxtail, the Rendang itself mostly keeps with tradition and has hints of spiciness in there thanks to the chilies included into the mix.
100% HIGHLY RECOMMENDED!!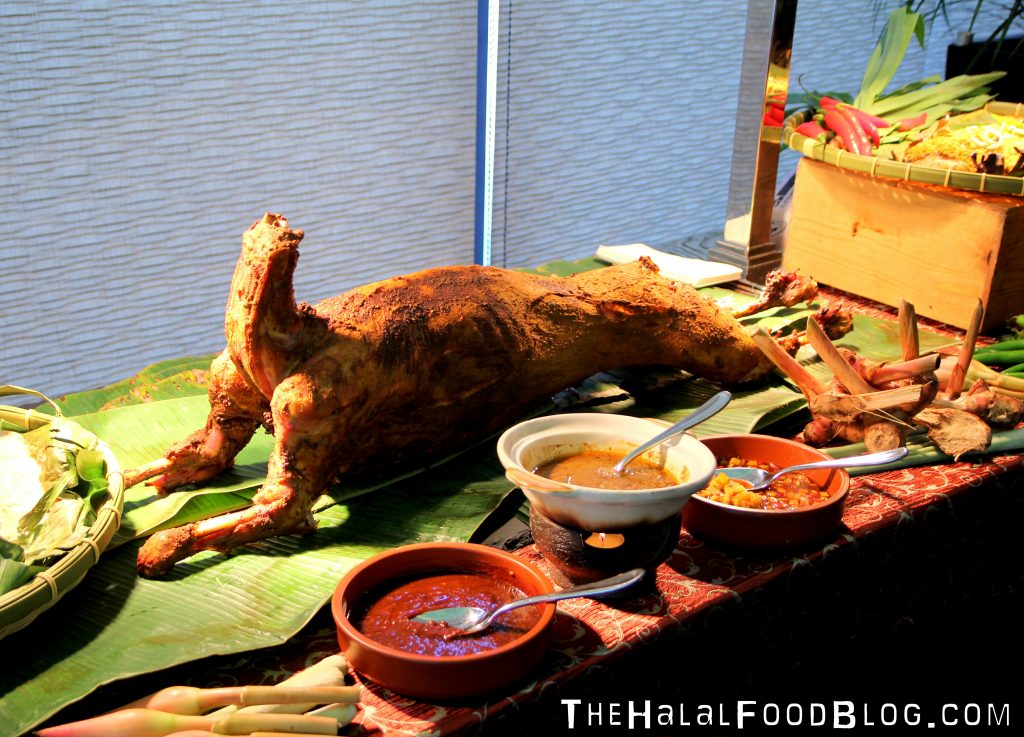 And now we come to the star of the spread – the Balinese Roasted Whole Baby Lamb!
Specially prepared and roasted by the expert chefs at AquaMarine, the Balinese Roasted Whole Baby Lamb features succulent lamb meat that cooked to tender perfection.
The Balinese Roasted Whole Baby Lamb is a live carving station where you'll have a skilled chef expertly slice off meat from the whole baby lamb. Everyone will have a preference for their choice cuts so be it the loin or the some off the meat with some of that crispy skin, this lamb is definitely sure to hit the spot.
The lamb meat is super tender and done to perfection plus the marinade and Balinese spice rub shine through so you can really savour the flavours here!
The Balinese Roasted Whole Baby Lamb is available only on Friday and Saturday evenings so book your dates!
The Balinese Roasted Whole Baby Lamb can be enjoyed on its own of course but it's highly recommended that you try some of the accompanying condiments to add to the flavour of the lamb.
The Tamarind Pineapple and Chilli Dip is tangy but also has quite a spicy kick that many will appreciate. If you're looking for a straightforward spicy sauce, then the Sambal is the one for you. But fret not – the Rendang sauce provided a not-so-spicy flavour for those who are not keen on the spicy side of things LOL
And speaking of which…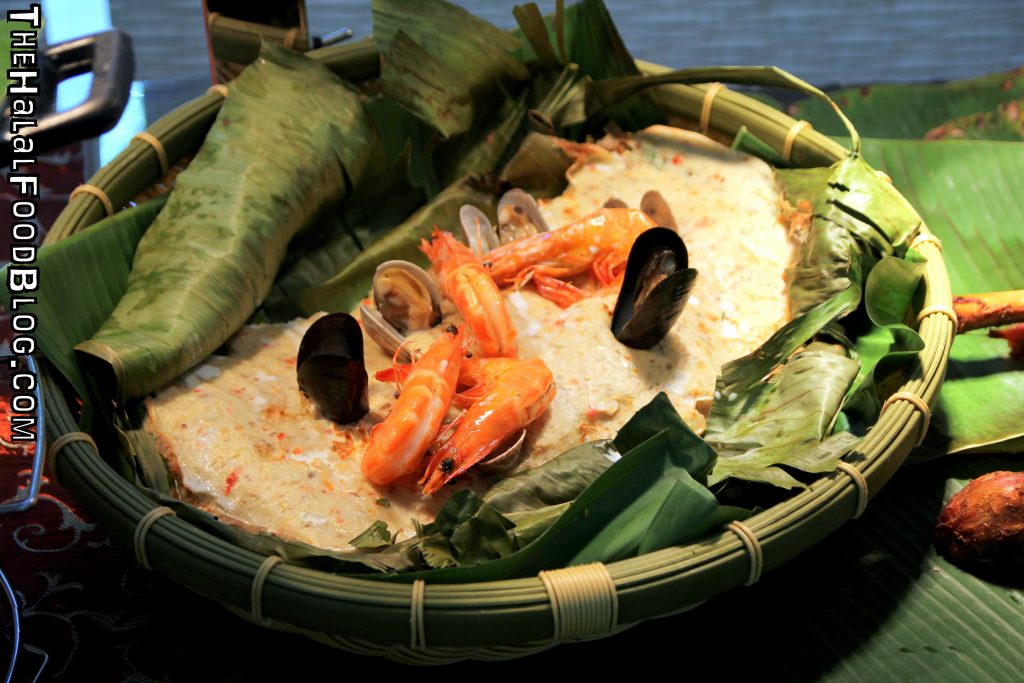 We're all used to enjoying Otah that's (typically) red in colour right? We've tried some in the past that were white in colour and learned that this was because the white versions didn't have chili powder mixed in hence were not very spicy.
Well, the Seafood Otah at AquaMarine may be the white version but it's definitely bursting with flavour! It may not have chili powder mixed into the fish paste but you can definitely still see bits of chili in there that still give you a bit of heat here and there.
You can also enjoy assorted seafood like prawns and mussels too! Definitely great to enjoy this with the other dishes on the buffet line too!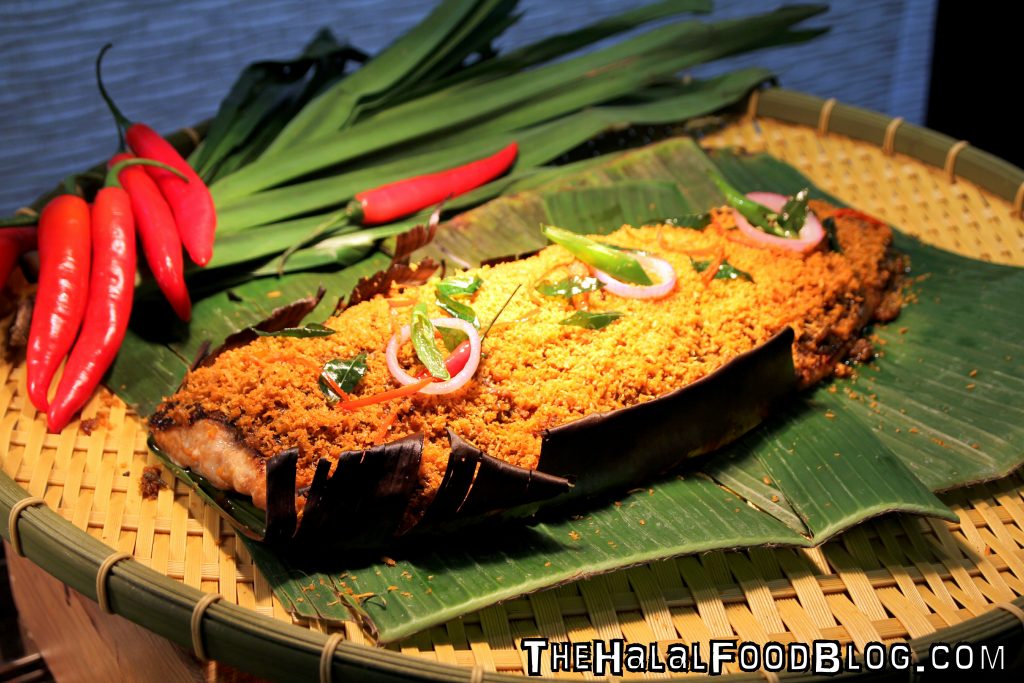 And last but definitely not least, the Grilled Salmon with Rempah and Spicy Coconut was another interesting dish.
Salmon is a favourite with many these days but you seldom see it incorporated with Malay dishes. The Rempah and Spicy Coconut (aka kerisik)  are really tasty and go well with the natural flavours of the salmon.
Give me a plate of hot white rice plus the Wagyu Beef Oxtail Rendang, Chicken Curry, Grilled Salmon and some Seafood Otah on the side and I'm all set I tell you! 😛
And like we mentioned earlier, don't forget to enjoy the rest of the extensive and sumptuous spread at AquaMarine! Big favourites like their Sushi and fresh Sashimi and Chilled Seafood Spread icluding Fresh Oysters are a must have! And don't forget their desserts too! Did I hear someone sat Durian Pengat? 😛
AquaMarine's Ramadhan Iftar Buffet is available from 6.30pm til 10.30pm daily. Prices as follows;
Sundays to Thursdays
$70++ per adult
$35++ per child (aged 5-12 years old)
Fridays, Saturdays and eve of Public Holidays
$80++ per adult
$40++ per child (aged 5-12 years old)
Enjoy 30% off the Iftar Buffet dinner with your family* when you produce a printed 4R family photo when you dine at AquaMarine.
*Minimum 4 pax per family and maximum of 8 pax per family.
For reservations, call 6845 1111 or email [email protected]

All information (including prices, availability of item on menu and Halal status of establishment) are accurate at the time of posting. All photos used in this site are property of The Halal Food Blog unless stated otherwise.