"When in doubt, cook"
We received a message awhile back pointing us in the direction of Cucumbertown.
What exactly is Cucumbertown? That was the same question I had when I first heard the unusual name.
And then when I visited the site, I realized the simple truth that we are all bound by our passion for food. 🙂
The message we received was from Ms Sanaa A'esha who is actually the brains behind Cucumbertown.
A "tribe" of people who make up the foodie community – chefs, food bloggers etc.
And when I say chefs, that definitely includes you modest geniuses who cook at home too!
Cucumbertown is a place where we can congregate and share the ideas and recipes for everyone to enjoy.
Love to cook? Looking for a recipe? Got a recipe to share? Love food? Food junkie like me?
All of the above?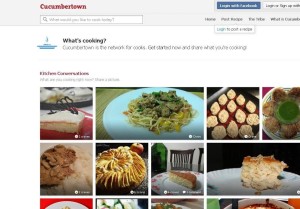 Screenshot of Cucumbertown's main page
Easy to navigate and bursting with great recipes and articles. You can even log-in with your FB!
They even have this cool search engine and ranking system so you can not only find specific recipes you are looking for but also check out the most popular ones easily!
Desserts, pastas, roasts, cakes, burgers, pastries, seafood and the list goes on!
And that's just the few on the main page alone!
Okay I can on and on and on and it won't really be as good as checking it out yourself.
So for those chefs and cooks out there – if you are looking to try out some new recipes or maybe looking for some ideas for cooking up a storm this Ramdahan, check out Cucumbertown today!
www.cucumbertown.com