We are back with more ideas on places you can go to enjoy Iftar be it with your loved ones, family, friends, colleagues or even alone if you want some "me time" LOL and we are back at one of our recent favourite makan places and as an added bonus, they have a some new and special editions to the menu just for Ramadhan.
Oh yeah – we're back at Cajun On Wheels!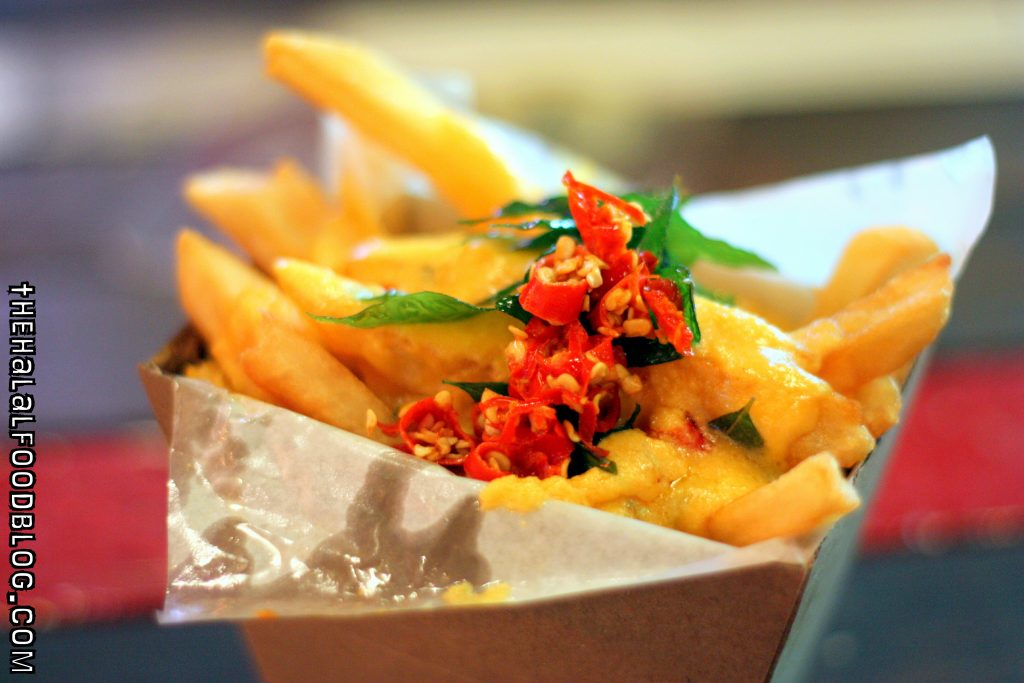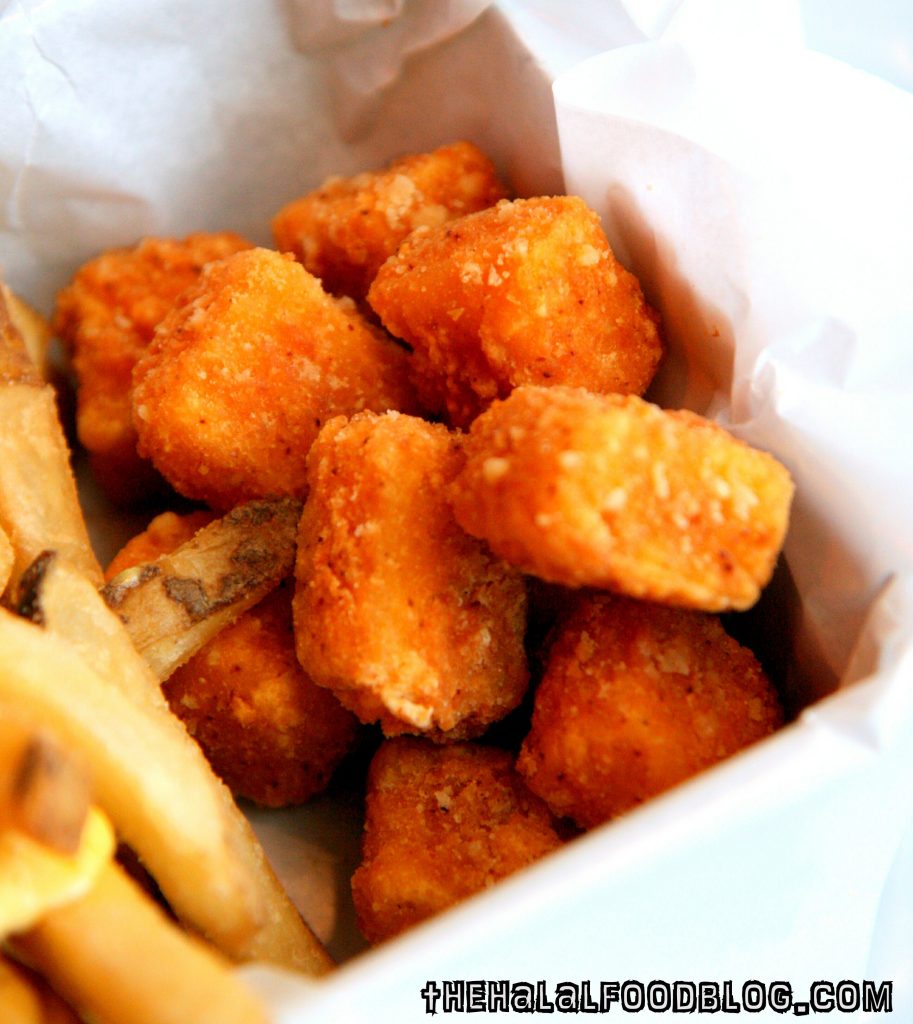 Before we get to the mains, we definitely wanna warm-up with some starters am I right?
Two of our favourites sides on the menu are the Salted Egg Yolk Fries and the Fire Cracker Shot Squid!
Crisp and hot french fries with rich and creamy salted egg yolk sauce slathered all over the top. ZOMG what more can you ask for am I right (except for another extra serving LOL) The Salted Egg Yolk Fries are one of the top-sellers on the menu at Cajun On Wheels and it's little wonder why that's so.
A very big personal favourite is the Fire Cracker Shot Squid.
Think of it as cut-up sotong balls with a really good flavour kick and a super satisfying bite. This one definitely one serving not enough LOL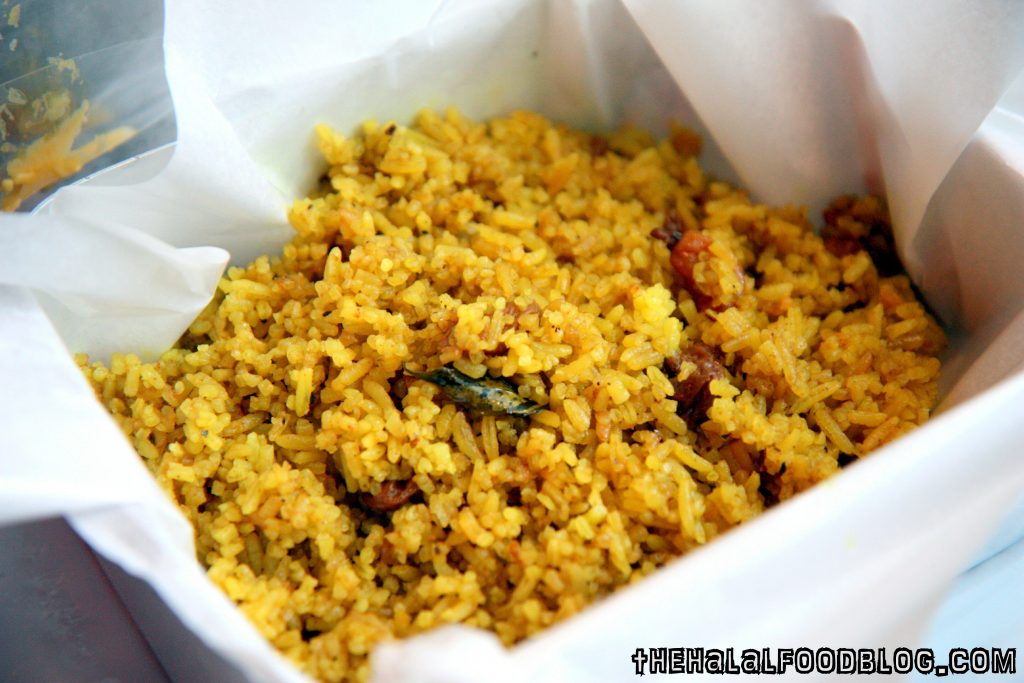 So we'd enjoyed the Salted Egg Yolk Fries and the Fire Cracker Shot Squid during our last visit as well (which is why we confirmed plus chop it's sedap to the max) but this one is something new that we tried this time around.
It's perfect for you who must have rice when you makan / Iftar and the Cajun Pilaf flavour really goes well with the seafood you're going to order. Plus, at $2.50, it's a real steal!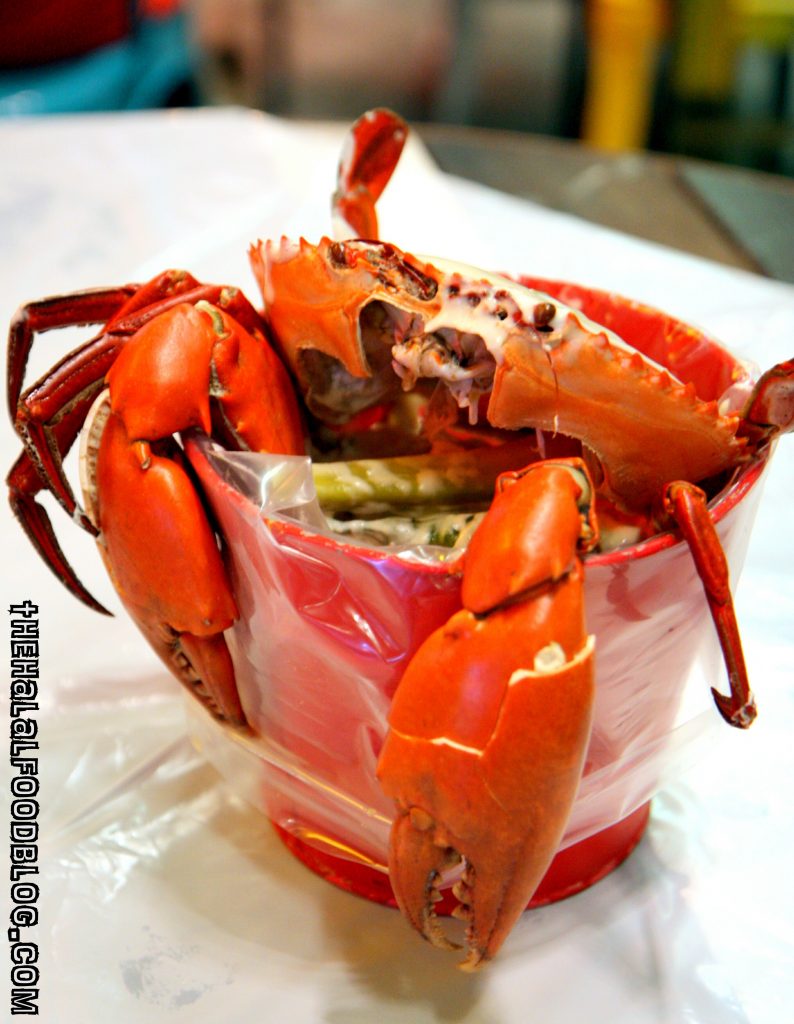 So, at Cajun On Wheels, you can choose from a wide array of seafood dishes that consist of bounty like crabs, lobster, prawns, mussels, clams and also the latest addition – crayfish!
Well, after you've made that tough decision on which seafood you're ordering, you then have to make the tougher decision on which sauce to go along with your seafood. There were 6 sauces to choose from and now they are adding a 7th to make it even tougher for you to decide LOL
So the Tom Khai Talay is actually a variation on a Thai classic soup. You've heard of Tom Yum right? Well, Tom Khai Talay is basically a 'soup' with consists of Galangal (Khai) and Coconut Milk (Talay). In this case, it's a sauce to go along with your seafood a good pairing too.
I can tell you that a lot of effort and preparation goes into making this sauce. It's quite a myriad of ingredients and that means that you really have to taste it for yourself to pinpoint what the flavour is like. If you ask me, the closest thing I can associate the flavour of this sauce with is another classic dish but from right here in Singapore – Lemak Chili Padi. The only difference is that it is not spicy but you definitely can recognize that rich and creamy flavour.
You really have to try to see what I mean LOL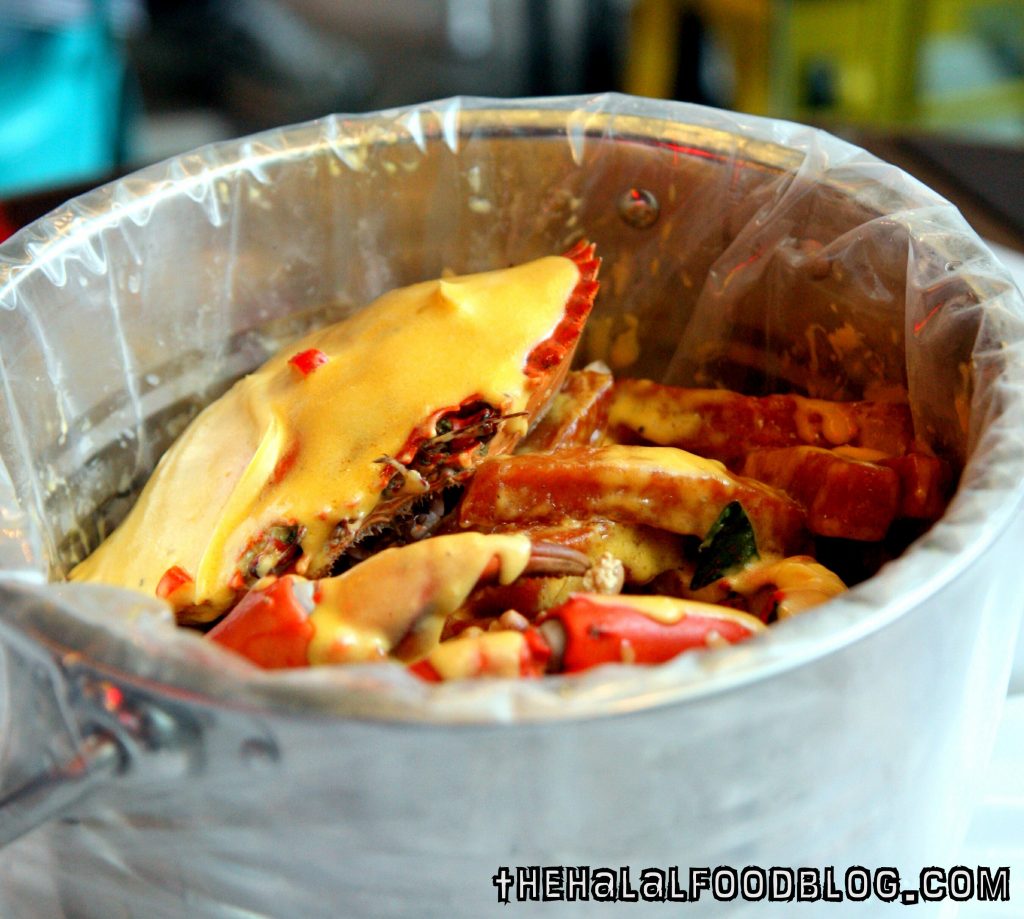 You of course still have the choice of the original 6 sauces too by the way so don't panic LOL
In fact, you can always order more sauce on the side so everyone gets to enjoy their favourite.
Here's more of our favourite – Salted Egg Yolk Sauce – paired with the Poseidon Bucket which is perfect for sharing with a group!
So the Poseidon Bucket has Sri Lankan Crab, Prawns, Clams, Mussels, Sweet Corn, Chicken Spam Fries (aka chicken luncheon meat) and potatoes. That's a serving good for between 2-5 people depending on your appetite.
They also have an even bigger serving called the Olympian Bucket (add Scottish Dungeon Crab in the mix) or perhaps the Reel Crabby Bucket or Just Be Shellfish Bucket if you're still looking to share.
Smaller serving dishes include Oh Crab, Flexing Mussels and Insane Shrimp! all of which are good for 1-2 people.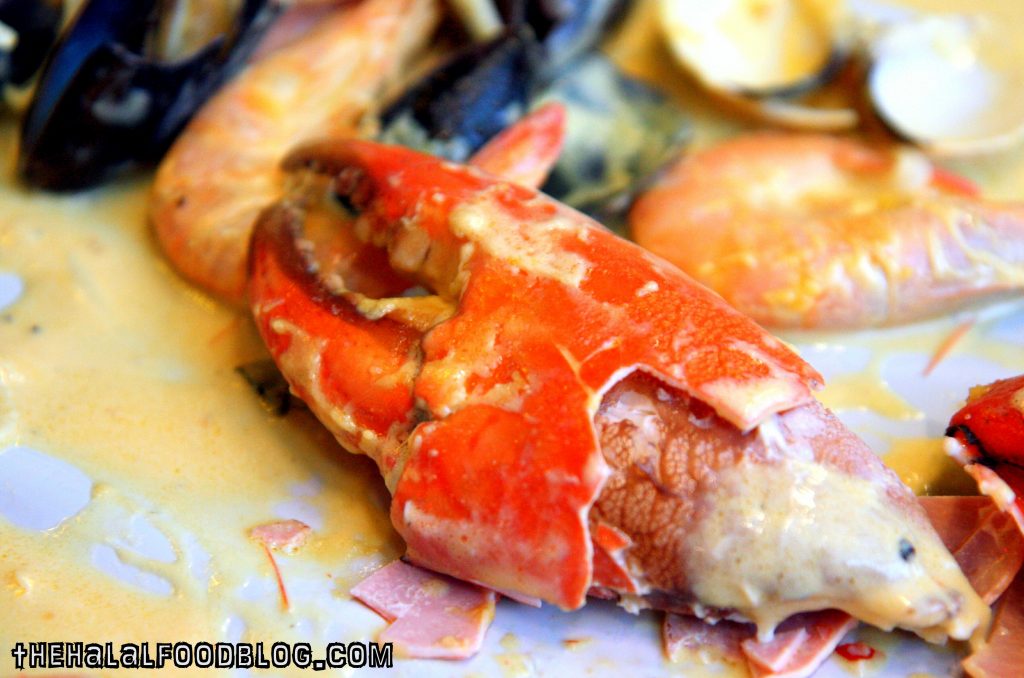 We've obviously got to talk about how fresh the seafood is at Cajun On Wheels.
They get their seafood FRESH and this means we all get to enjoy good quality stuff when we visit.
Shells come off the prawns with ease. Crab meat doesn't disintegrate when you get it out of the shell. Clams and mussels have that great fresh seafood flavour. Paired with your favourite sauce, what could be better?
You can enjoy Cajun On Wheels' sumptuous crayfish buckets for Iftar available exclusively this Ramadan! Simply collect and fill-in one of the pre-order forms (a must for the Couple Bucket and Family Bucket) and present it to their friendly staff for the pre-order! Do note that full payment will be collected upon confirmation on orders and collection date.
So be sure to pre-order early so when the day comes for you to Iftar there or maybe you plan to pack it for makan at home, there is no hassle and you can get everything done chop-chop no fuss.
You can get the Pre-Order Form by clicking HERE by the way.
Well, there you have it folks. I'm pretty sure everyone's craving for some Cajun On Wheels right about now (I know I am as I type this out LOL) so make sure you pre-order early and gather your friends and family to go makan one time all dig in together!
Pasarbella
3 Temasek Boulevard Suntec City Mall Level 1 North Wing
Facebook: www.facebook.com/CajunOnWheels
Instagram: @cajunonwheels_sg
Operating Hours:
11.00am til 10.00pm Daily

Pre-order required for Ramadhan
All information (including prices, availability of item on menu and Halal status of establishment) are accurate at the time of posting. All photos used in this site are property of The Halal Food Blog unless stated otherwise.