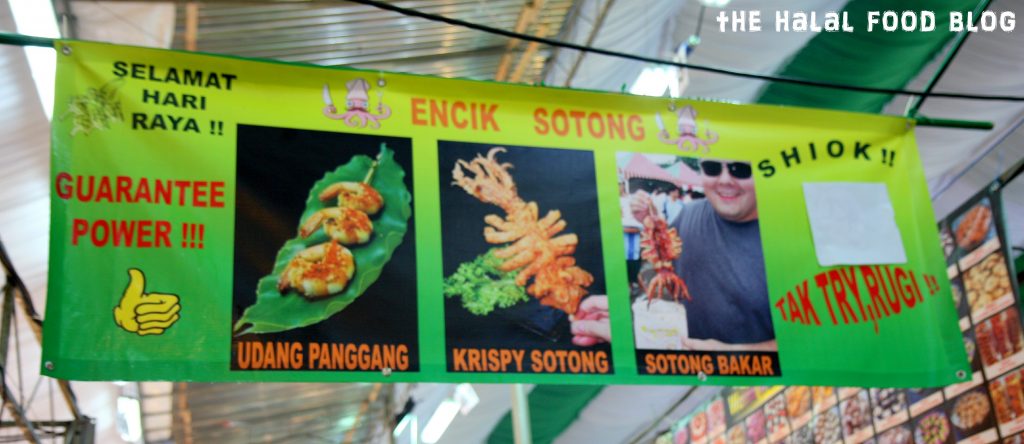 So last year at the Geylang Bazaar, some readers dropped us a message or two telling us to check out this stall that was selling… SOTONG!! Yeah they said there was this BBQ stall selling sotong and it was bathed in some chili that made is super sedap. But alas… we never really made it down in time to try this so-called sedap sotong…
But.. the chance was not yet gone away forever!
So we received a message from a reader who also happened to be a big fan of The Halal Food Blog.
And the message? "Come and visit this stall at Geylang Serai Bazaar selling sotong!" Hmmm… sounds familiar!!
This time, we were not going to let the chance pass by again…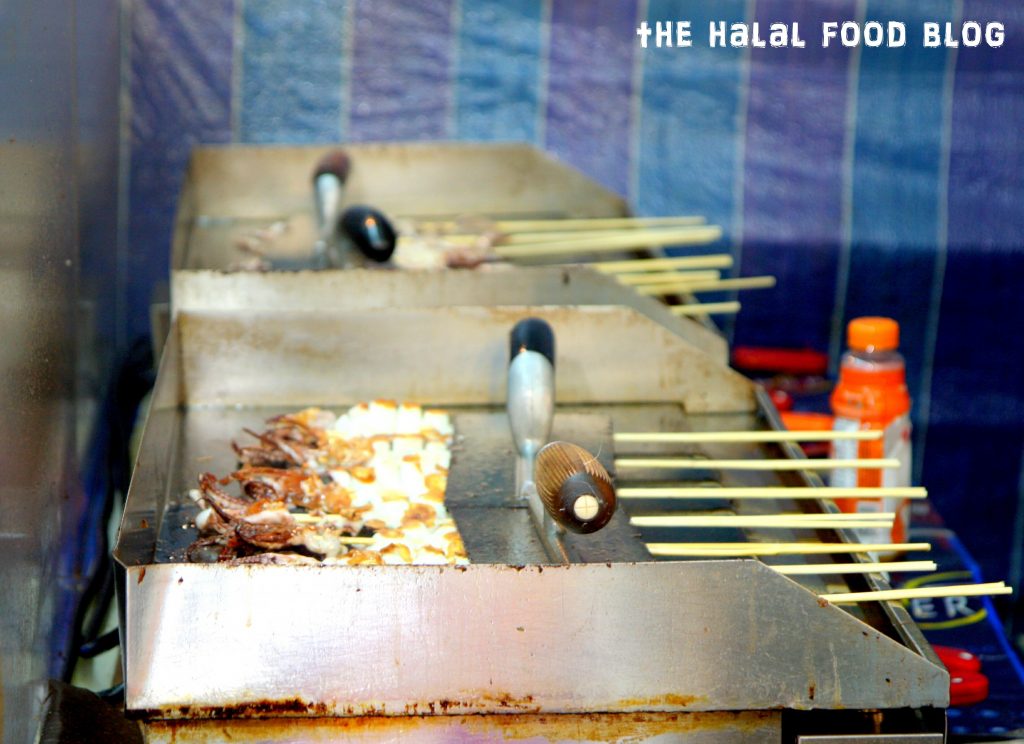 So the sotong and/or prawns get grilled fresh and hot on the spot.
And mind you these are pretty big squid. You'll see for yourself when you're at the stall how big these things are! Definitely not your average sotong!
So once they are seasoned and grilled and tender to the bite, it's time for the basting!
So they have this pot of spicy looking chili/sambal and they literally use a paint brush to baste the sotong and prawns. Oh yeah. A paintbrush!
This means when you take a big bite out of the big sotong, you get a nice tender bite with a spicy kick too!
And of course, this is best enjoyed when it's still hot so have it on the go as you explore the rest of the bazaar.
But if grilled is not really your thing…
Oh yeah that's right! They have a deep fried version too!
The sotong is battered and then deep fried to golden brown super power so you have tender sotong with a nice crispy outer layer too!
And of course, it does not stop there…
So you choose what type of seasoning you'd like to be 'sprinkled' over your fried sotong cutlet.
Original, Hot & Spicy, Sour Plum, Curry or the simple Salt and Pepper. Well, whatever you choose, this extra flavour will make the fried sotong cutlet even more tasty for sure.
And you know why I keep calling this a 'cutlet'?
It really reminds me of those Taiwan Chicken Cutlet you always see at the pasar malam right? Where they deep fry it and then sprinkle the seasoning powder all over? Well, the differences here are 1) it's sotong not chicken (DUH!) and 2) they do not cut the sotong up into pieces here.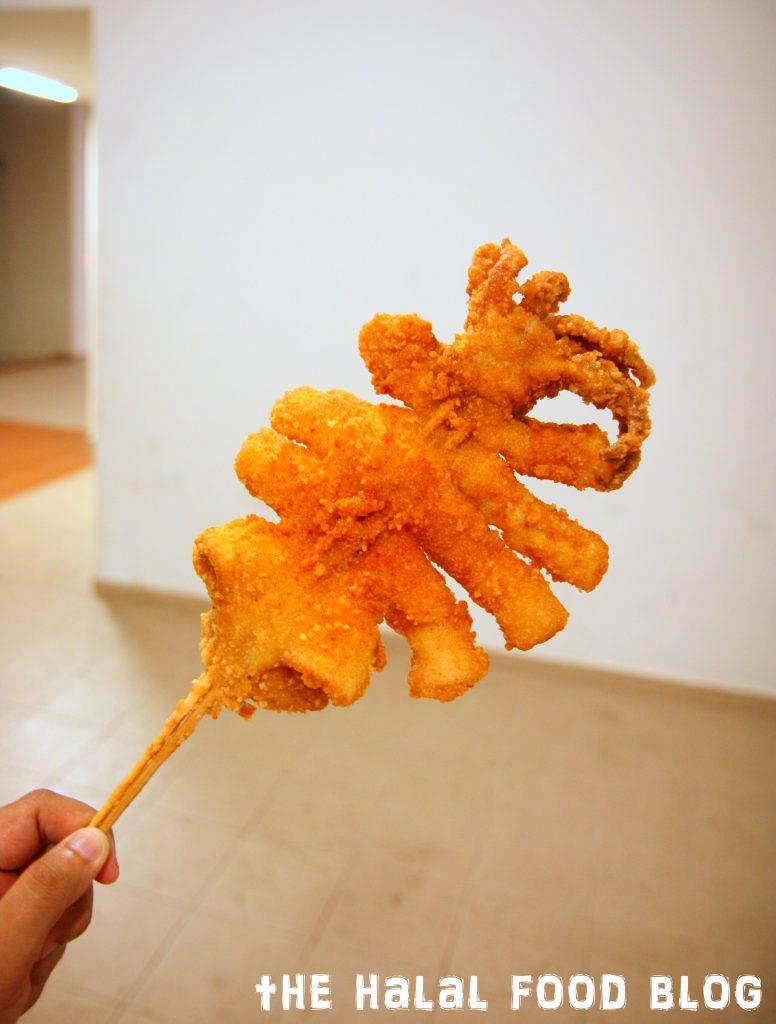 So the pricing is $4.00 for a stick of the Grilled Sotong and $3.00 for a stick of Grilled Prawns.
If you're going for the Fried Sotong, it's $7.00 per stick.
The stall is located at the food bazaar section just across the street from Tanjong Katong Complex and it's somewhere in the middle. Just look around surely can find one! They open from 6pm on weekdays and from 5pm on weekends.
I was actually lucky enough to speak to the owner of the stall who tells me that all their ingredients are Halal but like a lot of stalls at bazaars and pasar malam, no certificate is issued. But the good news is that Encik Sotong is planning to open an actual stall in August 2015! It will be located somewhere in Bugis and they will be applying for Halal certification at that shop!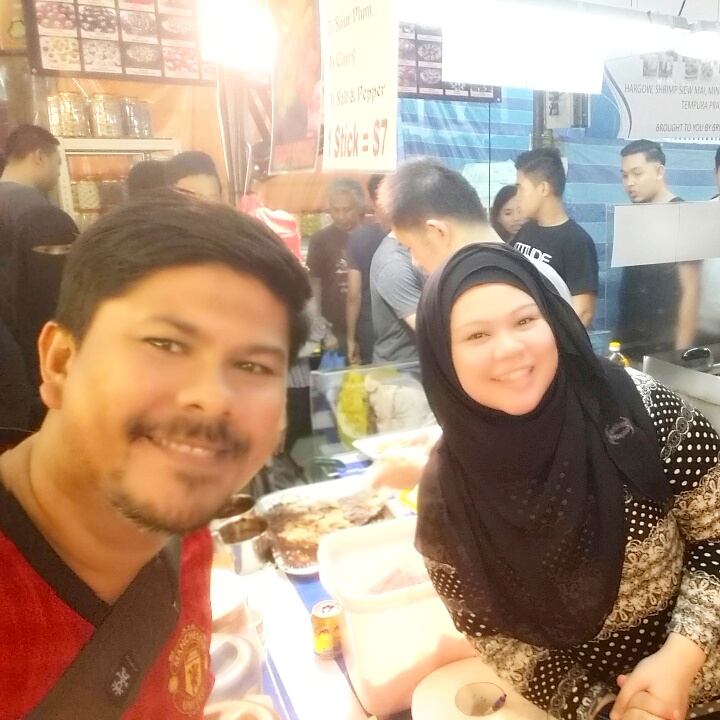 Special shout-out to Mira who dropped us a message. If not for her, we'd never have made it down!
Look out for her when you drop by on the weekends okay!
Okay everyone. Don't blur like sotong. Just eat the Encik Sotong!
(Yeah I know it's lame but I couldn't resist LOL)
All information (including prices, availability of item on menu and Halal status of establishment) are accurate at the time of posting. All photos used in this site are property of The Halal Food Blog unless stated otherwise.