Already the 2nd installment of The Halal Food Blog's #RamadanHop series! Throughout the month, we will be featuring a total of 10 different eateries, each with their own FEATURED DISH!
Don't forget – you stand a chance to win a 3D2N trip for 2 to Bangkok!! So keep updated and look out for the information at the end of the post!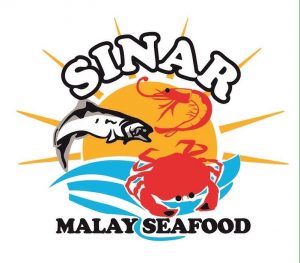 We're keeping things going fast and furious with our 2nd entry for our #RamadanHop series and it's an eatery which many of us have had epic feasts at!
I'm pretty sure you've seen us post about Sinar Malay Seafood a couple of times both on our blog and also on our Facebook and Instagram accounts. In fact, we enjoy the food so much that we have an outlet here in Tampines but we are willing to travel all the way to Jurong West to enjoy it with family too LOL 😛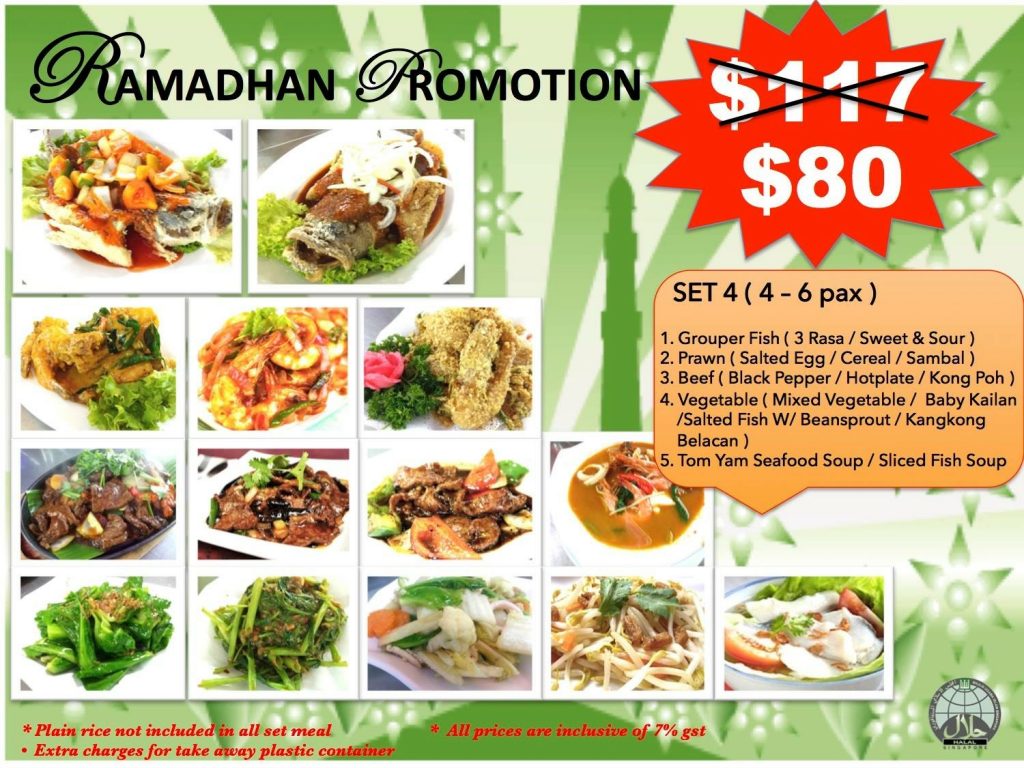 They have special Ramadhan Promotion sets to be enjoyed!! They have sets that are suitable for 2-3 pax and up but we think that if we're gonna have a great big seafood feast, then the bigger the better!! So our FEATURED DISH at Sinar Malay Seafood Ramadhan Set for 4-6!
And boy oh boy when we say feast, we mean FEAST!
Let's break it down.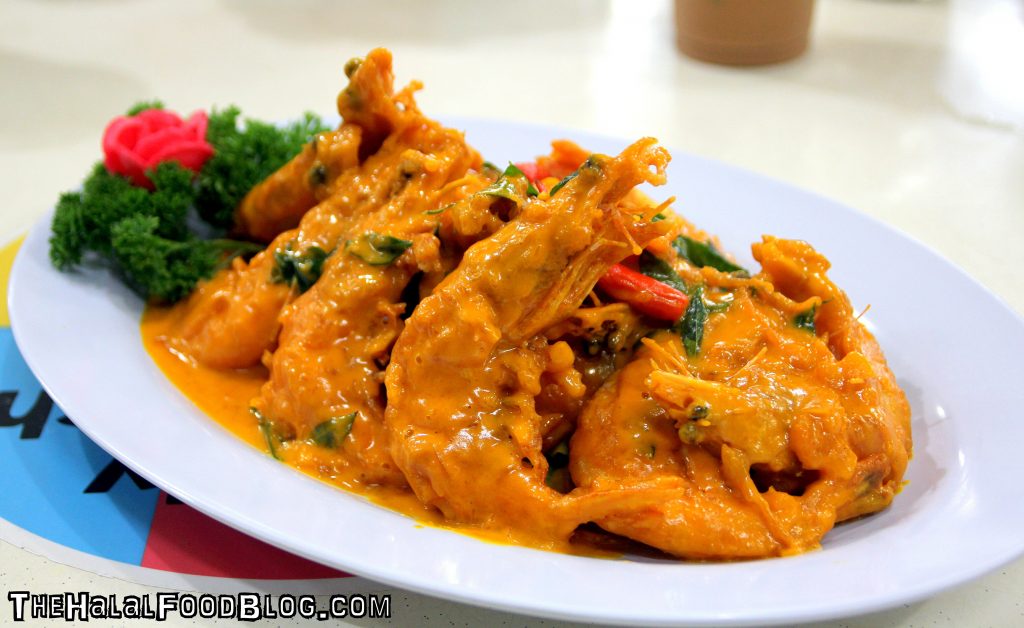 Wooooooooo if there's Salted Egg anywhere, you know for sure that we're gonna make it the highlight right?? LOL WE LOVE SALTED EGG YOLK ANYTHING!!
So as with most Seafood sets, you'll get to choose a few dishes according to how you'd like to have them prepared. And for obvious reasons, Salted Egg has become probably the most popular choice nowadays!
For our Prawn dish, we decided to go for the Salted Egg Prawns! You could also choose Cereal Prawns or Sambal Prawns by the way! But come on… you know you want the Salted Egg… LOL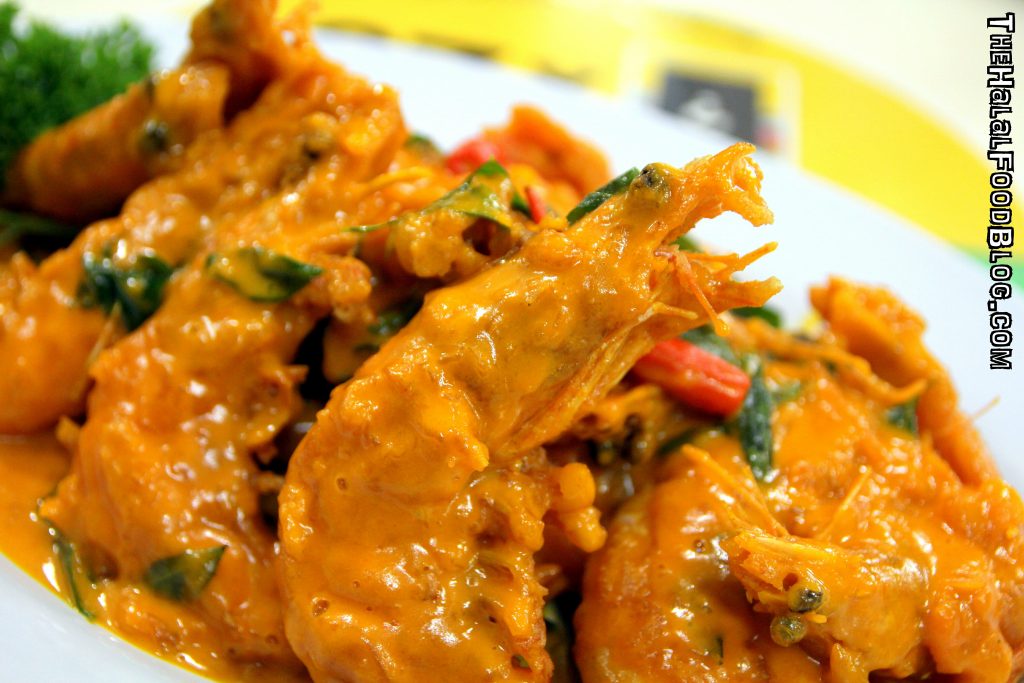 Wah. We've had a lot of Salted Egg dishes and we mean A LOT! And a good sign that the Salted Egg dish is going to be sedap is the colour of the Salted Egg sauce. If it's ORANGE and GOLD – that's POWER!!
The Salted Egg flavour was very 'pekat' (think and bold) and absolutely delicious. Very generous with the sauce too so you have plenty on the dish to scoop up with your prawns to savour that great flavour.
I have to say the prawns were also fresh and actually pretty big too! They slice an opening for you at the top of the shell and deep fry so you get a nice crispy prawn on the outside with juicy and tasty flesh on the inside!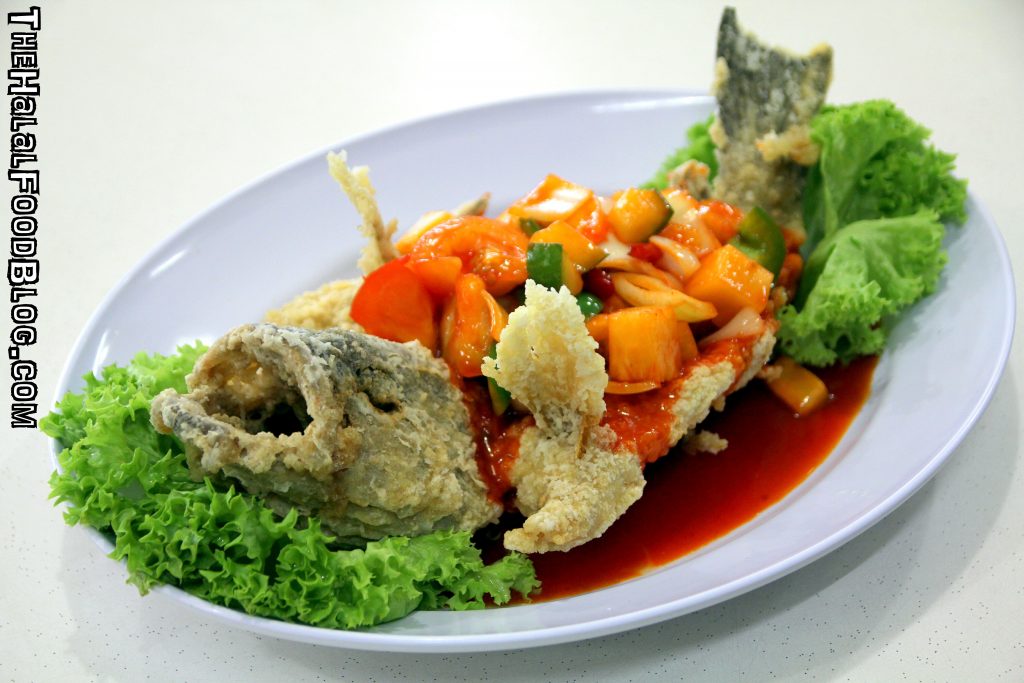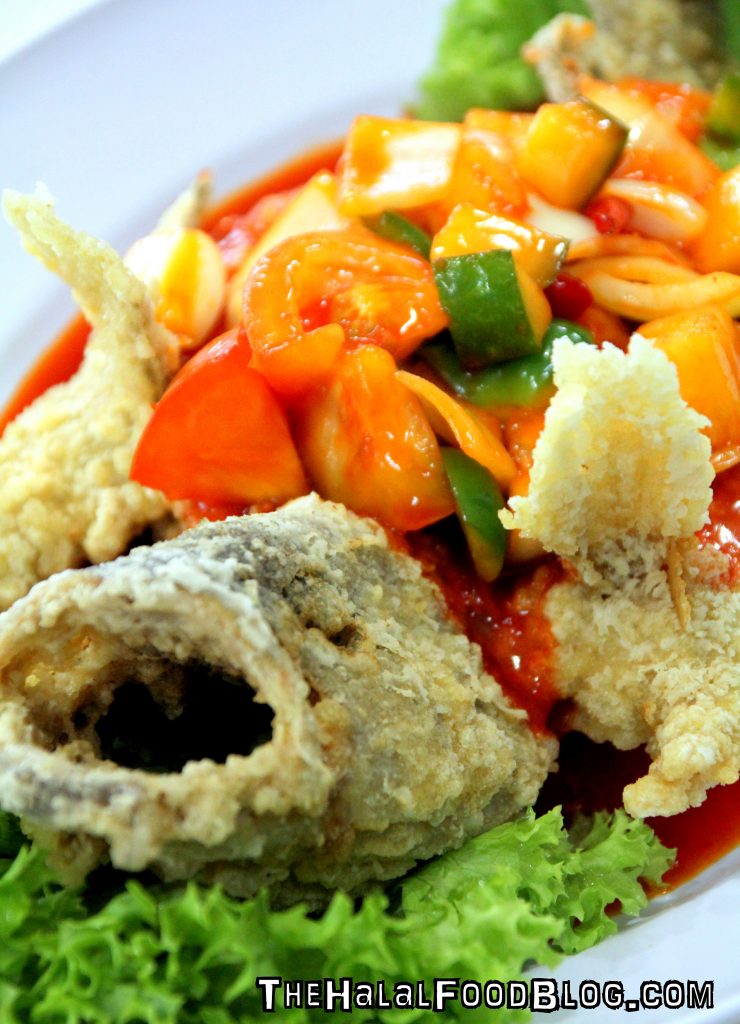 Next up is the Fish component of the meal. For this set at Sinar Malay Seafood, they offer a Fresh Grouper (aka Ikan Kerapu) and you can choose either Tiga Rasa or Sweet & Sour. They have Seabass aka Siakap and Stingray aka Ikan Pari for the other sets by the way and I guess you can ask the staff about switching but I personally think Grouper is probably a great choice and always choose it over other fishes for such seafood meals.
The Grouper is battered and receives the 'Deep Fried Goodness' treatment til nice and crisp on the outside before it is paired with a tasty and tangy Sweet and Sour Sauce complete with the usual suspects like pineapple and other assorted veggies.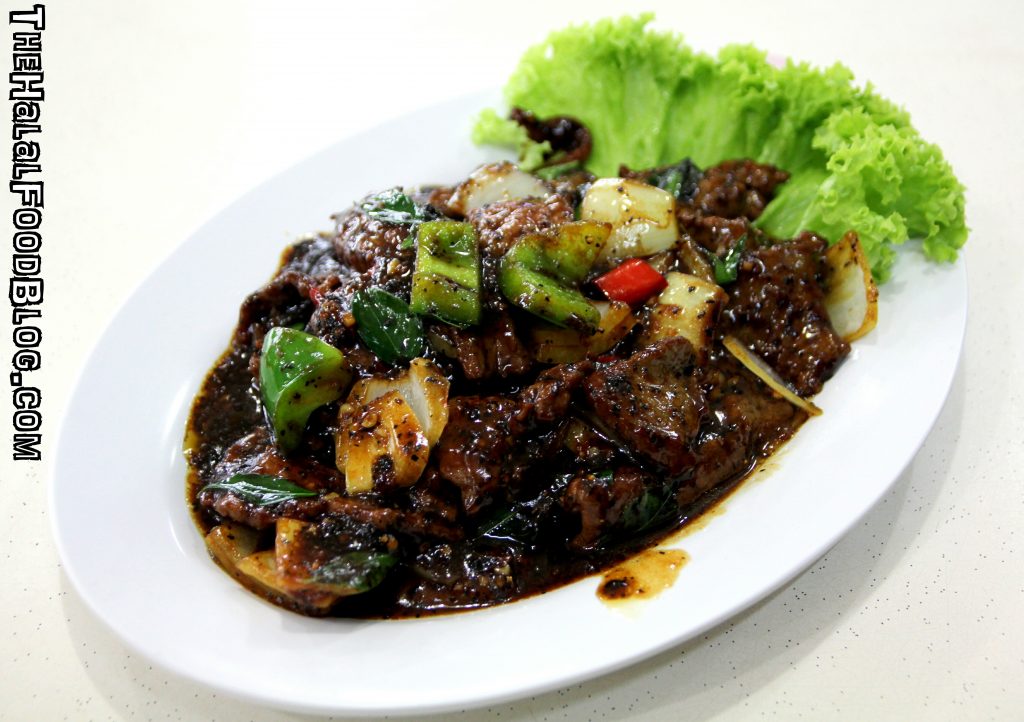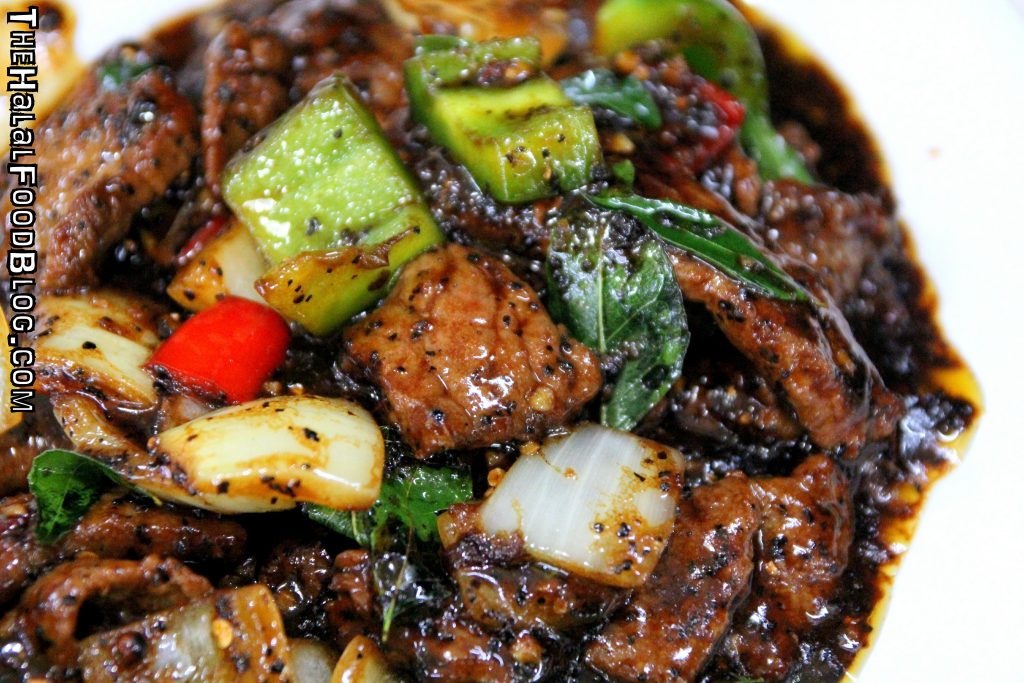 The Beef dish offers up three different styles as well namely Hotplate, Kong Poh (aka Kung Pow) or Black Pepper. We went with the latter because it's hard to resist the temptation of Black Pepper sauce!
It's a pretty generous serving of beef that is definitely enough for the 4-6 pax sharing the set meal. The beef is sliced up and stir-fried with a thick and flavourful Black Pepper sauce. You can REALLY get the bold flavour of Black Pepper here. You can even see the Black Pepper in the sauce! Definitely a good choice for all you fans of Black Pepper.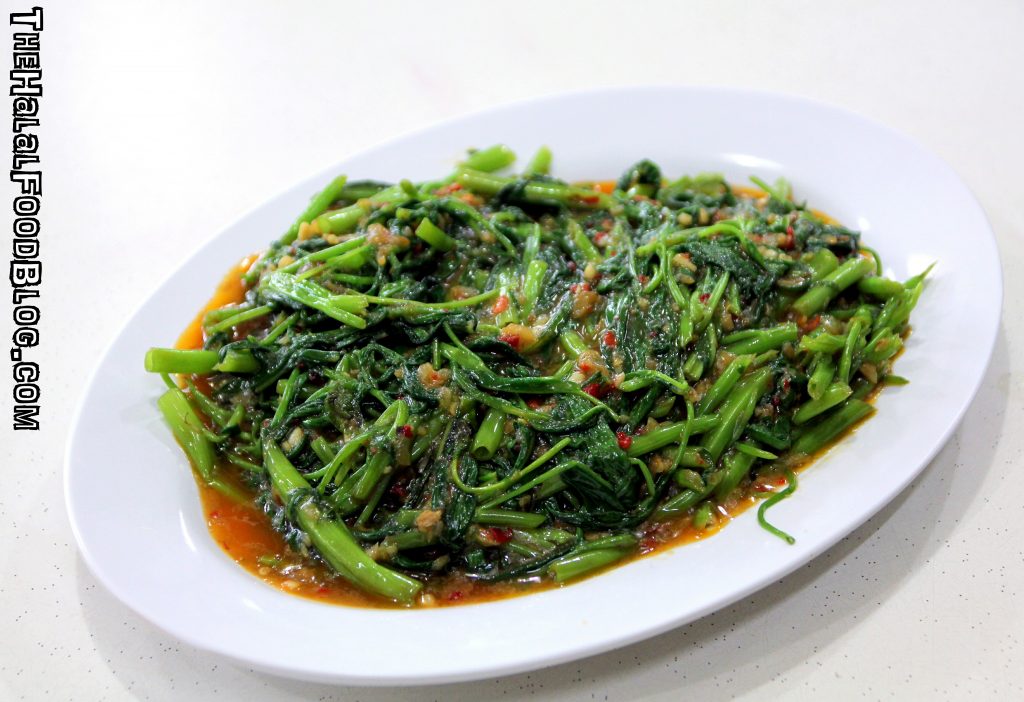 Okay so here's where you probably need to 'Scissors Paper Stone' or flip a coin LOL because there are 4 different Vegetable dishes to choose from and I reckon all of them are actually hot favourites.
So you've got Mixed Vegetable (aka Chap Chye), Baby Kailan, Salted Fish with Bean Sprouts and Kangkong Belacan on the menu for this set. See – told you it was a pretty difficult choice right LOL all also power!
In the end, we decided on the Kangkong Belacan since all our dishes were strong on flavours so we decided to keep the theme going. I think Kangkong Belacan is a hot favourite because it has something that we all love – that SPICY factor!
Yeah, it's not spicy like it's gonna burn your mouth off but it's always nice to have a little bit of heat while you enjoy your food. That's what makes it SHIOK!!
And speaking of spicy…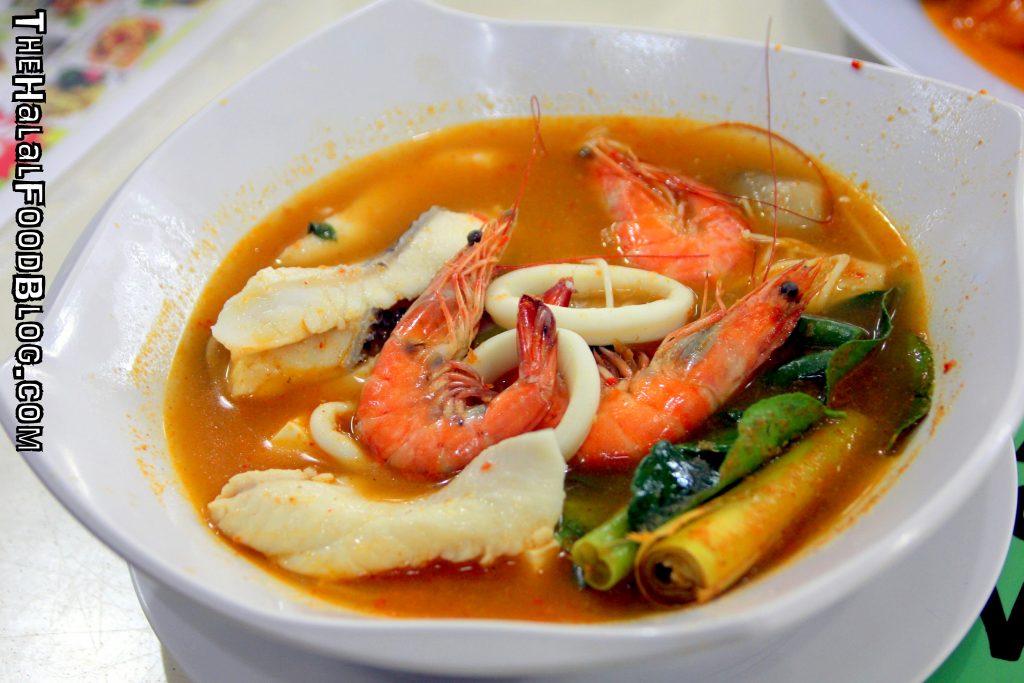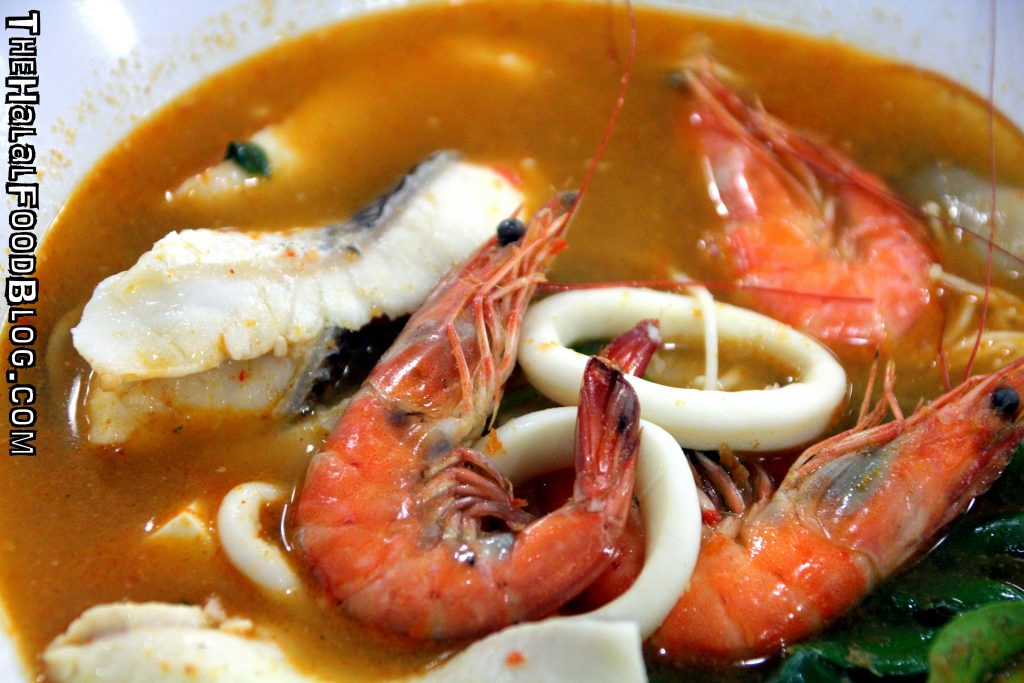 They've got 2 choices of Soup also by the way – The Tom Yam Seafood Soup and the Sliced Fish Soup.
No disrespect to the Sliced Fish Soup but I think that Tom Yam Seafood Soup is probably going to come out tops on the choice list 😛
Tasty Tom Yam soup with seafood like prawns, squid and sliced fish is surely a winner right? A plate of hot steaming white rice plus a big bowl of piping hot and spicy Tom Yam Soup already sounds power on its own. Now, plus will all those dishes featured above and you're guaranteed a makan session that's bound to satisfy! Something for everyone to enjoy!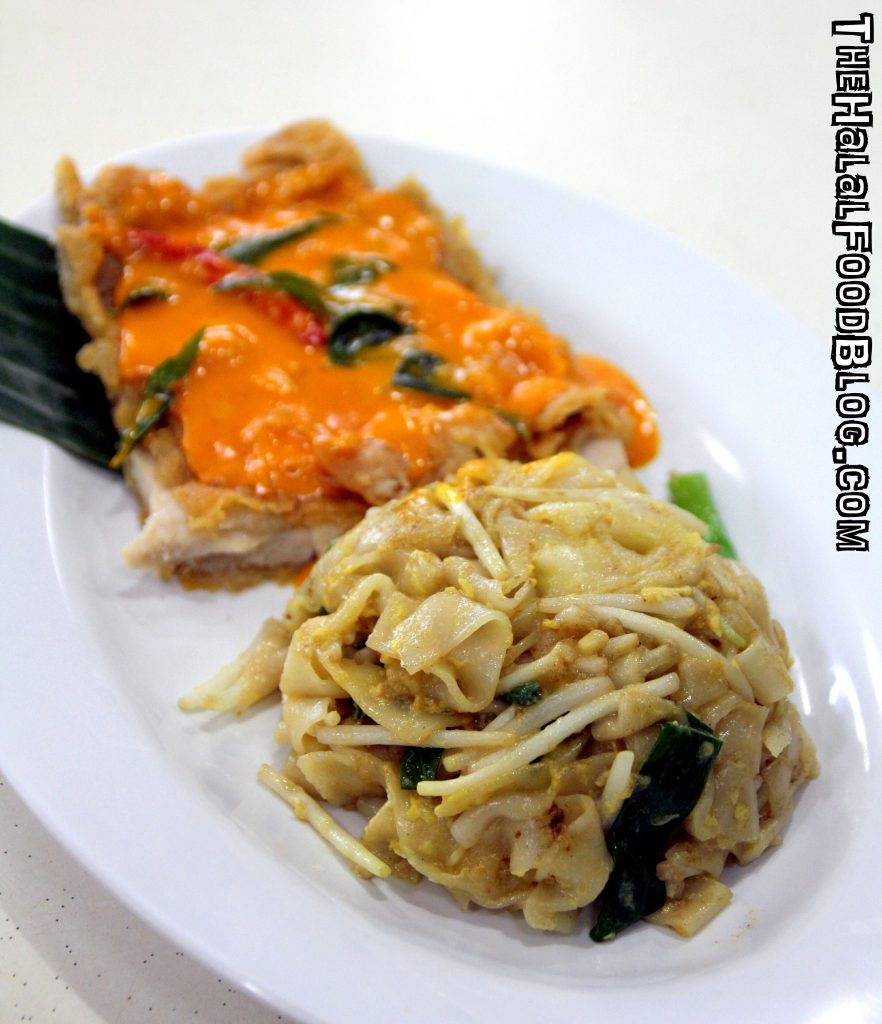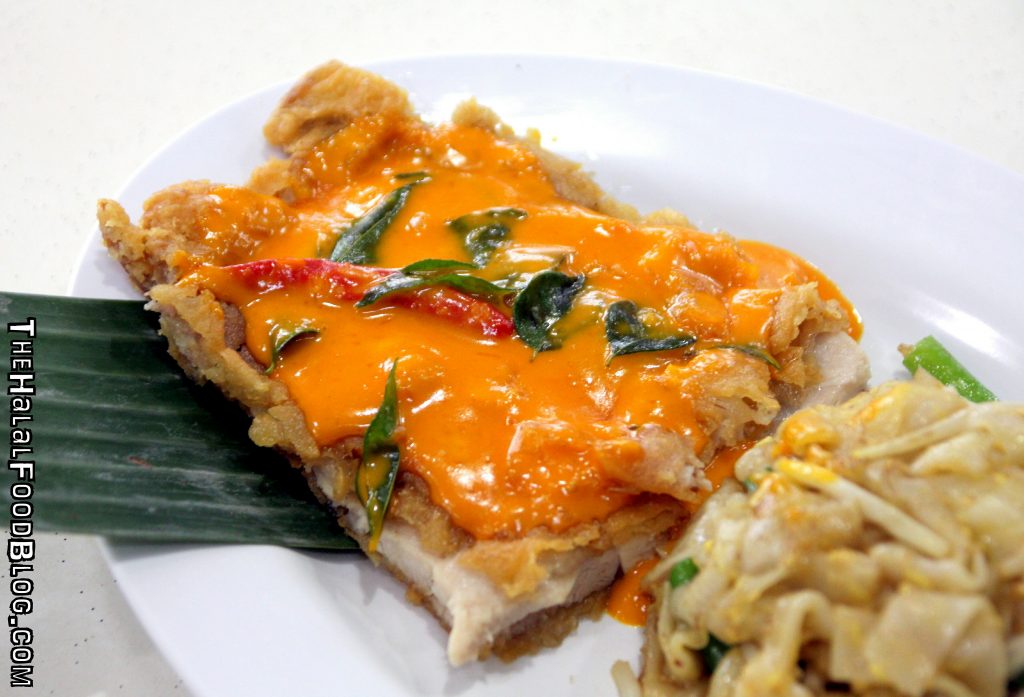 BONUS ENTRY!!!
I know some of you are probably asking "Eh, the set no chicken dish eh?". Well, you can always order a Chicken dish ala carte from the menu lah right LOL so we wanted to make a recommendation! And no surprise that it involves Salted Egg again LOL 😛
The San Lou Kway Teow with Salted Egg Chicken is a new dish on the menu (this dish is NOT part of the Set meal) at Sinar Malay Seafood and we're willing to bet it's gonna be really popular. As if the draw of Salted Egg is not enough, this dish is actually really SEDAP!
We're all used to Char Kway Teow that's really strong on flavour (i.e. the black Char Kway Teow) but it's actually nice to have one that has a milder flavour. Don't get me wrong – it still has a great taste and it's actually just nice to balance with the Salted Egg Chicken that comes with.
*HOLDS MY HANDS UP IN THE AIR*
ZOMG just look at that Salted Egg Chicken *weeps tears of joy (and hunger)*
A chicken cutlet with a nice crispy coating plus tender flesh is topped off with more of that great Sinar Malay Seafood Salted Egg Sauce. Yes, the same, thick, delicious, power Salted Egg Sauce that we enjoyed with the Salted Egg Prawn.
How power is this dish? Well, if we were rating it, it'd get our full 5/5 rating. It's SO good! MUST TRY!
(And we repeat eh.. this dish is NOT part of the Set Meal!)

Here is your chance to win a 3D2N TRIP FOR 2 TO BANGKOK!!
We have contests running on both our Facebook and Instagram pages after you enjoy the delicious Ramadhan specials at Seasonal Salad Bar, be sure to take part in the contest!
HOW TO WIN ON INSTAGRAM
Visit the featured restaurant during the specific promotion period
Snap a photo of the FEATURED DISH and post it on your Instagram account, tag 5 of your friends and include the caption "Like my post and help me win #RamadanHop <tag 5 friends>! Thank you @thehalalfoodblog, #SendMeToBangkok"
Be sure to tag @thehalalfoodblog and the participating eatery in the post
Leave a comment on The Halal Food Blog's original post to let us know you've done the step
Be sure to set your Instagram profile to 'PUBLIC' so that your entry can be viewed (Private profiles will not be eligible)
At the end of the contest period, The Halal Food Blog will choose the most creative entry as the winner of the 3D2N trip for 2 to Bangkok!
HOW TO WIN ON FACEBOOK
'LIKE' this post on Facebook
'LIKE' the participating restaurant's Facebook page (they are tagged in each post!)
SHARE the article on your own Facebook page with the caption –
"Check out these #RamadanHop deals from The Halal Food Blog. Like this post #SendMeToBangkok guys, <tag 5 friends>!"
Be sure to set the Shared post to 'PUBLIC' so that your entry can be viewed (Posts not set to Public will not be eligible)
Leave a comment on The Halal Food Blog's original post to let us know you've done the step
At the end of the contest period, The Halal Food Blog will choose the most creative entry as the winner of the 3D2N trip for 2 to Bangkok!
So what you need to do now is head to our Facebook page and Instagram accounts, look for the relevant post and follow the instructions! Just a few simple steps and you could be a winner!! Take part in both the Facebook and Instagram contests to increase your chances of winning! Get all your friends to participate too! (And make sure they bring you to Bangkok if they win okay 😛
The prizes will be individual for the Facebook and Instagram contests. This means that there will be TWO WINNERS for this contest! One winner on Facebook and one winner on Instagram! Each winner will be walking (or in this case, flying!) away with a 3D2N trip for 2 to Bangkok! So start prepping yourselves for a super exciting month ahead filled with great food, great prizes and great times ahead! Woot Woot!!
Selamat berpuasa and all the best for the contest!!
SINAR MALAY SEAFOOD

Facebook: www.facebook.com/SinarMalaySeafood
Sinar Malay Seafood Jurong West
Blk 456 Jurong West St 41 #01-750 S 640456
Tel: (65) 6569 7583
Sinar Malay Seafood Ang Mo Kio
Blk 608 Ang Mo Kio Ave 5 #01-2771 S 560608
Tel: (65) 6456 6605
Sinar Malay Seafood Tampines
Blk 820 Tampines St 81 #01-506 S 520820
Tel: (65) 66048629
Sinar Malay Seafood West Cpoast
Blk 505 West Coast Drive #01-208 S 120505
Tel: (65) 6352 0766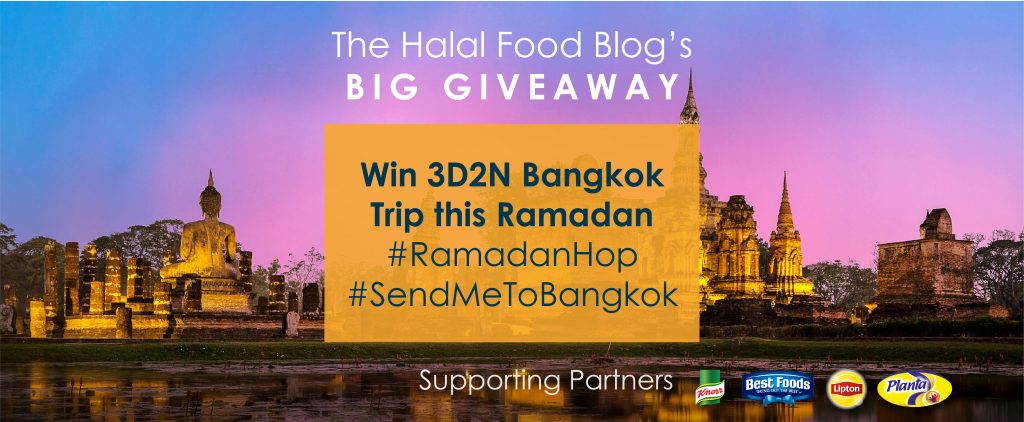 All information (including prices, availability of item on menu and Halal status of establishment) are accurate at the time of posting. All photos used in this site are property of The Halal Food Blog unless stated otherwise.