We're already onto the 3rd installment of The Halal Food Blog's #RamadanHop series! Throughout the month, we will be featuring a total of 10 different eateries, each with their own FEATURED DISH!
Don't forget – you stand a chance to win a 3D2N trip for 2 to Bangkok!! So keep updated and look out for the information at the end of the post!

It's been just about 10 years since Eighteen Chefs burst onto the food scene here in Singapore. The eatery with a kitchen helmed by Chef Benny Se Teo not only boasts an impressive menu with unique Western fare but also 13 outlets spread islandwide!
They've got something for everyone! No joke! From their legendary Heart Attack Fried Rice to a variety of pasta dishes and some pretty interesting side dishes!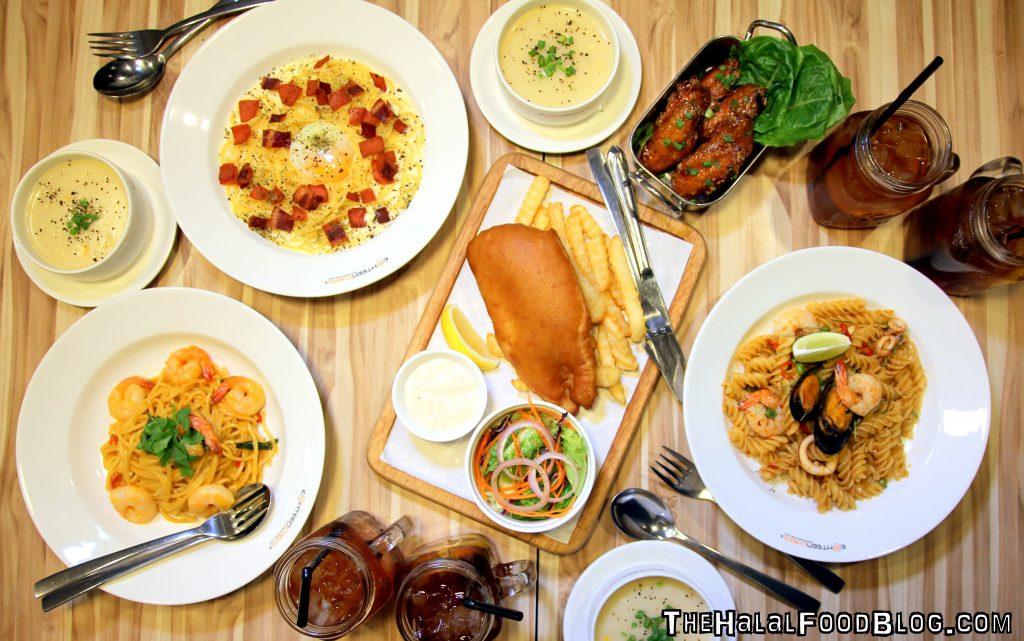 Well, they have not forgotten us this Ramadhan and have come up with some great deals! Besides heading down to one of their outlets for Iftar, you can even enjoy your favourite Eighteen Chefs dishes in the comfort of your own home or even buy back to the office if you're working late thanks to their Takeaway Feasts!
But before we get to the Set Meals details, let's give you an idea on some of the main and side dishes you can select as part of your set meals shall we!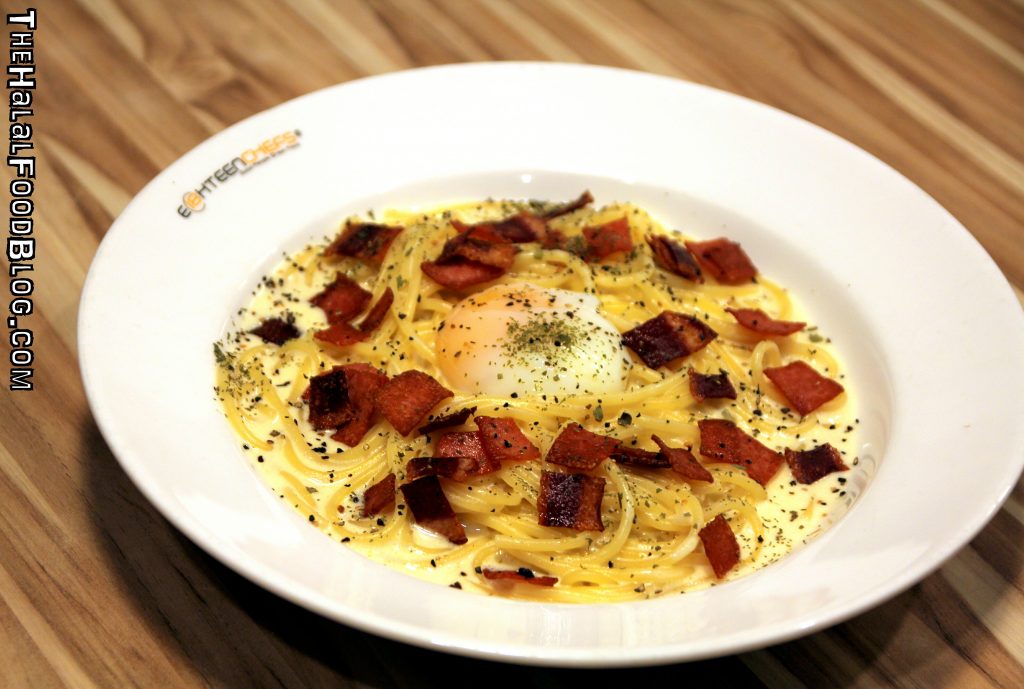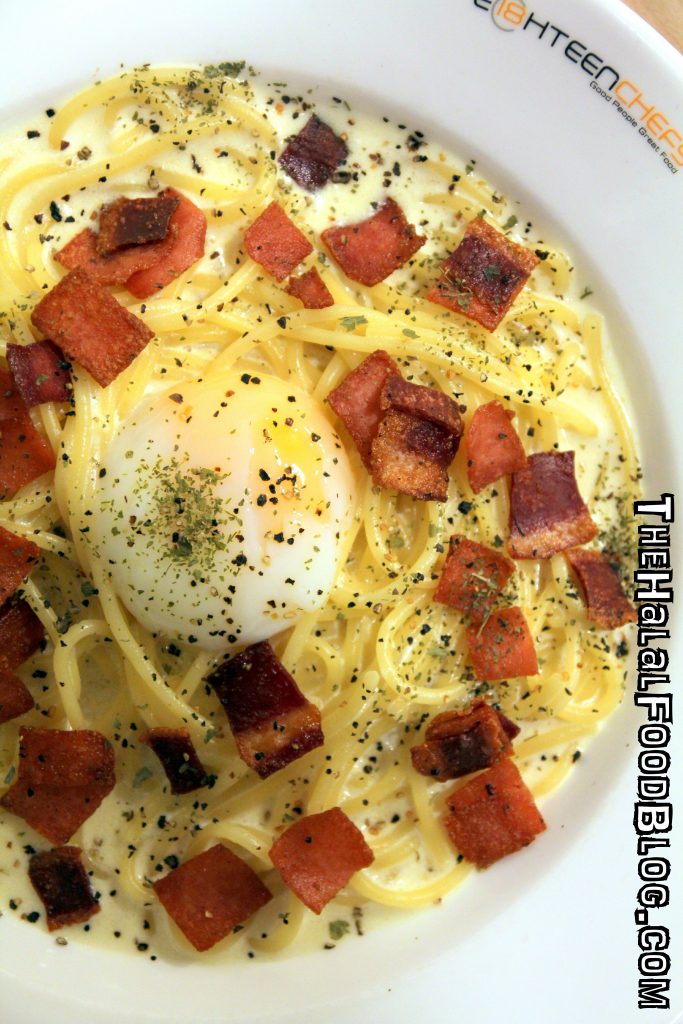 We're featuring a trio of pasta dishes! They've got quite a few interesting ones on the menu at Eighteen Chefs and pasta dishes are always a quick and easy choice when you want a quick, satisfying meal.
The Sous Vide Egg Carbonara is a great choice if you're looking for something simple but.. not so simple LOL does that make any sense at all? What I mean is that Carbonara is a pasta dish that everyone is familiar with but it's not very common to have them include a Sous Vide egg along with it!
In case you're not familiar with the term, Sous Vide is a French cooking method where food is cooked in a temperature-controlled water bath. Think of it as… science meets cooking! LOL
And the end result – you get to achieve something that looks like that. Perfectly cooked on the outside while managing to retain moisture and flavour on the inside! In the case of the Sous Vide Egg at Eighteen Chefs, you get a perfect runny yolk that you can choose to mix in to your pasta or just whack the yolk just like that also can 😛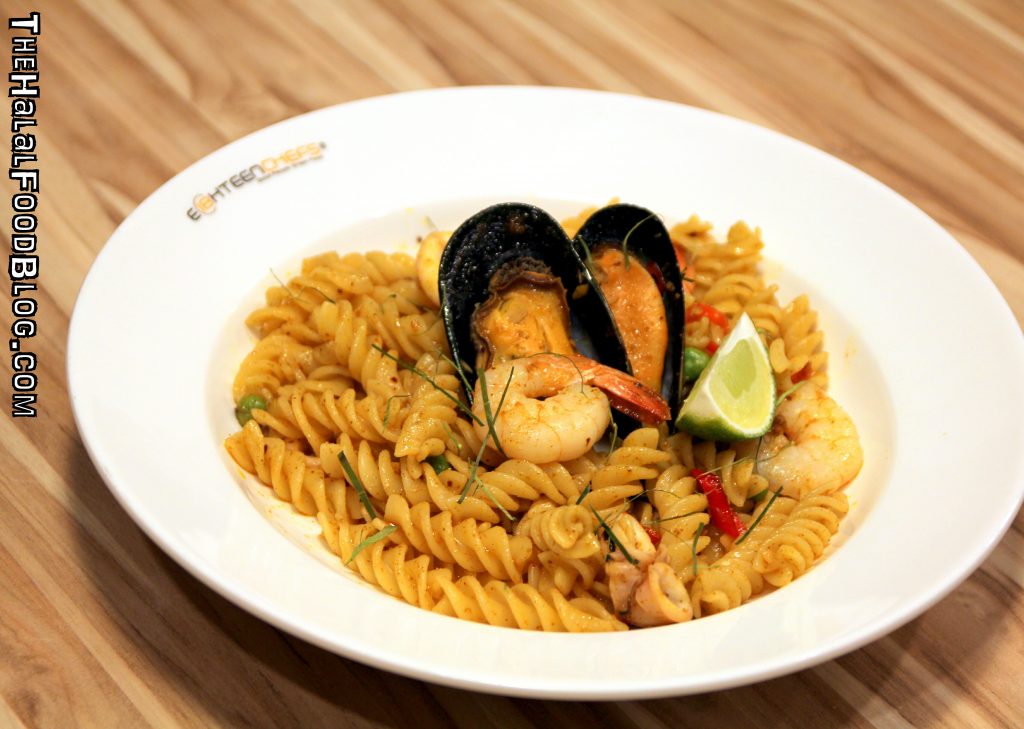 If you're looking for something with a more distinct flavour, then you might want to consider the Tom Yum Pasta!
It's got Fusilli that's been tossed in a Tom Yum mix and then topped off with loads of seafood! A generous serving of mussels, squid and prawns crown this pasta dish.
This is dry pasta so don't expect any gravy/sauce with it. But to be honest, it's actually a good choice to make this a dry pasta because you really get to savour that Tom Yum flavour. Since there's no cream or anything like that, the Tom Yum flavour shines through without any hindrance. The garnishing of chili and thin strips of kafir lime leaves is a nice touch!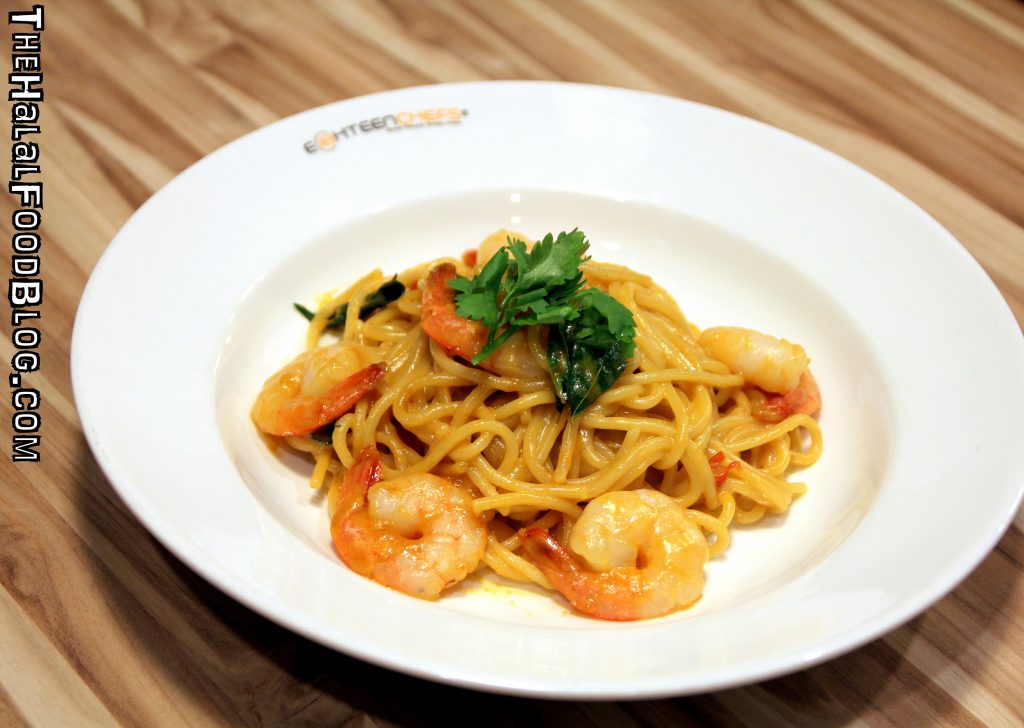 This is the one I normally order when I visit Eighteen Chefs. Why? Because it's Salted Egg! LOL
(Y'all know I'm a sucker for Salted Egg right…)
It's got a great Salted Egg sauce that's been mixed in with pasta so you get a nice generous coat which equals to a great Salted Egg flavour with every slurp. You also get a few prawns to chomp on along with your pasta! And as someone who loves Salted Egg flavours, I have to say that this is one of the stronger-tasting dishes (which I absolutely love).
But hey, they have more than Pasta on the menu okay!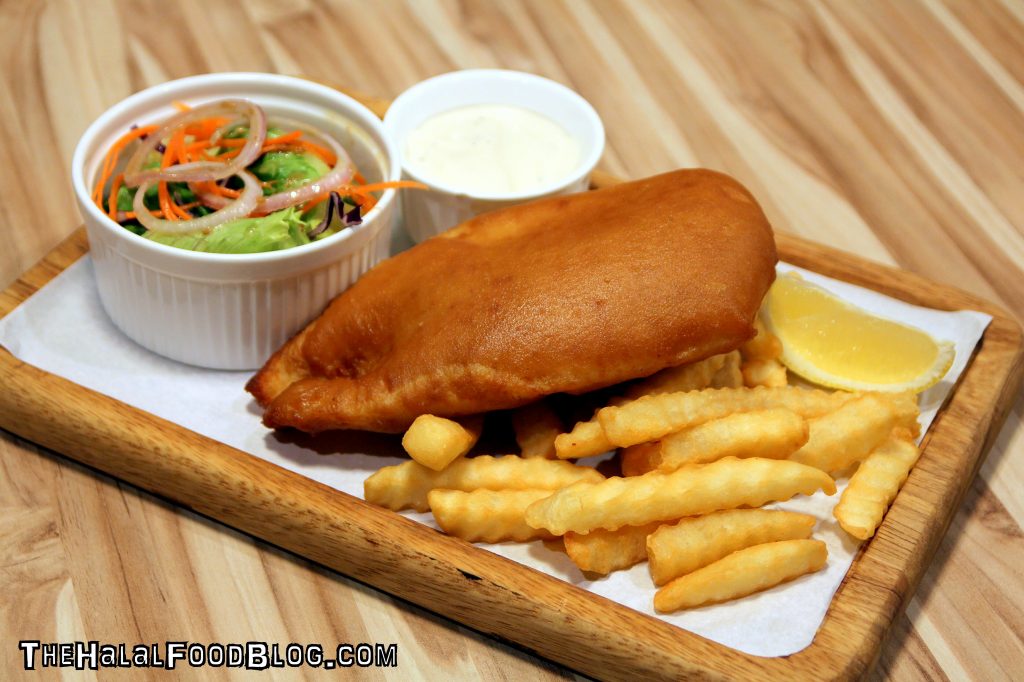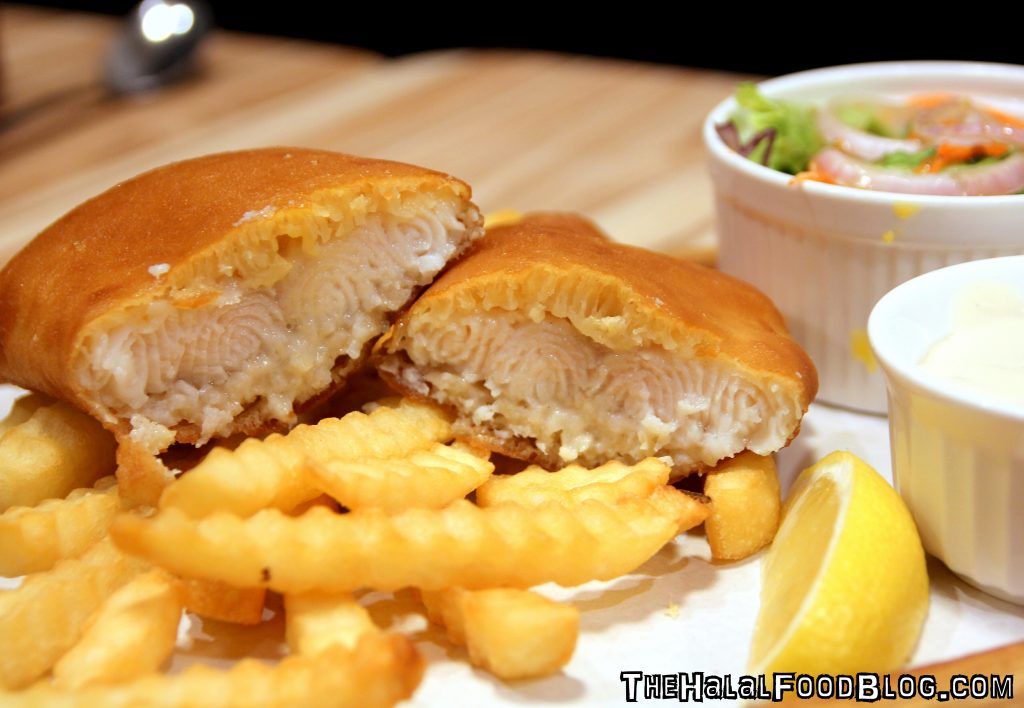 A classic choice at Eighteen Chefs is the Fish and Chips which gets a pretty unique treatment.
Traditional Fish and Chips actually achieve a fluffy and flavourful batter thanks to the addition of beer but since we obviously can't include that in the recipe, Eighteen Chefs uses Root Beer in their batter! This not only gives it a good batter but also a slightly sweet hint to the flavour. I can really taste the root beer! LOL
I don't know about you but I'm always curious to know what fish is being used by eateries for their Fish and Chips. Well, I asked Eighteen Chefs and they verified it as Dory.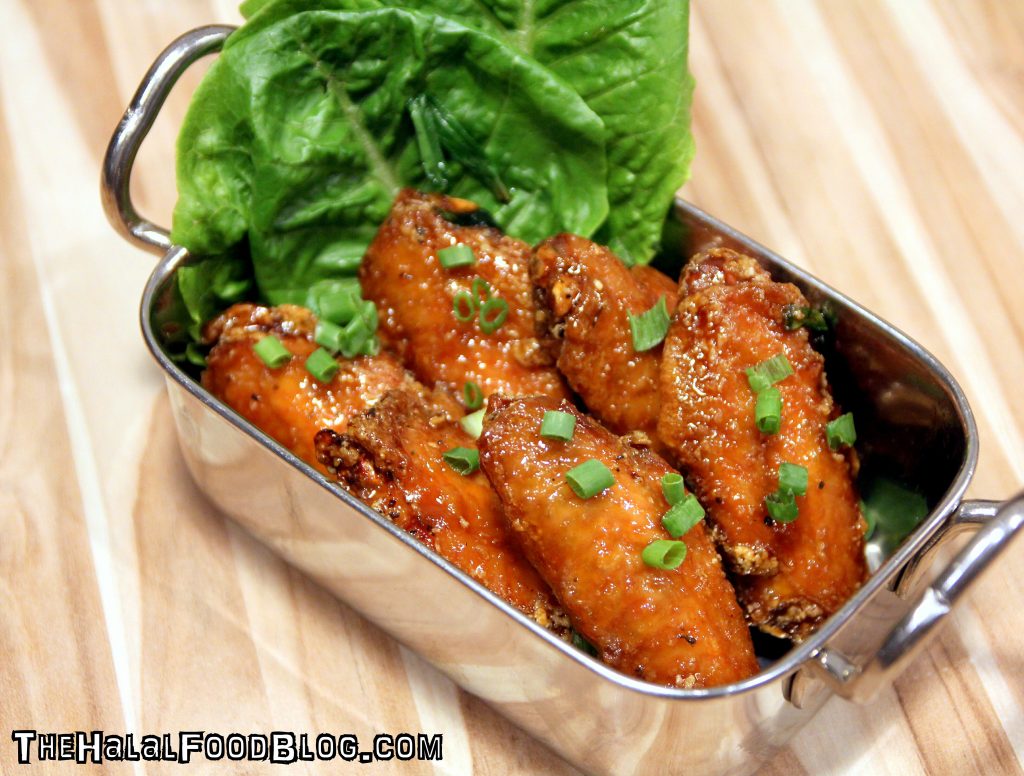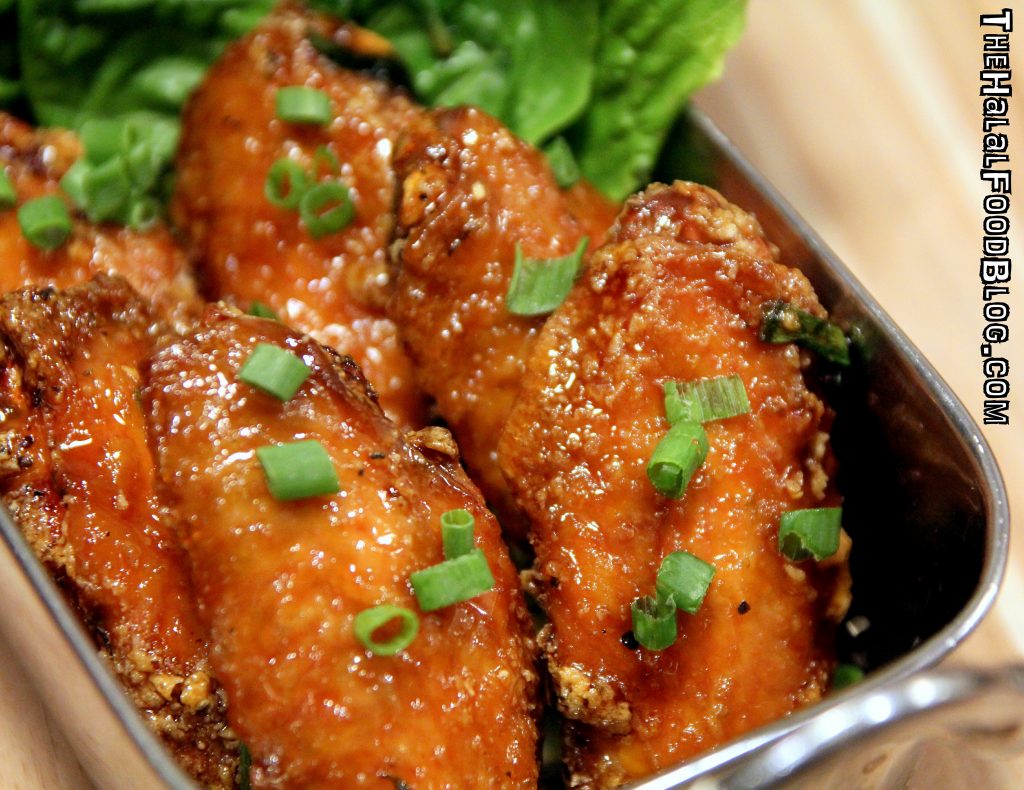 There are also Side Dishes galore on the menu and one of the more interesting ones is the Honey Rock Sugar Wings! It's chicken wingets that are actually quite shiok!
They've got a sweet coating on their crispy skin which actually has a very nice flavour. A lot of people are wary of mixing sweet and savoury flavours but this is one perfect example where if you can execute it properly, it can be super sedap!
Plus, chicken wings are always a satisfying starter to get you going for the big feast ahead! SHIOK!!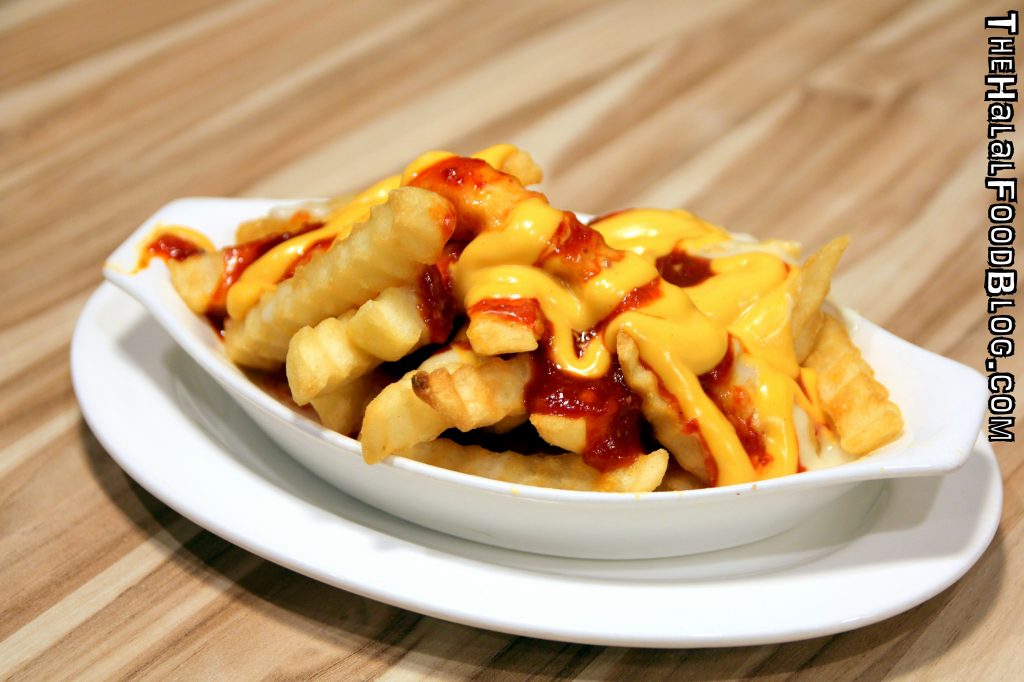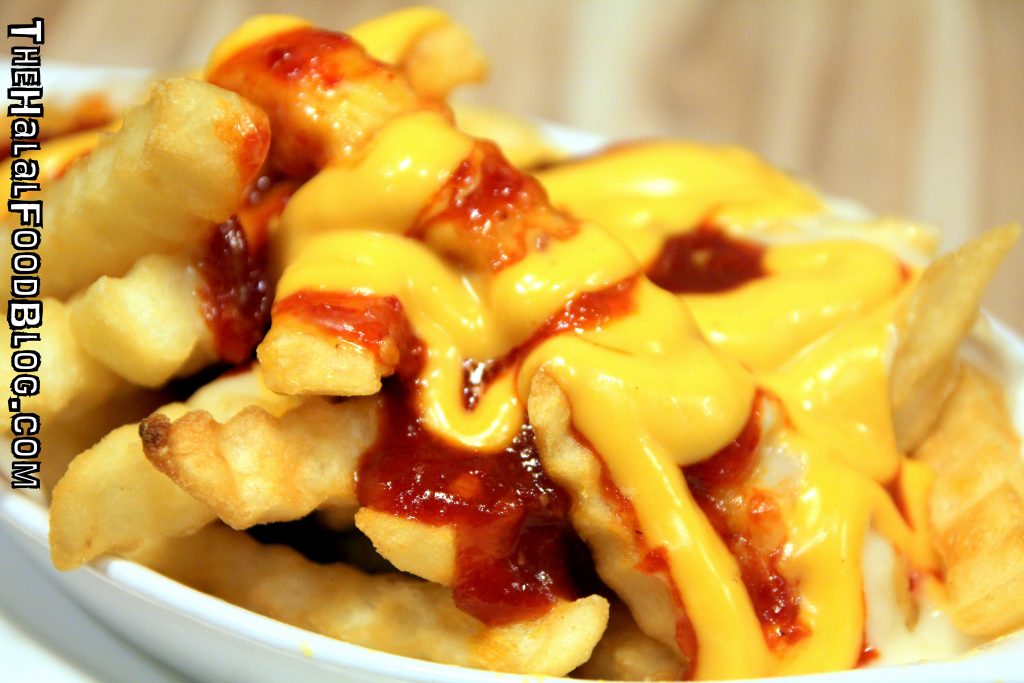 They've got about 7 different variations of Fries at Eighteen Chefs. Yes – SEVEN!
Most will probably go for a classic like Cheese Fries but why not level up with.. DOUBLE CHEESE SAMBAL FRIES!! It's has not just one but TWO different cheese for that extra kick!
The Eighteen Chef's House Cheese give it a nice stretchy-stretchy when you pull but the Nacho Cheese sauce gives it that familiar cheese flavour we all love with our fries! But the kicker is the SAMBAL!! It's got a medium spicy level but it's enough to give you the extra shiok kick plus it's got a good flavour too!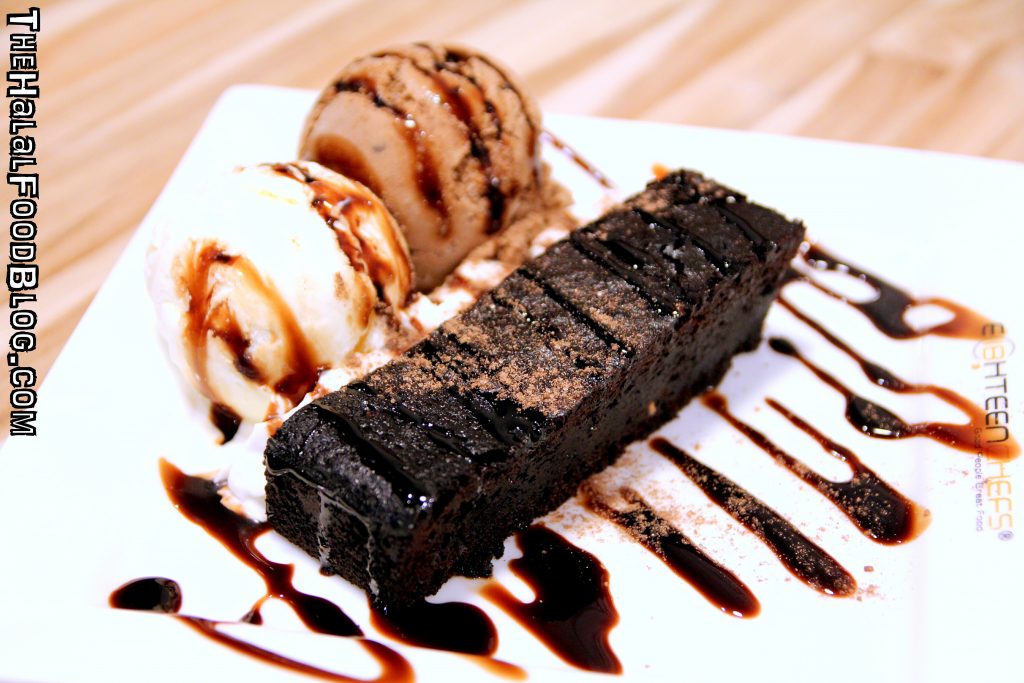 We've gotta have some dessert right? 😛
They've got a few interesting ones on the menu but we went with the Black Beauty – a chocolate Brownie with a couple of scoops of ice-cream for good measure. A good and rich chocolatey flavour in the brownie which goes perfectly well with the creamy ice-cream.
A sweet ending to an epic meal for sure!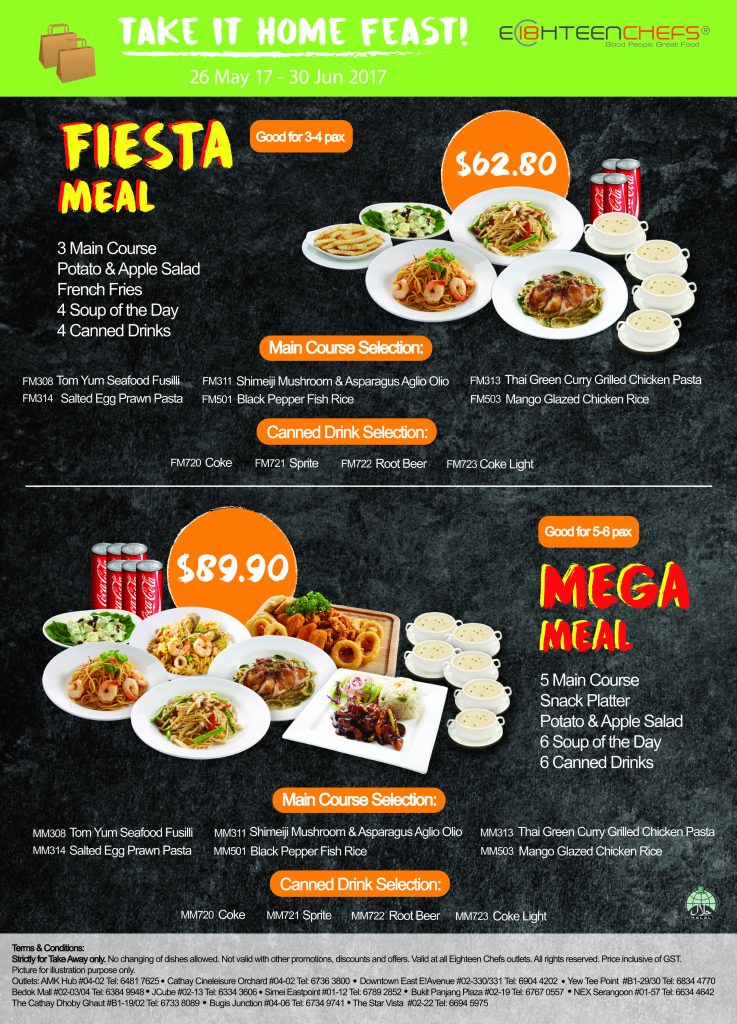 You can check out their Dine-In Sedap and Shiok Feasts at their outlets but we're raving about their Take It Home Feasts! A great chance to pack it all up and enjoy a great big meal at home or at the office if you're working late! Avoid the crowd and still enjoy some great food!
You get to choose from a whole host of dishes as shown in the poster above. But don't be afraid to order extra dishes ala carte too okay! LOL You can check out their full menu at the Eighteen Chefs website!

Here is your chance to win a 3D2N TRIP FOR 2 TO BANGKOK!!
We have contests running on both our Facebook and Instagram pages after you enjoy the delicious Ramadhan specials at Eighteen Chefs, be sure to take part in the contest!
HOW TO WIN ON INSTAGRAM
Visit the featured restaurant during the specific promotion period
Snap a photo of the FEATURED DISH and post it on your Instagram account, tag 5 of your friends and include the caption "Like my post and help me win #RamadanHop <tag 5 friends>! Thank you @thehalalfoodblog, #SendMeToBangkok"
Be sure to tag @thehalalfoodblog and the participating eatery in the post
Leave a comment on The Halal Food Blog's original post to let us know you've done the step
Be sure to set your Instagram profile to 'PUBLIC' so that your entry can be viewed (Private profiles will not be eligible)
At the end of the contest period, The Halal Food Blog will choose the most creative entry as the winner of the 3D2N trip for 2 to Bangkok!
HOW TO WIN ON FACEBOOK
'LIKE' this post on Facebook
'LIKE' the participating restaurant's Facebook page (they are tagged in each post!)
SHARE the article on your own Facebook page with the caption –
"Check out these #RamadanHop deals from The Halal Food Blog. Like this post #SendMeToBangkok guys, <tag 5 friends>!"
Be sure to set the Shared post to 'PUBLIC' so that your entry can be viewed (Posts not set to Public will not be eligible)
Leave a comment on The Halal Food Blog's original post to let us know you've done the step
At the end of the contest period, The Halal Food Blog will choose the most creative entry as the winner of the 3D2N trip for 2 to Bangkok!
So what you need to do now is head to our Facebook page and Instagram accounts, look for the relevant post and follow the instructions! Just a few simple steps and you could be a winner!! Take part in both the Facebook and Instagram contests to increase your chances of winning! Get all your friends to participate too! (And make sure they bring you to Bangkok if they win okay 😛
The prizes will be individual for the Facebook and Instagram contests. This means that there will be TWO WINNERS for this contest! One winner on Facebook and one winner on Instagram! Each winner will be walking (or in this case, flying!) away with a 3D2N trip for 2 to Bangkok! So start prepping yourselves for a super exciting month ahead filled with great food, great prizes and great times ahead! Woot Woot!!
Selamat berpuasa and all the best for the contest!!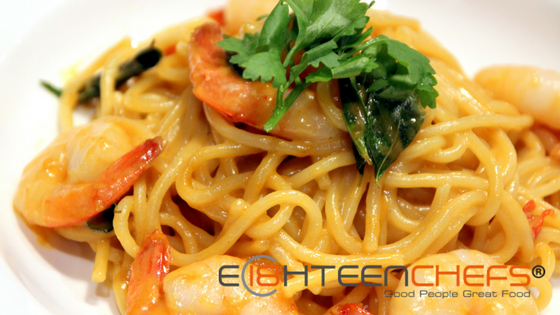 EIGHTEEN CHEFS

Facebook: www.facebook.com/EighteenChefs
Instagram: @EighteenChefs
www.eighteenchefs.com
13 outlets islandwide
Please refer to www.eighteenchefs.com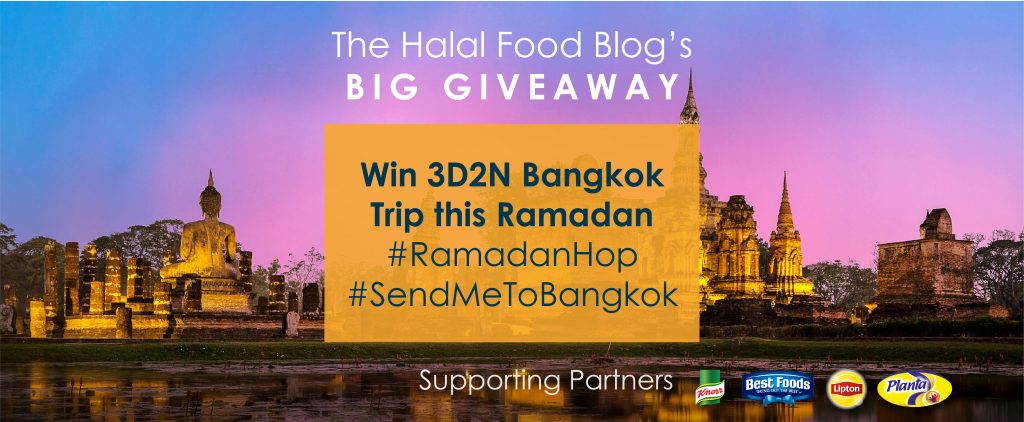 All information (including prices, availability of item on menu and Halal status of establishment) are accurate at the time of posting. All photos used in this site are property of The Halal Food Blog unless stated otherwise.